A Little Creativity Goes a Long Way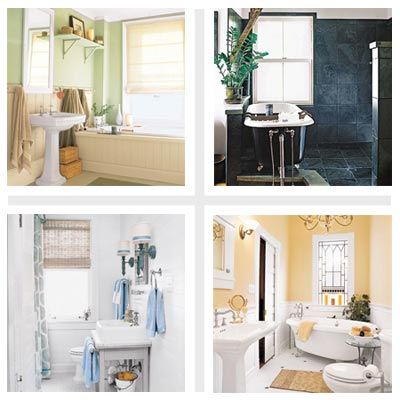 Polishing up a worn washroom needn't require pricey new fixtures or wall-busting construction. In this gallery: How to make the most of what you have with creative wall and window treatments, salvage-yard finds, and stylish storage ideas.
Emphasize the Positive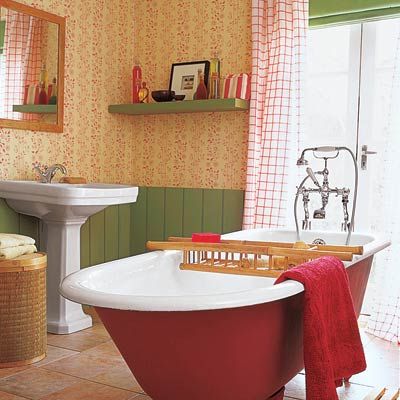 Accentuate the architecture by brushing a color on white-painted moldings. Here, a fresh green hue highlights the window casing, wainscoting, and a wall-mount shelf. Elan Kitchen & Bath Mid-Sheen Finish in Garden of Paradise, $32 per gallon; valspar.com
Bright Claw-Foot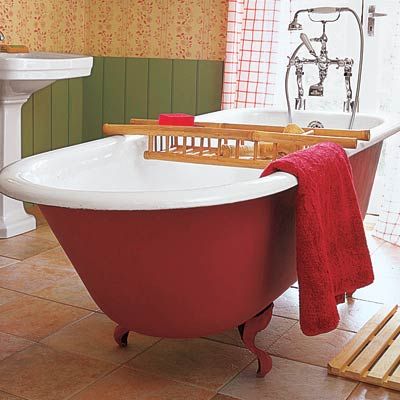 Make your cast-iron tub a focal point by coloring the outside a vibrant hue. For a shade similar to shown, try All Surface Enamel in Rave Red, $44 per gallon; sherwinwilliams.com
Dramatic Drapes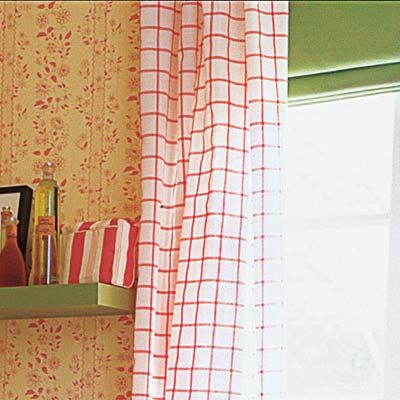 Swap understated shades for long drapes. Drawn to the sides, fabric panels frame outside views. These windowpane plaid ones also add a playful touch. Drapes in a variety of lively colors and patterns starting at $24 per panel; urbanoutfitters.com
Rework the Classics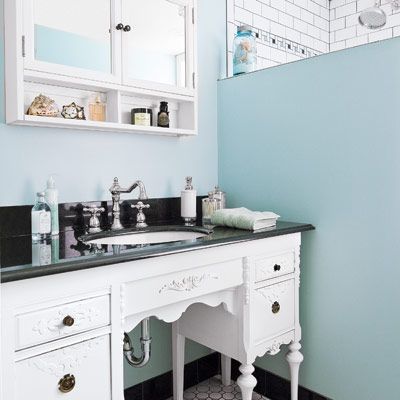 Make a curvy sink cabinet out of a vintage desk. Choose one with deep file drawers to stow toiletries, and use a jigsaw to create a sink cutout in the top. Wood desks like this go for about $75 at thrift stores.
DIY Tip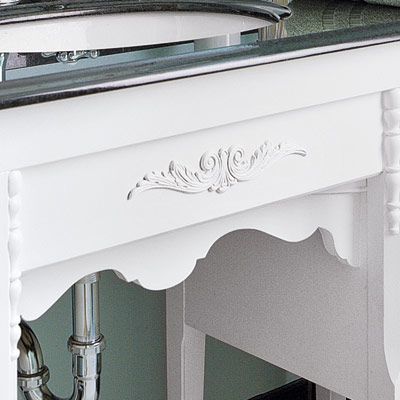 Dress up a plain vanity with a wood appliqué. Similar to shown: Meredith Header, $21; vintagewoodworks.com
Prefab Counter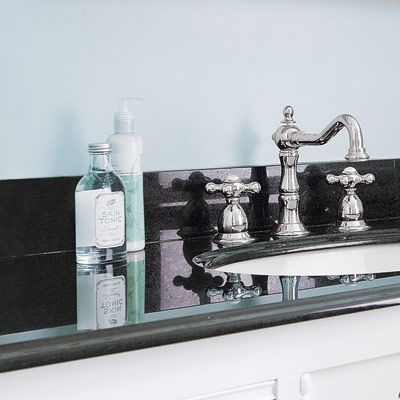 Use stock stone for the look of custom at a fraction of the cost. Similar to shown: Pegasus 49-inch Granite vanity top with undermount sink, $199; homedepot.com
Spruced-Up Storage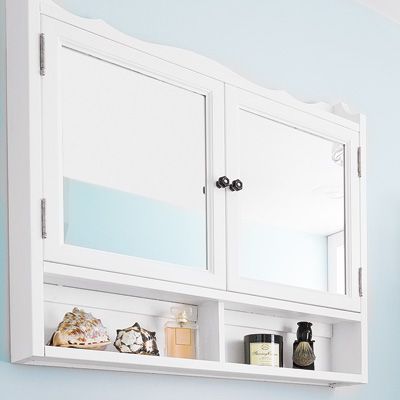 Update the medicine chest you have, rather than replace it. New white paint and black knobs coordinate this cabinet with the vanity below it. Similar to shown: 1¼-inch Antique Black Milk Glass cabinet knobs, $2.05 each; dlawlesshardware.com
Multihued Mosaic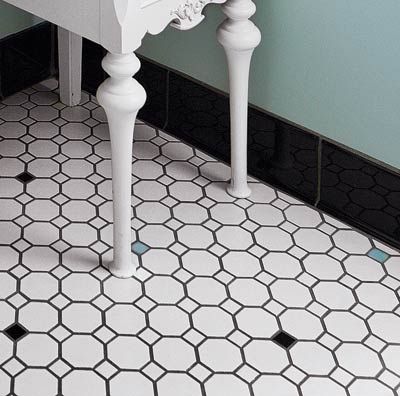 Customize plain sheets of white mesh-backed floor tile with colorful accents. Design a pattern, pop out white tiles, and replace with colored ones of the same size and shape. Here, blue and black squares echo the wall paint and countertop. Similar to shown: American Olean 12-by-12-inch Sausalito Mosaics white porcelain tile, $2.70; lowes.com. For the accents, search overstock bins at tile showrooms; as little as $10 can buy enough for an entire floor.
Trim Out and Tie Together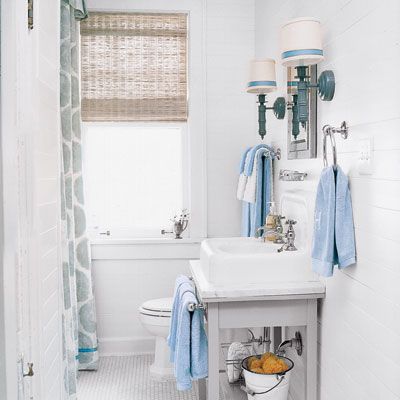 Inject color into a plain white bath with small details. Here, blue towels coordinate with the banding on the sconce shades and shower curtain. You can unify your curtain, shades, and even window treatments and floor mats by trimming the edges with ribbon. Basic 1½-inch blue-satin ribbon, $4 for a 20-yard roll; michaels.com for stores
Salvaged Sink Support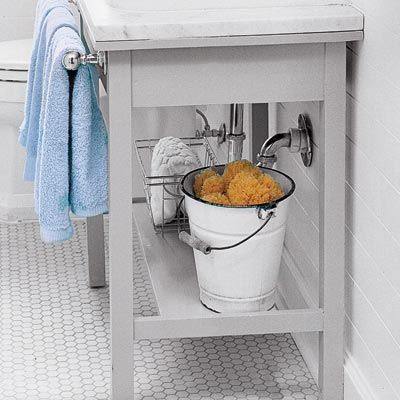 Turn a table gathering dust in your attic into a sink console. This wood end table topped by a marble slab adds stylish storage beneath an existing wall-hung sink. For a thrifty alternative to a slab, rest your sink on three scrap strips from the stoneyard. Expect to pay about $40 in materials. Epoxy the joints, and set in place with adhesive caulk.
Accessories with Sparkle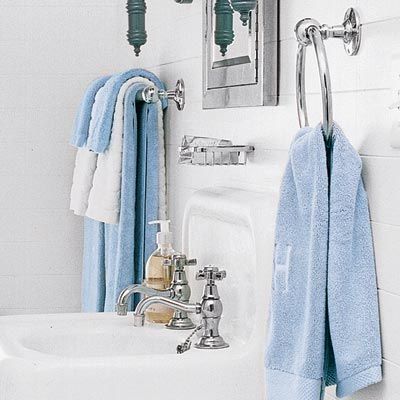 Add matching metal towel holders, such as these chrome bars and ring, to boost function for very little coin. Similar to shown: Moen Yorkshire 24-inch towel bar and ring, $21; amazon.com
Evoke Period Elegance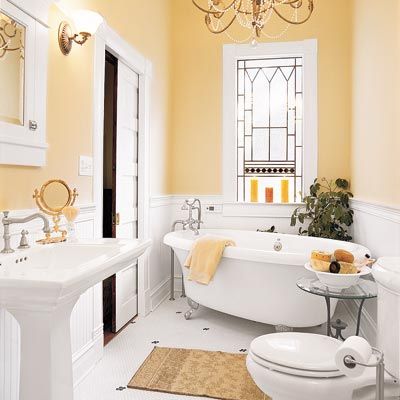 Gain square footage for a freestanding tub without the mess and expense of building a bumpout by placing it on the diagonal. Be sure to leave a few inches between the tub's rim and the walls, as was done here. The extra breathing room makes a small space feel larger. Shop salvage yards to save on a soaker. Vintage cast-iron claw-foots, starting at $350; oldhouseparts.com
Vintage Pendant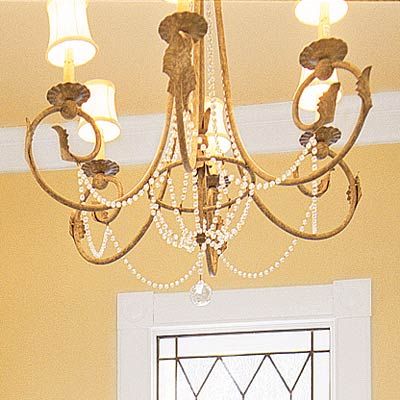 Hang a chandelier for a bit of sophistication in an unexpected spot. This brass and crystal fixture also draws attention to one of the bath's best attributes: its lofty ceiling. Get rewired and ready-to-install chandeliers salvaged from old homes starting at $175; stanthejunkman.com
Decorative Window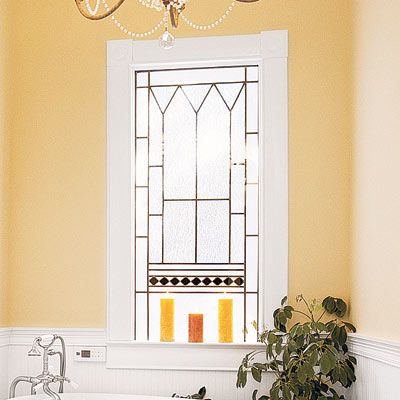 Replace a plate-glass window with a stained- or leaded-glass panel to obscure the view without blocking light. If you can't find an exact fit for your opening, hang one from chains in front of the existing window. An Art Deco panel like this one can be found for less than $100 on ebay.com
Go for Built-In Charm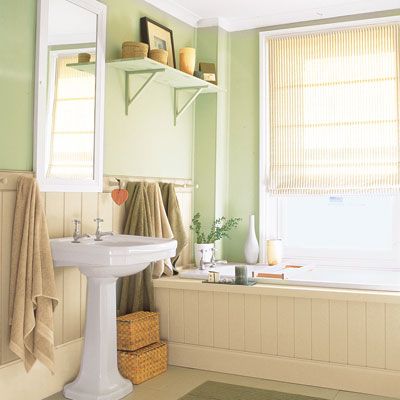 Give a drop-in tub a vintage look by paneling its exterior. To guard against rot on wood surrounds like this one, make the deck out of plywood topped by a sheet of waterproof laminate, and cap just the edges with solid stock. Use exterior-grade beadboard plywood for the sides, and skirt the bottom with baseboard. Last, paint the various wood components to match the laminate. Find all materials for less than $100 at home centers.
Wall Shelf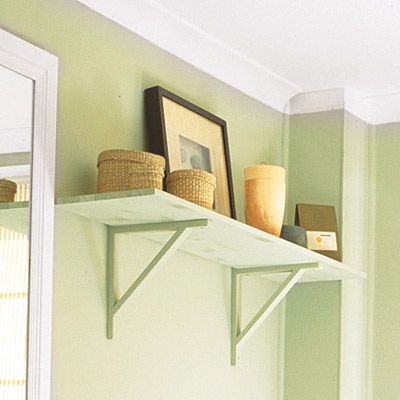 Save floor space by mounting storage shelves on the wall. Hung high above the tub, this bracketed shelf is ideal for displaying knickknacks. To access daily-use items, hang yours within arm's reach. Similar to shown: Ekby Valter/Ekby Tryggve wall shelf in unfinished pine, $15; ikea.com
Towel Rack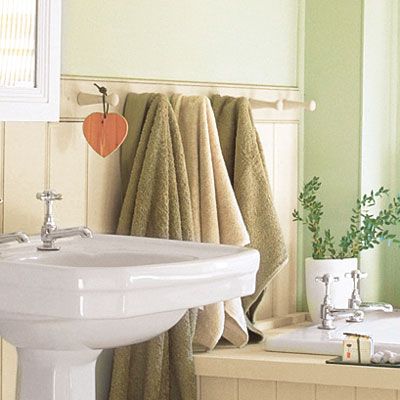 Top wainscot with a peg rail, rather than a wood cap, for a charming way to hang towels. Paint the rail the same color as the paneling below it, as shown here, or match it to the walls. 3½-inch-tall Plain Shaker peg rail in lengths of 12 to 90 inches, 99 cents per inch in unfinished poplar; nhwoodworking.com
Classic, Low-Cost Wall Coverings: Horizontal Wainscot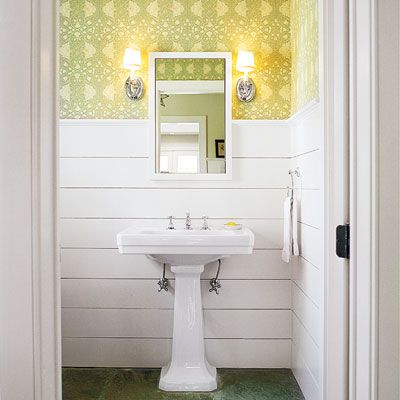 Turn vertical paneling on its side for a fresh take on a traditional look. Use moisture-resistant MDF sheets with milled profiles instead of individual wood "sticks" to cut the cost and installation time. Similar to shown: Nantucket BeadBoard 8-inch Channel Bead, $2.30 per square foot; beadboard.com
Classic, Low-Cost Wall Coverings: Ceramic Squares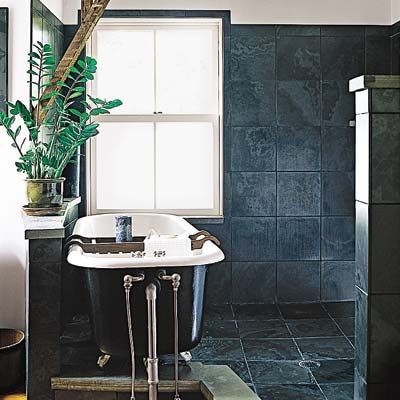 Tile walls with the same 12x12s used on the floor for a dramatic, monochromatic effect. Dark gray ceramic tiles have a look similar to the soapstone squares shown here but cost 25 percent less and offer more traction under wet feet. Florenza tile in Azzuro, $8.40 per square foot; daltile.com
Classic, Low-Cost Wall Coverings: Bold Paint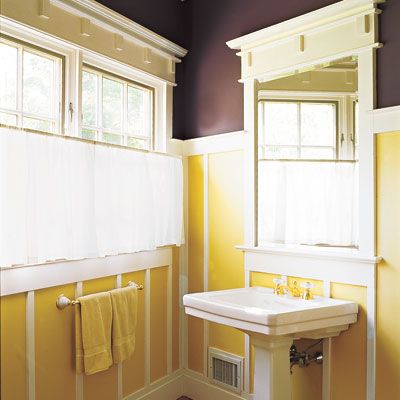 Highlight white-painted woodwork with a colorful backdrop. Here, a complementary gold-and-eggplant scheme commands attention. Kitchen & Bath Paint in Pure Joy and Purple Rain, $34 per gallon; benjaminmoore.com
Classic, Low-Cost Wall Coverings: Washable Paper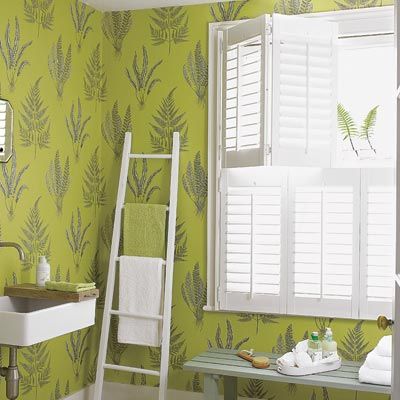 Add color and pattern with coated wallpaper that's easy to clean and can stand up to high humidity. Similar to shown: Thibaut's botanical Berkshire design in sage, $42 per roll; thibautdesign.com