A Bath Fit for a Bungalow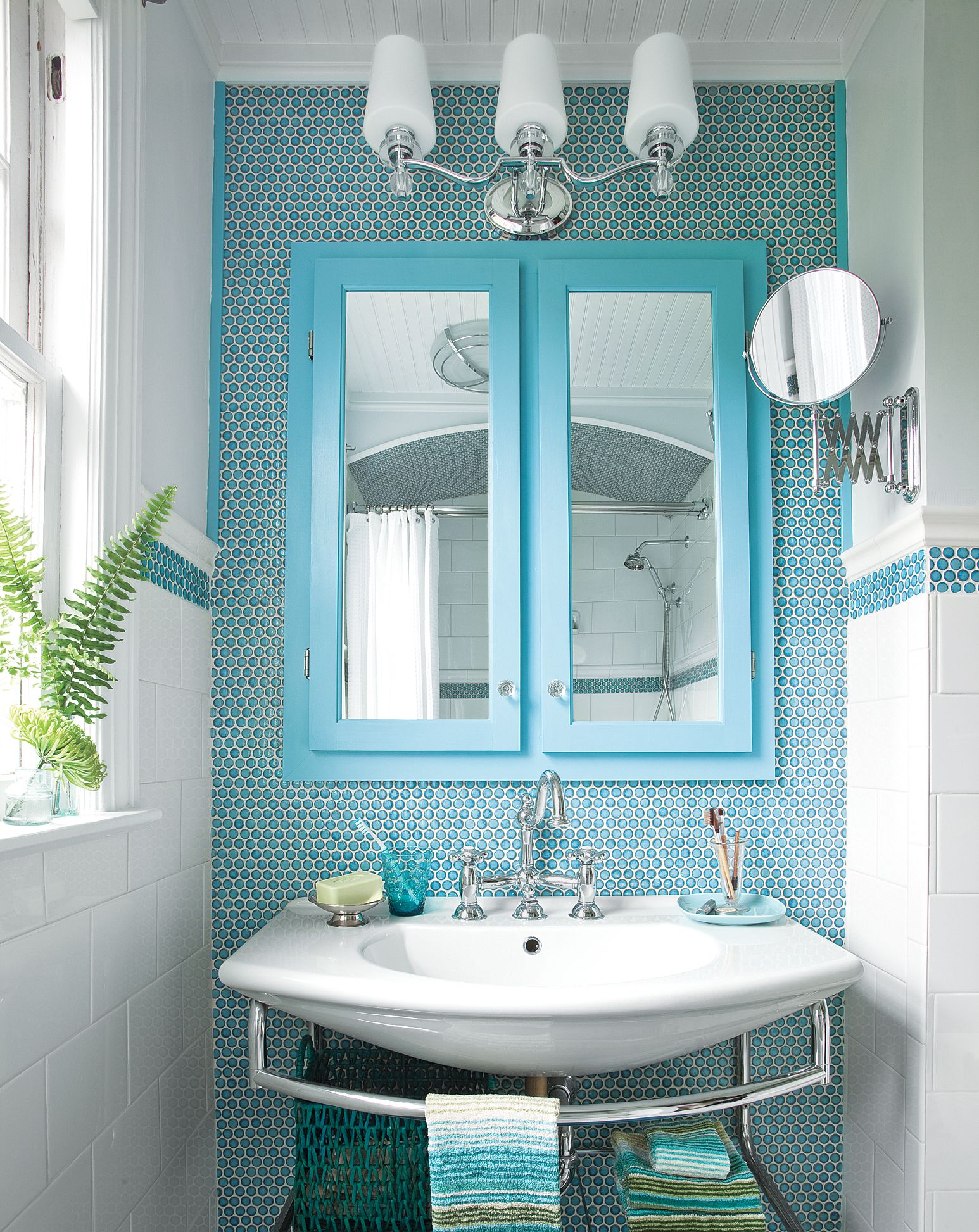 When a house has only one bath, remodeling can wreak havoc with daily routines. Steve and Laura McElhaney, owners of a 1941 bungalow in Jacksonville, Florida, lived with their single bath's cracked pink tile for five years before calling in general contractor Dean Celano—then asking neighbors for temporary bath privileges. Celano gutted the space, annexed parts of a closet and hall, including space that held a nonworking chimney and hall-facing open shelves, and moved the doorway. Replumbing allowed the toilet to move to a better spot, while the sink gained its own alcove, and a smaller tub opened up floor space. To give the bath a timeless, eclectic style, Laura chose a contemporary light fixture and sink, oversize subway tile, and traditional penny-rounds in white and blue, using it to cover the sink wall from floor to ceiling. Three weeks sans tub and toilet paid off. "It's exactly as I pictured it," says Laura, "the perfect combination of cheery and restful."
Shown: Enlarged and finished with blue and white tile and a wall-hung sink, the space has more function and a new-meets-old look.
Before the Renovation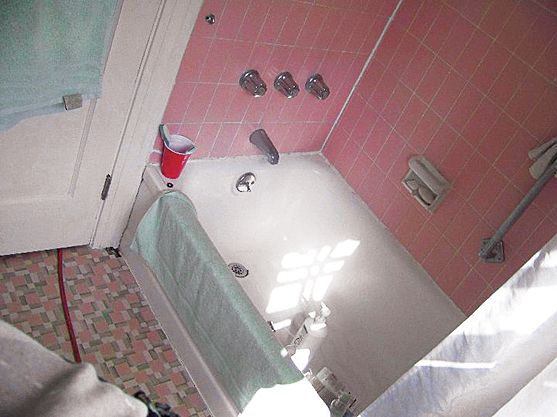 The bath was small and lined in dated, dingy pink.
Alcove-Tub Detailing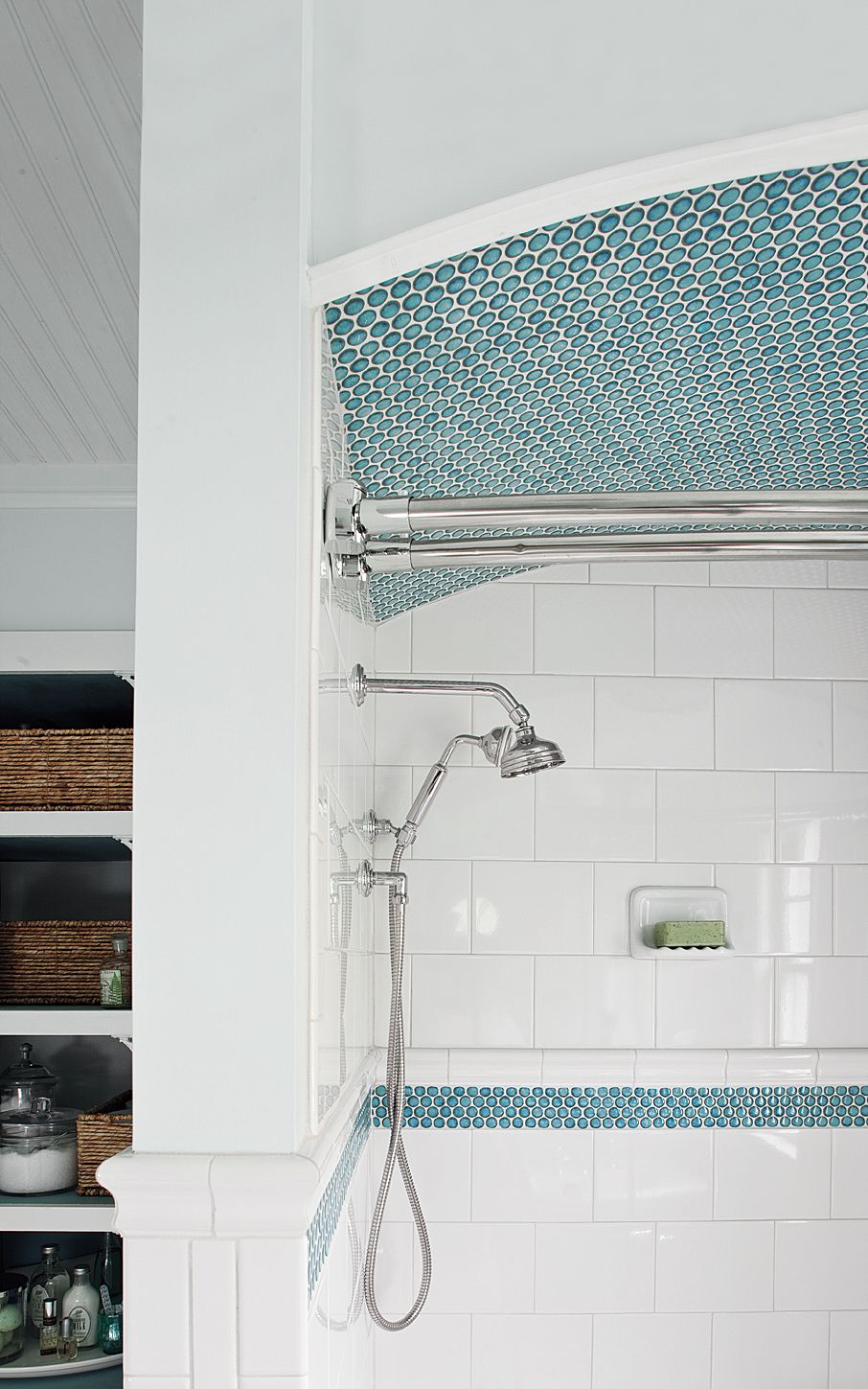 The tub enclosure is set off by a lowered arched ceiling lined with blue penny-rounds, which are repeated in an accent border around the walls.
Homeowner Tip: "Base your palette on something you love. Ours was inspired by a collection of blue and white transferware."
Slim Look, Sleek Design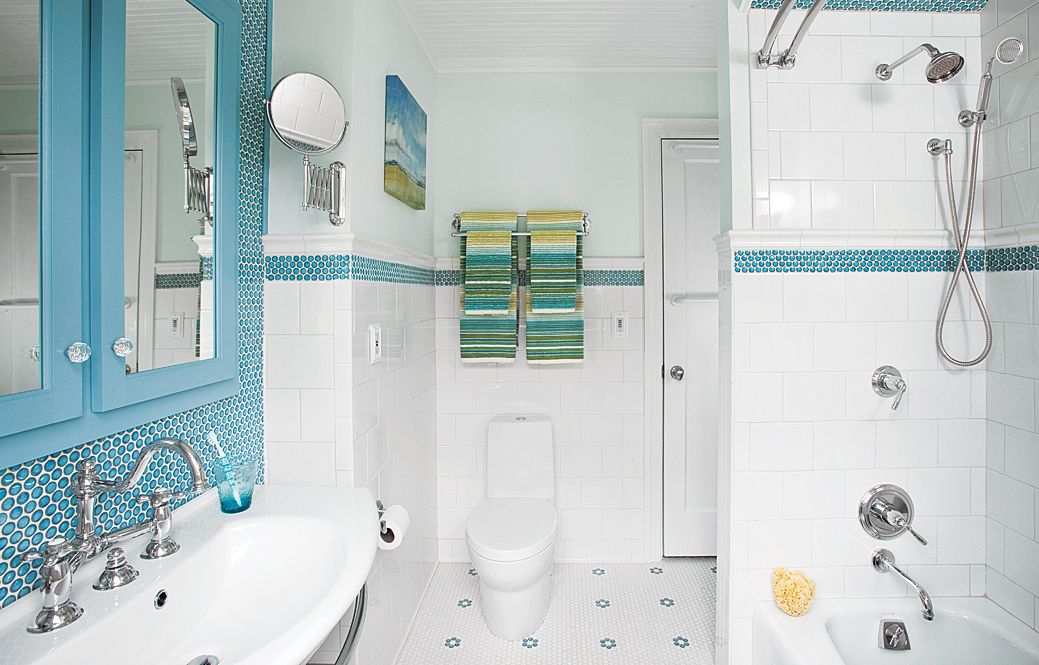 The slim toilet, at a scaled-down 14 ¼ inches wide, makes the most of space borrowed from the hall and a bedroom closet.
Toilet: Kohler
A Surprising Space Saver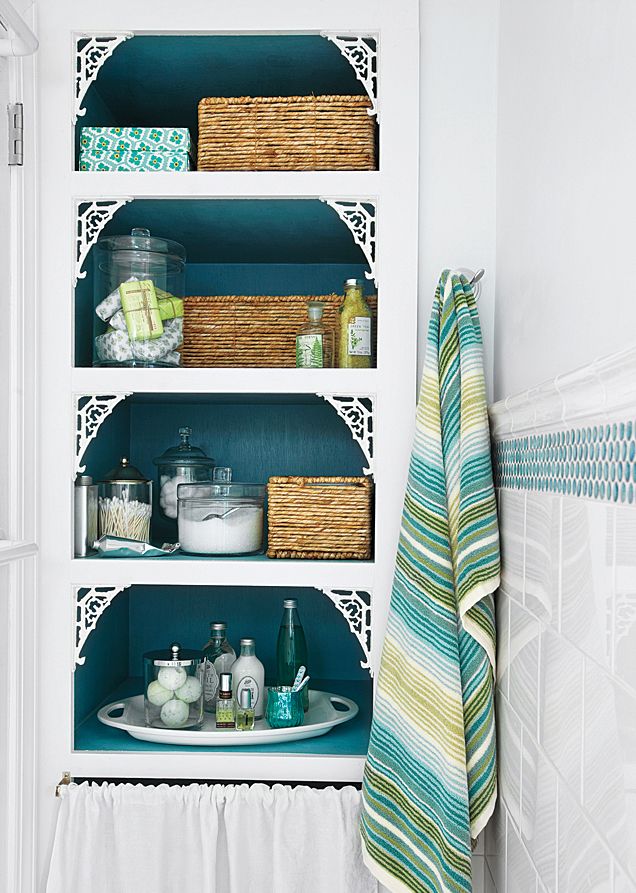 Open shelves, finished with blue paint and filigreed iron brackets, fill a space once occupied by a nonworking chimney.
Brackets: Ebay.
Paint: Sherwin Williams' Open Seas
Baby Blues
Blue penny rounds replaced black ones—pried one by one out from their net backing—to lend the flower-pattern mosaic a custom look.
Floor tile: Merola Tile
Unifying the Space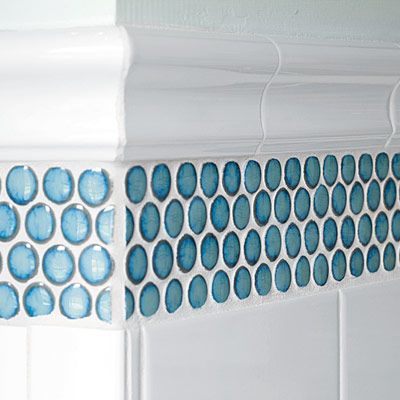 The blue border ties together the tub ceiling, mosaic floor, and sink wall.
Blue penny-rounds: Merola Tile.
Field tile: American Olean.
Form Meets Function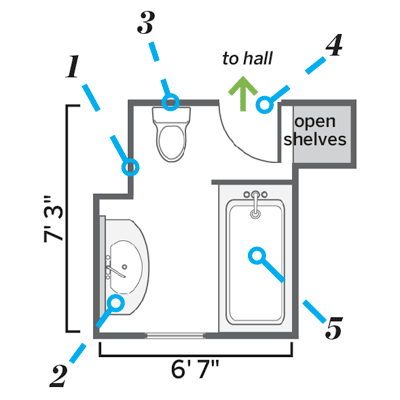 Annexing parts of a hall and closet allowed the home's only bath to grow from 35 to 58 square feet. Together with new wiring and plumbing, the enlargement led to a more functional layout.
1. Moved one wall out by 5 inches, annexing a portion of a bedroom closet.
2. Replaced the pedestal sink with a wall-mount basin fitted with a towel rack and storage shelf.
3. Added 2 feet to the room by annexing space from the hallway.
4. Shifted the door farther down the wall to create a new, less visible spot for the toilet. Next to the door is an alcove
5. Swapped the 5-foot tub for one 4 feet long to allow for the door swing.