A Shoe-Box Bath With Big Ideas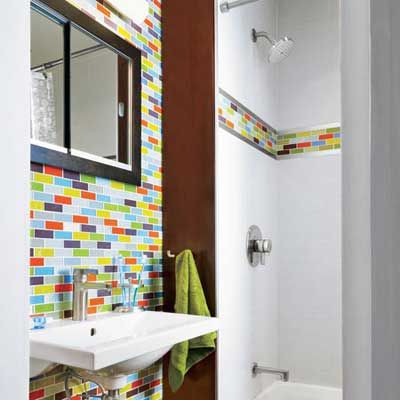 The smaller the space, the more critical the details—at least that's the approach my husband, Peter, and I took in tackling the upstairs bath we share with our two young daughters. Our New Jersey rowhouse dates to the 1890s, but in 1966 a previous owner turned the bath into a study in dark maroon. After living with the gloomy, cramped space for six years, we decided to remodel it ourselves, with help from a plumber and electrician.
Scouring plumbing-supply shops, we found a smaller toilet, a narrow-rimmed tub, and a sink just wide enough for two kids armed with toothbrushes. Peter did almost everything; together, we experimented endlessly to create a colorful pattern of 1-by-3-inch clear, frosted, and silvery glass tiles, which we ordered mounted on mesh sections for easy installation. A recessed cabinet with sliding doors holds essentials—spillover goes to the linen closet—and radiant heat saves space too. It still gets crowded at bath time, but having every detail right makes being there a pleasure.
Shown: A new pocket door saves space and has a tidy, tailored look while light-reflecting glass tile and downsized fixtures help create a cheery, open feel.
Tile: Susan Jablon Mosaics
Sink: Ceramica Althea Clever 60
Shower and sink faucets: Metris, Hansgrohe
Bathtub: Veritek BT-3060L/R Swanstone
Medicine cabinet: Signature Gliding Door, Alfina
Light fixture: Luna Bath, Tech
Before: Bad Lighting and Layout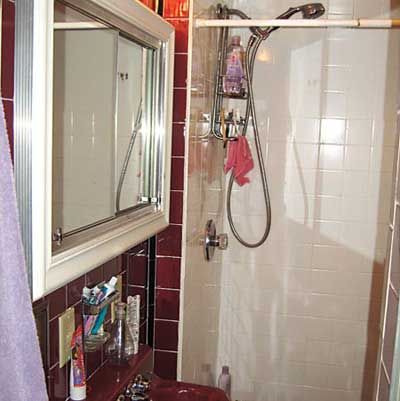 The fluorescent-lit 1960s bath was depressing and dysfunctional.
Band of Tile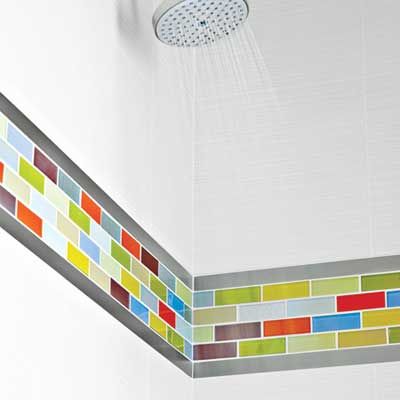 A band of tile with an aluminum border pulls the eye around the room, making it seem larger.
Glass tile: Custom Blend #14848, Susan Jablon Mosaics
Satin Sheets tile: Crossville
Metal trim: Designline, Schluter
Glass-Tile How-To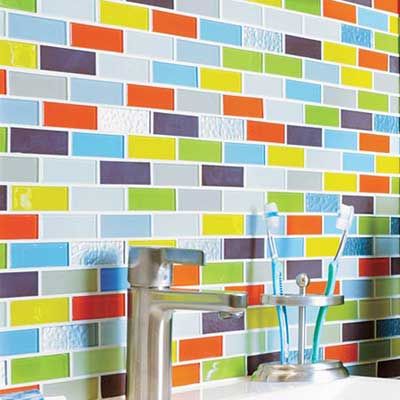 Learn to install glass tile by watching a pro measure, trim, and mount it in How to Work With Glass Tile or get step-by-step instruction in How to Install a Glass Mosaic Tile Backsplash.
Homeowner Tip: "Before you commit to a tile pattern, mount large samples on scraps of wallboard and live with them for a couple weeks." —Theresa Howard, Northern New Jersey
Stainless-Steel Caddy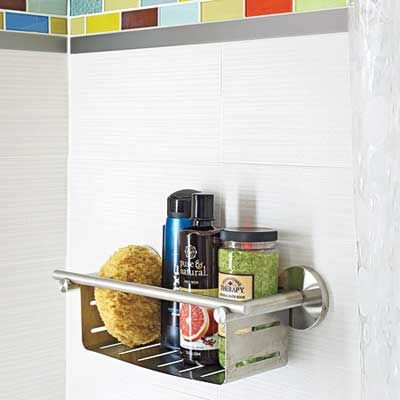 A stainless-steel caddy coordinates with the metal trim and fixtures, and lifts off for easy cleaning.
Shower shelf: Primo shower shelf, Blomus
Shelf Cubby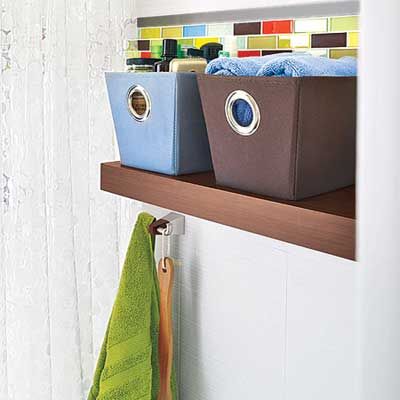 A shelf cubby contributes to the openness, as does a translucent shower curtain, chosen over glass doors because it doesn't require a squeegee.
Ice Circles curtain: Bed Bath & Beyond
Bath accessories: Kmart
Compact Towel Hooks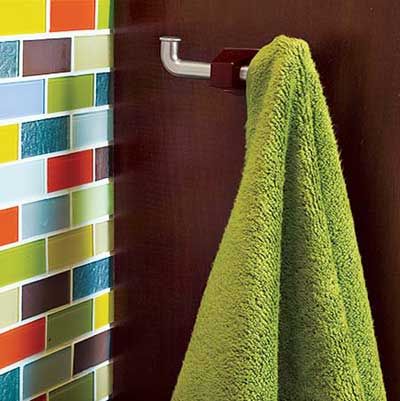 Compact towel hooks extend sideways instead of protruding into the room—another space-saver. Wet towels dry on a rack in the bedroom.
What We Did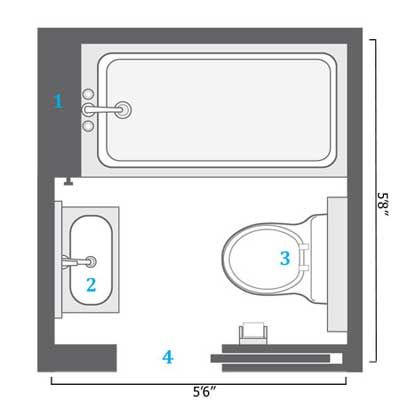 A louvered metal door and bulky fixtures gave way to a slim pocket door and slimmer shapes in the same 30-square-foot space.
1. Moved the tub to the right, demolishing a bumpout on the far wall for a cleaner look.
2. Swapped the sink for a wide model that projects only 15 inches.
3. Replaced the toilet with a model that measures just 25 inches front to back.
4. Moved the doorway 1 foot to the right and installed a pocket door to create a more attractive sight line.