Color Your Life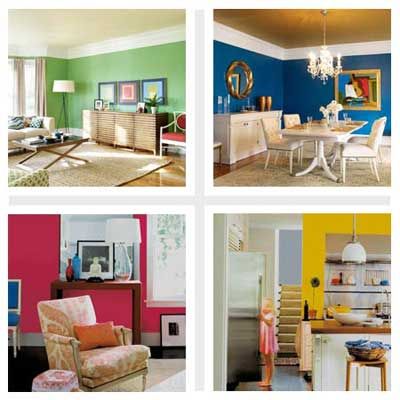 Your home's neutral paint scheme may go with everything, but all that beige and gray can really get you down. It's a living space, so make it lively with vibrant splashes of color. Read on for some inspiring options that can brighten your mood, stimulate lively conversation, even help you wind down after a taxing day at work. Then get out the brushes and paint with bold soulful hues you love.
Get Friendly with Red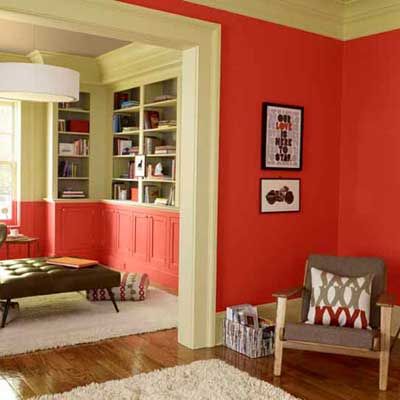 Conventional wisdom says to use red as an accent color because it's too intense and attention grabbing in large amounts. But choose a softer hue, and it's great for spaces where the family gathers.
This sitting room and library are painted with an ochre shade, Benjamin Moore's Claret Rose, that's cheerful without being overwhelming. Trim painted Benjamin Moore's Guilford Green, the shade opposite red on the color wheel—creates a convivial atmosphere.
Go for Gutsy with Pink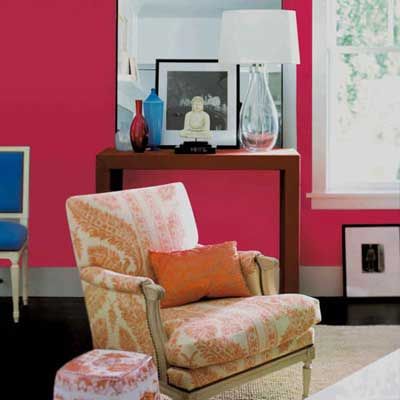 Benjamin Moore's Peony, an uninhibited hot pink, makes this parlor positively vibrate—especially against the crisp white molding. Mellow accents such as the faded paisley upholstery and the sandy-hued natural coir rug keep it from descending into Barbie's dream house madness.
Have a Rosy Time with Muted Flowery Hues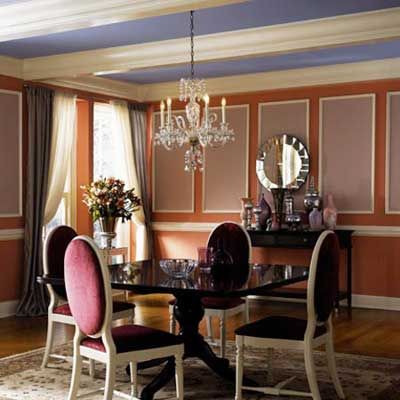 Elegant doesn't have to be somber—not by a long shot, as this dining room demonstrates. The combination of dusky pink panels painted with Sherwin-Williams Insightful Rose set against a terra cotta backdrop finished with Constant Coral will put guests at ease, and stimulate warm conversation. And at thanksgiving dinner, when your mother-in-law says something exasperating, just look up at the blue ceiling painted Celestial to instantly cool your jets. Trim and chairs in Steamed Milk add structure and cohesiveness.
Flatter Your Complexion with Apricot
Here's a color that's sweet, but not cloying. Benjamin Moore's August Morning, a shade of orange, is stimulating, like red, but less intensely so. Instead of being energetic and empowering, it's balancing and grounding. The color also flatters almost every skin tone and lifts the mood. What more could you want?
Liven Up with Bright Yellow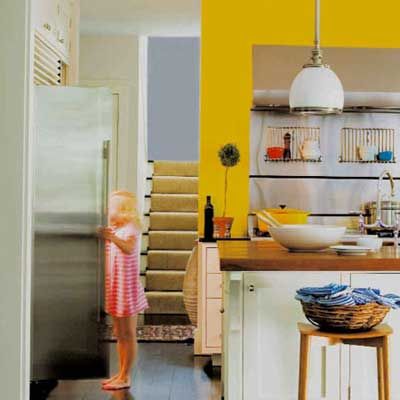 Nothing beats sunny joyful rays in the kitchen or breakfast room, here in Benjamin Moore's St. Elmo's Fire. We're drawn to yellow because it represents the sun's power to sustain life. So use it in rooms where family and friends congregate. One caution: if you're prone to anxiety avoid its more intense iterations.
Find a Happy Medium with Green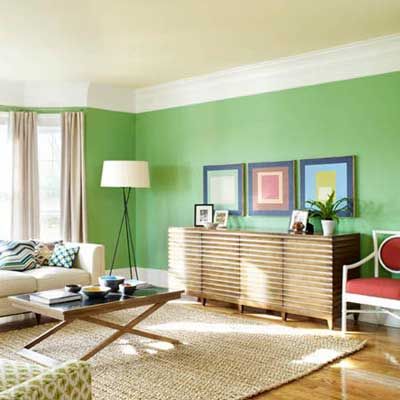 Green is nature's neutral. In a garden, it sets off all sorts of different colored flowers. Green is also right in the middle of the color spectrum, forming a bridge between cool and warm colors. So go ahead and make like Mother Nature and mix this fresh color, here in Benjamin Moore's Cedar Green, with any other hue for an uplifting alternative to beige.
Chill Out with a Blue Accent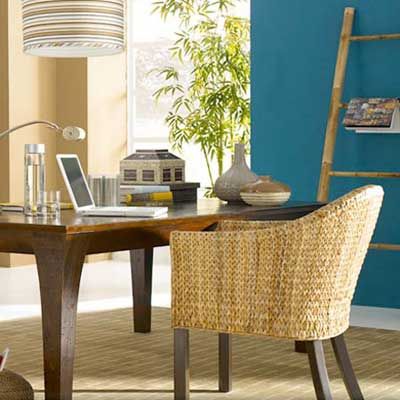 If the effect of painting a whole room a vibrant blue hue leaves you reaching for the Xanex, try just a small dose (of color, that is). Finishing one wall in an otherwise white or cream-colored room with a saturated shade, such as Behr's Deep Blue Sea, can actually create a soothing focal point.
Unwind with Lavender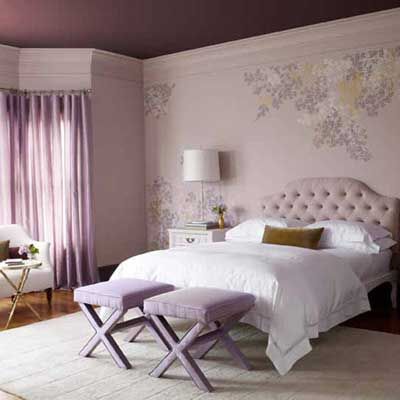 Try soft violet for an au courant alternative to blue in the bedroom. It has the same soothing effect, but with a regal twist. Here,
Benjamin Moore's Violetta on the walls is set off with a deeper shade in Benjamin Moore's Caponata on the ceiling.
Get Rooted with Brown
Paint the walls with Benjamin Moore's Stone Brown to create a grounding backdrop for graphic, high-contrast furniture and colorful accessories. Here, the soft blue and bright yellow from adjoining rooms punch up the space.
Now Try a Rule-Busting Combo that Works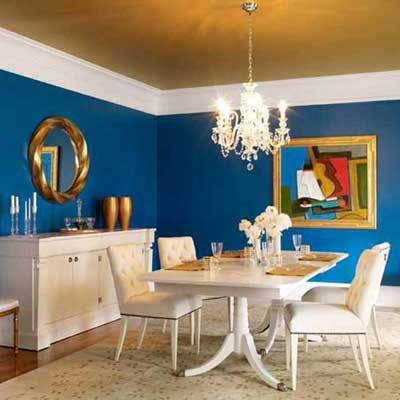 Blue and dining rooms aren't supposed to mix. No food is blue, so in theory, the color could kill your appetite. Blue is also supposed to encourage introspection, not conversation. But by varying the tone and intensity of the hue, you can find plenty of wiggle room. This particular palette with Benjamin Moore's Blueberry on the walls, white on trim and furniture, and Fool's Gold for the ceiling, is simply electric. You'll find yourself asking for seconds and chatting up a storm.