Countertop replacement is high on the list in most kitchen renovations, and homeowners are increasingly choosing concrete as an alternative to natural stone and quartz. Concrete owes its popularity to its versatility, durability, and eco-chic look. If you're considering concrete countertops as part of your kitchen renovation, here's all you need to know.
Pros and Cons of Concrete Countertops
With all the attractive countertop options, why would anyone consider concrete? Because today's concrete countertops are a world away from the drab, cold look we associate with a basement or garage floor made of the material.
In fact, according to Kevin Busch, vice president of operations at the home services franchise Mr. Handyman, "Concrete has become a popular choice most often for aesthetics." And there are other reasons why concrete's fast becoming a homeowner favorite for kitchen countertops. Here are the reasons why, plus some reasons why not.
Pros
Concrete is versatile. It can remain matte and natural-looking or polished to a high gloss. It can be dyed any color, embedded with aggregates such as stone or glass, and applied in various patterns for a distinctive look.
Concrete is strong and durable. It resists scratches and heat. Properly poured, it's as strong as granite and can last a lifetime.
Cons
Concrete is heavy. The cabinets and floor must be strong enough to support its weight.
Concrete requires care. It's porous and requires regular maintenance.
Concrete is best done by a pro. Pouring a concrete countertop is a complicated and messy DIY project; it generally calls for a professional.
How Much Do Concrete Countertops Cost?
Concrete is an affordable alternative to other countertop materials such as granite and marble when you do the work yourself. However, professionally-poured concrete countertops cost about $75-150 per square foot, about the same as granite.
How Concrete Countertops Are Made
Before starting, the underlying cabinets are checked to ensure they can support the weight of the countertops. Then the homeowner will choose the countertop's color, texture, and shape and decide whether to add aggregates such as glass or stone. Then the contractor will follow these general steps to fabricate the concrete countertops:
Templates of the existing countertops are made on-site using thin strips of wood.
The templates are used as guides to build melamine forms or molds to pour the concrete. Then, the forms are placed on a vibrating table, which causes bubbles in the concrete to rise to the surface when activated.
The concrete is mixed with sand, Portland cement, pigment, and/or aggregates, as specified.
The forms are sprayed with the concrete mixture to a depth of roughly ⅜ inch, and any decorative aggregates are added.
With the aggregate in place, the fabricator continues to pour in the concrete, often mixing in glass fibers for added durability.
Steel mesh is placed below the midline when needed for support, then the rest of the concrete is poured.
Once the concrete has cured, the forms are removed, and the countertop is flipped over. It is then polished with a diamond grinder.
Finally, several coats of sealant are applied, and then wax.
Are Concrete Countertops a DIY Job?
Fabricating and installing your own concrete countertops can be a satisfying experience—if you have experience, that is. "Doing it is one thing, and doing it well is another," says Busch. "It's not a Level One DIY project." Pouring concrete countertops is not a job for the faint of heart or the nominally skilled; here are some reasons you may choose to go with a professional.
A professional knows how to mix in pigment and aggregates without compromising the concrete's strength.
The work is hard, the materials heavy, and the entire process is messy.
Professionals have mastered the techniques required to give you the desired look.
Pro concrete countertop fabricators have the necessary equipment.
Professionals include steel lathe for reinforcement where needed.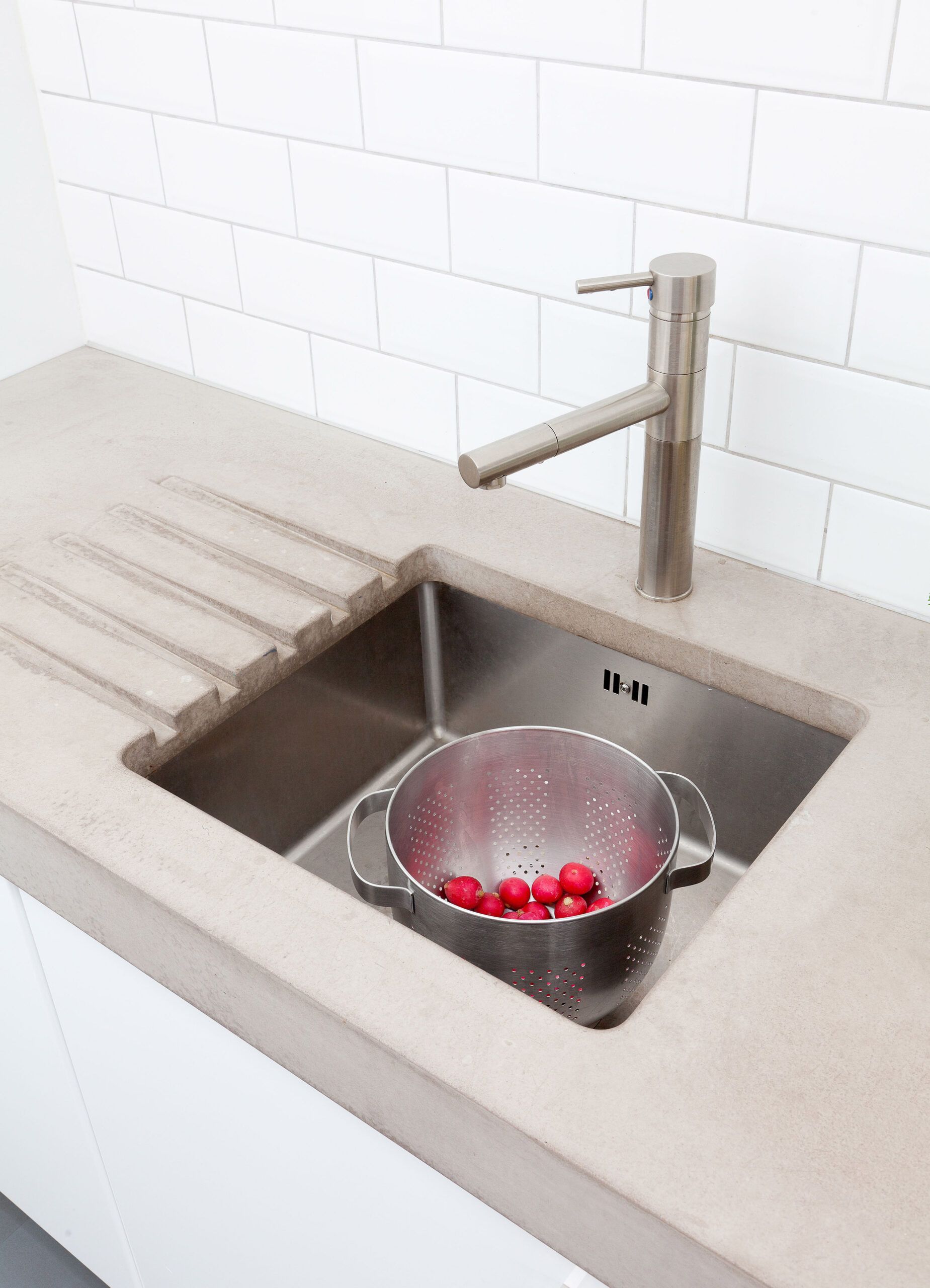 How to Take Care of Concrete Countertops
"Unfortunately," says Busch, "the downside to concrete is that it's porous and stains easily, even when it's sealed." When first made, a concrete countertop can take up to eight coats of sealant before it stops absorbing water. Then, once installed, the homeowner must reapply the sealant every year and wax it about once a month. It's also essential, Busch notes, to wipe up spills immediately. "You don't want to let stuff just sit there," he says, "or it will stain."
How to Choose a Concrete Countertop Professional
There's a big difference between pouring exterior and interior concrete, assuming you want a finished look when introducing concrete inside the house. Just because your handyperson knows how to pour a slab in the backyard and call it a patio doesn't mean they've got what it takes to create the countertop of your dreams. To find the perfect professional for your kitchen reno, here is a list of questions to ask.
How many concrete countertops have you done?
Do you have a portfolio of pictures?
Can I have the contact information of a few of your clients?
Is the work done on or off-site?
How long does the process take?
Do you warranty your work? If so, what are the warranty terms?
Does your price include installation?
If you want a durable and chic alternative to other countertop materials, concrete is a great option. Made generally of all-natural materials and possibly some recycled ones, the customization options with concrete are limitless.