This article appeared in the Nov/Dec 2020 issue of This Old House Magazine. Click here to learn how to subscribe.
Stains and scratches can make marble countertops a challenge in the kitchen. You can still opt for marble in your home without the worry of maintaining it by including it as an accent. Read on for some ideas and inspiration for marble accents.
Add just a splash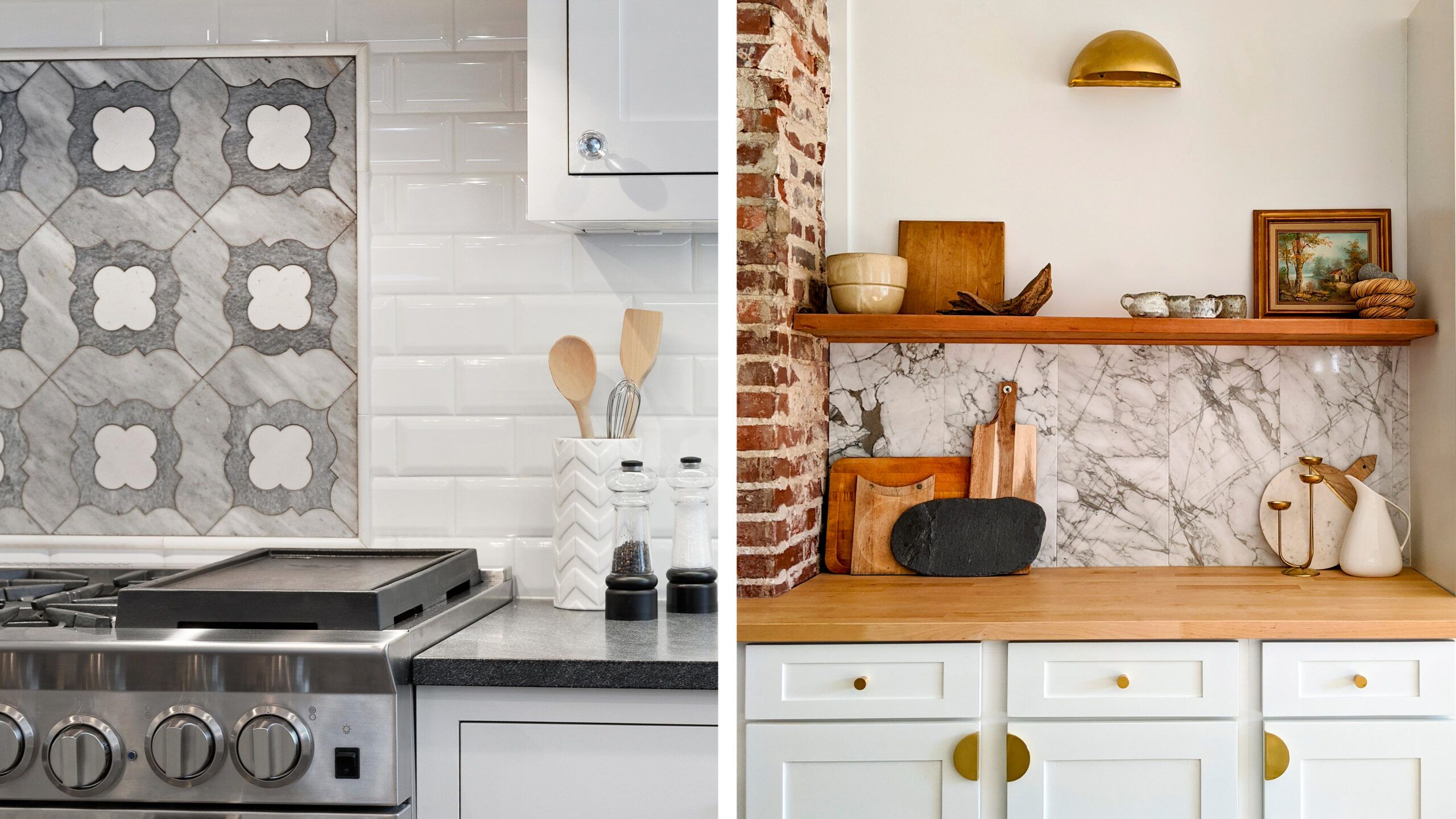 Shown above, left: As a vertical surface, a marble backsplash sustains fewer spills and less wear and tear than a horizontal work top—like this showstopping mosaic set in a field of ceramic subway tile. To help keep both marble and grout fresh-looking and to protect from grease and splatters, apply an impregnating sealer. Reduce costs—and upkeep—by doing as designer Kristi Patterson did here by surrounding the marble with less-pricey tile.
Talya Collection marble mosaic: Marble Systems
Shown above, right: For the drama of a monolithic marble slab at a less dramatic price, create a backsplash with large marble tiles. Designer Levity Tomkinson recommends choosing marble tiles carefully, because of their inherently unique tones and veining. For the kitchen backsplash in her Jacksonville, FL, home, Tomkinson selected 19 after sorting through about 200 12-by-24-inch tiles that her tile retailer had stacked on wooden pallets.
For a slab-like look, she laid them out first to connect the veins as much as possible before installing them. She then used a white mortar that's specifically made for large-format stone tiles. "It was important to use a white mortar since a darker color could have changed the color of the marble," she says. Tomkinson chose not to use grout because she felt it would delineate the tiles and take away from the slab look, which is what she was trying to achieve. "I love the no-grout look and don't plan on ever adding any!" she says.
Roll it out as a work surface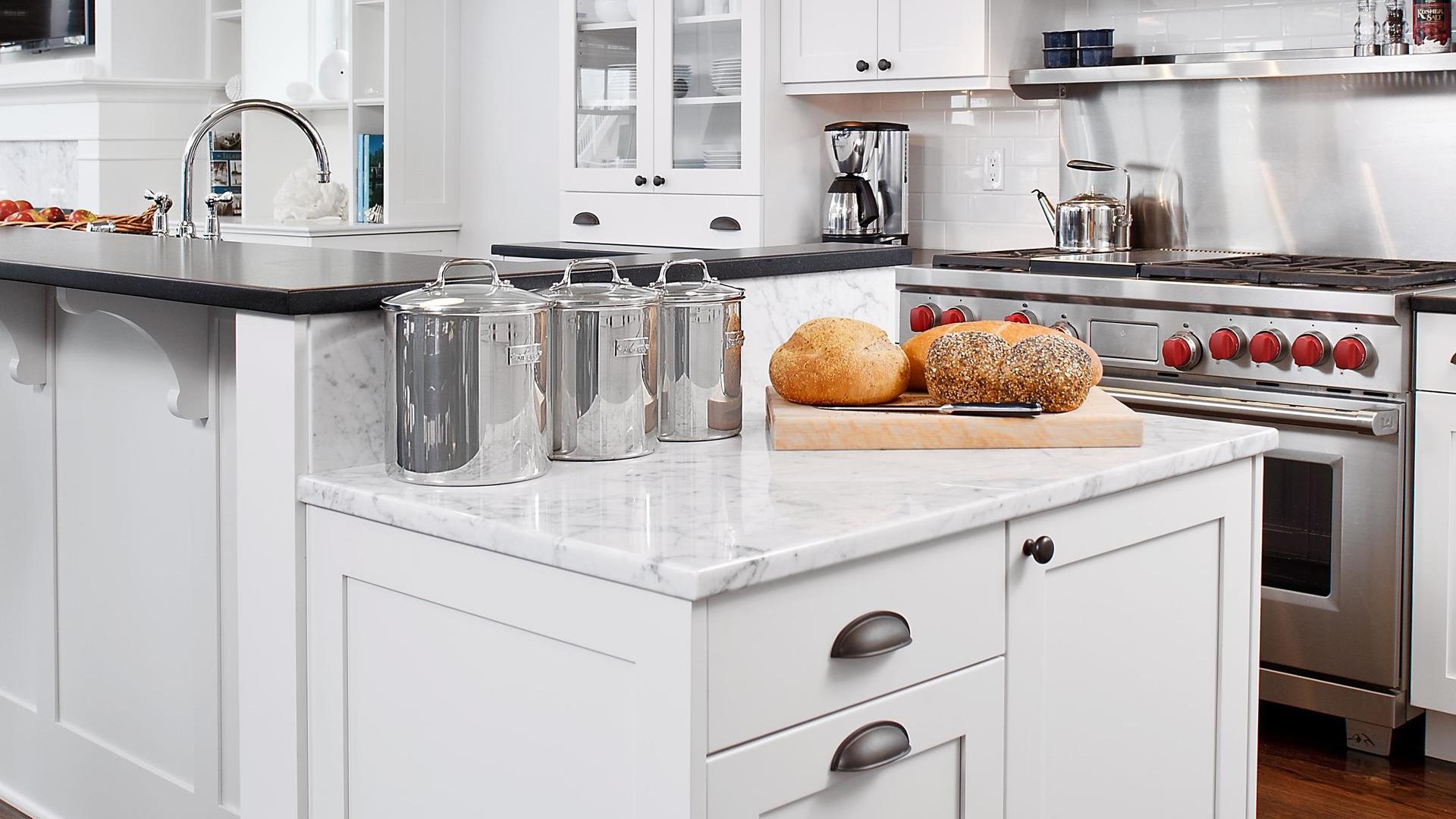 A dedicated baking station topped with easy-to-wipe-down marble is a classic addition to keep the dough cool. One with a polished surface adds shine, though a honed stone hides wear.
For optimal ergonomics, drop the height to 30 to 32 inches (as compared with standard 36-inch-high counters), and for optimal economy, check local stone yards for a discounted remnant—like the 1/2-inch-thick piece of Carrara Venatino designer Francie Milano used here. Top with an impregnating sealer, such as Stain-Proof's Dense Stone Impregnating Sealer, and you're ready to roll.
Shelve it up high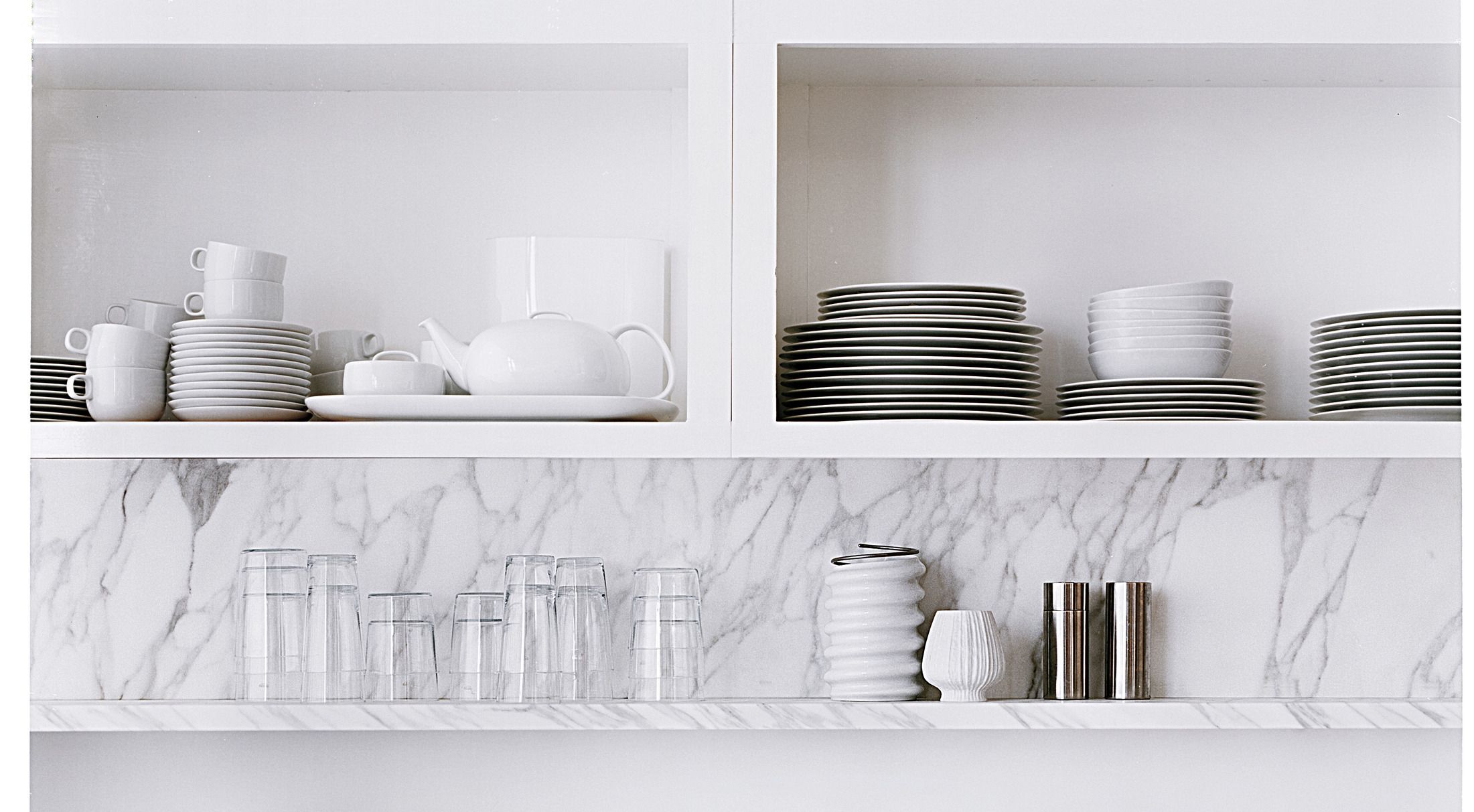 A marble shelf adds drama and beauty to a kitchen, safe from the splatters and dings that mar countertops. Small ones can be made economically from stone-
yard remnants or door thresholds.
Solid ones, like this Calacatta Gold shelf by architect Joe Serrins, can be supported from underneath using steel L-brackets fastened to the wall studs. For a thicker floating shelf with no visible support, have a stone fabricator assemble a hollow box of mitered marble pieces that can slide onto metal supports fastened to the studs. Coat the supports with adhesive to hold the shelf in place.
Thanks to Mark Meriaux and Amy Oakley of the Natural Stone Institute.