Want an edge on Black Friday or Cyber Monday? From 3 a.m. EDT on October 11th to 2:59 a.m. EDT on October 13th, Amazon will offer all its Prime customers early access to a flurry of massive sales promotions. Everything from outdoor furniture, coffee tables, computer desks, dining sets, bed frames and more will be available to Prime customers at discounted rates, with some retailers already lowering prices to beat the rush. This Prime customer perk offers shoppers a significant edge over the stress and competition looming amidst this upcoming Holiday shopping season.
We spent some time consolidating our research to get you in the know for this upcoming Prime Day 2.0 and help you pick the perfect Prime Day furniture to enhance your home decor and save big!
By clicking on the product links in this article, Mattress Advisor may receive a commission fee at no cost to you, the reader.
Best Amazon Prime Day Furniture Deals – Our Top Picks
Pros and Cons of the Novogratz Bushwick Metal Bed with Headboard and Footboard
| Pros | Cons |
| --- | --- |
| Headboard and footboard included | May not be ideal for heavy sleepers |
| Affordable yet sleek design | May not be for fans of a more rustic look |
| Optional height options | |
| Pros | Cons |
Material: Metal
Customer Rating: 4.3/5
Size(s): Full, queen, king
Assembly: 3.9/5
Warranty: 1-year limited
Simple, sleek and sturdy are three words that come to mind when seeking that perfect metal bed frame. The Novogratz Bushwick metal frame with an included headboard and footboard offers all three features while already available at an affordable rate. This frame is ideal for modern and minimal design fans to turn their beds into a decorative contribution to their bedroom's broader decor. Available in black, blue, and gray, the Bushwick offers a chance to decorate while still offering a sturdy foundation for your bed. Able to provide strong support for up to 500 pounds, the Bushwick can help maintain a steady sleep and still surface for you and your partner.
Assembly is simple, and all tools required are included with your purchase. Furthermore, the Bushwick offers two height options from the ground at 6″ and 11″, giving you storage options. Already available on Amazon for $193 today, between the quality and the price, the Bushwick is our favorite metal bed frame to look out for this October Prime Day!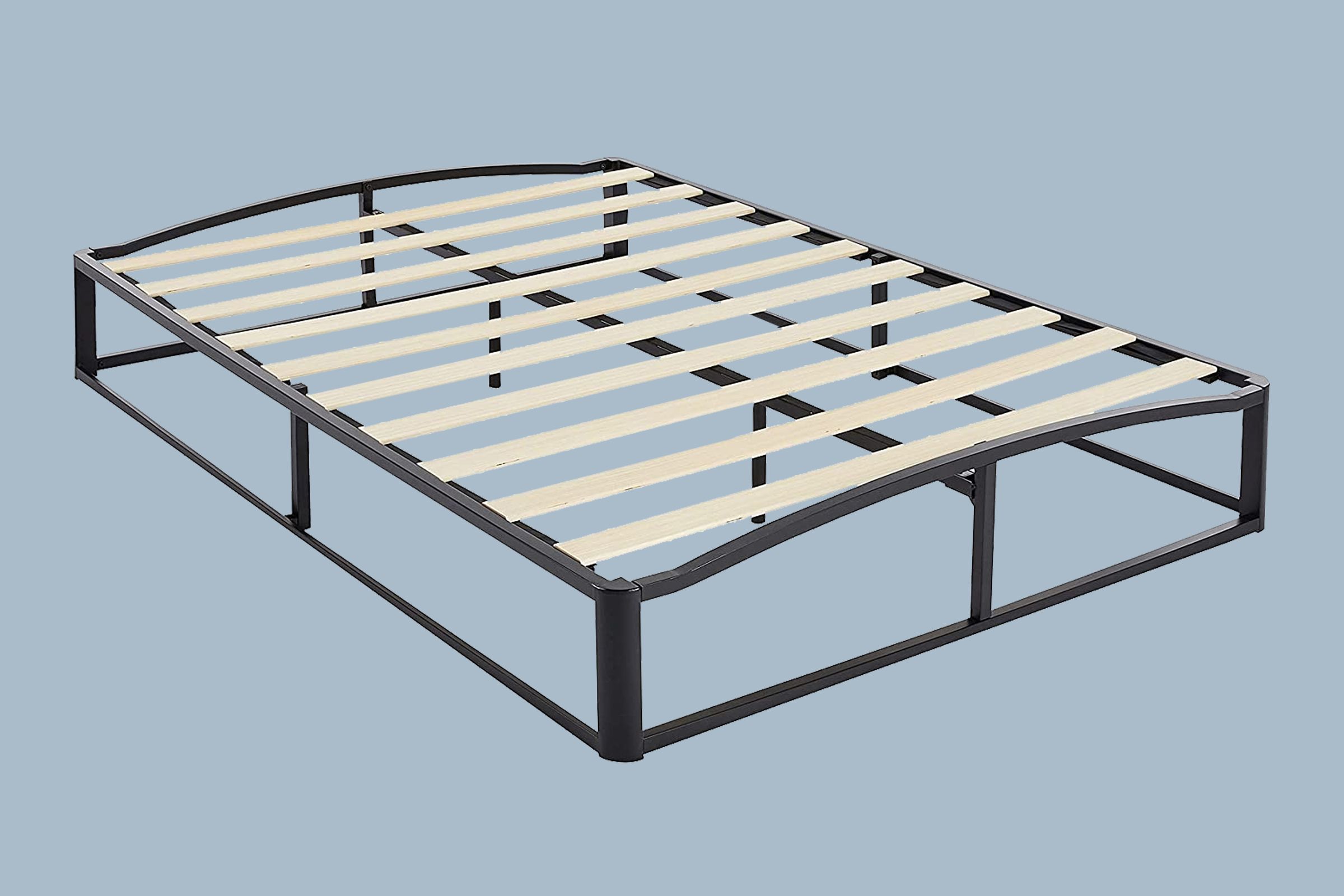 Pros and Cons of the AmazonBasics Modern Metal Platform Bed
| Pros | Cons |
| --- | --- |
| Easy assembly | Available in only one color |
| Simple and accessible look | Headboard and footboard not included |
| No boxspring needed | |
| Pros | Cons |
Material: Wood, alloy steel, metal
Customer Rating: 4.2/5
Size(s): Twin, full, queen, king
Assembly: 4.3/5
Warranty: N/A
If you are seeking a simple and practical bed frame that requires no box spring, the AmazonBasics Modern Studio Metal Bed Frame with wood slat support is a definite solution. The frame consists of strong alloy and metal, delivering a solid foundation that supports up to 500 pounds (queen-size model). Furthermore, the central frames supporting the platform's wooden slats include non-slip tape and a unique foam component that helps prevent noise resulting from movement in the bed. Resting on the central frames are heavy-duty wooden slats that offer adequate support for your mattress, making a box spring unnecessary.
Available at 6″ or 10″ from the ground, the Modern Studio bed frame from Amazon offers ample storage space. Assembly is simple, with all tools and instructions readily available upon the frame's arrival. And with a solid black finish and modern look, the bed frame is no eye-sore either, as it can be easily incorporated into the broader decor of most bedrooms. This practical and charming platform is already available for $125.93, and considering the quality, it's already a definite steal even before Prime Day begins!
Pros and Cons of the DHP Dakota Upholstered Faux Leather Platform Bed
| Pros | Cons |
| --- | --- |
| Chic look | Available in one color |
| Vegan leather | May not be for fans of a minimal look |
| Able to support up to 160 pounds of storage | |
| Pros | Cons |
Material: Faux leather, wooden slats, metal
Customer Rating: 4.4/5
Size(s): Queen, king
Assembly: 4.1/5
Warranty: N/A
For those living in cities or small bedrooms, a bed frame that helps to create more storage space is essential when choosing the right one for your home. The DHP Dakota bed frame made with upholstered faux leather and under-mattress storage drawers is a go-to for sleepers seeking a practical bed frame with a luxury look. Four drawers (each with a 40-pound capacity) are included under the bed's wooden slats that blend in with the broader platform but are easily used for accessible and practical storage under your mattress.
Furthermore, a chic headboard and footboard with button-tufted diamond detailing decorate the bed frame with an elegant look. Plus, wooden slats make the platform a very breathable addition to your mattress, requiring no box spring. For a sturdy bed frame that helps to maximize your room's storage space, we recommend having your eye out for the DHP Dakota this coming Prime Day, as it's already available for $341.16 or 17 percent off its typical listing price.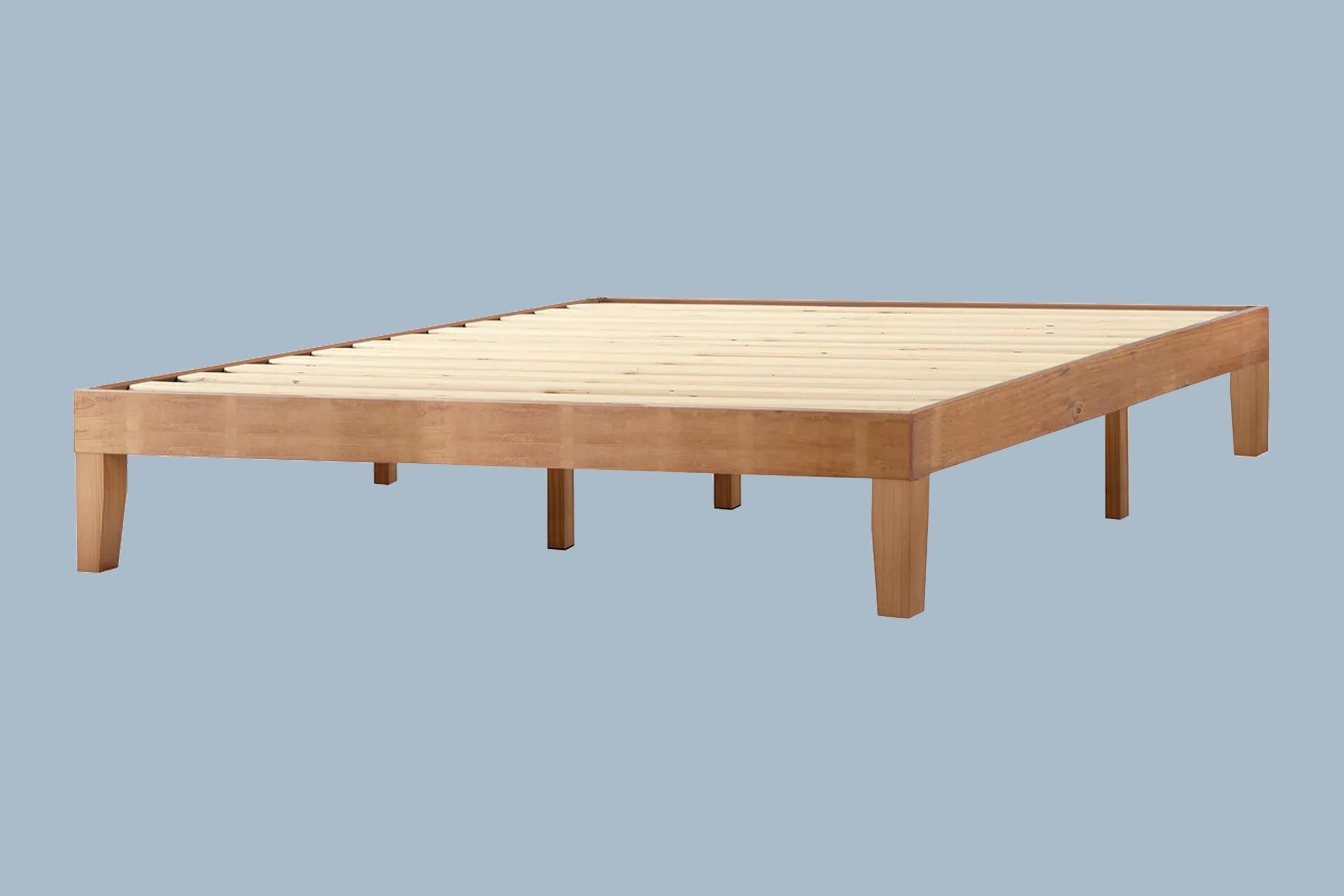 Pros and Cons of the Mellow Naturalista Classic
| Pros | Cons |
| --- | --- |
| Generous warranty | Not ideal for heavier sleepers |
| Easy assembly | One color available |
| Floor or headboard not included | |
| Pros | Cons |
Material: Wood
Customer Rating: 4.7/5
Size(s): Twin, full, queen, king
Assembly: 4.7/5
Warranty: 5 years
If you're seeking a rustic yet durable bed frame addition to your home, the Mellow Naturalista Classic is a great pick! Currently on sale for $168.98 or 25 percent off its typical listing price, the Mellow Naturalista Classic is exceptionally affordable for being solid wood. The all-wood frame is designed to retain a sturdy foundation that prevents the mattress from sliding. Furthermore, requiring no box spring, the bed frame uses breathable wooden slats that include an anti-slip component that helps keep the mattress in place.
The Classica can be assembled in minutes, and its slats can be easily spot-cleaned if needed. Its mid-century modern look is asserted by its stylish yet rustic pine finish. The Mellow's asking price for an all-natural wood frame with a luxury look is already worthy of our attention. However, we suggest following the Mellow as Prime Day approaches for even more potentially incredible deals on this beautiful wooden bed frame!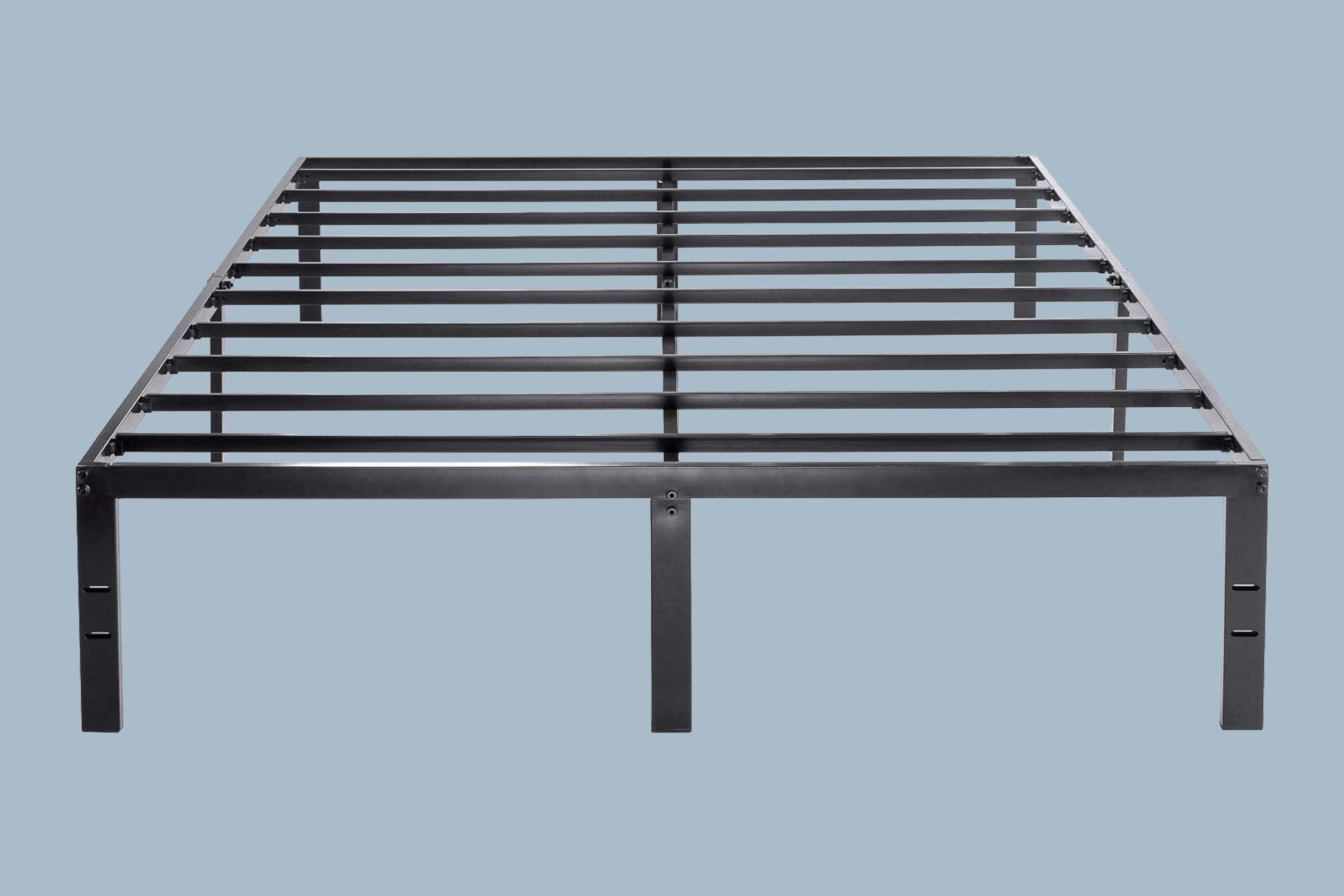 Pros and Cons of the Best Price 14 Inch Metal Platform Bed
| Pros | Cons |
| --- | --- |
| Lightweight, easy to move | The center leg may complicate storage |
| Multiple size options | Available in just one color |
| Steel slats | |
| Pros | Cons |
Material: Steel
Customer Rating: 4.6/5
Size(s): Twin, twin XL, full, queen, king, California king
Assembly: 4.5/5
Warranty: N/A
We all want the best for the least, and when it comes to bed frames, a sturdy and stylish platform at a bargain rate may seem far-fetched. However, the Best Price Mattress 14″ metal platform bed is an all-steel durable bed frame available for just $100. Furthermore, the all-steel frame is just that, all steel! Meaning this frame is very stable and includes steel slats, rather than wood, that deliver a breathable alternative to a box spring yet, a potentially much longer lifespan. In addition, the frame has nine legs rather than eight, with a center steel ninth leg helping to generate an even more supportive and sturdy core with a 1,500-pound loading weight capacity.
The frame is simple, yet its black finish and minimal look make it an easy addition to any bedroom without disrupting any broader aesthetic. Furthermore, with more than a foot of clearance on all its models, you have ample storage room with this platform. The Best Price 14″ can help resolve any bed frame needs at a true bargain rate!
Pros and Cons of the Novogratz Her Majesty Upholstered Linen Bed
| Pros | Cons |
| --- | --- |
| Breathable mattress support | Assembly may require numerous people |
| Multiple color options | Once in place, it may be hard to move |
| Sturdy metal and wood blended support | |
| Pros | Cons |
Material: Wood, linen, metal
Customer Rating: 4.4/5
Size(s): Twin, full, queen, king
Assembly: 4.1/5
Warranty: 1-year limited
For over two decades, Novogratz has been offering consumers signature designs manufactured to be stylish yet accessible for those seeking a modern look at a reasonable rate. The Her Majesty upholstered linen bed frame with tufted wingback design and slanted wooden legs by Novogratz offers a chic yet cozy addition to any modern bedroom. The stylish wingback headboard greets you and your partner with a cozy royal feeling, while the linen exterior of the platform gives a soft, welcoming feel to your bed.
Beyond its majestic exterior, the frame is designed to offer you a breathable and sturdy foundation. High-quality Brentwood slats support your mattress allowing for airflow and a level foundation. Slanted solid wooden legs further generate support from the frame's base. At the same time, the slats and overall platform are reinforced with two additional metal legs and a central metal rail that furthers support without disrupting the frame's modern, stylish aesthetic. Her Majesty is a frame that blends fashion with function, creating a durable platform with a boutique-hotel look at a surprisingly affordable rate!
Pros and Cons of the LinenSpa Adjustable Bed Base
| Pros | Cons |
| --- | --- |
| Remote-controlled adjustability | Requires nearby electricity source |
| Durable construction | Single color |
| Split king option for couples | |
| Pros | Cons |
Material: Alloy steel
Customer Rating: 4.7/5
Size(s): Twin XL, full, queen, king, split king
Assembly: 4.6/5
Warranty: 5-year limited
Whether watching a movie or overcoming an injury, adjustable bed bases offer versatility to a mattress. The Linenspa adjustable bed frame is a durable yet stylish platform with motorized adjustability. The frame's near-silent motor is remote-controlled, allowing you to precisely adjust your upper body's angle from zero to 58 degrees and lower body from zero to 40 degrees with the click of a button. While the simple black and steel frame is stylish on its own, the frame is designed so that you can easily attach a head or footboard to it or slip it into a broader decorative platform exterior.
Notably, the frame's alloy steel build can safely support upwards of 850 pounds, making it ideal for heavier sleepers. Regardless, Linenspa offers a limited 5-year warranty on this frame, reflecting the company's broader confidence in its durable construction and lifespan. On its own or decorated, the Linenspa adjustable bed base is an excellent opportunity to get more out of your mattress.
Pros and Cons of the Walker Edison Alexander Classic Solid Wood Bunk Bed
| Pros | Cons |
| --- | --- |
| All assembly tools are included | Expert assembly comes with an additional hefty fee |
| Wood is responsibly sourced | Its heavy weight may make mobility and assembly complicated |
| Versatile construction | |
| Pros | Cons |
Material: Wood
Customer Rating: 4.5/5
Size(s): Twin
Assembly: 4.2/5
Warranty: 30-day limited
While bunk beds help us to maximize small spaces, the sturdiness of the bunk bed's build and the reliability of its safety are the utmost priority for parents when choosing the right one for their kids. The Walker Edison Alexander Classic is a solid wood bunk bed frame built to last. Multiple ladders and guardrails are included in the frame's design to maximize safety and accessibility for children. In addition, the frame's wooden materials are responsibly sourced and available in espresso, gray, white, and walnut, giving you multiple options when incorporating the frame into your children's room decor.
No box spring is needed, with each twin level using wooden slats to further breathability and maintain level support. Furthermore, whether your child grows up or another one is on the way, the Alexander Classic can be compacted into a single loft bed or converted into a triple bunk bed by purchasing an additional bunk unit. Finally, as Prime Day approaches, the Alexander Classic is already being offered at a 24-percent discounted rate of $374.99, making it an affordable and great choice for your children's room and sleep experience.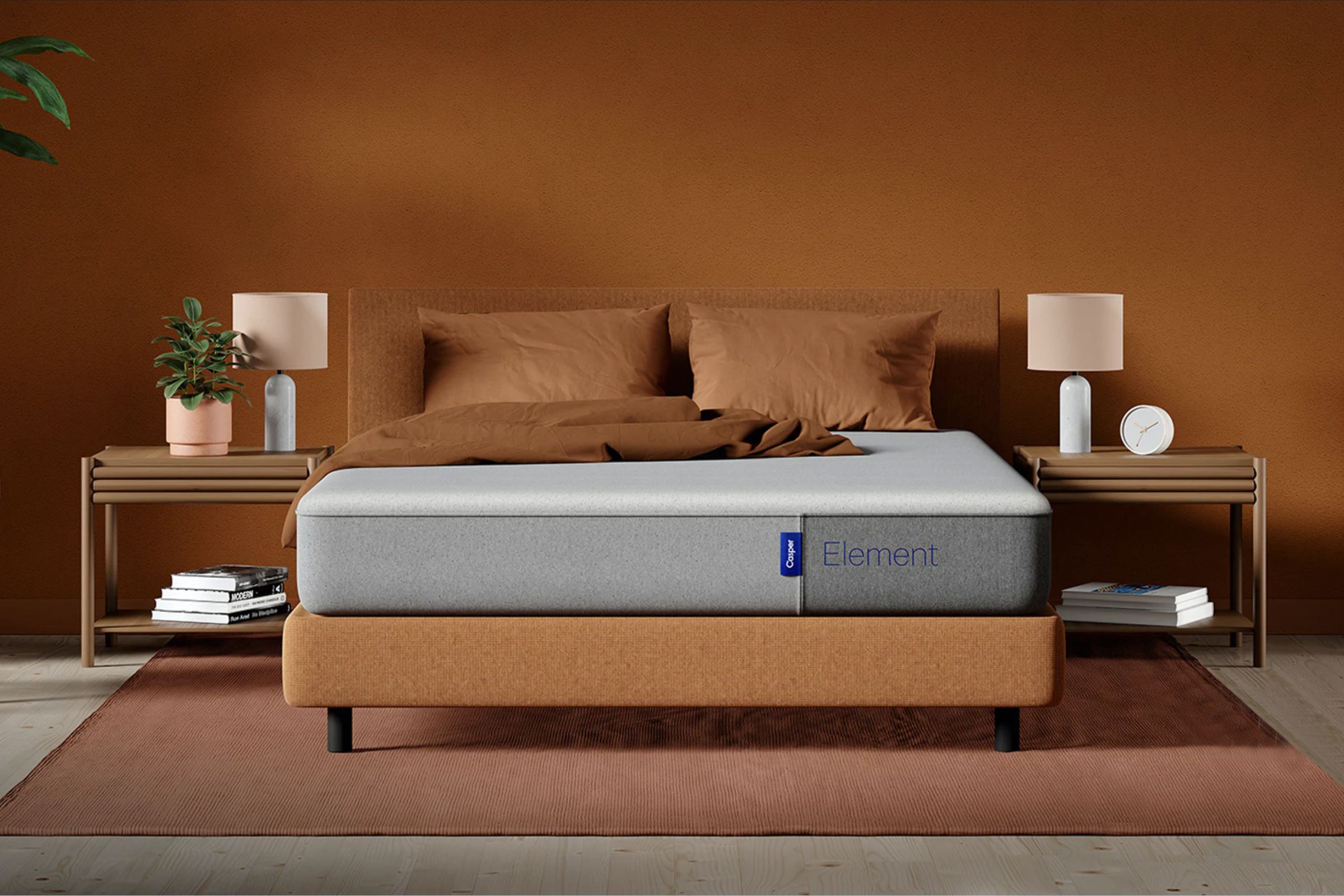 Pros and Cons of the Casper Sleep Element Mattress
| Pros | Cons |
| --- | --- |
| Great for couples | Not ideal for stomach or combination sleepers |
| Great for side and back sleepers | Mediocre responsiveness |
| Good choice for hot sleepers who enjoy memory foam | |
| Pros | Cons |
Material: Memory foam
Customer Rating: 4.5/5
Size(s): Twin, twin xl, full, queen, king, California king
Assembly: N/A
Warranty: 10-year limited
Amidst the flurry of Amazon Prime Day deals is a great opportunity to grab an ultra-luxury mattress at a markdown rate. The Casper Element is a memory foam mattress that offers exceptional support and relief for back and side sleepers. Available in a medium-firm feel, the Element provides a soft cradle of memory foam without unhealthy sinkage.
The Casper has a three-layer luxury construction of a high-density foam base, a perforated foam core generating airflow, and a soft cooling cover top layer that greets the sleeper on the surface. Sleep specialists also reportedly found the Casper Element perfect for couples giving the bed an 8 out of 10 for its motion isolation and an impressive 9.5 out of 10 for its edge support. In addition, the Element is currently listed at $625 for a queen, or 10 percent off its typical price, days before Prime Day. So don't miss the chance to level up your sleeping experience with the soft yet supportive comfort of the Casper Element!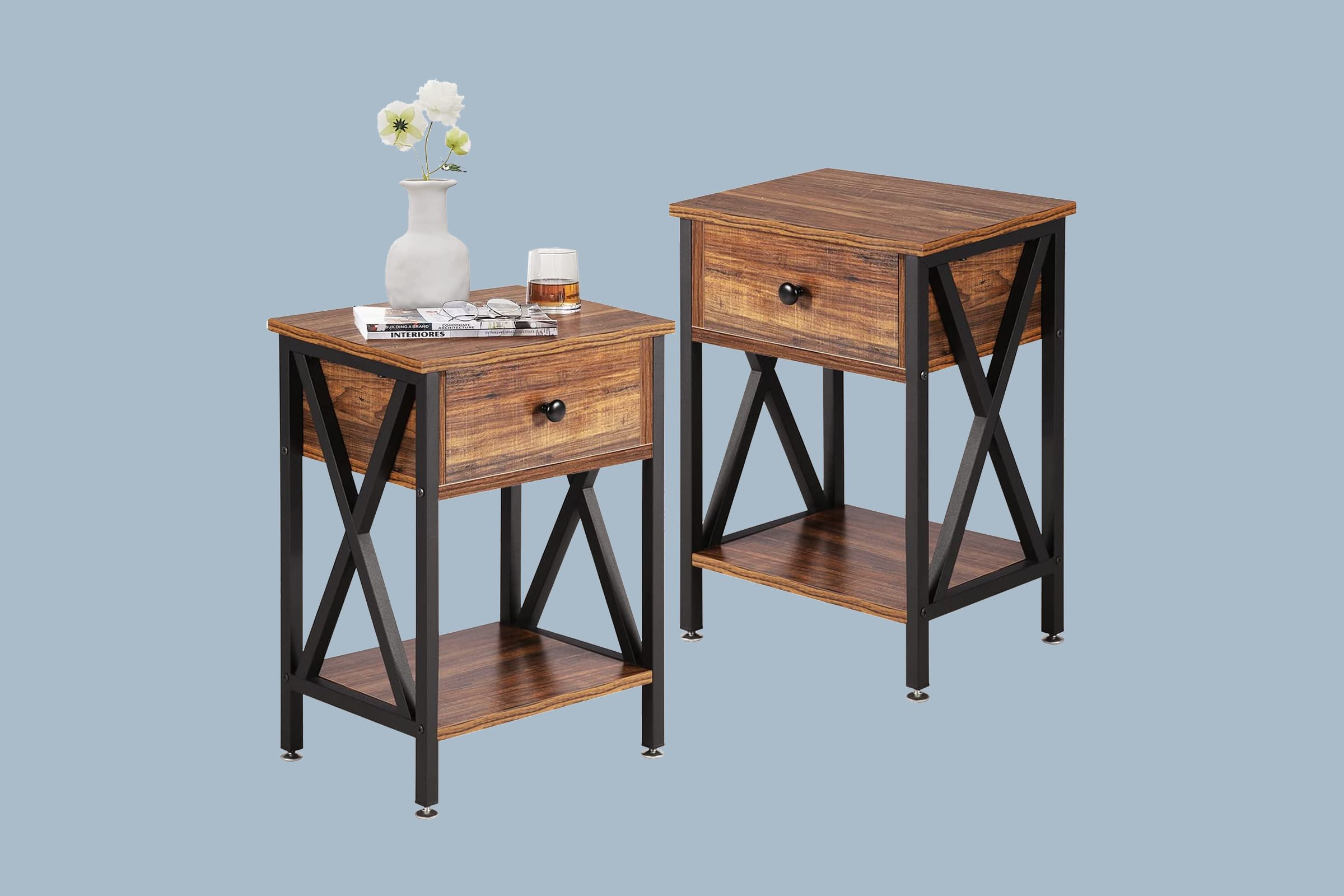 Pros and Cons of the VECELO Night Stand
| Pros | Cons |
| --- | --- |
| Listing price is for two nightstands | Single color |
| Durable yet light construction | Expert assembly comes with a fee |
| Versatile | |
| Pros | Cons |
Material: Metal, engineered wood
Customer Rating: 4.3/5
Size(s): 11. 8″ W x 15. 8″ L x 21. 7″ H
Assembly: 4.1/5
Warranty: 1-year limited
A quality, versatile night stand that can work as a side table or end table in our bedroom or living room can become a versatile piece of home furniture that lasts a lifetime. The Vecelo night stand blends metal with rustic wood to create a modern yet simple look that can complement various home interior designs. The Vecelo night stand has a metal frame and thick MDF particle board construction, making the nightstand equal parts attractive and durable. The engineered wood is also very lightweight, making the nightstand quite mobile. With one shelf, a tabletop, and one drawer, the nightstand offers you storage and decoration wherever you choose to put it.
The Vecelo night stand is sold in pairs, making it an excellent bargain for decorating your living room loveseat or bedroom mattress. Or get creative and use one in your home office and one in the foyer. Even before Prime Day is upon us, the Vecelo is currently on sale at $85.40, or 10 percent off its typical listing price, for two pieces!
Pros and Cons of the Furinno Tidur Simple Design Dresser
| Pros | Cons |
| --- | --- |
| Elegant look | Single color |
| Eco-friendly particle board components | Once constructed, may be heavy to move |
| Easy assembly | |
| Pros | Cons |
Material: Engineered wood
Customer Rating: Coming soon!
Size(s): 27.72″ W x 30.91″ H
Assembly: Coming soon!
Warranty: 1-year limited
Finding a quality dresser at an affordable rate is not always easy. The Furinno Tidur Simple Design dresser is a multi-tier piece of home furniture with a simple look, ample storage and an impressive price. The dresser is currently listed at 33 percent off, or $82.99, days before Prime Day. The three-tier dresser is available in a French oak gray color, which offers an elegant look to any room. Furthermore, the dresser's high-quality particle board used in its construction creates a durable dresser with a long lifespan. The dresser's top can support 20 pounds, with each shelf supporting upwards of 15 pounds. Making it perfect for organizing your clothes and still being able to function as a tv stand. If you're looking for a quality dresser on a budget this Prime Day, check out the Furinno Tidur Simple Design dresser!
How to Find Good Furniture on Amazon
When choosing the best furniture on Amazon, further researching a product in advance can ensure you make the right choice. First off, check reviews of products, the good and the bad! Then, consider researching other websites' tests and reviews of a product.
Additionally, check the quality of the components used in the furniture's construction if possible. If understanding the origins of its manufacturing or the quality of components used is out of reach, make sure you seek furniture with a quality warranty and return policy. In many cases, a generous warranty can reflect a manufacturer's confidence in their product and help relieve you of concern for making the wrong choice!
How to Pick a Good Bed Frame
Size: Whether for a king or queen, the size of a bed frame should be your first consideration when choosing the right one for your home. Ensuring a bed frame is compatible with your existing mattress and its footprint able to fit in your bedroom is the first step before exploring other features in a platform. Furthermore, some bed frames can be pretty heavy and become a multi-person job. Therefore, if you are seeking a heavy frame, you should consult its delivery policy and ensure ahead of time you have the resources to get it where it needs to be in your home.
Support: A sturdy foundation for your mattress defines a quality bed frame. If you move around in your sleep or want private time with your partner that doesn't result in ruining your floor or waking your kids, you will want a stable and durable bed frame that holds you up while keeping itself in place.
Style: Beyond their practicality, bed frames potentially offer a great and fun way to transform your sleeping space into the highlight of your bedroom's decor. So when choosing the right bed frame for your best home, make sure it lives up to your desired bedroom's aesthetics.
Weight Capacity: Weight capacity is a straightforward yet crucial feature to understand before purchasing your bed frame. You always want to ensure that you get a bed frame that can support you or you and your partner's weight. Fortunately, the weight capacity of a bed frame is almost always made available to the consumer in advance to avoid making the wrong choice.
FAQ About the Best Amazon Prime Day Mattress Deals
Does Amazon deliver heavy items?
Amazon does deliver heavy items such as furniture. However, while free shipping and two-day shipping may be included on some furniture for Prime customers, Amazon will likely offer more customizable delivery choices upon checkout for more oversized items, such as your preferred delivery time to avoid missing you. Additionally, many furniture items on Amazon (from sectional sofas to dining tables) offer delivery to a specific room in your home up to two flights of stairs (with an adult present).
If Amazon sells it, there should always be a delivery option, with Prime customers typically being offered the most desirable delivery choices. Fortunately, Amazon will always notify you of your options upon checkout.
Is Prime day only for Prime members?
Yes, Prime Day and all its benefits are only available to Prime Customers. However, you can easily become a Prime member for $139 a year or $14.99 monthly. Additionally, university students can enjoy Prime membership for 7.49$ a month. Regardless, new members can enjoy a 30-day free trial of Prime membership before being charged.
When will the Amazon Prime Day sale end?
Prime Day starts on October 11th at 3 a.m. EDT and ends on October 13th at 2:59 a.m. EDT.
How do I return furniture to Amazon?
Furniture can be returned within 30 days of its arrival for any reason. If there is an issue with your furniture, you can also arrange for Amazon to replace it. Due to the size, it's best to coordinate with Amazon customer service. However, information on returns should be readily available to you upon checkout or when reviewing your furniture's purchase information.
Summary of Our Top Picks for the Best Amazon Prime Day Mattress Deals
Find More of the Best Prime Day and Early Access Day Sales