Each product we feature has been independently selected and reviewed by our editorial team. If you make a purchase using the links included, we may earn a commission.
It's no secret that a good night's sleep can work wonders for our quality of life: It can give us increased energy, help us recover quicker, reduce stress, and much more. Good sleep starts with a quality mattress, which is where this Puffy mattress review comes in. If you've been considering redoing your bedroom and upgrading to something a little plusher, the Puffy mattress fleet is sure to deliver. We've teamed up with the team at Mattress Advisor to cover the three mattresses that Puffy creates. Between their cloud logo and company name, one hopes that sleeping on a Puffy mattress will feel something like what we hope sleeping on a cloud would feel like. Spoiler alert: it's pretty close to what we envisioned. Check out these plush mattresses and discover if they're the right fit for you.
Affiliate Disclosure:This Old House's Reviews Team is committed to delivering honest, objective, and independent reviews on home products and services. To support this business model, This Old House may be compensated if you purchase through links on our website.
Perks of a Puffy Mattress
When you purchase a new mattress, you want to be sure you're getting the best option for your needs and for your money. With Puffy mattresses, you receive a lifetime warranty that should cover the entire lifespan of your mattress. After you order a new Puffy mattress online, it ships free to your doorstep in 2-5 business days. All of Puffy's different mattresses are made in the USA, which allows them to keep a lot of costs down to give you a great price on your new bed.
Puffy beds are of the bed-in-a-box variety, meaning they arrive in a compact box and need to air out for a bit before they're ready to be enjoyed. You'll be able to determine whether or not the Puffy mattress is the right fit for you with their 101-night sleep trial period, and if it isn't a match, you can return it to them for free and receive a full refund. There's even a mattress quiz on their website that can help you determine which of their mattresses is the correct one for your needs. How's that for risk-free buying?
Puffy Original Mattress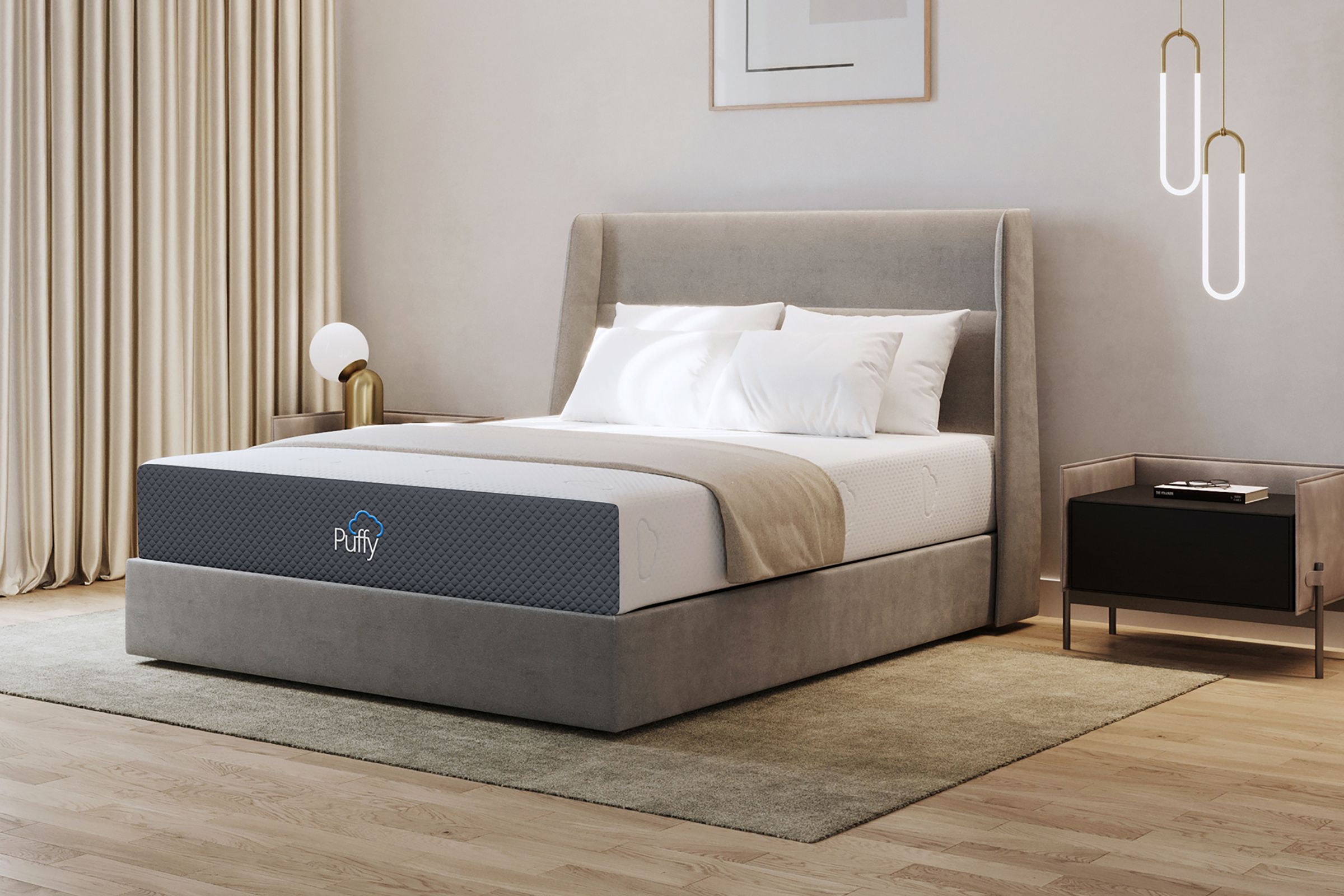 Pros and Cons of the Puffy Original
| Pros | Cons |
| --- | --- |
| Great for couples | Not ideal for stomach sleepers |
| Has stain-resistant cover that simplifies cleaning | Heavier sleepers may need more support |
| Fairly cooling for memory foam | |
| Pros | Cons |
We've all fantasized about sleeping on a cloud, gently cushioned by the fluffy white formations in the sky as we drift off to sleep. While that may only happen in daydreams, the Puffy mattress is the closest you can actually get to that sleeping-on-a-cloud feeling. Made with five layers of memory foam, this bed gently contours pressure points while supporting areas that need a bit more push, it received an 8.75 out of 10 in spine alignment. The Puffy Original is a great option for couples, it excels at isolating motion (9.25/10) and provides great edge support (8.75/10), two things that are very important when it comes to sharing a bed with another person. Combination sleepers can easily shift positions with the high responsiveness of this bed (9/10). This will be a comfortable mattress and offer the best conforming for sleepers of light or average weight.
Highlights of the Puffy Original
Mattress Type: Memory Foam
Customer Rating: 4.6/5
Mattress Advisor Score: 9/10
Firmness: Medium-Firm
MA Score: The Mattress Advisor Score is a weighted score that takes into account 14 different factors related to the mattress' performance, function, convenience and the brand's social responsibility.
Other Puffy Mattresses
Puffy Lux Mattress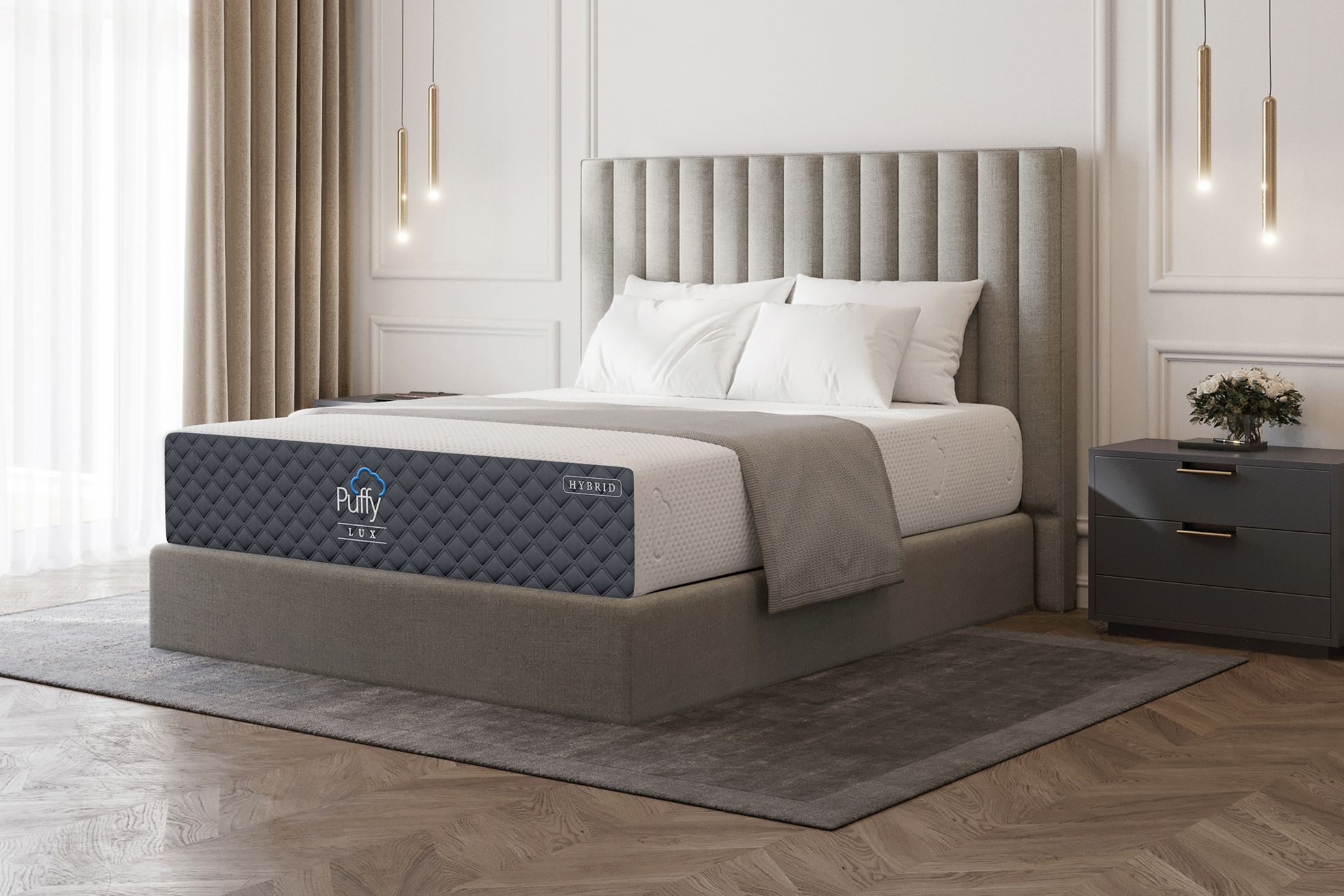 Pros and Cons of the Puffy Lux Hybrid
| Pros | Cons |
| --- | --- |
| Great for back pain | Stomach sleepers may need more support |
| Superb pressure relief | Not for budget shoppers |
| Cooling relief for hot sleepers | |
| Pros | Cons |
Mattress Type: Memory Foam
Customer Rating: 5/5
Mattress Advisor Score: 9.3/10
Firmness: Medium-Firm
Say goodbye to back pain and hello to plush cushioning with the luxurious Puffy Lux, Puffy's memory foam hybrid mattress that dissolves tension for a deeply restful sleep. A high spine alignment score (9/10) helps keep the back in its natural posture as you rest and help alleviate pain. This mattress scored a near-perfect 9.5 out of 10 in pressure relief thanks to intelligently designed foams that work to cradle your pressure points and support areas that need it. Cooling gel-infused memory foam and temperature-regulating foam work together to keep your body comfortable as you rest, giving this bed an 8.75 out of 10 in cooling. This luxury hybrid gives your bedroom (and your sleep quality) the upgrade it deserves.
Puffy Royal Mattress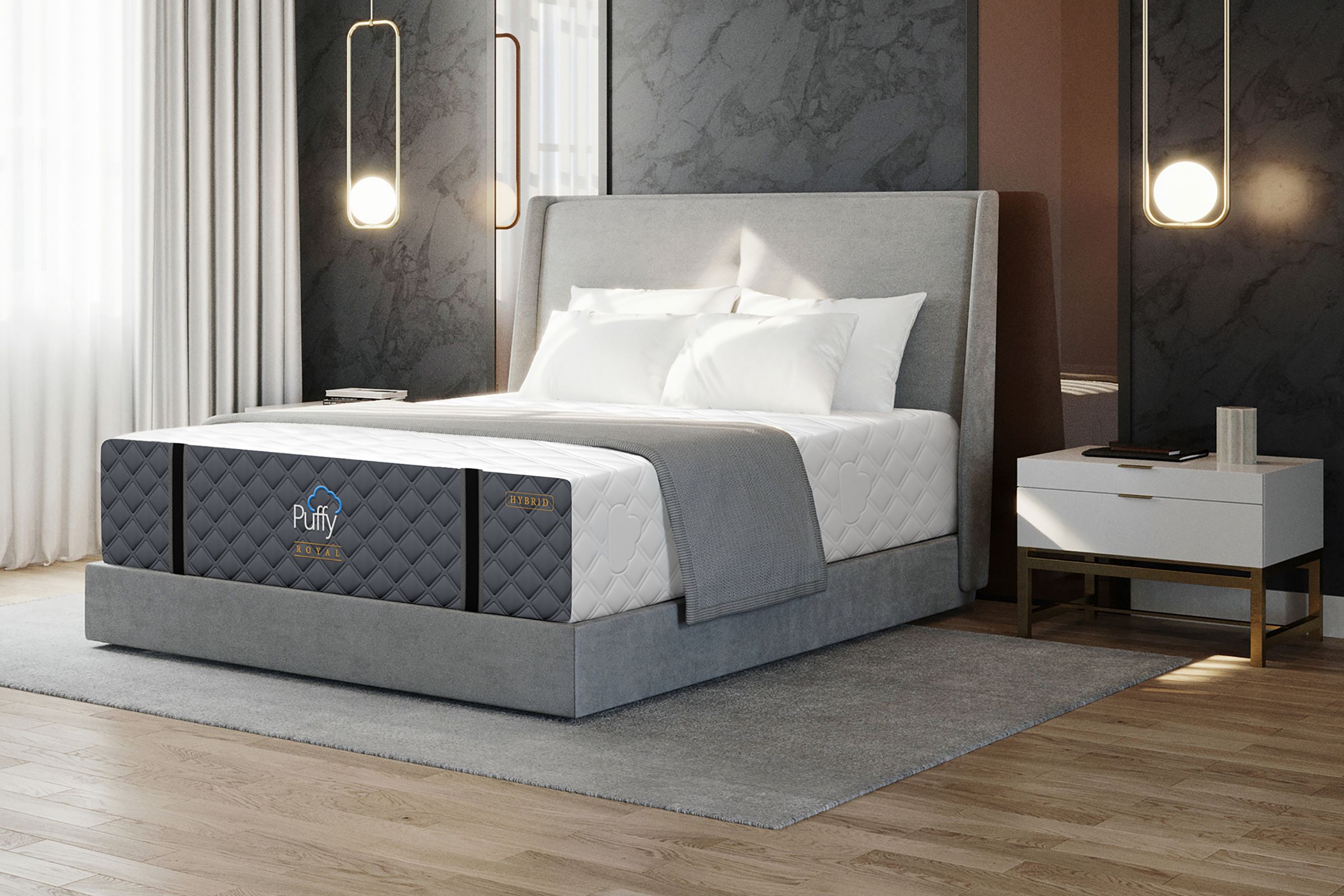 Pros and Cons of the Puffy Royal
| Pros | Cons |
| --- | --- |
| Good for all sleeping positions | Not ideal for couples |
| Suitable for most heavy sleepers | Spine alignment could be improved |
| Stain-resistant cover for easy cleaning | |
| Pros | Cons |
Mattress Type: Hybrid
Customer Rating: 5/5
Mattress Advisor Score: 8.2/10
Firmness: Medium-FIrm
Side sleepers can struggle to find the right amount of support and relief in high-pressure areas, which is where the Puffy Royal excels. This hybrid mattress utilizes four layers of foam: Puffy's cooling Cloud foam, contouring memory foam, temperature-regulating foam, and polyfoam to provide loads of cushioning that's perfect for all types of sleepers (8.75 out of 10 in pressure relief). The Puffy Royal can support up to 700 pounds, which is good for plus-size body types, though heavier stomach sleepers might need more support. A layer of individually wrapped coils provides additional breathability, helping sleepers stay cool at night. A stain-resistant polyester cover makes cleaning this mattress a breeze, plus helps with airflow. Keeping a mattress clean can be difficult, especially with kids and pets in the house, and this mattress cover simplifies that.
Puffy Mattress Sizes and Prices
| Size | Dimensions | Puffy Original | Puffy Lux | Puffy Royal |
| --- | --- | --- | --- | --- |
| Twin | 38″ x 75″ | $1,449 | $1,749 | $2,099 |
| Twin XL | 38″ x 80″ | $1,499 | $1,799 | $2,199 |
| Full | 54″ x 75″ | $1,649 | $2,049 | $2,899 |
| Queen | 60″ x 80″ | $1,799 | $2,249 | $3,149 |
| King | 76″ x 80″ | $1,999 | $2,449 | $3,449 |
| California King | 72″ x 84″ | $1,999 | $2,449 | $3,449 |
| Size | Dimensions | Puffy Original | Puffy Lux | Puffy Royal |
Puffy Mattress Features
Motion Isolation: If you sleep alone most of the time, motion isolation isn't a huge factor to consider, but sharing a bed is a lot better when you aren't woken by your partner's (or pet's) movements throughout the night. Foam beds usually excel at isolating the motion transfer, the Puffy Original is the best bed for couples who don't want to wake up if the other moves.
Edge Support: Some of us like to sleep on the edge to keep a little cooler throughout the night, or if you're sharing a bed it can be essential to sleep on your half to avoid encroaching on your partner's space. Whatever the reason, good edge support can be important. You want edges that can support you if you like to sleep there, instead of feeling like you may roll off at any moment.
Firmness: Everyone has different firmness preferences. Stomach sleepers need a firm mattress that supports their hips without sinking too much, side sleepers need a softer bed to cradle their hips and shoulders, and back sleepers usually want something in between. All Puffy mattresses are medium-firm, which make them suitable for just about all sleeping positions.
Pressure Relief: Solid pressure relief can be important to those with back pain and people who sleep on their sides. Pressure points like the hips and shoulders can feel achy in the morning if they aren't properly cushioned, so finding a bed with pressure-relieving abilities is key to sleeping soundly and waking up without pain.
Spine Alignment: Nobody wants to wake up with a sore back and neck, and you may be surprised to learn that good posture during the nighttime hours is just as important as it is during the day. Some beds do a better job of keeping your spine in alignment as you sleep, which can help reduce soreness and pain in your neck, lower back, and shoulders.
Temperature Regulation: Hot sleepers know the struggle of waking up covered in sweat. It can be difficult to fall asleep when you're overheated, and even more uncomfortable to wake up sweating. Finding a mattress that offers good temperature regulation and is made with cooling, breathable materials can help you stay cool as you rest. Puffy mattresses have decent cooling, with the Puffy Lux being the best option for hot sleepers.
Price Point: The cost of a new mattress varies based on the materials used, the type of construction (memory foam, innerspring, latex, etc.), and the quality of the mattress. More luxury models will have a higher price point, though budget options are always available. You can usually find a quality mattress for between $1,000 and $2,000. Puffy offers both standard and luxury mattresses, so you can easily find one that matches your budget.
Shipping and Delivery: All Puffy mattresses ship for free within two to five business days, so it should arrive on your doorstep within a week of ordering it. If you find you don't love it, they also offer free returns within their 101-night trial period, so you can easily exchange it to find a better fit.
Sleeping Positions on Puffy Mattresses
Side Sleepers: Our hips and shoulders are especially sensitive to pressure, so those sleeping on their sides need pressure relief that contours the body, particularly in those areas. Medium to soft beds work best for this, so all of the beds in the Puffy lineup should be suited for side sleepers.
Back Sleepers: Proper spine alignment and support are key to comfortably sleeping on your back, finding a bed that provides these qualities will help back sleepers rest comfortably. The medium-firm level of the Puffy fleet is great for back sleepers and should provide them with the proper cushioning and lift they need.
Stomach Sleepers: Stomach sleepers need a bed that gives the proper lift in the hips, too much sinkage in those areas can cause back issues. The best mattresses for stomach sleeping tend to be higher on the firmness scale, so the Puffy lineup might not be ideal for those who want a firm sleep surface.
Combination Sleepers: Changing positions as you rest can be difficult if you feel trapped in the mattress, so finding a bed that offers good responsiveness is a key factor for combination sleepers. The Puffy Original and Puffy Lux mattresses both have a good bounce that allows combination sleepers to quickly adjust and get comfortable.
Puffy Mattress Materials
Puffy specializes in crafting mattresses that feel like you're drifting off to sleep amongst the clouds, and that sensation is largely due to the layers of foam they utilize in their beds. We'll discuss some of those foams to break down what purpose they serve.
Cooling Cloud Gel-Infused Memory Foam: The top layer of Puffy mattresses is designed to promote airflow and disperse body heat to prevent you from overheating.
Plush Cloud Foam: Found in the Puffy Lux, this comfort layer delivers superb pressure relief and contouring.
Climate Comfort Memory Foam: This memory foam layer incorporates phase-change technology to resist changes in temperature, keeping you cool and comfortable while also providing excellent pressure relief. All Puffy mattresses contain this support foam.
Cloud Foam: This polyfoam layer in the Puffy Royal delivers zoned support for heightened relaxation.
Innerspring System: The Puffy Royal is the only bed with innersprings. These individually wrapped coils provide additional support, breathability, and motion isolation.
Firm Core Support Base Layer: The Puffy Original and Puffy Lux both contain this support layer of high-density foam that improves responsiveness and support while also providing durability and increased structure to the mattress.
FAQ
How long does a Puffy mattress last?
A Puffy mattress should last around 7 years but could last more if taken care of properly and depending on the weight of the sleepers.
How thick are Puffy mattresses?
The Puffy Original mattress measures 10 inches thick, the Puffy Lux is 12 inches thick, and the Puffy Royal is 14 inches thick. They work on all bed frames, including box springs.
Who are Puffy mattresses best for?
Puffy mattresses are best suited for side sleepers and back sleepers who prefer a more cushioning sleep experience. Stomach sleepers will likely need more support than the Puffy beds offer.
Where can you buy a Puffy mattress?
Puffy mattresses are only available on their website. When you buy an online mattress, they tend to have an off-gassing odor when you initially unbox them. This should disappear within a day.