Don't Leave Home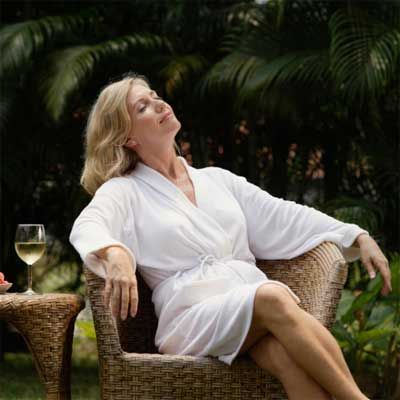 Warm weather, a change of scenery, and a few days to relax—there's a reason we wait all year for summer vacation. But even if you can't get out of town this season, or just want to extend those feel-good vacation vibes, we've compiled a list of 23 ways to give your home that relaxing resort feel. Whether it's transforming your bathroom into a spa, adding bright foliage to the yard, or creating a romantic outdoor dining place, a few projects can revamp your humble abode into a dream destination (shoes are optional).
Hang a Hammock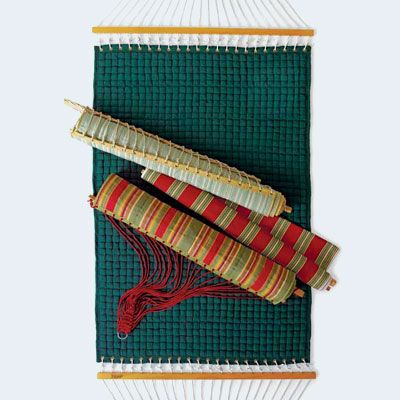 Nothing says R-and-R like an outdoor afternoon snooze. A backyard hammock lets you rock at your leisure while catching up on your favorite magazines (ahem, that unread stack of This Old House), plow through your summer reading list, or get some much-deserved shut-eye. Just make sure you have two sturdy, healthy trees with enough distance apart.
For the how-to, see How to Hang a Hammock.
Build a Fire Pit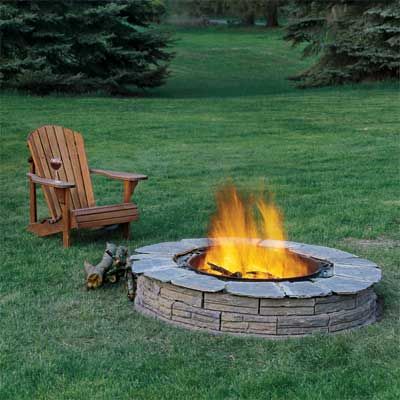 Wind down your evening with a fireside chat—literally. Channel your childhood campfire days with a DIY fire pit that is perfect for roasting delicious marshmallows or singing "Kumbaya." A circular stone-walled pit dug into the ground lights up the yard, whether there's a fire blazing or not. And don't forget to stock up on chocolate and graham crackers; s'mores are a must.
To see instructions on how to build your own fire pit (or for options on ones you can buy), check out How to Build a Firepit and look through our gallery of firepits.
Trick Out Your Bedroom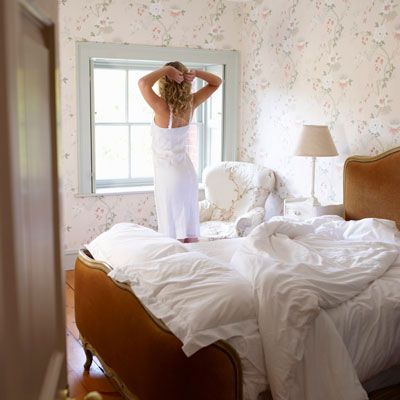 Sleep just seems to come easier on vacation, and it's hard to beat that rejuvenating feeling when you wake up well rested. Fortunately, a good night's sleep does not have to be limited to the days when you're out of town. Just a few adjustments to your current setup can ensure you and your partner sleep like every night is a vacation, without needing to press that nagging snooze button come morning.
To see our complete list of upgrade tips, check out Outfit Your Bedroom for a Better Night's Sleep.
Cook Outside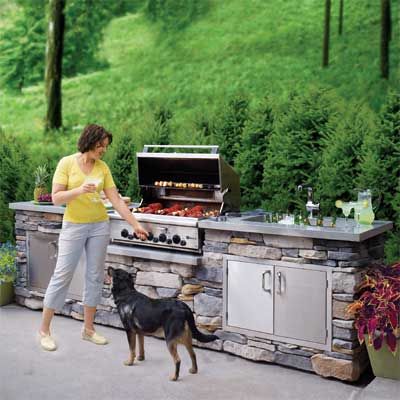 If you can't take the heat, get out of the kitchen—unless the kitchen is already outside. Taking advantage of the summer weather means spending more time outdoors, and creating a fun and open space for outdoor cooking is perfect for enjoying family time or gathering a crowd. Another major plus is relieving your main kitchen and overall house of the built-up heat coming from the oven and stove, a definite summer bummer.
For a step-by-step on building you own open-air cookspace, check out How to Build an Outdoor Kitchen.
Build a Relaxing Fountain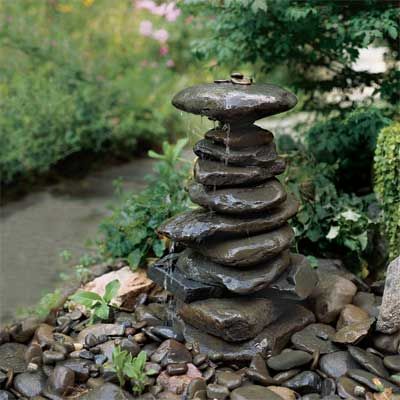 Unwinding to the sounds of a babbling brook might seem like a dream involving a tent by a river under the stars. But with a few large stones, a pump, and plain old municipal water, the oasis can come to you. Easier than building a koi pond and cheaper than traveling somewhere far, a DIY fountain has the right amount of soothing sights and sounds to inject some much-needed tranquility into your yard.
For instructions on how to build your own, read How to Build a Fountain.
Create a Zen Bathroom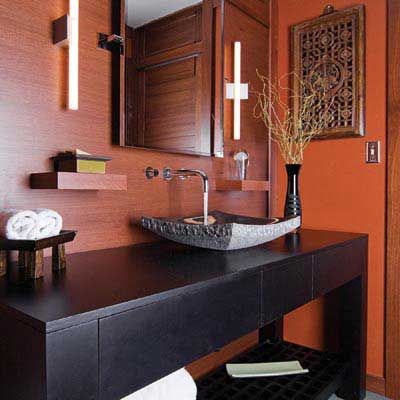 Although a serene atmosphere is one of the best parts about staying at a luxury resort, trips to the spa can get pricey. Luckily, you can cheat the system (and save some cash) by stealing design ideas from fancy upscale bathrooms to use in your own washroom. Smart storage to remove clutter, adding some tranquil plants, or a fresh coat of paint can all do the trick.
To see more ways to soften and soothe your bathroom, check out 13 Relaxing Spa Bath Retreats.
Fix Up Your Outdoor Furniture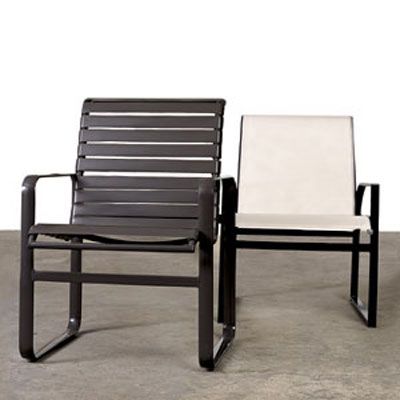 Soaking up the sun in your outdoor lounger is near impossible when the darn thing is falling apart. The good news is even with the worst snags and tears, you won't need to shell out a hefty amount of cash for a whole new set. To make your outdoor furniture like new, all it just takes some touching up, fresh mesh or vinyl straps, and a few extra steps to make sure your restored furniture lives its longest life.
For complete instructions, visit Reviving Outdoor Furniture.
Add Colorful Foliage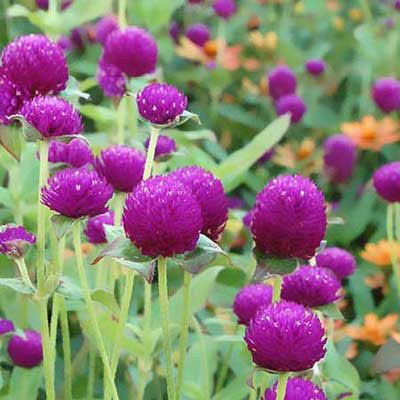 A change of aesthetics is one of the best parts about visiting a new location, but why shouldn't vibrant and exotic plants be for everyday viewing? A new pop of color or adding in some flowers that you normally don't plant can be a great way to feel like your own backyard is a fresh destination. Best part? Some of the most vibrant flora flourishes best in the summer.
To check out optimal garden flowers for summer-long color, see our gallery of Best Garden Flowers for Color All Summer.
Make the Deck New Again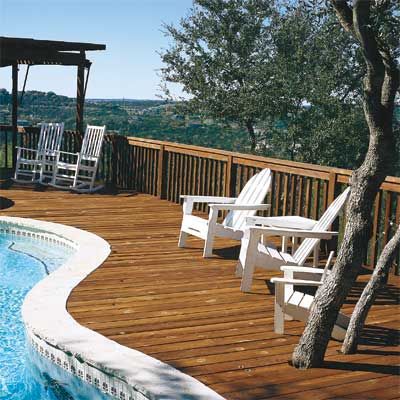 It's hard to get in the vacation spirit when your deck looks more like a dried out splinter trap than a welcoming hangout. Not to mention the unsightly mold and mildew that accumulated over the fall and winter months. To prepare for the season and enjoy being outside again, make sure you thoroughly wash and bleach your deck first, then wait a few days and apply new stain and sealer.
See our complete step-by-step of how to Refresh Your Deck.
Dine Al Fresco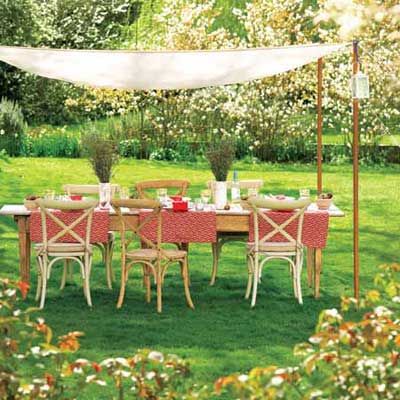 The pleasant weather at many vacation spots might make eating outside seem like a luxury, but enjoying your meals outdoors doesn't have to be limited to cafes and restaurants. Whether for an intimate supper for two or a large family gathering, finding the right patio and deck dining set will make eating outside feel like a delicious getaway. Just make sure the table and chairs are durable enough to withstand the elements, yet comfortable and complementary to your outside decor.
For more tips and examples, visit our gallery of Patio Dining Sets. Or read 25 Thrifty Ways to Create Outdoor Dining if a whole new set of furniture is out of your league.
Kick Up Your Feet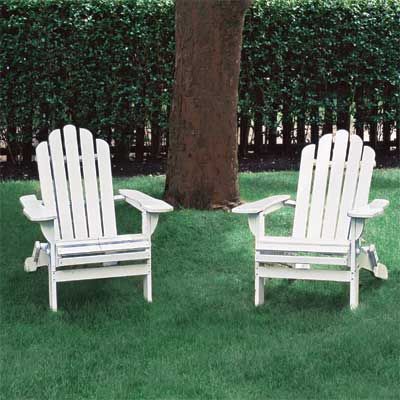 Few outdoor furniture pieces say summer quite like an Adirondack chair. The low-slung, slanted-back seat welcomes lazy loungers, while the design itself is built for comfort, no cushion required. The best part? Not only does the unique design echo picket fences and look great in your lawn, but it's also easier to build than it looks.
For step-by-step instructions, visit How to Build an Adirondack Chair. For the truly skilled handyperson, try a Westport chair for a more rustic look. How to Build a Westport Chair.
Add a Private Reading Spot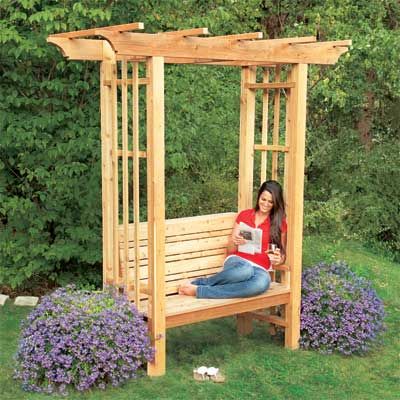 The only thing better than curling up in a reading nook inside is taking advantage of summer and building one outside, and that's exactly what an arbor bench provides: a cozy, outdoor spot to read, nap, or just hang out. The hand-built design is something to be proud of, and the architecture makes a lovely addition to your property. Dress it up with your choice greenery, or let it stand on it's own.
To see our design and how to build one yourself, visit How to Build an Arbor Bench.
Install a Ceiling Fan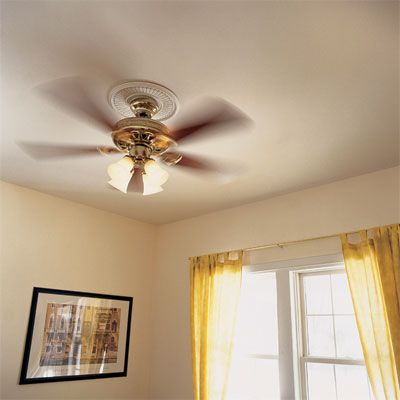 For a lazy, tropical-resort feel, putting in a ceiling fan is key. The cool, constant breeze is comforting and relaxing, and can transform a hot room into a mid-summer night's dream. It keeps energy costs down when the weather isn't quite warm enough for AC, and it helps circulate the cool air when air conditioners are on. After selecting a style and design to fit your room, installing a ceiling fan is actually fairly easy.
To see our step-by-step, read How to Install a Ceiling Fan.
Take the Party on Wheels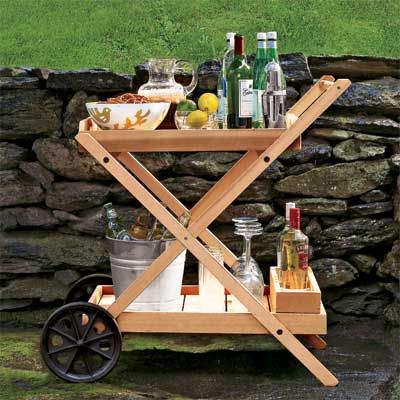 Bring the "It's 5 o'clock somewhere" vacation mentality back home, and don't be afraid to wind down with a drink (or several). Margaritas, beer, or lemonade—whatever your beverage of choice is this summer, you're going to need a sturdy bar cart not only to hold your libations and glassware, but also to roll around from poolside, to yard, to indoors, and wherever else. Best of all, it can fold up for easy storage.
For step-by-step instructions on building your own, visit: How to Build an Outdoor Bar Cart.
Dig a Pond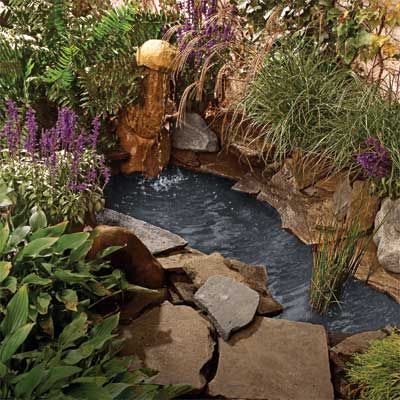 A backyard pond with relaxing, moving water is the perfect way to enjoy coffee in the morning, or wind down while watching the sunset in the evening. The private oasis also attracts birds, frogs, and butterflies, so the variety of sights and sounds will make every day feel like a faraway destination rather than your own yard. Although the project will take about a weekend, it will create long-term peace and tranquility.
To see the complete step-by-step instructions, visit How to Create a Backyard Pond.
Hang a Porch Swing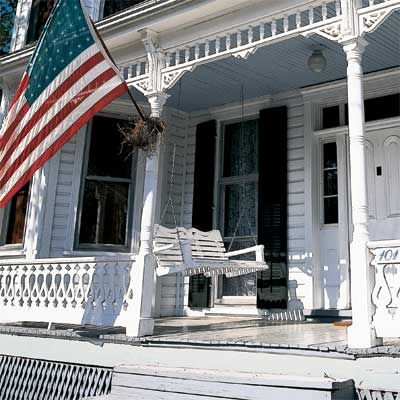 Lounging on the front porch and taking in the sights and smells of summer is one of the best treats of the season. To take this relaxation up a notch, try swaying on a swing. In addition to its serene feel, a porch swing also adds a touch of elegance and style to your curb appeal. You don't even need a porch to hang one; a deck or garden is also a great place for a free-swaying rocker.
For more tips on selecting and hanging your swing, check out How to Build and Hang a Porch Swing.
Make Your Porch Into Another Room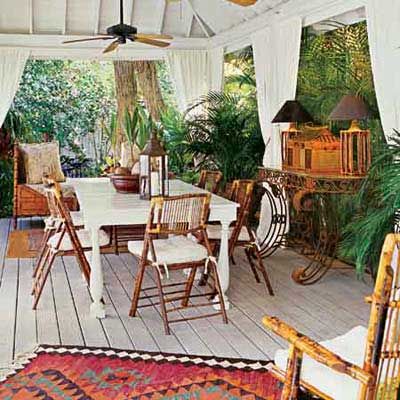 After you've gotten your porch cleaned, primed, and ready for summer, it's time to think about decorating. Customize your porch to fit your favorite style, whether it's exotic, tropical, or more traditional.
If bamboo chairs, tribal patterns, and white curtains are your thing, try going for the romantic feel of an Out of Africa-Style Porch. For a welcoming gathering space, including a large farm table and sideboard for storage, check out Create an Open-Air Dining Room. If you prefer a simpler look check out .
Choose the Right Air Conditioner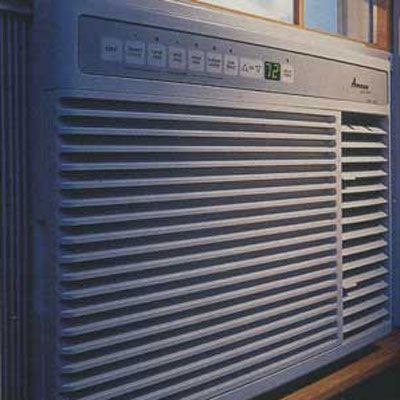 Warm weather is one of the perks of summer, but when the temperatures skyrockets to scorching degrees, you'll need to retreat inside for a vacation from the outdoors. Enter air conditioning. Choosing the right AC can be tricky, and for those without central air, it's important to select a unit that suits your needs.
For a more detailed look at the logistics of picking this important appliance, visit How to Choose an Air Conditioner.
Build a Screen Door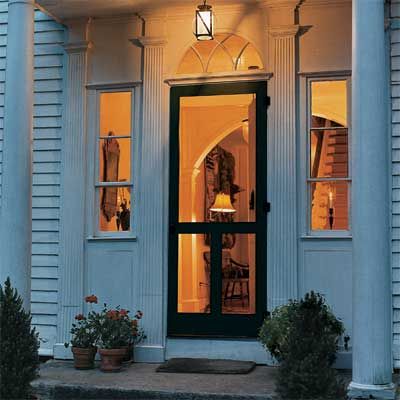 That classic creak and then slap of wood at the back door is one of the best sounds of summer. A screen door keeps the bugs and other unwanted guests out, while letting in the bright sunshine, warm summer breeze, and other comforting sounds of the season.
A wooden door is typically best, and you can even assemble it yourself, as shown in How to Build a Screen Door.
Keep Your Pool in Tip-Top Shape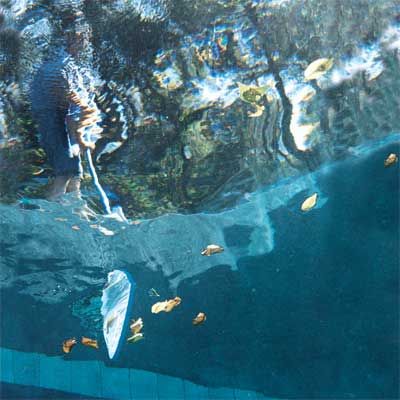 A cool, relaxing swimming pool is a refreshing escape from the hot summer sun. Spending the day lounging on a deck chair, gazing at the crystal blue water is a vacation in and of itself. But before you dive in, there are a few key items on the maintenance checklist that must be dealt with. Getting rid of debris, setting up the vacuum, and adjusting chemicals are a few of the important steps to ensure your pool is in healthy, crystal-clear condition.
For a complete step-by-step guide, visit How to Maintain a Pool.
Hang a Tree Swing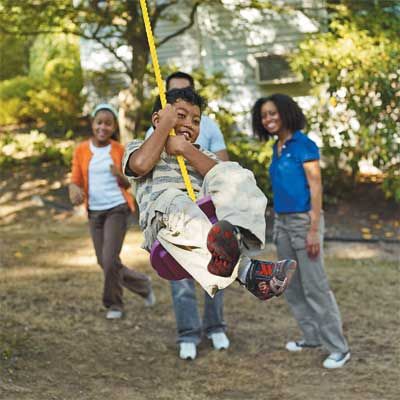 Don't forget about the little ones—summer is a season-long vacation for them, so a family project will be fun not only after it's completed, but also as you build it together. For starters, try building a tree string. Without the hassle of a full-sized play set, a swing on a big shade tree will be a favorite fun spot this summer. All you'll need is rope, a seat, and a sturdy branch to create hours of free-flying fun.
For step-by-step instructions, visit How to Build a Tree Swing.
Build a Lemonade Stand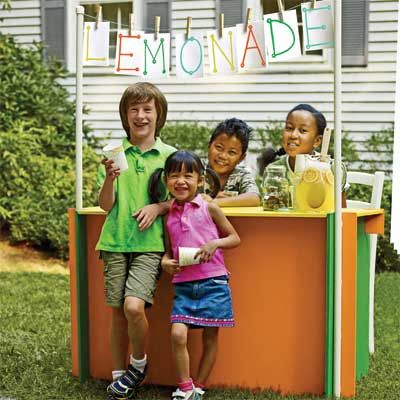 If your child is a budding entrepreneur, there's no better way to begin his or her business ventures (and keep boredom at bay) than with a classic lemonade stand. With a few simple pieces to cut and assemble, the new neighborhood cantina will be up and running before you can say, "25 cents, please."