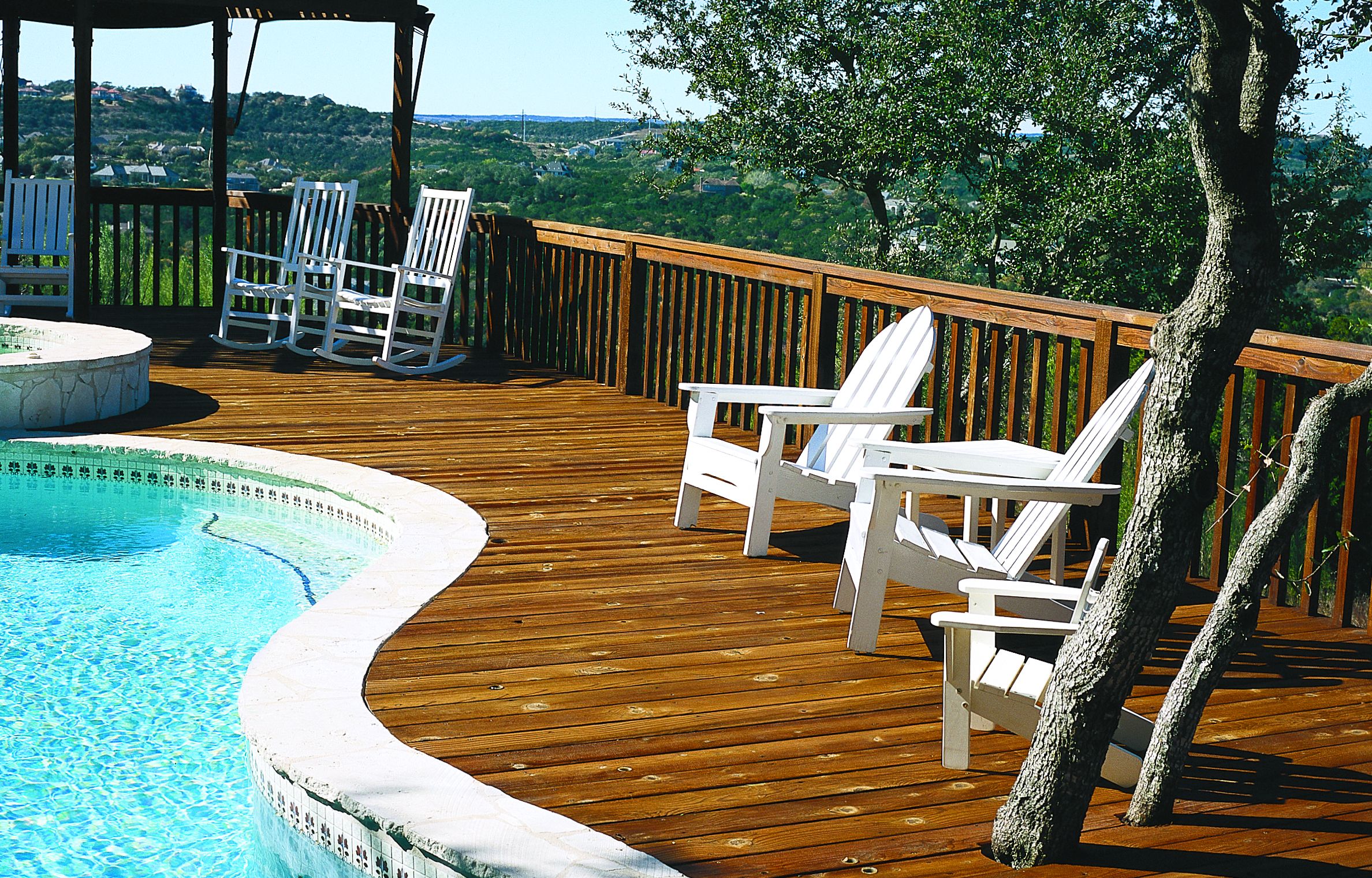 Professional refinisher Erich Specht has been rejuvenating weather-worn decks in and around Austin, Texas, for 18 years. Equipped with little more than a power washer and a pump sprayer, he can clean and restain even the most down-at-the-heels deck in just two days. "You'll be surprised at how easily and effectively a homeowner can accomplish the same thing," he says.
On the following pages, Specht shows his technique for bringing an old deck back to life. The keys are simple: Use the right cleaners, work methodically, and go easy with the power washer. "It'll gouge the wood real badly if you're not careful," he says
Depending on the type of finish you use, your climate, and how much sun your deck gets, a newly refinished deck can go about two to four years before it needs redoing. All a homeowner has to do in the meantime is sweep off leaves (they trap moisture) and routinely hose and brush off pollen and dirt.
Day 1: Cleaning and Bleaching
First, line up the gear needed:
Power washer (3,000 psi) with a 40-degree fan tip
Pump sprayer (2-gallon) with fan tip, which covers better than an adjustable cone tip
TSP (trisodium phosphate), or a TSP substitute
Nonchlorine bleach, such as OxiClean (hydrogen peroxide and sodium carbonate)
Wood brightener (oxalic acid), for cedar or redwood decks only)
Boots and PVC-coated rain pants (you're going to get wet!).
Next, replace any cracked or damaged boards with the same species of wood, and secure them with stainless steel decking screws. Trim any foliage that may be in the way, and thoroughly wet down nearby plants.
Power-Washing Caveats
Power washers certainly save time and water, but the high-pressure stream can gouge wood, break glass, and cut through skin in an instant of carelessness. Take time to get used to the machine and make sure to use only the 40-degree fan tip. If you don't feel comfortable directing that much power at the wood, try using a stiff-bristle scrub brush. It will produce the same result, although it will take longer and require more muscle.
Protect your legs and feet with boots, and never point the wand at yourself or anyone else.
Take a test run on your driveway to get a feel for how a power washer works. Practice keeping the wand in continuous motion, using smooth, long strokes at a consistent distance from the surface and feathering up at the end of each stroke.
If your power washer has adjustable pressure, set it to 3,000 psi, the level recommended for 40-degree fan tips. A lower setting will work, but the job will take longer. Higher settings are more likely to cause damage.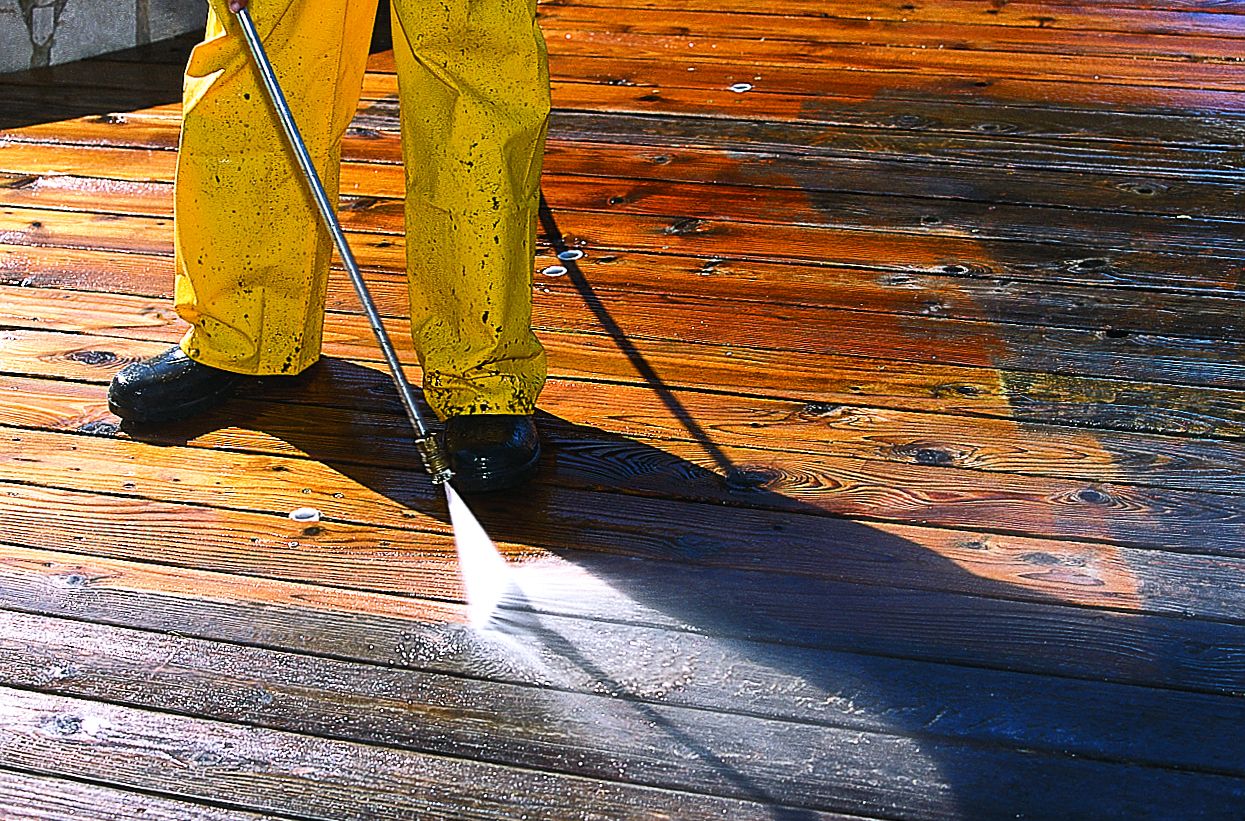 Day 2: Applying the Finish
Once a deck is thoroughly dry (after at least three consecutive days without rain), it's time to apply the finish. Wait for a day with no chance of rain and little wind, then drape plastic sheets or tarps over plants, grass, and nearby structures to protect them from overspray.
Here's what you'll need:
2-gallon pump sprayer with a fan tip (a different sprayer from the one used for cleaning and bleaching)
Foam applicator pad with extension pole
Enough finish to cover decking and railings. Before spraying, mix it all in a bucket to ensure a consistent hue over the entire deck.
When it's freshly scrubbed, even an old deck looks pretty handsome. But the wood won't stay that way for long unless it gets a good coat of finish that repels water, blocks ultraviolet rays, and prevents mildew. (Note: Some tropical hardwoods, like ipe, are so dense that a finish is optional.)
Deck finishes come in three basic types: sealers, semitransparent stains, and solid-color stains. The key difference among them is the amount of pigment they contain.
Clear sealers are pigment free and so let the wood's natural color show through, but they provide little UV protection.
Solid stains have so much pigment that the sun's rays can't reach the wood surface, but they also hide the wood's grain. (Paint has lots of pigment too but isn't suitable for decks because it forms a film that inevitably chips and peels — a maintenance nightmare.)
Semitransparent stains occupy the middle ground between the two, with enough pigment to block most UV rays, but not enough to completely obscure the wood grain. Even within this group, there are different amounts of pigment and transparency; see Deck Defense for more information. The look of a semitransparent stain varies considerably depending on the kind of wood it's applied to. To make sure you'll be happy with your choice, first buy a small sample, brush it on a piece of scrap decking, and let it bake for a few days outdoors.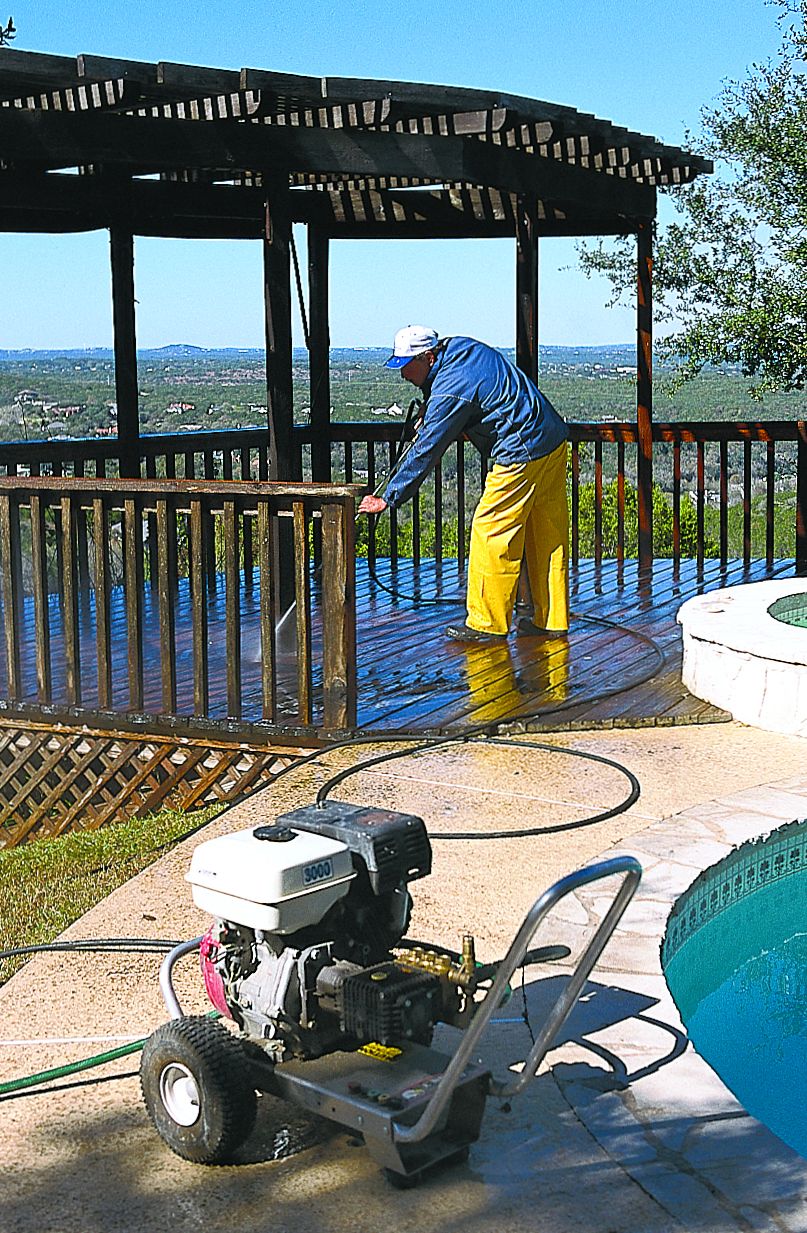 Where To Find It:
Deck refinisher:
Erich Specht
ThuroClean
Austin, TX
888-728-9663
for instructional video on deck refinishing visit www.2dayproject.com or call 800-395-9488
Nonchlorine bleach:
OxiClean
Orange Glo International
Wood Specialist
Kim Bowman
Wood Care Solutions
Austin, TX
Semitransparent sealer used on this job:
TWP (Total Wood Protection) by MFG Sealants
Atlanta, GA
Clear Sealer
Thompson's Waterseal Clear Wood Protector
Thompson's Co.
Cleveland,OH
Semitransparent deck stain:
Durastain
Wolman Woodcare Products
Somerset, NJ
Solid-color deck stain:
Samuel Cabot, Inc.
Newburyport, MA