Make a Drop-Cloth Throw Rug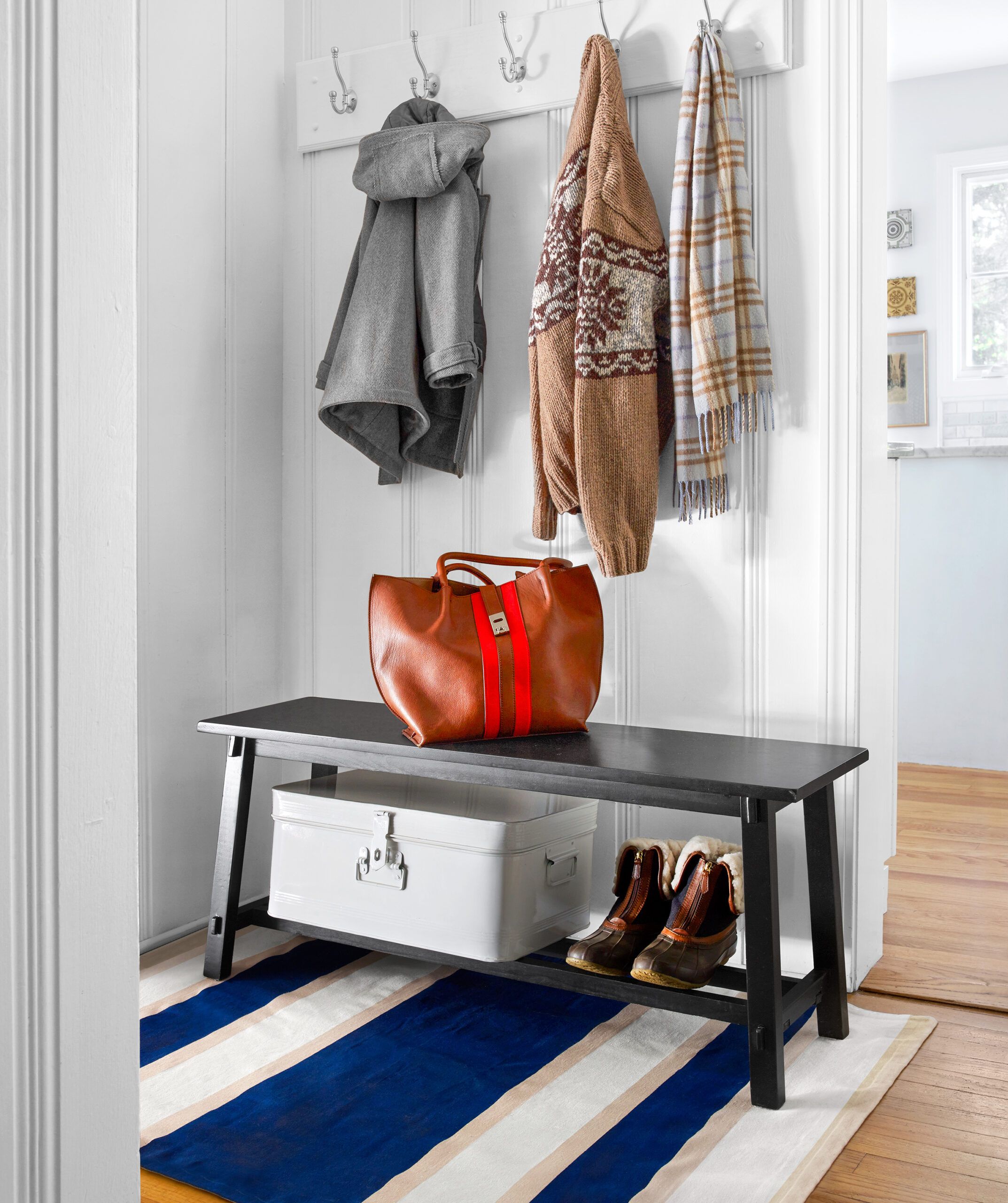 Published in Jan/Feb 2018
With a little DIY handiwork, a canvas designed to protect surfaces from paint spatters can become the basis for some latex magic of its own. Customize it with a pattern and paint colors of your choosing for an affordable floor covering you can toss in the washer. A spray-on stain-resistant finish helps it stand up to any hardworking space like an entryway or kitchen. Available in rug-friendly sizes (like 6×9, 9×12, and 12×15), the cloths can also be cut to fit. This is one floor plan that works for any home.
For the how-to, click here.
This Tile Only Looks Tricky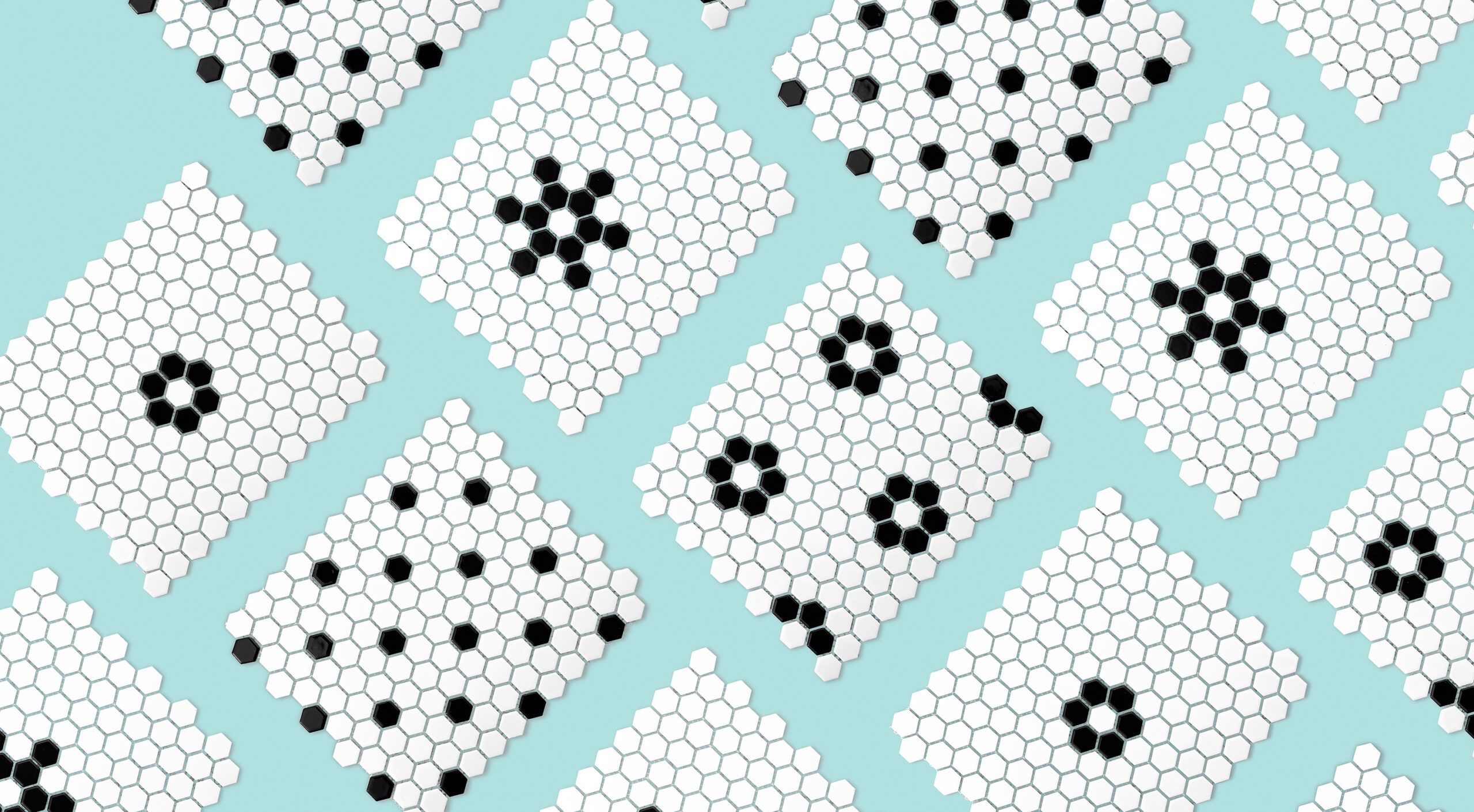 Published in Mar/Apr 2018
A patterned hex-tile floor gives even a new space instant old-house cred. Happily, installing one no longer means shelling out for a custom-tile order, or spending tons of hours painstakingly piecing together a pattern from solid-color sheets. Merola Tile's Metro collection offers matte and glossy hex sheets with dot, flower, and snowflake patterns in combinations of black and white (or ivory). Coordinating borders, accents, and wall tiles complete the look. The mesh-backed sheets start at about $6.29 per sq. ft.; Home Depot.
Water-Wise Fountain Planter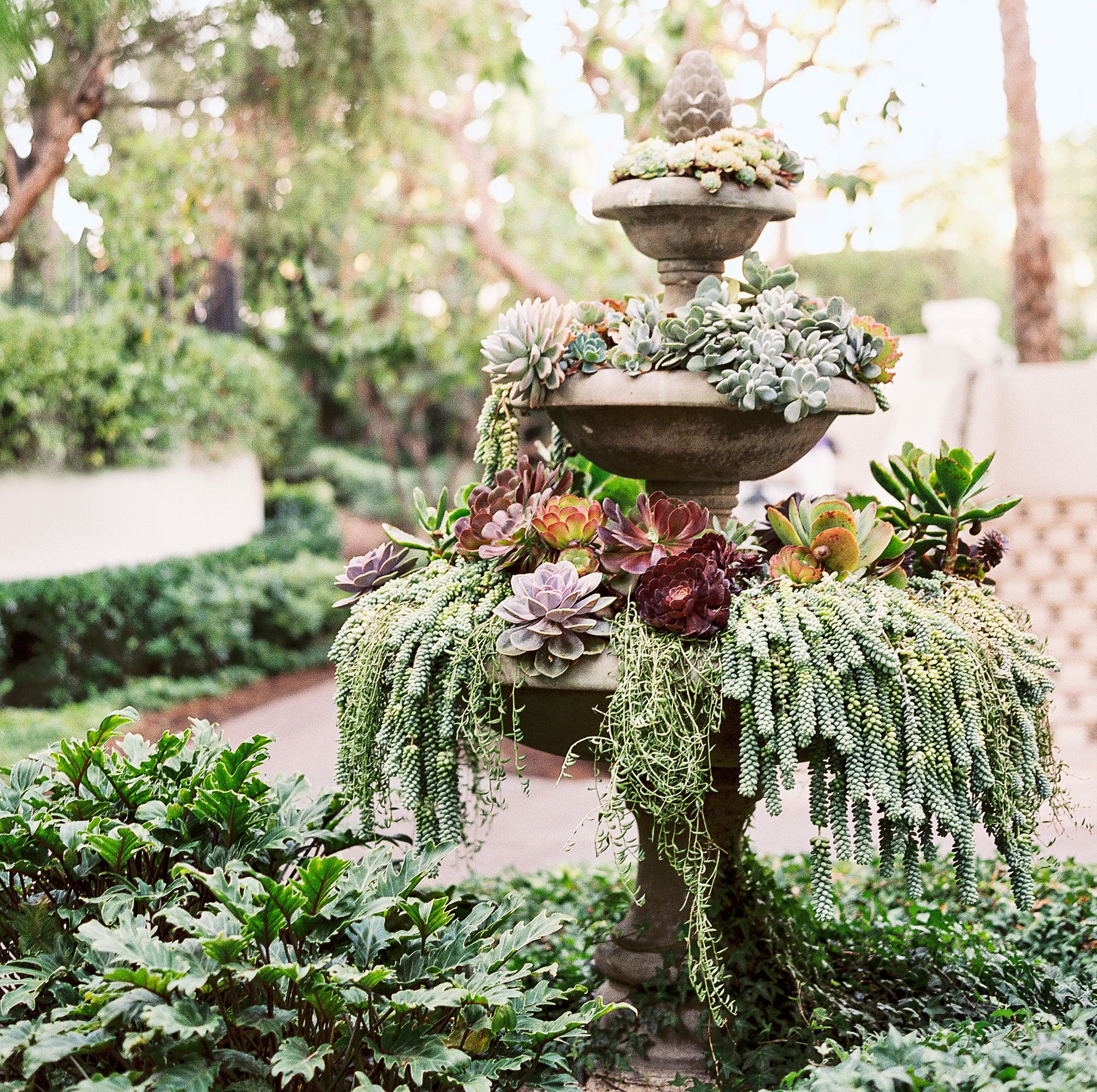 Published in May 2018
Got a nonworking fountain or municipal water restrictions? Cascading succulents can bring a tiered water feature's basins back to life. Before planting, drill evenly spaced 1⁄4-inch drainage holes near the support column. Line with landscape fabric or window screening before adding drainage rocks, then a soilless mix. Place leggy species (such as aeonium) near the center and trailing types (like burro's tail) along the edges. Pack in as many of these slow growers as will fit, keeping crowns clear of the planting medium. Use a dry paintbrush to whisk away any bits stuck to the leaves, and you're good to grow.
Define Space for Outdoor Dining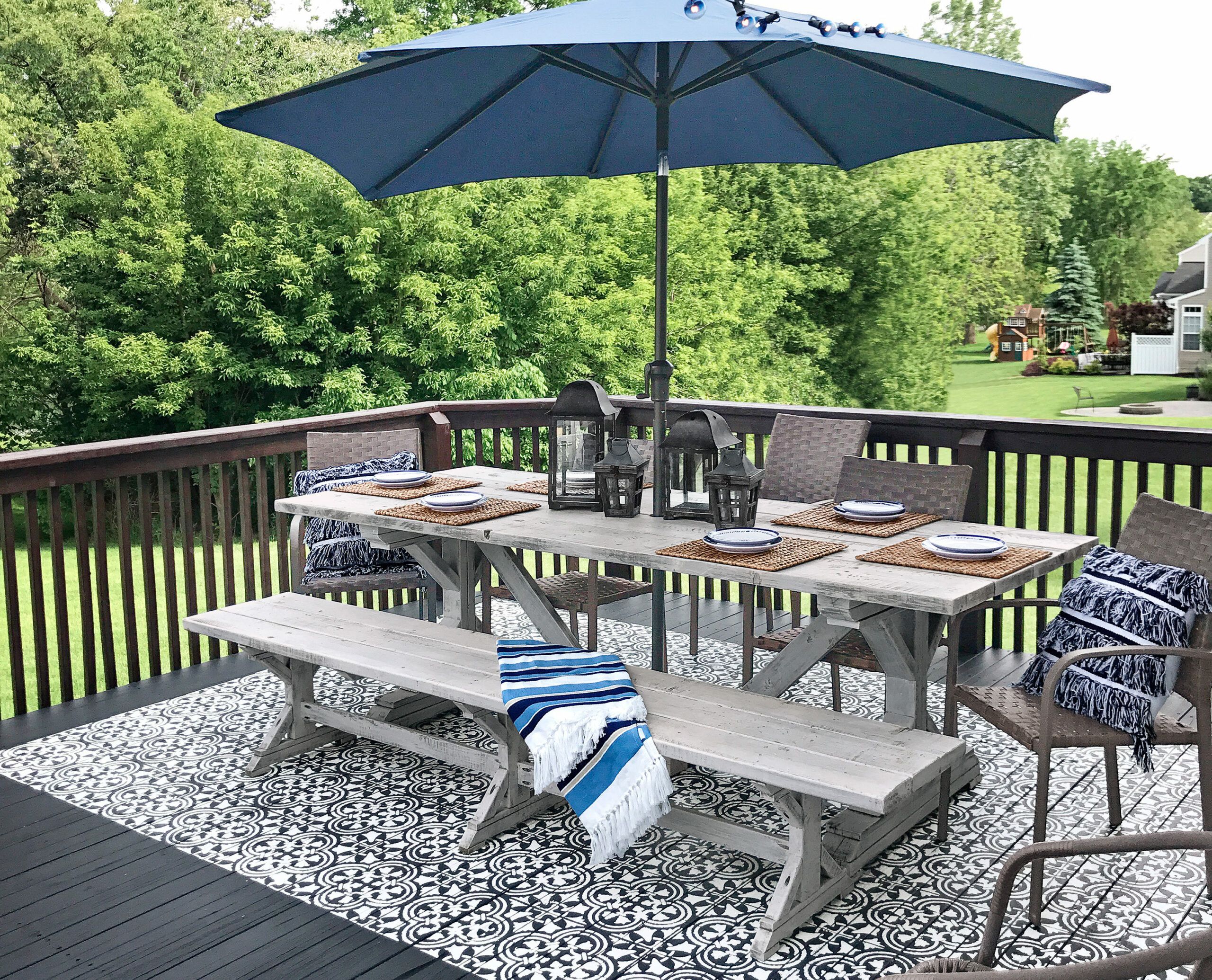 Published in June 2018
Create a dedicated "room" for eating alfresco with a stenciled carpet. On a small platform you might take your design wall-to-wall; on a large expanse, adding an area rug will visually define a dining space. Extend it 1 to 2 feet beyond your furniture on all sides to fashion a gracious footprint. And since that can involve a lot of painting, go big: Homeowner Becky Grunwald, who put together the setup here, used a 12-inch-square stencil. You may want to clear-coat your handiwork to give it longevity. As for spills? Just turn on the hose.
To add even more definition, create a border with a different stencil or a thick stripe.
Simple Privacy Screen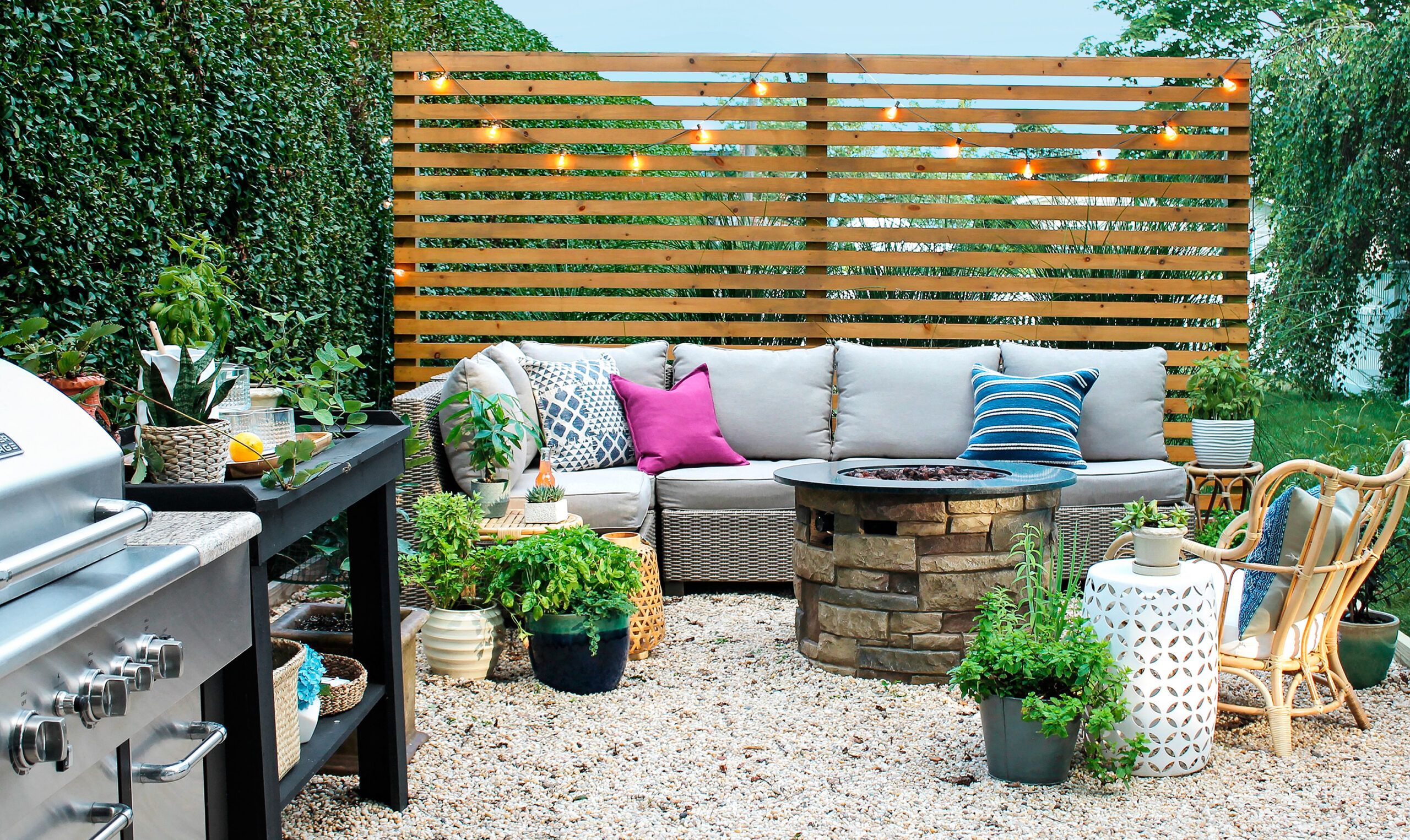 Published in July/Aug 2018
Carve out some personal space in the open air with a slatted wall you can make in a weekend. Jennifer O'Brien, who blogs at cityfarmhouse.com, built this 12-by-6-foot privacy screen flat on the ground using stock 4×4 posts and 12-foot 1x3s, then hoisted it into postholes lined with gravel. Want to build one of your own? For sturdiness, dig below your frost line and plan to anchor a third of the post below grade. Lay out the three posts at 6 feet on center, nail the first slat flush with their tops, and use a 1x spacer as you attach the rest of the slats. Set the screen in the postholes, then backfill with a mix of gravel and soil, tamping and checking for plumb as you go. Two coats of stain (here, it's Sherwin-Williams's SuperDeck Exterior Semi-Transparent in Baja Beige) will enhance and protect it. Now all that's left is to string up some mood lighting.
Clever Uses for Extra Wallpaper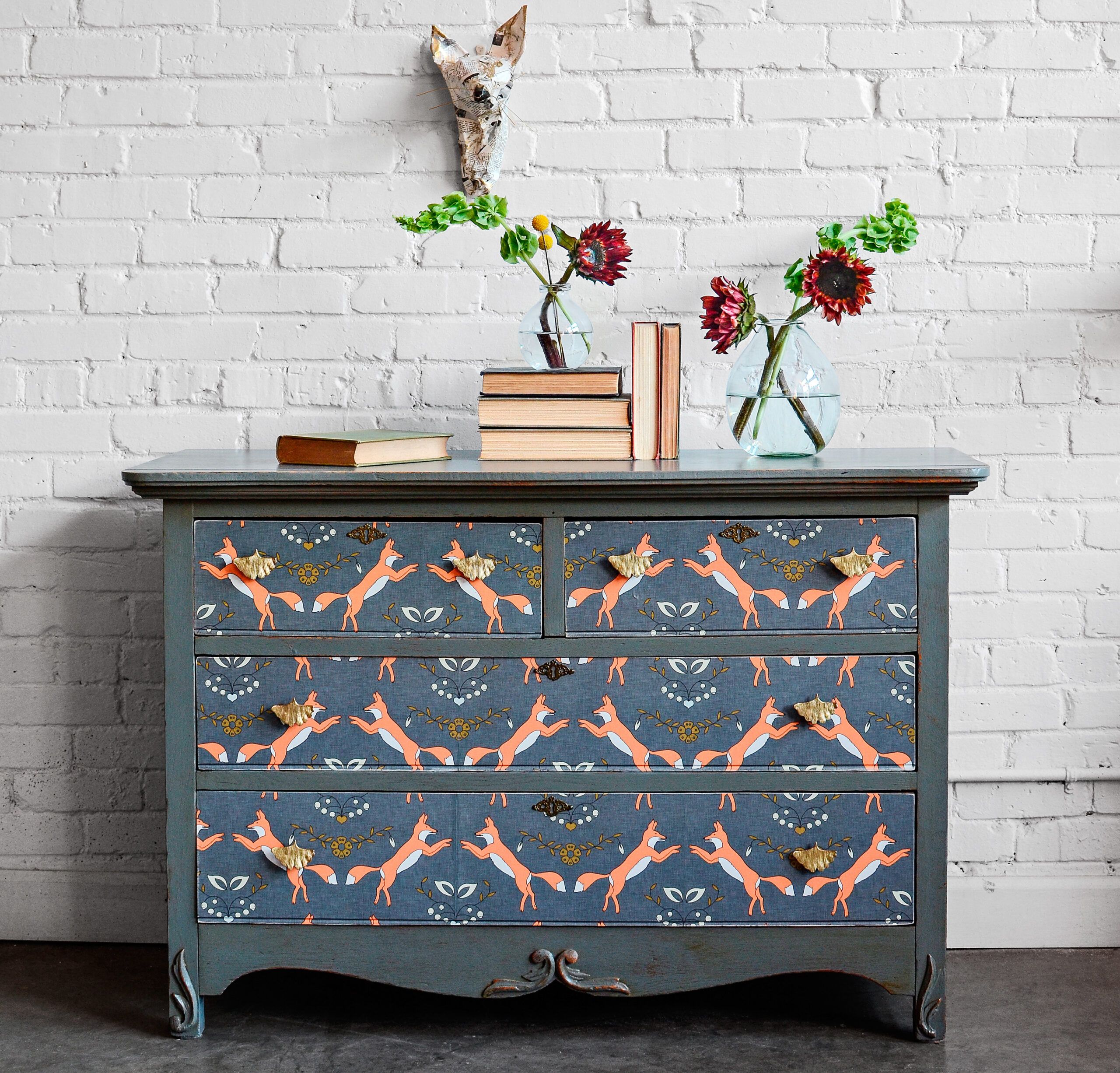 Published in September 2018
Give an old furniture piece a new lease on life with leftover wallpaper. Designer Barb Blair, who snagged the dresser shown here at an estate sale, has become a pro at this type of makeover. Start with a plan: Map out where you need to cut by laying the paper flat on the furniture, then use a utility knife to trim pieces to the precise size. Instead of wallpaper paste, which can soak into wood, Blair recommends craft adhesive. For a polished finish that helps keep the paper in place, add a few coats of polyurethane before replacing the hardware.
To see more wallpaper makeover ideas, click here.
Create a Seasonal Display in any Space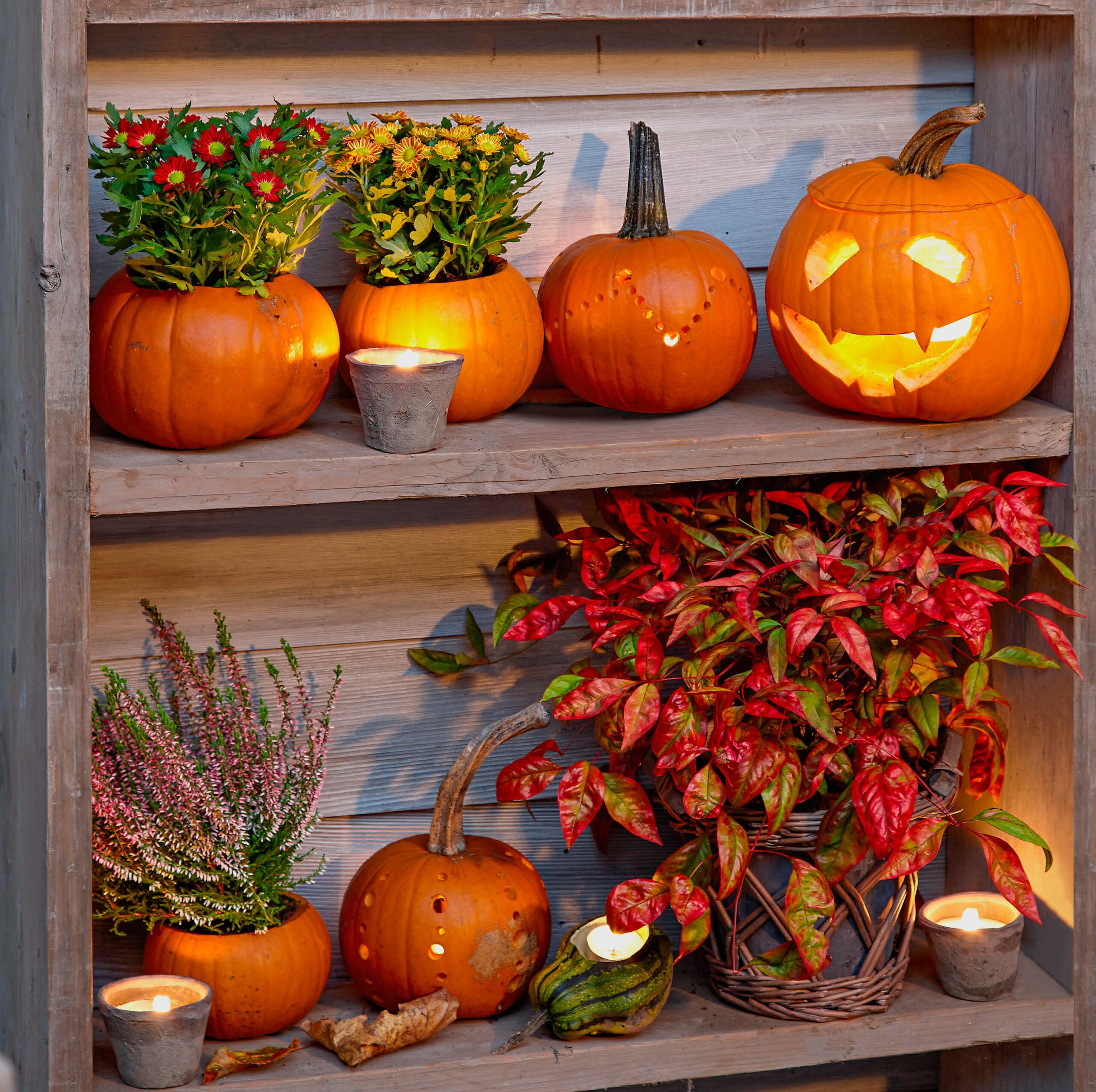 Published in October 2018
Looking for a warm entry setup that packs plenty of punch while preserving floor (or step) space? Go vertical. Here, a rustic wood shelf unit shows off several couldn't-be-easier ideas to try. Not a master carver? Drill holes to make simple patterns in lit-from-within pumpkins. Cut round openings in gourds to host LED votives. Hollowed-out pumpkins make ideal containers for preplanted pots; for extra color, mix classic mums with long-blooming heathers and vibrant foliage—pink-and-green leaves are shown here, but a black-leafed plant like 'Black Prince' coleus is perfect for Halloween.
Deck the Walls for Winter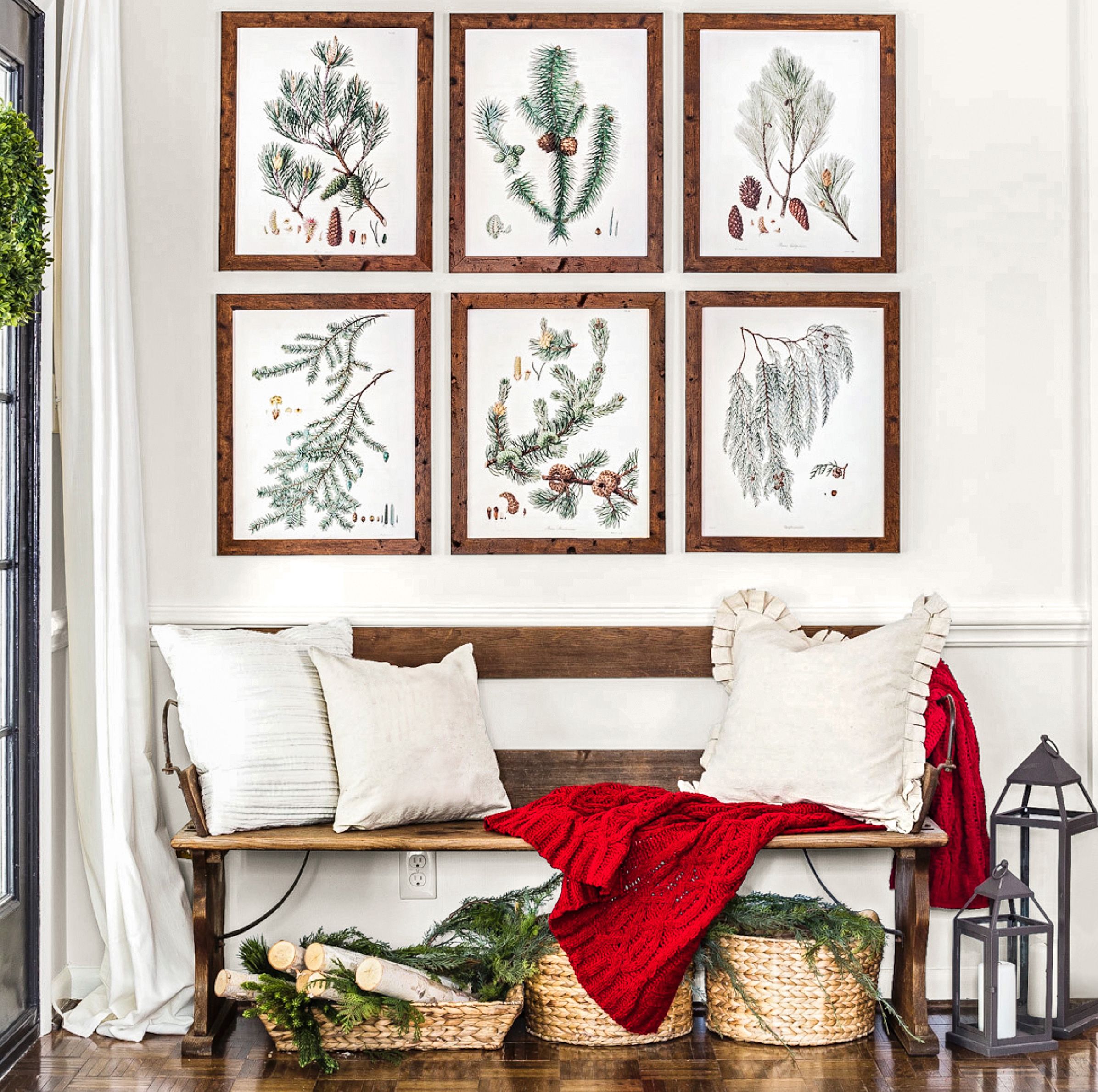 Published in Nov/Dec 2018
Set a seasonal scene right inside the door with an entryway gallery wall. It's a doable DIY project that can cost as little as $2.99 per print if you do as homeowner Lauren Shaver did here and start with public-domain art: The Biodiversity Heritage Library boasts an enormous cache of rights-free images of flora and fauna. Download your favorites (choose "original size" to get the largest file) and print them at an office supply store that has a printer for blueprints. Also called engineering prints, these are an inexpensive option for scaled-up drawings—the conifers in this cold-weather collection are 16 by 20 inches. Come spring, Lauren, who blogs at blesserhouse.com, will swap in bulbs and blooms.