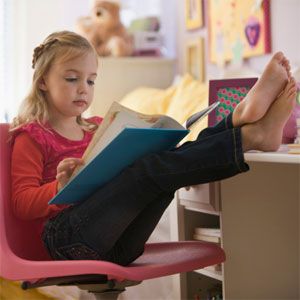 Where your child studies can be just as important as what. Whether you carve out a nook in his or her bedroom or in the kitchen, an organized, comfortable space can help kids work more efficiently, notes Eileen Kennedy-Moore, PhD, a psychologist, mom of four, and coauthor of Smart Parenting for Smart Kids. "A well-stocked, designated area means your child won't have to waste time hunting for supplies or shuffling things around to find a place to work," she explains.
Read on for eight design tips to encourage good study habits.
Position the desk
Some grade-schoolers may argue that gazing at the sky will help with tackling times tables, but most will do better if the desk is facing away from a window or door. "Place this piece of furniture in a spot that gets good light but also isn't in front of the door or overlooking the backyard, which can lead to distraction," suggests Lori Woodring, PhD, a child psychologist and mom of four. Instead, put it against a wall. (This also allows your child to glance up at important papers and reminders on a calendar or dry erase board hanging nearby.)
For kids in kindergarten through third grade, working in a public space is better than working alone in a bedroom. The dining table or kitchen counter can serve as a desk. "Younger kids generally need more support during homework time, so a spot in the kitchen or home office means you can be on hand to answer questions and offer encouragement," explains Timothy Davis, PhD, a child and family psychologist.
Related: Editors' Picks: Our Favorite Home Offices Ever
Provide lighting
Task lighting, whether it's a table lamp or pendant lights, is a required accessory for the desk or workspace, no matter what the kid's age. "This light, along with any natural light from the window, should be enough illumination for your child to stay alert and focused," says Deborah Gilboa, MD, a parenting and youth development expert.
Remove phones
More distracting than that window? Smartphones. "There's no need for a phone in a study space, so make sure it's charging in another room," suggests Davis. A "no phone" policy establishes good technology habits that will stay with your child as he grows. "When he's in middle school and needs a computer for his work, he'll be used to not having his phone nearby to check on social media," Davis says. An old-fashioned clock or timer can help him pace his work.
Stock supplies
Store pencils, pens, markers, scissors, and a ruler in cups to keep the desktop neat and tidy, and provide a space and folders for papers. "For kids in middle school, a cabinet, drawer, or a system of files is important for storing completed work and returned assignments," explains Woodring. "Many kids also benefit from having a single 'Turn It In' folder where they can put anything that needs delivering to the teacher the next day," says Kennedy-Moore. Color-coding files by subject often helps.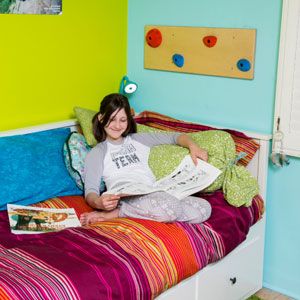 Make a reading nook
A cozy spot to curl up with a good story can encourage device-free time and, of course, independent reading. "A comfy spot, such as a bean bag, soft chair, or window seat, makes reading readily available to kids and allows them to relax and really delve into a juicy book," says Woodring. Provide a shelf or rack, or stash books in baskets or bins.
Establish an information center
Hang up an oversized calendar, as well as a bulletin, dry erase, or magnetic board to display important papers, show your middle schooler's class schedule, and keep test and quiz dates in order. It's an easy way to organize as well as remind your kid of upcoming deadlines. And to the best of your ability, try not to let your child fall into the habit of creating piles of papers and notices. "Even if he claims to know exactly where everything is, big stacks take up a lot of space and are too easily toppled," points out Kennedy-Moore.
Related: How to Build a Tin-Tile Chalkboard
Corral clutter
"While eliminating visual clutter can be calming, many elementary-school-age kids love to display their collectibles to personalize their space, so there may need to be a compromise here," says Kennedy-Moore. Gilboa adds that kids can learn an excellent life skill when they organize their own workspace. "Kids from kindergarten on up should spend a few minutes putting things away because it's a good habit to get into—it teaches responsibility," she says. To facilitate this effort, reserve a shelf, windowsill, or cubby for your child's toys so the focus is on keeping clutter out of the immediate study area.
Consider headphones
"If your kid can pick up every word that's being said in the next room or hears footsteps above or below, he's more likely to think about what he's missing, rather than focus on the task at hand," says Gilboa. Kids with noise sensitivity issues may also benefit from wearing a pair of noise-canceling headphones. At the same time, lots of kids enjoy listening to music while they work and some, including those with attention deficit hyperactivity disorder (ADHD), may do better with a quiet tune in the background, notes Kennedy-Moore.