Small Storage Solutions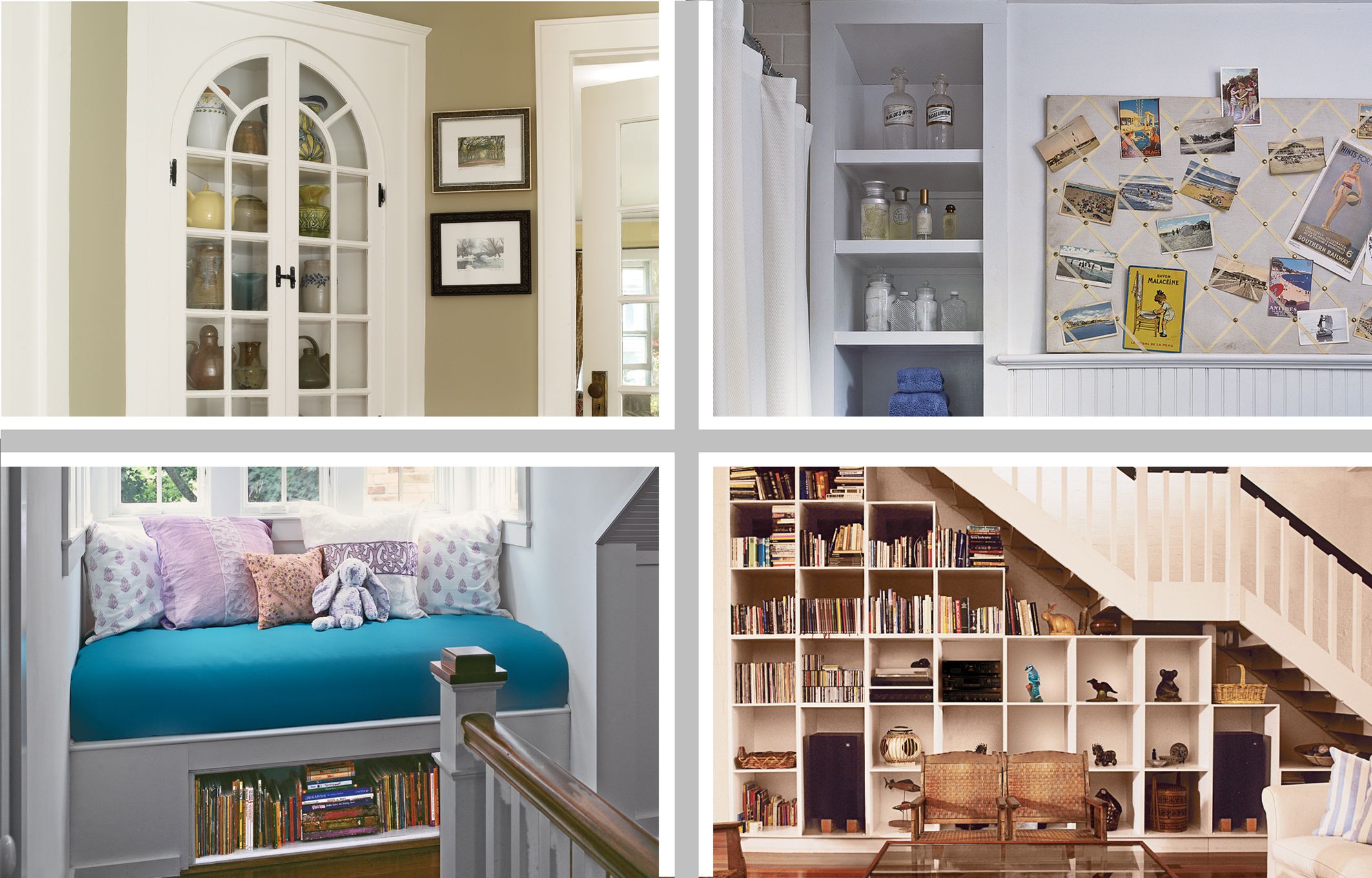 Even the most cramped house has space with untapped potential. Behind the walls, between them, or under the stairs, there's often room to build in cubbies, cupboards, and shelves where freestanding furniture just won't fit. So follow along on a room-by-room tour that's full of expert tips, shortcuts, and simple DIY projects to help you carve out clever places to stow everything.
Build in a Corner Hutch for Dishes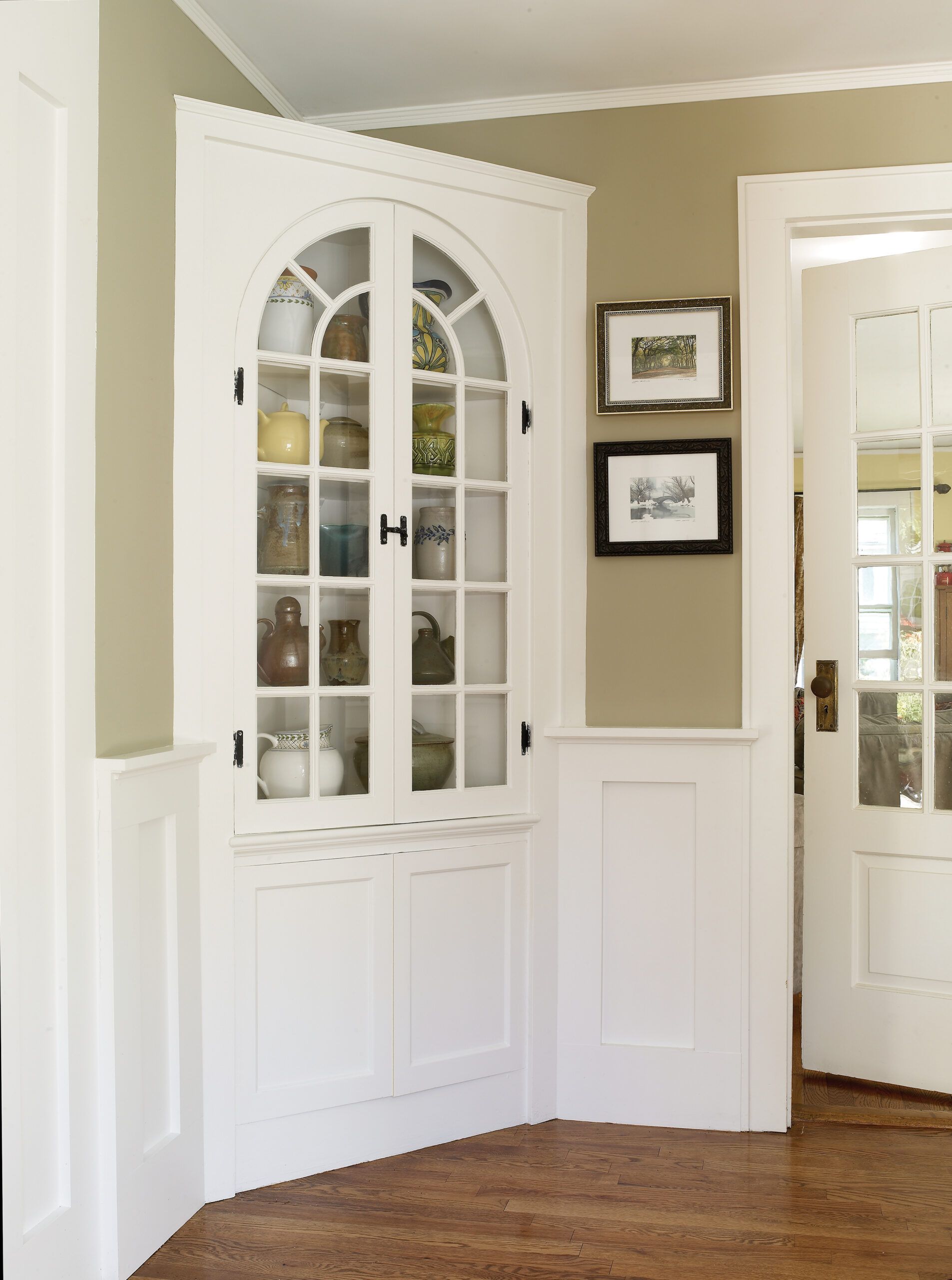 Sitting in a nook where people rarely tread, a glass-front corner cupboard is a classic dining room space saver. And since you're always working with a right angle, you don't even need to have one custom made.
You can pick up a prefab corner unit from an unfinished furniture store or a vintage one from a salvage yard for $500 to $1,000, and trim it out to match the moldings in your room. Here, cap molding overlaps the sides of the hutch, where vertical trim boards terminate, giving the piece even more permanence in the room, says Monroe, Connecticut, carpenter Tim Pringle. To add symmetry, the crown is built up so that the cupboard matches the height of a nearby door.
Build Wall-to-Wall on a Stair Landing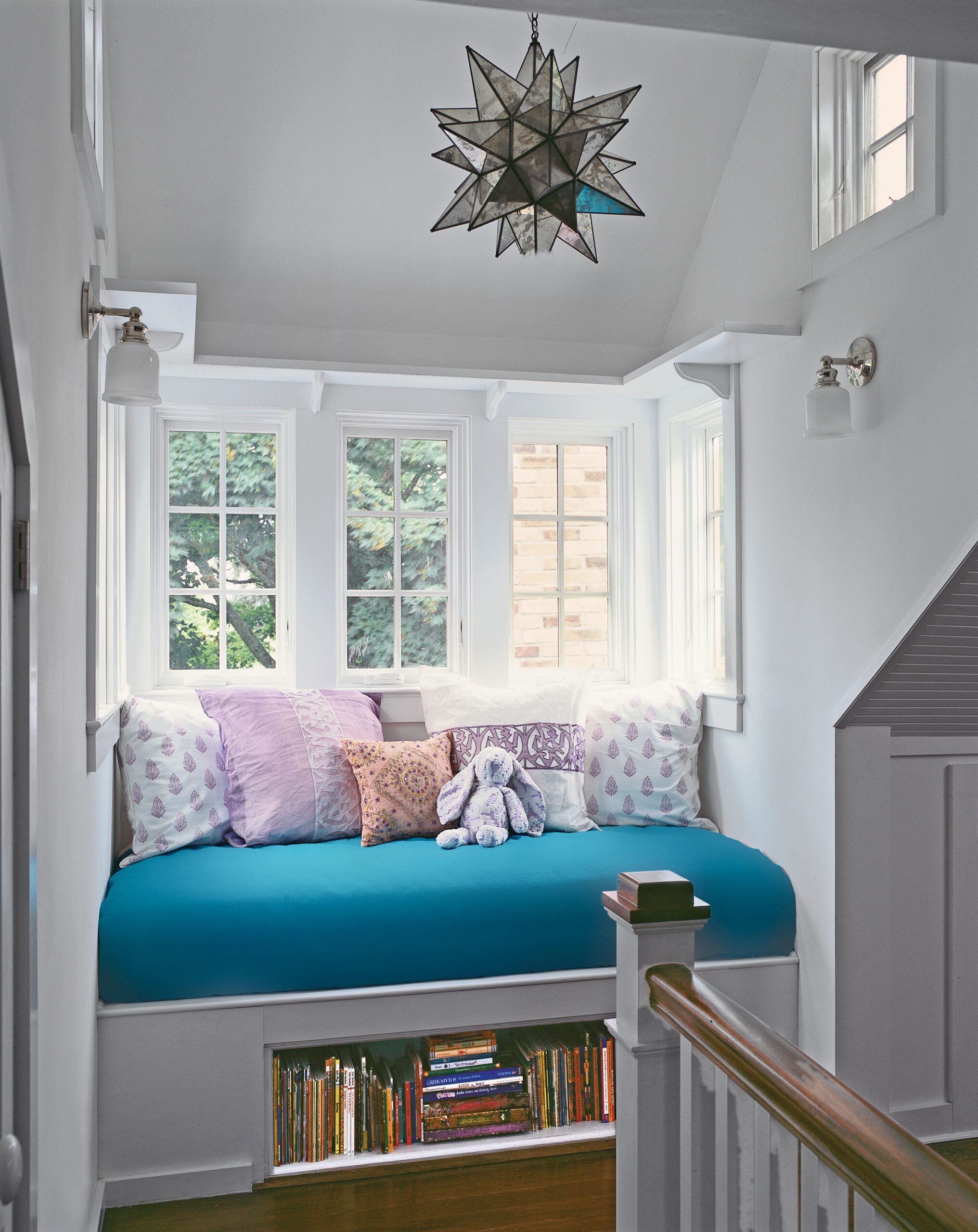 Most midstair landings serve no other purpose than to provide a place to pivot 180 degrees before climbing the rest of the way up. But construct a seat along its back wall and it'll become a favorite spot to peruse the morning paper. For larger landings like this one, trade the seat cushion for a twin mattress (which measures 39 by 75 inches) and the built-in can double as a comfy spot for a nap. A cubby in the bottom of this bench, made by Montauk, New York, contractor Robert Biondo, provides ample storage for books and other reading material. In smaller landings or niches elsewhere in the house, such as an alcove created by a dormer, plan for a seat that's long enough and deep enough for an adult to rest comfortably against a side wall with legs outstretched.
Learn how: Build this Window Seat
Build Perpendicular for an Entry Partition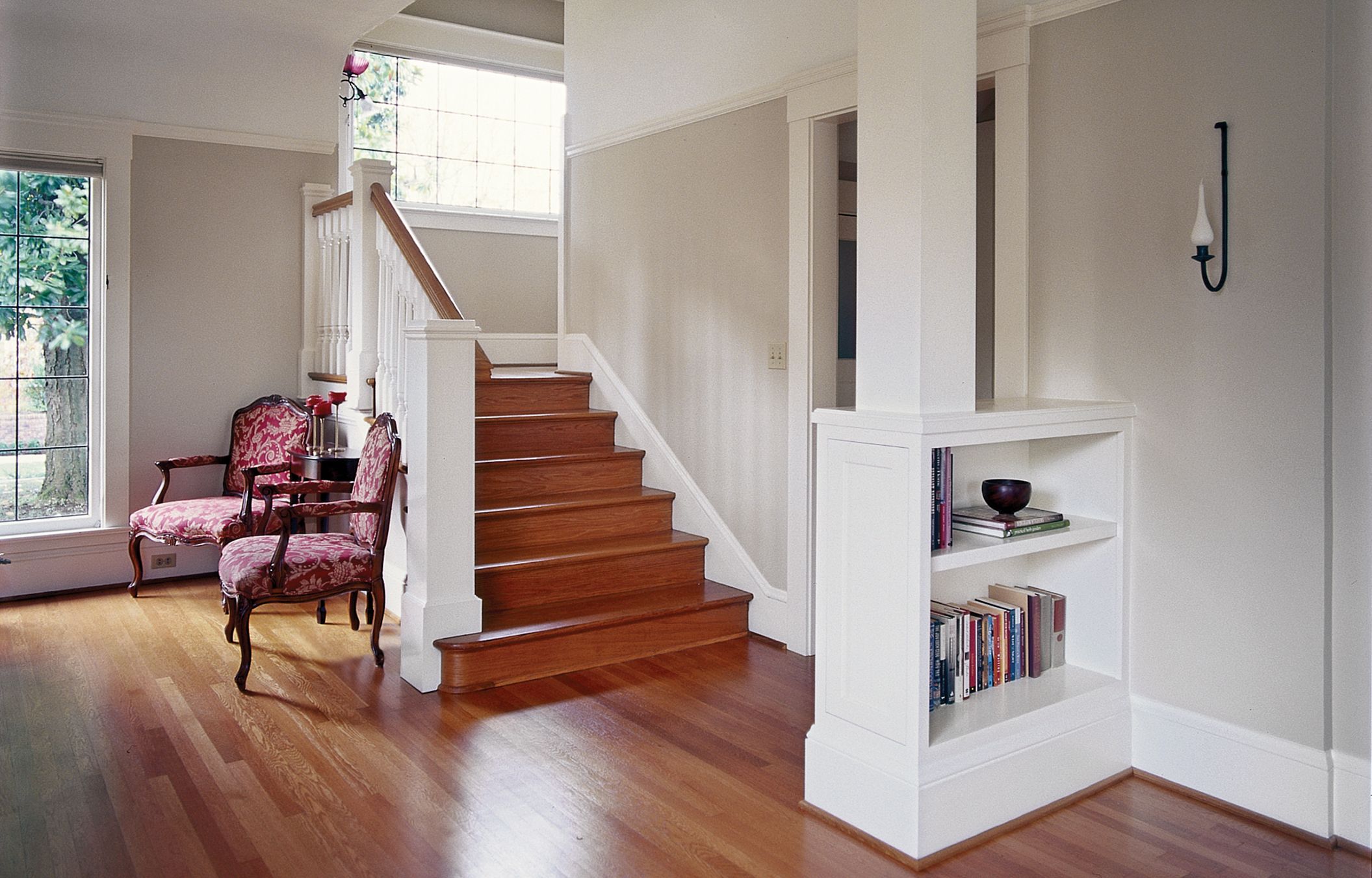 Built-ins can designate activity zones within a multipurpose room and create a feeling of intimacy, all while maintaining the spaciousness of an open floor plan. Here, the job is done with a column set over an open bookcase that suggests a division between the living room and entry hall. In the early 20th century, such partitions usually came in pairs and were placed on either side of a passageway. These colonnades were so common that they were sold through builder's catalogs as mail-order kits. Today, you can find a recycled set at your local salvage yard or build one from scratch. To make a square column—such as the one Portland, Oregon, designer Martha Kerr fashioned here to pick up the detailing of the nearby newel post—create a hollow box by securing four poplar planks together with finishing nails. No need to miter them: Just make one pair 1½ inches narrower than the other to accommodate the overlap. (For round columns, order inexpensive paint-grade pillars and decorative capitals for the tops from an online supplier such as outwatercatalogs.com.) To mimic the paneled look of the bookcase below, overlay cabinet doors (Decore-ative Specialties is one source) onto the smooth back and end of a ready-made unit. For a seamless transition where the built-in meets the wall, raise it on plinths, and cover the open bottom with the same baseboard moldings used elsewhere in the room.
TOH Tip: Consider hiding structural supports for a bearing wall inside hollow columns to open up your floor plan. Keep in mind that if you do, unlike with the decorative divider shown here, the column would have to continue down through the bookshelves and thereby eliminate some interior storage space.
Build One on Top of the Other in a Kids' Room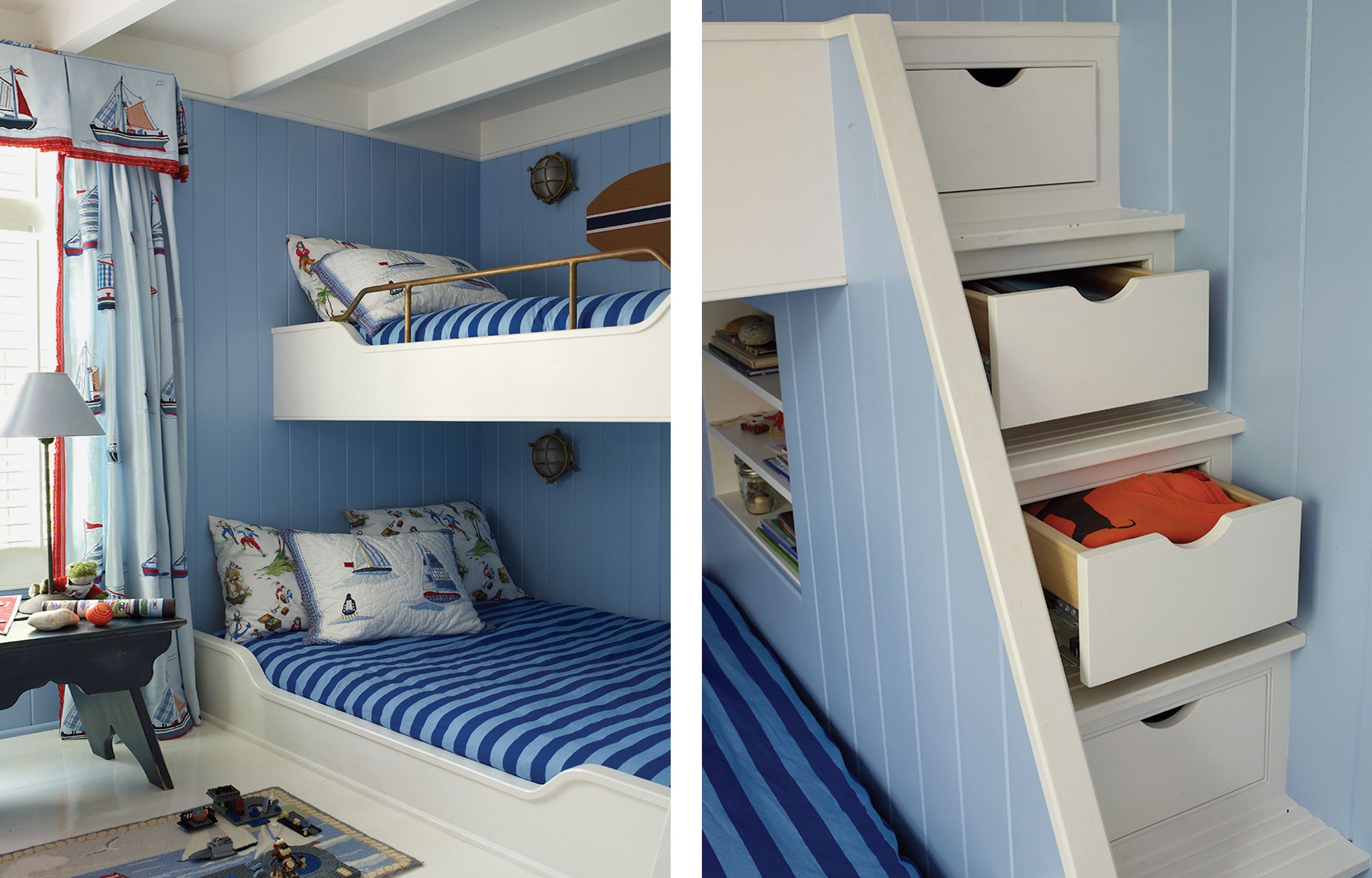 Fit slumber spots for two kids in the space of one with built-in bunk beds. Here, Amagansett, New York, architect Darren J. Helgesen had extra room to work with at the foot of the beds, so in place of a standard ladder he designed a staircase with V-grooves cut into the treads to give little feet traction for climbing; the angled stair wall serves as a handrail. To eliminate the need for a freestanding dresser, clothes drawers are hidden in the risers. A built-in book cubby provides more storage space in the corner beneath the stairs. And just in case a little one wiggles out from behind the top safety rail, Helgesen created a crash pad by taking advantage of the 20 inches between the built-in and an existing window to use a full-size mattress for the bottom bunk—which also makes a nice comfy spot for parent-child story time.
TOH Tip: To take full advantage of the space under freestanding beds, nix built-in storage in favor of open-top bins on casters. Because the area is often just 8 to 12 inches high, the framing for a cabinet, drawers, and glides leaves little room for all your gear. Build the bins yourself, or simply purchase rolling wire baskets (Stacks and Stacks offers baskets that are 2 feet long by 2 feet wide for about $43 each).
Build Beneath Living Room Stairs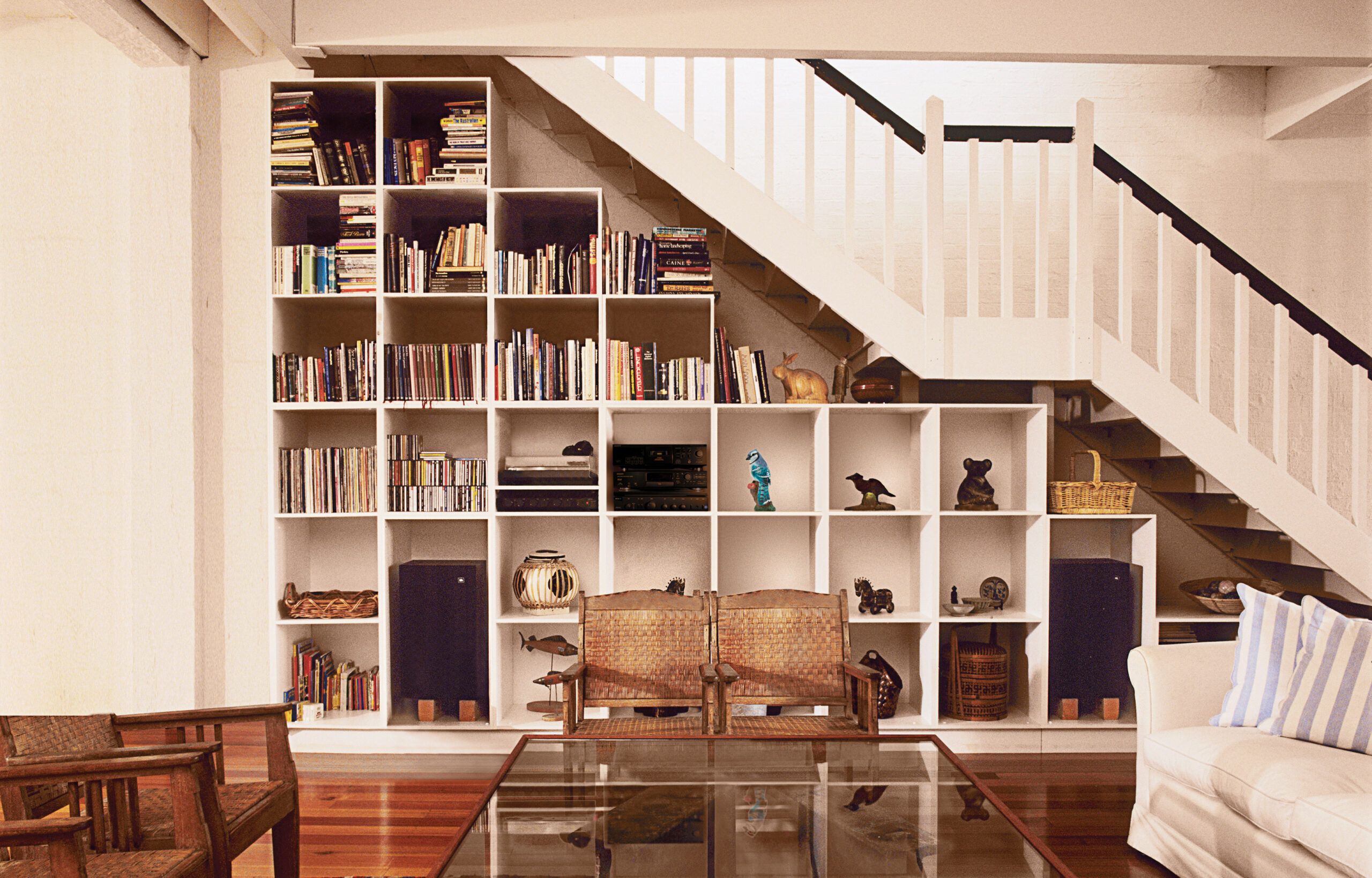 In many homes, the area under the stairs is just boxed in or has a teeny closet with such a steeply pitched ceiling that its recesses are barely accessible. A better solution is to fill the wedge-shaped void with storage units that are open to the rest of the room. You could hire a pro to create a custom assembly or simply make your own built-ins with a combination of stock kitchen cabinets from the home center. Start with a tall pantry unit, then angle down the line with a combination of smaller rectangular wall cabinets and base drawer units. It's even easier and less expensive to build cubbies like the painted plywood ones shown here, from KAA Design Group. The series of rectangular boxes are placed one on top of the other in descending order and then screwed together through their tops, bottoms, and sides.
Learn how: Build these Wall Cubbies
Build Out for a Home Office Niche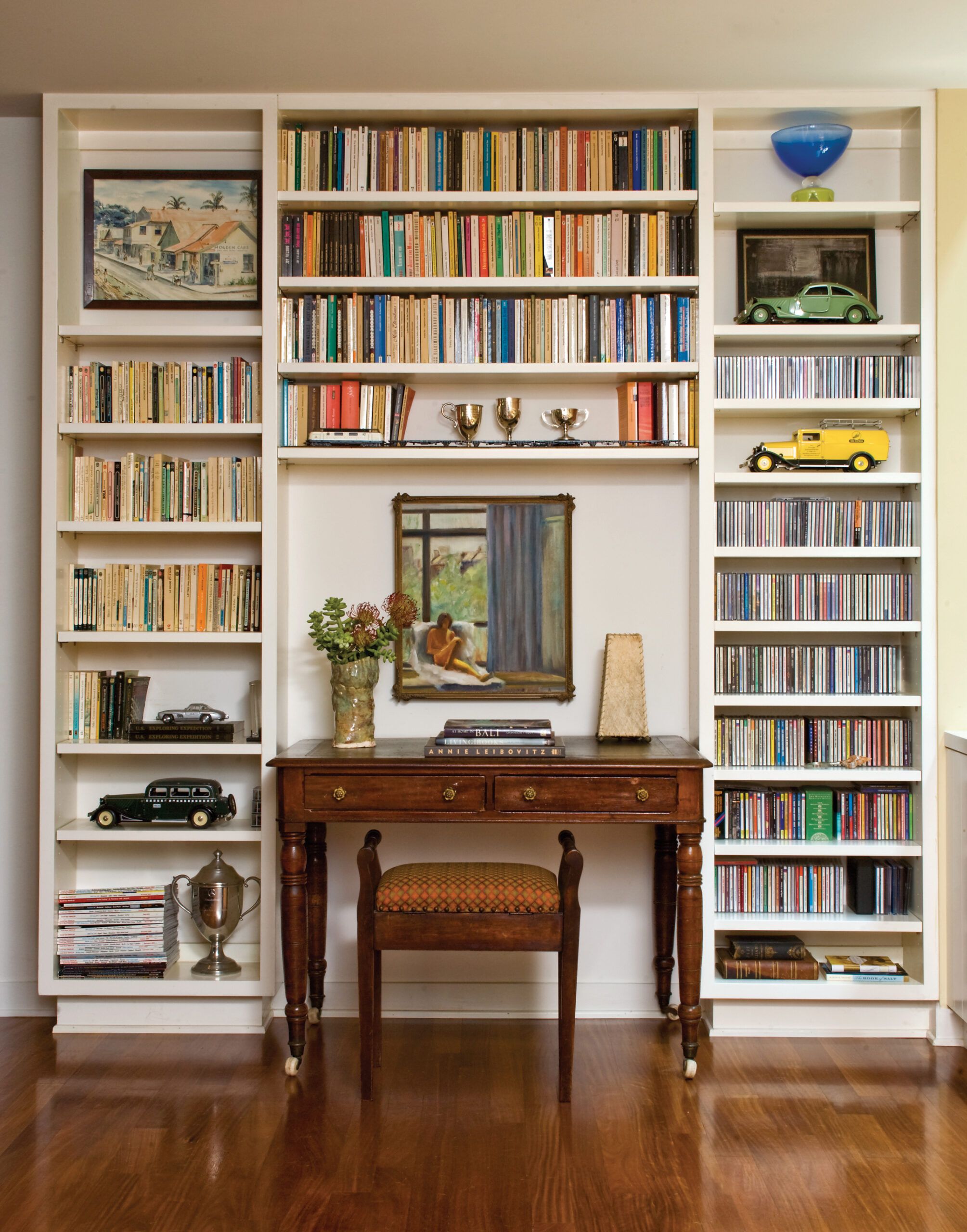 A built-in doesn't require a forgotten crevice or drywall-busting construction. Even an expanse of wall presents an opportunity for adding storage. Here, Inglewood, California, contractor Tim Peterson wrapped deep bookshelves around an antique desk to create a niche, rather than to fill one. The desk would have looked lost on an empty wall. So he turned a decorating challenge into a functional focal point while carving out a small home office within the den. For the bookcases, Peterson installed adjustable shelves for storing items of various heights. To eke out every inch of depth, the bookcases' back panels are left off. By securing the units to hanging strips just below their tops, they sit flush with the wall.
Build Into a Bathroom Wall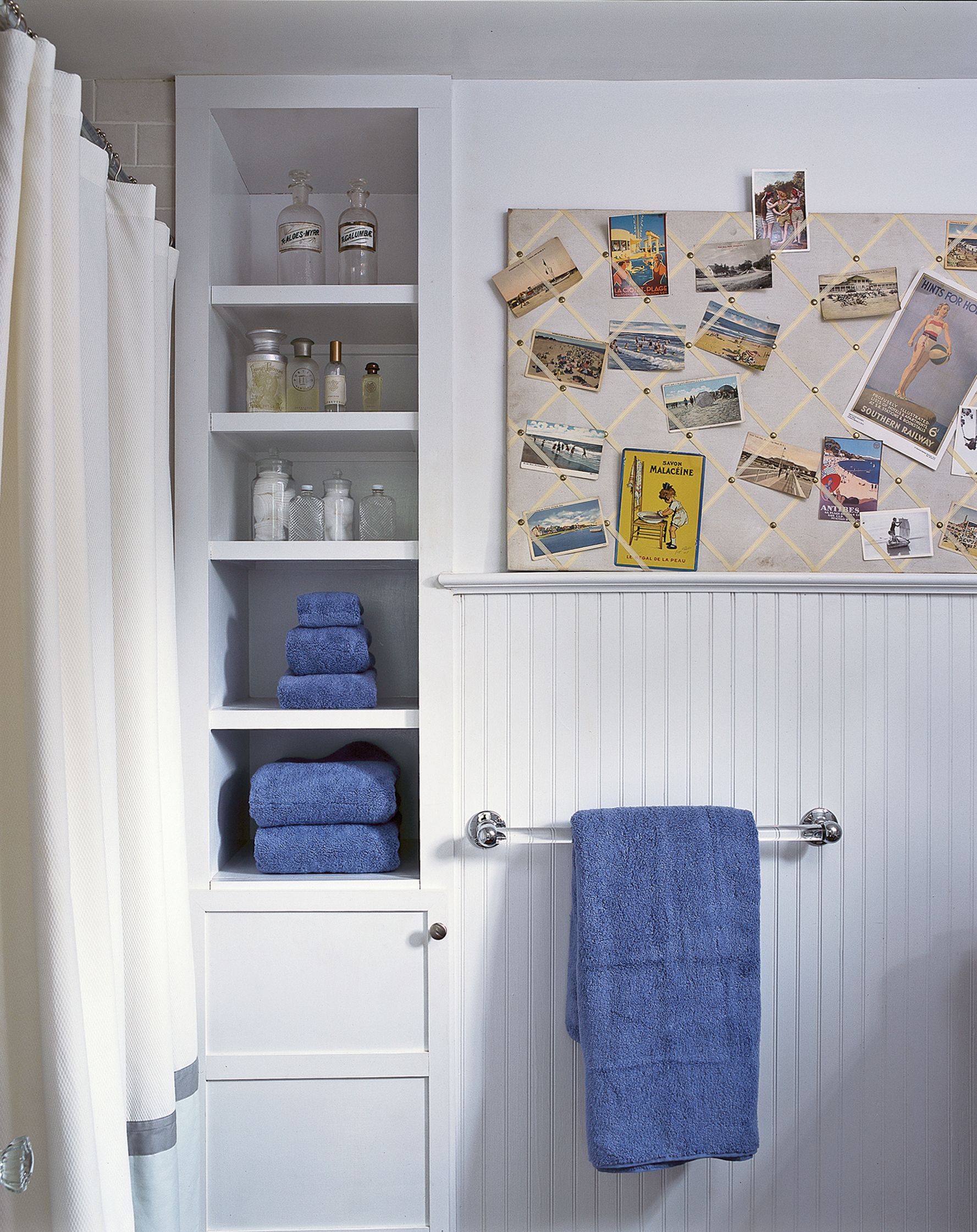 The stud bays that lie empty behind drywall can yield ample stowaway space in even the tiniest rooms in your house. By opening up the wall in this diminutive bath, Montauk, New York, architect Erica Broberg carved out a floor-to-ceiling built-in with a combination of open and concealed storage—shelves on top for easy access to everyday items like lotions and a cabinet below for unsightlies such as toilet paper—in a narrow sliver between the bathtub and the towel rack. If you plan to build one of your own, note that the standard width between studs is 14½ inches and the depth is 4 inches. Walls that contain plumbing are often framed with 2x6s, rather than standard 2x4s, which yield an extra 2 inches of shelf space.
For anything deeper, you'll have to steal space from whatever is on the other side of the wall—in this case, the chase around an HVAC duct. "Just don't make the shelves more than 18 inches deep; these are about 12 inches," says Broberg. "Otherwise, the recesses will become cluttered with stuff you don't even know is back there."
Learn how: Build this Bookcase Alcove
TOH Tip: If you're annexing space from an adjoining room for a built-in, don't just finish the back of the bumpout with drywall. Add wall-mount shelving; it's a functional disguise for the new construction.