Kids deserve the safest and most comfortable environment as they grow. According to experts, two years old is considered a safe age to introduce children to the comforts of using a pillow. However, while two years old is the standard, this is still a sensitive age for a child's development, and it is important to try and provide a pillow designed to be as safe and supportive for a child as possible when they sleep and as they grow.
In this article, we want to help to familiarize you with the best baby toddler pillows available today to help you find the safest and most optimal fit for your little one's trip into dreamtown!
The 8 Best Toddler Pillows – Our Top Picks
Affiliate Disclosure:This Old House's Reviews Team is committed to delivering honest, objective, and independent reviews on home products and services. To support this business model, This Old House may be compensated if you purchase through links on our website.
By clicking on the product links in this article, Mattress Advisor may receive a commission fee at no cost to you, the reader.
Best Overall Toddler Pillow – Keababies My Little Dreamy Pillow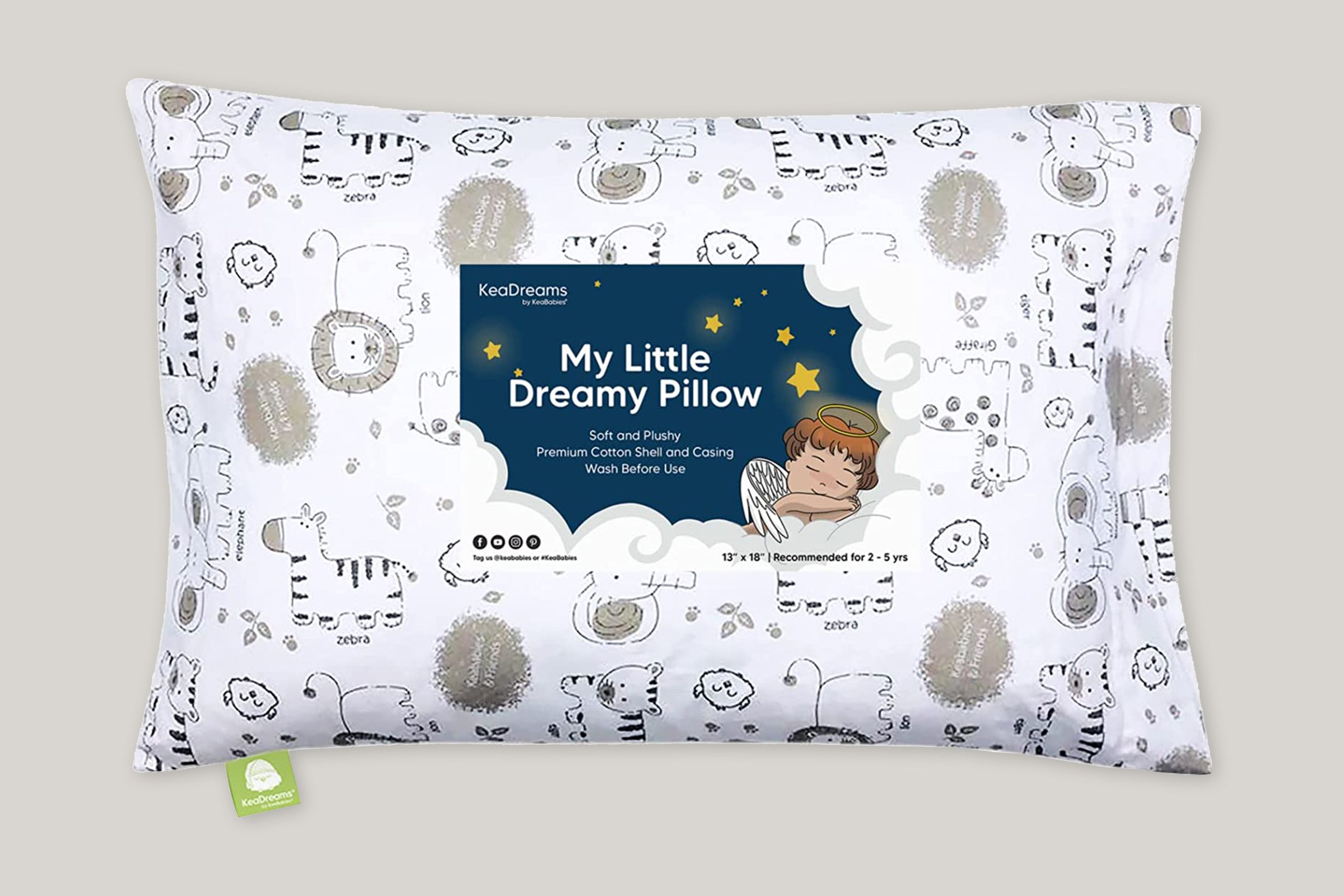 Pros and Cons of The Keababies My Little Dreamy Pillow
| Pros | Cons |
| --- | --- |
| Great for spinal support | Some parents may find the loft too tall |
| Naturally hypoallergenic materials in its construction | It may arrive with a slight off-gassing smell |
| Eco-friendly | |
| Pros | Cons |
Dimensions: 13″ x 18″
Customer Rating: 4.7/5
Firmness: Extra soft
Fill Material: High-quality fiber fillings
Case Material: Organic cotton
Sleep is essential to all our growth and well-being regardless of age, but it is a critical part of a child's healthy development. KeaBabies' My Little Dreamy Pillow is an ergonomic pillow that offers a gentle but supportive feel for your child as they sleep. Vetted by chiropractors, the My Little Dreamy Pillow is designed specifically with tots in mind to help ensure their spines rest in a healthy alignment for healthy growth as they sleep. This supportive kids pillow is particularly beneficial for toddlers aged two to five and is machine washable due to its hypoallergenic 100 percent organic cotton cover and shell.
In addition, this pillow offers a soft fluffy feel to help your toddler sleep while making sure they grow in the healthiest way. Organic, natural, safe to hug, and highly supportive of a child's spinal alignment make this notoriously great toddler pillow our favorite overall.
Best Hypoallergenic Toddler Pillow – Little Sleepy Head Toddler Pillow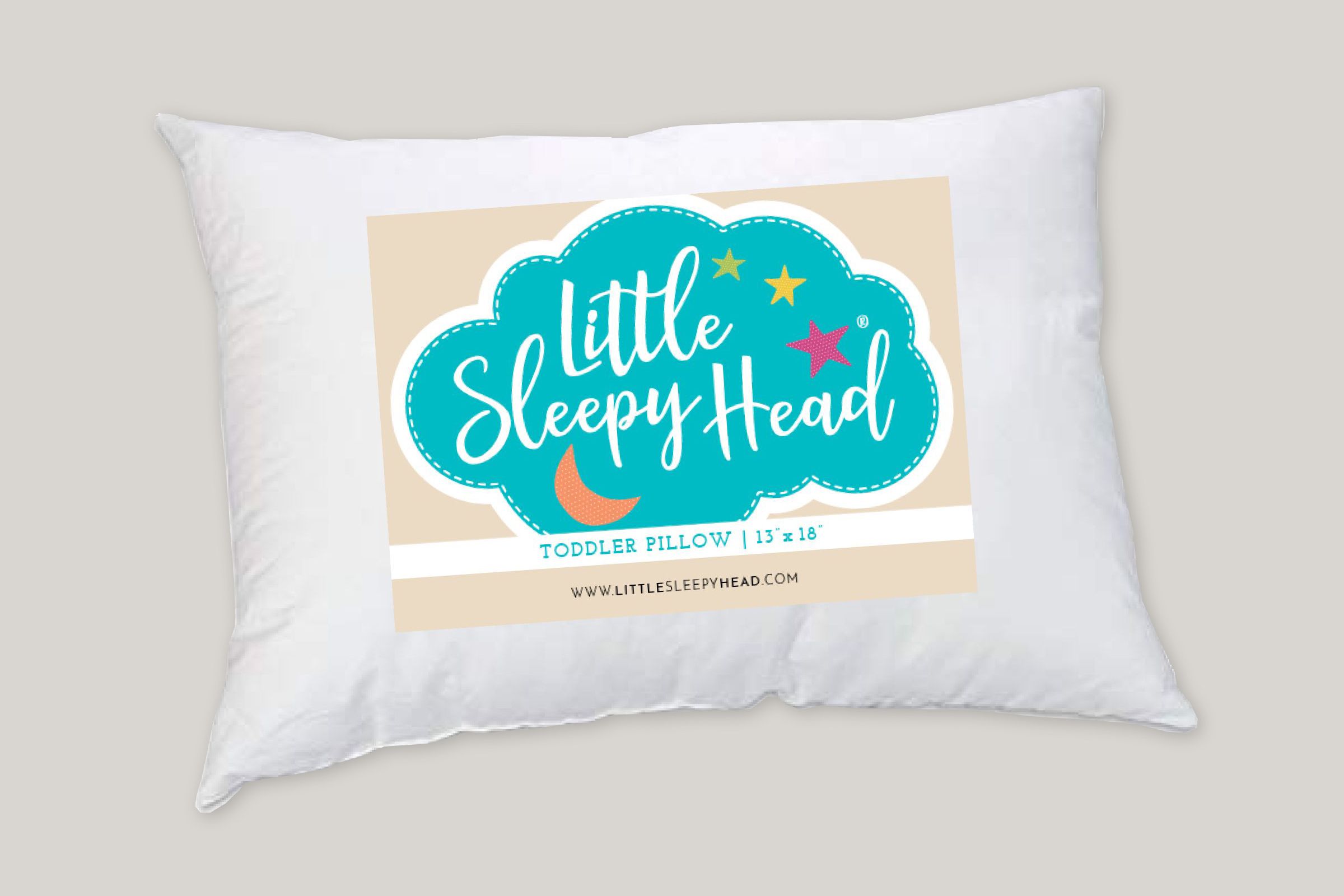 Pros and Cons of The Little Sleepy Head Toddler Pillow
| Pros | Cons |
| --- | --- |
| Durable shape | Available in only a single size |
| Ergonomic design | Pillowcase not included |
| Able to be cleaned via a washing machine | |
| Pros | Cons |
Dimensions: 13″ x 18″
Customer Rating: 4.6/5
Firmness: Plush
Fill Material: Polyester
Case Material: Hypoallergenic cotton
A toddler's sleep is where their bodies find time to grow best. Sensitive skin irritation or rashes are not something a parent needs to disrupt this critical rest time. The Little Sleepy Head Toddler Pillow is constructed with unique hypoallergenic cotton that is produced using minimal chemicals and dyes throughout the manufacturing process.
Little Sleepy Head's cotton shell makes it highly breathable and naturally both mildew and dust-mite-resistant. The American-made allergen-resistant pillow is also machine-wash friendly and reportedly doesn't lose its fluff or shape when washed. With Little Sleepy Head's quality hypoallergenic construction and airflow, it's even safer for your child to bring their pillow wherever you go and rest their head for a cozy nap, free of toxic fabrics.
Best Toddler Pillow with Organic Pillowcase – My Little North Star Toddler Pillow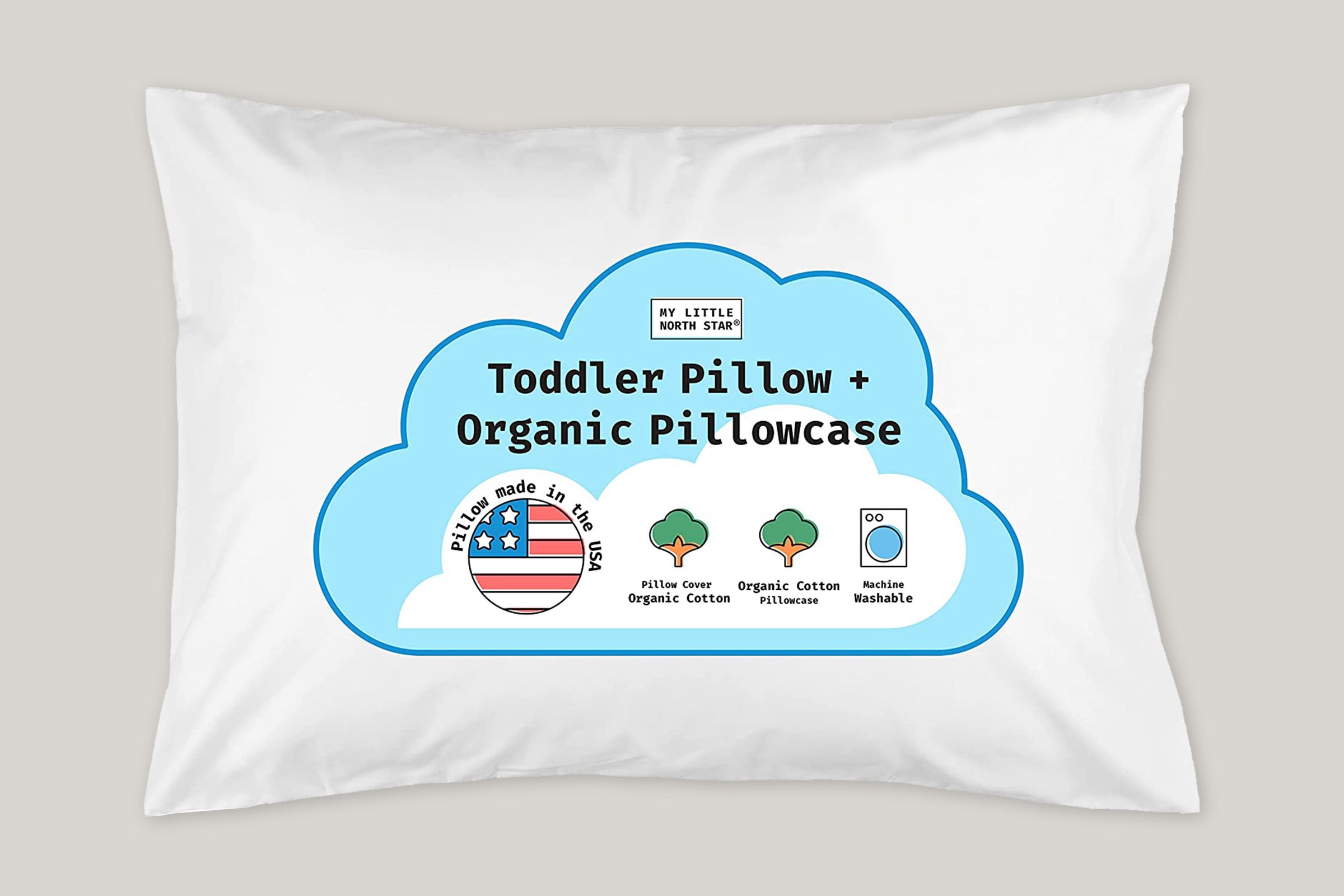 Pros and Cons of The My Little North Star Toddler Pillow
| Pros | Cons |
| --- | --- |
| Easy to wash | It may lose its shape with time |
| Free returns | Single color |
| GOTS certified | |
| Pros | Cons |
Dimensions: 13″ x 18″
Customer Rating: 4.6/5
Firmness: Plush
Fill Material: Polyester
Case Material: Organic cotton
With toddlers sleeping half the day, parents want natural fabrics free of pesticides to support their kids' dreams. The My Little North Star Toddler Pillow is made with a 100 percent organic cotton shell and includes a 100 percent organic cotton pillowcase, both of which have a Global Organic Textile Standards (GOTS) certification. These highly-breathable all-natural pillow components also help prevent moisture from getting trapped inside the pillow or pillowcase's fabric while your toddler rests, preventing problematic mildew that can lead to rashes or trigger allergies.
Furthermore, the pillow is super easy to wash, with its wash-friendly polyester fill making it perfect for your little one to bring it outside the home for naps in the car or at daycare. While super soft and cozy, this made-in-America pillow is also super durable. The Mom's Choice Awards also recognize My Little North Star for its excellence as a children's pillow, and if you are disappointed in their product, My Little North Star is so confident that they will accept returns with no questions asked.
Best Memory Foam Toddler Pillow – Coop Home Goods Toddler Pillow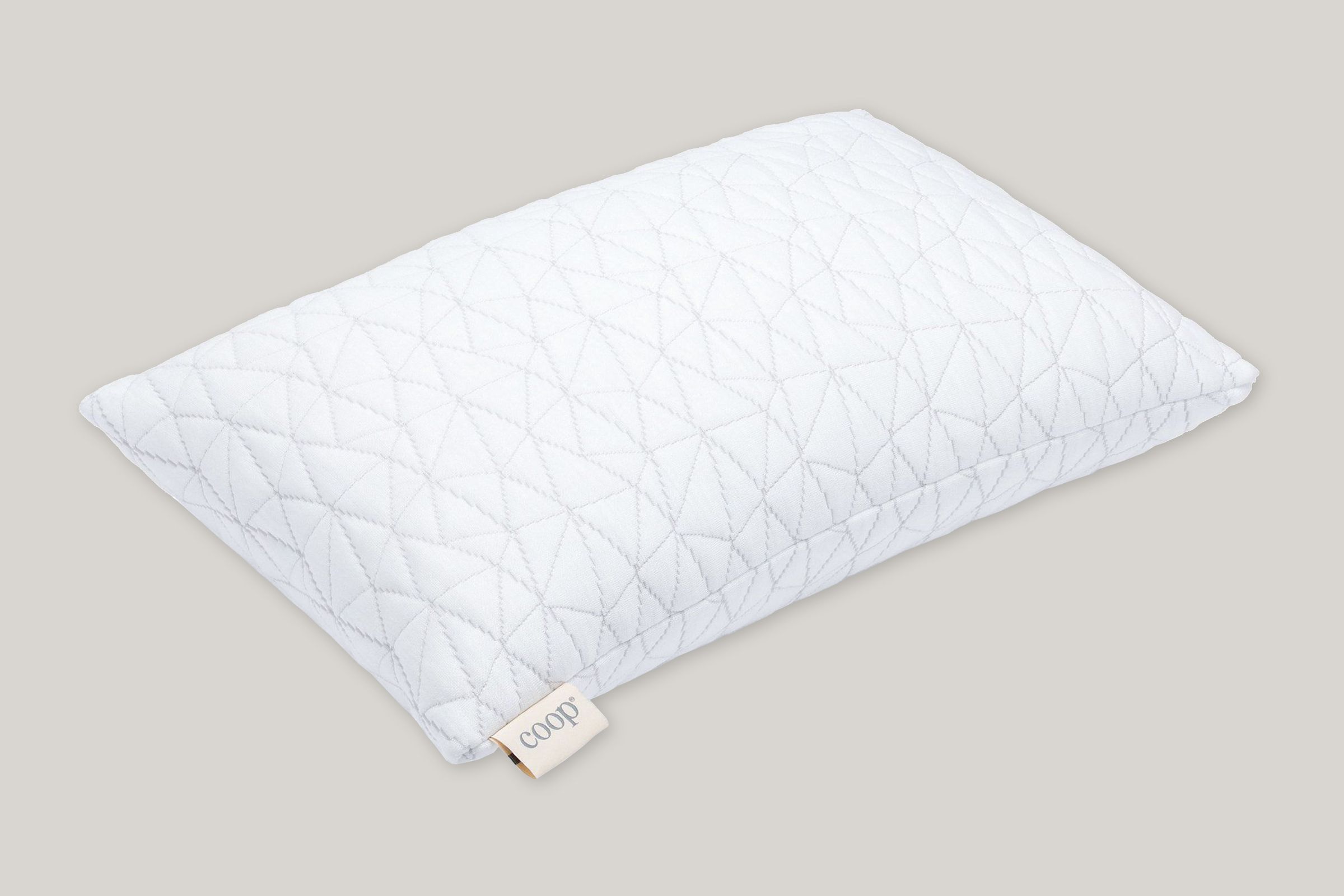 Pros and Cons of The Coop Home Goods Toddler Pillow
| Pros | Cons |
| --- | --- |
| Adjustable loft | The adjustable loft is great, however not so much if your child learns how to do it as well |
| Hypoallergenic | It may feel firm compared to other toddler pillows |
| Temperature-regulating fabric | |
| Pros | Cons |
Dimensions: 14″ x 19″
Customer Rating: 4.6/5
Firmness: Plush
Fill Material: Memory foam, microfiber
Case Material: Lulltra fabric
While parents want the fluffiest comfort for their kids' rest, it is also important to ensure a pillow helps to maintain the healthy alignment and development of their posture and spine. The Coop Home Goods Toddler Pillow offers the supportive yet pressure-relieving cushioning of memory foam for children to sleep comfortably while still experiencing adequate spinal and neck support.
In addition, this toddler pillow from Coop is CertiPUR-US and GREENGUARD Gold Certified, meaning no harmful chemicals were used in its creation. Furthermore, the Coop toddler pillow offers easy adjustment of the loft in this pillow by allowing you to simply unzip it and remove or add the fill to your child's loft needs. This pillow can also be easily machine-washed, making it a great travel pillow. Beyond the supportive features of its memory foam fill, the super-breathable Lulltra fabric used in the pillowcase helps maintain a sleep-friendly temperature for your child to get the undisturbed deep sleep they need to grow just right.
Best Organic Toddler Pillow – Avocado Toddler Pillow
Pros and Cons of The Avocado Toddler Pillow
| Pros | Cons |
| --- | --- |
| Entirely organic | Pillowcase not included |
| Sustainable shipping | Not machine-wash friendly |
| Generous trial and warranty | |
| Pros | Cons |
Dimensions: 12″ x 20″
Customer Rating: Coming soon!
Firmness: Soft
Fill Material: Latex, Kapok
Case Material: Organic cotton
While many pillows flaunt one or more organic components, it's hard to find a genuinely eco-friendly pillow for your child that is 100 percent completely organic. However, Avocado's Organic Toddler Pillow is organic through and through. Avocado uses a posture supporting organic latex and a soft fluffy organic Kapok fiber as a filler. The organic pillow's cover also uses organic cotton, making the entire pillow's materials organic and GOTS certified.
Furthermore, Avocado's toddler pillow is also GREENGUARD Gold certified and a winner at the Good Housekeeping Good Parenting awards. The Avocado must be spot cleaned rather than machine-washed, but an all-organic breathable pillowcase can be added for an additional fee. Beyond the eco-friendly construction of the Avocado, the company also offers carbon-negative shipping. Furthermore, Avocado offers an incredibly generous one-year warranty and a 100-night sleep trial that should reflect the company's confidence in their pillow. If you are looking for a truly eco-friendly pillow for your toddler, the Avocado is a go-to!
Best Travel Toddler Pillow – Biloban Toddler Pillow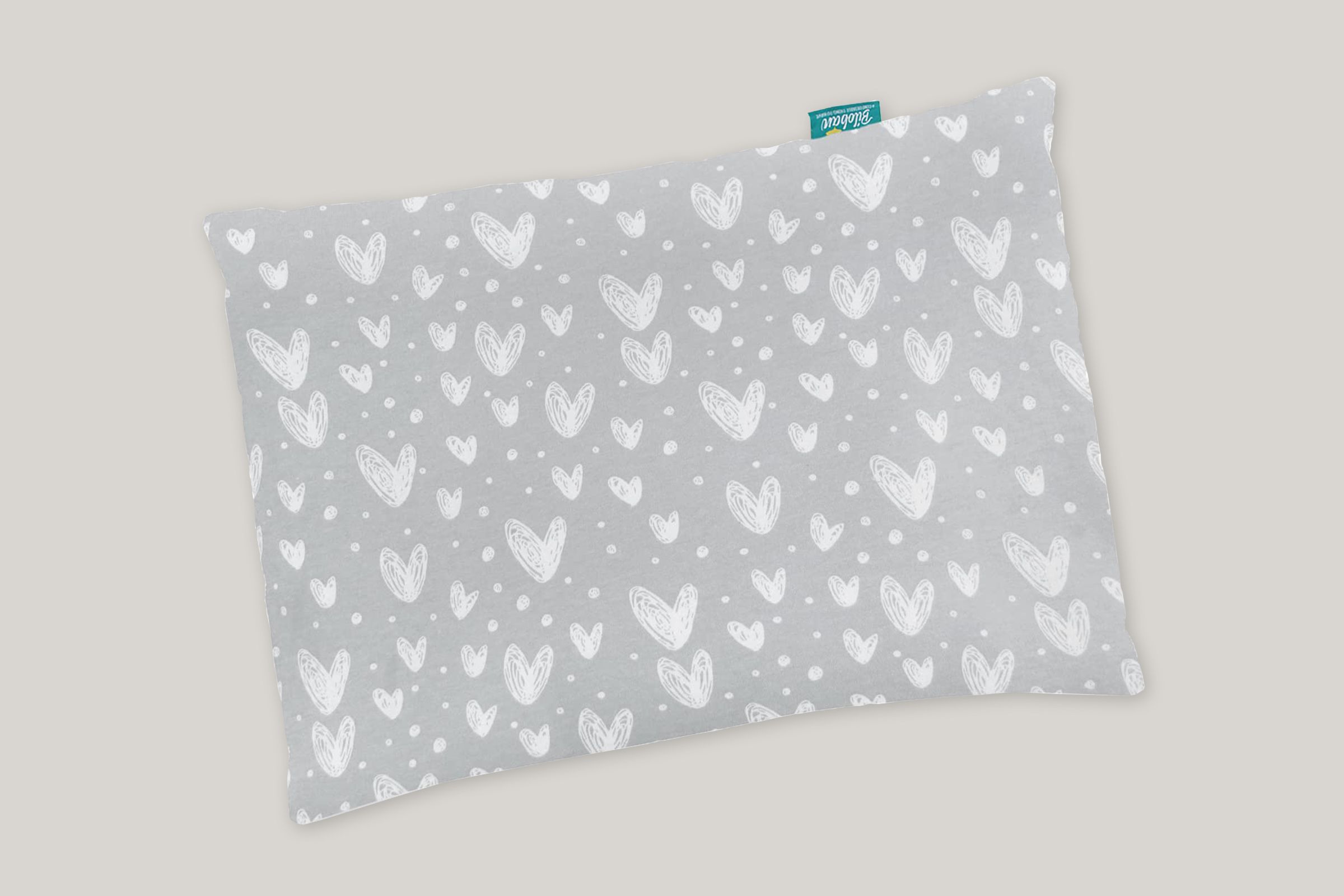 Pros and Cons of The Biloban Toddler Pillow
| Pros | Cons |
| --- | --- |
| Very breathable | Loft not adjustable |
| Durable construction | Without any organic materials |
| Affordable price | |
| Pros | Cons |
Dimensions: 13″ x 18″
Customer Rating: 4.5/5
Firmness: Extra soft
Fill Material: Polyester
Case Material: Cotton, polyester
Kids can nap often and anywhere, whether in the backseat or daycare. A pillow that can join them in their sleep travels is great, but it is also important to find a pillow that can withstand the messes along the way. The Toddler Pillow from Biloban offers a highly durable machine-wash-friendly pillow with a lifetime guarantee that is up to the task. Testers concluded this pillow maintains its shape and feel even after 200 washes.
Biloban's Toddler Pillow uses an envelope structure for its chemical-free filler and cotton. No zipper is included on this pillow, preventing your child from chewing on it or hurting themselves. Notably, Biloban's super soft cotton-based pillow case that is included with the pillow is available in various cute designs your kid can show off. So whether your child drops their pillow on the road or spills their juice, expect a pillow that remains durable, soft and ready for more journeys after cleaning!
Best Wool Toddler Pillow – Woolino Wool Toddler Pillow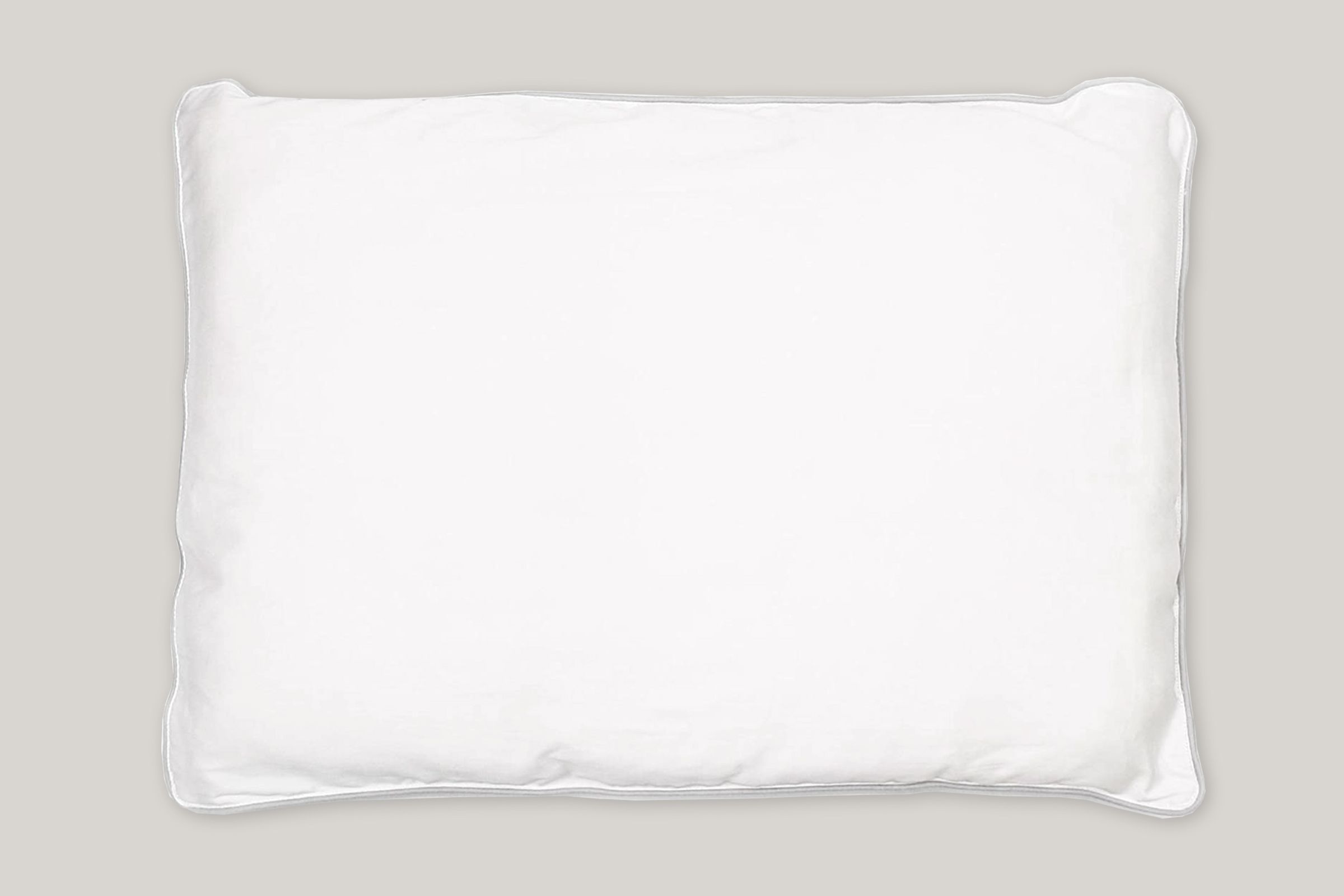 Pros and Cons of The Woolino Wool Toddler Pillow
| Pros | Cons |
| --- | --- |
| Machine-wash friendly | Not be suitable for vegan shoppers |
| Free shipping | Pillowcase not included |
| Naturally moisture and odor resistant | |
| Pros | Cons |
Dimensions: 19″ x 19″
Customer Rating: 4.5/5
Firmness: Plush
Fill Material: Merino wool
Case Material: Wool, cotton
Wool is a remarkable fabric that is breathable, retains heat even when wet and requires less washing than other fabrics due to being naturally stain and odor-resistant. Woolino's 100 percent natural merino wool Toddler Pillow offers your child a healthy and cozy pillow experience. In addition, the pillow naturally absorbs moisture, helping retain a healthy foundation for your little one's rest. The pillow's cover is made entirely with soft cotton that helps to promote airflow for a sleep-friendly temperature for your child while preventing mildew build-up and requiring less washing.
The pillow is also Oeko-Tex 100 certified, meaning it is highly eco-friendly and free of harmful chemicals. Wool's natural yet unique qualities make it great for creating a pillow that offers a breathable and healthy sleep year-round. And despite wool's mess-resistant features, this pillow is machine-wash friendly. We all know how cozy and comfortable wool can be, and we believe your toddler will agree!
Best Budget Toddler Pillow – Utopia Bedding Toddler Pillow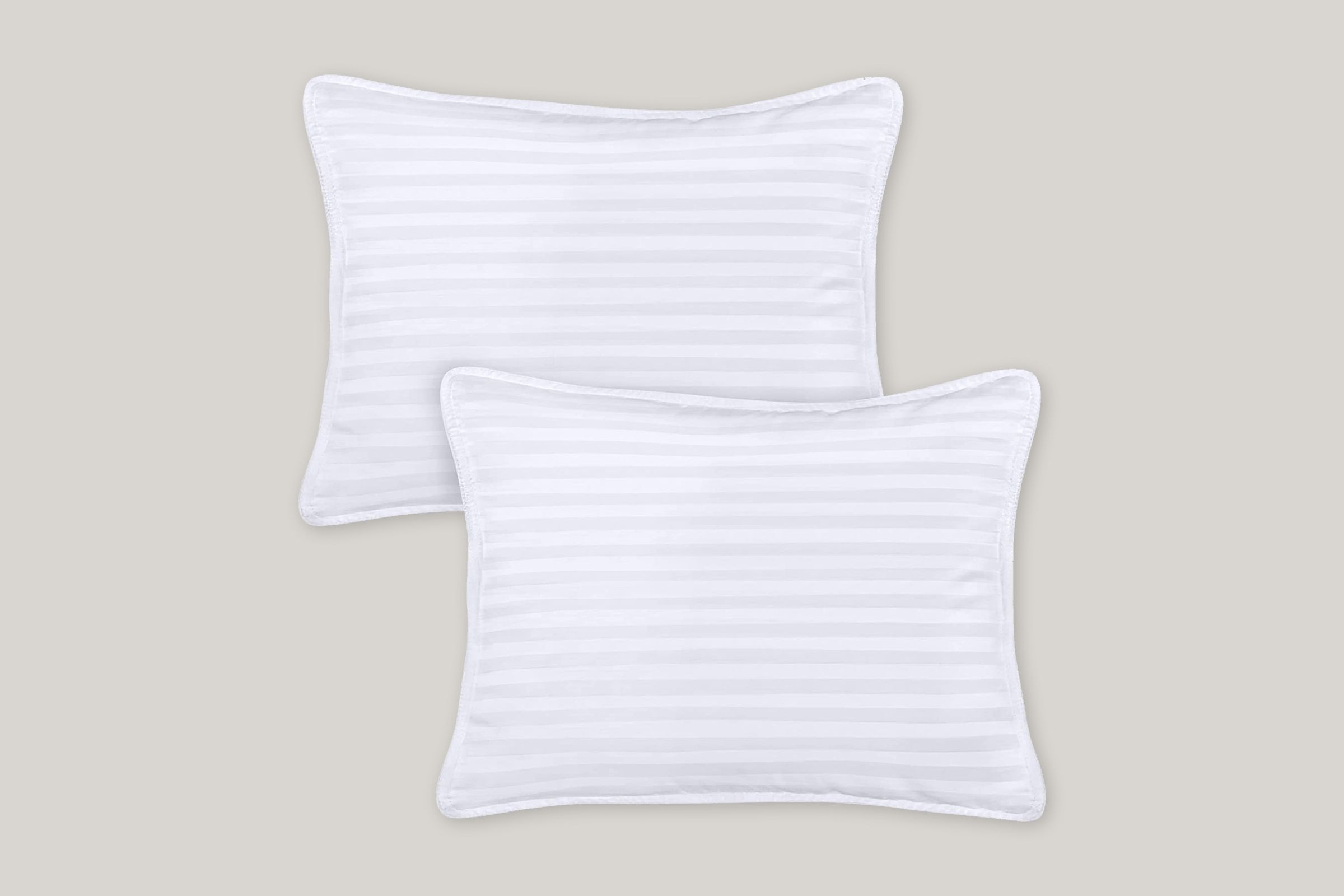 Pros and Cons of The Utopia Bedding Toddler Pillow
| Pros | Cons |
| --- | --- |
| Breathable cotton design | Not machine-wash friendly |
| Durable construction | Without organic materials |
| Incredibly affordable | |
| Pros | Cons |
Dimensions: 13″ x 18″
Customer Rating: 4.7/5
Firmness: Plush
Fill Material: Polyester
Case Material: Cotton, polyester
No one likes to cut corners when shopping for their kids, but sometimes our wallets limit our options. Fortunately, Utopia Bedding's Toddler Pillow offers a soft yet supportive durable pillow for your child at an impressively affordable rate. Available for less than ten dollars on Amazon, this toddler pillow provides a breathable and soft experience for your child without putting a hole in your wallet. The pillow must be spot cleaned or hand-washed. However, it is reportedly quick to dry.
This toddler pillow includes a 250-thread count cotton-blend pillow cover that makes it built to last. Available at discounted rates when ordered in bulk, you can affordably arrange pillow fights and replace them amidst big accidents. With a soft rectangular hug-friendly shape, expect your child to appreciate this pillow while you can appreciate its bargain rate!
MA Score: The Mattress Advisor Score is a weighted score that takes into account 14 different factors related to the pillow's performance, function, convenience, and the brand's social responsibility.
What Makes a Pillow Good for Toddlers?
A good toddler pillow delivers a healthy and supportive sleep experience for your child and a stress-free cleaning experience for the parent. First, a good toddler pillow should offer healthy posture support, so your child can experience proper spine alignment while they rest for optimal growth. In addition, quality hypoallergenic and naturally sourced materials free of chemicals in a pillow's construction are good for offering your child a healthy and breathable sleep experience. Finally, and probably the most obvious of all, a soft, cozy feel in a pillow that can comfort a child and enable a good deep sleep is essential!
Furthermore, parents will want a pillow that can easily be washed! Accidents by children are inevitable, and without endlessly buying new pillows, you're going to want to be able to find a pillow that is durable and easily washed without compromising its shape and feel. A toddler's pillow will play a part in their upbringing and the parent's experience. Addressing your budget and matching it to the best available toddler pillows today can be one more opportunity to help ensure a more quality experience for you and your child during this critical time in both of your lives.
Are Toddler Pillows Safe?
The short answer is yes. Science suggests that toddlers over two can safely be given a pillow. Toddler pillows are meant for children over two years old and are considered appropriate for children up to five years old. Reports suggest it is a good idea to introduce a pillow into your toddler's life by adding it to their bed and seeing if they learn to use it. However, infants under 24 months should not be given pillows of any kind due to the potential for suffocation and other potential dangers that would fall in line with what is known as Sudden Infant Death Syndrome (SIDS).
Furthermore, while pillows are clinically safe for toddlers two and up to use, we still suggest seeking toddler pillows that are certifiably toxic-free and potentially offer some flame-retardant qualities.
Things to Consider When Buying a Toddler Pillow
Material: The materials used to construct a toddler-sized pillow should be hypoallergenic, breathable, and certifiably toxic-free. Cotton, latex, and Kapok (especially if they are organic) are some of the best materials used to create quality toddler pillows. Flame retardant features are also something to look for if available.
Allergen-resistance: Allergen-resistance determines how hypoallergenic a toddler-sized pillow is. An allergen-resistant pillow uses materials that naturally help to prevent the development of fungus, dust mites, and mildew. Furthermore, hypoallergenic toddler pillows tend to have higher-quality moisture absorption. Generally, a hypoallergenic, breathable, or allergen-resistant pillow helps preserve a healthier sleep experience for toddler sleepers.
Safety: Toddler pillows are safe for children two years and up. An excellent way to determine when your child is ready is if they are using a toy or blanket to prompt their head up after moving from the crib to a bed. Additionally, a safe pillow makes it hard for a child to access its fill due to the risk of trying to eat it, and it is durable enough to prevent a child from tearing the pillow into smaller pieces they can swallow. Additionally, the more natural and hypoallergenic a pillow is, the more quality and healthy rest a child can get from it.
Size: A standard toddler (two to three years old) pillow is typically 13″ x 18″, however, size suggestions can change with age. For example, a 16″ x 22″ pillow may be better for a child four to five years old, whereas an 18″ to 24″ pillow may be better for a child six to 12 years old.
Firmness: Pillow firmness is determined by the support and feel of a pillow when a child uses it to rest. A toddler pillow should be a pretty soft pillow with minimal loft. However, a toddler's pillow should still offer steady support to help encourage healthy spinal alignment for the child as they rest and grow.
Washing: Washability determines how complicated it is to wash your pillows from home. This depends on the pillow type and the materials used to produce it. Many pillows are machine-wash friendly, while some require spot cleaning or hand washing. Regardless, considering the messes children are prone to, we suggest always using a quality and machine-wash-friendly pillowcase for your toddler's pillow.
Durability: A pillow's durability reflects the quality of its assembly and the materials used. One good way to judge a toddler pillow's durability is its ability to be machine-washed and retain its original shape and feel.
Price: The cost of a toddler pillow should reflect the quality of its components and features. A pillow that uses naturally sourced or certifiably toxic-free materials is one reason to consider a higher price tag.
FAQ About the Best Toddler Pillows
1. At what age can a toddler use a pillow?
Two years or older is the appropriate time for children to begin using a pillow. Earlier use of a toddler pillow could lead to Sudden Infant Death Syndrome, also known as SIDS.
2. Do toddlers need special pillows?
Toddlers should not use adult-sized pillows. The suggested toddler pillow size is 13″ x 18″. Furthermore, pillows with a subtle loft and plush yet supportive feel are best for toddlers to retain a comfy yet spine-supporting resting position when they sleep.
3. How do you introduce a pillow to a toddler?
There are reportedly many theories about the best way to introduce a pillow to a toddler. First, a toddler should be sleeping in a toddler bed rather than a crib. From there, one promising approach would be to leave a toddler-sized pillow in your child's bed once you have noticed them acting safely with their blanket or toys during the night. Then, while you can show the toddler how to use the pillow, they should, with time, begin to understand its purpose naturally.
Summary of Our Top Picks for the Best Toddler Pillows