A Calendar of Updates
If scheduling your DIY projects months ahead of time is your thing—it's ours too—you'll be sure to have your weekends packed full of easy upgrades. Read on for a slew of home-beautifying decor solutions!
January: Slide-Out Wine Rack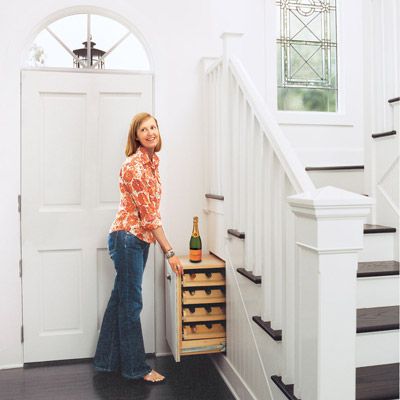 Some people have wizards living under their stairs; Lisa Hudson has wine. The pull-out bottle storage installed in the void beneath the stair landing in her Laguna Beach, California, home is a custom-built unit 20 inches wide, 3 feet deep, and 2 feet high that holds up to 32 bottles. The beadboard front panel is the same piece cut out for the opening, so the cabinet blends seamlessly into the wall.
Inspired to do the same? First, make sure your stairs are self-supporting and that there's no hidden wiring or ductwork in the way. Once you're in the clear, construct a box to your specs out of ¾-inch plywood. Then add slide-out shelves fitted with cutout fronts that cradle the bottles' necks—or simply fill the box with a prefab wine rack. Finish with heavy-duty glides and a decorative front panel or cabinet door. And, like magic, you've got bonus bottle storage.
January: Fresh Tin-Tile Fireplace Surround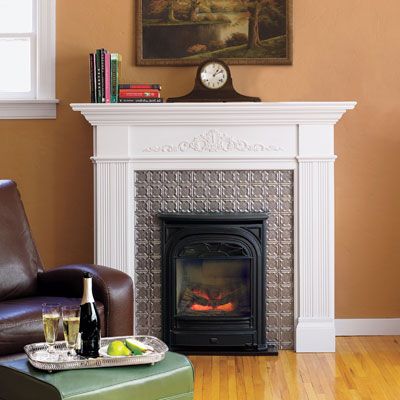 While looking for a way to add personality to their new custom fireplace, Steve and Sandy Miller had this flash of genius: Why not use the same unique tin tiles that adorned their kitchen backsplash for the surround? The couple first chose their design—an ornate pattern of 3-inch squares, which they cut to fit from large panels. Then they covered the surround with cement board and affixed the tin with a heat-resistant construction adhesive. In total, the project took only a few days—but the result will look cozy all winter.
January: Shim Sunburst Mirror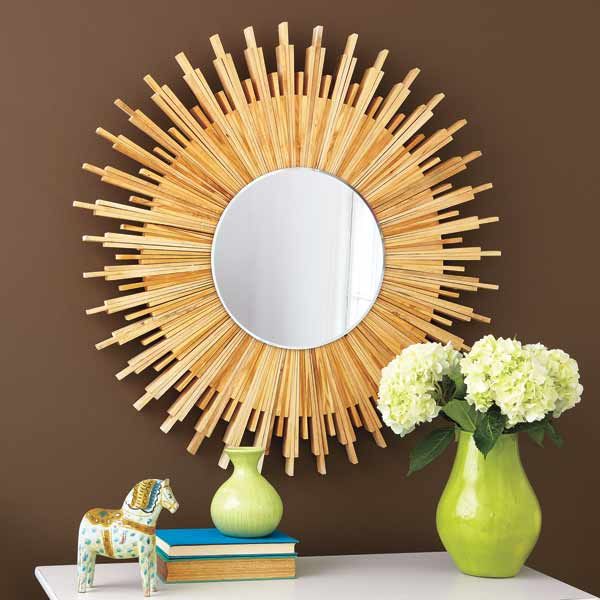 A handyman's secret weapon for setting door jambs, aligning molding, and temporarily fixing wobbly furniture, humble wood shims go from toolbox staple to style booster in this sunburst mirror frame. Making your own is simple and, at only about $35 for materials, far less expensive than any off-the-shelf version. All you need are shims in two lengths—for the 26-inch looker shown here, we used 234 shims in 8- and 12-inch lengths (About $1.50 for 14 and about $4 for 42, respectively; lowes.com)—and a plain, round beveled mirror ($6 for a 12-inch mirror; shop.hobbylobby.com).
Learn how to put them together.
January: Buffet Radiator Cover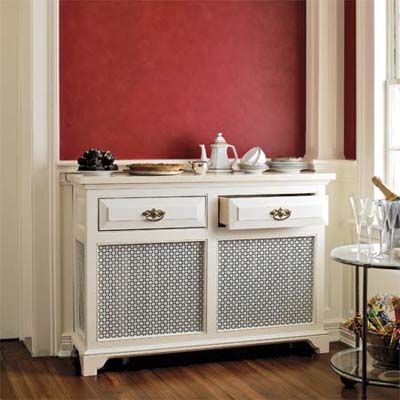 In a dining room, a buffet server comes in mighty handy—if you have room for one, that is. Here, a radiator might have hogged the needed space. Instead, it's boxed out with a furniture-style cover, complete with bead molding; drawers lined with special inserts for storing silverware; and metal screening that lets heat escape. But the best feature, hands down: a marble top that keeps pie at the perfect serving temperature, much like the marble-topped kitchen radiators of yore. That's a lot more than any old serving station can do.
January: Shop Deeply Discounted Furniture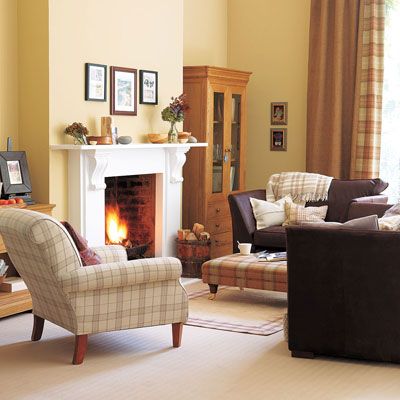 Have a pile of inspirational magazine pages you've been waiting to make a reality? January and February are the best times to nab furniture at serious discounts—up to 60 percent off in some cases—as stores hold clearance sales to make room for new spring inventory.
January: Tub Feet Turned Bookends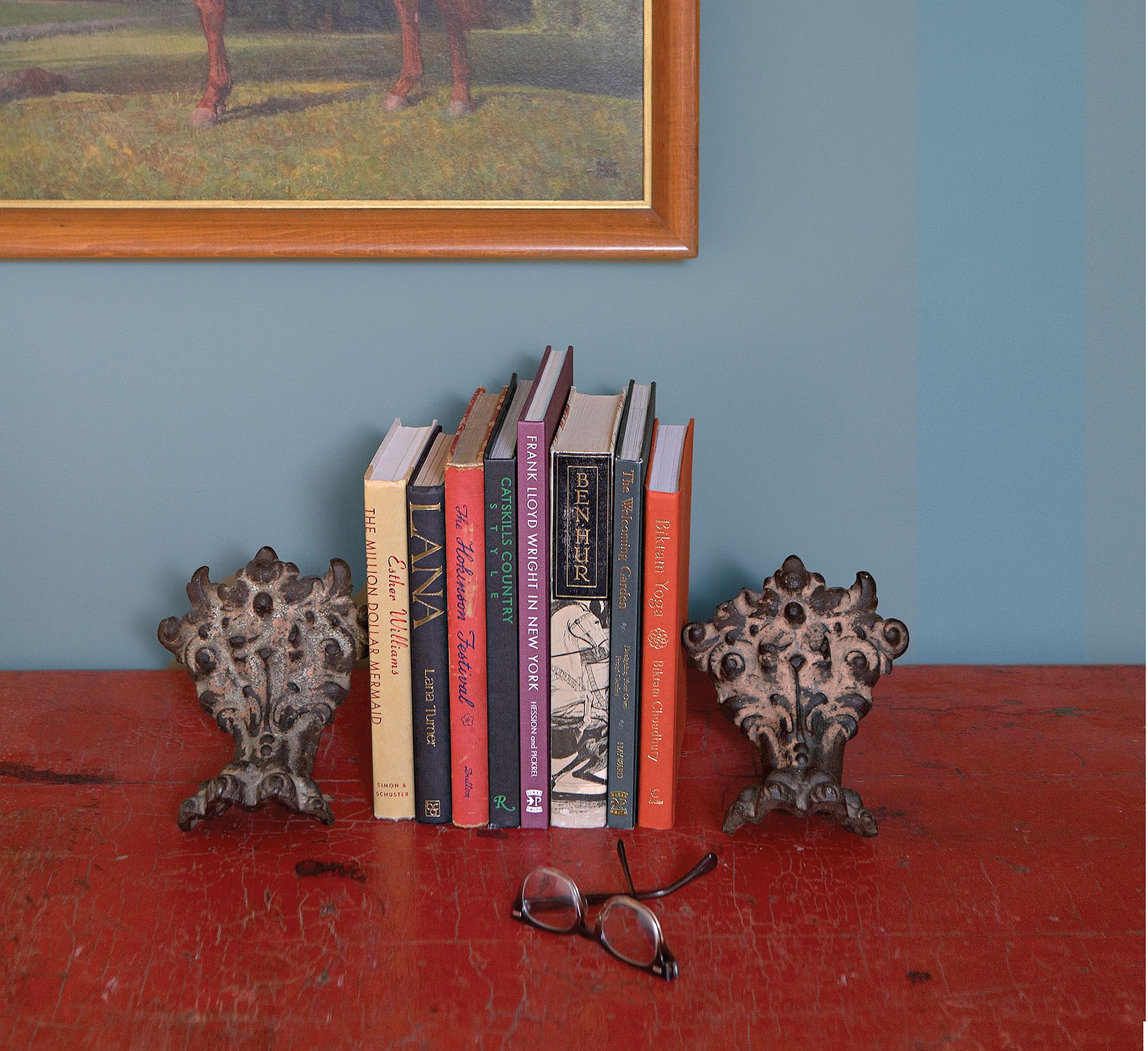 Looking for something small and affordable at the salvage yard? Decorative iron tub supports can be found at most such shops—and are far easier to recycle than the heavy vessels that once perched upon them. A matching pair like these ornate tiger claws costs about $50. Put them to work as bookends on your desk or use just one to prop up magazines inside a shelving unit. To protect wood from scratches, stick felt cushions on the feet bottoms. Then put your own feet up and enjoy the ironwork's vintage charm.
Pro Tip: To preserve the iron's patina and seal any lead paint, add a coat of clear acrylic finish.
February: Vent-Free Fireplace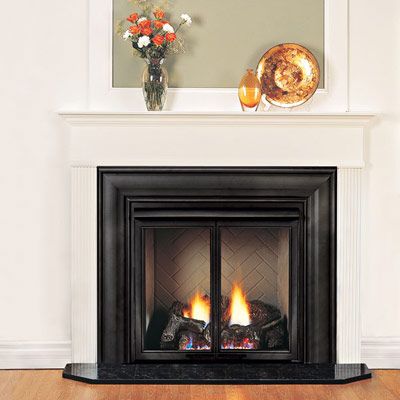 Sound like a pipe dream? Not with vent-free gas fireplace appliances. They hook right up to a gas line, go on with the flick of a wall switch or click of a remote, and provide real flames that burn much hotter and cleaner than traditional gas or wood-burning fireplaces. There's no need for a flue since fuel burns so efficiently; a sensor and safety valve ensure that carbon monoxide won't build up. Available as log sets, inserts, and full fireplaces in a range of sizes, there's an option to suit every home (for retailers, go to hpba.org).
February: Closet Turned Office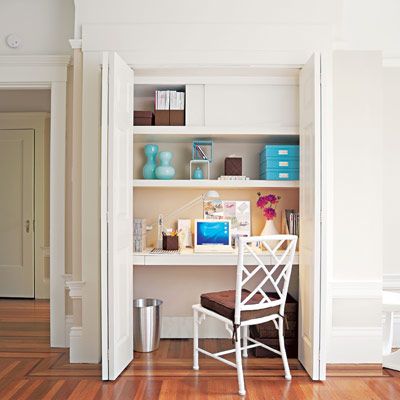 When you're tight on space, a home office may seem like a luxury, but carving one out from a seldom-used closet is easier than you think. Just take out the existing rod and follow these tips:
1. Set shelves at least 1 foot apart and mount with standards, which can hold up to 70 pounds per foot. Try: Elfa's Driftwood and Platinum Office in a Closet, $232; containerstore.com.
2. Avoid clutter by stashing stationery and odds and ends in labeled, stackable boxes.
3. If your doors don't fold, take advantage of vertical real estate by screwing thin sheets of cork to their back sides for posting notes and bills.
4. Set your to-do lists in sight with a small, movable magnetic or dry-erase board. To make a one-of-a-kind version, prime and coat a piece of wood with blackboard paint.
5. Pick a narrow desk with slim drawers directly beneath the top for space-saving, easy-to-access storage.
6. Instead of installing a ceiling light, opt for a task lamp with an adjustable arm.
February: Rehabilitating Insert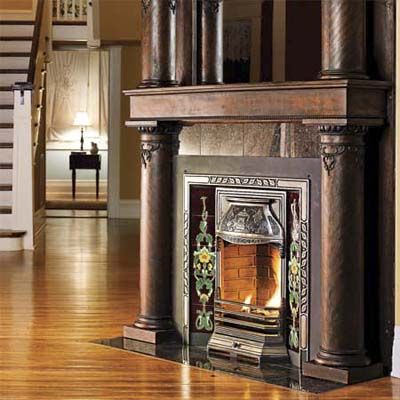 Using clay tile to reline an old chimney so that you can safely enjoy those nightly blazes will set you back a few thousand bucks. At this house, a Victorian cast-iron gas insert—vented via a steel tube placed in the chimney and finished with tiled side panels—struck us as a stylistically fitting and economical way to keep the fire burning. The faux-brick firebox is made from heat-reflective ceramic that radiates warmth into the room instead of up the stack, keeping you even cozier.
Another bonus: No more ashes to scoop out. While installing an insert is a pro's job (find one at National Fireplace Institute), enjoying the result is all yours.
March: Wallpapered Stairs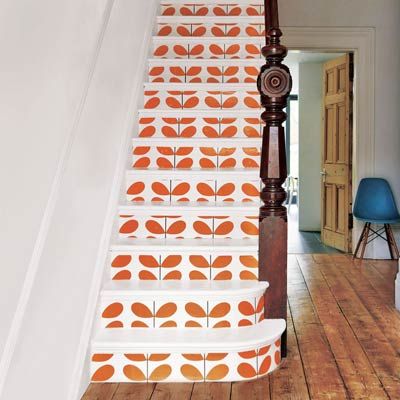 Step up the visual interest on one of your home's most handsome focal points—the front stairs—by papering the risers with a playful design. All you need is a single roll of wallpaper, so even a pricey version won't break the bank. Since most wallpaper widths are narrower than typical staircases, pick a pattern that looks good sideways to avoid having to piece strips together. And pay attention to scale: Too-small prints can feel fussy, while a too-large print may end up unrecognizable once you cut it up. A bold retro design, such as the one shown here, adds a whimsical touch in an older home. Just be sure to use coated or vinyl paper so that you can easily wash away scuffs.
March: Hairpin-Leg Coffee Table
Blending rustic wood with industrial metal, this coffee table has a high-end look—but cost less than $70 to make. The secret: vintage hairpin legs, often found on mid-century furniture, now easily available from online auction sites and marketplaces for well under a Benjamin. Find a style you like in the right height (for a table like the one shown, you'll need 16- to 18-inch legs). Then top with reclaimed barn wood or any other spare boards set close together and screwed to battens; we used three prefinished walnut floorboards, plus a fourth to create a picture-frame trim.
Get step-by-step instructions, including how to make the polished (though completely optional) edge trim.
March: Wallpaper Backsplash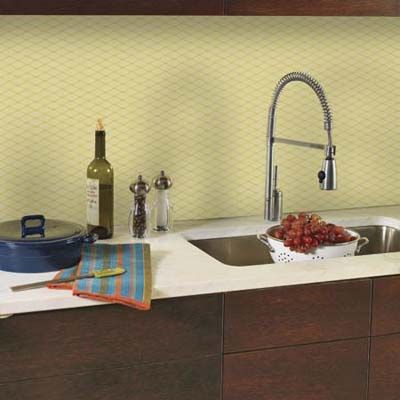 Replacing an outdated tile or stone backsplash can set you back a pretty penny. For one that's easier on the wallet—and a cinch to revamp and clean—opt for wallpaper covered with ¼-inch tempered glass. Measure the backsplash area and cut out a cardboard template, marking the openings for electrical outlets. Bring the template to a glass fabricator so that they can cut a piece to size and polisht the edges. After papering the wall, attach the glass by screwing down the outlet cover plates. Then run a bead of clear silicone sealant along the bottom and top edges and at the seams. Next time you update your kitchen, a new backsplash is just a quick switch of wallpaper away.
Shown: A geometric pattern works here becuase the paper is wide enough to be hung horizontally—no need to match seams.
Antonina Velle Designs, about $63 per roll; York Wallpapers and Fabrics
March: Specialty Spray Paint Solutions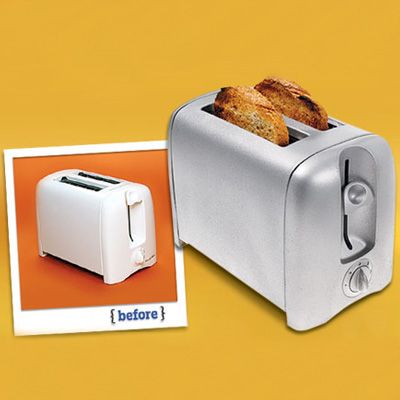 Hammers, screws, and tape measures are handy, sure, but if your house needs a face-lift, you need specialty spray paints. Able to mimic the look of everything from stainless steel to stained glass—and formulated for all types of surfaces, including plastic and metal—these high-impact, long-lasting finishes offer an easy fix for a slew of household objects. And at around $5 to $10 a can, you can afford to make over every beat-up, outmoded item you own.
March: Add Accents to a Stone Wall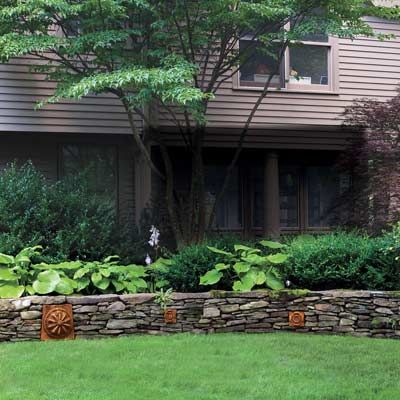 Planning a stacked-stone garden wall? A few randomly placed terra-cotta architectural ornaments will add an unexpected hit of color—and character—to the usual expanse of gray. These decorative relief tiles, recovered from old buildings, can be found at salvage yards. As you lay the natural fieldstone, stack up stones around and behind each tile to hold it in place, with its edges flush to the wall's face. In shade, moss will quickly grow on the tiles, increasing your wall's looks-like-it's-been-there-forever appeal.
March: Create a Tree-Stump Planter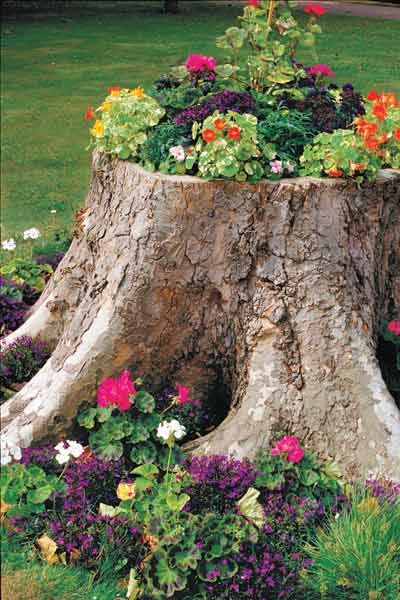 Felling a tree is usually an expensive necessity that becomes even pricier when you have to remove the stump that the landscaper leaves behind.
Instead of grinding it down, turn the stump into a focal point by filling it with flowers.
March: Screened-In Cabinet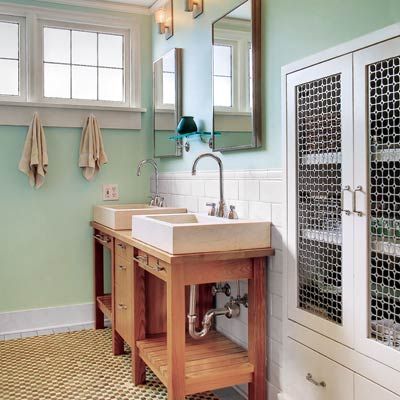 Emulating the vintage charm of old radiator covers and pie safes, decorative grilles offer the perfect way to punch up plain cabinet doors. When installed in a bathroom, they're also highly functional. Here, the inserts help obscure towels and toiletries while allowing air to circulate.
Inspired to install your own grilles? First, consider your cabinet doors. If you have glass panels, as the homeowner of this bath did, you can just pop them out; if you have wood, you'll need to use a router to cut away the panel, working from the back of the door. Then simply insert the grille, securing it with stops made from small strips of wood or turn buttons. You'll end up with a cabinet that's as eye-catching as it is useful.
March: Give Windows a Good Washing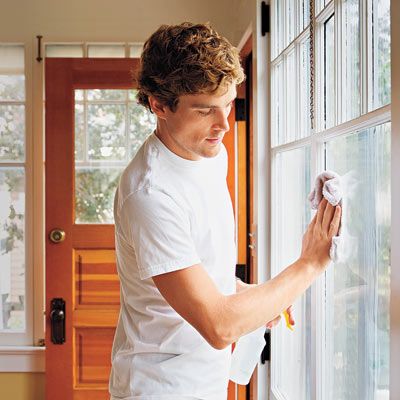 As the days get longer, don't let grime obscure the sunlight.
1. For crystal-clear glass, sponge on then squeegee off soapy water. Use horizontal strokes on one side of the pane and vertical strokes on the other to make streaks easier to spot.
2. Buff out small scratches with toothpaste.
3. To remove paint specks or sticky labels, dampen and scrape off with a plastic razor blade.
March: Get Your Garden Going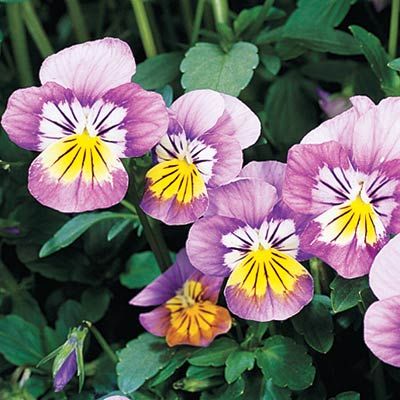 Once the threat of frost has passed, nudge your garden back to life. Prune damaged spots from trees and shrubs, and fertilize roots. When the soil softens enough to crumble in your hand, sow seedlings. Not sure you've seen the last of the cold? Try hardy pansies (shown), which thrive in sunny plots, or primroses, which do well in shade, to add early color to your yard.
March: Mark Plants with Leftover Ceramic Tile Scraps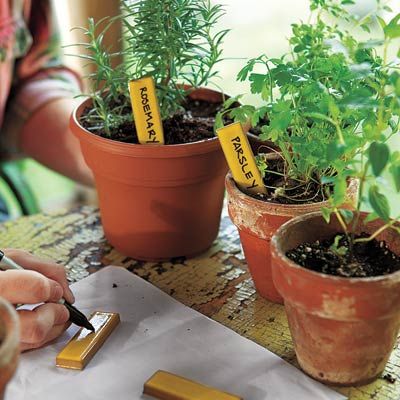 Every tile project seems to result in leftover squares, shards, and odd off-cuts. Before you turn to the trash, consider this smart ways to reuse them Create tags by writing on small tiles with a permanent marker. To reuse, wipe with nail polish remover.
March: Hide Tools in an Outdoor Built-In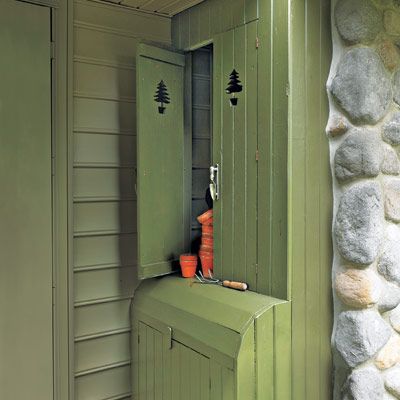 Need extra storage but don't have the room—or budget—for a shed? Consider building a cabinet like TOH reader Lynn Boughton did at her Brooklyn, Michigan, home.
"I wanted a place for gardening supplies that also hid the ugly electrical meter and exposed pipes outside our entry," says Lynn. So she enclosed the space with a large unit made from tongue-and-groove paneling. The curved base is bumped out to accommodate her garden hose, while shallower upper cabinets house wire shelves for small tools. Repurposed shutters serve as the doors. As a final touch, Boughton coated the piece with Benjamin Moore's Boreal Forest, an earthy green, and added spade-shaped door pulls bought for a few dollars. The project cost her less than $100 and took a week—well worth it!
April: Mirror Wall Art on a Rod
Try this twist on the wall collage: Instead of hanging individual pieces directly on the wall, hang them en masse from a curtain rod fastened to wall studs. Simply attach lengths of chain at the top corners of each mirror with eyelet screws, and use S-hooks to hang the chains from the rod. Then all that's left is to sit back and reflect on your new wall art.
April: Tin-Tile Chalkboard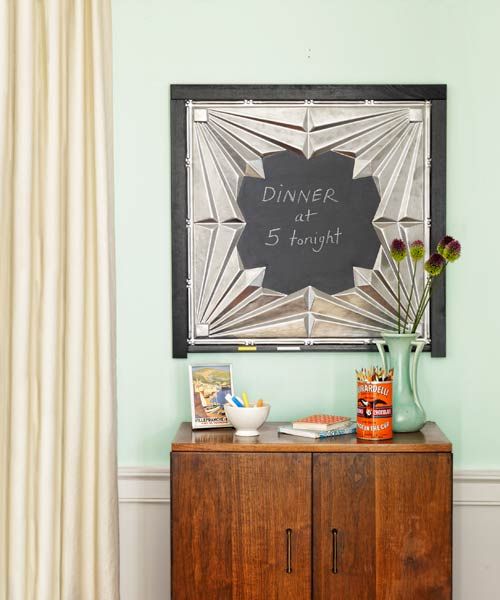 Any family can benefit from a centrally located message center, but those ubiquitous dry-erase boards often sorely lack style.
See a detailed step-by-step of this project for something with a little more charm.
April: Pet-Bed Cubby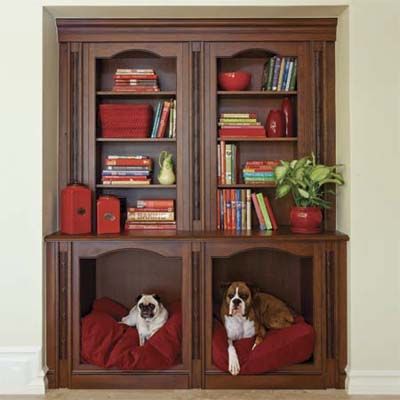 If TV's "Dog Whisperer" has taught us anything, it's that every pooch should be put in its place—a cozy place, that is. These cubbies-in-a-bookshelf are a clever alternative to pet beds that tkae up floor real estate. Built into a niche, the custom piece has a 24-inch-deep nook for Sam (left) and Benny, topped by narrower shelves for books and keepsakes. You can easily modify any bookcase that's at least 15 inches deep to accommodate your four-legged friend; just remove one or two of the bottom shelves and secure it to the wall so that it doesn't topple over when your dog or cat crawls in. Don't forget to toss in a pillow for extra comfort.
April: Wallpaper Storage Cubbies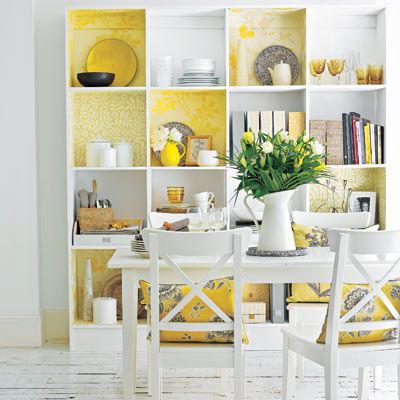 Transform a lackluster storage unit into a piece that's blooming with pattern and color by lining some of the interior spaces with wallpaper. All you need are three or four papers that share a color scheme; we chose botanical prints for a springtime feel. Cut the paper to fit the interior of each recess, including all four sides. Then, using wallpaper paste or a decoupage glue such as Mod Podge, adhere the paper to the inside of the cubby. Work your way out to the sides, smoothing out air bubbles with
a flat edge. Let dry, and use the cheerful nooks to highlight tableware, photos, and other finds.
April: Build a Bath Display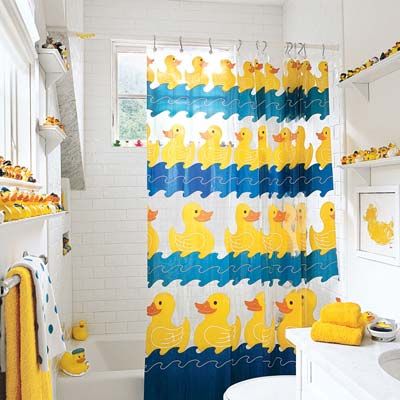 Sorry, Bert and Ernie. For us, Rubber Duckie, you're the one works way better with something like a hundred and one. With their fun, colorful look, the little squeakers are just the kind of waterproof, unbreakable—and inexpensive—items that make a lively collection to array in a bath. Here, one flock perches atop narrow shelves while a larger brood paddles across the shower curtain, giving this family space a playful identity. Want to mount a display of your own? Size the shelves right by cutting down unfinished pine or poplar shelf kits from the home center, or make your own out of 1x5s, routing the edge for a finished look. Cut simple brackets from the same material, attach keyhole hardware, then secure to the wall with screws. The results: just ducky.
April: Plant a Tree, Save Cash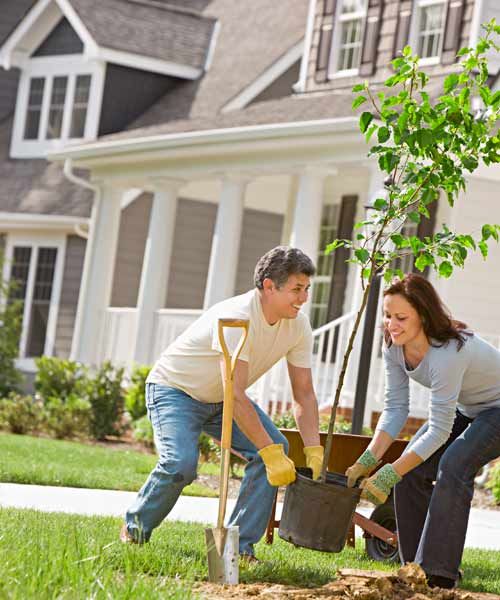 "When we use the tree respectfully and economically, we have one of the greatest resources of the Earth," said architect Frank Lloyd Wright. He wasn't kidding. Aside from aesthetic benefits, trees can increase property values by 10 to 20 percent, improve air quality, and, according to Sean Barry of the Arbor Day Foundation, slash air-conditioning bills by as much as 35 percent. Since spring is the perfect time to plant, start now by placing fast-growing deciduous trees, such as red maples or lacebark elms, on the east, west, and northwest sides of your house. They'll block the hot summer sun and, once their leaves fall off, still allow plenty of warming light into your home come winter. While it might take five to 10 years to see substantial benefits, you can start saving energy now by planting a small tree to shade your air conditioner. "Keeping the unit cooler will make it run efficiently," says Barry, "and save you even more money."
April: Rainbow Painted Staircase Balusters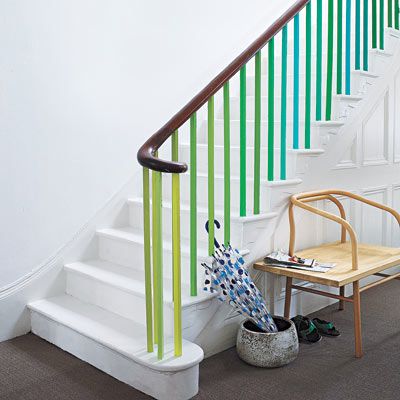 Give a traditional stair railing an unexpectedly playful sensibility by painting the balusters a rainbow of closely related bold shades. You don't even need to bust your budget on dozens of cans of paint; simply select a few strong colors, then mix them with each other or white paint until you achieve your desired hues. Apply each shade to one or two balusters so that the colors gradually intensify as you work your way up the stairs. Here, vivid lime-greens, turquoises, and teals seem to leap out from a backdrop of all-white. A polished wood handrail tempers the look, elevating it to a sophisticated take on painted trimwork.
May: Roll On Faux Paint Bricks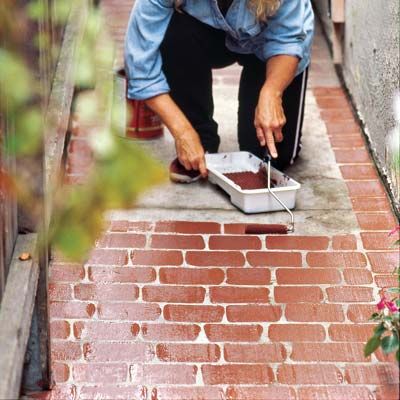 Replacing an old concrete path with natural stone or cast pavers is always a good way to go, but it can also require loads of cash. So instead of repaving, give your walkway a face-lift—with paint. Sweep the surface, then prime it with a concrete resurfacer, like Rust-Oleum's Epoxy Shield (rustoleum.com). Let dry; then, starting in one corner, use a 4-inch roller to create a "brick" with a terra-cotta-hued concrete paint.
Paint another one below it, and so on, to make a border; repeat along the other side. Fill the space in between with a running bond pattern of 8-inch bricks. Don't worry about keeping them exactly the same size or the lines pin-straight; imperfections make the design realistic. Let dry, then watch visitors do a double take as they walk toward your door.
May: Add Trim to a Plain Table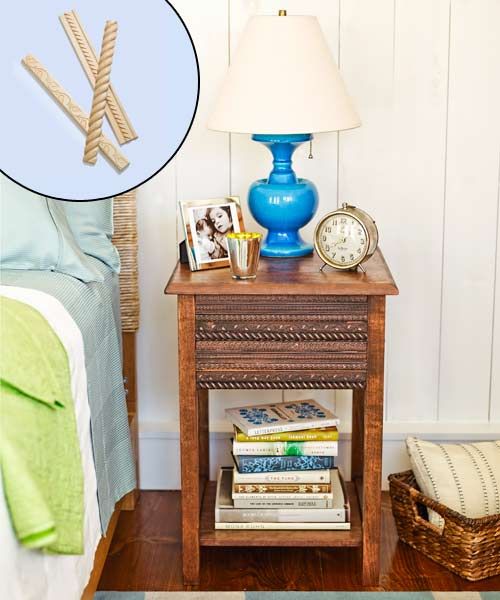 Once a nondescript catchall for books, photos, and knickknacks, this bedside perch now boasts one-of-a-kind style, thanks to strips of decorative molding.
To make your own, see the complete project instructions.
May: Ladder Plant Stand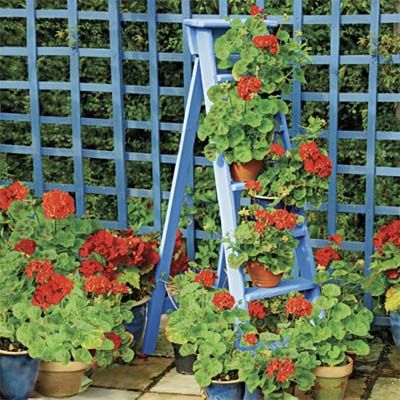 A rickety wooden ladder that's been gathering cobwebs in your basement may be unsafe to climb, but that doesn't mean you should kick it to the curb. With a fresh coat of paint in a cheery color, it becomes a space-efficient, budget-friendly display station for prized potted plants. If the ladder's spreaders—the horizontal braces that connect the ladder's rung-bearing base and fly sections—are missing or broken, lean the ladder against a vertical surface or stabilize it with two scrap pieces of 1×3 fastened where the spreaders would go. In any case, remember not to walk underneath your new creation—you wouldn't want to jinx your green thumb.
Pro Tip: Potted geraniums thrive in full sun and well-drained soil.
May: Salvaged Mirror Bath Remodel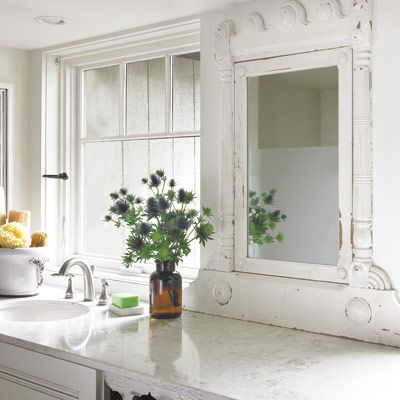 To give your bath remodel one-of-a-kind character, incor­porate a vintage accent. Here, a dresser mirror was reborn as a built-in over a double vanity. Because there was an odd bit of wall between windows,
the homeowner fastened the piece to a sheet of painted plywood, then screwed the wood to the wall so that the mirror's bottom rested on the counter. (On a larger wall, you could simply secure the mirror with steel cleats; find them at rockler.com.) A clear coat protects the weathered paint finish. The all-white color scheme and the piece's curved and flared base help reinforce the built-in effect.
May: Stick-On Tile Accents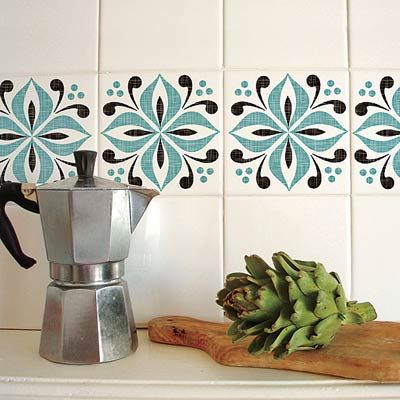 All-white tiled walls look classic, sure, but they can also feel unpleasantly antiseptic. Now you can add a few patterned pieces—in mere minutes—with decals. Use a few to spice up shower walls, or add a whole row to break up a kitchen backsplash. As easy to apply as the ubiquitous wall versions, these removable vinyl stickers withstand moisture, heat, and plenty of splashes.
Bonus: Opaque graphics will camouflage hairline cracks on older tiles, too. To apply, clean the tile's surface according to package instructions (some stickers require dry walls, some use water), peel off the decal's backing, and position on the tile. Use a squeegee or credit card to smooth out any air bubbles, then let dry for about 24 hours. The decal should stay in place until you remove it—whether you change your mind in three months or three years.
May: Problem-Solving Ceiling Paints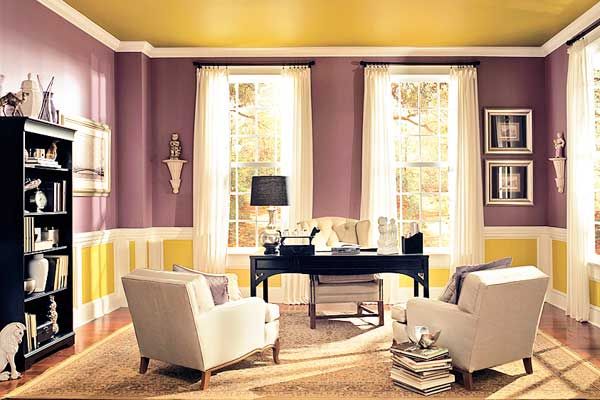 Let's face it: Painting the so-called fifth wall can be a pain in the neck—literally. These new products won't do the job for you, but they'll make this task quicker, cleaner, and longer-lasting.
Drips less
The zero-VOC, low-spatter formula helps this paint cling well to the ceiling's surface, sparing you the indignity of dodging the drips as you're rolling on a fresh coat. Mythic's Classic, about $40; mythicpaint.com
Masks stains and mildew
The particles in this paint interlock more tightly than those in a traditional formula, so when dry (it takes a mere 30 minutes), it can resist water stains and mildew—two bugaboos of ceilings that suffer leak damage. Behr's Premium Plus Ultra Stain-Blocking Paint, about $30; behr.com
Covers in one coat
This no-primer-needed paint contains additives that help deliver a crisp, bright-white finish and a matte surface that disguises blemishes in just a single application. Sherwin-Williams's Brilliance, about $30; sherwin-williams.com
May: Tool Garden Shed Door Pulls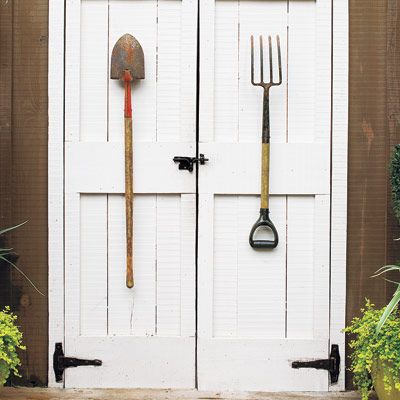 Get a handle on that jumble of rusty gardening spades and forks cluttering your garage or shed by turning a pair into out-of-the-ordinary door pulls. Simply center the tool on the door's surface, drill two holes about 6 inches apart on the back side of the wood handle, and screw to the door from the inside. Garden-variety pulls can't even compare.
May: Potted-Plant Shelf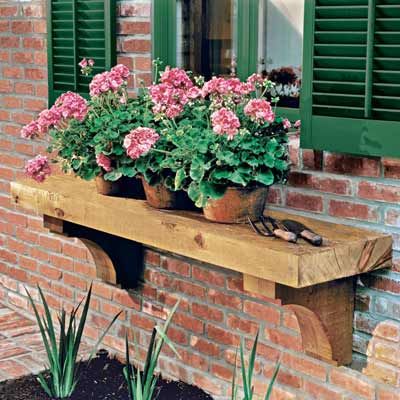 Here's a clever twist on the classic window box: a wood shelf that displays plants right in their pots outside your window. To make one, ask your lumberyard for a length of thick pine. Use a compass to measure and mark circles slightly larger than the diameter of each pot's base, spacing them evenly apart. Drill several pilot holes along your markings, then use a jigsaw to cut out the circles (you may need to buy an extra-long blade). Make the beefy shelf supports by gluing together pairs of stock corbels; attach them to the shelf with stainless-steel deck screws, and coat everything with a protective clear stain. Hang the shelf, then pop in some potted blooms, no replanting required.
June: Driftwood Coat Rack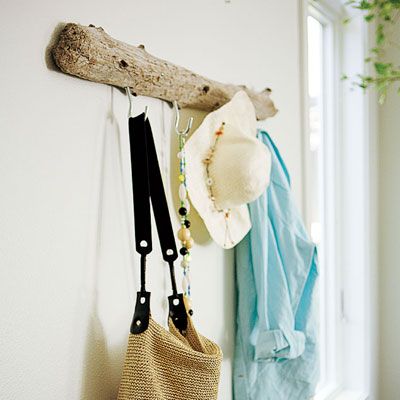 To make this beachy fixture, find a piece of driftwood that's a few feet long. Use a hand saw to cut off a third of the wood lengthwise so it lies flat against the wall. You'll need four hook screws; drill a pilot hole into the bottom of the wood for each, then screw them in. Finish by mounting the piece to the wall's studs with deck screws.
June: Wrap a Pergola with String Lights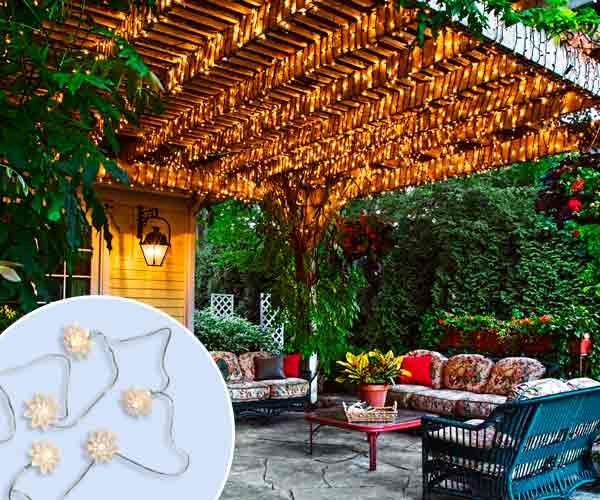 It's warm, it's romantic, and it's the closest you'll get to experiencing a resort vacation in your own backyard: the mood you create by simply wrapping a pergola with some string lights. For a twinkly look, go for commercial-grade M5 LED lights in warm white (about $20 for 24 feet). "They won't get hot and harm greenery like incandescents and can be left out year-round," says lighting pro Paul Gosselin. To save yourself hours of labor—or to achieve a similar look beneath an overhang—tack up strings along beams in a zigzag pattern. Simply outfit your staple gun with a wire attachment, which has a groove that centers the wire, protecting it from being punctured. Estimate how many strings you'll need by multiplying a beam's length by twice its width, then by the total number of beams you plan to bedeck.
June: Summer-Front Kitchen Backsplash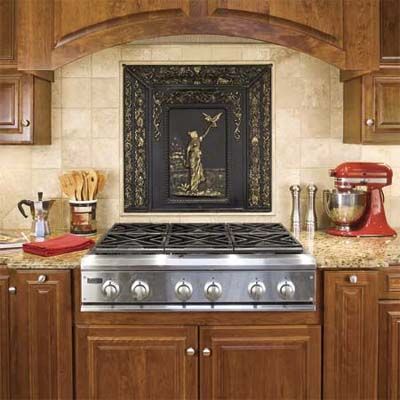 "We bought this 'summer front' at a farm auction for $110," says TOH reader Renay Davis of Louisville, Kentucky, who had been looking at pricey basket-weave tile to protect the wall behind her cooktop. The Victorian-era cast-iron antique, once used to cover a fireplace during the off-season, is now a fancy focal point that saved the Davises more than $800 in materials. Chuck coated the piece with tile sealer to make it easy to clean, then mounted it between the wall studs. We like how it turns the kitchen into the true hearth of their home.
June: Touch Up Exterior Paint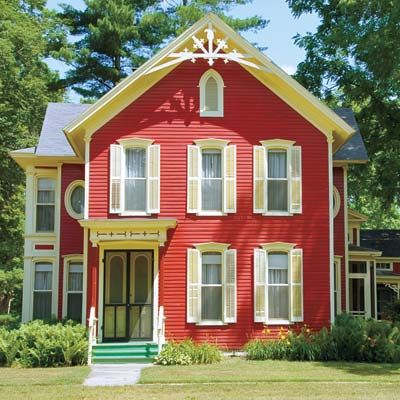 Have exterior renovations roughed up your home's paint job? June's the best month to give it a refresher. Before you dig out old cans of the original color, make sure it hasn't faded. If it has, scrape off a quarter-size paint chip and bring it to your local shop to get the color matched. Then use the new hue for any fixes.
June: Decorative Fence Post Toppers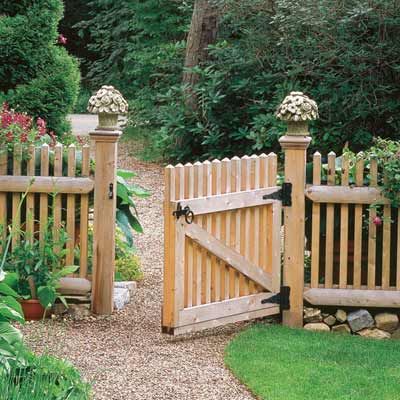 Turn a garden-variety gate into an eye-catching entryway by dressing up capped posts with sculptural outdoor ornaments. Start by choosing cast-concrete toppers that fit on the posts with room to spare. To secure them, use ½-inch-diameter lag bolts that measure two-thirds the height of the ornament. (So to secure the 9-inch ornament at left, you'd need a 6-inch bolt.) Drill a pilot hole into each post, then sink a bolt halfway into the wood using a socket wrench. With a masonry bit, bore out a centered hole in the underside of each ornament, deep enough to accommodate the exposed half of the bolt. Fill the masonry holes with concrete-to-metal epoxy and set the ornament on top of the bolt. The result: An elegant upgrade that'll greet you every time you head outdoors.
June: Paint Pep on Patio Furniture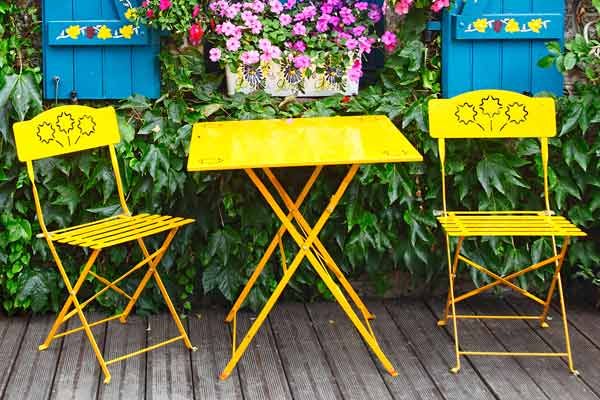 Worn outdoor tables and chairs look shabby, not chic. Refinish them fast with one of these new formulas, which promise long-lasting results in just an afternoon of work. Before you begin, thoroughly clean and dry all furniture surfaces.
Metal
For speedy, no-primer-needed coverage on steel, iron, or aluminum, Krylon Rust Protector paint ($4-$5; krylon.com) dries in as little as 8 minutes. Also in a brush-on formula.
Wood
Seal and brighten bare wood with Flood OneCoat Waterproofing ($35; homedepot.com). Translucent and tintable, this stain protects from rain and sun damage in one easy application.
Plastic
The easy-to-press nozzle of Valspar's Premium Spray Enamel ($5; lowes.com) cuts down on finger fatigue, so you can zip through painting plastic. The spray dries fast, too.
June: Stack Up A Smart Storage Unit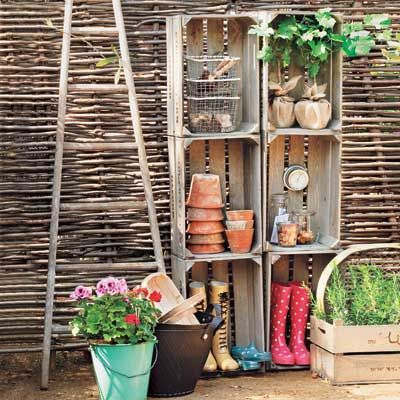 Beef up your garage or shed's storage with this rustic shelving unit. Made from slatted fruit crates, it's a breeze to build: Just place the crates—check local orchards for extras or find vintage versions on eBay for as little as $8 each—on top of one another, one at a time. Drill pilot holes in the corner braces to prevent the wood from splitting, then fasten with 2-inch deck screws. For extra support, screw the unit into a wall from inside the crates. The resulting shelves are sturdy enough to store pots, plants, even galoshes, and can easily weather any mud or dirt that comes their way.
June: Prune More for Blooms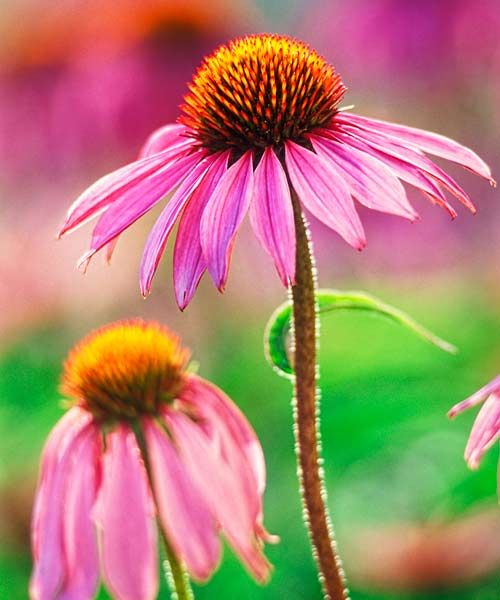 Without intervention, your garden's perennials have a set number of buds that bloom every year. But you can trick some into reblooming—providing a second wave of color—by deadheading, or pruning off, spent flowers. According to horticulturist Robert E. Lyons, the garden favorites that are your best best for bonus buds include black-eyed Susan, blanket flower, coreopsis (C. grandiflora), echinacea (E. purpurea), Shasta daisy, spiderwort (Tradescantia virginiana), and swamp hibiscus. Removing blooms redirects the plant's energy away from developing seeds at the flower head and toward new bud production. Simply remove fading flowers—with your fingers, snips, or bypass pruners, depending on the stem's toughness—down to the next closest bud or leaf.
June: Make an Herb Planter from a Wagon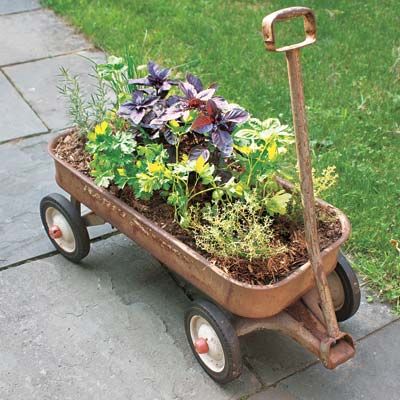 Looking to spice up your container garden? Dig out Junior's rusty old Radio Flyer and turn it into a mobile planter that can go from a sun-steeped corner right to your kitchen door.
July: Budget Built-In Entertainment Center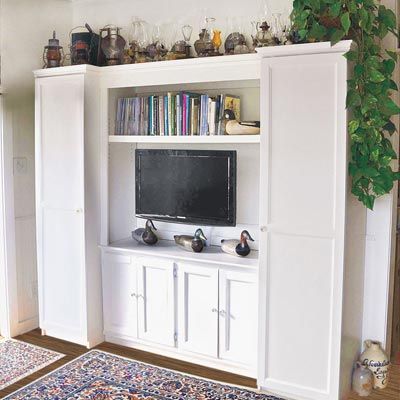 Want the look of a custom built-in without having to shell out big bucks? Consider this project from Janice Badkin Elze of Amagansett, N.Y., who used inexpensive IKEA Pax wardrobes and lumber rescued from construction sites to put together a home entertainment center. Crown molding, a coat of white paint, and vintage glass knobs pull the piece together and give it character. Even better, "no one realizes it cost less than $320 to make!" says Janice.
To make your own, set a stock cabinet between two tall stock wardrobes. Build or purchase a shallow box with shelving to sit on the middle cabinet, then top the entire assembly with a piece of plywood. Edge with molding and add doors for a cohesive look.
July: Build a Sweet Garden Arbor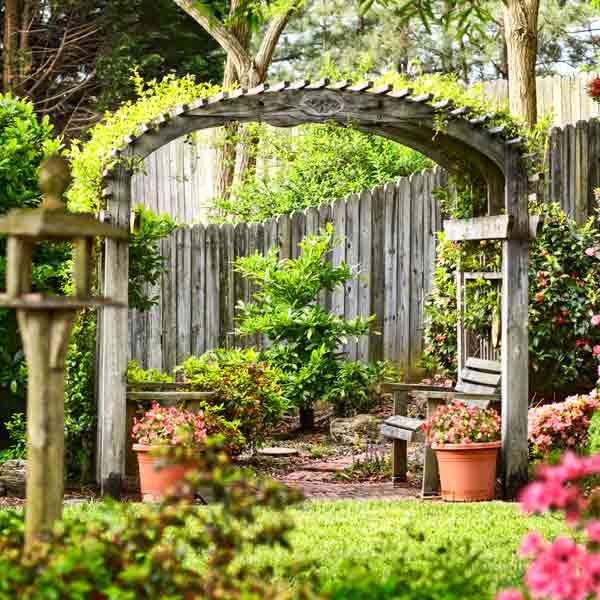 Wanting a destination for guests to gather in a seldom-visited corner of the backyard, TOH reader Art Fink handcrafted an arbor with comfortable bench seating for four. The project began simply enough with some leftover wood and a chalk sketch on the garage floor. But what makes the arbor so inviting are the finishing touches, such as the climbing confederate jasmine that covers the arbor's arched roof; a dogwood flower carved into the apex of the front arch that Art chiseled from a pattern designed by his wife, Faye; and bench arms that are wide enough to set a drink on. "Now when company comes over, we head straight to the arbor," says Art.
July: Make a Mason Jar Chandelier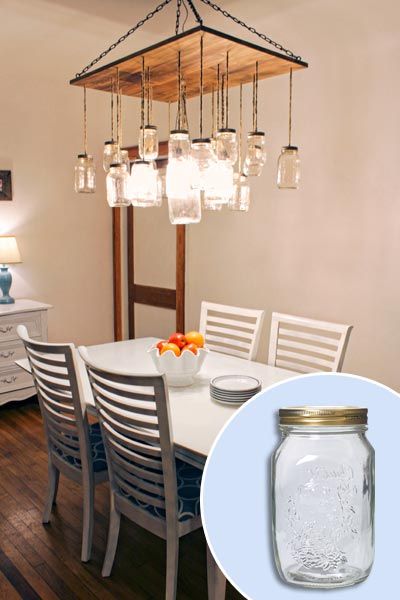 Reader Cassandra Stambaugh and her husband wanted a chandelier for their dining room but couldn't swing the $400 price tag. So they made one instead, using a 1-inch-thick wood panel, jute rope, two types of chain, and mason jars from a closeout store. "It cost just $101.77!" she says.
July: Install a Deck-Circle Pathway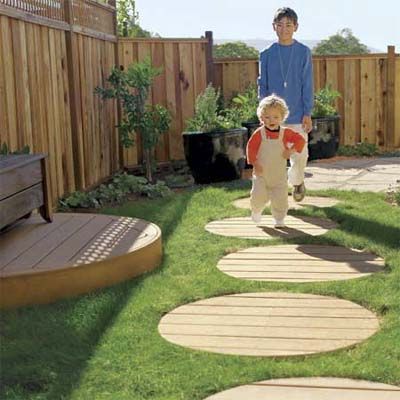 To keep little feet—or big ones—from beating a dusty trail into your grass, install a few "stepping stones" made from composite decking. They're durable, rot-resistant, and affordable (or even free, if you use leftover boards). And the playful, cheery design will put a spring in your step for seasons to come.
The How-to: Place seven boards side by side, leaving ¼ inch between them for drainage, and trace a circle onto them. Use deck screws to attach a base of three boards perpendicular to the others, one at the centerline, the other two near opposite ends of the circle. Use a jigsaw to cut out the circle, then bury the base so that the piece is flush with grade.
July: Turn a Picnic Table into a Potting Bench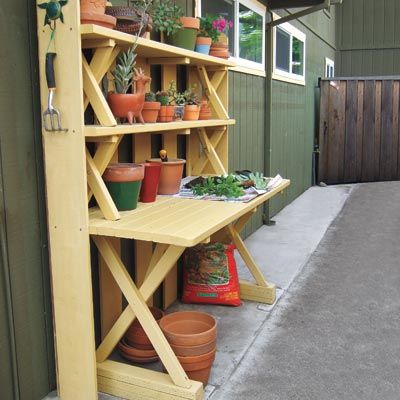 Tired of her old redwood picnic set, TOH reader Tarja Varis stuck it in a corner of her yard and forgot about it—until she needed a place to exercise her green thumb. "Stacked on the table, the benches looked like shelves," she says. To turn the pieces into a bona fide potting bench, she raised the table to a good working height with 2×4s. Then she used old fence boards to add support to the back and sides, and secured the entire structure with deck screws. After priming the bench, Tarja coated it with deck paint in pale yellow and installed hooks for hand tools. Total cost: $30!
July: Turn a Picture Frame into a Jewelry Display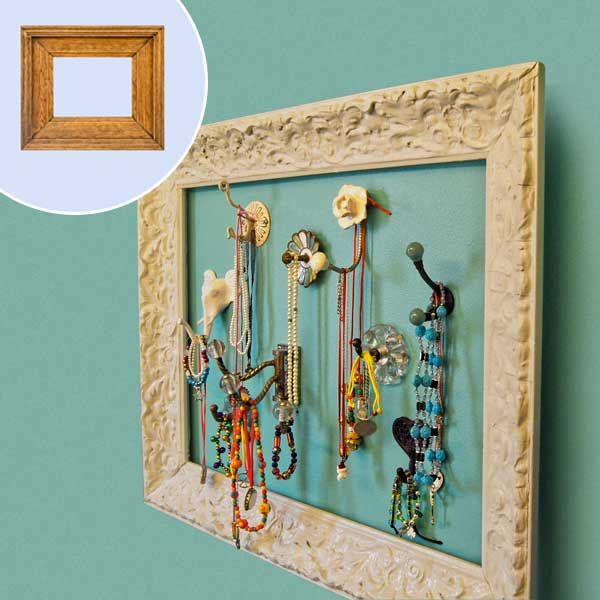 "I surprised my niece with a room makeover," says reader Kara Kersten, who ginned up a way to show off the tween's jewelry collection. She removed the backing and glass from a secondhand frame, spray-painted it, and hung it to surround mismatched wall hooks.
July: Install an Easy Stair Runner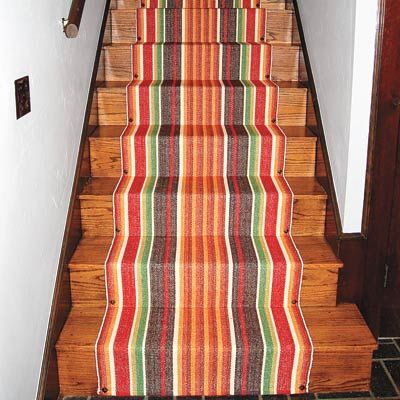 After getting a quote of $2,500 to carpet her dangerously slick oak staircase, TOH reader Jaime Shackford took the project into her own hands. Using just two off-the-shelf woven runners ($124 each) and supplies from a home center, here's what she did.
July: Repurpose Wood Pallets as a Chair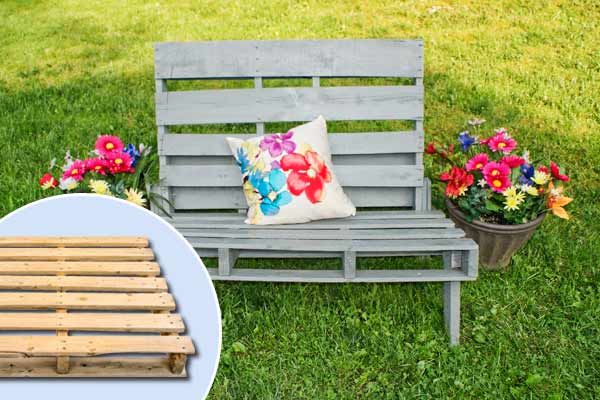 Reader Tiffany Hill's father often brings home pallets from the plant where he works, and uses them as kindling. "I had a vision that they'd fit together to look like an Adirondack chair," Tiffany says. She set to work cutting and bolting, finishing the piece with two coats of $5 "oops" paint.
July: Closet-Door Chalkboard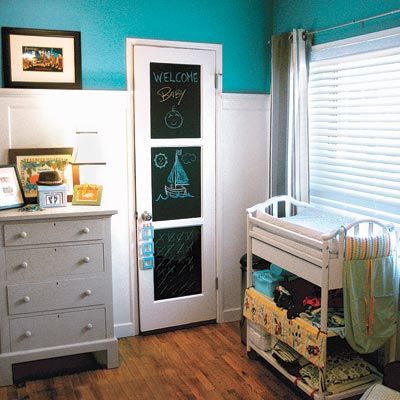 "My wife and I wanted a chalkboard in the nursery, but wainscot took up most of the walls. This door, with its recessed panels, made the perfect spot. Now we just hope our son has as much fun making his mark on the door as we did!"
—Kenchy Ragsdale, Panorama City, Calif.
August: Glass Shelves Brighten a Kitchen Window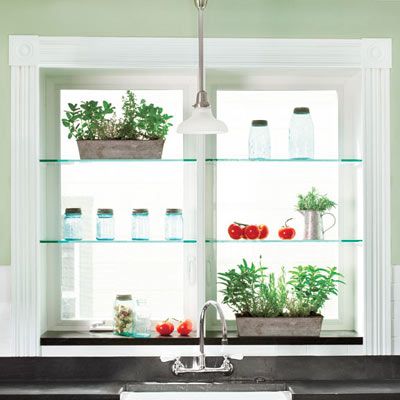 After thickening existing kitchen walls to accommodate extra insulation and new plumbing, TOH reader Matt Totaro ended up with deep-set windows above his sink. So the homeowner and his wife, Connie, put the extra 9 inches of space to work by installing shelves for their potted plants. They chose ½-inch-thick pieces of glass, so as not to block the sunlight, and hung two in each window. Small strips of molding, painted to match the casing, act as supports. More than a year later, Matt's still thrilled with the result: "Now I don't have to stare at the neighbor's house every time I wash the dishes," he says.
August: Stencil a Plain Tub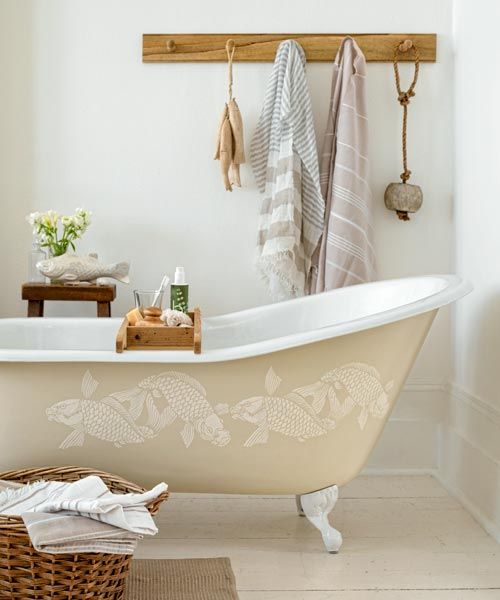 Give your cast-iron soaker a dash of whimsy with a stenciled embellishment. Large-scale images, like the carp pictured here, also hide minor imperfections. For crisp edges, affix the stencil to the tub's side with repositionable mounting spray. Working from the outside inward, use a flat-tipped stencil brush to "pounce" on oil-based paint in a dabbing motion. Peel off the stencil at a sharp angle while paint's still wet. If the tub's whole exterior needs a pick-me-up, scrub it with a stiff wire brush, then coat with oil-based primer and paint before stenciling.
August: Create a Toad Habitat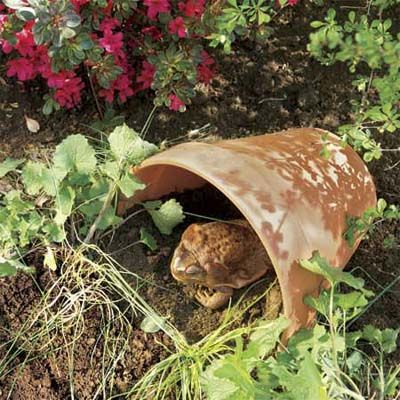 While they're not the most graceful of garden creatures, toads feast on flying insects and plant-destroying cutworms. Give these hoppers a habitat near your beds by making a shelter from a cracked or chipped terra-cotta pot. Simply turn the pot on its side and partially bury it in a shady, cool spot, preferably near a light source, where bugs congregate. Toads dig a moist environment, so don't worry if water pools around or inside the pot. Just avoid using chemical fertilizers or herbicides nearby, which can harm the little guys. After all, they're doing you a big favor.
August: Hang a Daybed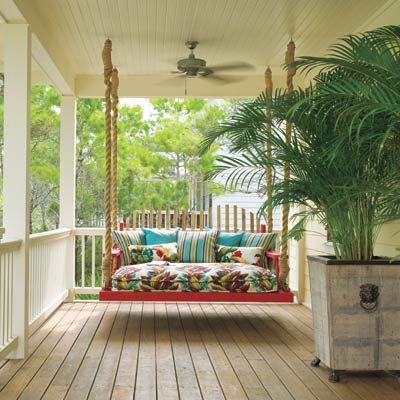 Summer may already be in full swing, but that doesn't mean it's too late to rig up some seating for your front porch. Built from 2×4s painted a bright hue and backed with 1×2s wired together to mimic dune fencing, the perch shown here swings from nautical rope for a beachy look. To hang your own daybed in a similar manner, you'll need four lengths of thick manila rope. Anchor eyebolts in all four corners of the bed's frame, and link stainless-steel shackles (from a marine-supply store) to them. Loop the rope through the shackles, splice it, then whip the entire splice with hemp twine. Insert 2-inch eye screws into the porch rafters, attach shackles, and do the same splicing and whipping at the other end of the rope to hang the bed from the ceiling.
August: Update Your Landscape with a Patchwork Patio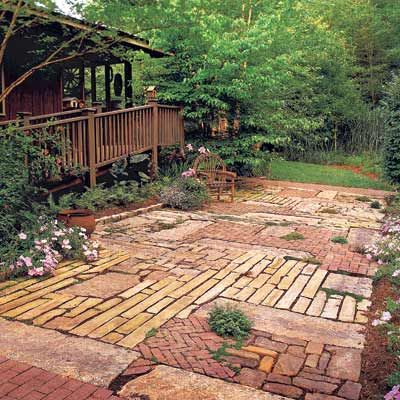 Got an odd lot of bricks lying around the garage? Turn them into a custom patchwork patio mosaic. To start, gather enough pavers to cover your desired area or add on to an existing patio. If you don't already have enough bricks, check classified sites like craigslist.org and diggerslist.com for leftover and salvaged materials. Then map out a design that alternates large pavers with smaller pieces. Create a proper base and lay the brick in various patterns, including running bond and herringbone, leveling the pavers as you go. Finish by sweeping sand between the joints or lifting out a brick here and there for a planting spot.
September: Your Photos on Fabric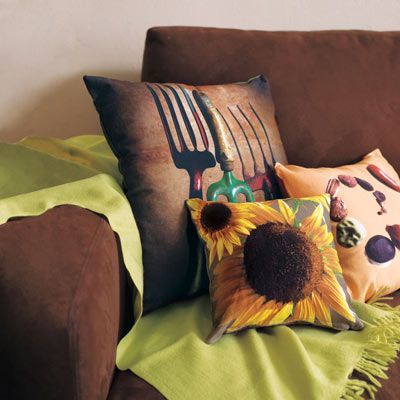 Extend the warm-weather season with images of your garden printed on pillows—or personalize your place with any theme you choose. It's a snap to do: Take high-resolution digital photos (at least 150 dpi) of a favorite subject, crop them to your liking, then upload them to an online fabric printer, such as Spoonflower, or Fabric on Demand. The company will transfer the images onto a material of your choice and either send you yardage to stitch up yourself or, supply the zippered covers. Either way, you've got a picture-perfect addition to any room.
September: Paint a Claw-Foot Tub a Vibrant Hue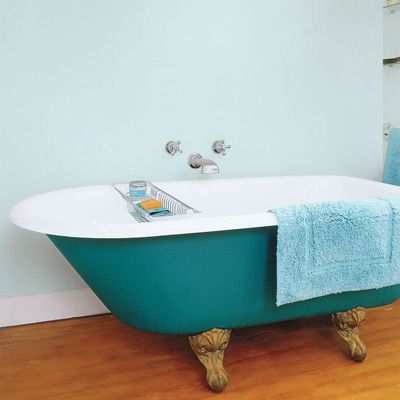 There's a lot to love about an old-fashioned cast-iron tub. But if you don't love what the years have done to your antique soaker's exterior—or just want to introduce a vibrant color to your bath—paint it. While reglazing the interior's porcelain is a project best left to the pros, you can easily refinish the outside of your tub in less than a day. First, scrub the surface with a stiff wire brush, removing any flaking paint. Then, using a natural-bristle brush or 4-inch foam roller, apply an oil-based primer formulated for metal. Let dry 6 to 8 hours, and brush on a bright, oil-based enamel or epoxy. (Avoid latex paint, as it can cause your tub to rust.) If a second coat is needed, wait 24 hours before applying. Then get set to soak in your bathing beauty.
September: Get a Paneled Look with Paint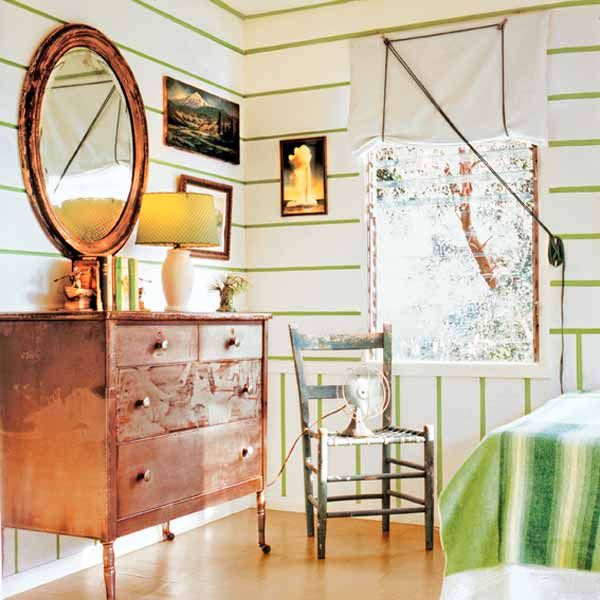 Giving a room cottage style is as easy as putting brush to wall. To create faux planking, space stripes 6 to 10 inches apart, using the room's scale as your guide; for a wainscot-like effect, add vertical lines below an existing (or new) chair rail. Your most important tools for getting them all just right: some good painter's tape; a plastic putty knife for smoothing tape in place to prevent seepage at the edges; a 4-foot level, to be sure lines are straight; and patience. Diligent prep leads to top-notch results.
See a detailed how-to on this type of painting project.
September: Screened-In Pantry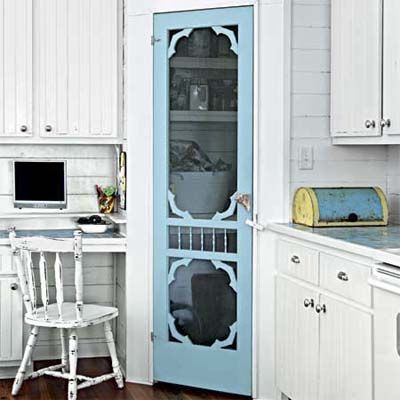 Summer's long days may be waning, but we've got a way to make the season's outdoorsy vibe linger year-round: Use a wood screen door to shield an area that needs to be somewhat—but not totally—hidden from view. Here, an aqua door gives this kitchen the casual air of a porch while concealing the pantry. (You could do the same for a linen closet or laundry room.) With measurements in hand, pick up an old screen door at a tag sale, jazz it up with a bright coat of paint, and install it in the doorjamb for an accent that conjures warmth as the temperature dips.
September: Stay Organized in Your Home Office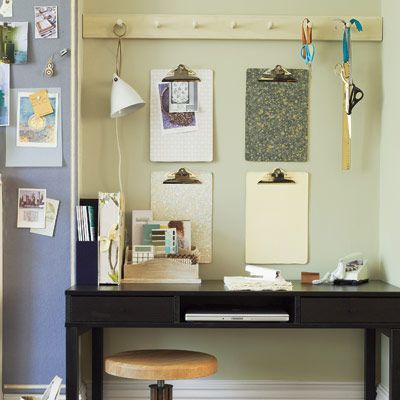 Ah, back-to-school season. Even if your kids have long since graduated, there's no better time to tidy those piles of papers threatening to overtake your desk. The best way to create extra storage? Think vertically. Here, a peg rail corrals supplies and a hanging task lamp, while wall-mounted clipboards sit ready to organize incoming papers—one each for bills, unanswered mail, messages, and magazine tear sheets. Next to the desk, an idea-file board, created by affixing ½-inch-thick cork to the wall and covering it in felt, makes it easy to spot inspiration for a future remodel. Other materials, such as magazines, paint chips, and carpet samples, can be tucked into neat files and boxes, leaving the desktop clear for whatever home-related work comes its way.
September: Shutter Turned Idea Board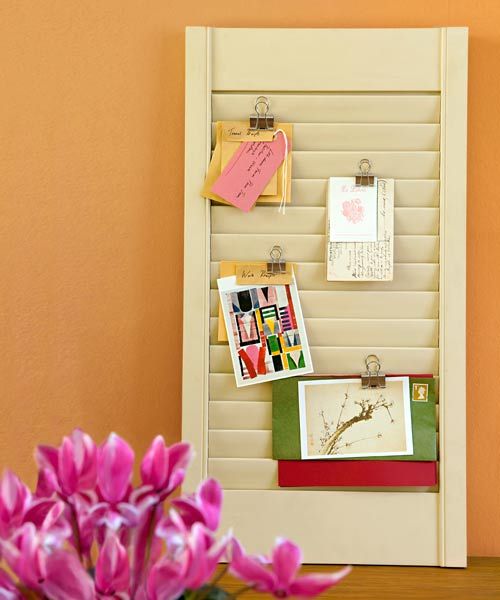 When you're planning a remodel, why hide color swatches and inspiration materials in a file folder? Put them on display on a propped-up wood shutter, and you can review and add to your collection easily. If you don't have a shutter ready for reuse, pick one up at a home center or local salvage yard. (Guard against potential lead-paint hazards by coating old painted shutters with a spray-on satin-finish clear polyurethane to keep the exterior from chipping.) Simple binder clips keep items securely in place but allow them to be moved as your ideas take shape.
September: Bottom-Up Roller Shade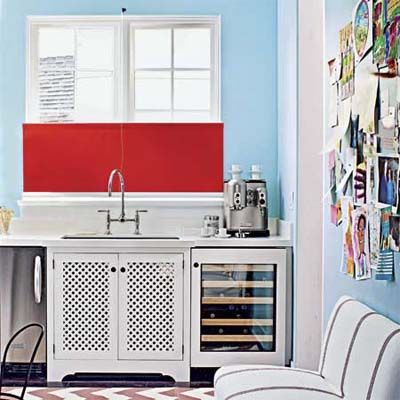 Any window that faces a street or a neighbor's house could need shielding from prying eyes. For letting in light while preserving privacy, we love this budget-friendly twist on bottom-up blinds: Install a regular roller shade at the lowest part of the window, as interior designer Jackie Terrell did here. Then secure the pull cord above the window by threading it through an old-school locking pulley, originally used with shades covering transoms that tilt open from the top. All it takes is a quick tug to adjust your exposure.
September: Outdoor Salvage Wood Table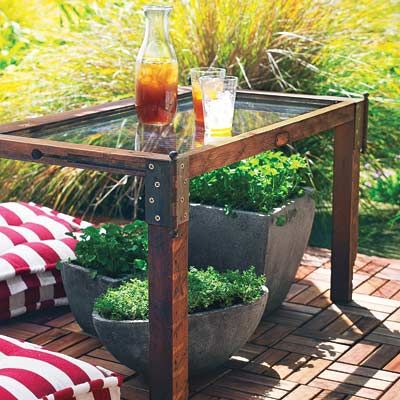 Transform one of those old windows you swapped for energy-efficient units into a Labor Day–ready patio table. Here, one sash of a double-hung rests on scrap-wood legs about 2 inches square, attached with salvaged door hinges and new brass screws. The wood pieces are unified with a dark stain. This single pane is safety glass, but you can replace a regular window pane with acrylic sheeting cut to fit and secured with a bead of clear silicone caulk. Then just add a clear coat to protect the wood's finish for seasons to come.
October: Make Pumpkin Luminaries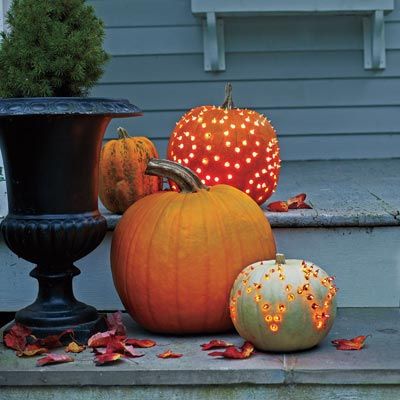 Sure, you rely on it to hang shelves and assemble furniture, but your drill is also the key to turning the pumpkins on your doorstep into out-of-the-ordinary Halloween luminaries. Studded with tiny bulbs in swirling or geometric designs, the gourds shown here make brilliant use of white and orange outdoor Christmas lights (for the most bang for your buck, use energy-efficient LED bulbs)—plus they look far more sophisticated than the average toothy jack-o'-lantern. Come trick-or-treat time, simply plug this crop into your nearest power outlet to illuminate evern the blackest night.
October: Make Punched Can Luminaries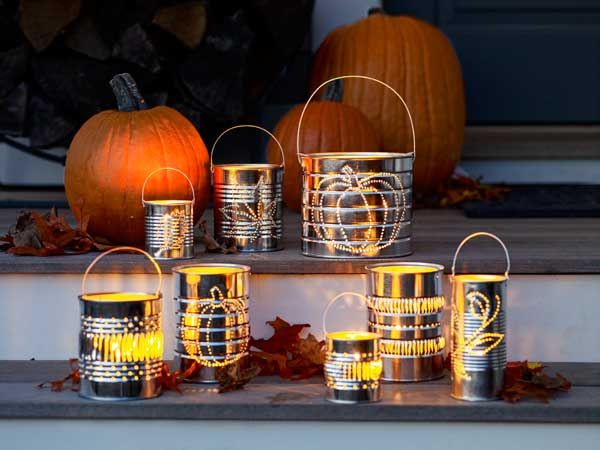 Welcome trick-or-treaters by candlelight with festive punched-out luminaries made from leftover food cans. Raid the recycling bin for a variety of vessels in different shapes and sizes; those that housed tomatoes, soups, or vegetables are all fair game. Remove the labels, and deodorize the insides by wiping with a damp sponge dipped in baking soda. Steer clear of containers that once held flammable materials, and don't bother with the fuss of cleaning out old paint cans—empty ones can be found cheaply at a crafts store.
See the step-by-step to learn how we banged them out.
October: Jack-o'-Lantern House Numbers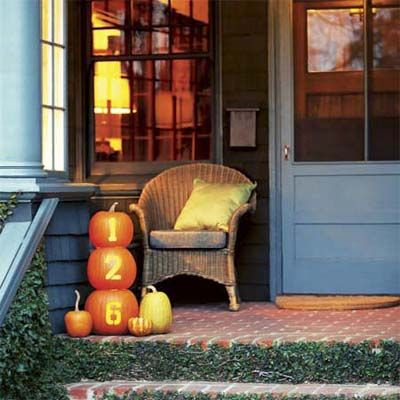 Sure, you want to welcome trick-or-treaters this Halloween, but why set out the same old sawtooth pumpkins they'll see on every porch? Make yours stand out from the crowd by inscribing them with your house numbers. Use a template to draw an outline on each pumpkin, then grab a woodworking chisel or a carving tool (like Dremel's battery-operated one, about $21; Dremel) to form the numbers without slicing all the way through the flesh. Remove the tops from all but the uppermost pumpkin so that you can stack them. For safety's sake, illuminate them with battery-operated lights instead of candles. The warm, homey glow will surely lure lots of little monsters to your doorstep.
October: Plant Bulbs Now for Future Blooms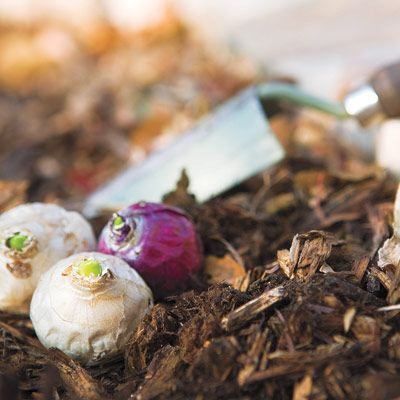 Spring-flowering bulbs, such as tulips, daffodils, and hyacinths, should be planted before the first fall frost to allow enough time for roots to form. At the nursery, look for the biggest bulbs of your chosen variety—they'll give you the largest blooms.
Dig holes two to three times deeper than the bulbs are tall; once you've placed them in the ground, top them with a layer of leaves for insulation. Come March, you'll be glad your green thumb braved the chill.
October: Eerie Halloween Mirror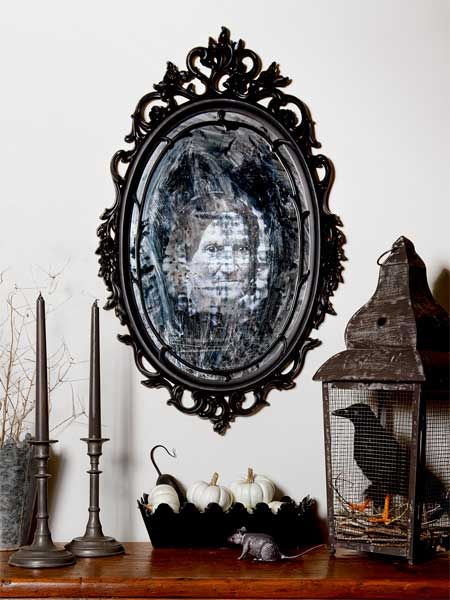 A haunting "reflection" to spook guests turns any entry into a spot that the Addams Family would approve of.
Get all the details for creating this eerie Halloween mirror.
October: Create a Bone-Chilling Halloween Entry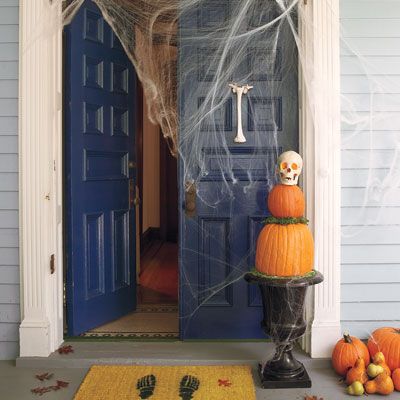 What better way to welcome your neighborhood's resident witches, ghouls, and goblins to your home than by tricking out your front door. For this spooky setup, we turned bones (fake, of course) into a knocker, a replica skull into a light fixture, and a plain coir rectangle into a deadly clever doormat. To do it yourself, you'll need your own faux bones. But forget plastic; instead, look to anatomical-model companies for lifelike casts made from polyurethane or resin. Then just arm yourself with a drill/driver, some screws, and a can of black spray paint—and prepare to see some very surprised faces approach your walkway on Halloween.
October: Make an Ax-Wielding Apparition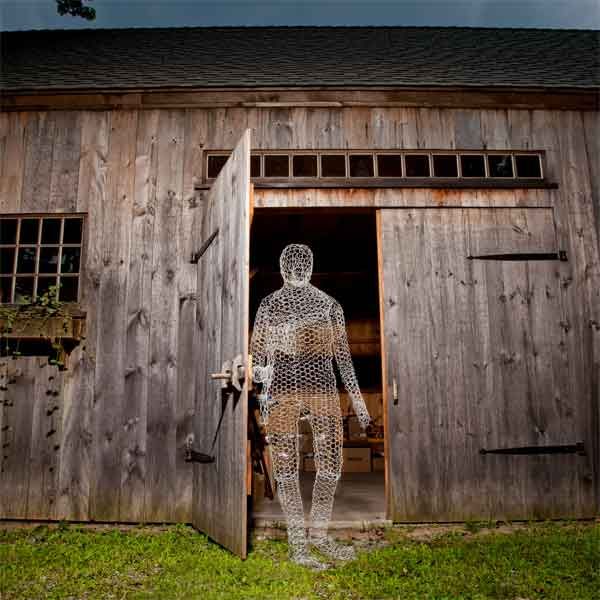 Skip the wimpy jack-o'-lantern and scare the living Skittles out of trick-or-treaters with a 3-D ghost made from barely-there chicken wire.
Make a ghost poised and ready to startle unsuspecting visitors.
November: Salvaged Window-Arch Console Table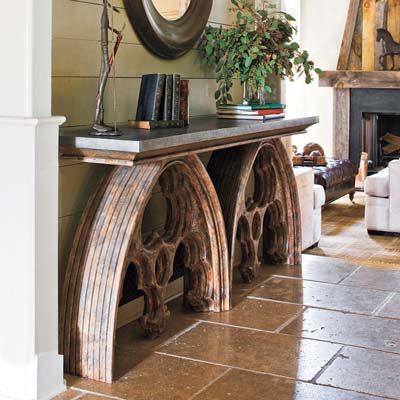 For a consle table with true one-of-a-kind appeal, support it with some sculptural finds from a salvage yard—like the weathered gothic arches used here. The how-to:
1. Look for heavy, arched wood window frames or garden ornaments at your local salvage yard; if the arches aren't thick enough to support your table top, screw two together.
2. Once you have a sturdy base, create the top by capping a 2x plank with decorative molding that features a beveled profile.
3. Adhere the board to the top of the arches with construction adhesive, shim it level around the peak of each arch, and fasten with deck screws. If your base is stone, you'll need masonry anchors and screws.
4. Top the plank with a bluestone step (available at a stone yard for about $10 per foot), cut to your desired measurements. Then complete the dramatic display by resting a few fo your favorite finds on the sole's top.
November: Keep Furry Invaders Out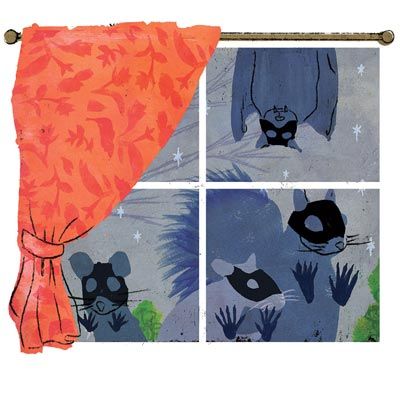 There's no worse time than the holidays to have unwanted house guests scurrying across your dining room floor. Unfortunately, fall and winter are prime pest invasion times. To prevent rodents and winged critters from breaking in, start by strengthening your home's vulnerable spots.
Siding
Mice and bats can burrow through damaged panels, so replace them. Fill gaps between trim and siding with caulk, and stuff larger holes with copper mesh or steel wool; seal with expanding foam.
Chimney and Attic Vents
Cover the flue with a chimney cap to keep out squirrels, bats, and raccoons. Screen vent openings with ¼-inch hardware cloth.
Roof
Banish bats by closing up gaps in eaves and flashing joints with aluminum or galvanized steel. Fill holes in soffits and fascia with expanding foam. Trim back trees to reduce access paths for squirrels.
Window and Door Frames
Replace worn weatherstripping. Repair soft spots in wood sills and frames; rats and mice can gnaw at them to gain entry. Screens should fit frames tightly; patch tears right away.
Foundation
Use river rock or stones as a barrier between your home and mulch—it'll prevent mice from cozying up to your foundation. Seal any cracks or crevices around basement pipes with mortar.
November: Dress up a Plain Table with Nailheads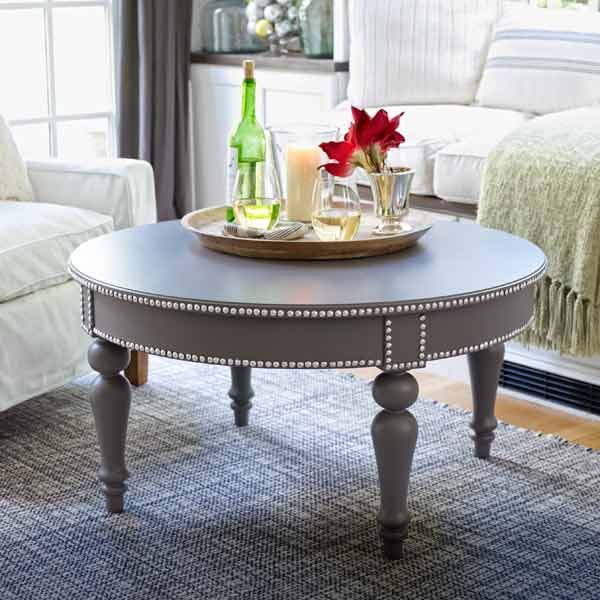 Give an unadorned accent piece some permanent sparkle by bedecking it with nailhead detail. For this look, we chose 7⁄16-inch upholstery nails with a hammered nickel finish (about $1.30 for 20; homedepot.com). Use a pencil to measure and mark the spots where you'll be inserting the nails, or write on painter's tape if the table's finish is too dark to show the graphite; keep about ¼ inch between each nail. Drive the nails in place with a rubber mallet. If using tape, remove it after your first tap, before it's pinned in. Take a test drive in a hidden area. If you can't get a nail to go in straight because the wood is too hard, drill pilot holes about half as deep as the length of the nail.
November: Add a New Door Knocker
If your entryway could use some sprucing, try adding a new door knocker. Choose a style like the one at left, which is anchored through the door using sturdy threaded rods. Not only will it have a tighter grip than surface-screwed styles, but hidden mounts will also give it a more polished look than exposed screwheads. Measure rails and stiles to avoid ordering a too-big model: The knocker shouldn't infringe on door panels. For best effect, mount it about 5 feet high.
November: Box a Radiator into a Window Seat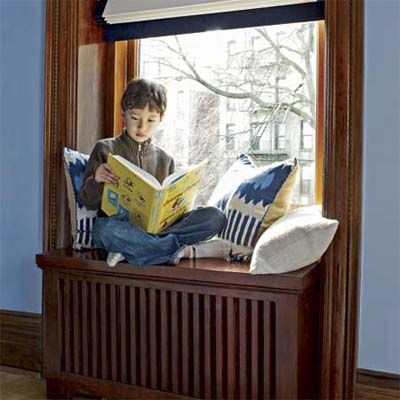 Older homes often have radiators tucked under windows to chase off the chill, and while they certainly do the job, they also take up precious floor space. But you can easily transform this spot into a cozy little reading nook with a view. Just box in the radiator with a prefabricated or DIY cover and add a few comfy throw pillows. Make sure the seat is at least 2 inches above the top of the radiator—so that you won't get scorched—and that the surround is vented to funnel heat into the room. Don't be surprised if your new window seat becomes a hangout spot for the kids. It's a perfect place to daydream.
Radiator cover/ window seat, courtesy TomKat Fine Woodworking; tomkatfw.com
November: Prep a Guest Room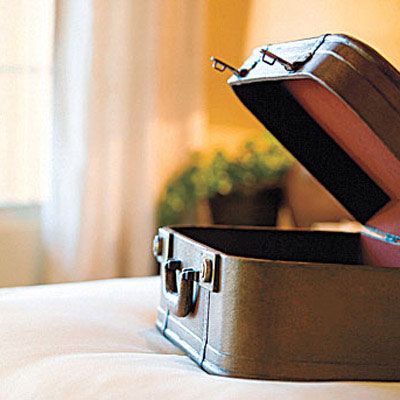 Treat out-of-towners to a hotel-worthy stay with these traveler-friendly tweaks:
1. Install wall hooks for towels, travel kits, and tote bags.
2. Clear 3 feet of rod space in the closet.
3. Free up 4 feet of flat surface on a window seat or low bookshelf for easy suitcase access.
4. Add night lights to hallways and the guest bath.
November: Stencil Odd Seats to Look Like a Set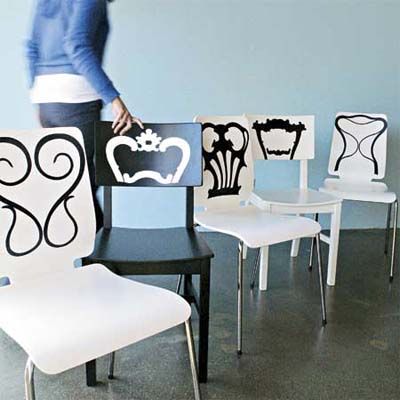 It's November, and that means it's time to haul out your collection of mismatched chairs so that you can seat a big crowd at the Thanksgiving table. Before the day arrives, give orphaned chairs with flat backs a cohesive look with a coat of paint and decorative decals in dressed-up furniture styles. The decals go on in a few simple steps (just make sure the surface is clean and smooth before transferring the design) and peel off easily when the look wears thin.
Blik's Classic Chair Backs, about $30 for a set of six; Blik
November: A Display Station Disguise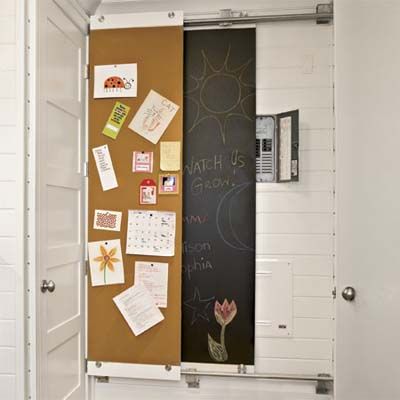 Electrical panels, thermostats, big switch plates—they're household necessities, but that doesn't mean you need to look at them 24/7. Sliding display panels keep them accessible but under wraps. Make them with two-track hardware and wheels (available at Stanley Hardware), as shown, or use a sliding-door kit instead.
The How-To:
1. Pick up a kit with bypass tracks that are wall-mountable (also called "face-fixed"). Install the tracks above and below the area you wish to cover.
2. Cut two equal pieces of panel board to size. Coat one with chalkboard paint; cover the other with self-stick corkboard.
3. Use the door hardware to affix one panel to each track so that they can slide behind each other.
Reminder: Be sure you can slide the panels out of the way to access what's behind them.
December: Paint Chair Legs a Bright Color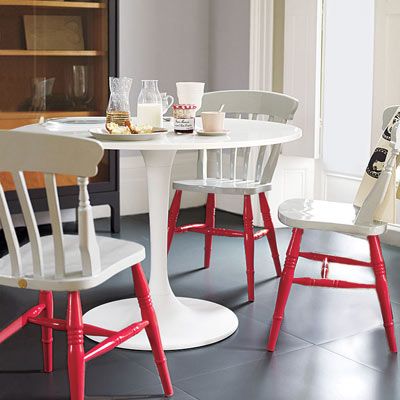 Transform even an ordinary dinner into a festive affair by perking up the legs of your dining chairs with a coat of cheerful color. Start by going over the legs with medium-grit sandpaper until they're as smooth as possible. Wipe away any dust with a tack cloth, then use a small brush to apply a coat of latex primer. Follow with two coats of latex paint in your desired hue; let dry completely between applications. If the legs feature detailed woodwork, avoid drips by painting with a side-to-side motion.
December: Make a Tree from Trim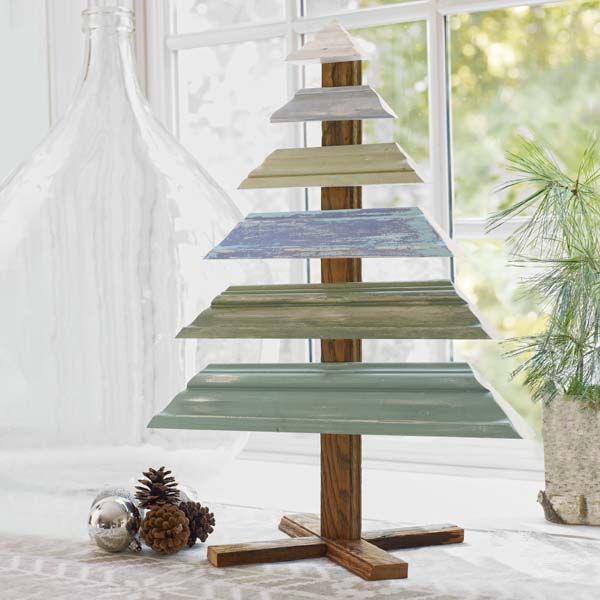 Show off your Yuletide cheer and your DIY know-how by assembling this mini tree from strips of salvaged molding. It's as simple to make as it is budget-friendly: Miter the ends of the molding at opposing angles, screw the "boughs" to an upright piece from behind, and attach the newly sprouted "tree" to a Charlie Brown–style half-lapped base. If you can't find molding that's vintage and worn, fake the look with a couple of coats of paint and some sandpaper. No need to fuss over getting it perfect—a little roughness is part of the charm.
December: Light Up a Front Entry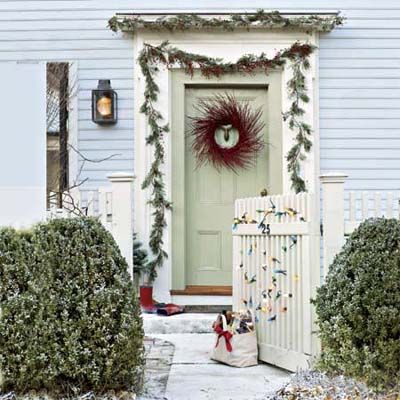 If the thought of icicle lights dripping from your roofline feels more ho hum than ho ho ho, try a fresh approach to decorating for the season. Wrap a strand of retro-style colored bulbs around your entry gate, mailbox, or portico posts like a kid would: in a casual, unstudied way. Use outdoor-rated LED bulbs for a brighter, longer-lasting (up to 100,000 hours!) glow. They'll also trim your electric bill, since they burn 90 percent less energy than incandescents. Plug them into an outdoor receptacle or fit an outdoor light fixture (that's not low-voltage) with a socket-to-outlet adapter. Complete the scene with berries and greenery for a lighthearted twist on the traditional holiday welcome.
December: Securely Clip Hanging Lights
Instead of tacking down twinklers with staples (which can damage insulation around electrical wiring) or nails (which won't secure strands in high winds), opt for zip ties or plastic clips made especially for the job. Hook them onto gutters and shingles, and space them no more than 12 inches apart to keep swags neat, even in messy weather.
December: Make a Tree Box of House Parts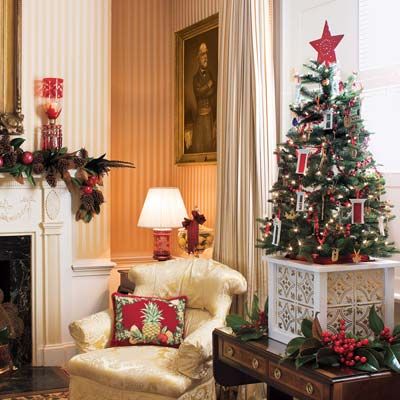 While ceiling-high evergreens might be the norm today, up until the late 19th century most Christmas trees fit tidily on a table. But the fact that they were small doesn't mean they couldn't make a big statement. Just check out our festive take, shown here. Set inside a box clad with tin ceiling tiles, and adorned with keyhole hardware and dollhouse doors and windows, this tree pays homage to the historic house in which it resides. To create your own version, simply pick out some architectural elements of your home you'd like to highlight.
Follow our complete step-by-step for the festive project.
December: Hang Tubs for Winter Gear Storage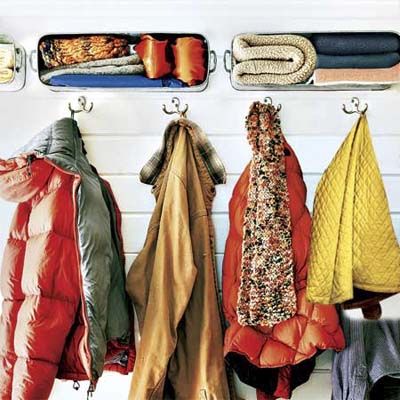 If there's no place to park them, scarves, gloves, and hats can become a tangled heap in your entryway, complicating matters for anyone on their way out the door. To store winter items that can slip off conventional shelves, mount galvanized-steel beverage tubs to the wall above a row of coat hooks. To hang them: Locate and mark the wall studs, then drill at least two holes for each tub, making sure one goes into a stud and using a toggle-bolt anchor in the other hole. Drill corresponding holes on the bottom of each tub, and use deck screws to fasten them to the wall. Check for level and adjust the tubs as needed. They'll add a touch of rustic charm in an entryway—and keep the party spirit alive for months to come.
December: Paint Ceiling Medallion Wreaths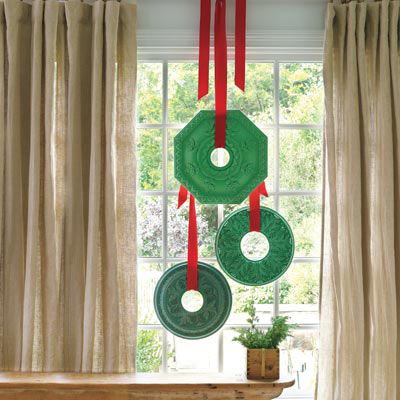 Let even your holiday decor reflect your home's architectural style by decking the halls with something that may already deck its ceilings: decorative medallions. Traditionally used to highlight chandeliers or pendant lights, these artistic adornments come in a variety of designs featuring everything from simple colonial-style rings to ornate Victorian-inspired flourishes. Here, we coated three lightweight polyurethane medallions (from $17 each; outwatercatalogs.com) in rich shades of green. Hung from red satin ribbon in a tidy group, they telegraph the same festive look as their leafy cousins—but will look just as good as they do now for countless seasons to come.