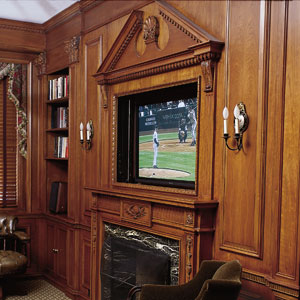 Measuring a svelte 3 to 5 inches thick, plasma screens have literally altered the shape of home entertainment. They're revolutionizing the look of the TV room, too, as people discover inventive ways to integrate the sleek monitors into their homes.

Take the case of Marc and Mindy Utay. During the renovation of their Manhattan apartment, the couple found themselves in a familiar bind: how to get one room to perform two functions.

"On the one hand, we wanted to create a calm, quiet study in which to relax and read," Marc says. "But we still needed a place where the family could hang out in the evenings and watch a movie."

Since a standard, boxy television would upset the formal feel of the room, Manhattan-based audiovisual consultant Bill Mayer suggested recessing a 50-inch plasma screen, just 4 inches thick, into the wall above the fireplace mantel. Architect Alfred Wen liked the solution.

"Both the fireplace and the TV demand to be the focal point of the room," he explains, "so furniture would be arranged around them in the same way."

The result is a TV room disguised as an English-style library, where Surround sound emanates from speakers set in the cherry-paneled walls. The system's peripherals — DVD player, VCR, cable box — are housed in an adjacent cabinet built into the wall, while the wires connecting the components are hidden away in a flexible 2-inch pipe snaked behind the paneling. When the room is in full library mode, the television disappears behind a mechanized panel that slides along steel tracks and is operated by remote control. Custom designed by Eric Andkjar, the panel moves horizontally back 2 inches before lifting up, so the Utays have the option of hanging a painting on it. The monitor is ventilated through a series of holes drilled into the wooden box that holds it, as well as through the door mechanism.

There's no question that plasma technology is a boon to multipurpose rooms. "When space is at a premium, the design options are as wide as your imagination," says Mayer, who has helped tuck the screens into handsome cabinets at the foot of beds and recessed them in wall cavities covered by movable paintings. But hiding them over the fireplace remains a popular approach, in part because it places the monitor at a good viewing height. To hear Marc Utay talk, the beauty is as much about what you can't see. "With the panel down, it's like sitting in my own private study instead of in the middle of the TV room."