Backyard Vacation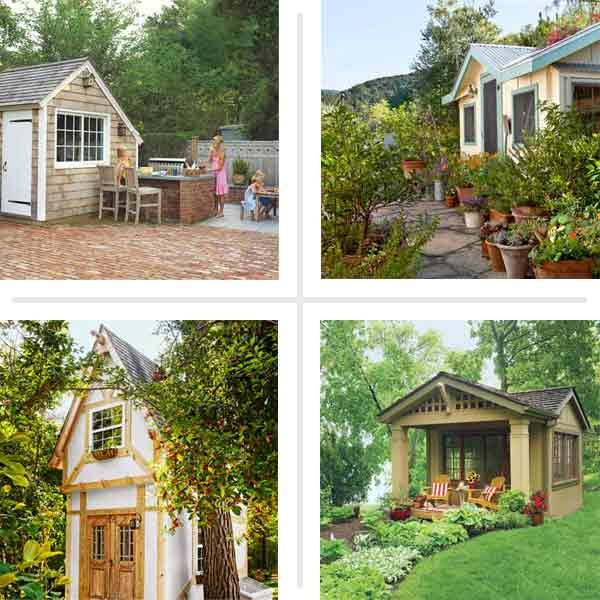 If you find that vacations aren't as frequent as you would like, take a cue from these ingenious DIYers who found a backyard solution. Each built a structure to serve as a serene getaway, mere steps away from the back door. Fashion your own refuge with ideas from our favorite examples of outbuilding havens including an inspiring art studio, a bird-watching and dining den, a comfy clubhouse with a swinging daybed, and more.
Cheerful Vintage Studio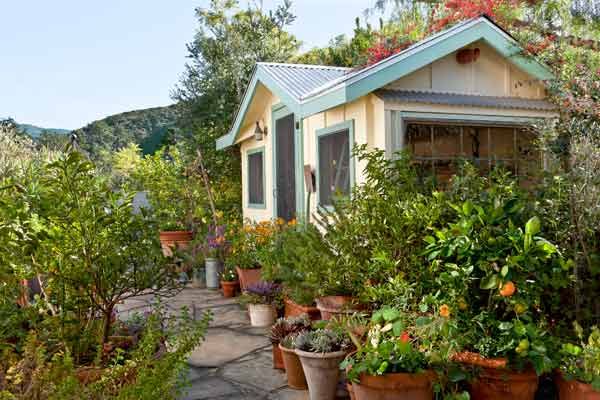 Sharon Lovejoy and Jeff Prostovich succeeded in creating this just-right shed, to support her passion for plants and the career she's built as a garden writer, author, and illustrator.
Rather than mimic the Spanish Revival style of their 1930 home, Jeff decided to complement it by making the shed look like a tiny traditional home, with a peaked roof, board-and-batten-style siding, and wood-framed windows.
Collectibles and Garden Projects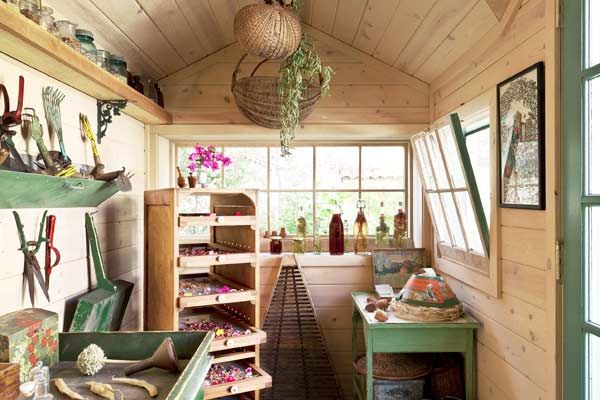 Christened "Sprig," the shed holds some of the garden collectibles that inspire Sharon's illustrations, gives her a place to dry herbs, and serves as a backup studio to her main workspace, an outbuilding in the backyard of the couple's California home.
See more details of this ultra-charming room: The Ultimate Bonus Room Just Might be a Shed
Outdoor Kitchen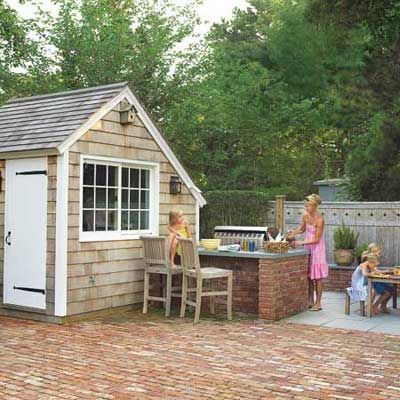 This pair of charming sheds mirror the design of the 1960s Cape they stand behind. The oversize door and a birdhouse tucked in the gable reinforce the garden shed's dollhouse proportions.
Instead of reserving the space for housing yard tools, the family in this home uses the area as an outdoor dining area. The small outbuilding holds plates, forks, and salt and pepper close at hand, so fewer trips are needed back and forth to the main kitchen.
Outdoor Shower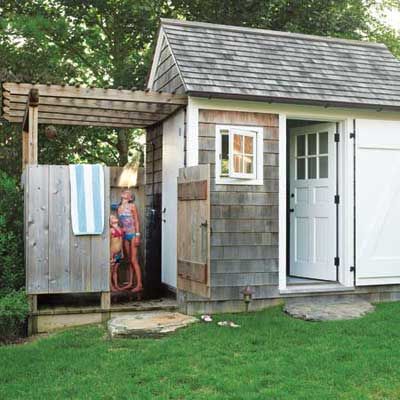 The second shed functions as a pool house and features a beautiful outdoor shower. With a mini kitchen and bath outside, the family can truly feel as if they are on vacation right in their own backyard.
See how the whole house and how it was updated: Cape Remodel: Small Fixes, Lots More Function
Garage No More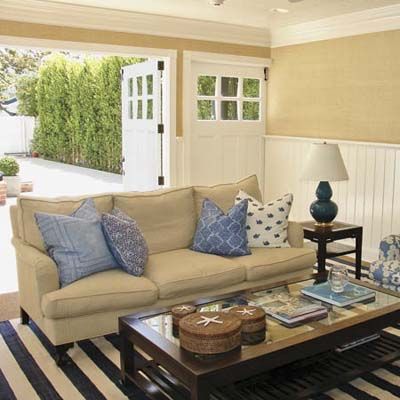 One (lucky) Southern California family, turned their garage into a well-appointed media room. Their seldom-used outbuilding near the pool offered a lot of un-tapped living space. A designer and builder revamped the garage, replacing its overhead doors with carriage-style units. The room took shape after adding a ceiling, finishing the walls with insulation and wallboard, and building an insulated subfloor. The room was outfitted with custom built-ins, a beverage fridge, and wiring for media equipment.
Pool-Party Media Room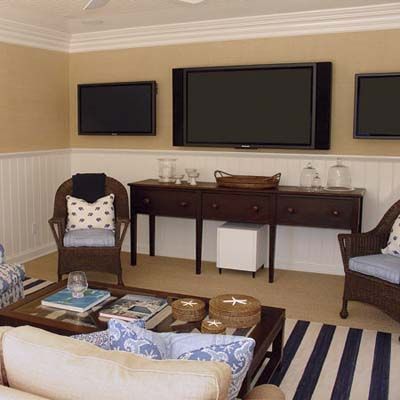 They decided to upgrade the space even more, to one they could also use for pool parties. With the help of an interior designer, in came natural-textured finishes like sea-grass carpet and grass-cloth wallpaper. The result is a comfortable—even elegant—room that the adults use as much as their kids. "We love it," says the wife. "It really completes our home."
View the amazing before and after transformation: From Garage to Comfy Rec Room
Screened-In Retreat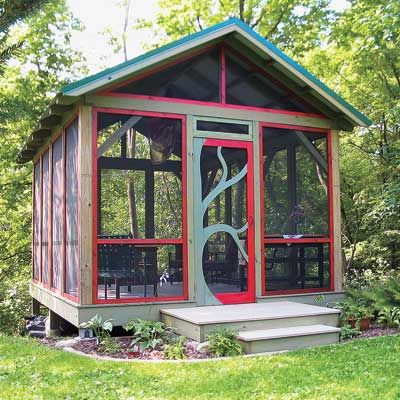 Karl and Carmen Junbluth love the outdoors: they garden, watch birds, and entertain on the deck. But they grew tired of pesky mosquitoes, due to rainy summers in their hometown of Boone, Iowa. "We'd try to eat dinner outside, only to retreat into the house," says Junbluth in Iowa. "We decided a screened-in room was the best way to solve the problem and would also provide a focal point in our garden."
Screened-In Seating
The screened-in room keeps out even the smallest insects, making it a perfect spot for meals and bird-watching. They found this stunning cast-iron table at a farm auction and repainted the metal parts and installed a new white-oak top. It is now the perfect spot for alfresco dinners.
Tour the space for more details: Video Tour: Winner, 2011 Best Backyard Redo
Cottage-Look Garden Room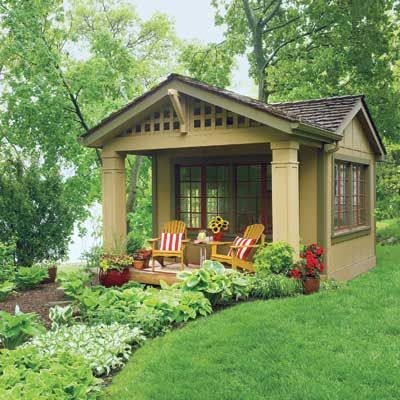 When Lynn Boughton and her husband moved into their Brooklyn, MI home, in 2001, they inherited its sad, lonely shed. While planning a new hosta garden, she thought the outbuilding had potential as a focal point in the center of all the leafy green to come. She mapped out a renovation plan, including lots of windows and salvaged materials, since reusing old things is a passion of hers.
Hanging Daybed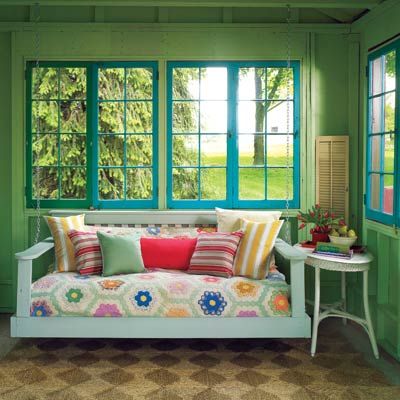 "Our final touch was a gabled porch with big columns. Three months of work and $8,400 later, the project is now complete, and my girlfriends and I just love hanging out in the room and swinging on the daybed—it's like our clubhouse," says Lynn.
Find more details of her award-winning project: Garden Room with Views
Timber-Frame Playhouse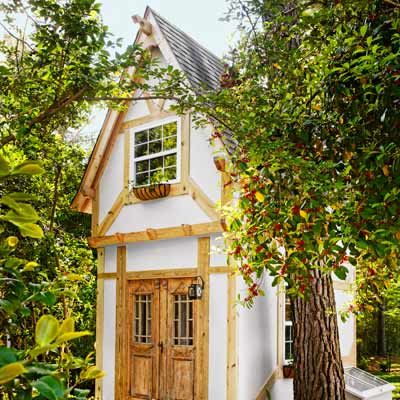 TOH reader, David Trepp of Newport News, VA crafted a detailed replica of the timber-frame buildings he had admired abroad to give his daughters a magical place to play.
The playhouse features centuries-old reclaimed pine entry doors, complete with their iron lockset, Trepp found 21 years ago while living in Germany. He built the structure around these stunners.
Inside the Playhouse
The interior is rustic, with salvaged cabinets and beadboard. Trepp fondly remembers a childhood fort built by his father, to share with his brother. He wanted my daughters to have a place of their own to enjoy, so he created this a one-and-a-half-story playhouse.
Tour the structure for more details on how it was built: Video Tour: Winner, 2012 Best Yard Remodel