You don't have to be shivering in a sandy swimsuit to appreciate an open-air shower. Even landlocked homeowners—stressed-out townies, gritty green thumbs, suburban soccer dads—are discovering that bathing outdoors is not just practical, it's downright luxurious. That's how architect Howard Backen sees his shower.
Every morning, he's out there, lathering up to the sound of birds in his garden and the sight of mountains beyond his home in California's Napa Valley. "It's invigorating when it's cold, it's interesting when it's rainy, and it's incredibly refreshing when it's sunny and hot," he says.
What You Should Know Before Installing an Outdoor Shower
Whether the goal is to wash off the day or to commune with nature, there is an outdoor shower for you. The simplest is a foot sprayer hooked to an existing cold-water spigot. The most complicated and expensive is an outdoor shower with cold and hot water, a custom enclosure for privacy, and a built-in changing room for convenience.
What's universal about any alfresco shower is that it beckons you outside. And yes, for some, it's also about the exhilaration of being in the backyard in the buff. Here's what you need to know to create the outdoor shower that best suits your naked—or not-so-naked—ambition.
Choosing a location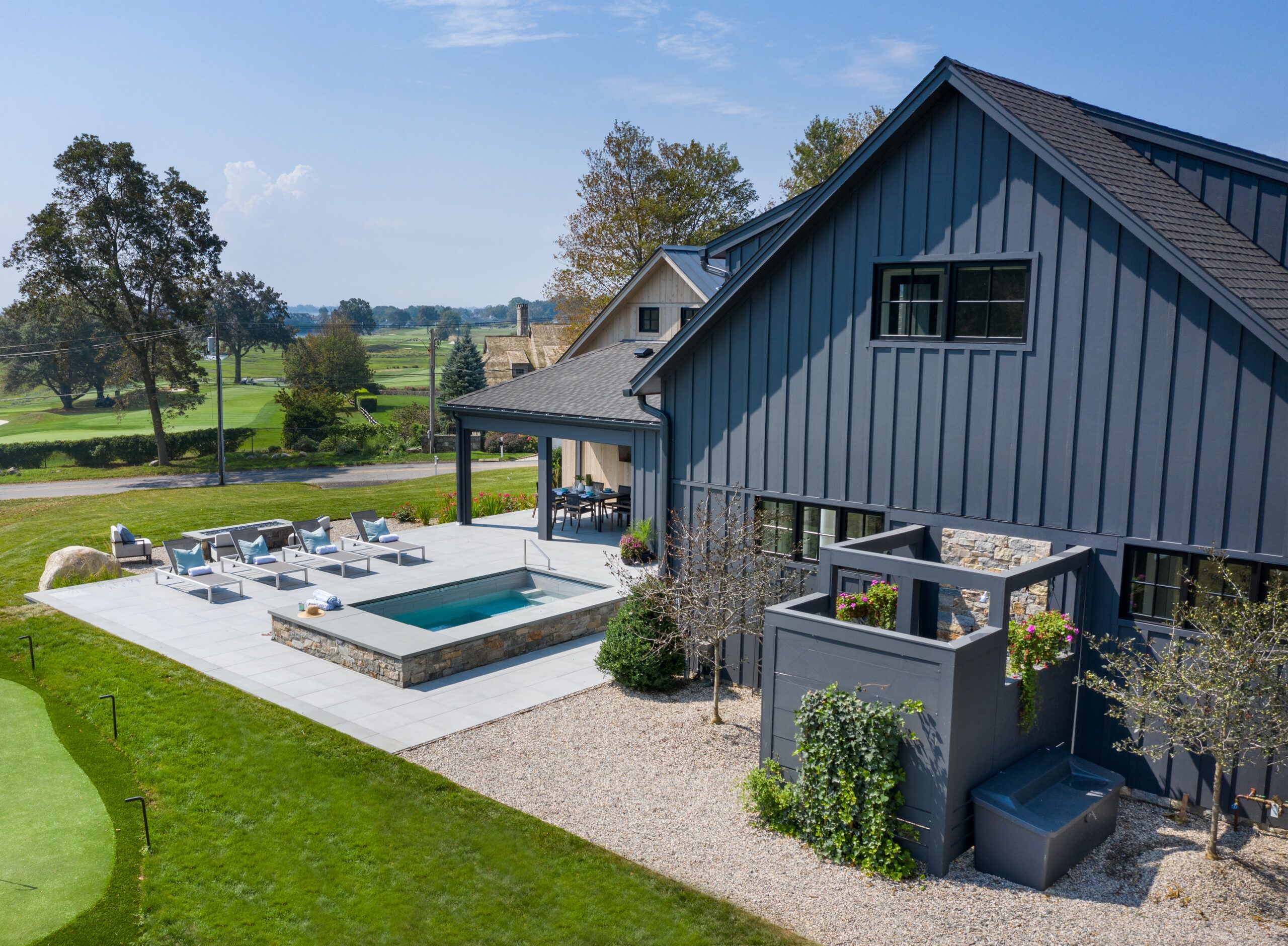 Determining the best location for an outdoor shower depends on how you'll use it. Some families put them near the front door. Others opt for a shower by the pool for a post-swim rinse, or close to the back door for the resident athlete just back from a sweaty jog. The best outdoor showers also take advantage of the natural beauty of the surroundings.
Plumbing can also dictate site. A shower on a deck near the kitchen or bathroom or on a ground-floor patio off the laundry room means you can tap into existing hot- and cold-water lines. One placed in a remote cluster of trees, though appealing, requires digging a trench and running pipe to the destination.
Consider privacy
When designing your outdoor shower, consider how much you are willing to expose, and account for the feelings of guests or neighbors. "I encourage people to build with the most modest person in mind," says Ethan Fierro, author of The Outdoor Shower. The most straightforward approach is a freestanding folding screen, which works especially well on a multi-use deck where permanent walls can eat up too much space.
For an outdoor shower on a rooftop of a client's home in Washington, D. C., architect Kai Tong designed a roll-up bamboo screen that's high enough for a shield but low enough not to block dramatic views of the capital. The most organic approach might draw on the landscape, whether a new privet hedge or an existing curtain of trees. Keep in mind that if trees are deciduous, you may have to wait until late spring for sufficient cover.
A custom wood shower enclosure offers privacy plus flexibility to add built-ins and other amenities. To prevent mold and mildew, be sure the space is well ventilated so it completely dries out after every use. Walls should be secured to corner posts and elevated about a foot off the ground to promote air circulation. And if you decide to add a solid roof, attach it only to the posts, leaving open space above the walls. A sunny location will also help dry the enclosure.
Plumbing for Outdoor Showers
Hook up an outdoor shower much like you would an indoor one. If you want both cold and hot running water, This Old House plumbing and heating expert Richard Trethewey recommends adding a pressure-balance valve to prevent scalding.
"And for those who live in four-season climates, by far the biggest concern is having the ability to drain pipes when the temperature drops," cautions Richard. Water trapped inside can freeze and crack the pipes.
Shutoff valves should be located in the house with pipes traveling on a downward slope. An exposed riser and a shower head that both unscrew ensure that every drop is eliminated.
Drainage is also an issue when the shower is in use. Local building codes vary about the disposal of gray water. But for the most part, outdoor showers simply drain into the ground. A drywell consisting of an earthen pit lined with landscape fabric and filled with gravel can be placed underneath the shower floor to help disperse the flow. More complicated, but required in some locales, is routing wastewater into the sewer system.
Choosing Materials for Outdoor Showers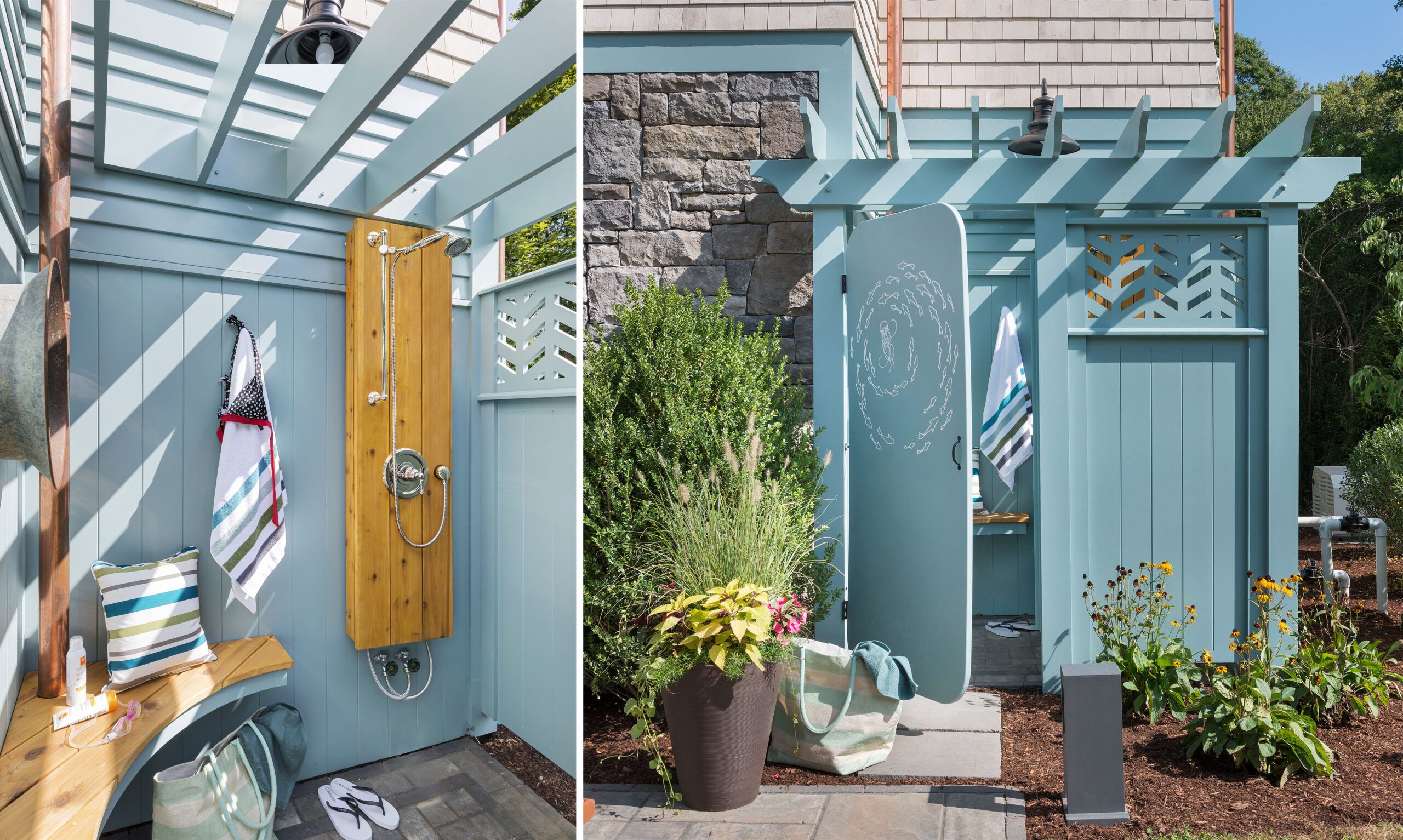 For shower floors, walls, and fixtures, choose weather-resistant materials. Enclosures made of pressure-treated wood, cedar, teak, Brazilian ironwood, even salvaged window shutters will hold up well outside. When buying imported wood, look for FSC (Forest Stewardship Council) certification, which means the boards were sustainably harvested.
Wood is also suitable for floors, but like most decking materials, it should be treated periodically to prevent mildew and fading. A stone floor requires less maintenance, but be sure to get a type that's comfortable under bare feet, such as bluestone or tumbled river rock.
Another great addition is bronze or copper fixtures because they develop a natural patina as they age. Brass also works well, but avoid anything too shiny, because the gloss will fade. In seaside locations, where salty air can pit most metals, corrosion-resistant stainless steel with a 304 rating is typically the best choice. To keep stainless looking new, wash it down every couple of weeks with warm soapy water, rinse, and then wipe it dry with a soft cloth.
Outdoor shower add-ons
The amenities you add to your shower will play a big role in how it feels and how frequently you use it. They also add to the price, which ranges from about $200 for a basic hose-connected shower to upward of $20,000 for a lavish bathhouse with a changing area and built-in seating.
Among the simplest add-ons are hooks for hanging robes and wet bathing suits, and shelves for shampoo, and extra towels. A slatted teak mat will feel better on your feet than standing directly on a drain. Other options play off the natural setting.
And then there are indulgences, such as an oversized rain-style showerhead to amplify the feeling of being out in the elements, outdoor speakers (some are disguised as rocks) to pipe in music, and low-voltage lighting to illuminate an evening shower. But of course, the best amenity of all is nature itself.