All About Wood Windows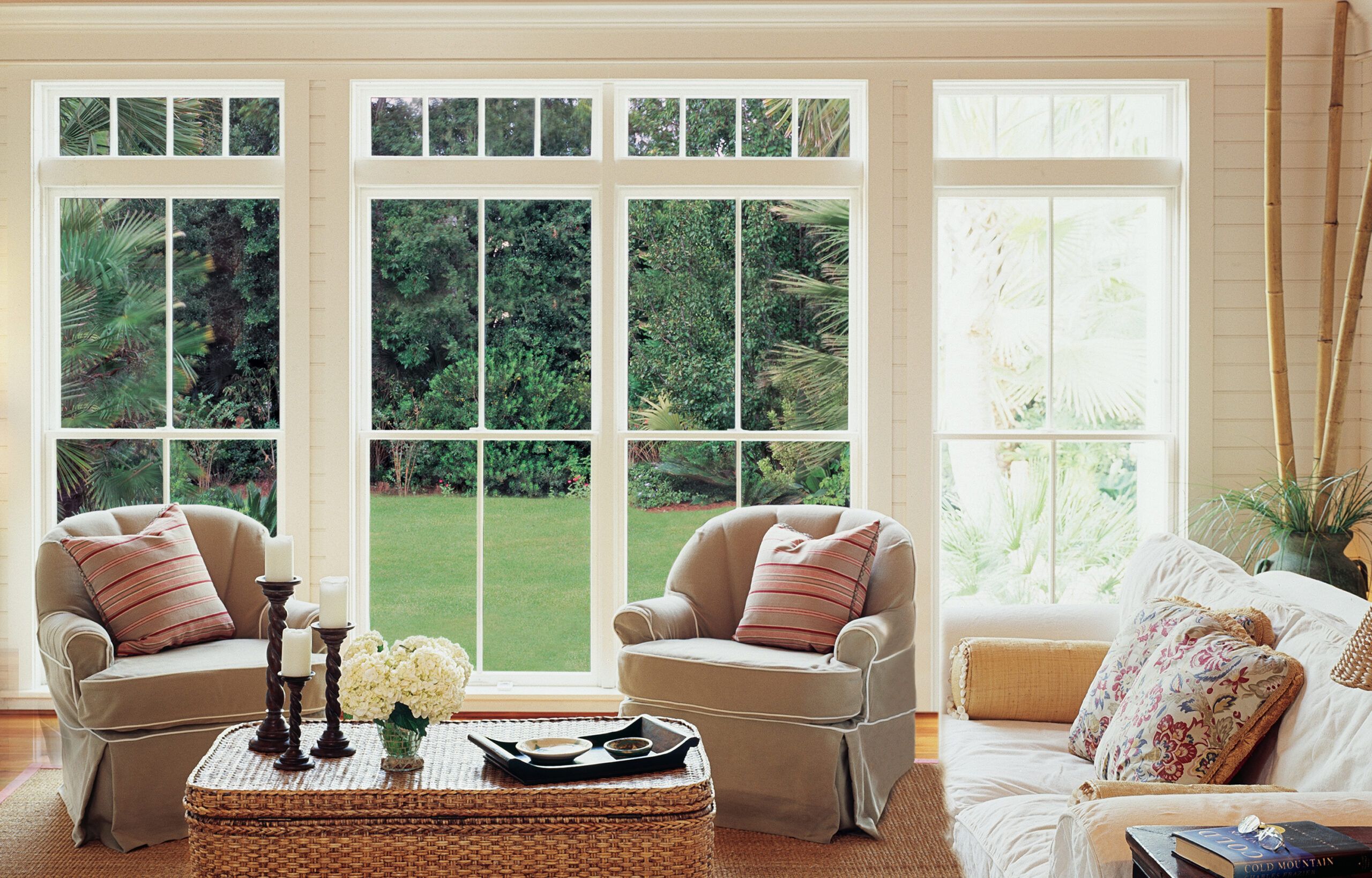 Windows are one of the basic necessities of a home. They brighten our rooms, feed us fresh air, keep out the rain, and, when matched to the style of the architecture, greatly enhance a house's appearance, inside and out.
But if your windows were letting in a little too much air last winter, leaving you chilled and stuck with high fuel bills, consider this: New high-performance insulating units can cut your energy costs by almost 25 percent. So with the arrival of spring, and a fresh round of federal tax credits for installing more-efficient windows, it's a great time to say sayonara to those drafty old units.
If you're not sure which kind of windows to get, let us offer a suggestion: wood. It's a light, strong, and attractive material. It's a good insulator, it's moderately priced, and it can be milled into an unlimited array of shapes and profiles. Plus, with a bit of regular care, it'll last indefinitely. The big problem is finding the right type and style for your house among the myriad choices and manufacturers. It's enough to make your head hurt.
Save yourself some pain by studying the following slides. We make sense of the smorgasbord of options and show you how to compare products so that you get the best window for your buck. If new windows are in your future, this is one story you don't want to miss.
Shown: Andersen 400 Series Woodwright
Similar to shown: Jeld-Wen Custom Wood
Anatomy of a Double-Hung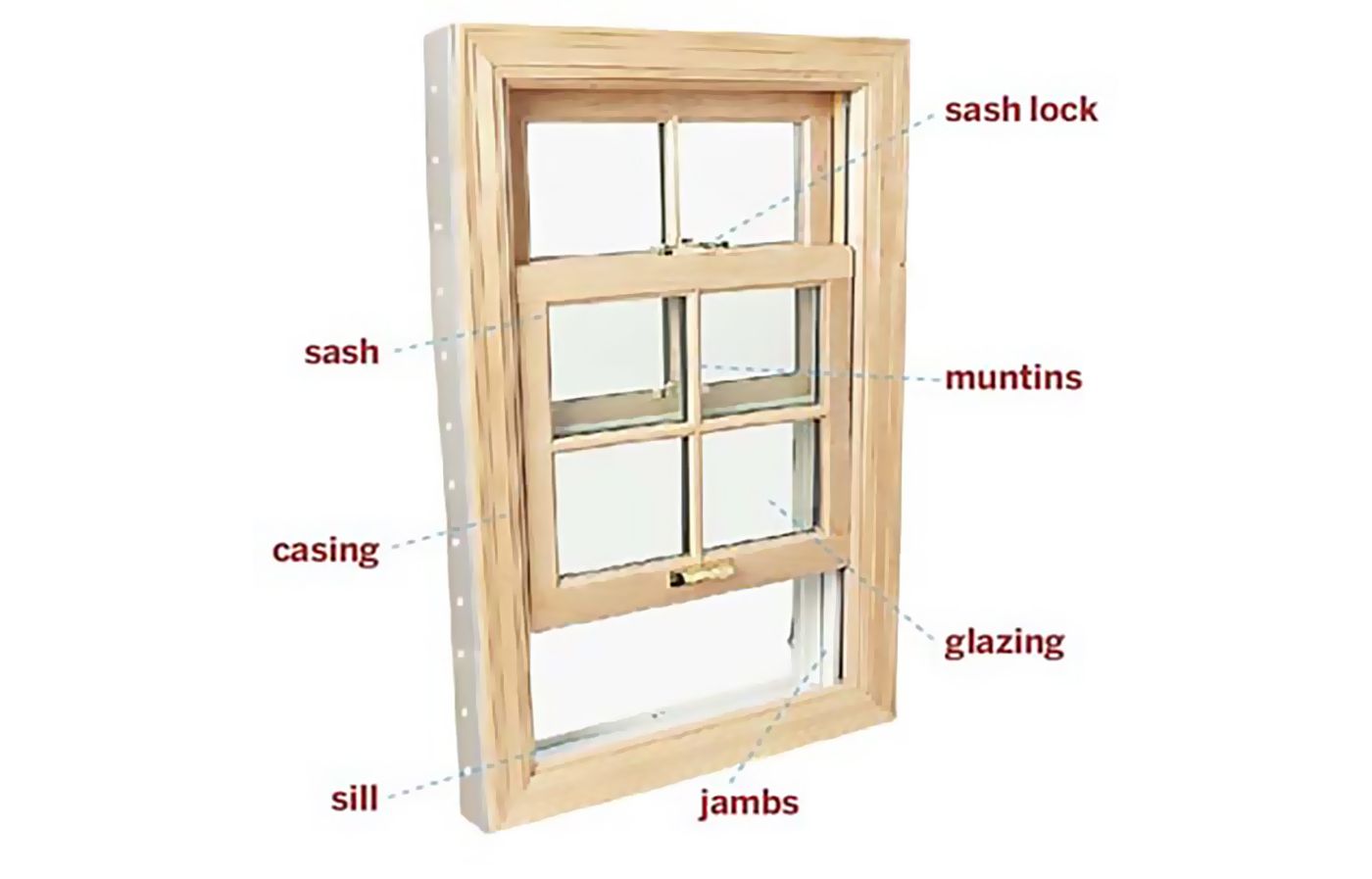 The most popular window in the U.S., it has the same basic parts as other types.
Sash
Movable or fixed frame that supports the glazing.
Casing
Trim that covers the gap between the jambs and house framing.
Sill
Bottom part of the frame; angled to shed water.
Jambs
Sides and top of the frame that surround the sashes.
Glazing
Window glass.
Muntins
Slender strips that divide the glazing.
Sash Lock
Hardware that secures the top and bottom sashes.
Wood Windows: Vitals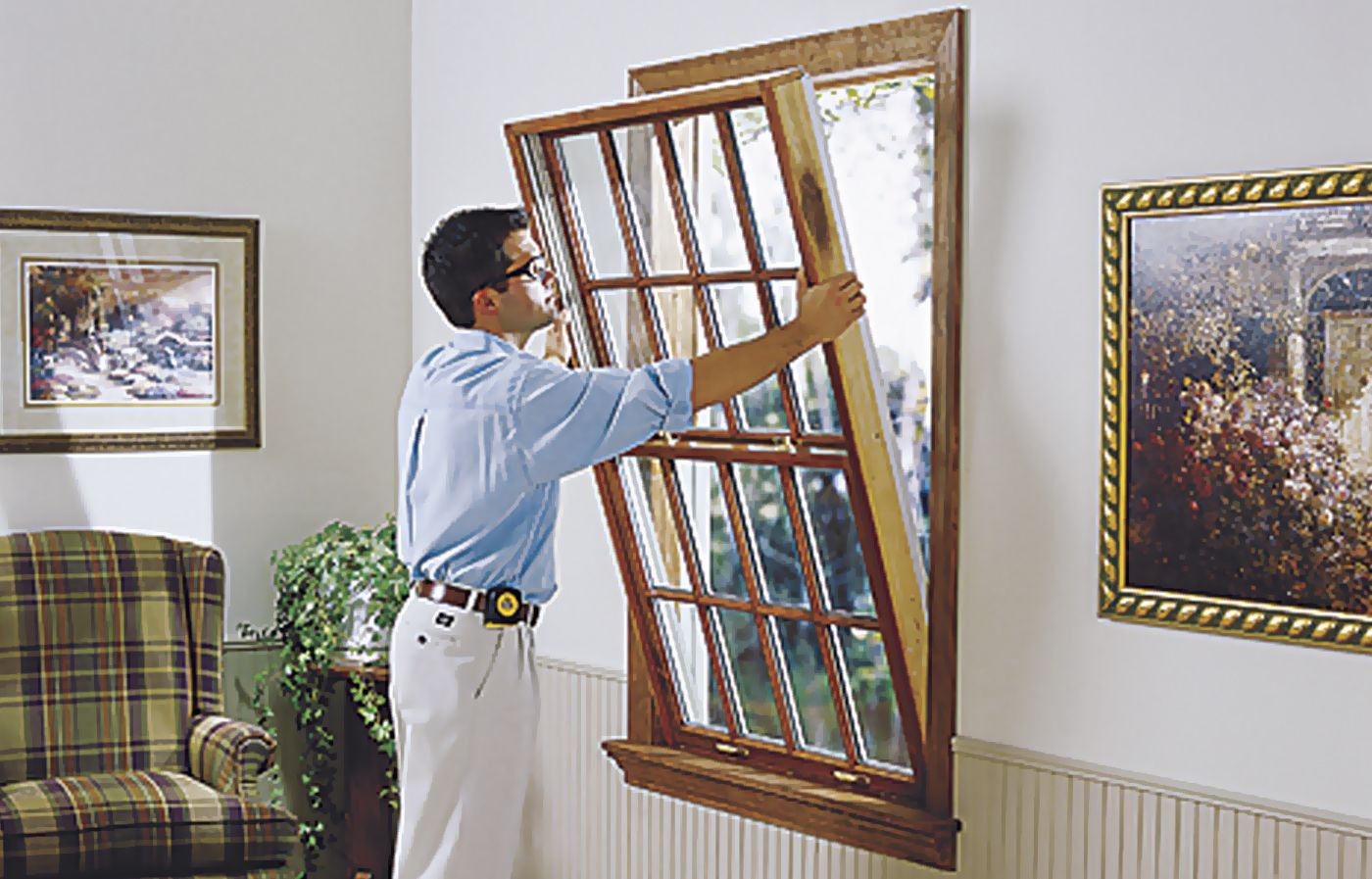 What Do They Cost?
An off-the-shelf, 36-by-54-inch pine double-hung with insulated glass runs about $270. The same window made to order with high-performance glazing will be about $825. In mahogany the cost jumps to $2,100.
How Long Do They Last?
A wood sash and frame will last indefinitely, if properly maintained. Glazing is typically warranted against fogging for 20 years.
Can You Install Them Yourself?
Leave it to a pro to put a new full-frame window into a rough opening. Replacing just the sashes is a DIY-friendly job. Shown above: Pella Precision-Fit; pella.com
How Much Can They Save You?
Energy Star–rated windows can shave 7 to 24 percent off your heating and cooling costs, depending on the type of window you're replacing and the part of the country you're in.
How to Speak Window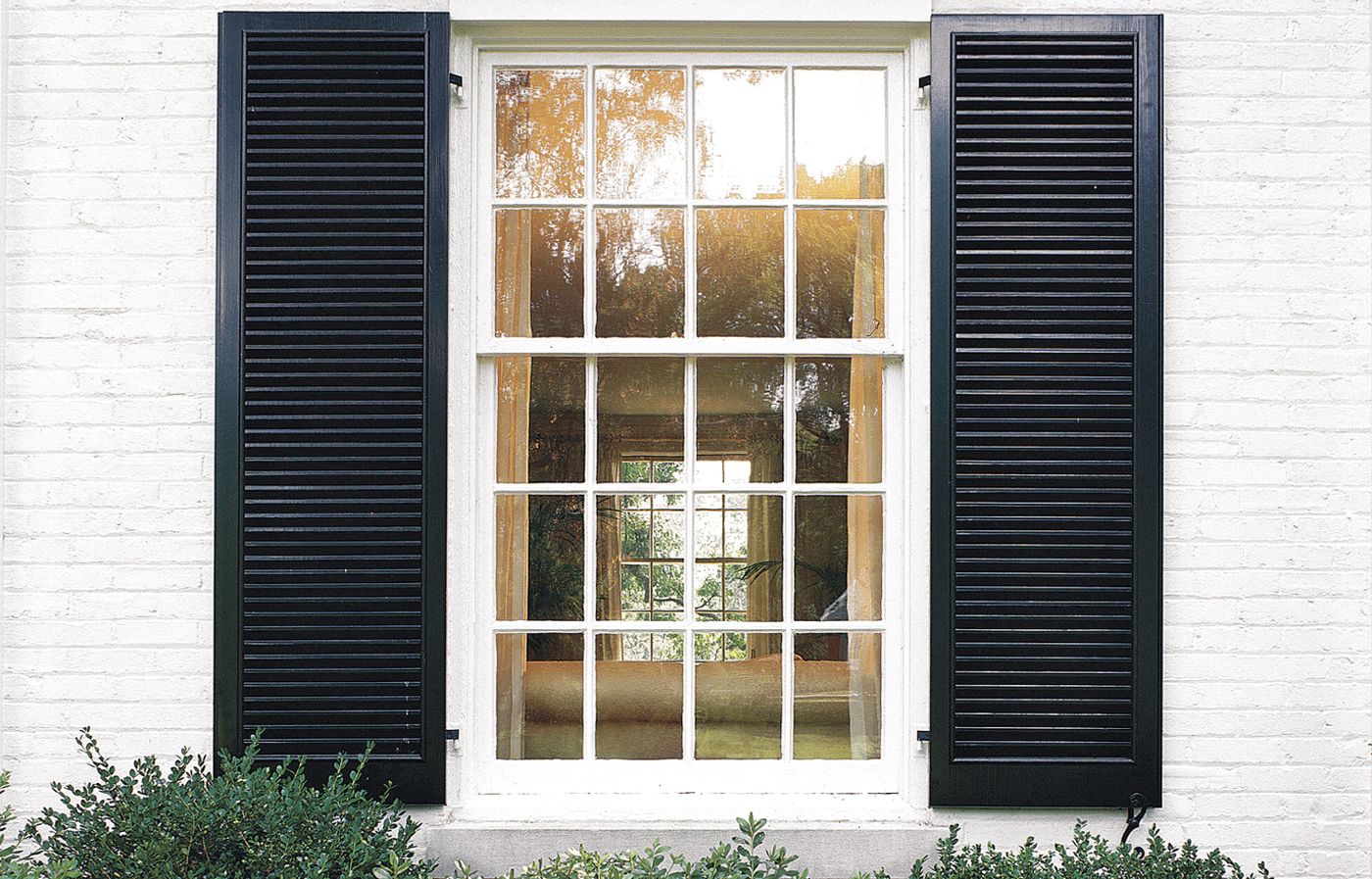 Double-hungs are identified by the number of panes, or "lights," in each sash. A 6-over-6, for example, has six panes per sash. The double-hung shown here is an 8-over-12. It's called a "cottage window" because its upper sash is smaller than its bottom one.
Is It Time For New Windows?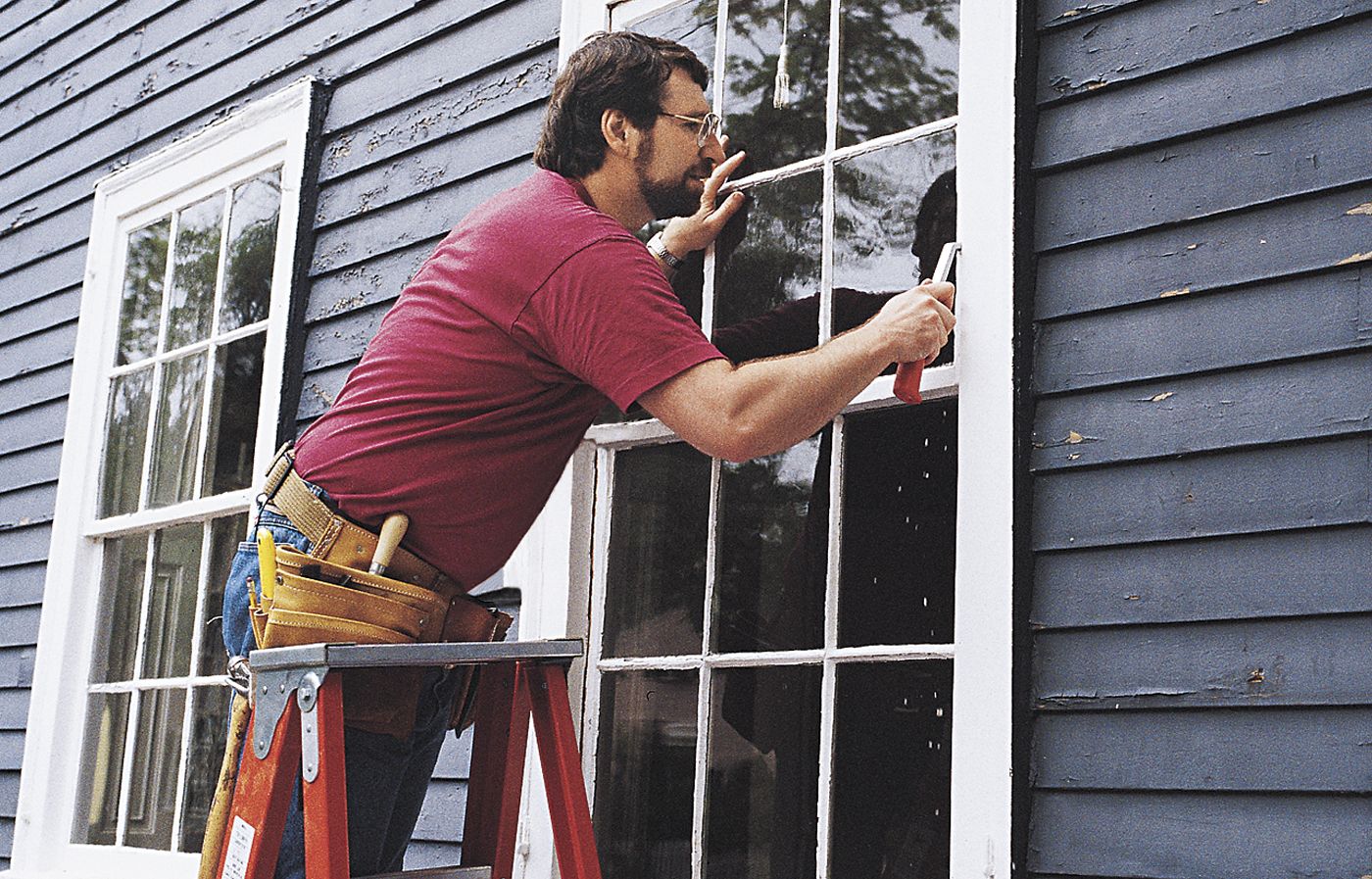 Start shopping for replacements when the following problems crop up:
Extensive Rot
Small pockets of decay can be scraped out and filled, but if the sill and jambs are severely compromised, there's no saving them.
Fogged Glass
When the perimeter seal on a double-glazed window fails, the condensation that collects between the panes of glass spoils the view and reduces energy efficiency. The window needs a new sash, at the least, if not entire replacement.
Poor Function
Is a sash hard to open or will it not stay open? Those old windows from the weight-and-pulley era are easy to fix, but sashes with tubular-balance hardware from the 1950s, '60s, and '70s may not be worth saving.
Inappropriate Style
A 19th-century Italianate fitted with modern replacement casements, for instance, will have infinitely more curb appeal with new wood double-hungs that match the look of the original windows. Pictured: Rather than replace these 18th-century windows, TOH master carpenter Norm Abram restored them to like-new condition. Adding interior storms made them as weathertight as new units.
Replacement Options: Full Frame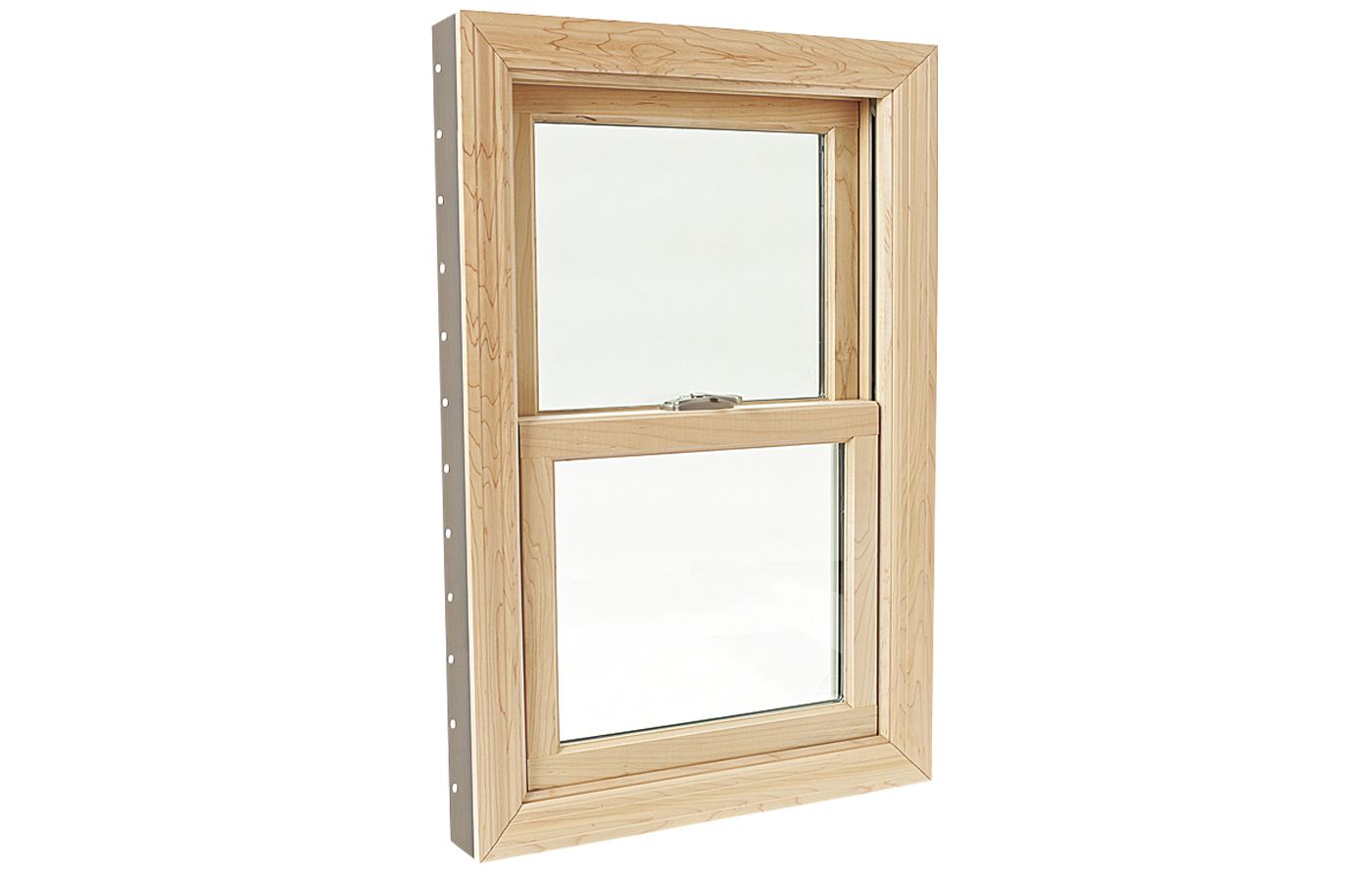 Completely replaces existing units. Use if a jamb or sill is shot.
Pro: Offers most styles and highest energy efficiency. Opening a wall cavity allows you to upgrade insulation.
Con: Hard to install; requires removal of interior and exterior trim and some siding. Inserts from the outside.
Shown: Andersen 400 Series Woodwright
Replacement Options: Frame-and-Sash Insert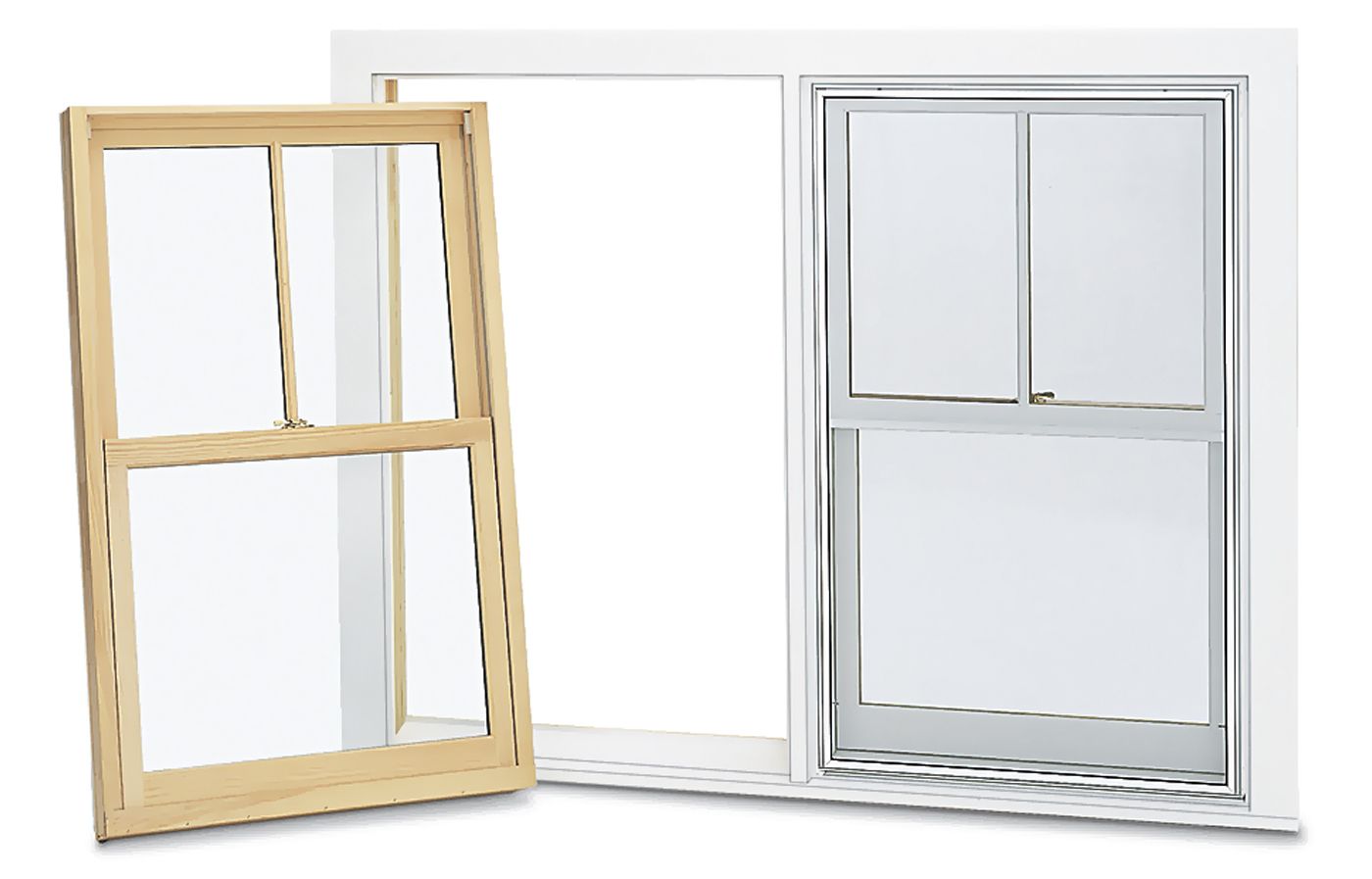 A frame with factory-fitted sashes. You keep existing sill and jambs.
Pro: Easiest to install. Trim not affected. Goes in from the inside.
Con: Most expensive option. Frame reduces size of window opening by up to 1 inch on all sides.
Shown: Marvin Ultimate Insert
Replacement Options: Sashes Only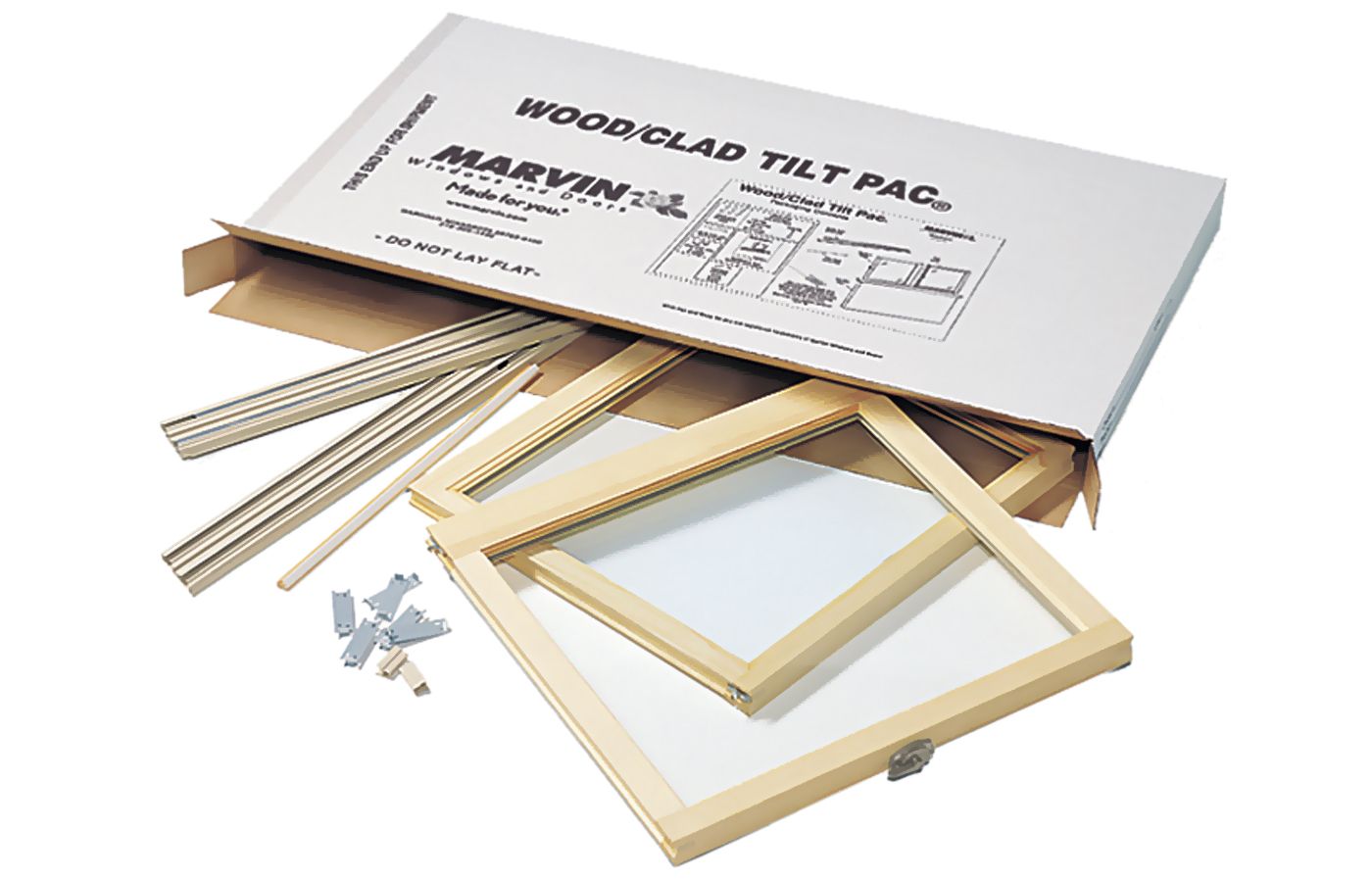 Units slide on plastic tracks mounted to existing side jambs.
Pro: Least expensive option. Neither trim nor opening size is affected. Installs from the inside.
Con: Available only as double- or single-hungs. Requires exact measurements for sill angle and window opening. Existing frame must be square and solid.
Shown: Marvin Tilt-Pac
Deciphering the Label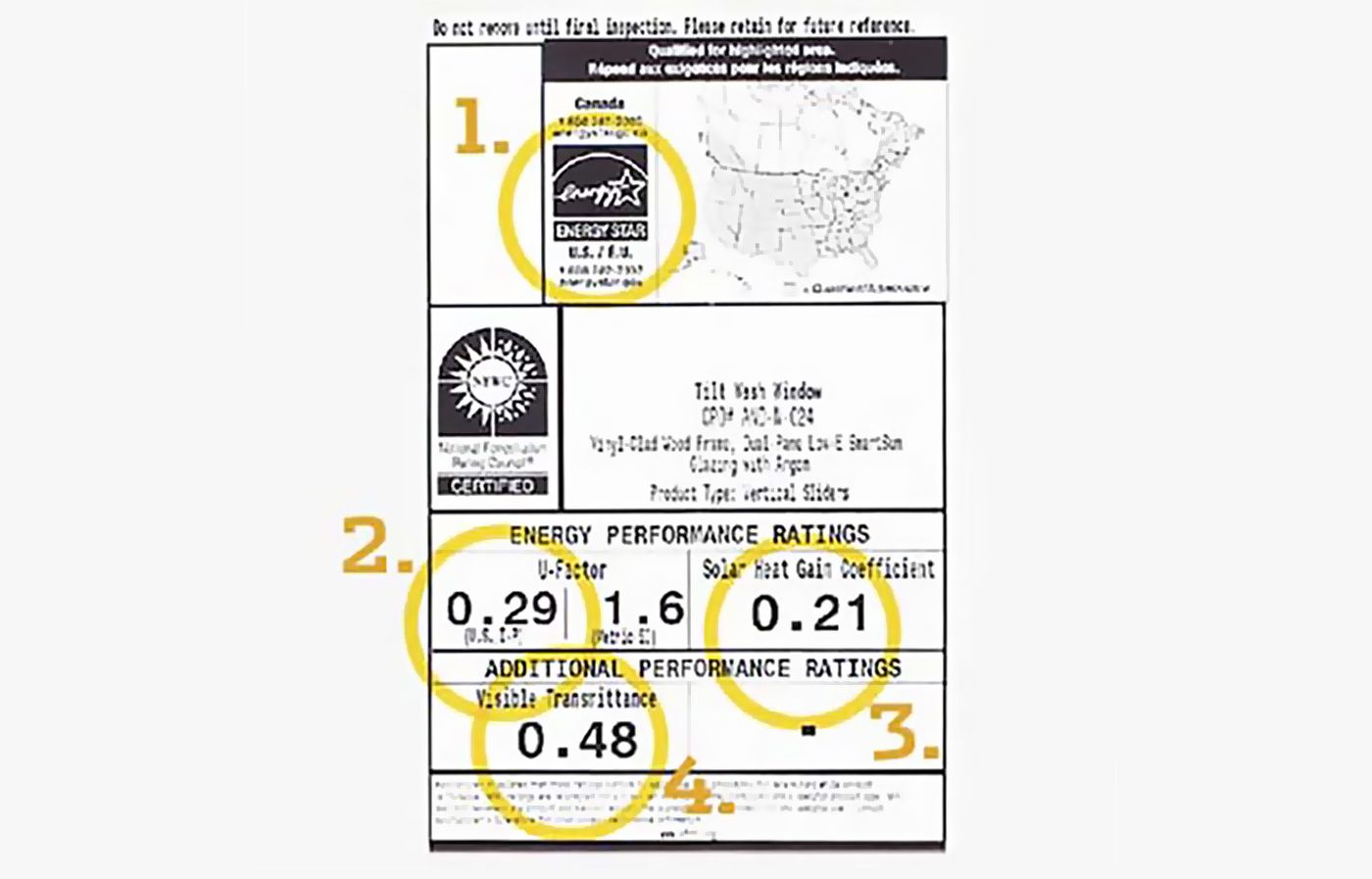 Comparing window performance is easy, thanks to labels from the National Fenestration Rating Council (NFRC). Computer simulations create the key numbers for each window
1. Energy Star
The shaded portions of the accompanying map show where the window meets regional Energy Star performance criteria. This one passes muster nationwide.
2. U-Factor
Measures how well a window stops heat flow, on a scale of 0.10 to 1.20. The smaller the number, the better the performance in both cold and hot climates.
3. Solar Heat Gain Coefficient (SHGC)
Measures how well glazing blocks the sun's heat, on a scale of 0 to 1. The lower the number, the less heat gets in. Go for 0.40 or lower in warmer climates.
4. Visible Transmittance (VT):
Tells how much light passes through; 0 is opaque, 1 is transparent. Glazing with a VT of 0.60 or more looks clear. A lower VT limits glare but can slightly darken rooms.
Some labels also rate Air Leakage (look for 0.30 or lower) and Condensation Resistance (the higher the number, the better).
TOH Tip: Score a Tax Credit
Federal tax credits can cut the cost of new energy-efficient windows by 30 percent, up to $1,500 per household. Windows installed in 2009 and 2010 qualify if they have an NFRC-certified U-factor and an SHGC of 0.30 or less. The credit applies only to window costs, not installation. Save the "qualification statement" from the manufacturer and your receipts. A word of caution: Not all Energy Star windows are shoe-ins for the credit.
Cost: Off the Shelf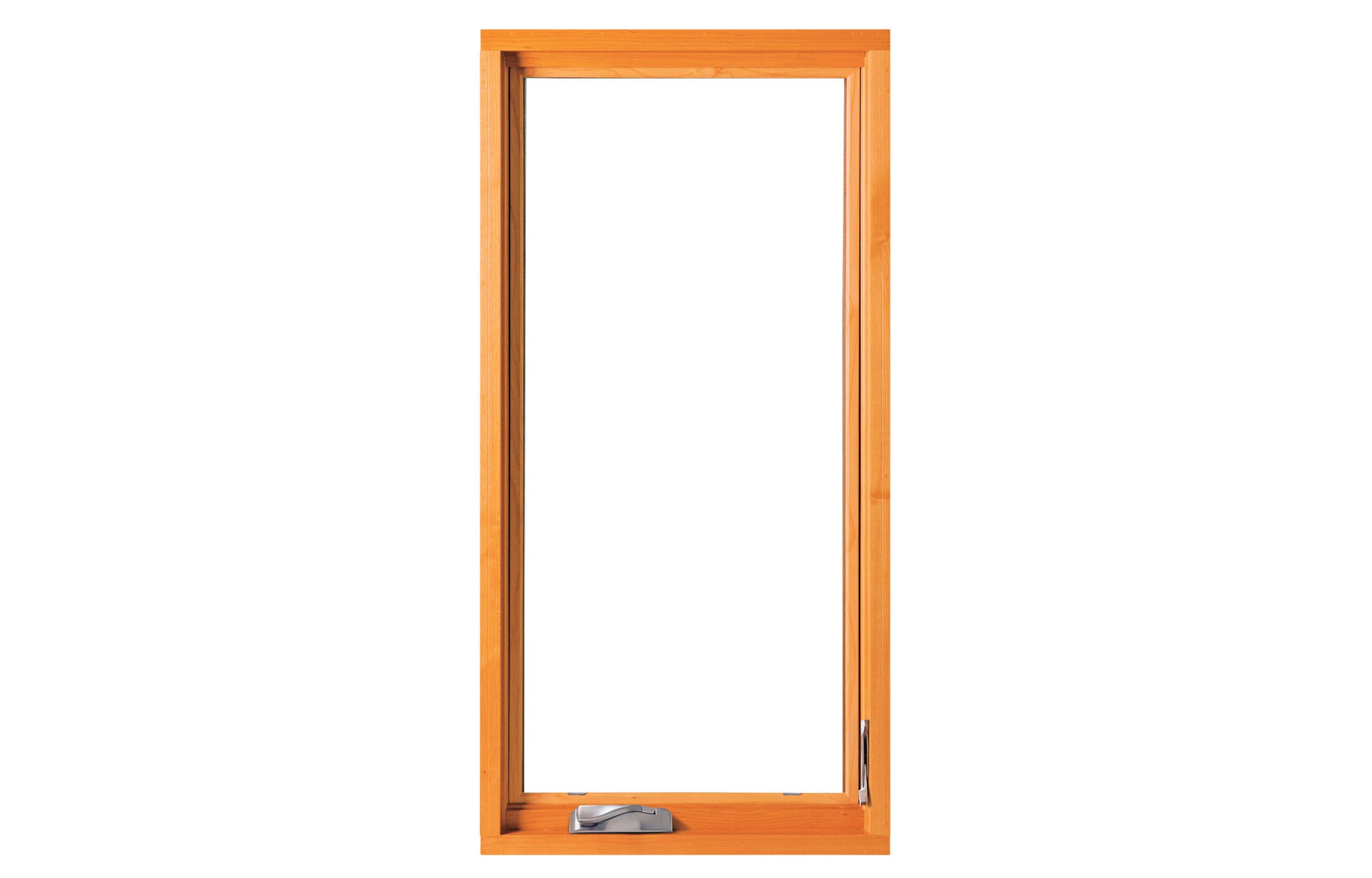 Good for tight budgets and for new construction where you can frame the opening to fit units in just a handful of standard sizes.
Where to Buy: Home centers and lumberyards.
Styles: Plain-vanilla double-hungs or casements, often without muntins.
Hardware: Painted metal crank.
Glazing: Double-pane; not eligible for tax credit.
Wood: Unprimed pine.
Wait: Up to three days, maximum.
Price: About $270–$350; Jeld-Wen
Cost: Made-to-Order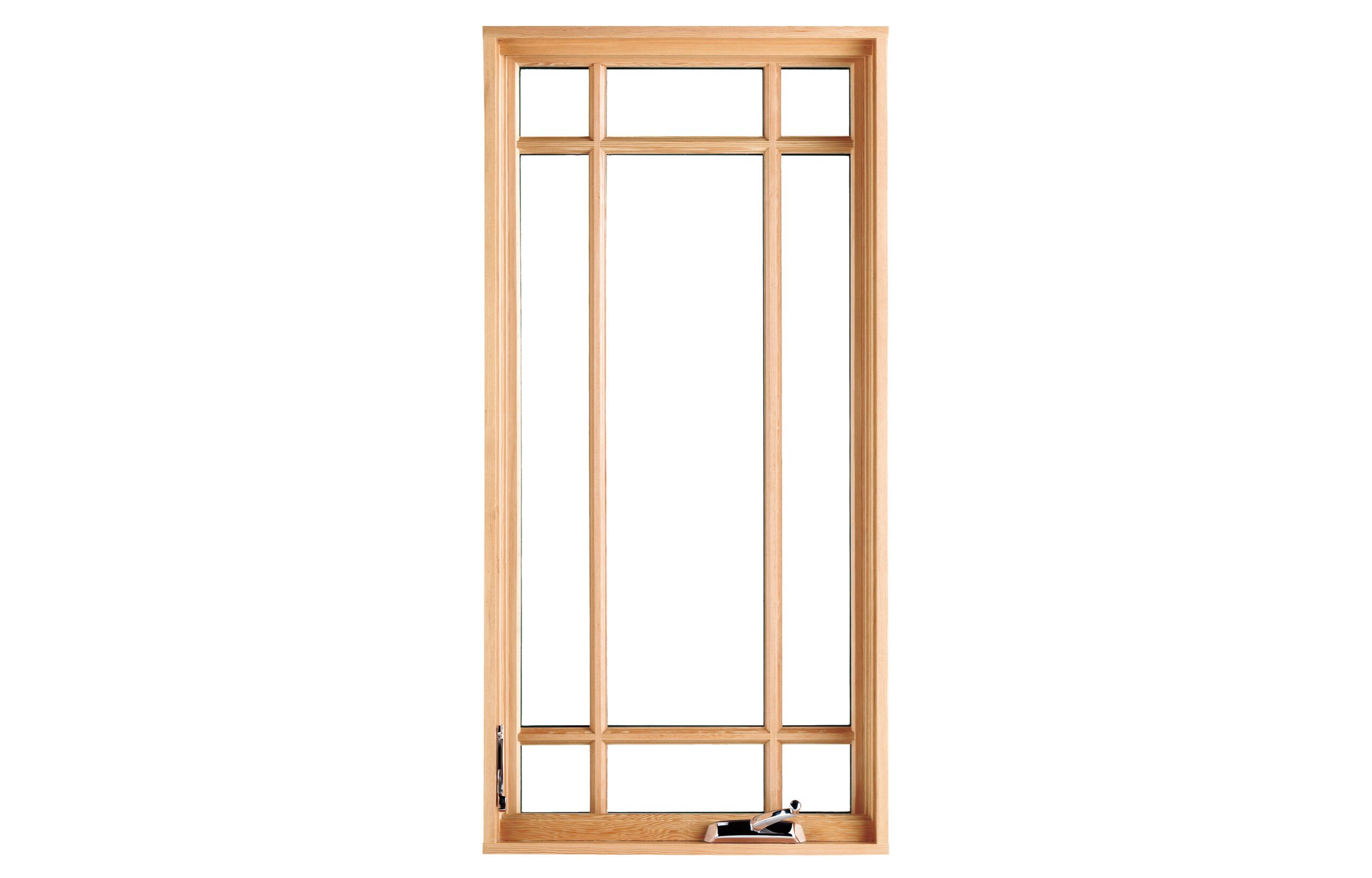 Top pick, if you want more size and design options. Mix and match choices shown in the catalog, including energy-saving glazing.
Where to buy: Home centers, lumberyards, window retailers.
Styles: All window types, with different muntin configurations. Hardware: Choose among a few crank styles and various painted or plated-metal finishes.
Glazing: Low-e, triple glazed, patterned, laminated.
Wood: Mostly pine—either bare, factory primed, or painted. Some companies also offer clear alder or Douglas fir.
Wait: Four weeks, minimum.
Price: about $315–$650; Jeld-Wen
Cost: Custom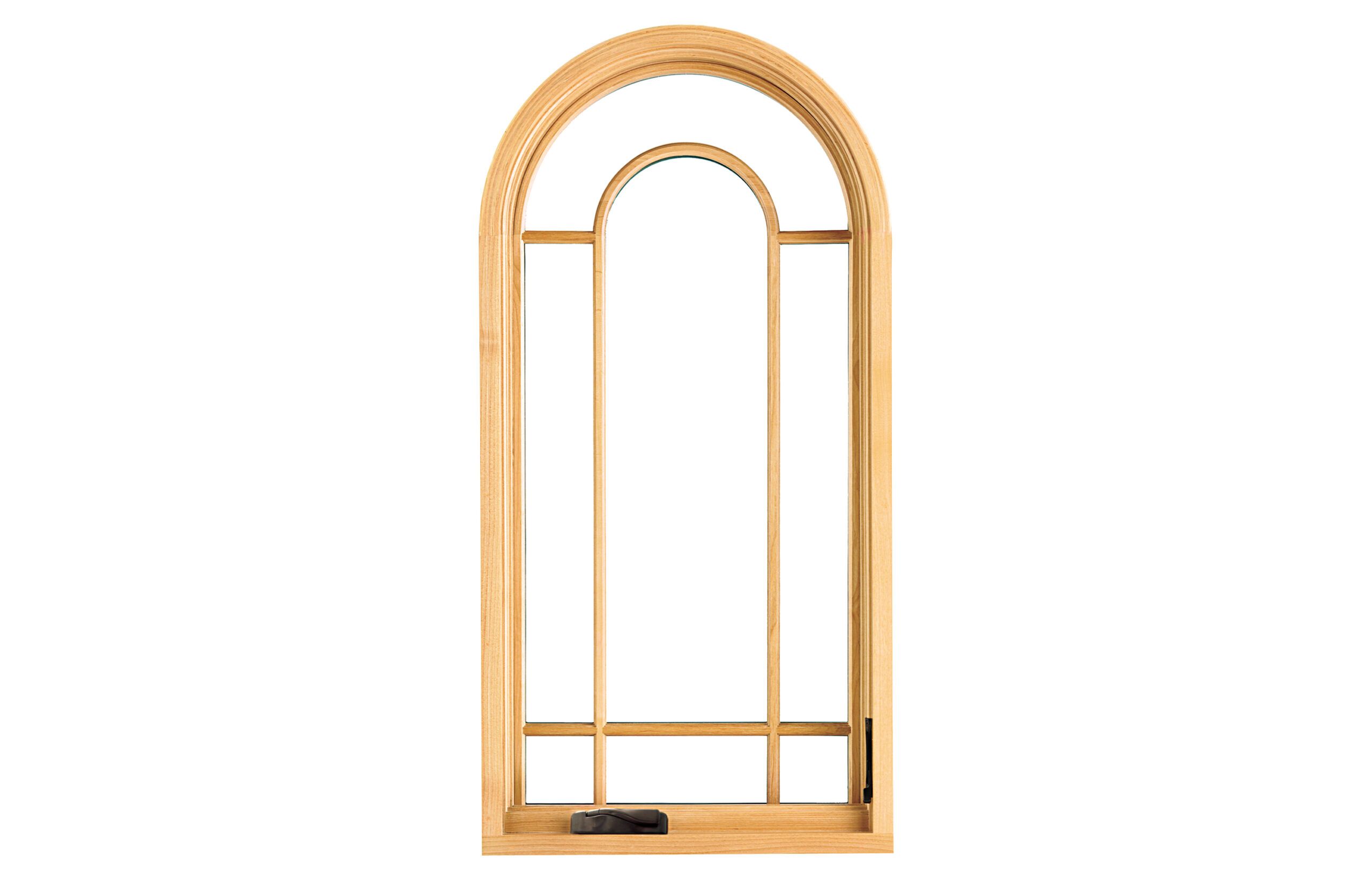 The way to go for nonstandard sizes and shapes or if you want to create an original design or replicate a historic window.
Where to buy: Window retailers.
Styles: You name it.
Hardware: More crank styles in custom finishes or solid bronze.
Glazing: The works, including leaded art glass.
Wood: Oak, maple, cherry, and exotics, such as mahogany, finished to your specifications.
Wait: Six weeks, minimum.
Price: About $800–$2,000 and up; Jeld-Wen
Glazing Choices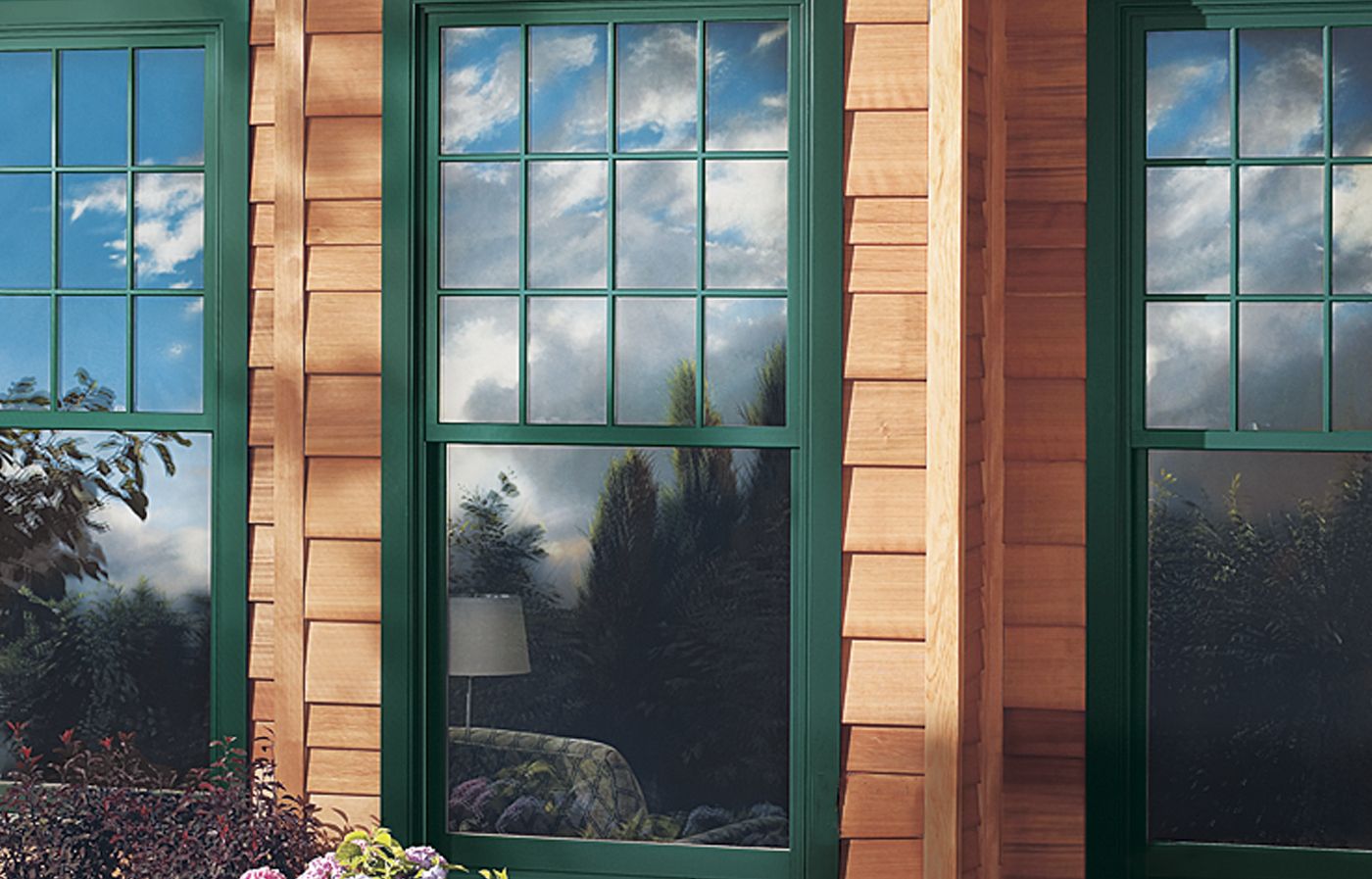 Vintage single-pane "wavy" glass can't be beat for character, but it provides little protection against the heat and cold. With today's glass, called glazing, you can get more insulation and added security, and can save time and money on window washing.
Double-Pane:
Much more efficient than single-pane, it can be improved further with heat-reflective low-e coatings and by filling the space between the glass sheets with a denser-than-air gas, such as krypton or argon.
Triple-Pane:
It's the best barrier against the cold but reduces light transmission and adds weight and cost.
Self-Cleaning:
A titanium-dioxide coating reacts with sunlight to loosen dirt, which washes off in the rain. (You still have to clean the indoor surfaces.)
Unbreakable:
An invisible layer of plastic sandwiched between two sheets of standard glass helps to foil intruders, block sound, and withstand earthquakes and hurricanes.
Shown: Marvin Ultimate Double Hung
Muntin Choices: True Divided Light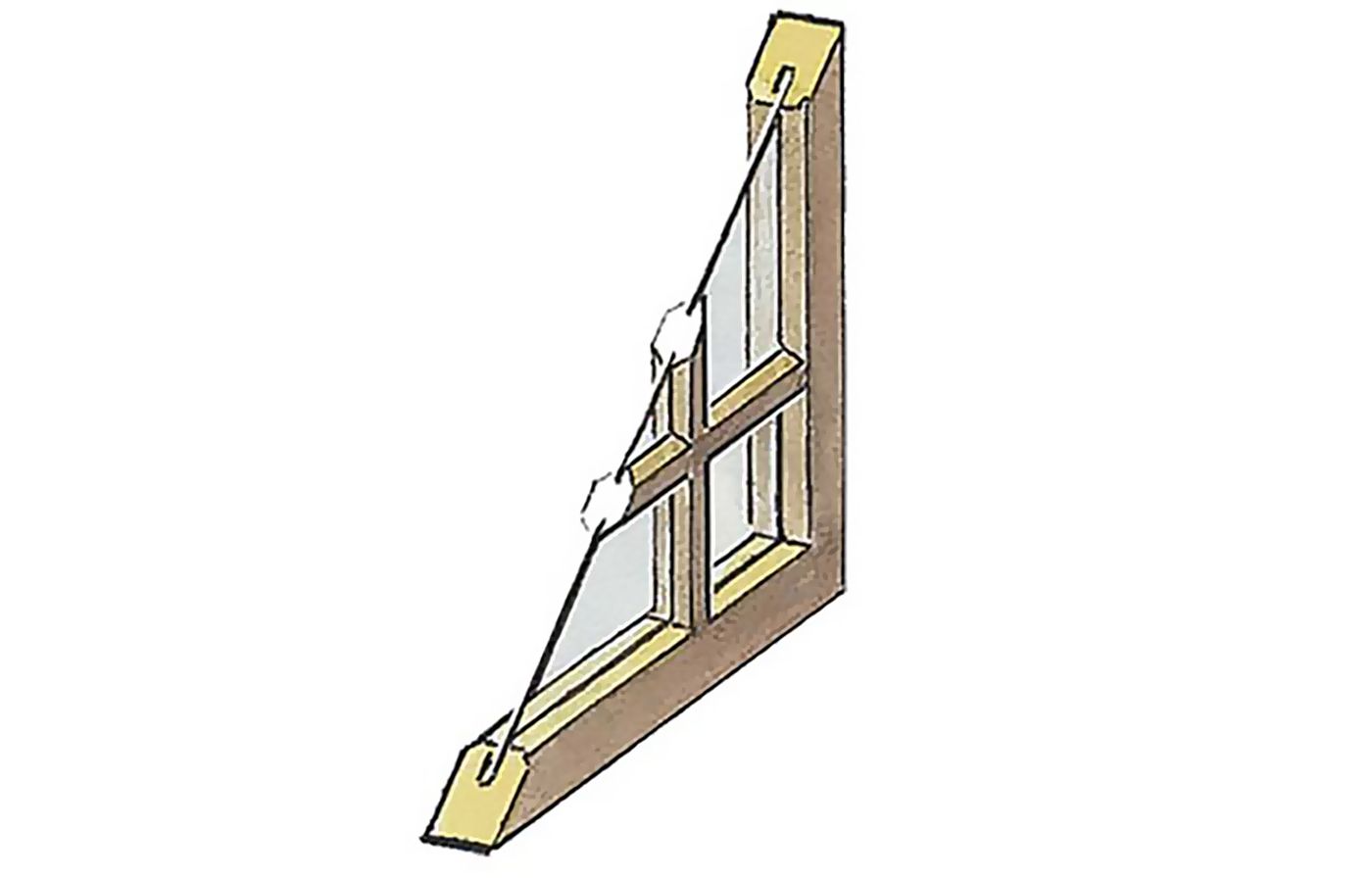 These traditional single-pane windows are strong and light and will last indefinitely, but they're poor insulators. A separate glass "energy panel" affixed to the outside of the sashes improves performance to the level of a standard double-pane. Hard to clean.
Muntin Choices: Simulated Divided Light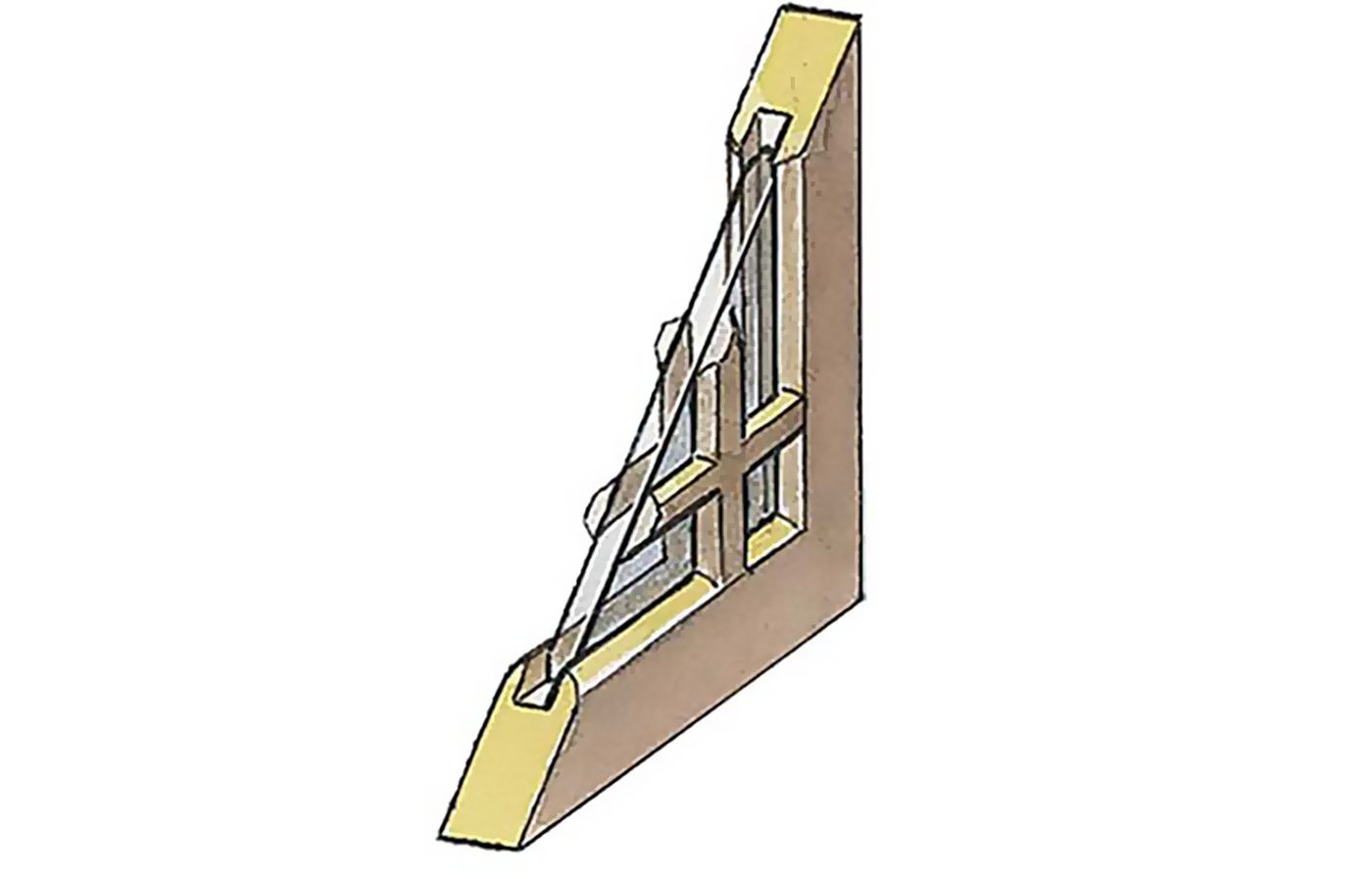 Muntins are adhered to the indoor and outdoor surfaces of double-pane glass. More energy efficient than a true divided light but just as hard to clean.
Muntin Choices: Grille in Glass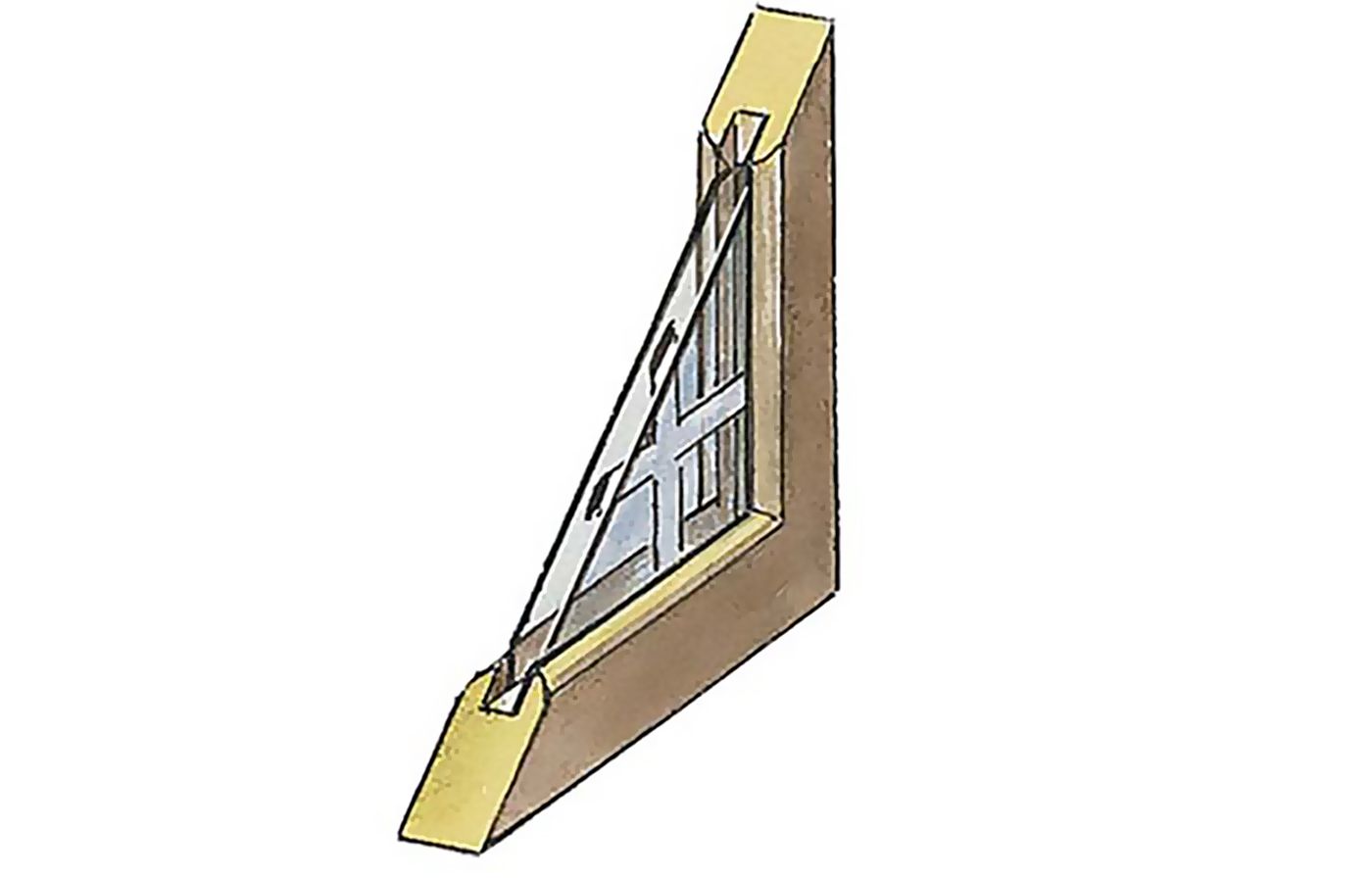 An aluminum grille sits permanently between two glass panes, hinting at the look of actual muntins. The metal conducts heat, raising its U-factor and making the window less efficient. Cleaning is a breeze, but choose a grille color you like, because there's no changing it.
Muntin Choices: Removable Grille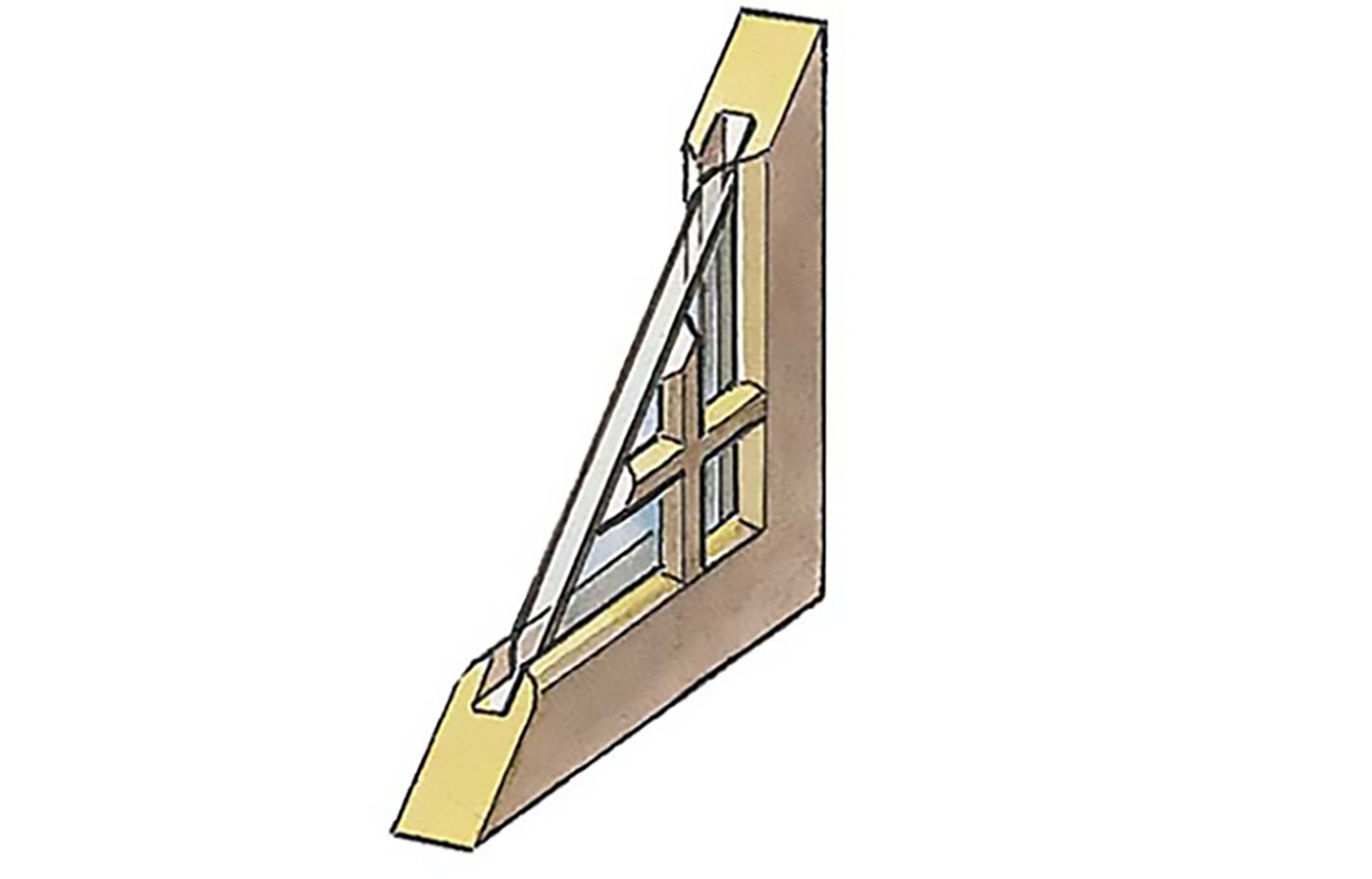 A wood grid on the indoor surface of the window is held in place with metal or plastic clips on the edge of the sash. It's easy to remove for cleaning and can be replaced if damaged, but it doesn't look authentic when viewed close up from the outside or inside.
What's a Clad Window?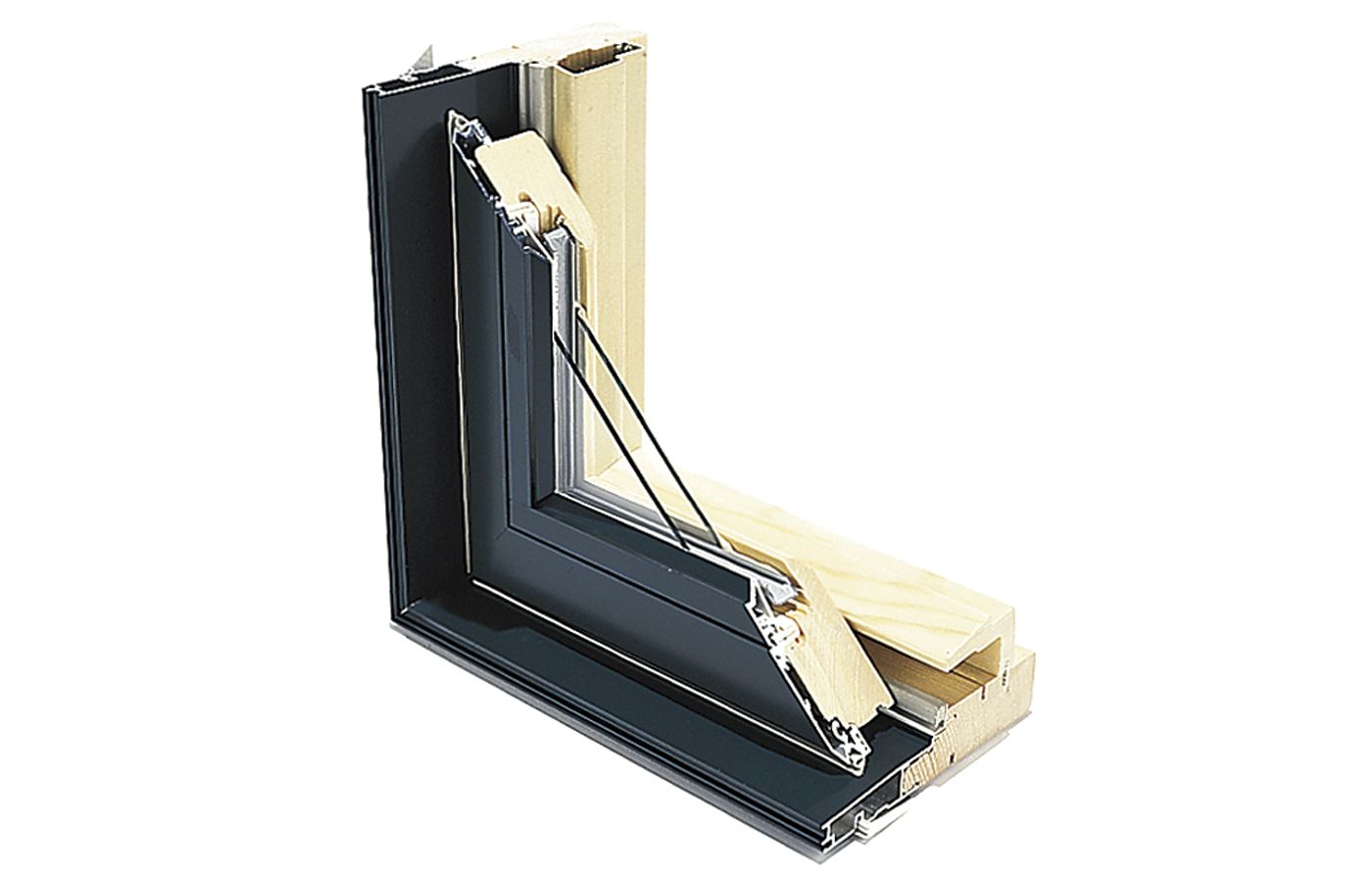 Paint is the traditional way to protect wood windows from the elements, but it requires ongoing maintenance to keep the finish intact. Cladding the exposed exterior with vinyl, aluminum (left), or copper eliminates the work while maintaining the look of wood inside your house. Easy upkeep doesn't come cheap, though. Prices for a 36-by-54-inch double-hung window start at about $285 for vinyl cladding and about $475 for aluminum, and go up to $1,400 for copper.
Alternatives to Wood: Aluminum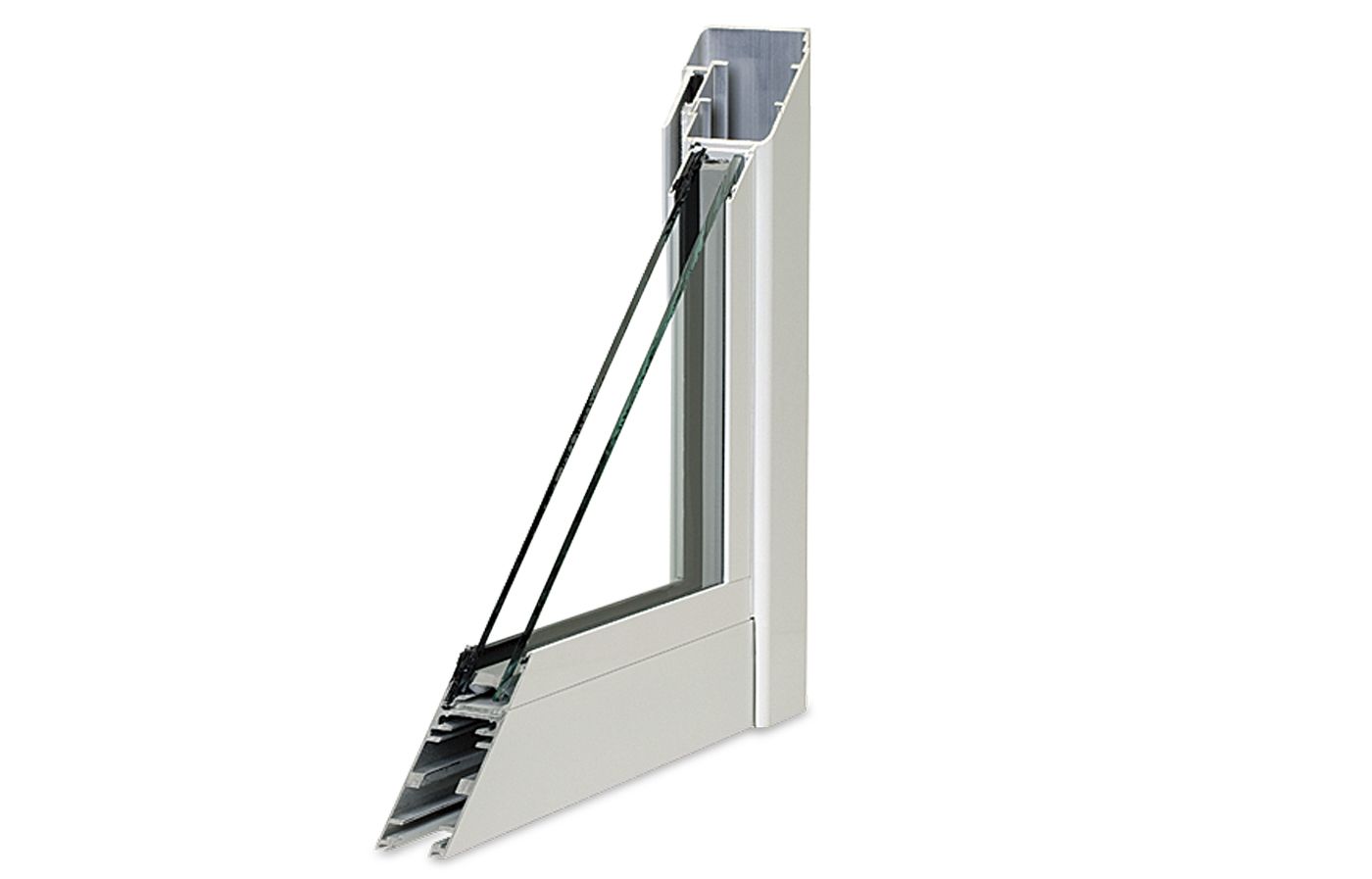 Durable; needs virtually no maintenance beyond an occasional washing. Choose from several long-lasting colored finishes. The metal conducts heat, which can result in inside condensation and lower energy efficiency.
Alternatives to Wood: Vinyl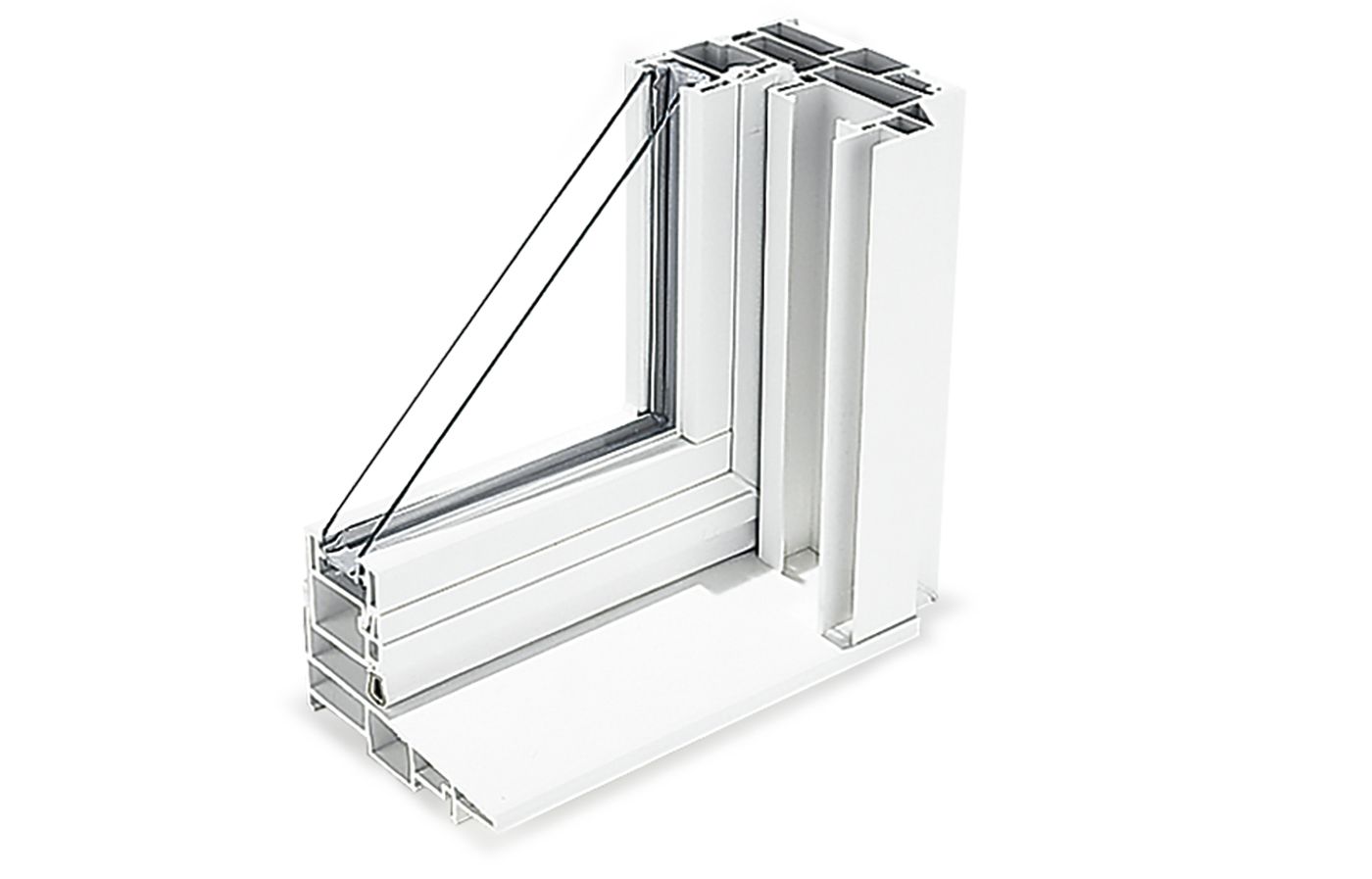 The least expensive option. Never needs painting but available only in light colors as dark hues cause vinyl to heat up and expand. Good insulator. Vulnerable to cracking in the cold. Not as strong as wood, so sash frames are thick and bulky.
Alternatives to Wood: Fiberglass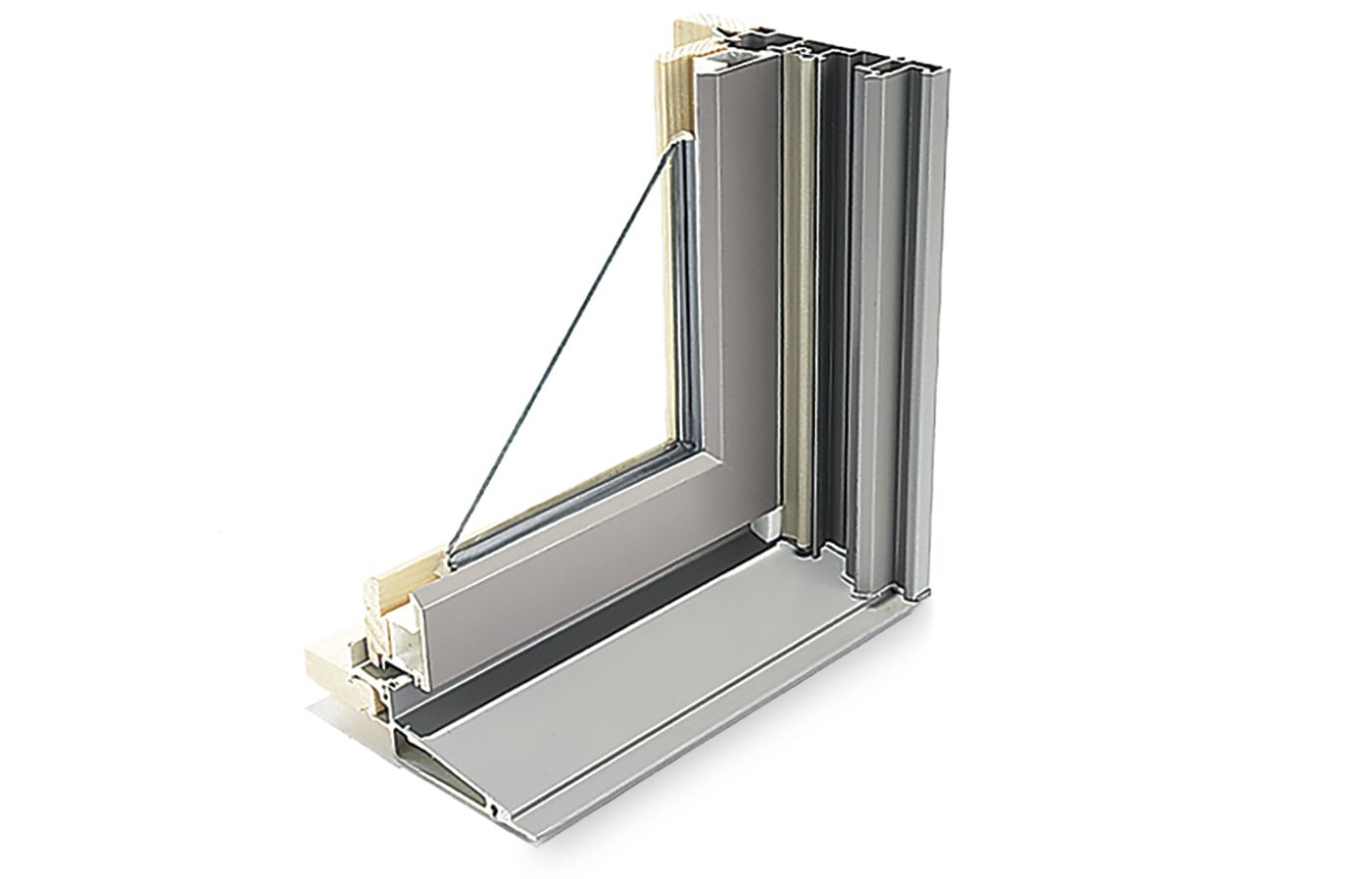 Stable in hot or cold climates; insulates better than all other window materials, including wood. Available in colors; easy to paint when dark colors fade. Can't be shaped and milled like wood, and is more expensive.