Media Room for Grown Ups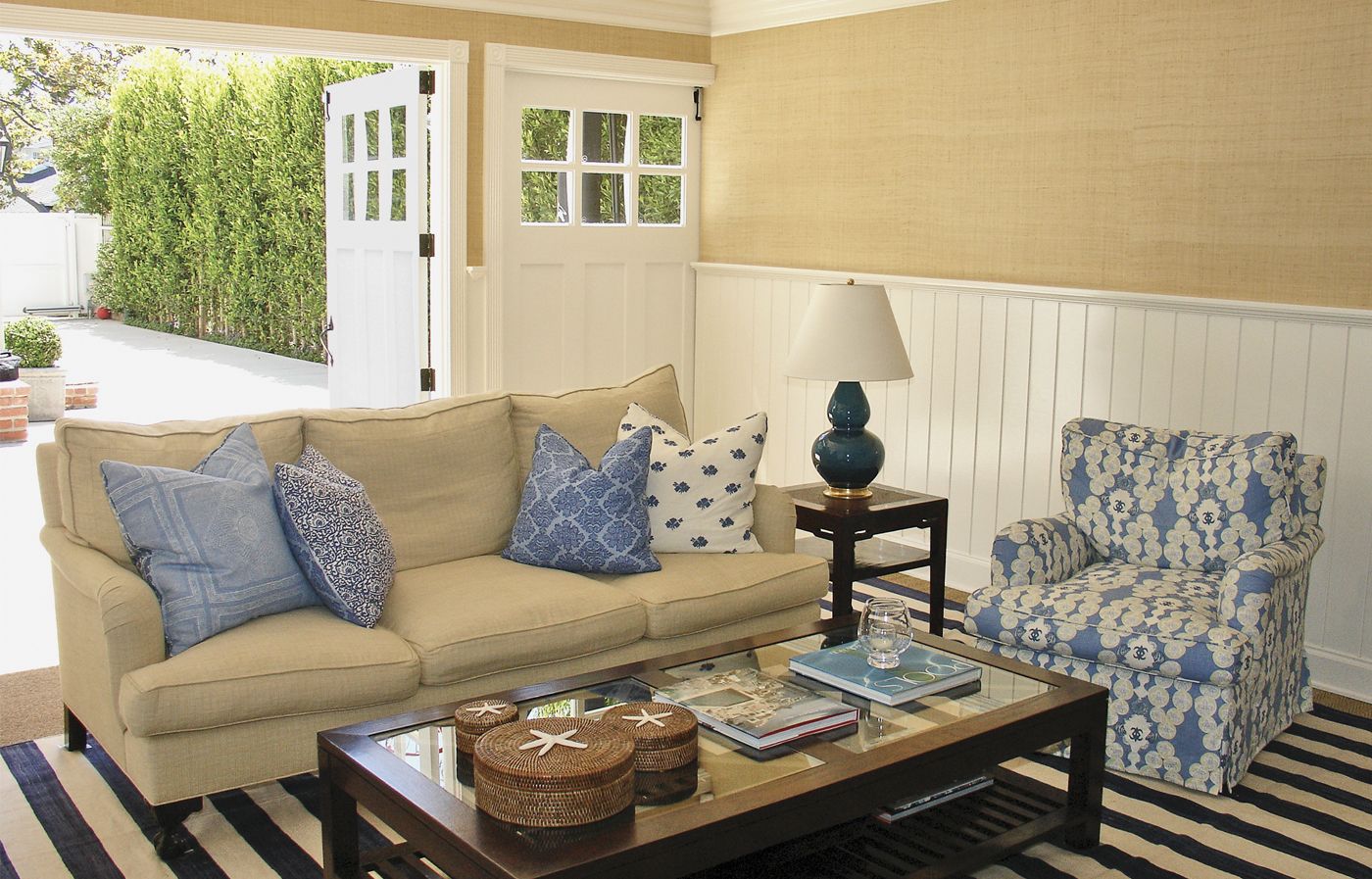 It's a familiar phenomenon: The remodel plan you begin with isn't exactly the one you end up with. For one Southern California family, a garage renovation evolved from a casual playroom for their two young kids to a well-appointed media room geared just as much to grown-ups. "When we started, we wanted a place for the kids to play their Wii Sports, which takes a lot of room," says the wife, and the seldom-used outbuilding near the pool offered a solution. Designer and builder Debra Kinner set about replacing its overhead doors with carriage-style units from Real Carriage Door Co. and building a wall—easily removable to allow for two cars should the family want to return the room to a garage someday—to create a narrow storage area accessible from outside. She put in a ceiling, finished the walls with insulation and wallboard, built an insulated subfloor, and added custom built-ins, a beverage fridge, and wiring for media equipment. As the couple watched the room take shape, they decided to upgrade the space even more, to one they could also use for pool parties. With the help of interior designer Allison Tannenbaum, in came natural-textured finishes like sea-grass carpet and grass-cloth wallpaper. The result is a comfortable—even elegant—room that the adults use as much as the kids. "We love it," says the wife. "It really completes our home."
Undercounter Fridge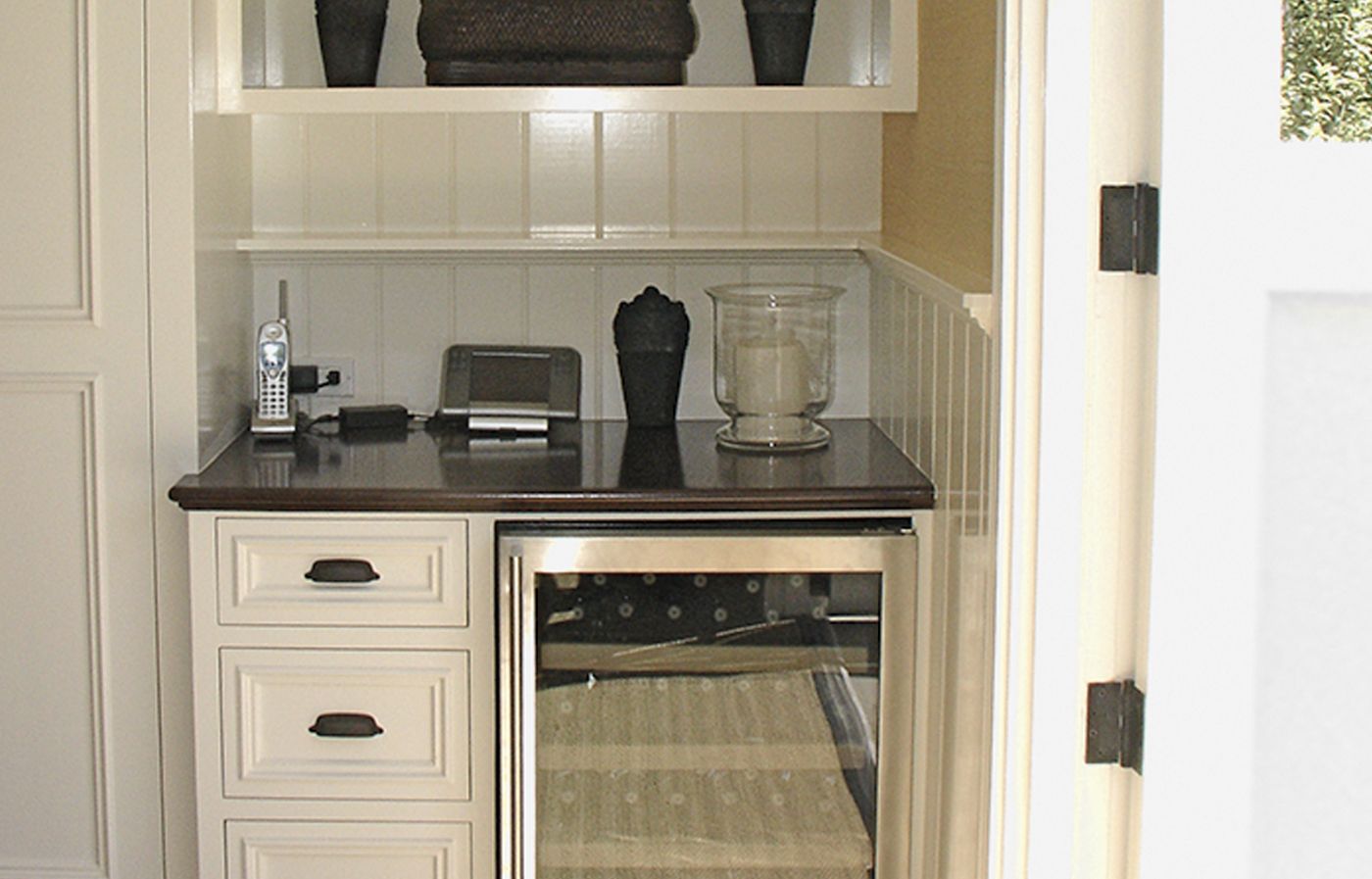 The undercounter fridge is stocked with bottled water so that thirsty family members don't have to run back to the house every time someone wants a drink.
Divided-Light Pocket Doors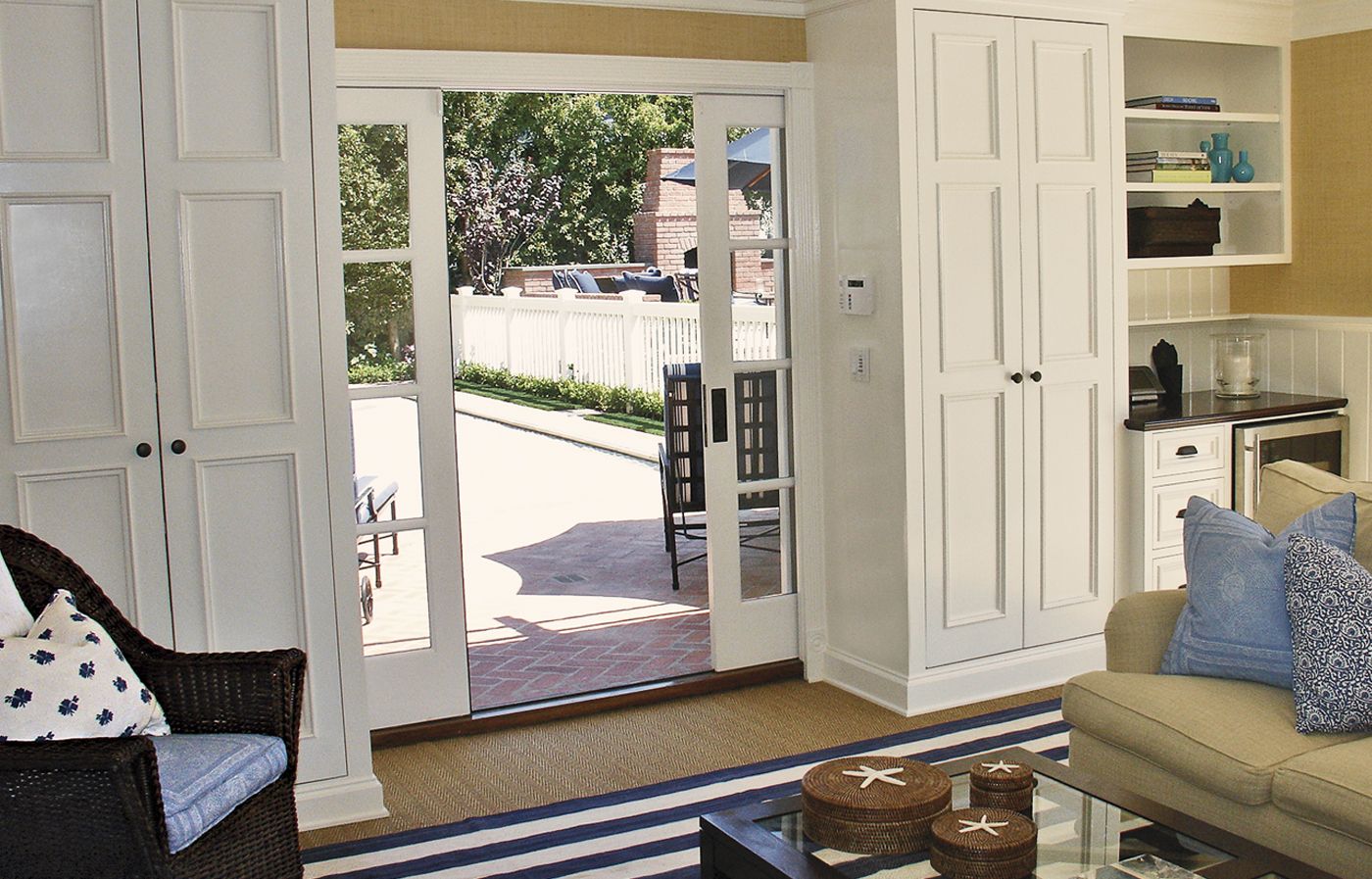 Westside Door & Moulding divided-light pocket doors on one side of the room lead to the patio and pool. Built-in cabinets hold towels, board games, and pool supplies.
Trio of TV Screens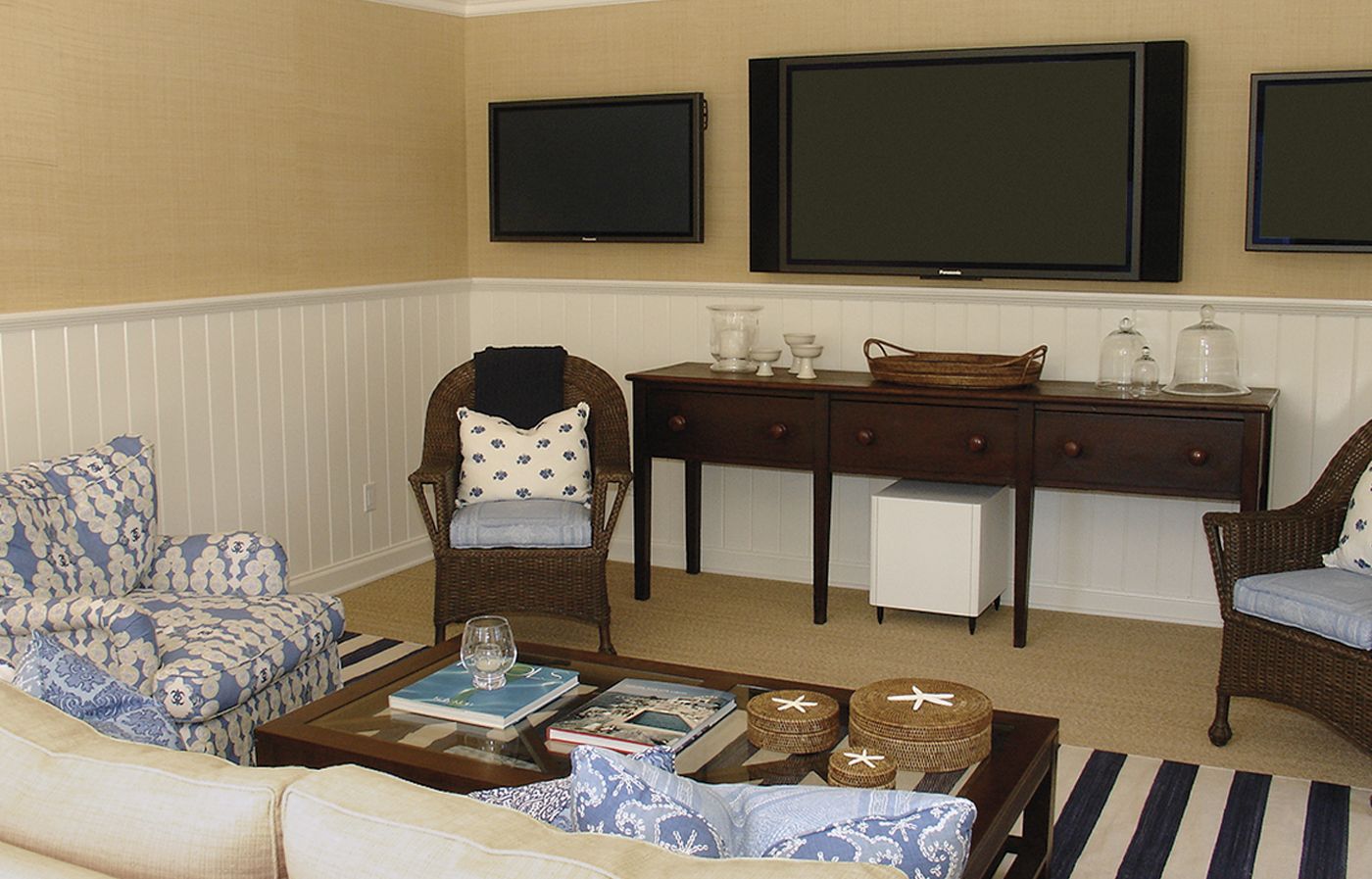 A trio of TV screens allows the couple, both sports enthusiasts, to host great Super Bowl parties, or follow two games at once while the kids play their Wii basketball or bowling.
TOH Pro Advice: Debra Kinner, designer/builder, Santa Monica, CA. says, "When finishing a garage, consider raising and insulating the floor before carpeting. It'll feel much more comfortable underfoot."
Before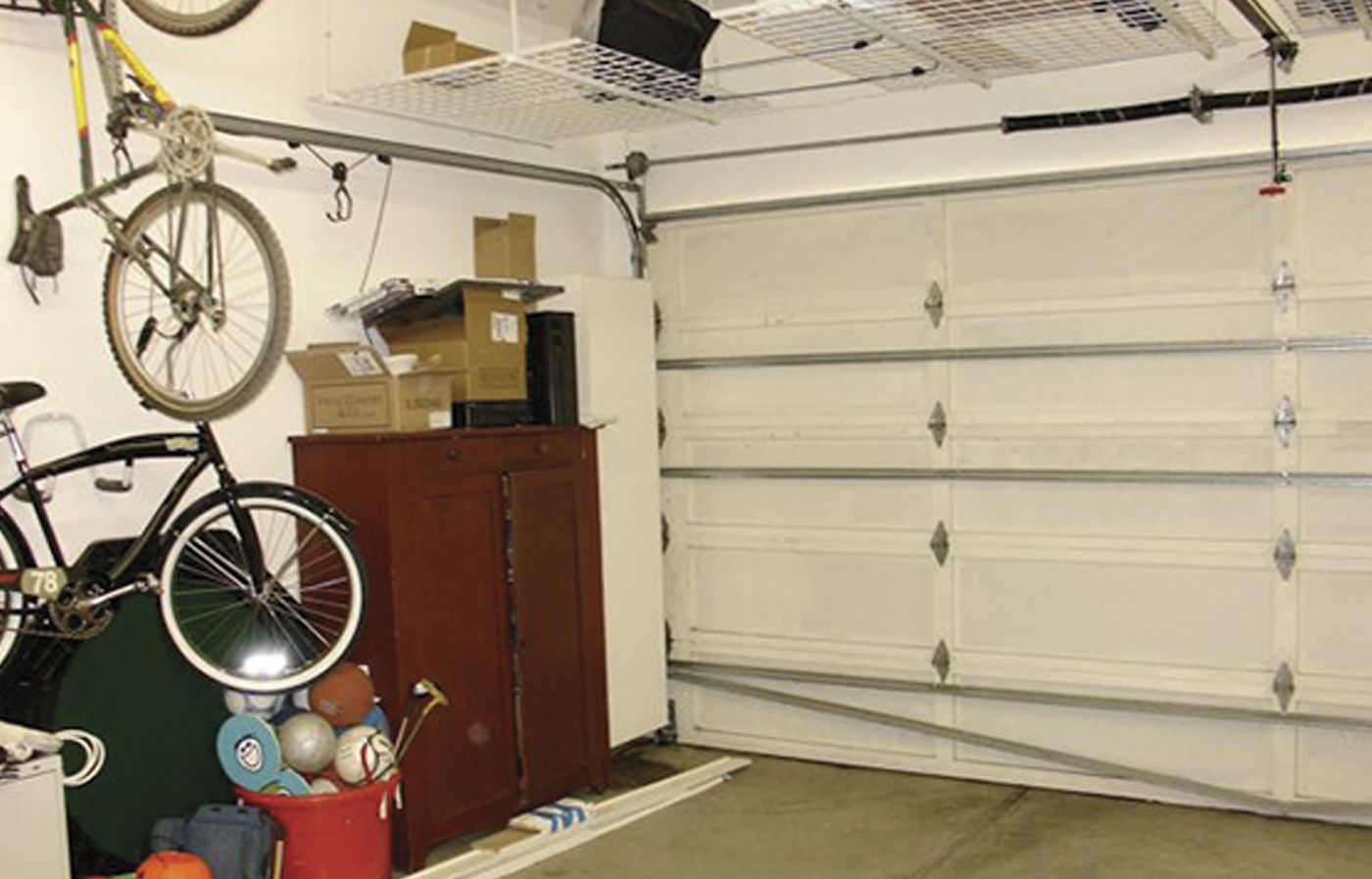 The family rarely parked in the freestanding garage, situated at the far end of the property.
What They Did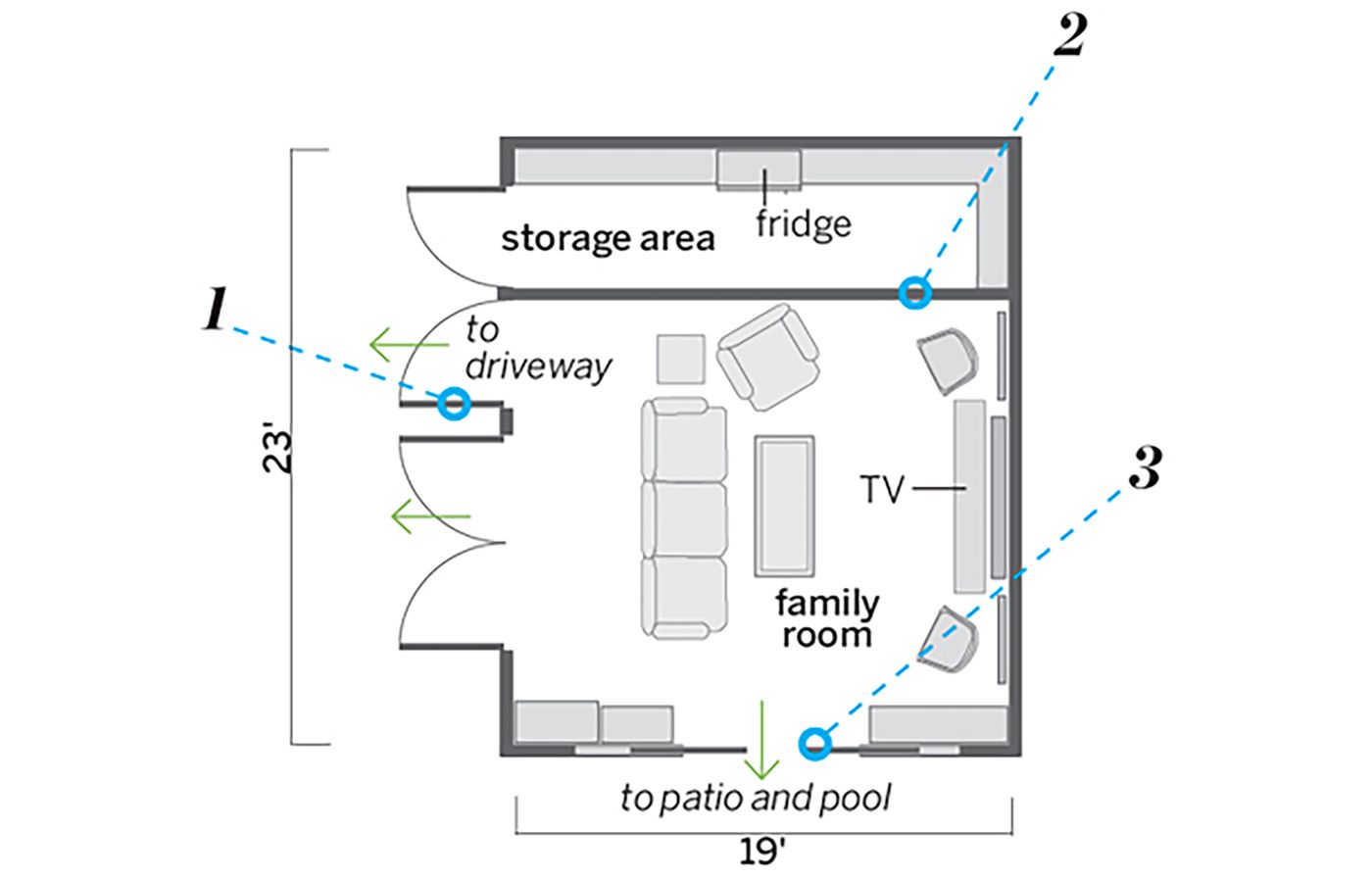 New swing-out doors, custom cabinetry, and a separate storage room transformed the 437-square-foot garage without changing its footprint.
1. Carriage-style doors made the space functional as a family room but also able to house cars in the future.
2. Adding a wall created a narrow storage room accessible only from the outside. The family uses it to hold sports equipment and a second full-size fridge.
3. Pocket doors open the family room to the pool, allowing the space to double as a cabana.