Get Cooking!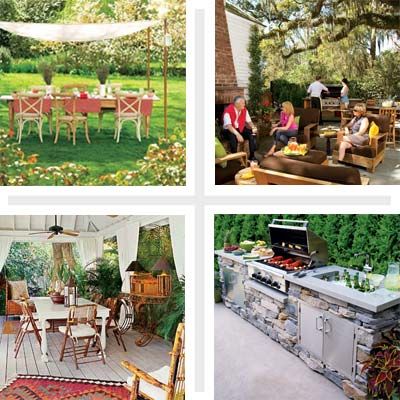 Nothing marks the start of backyard season quite like a cookout! We've got all the ingredients you need for an open-air cooking area that's truly worthy of your five-star food. Incorporate as many improvements as you'd like—and as your budget allows—then expand your chef's corner and outdoor dining spaces over time. Get started with some of our best ideas, complete with inspirational photos and step-by-step instructions.
Get Inspired to Cook Up a Great Outdoor Space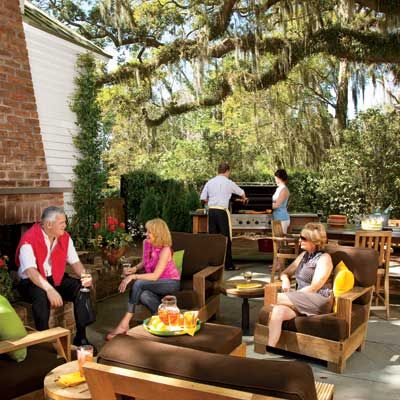 Why run back and forth to the house when you can make all of your preparations right outside in the fresh air? You'll need a food-prep surface (whether it's a custom-built bluestone countertop or a small, all-weather table), good lighting to keep the party going after nightfall, shelter for the chef (whether it's a pergola or market umbrella), and if you want to go all out, a sink and some appliances.
See the 7 musts for a five-star outdoor kitchen and our money-saving suggestions for each one in Cook Up a Great Outdoor Kitchen.
See also:
• Low-Cost Outdoor Kitchen Altrnatives
Get Luxe for Less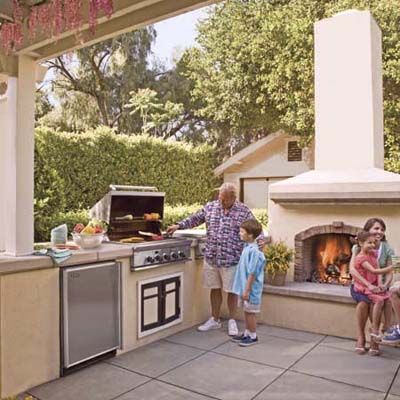 If you think an outdoor kitchen is out of your reach, think again! In Dollar-Smart Plan for an Outdoor Kitchen you'll learn how you can duplicate the gorgeous gourmet space shown here—at a fraction of the hefty $25,000 price tag! TOH tells you which elements are essential and which bells-and-whistles you can live without.
Fun bonus: Any money you spend on your outdoor kitchen will increase your home's value. "In any market a home with an outdoor kitchen would help buyers choose it over another without one," says Karen Schwartz of ERA Real Estate.
See also:
• 75 Outdoor Upgrades Under $75
Pizza-Oven Dreams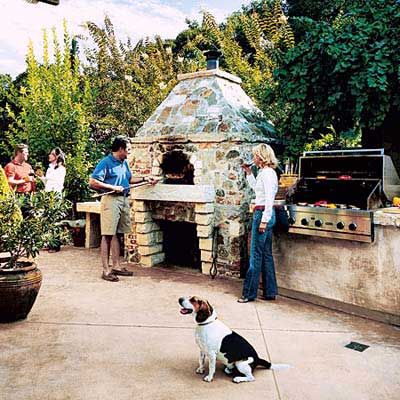 The pizza oven in this California outdoor kitchen, imported from Italy by Mugnaini Imports, was installed in a custom hearth made of a Napa Valley fieldstone called Syar. The projecting shelf, arched oven opening, and wood storage enclosure are made of local Santa Rosa stone. Pricewise option for pizza-lovers? The Villaware PizzaGrill BBQ Pizza Maker allows you to make your own brickoven-style backyard pizza right in your portable grill.
See more inspirational outdoor kitchens in Recipe for an Outdoor Kitchen.
See also:
Outdoor Dining Areas for Less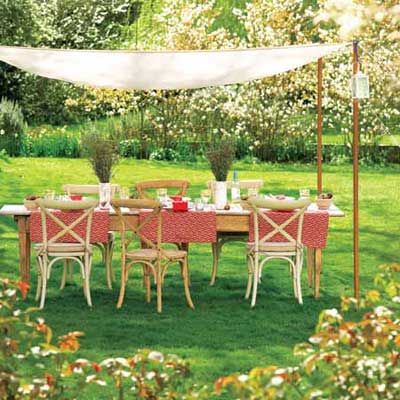 Creative design and clever repurposing can transform a sliver of the outdoors into a comfortable—and affordable—area for open-air entertaining. Here, draping fabric between four poles sunk in the ground makes for an easy DIY sunshade. Use tent pins to anchor lines that run from the pole tops to the lawn.
For more ideas to help you create the ultimate outdoor dining area, see 25 Thrifty Ways to Create Outdoor Dining.
See also:
Create an Out of Africa-Style Porch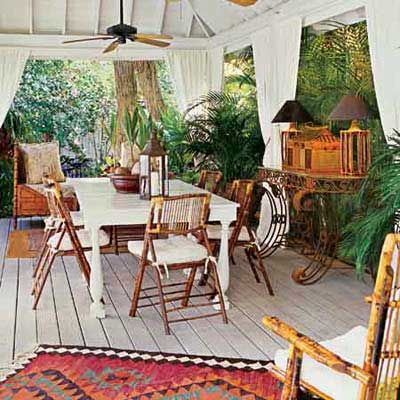 When it comes to outdoor entertaining spaces, striking the right balance between casual and sophisticated can be a challenge. This open-air dining room makes it look easy, blending British Colonial-style furnishings (including a caned daybed bought for only $20 at a flea market) with laid-back, island-inspired touches like rattan lamps and flowing curtains. "I chose elements that feel inviting but also a bit exotic," says Trip Hoffman, who designed the space. Bamboo chairs surround a gleaming white farm table while accent pieces perch atop an antique iron console; ethnic rugs provide color and help enliven the pale floors.
Want an equally eclectic look for your place? We show you how in Create an Out of Africa-Style Porch.
Create an Open-Air Dining Room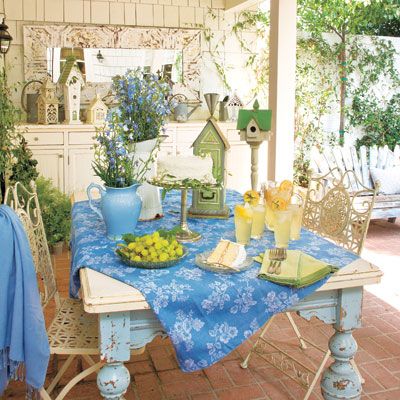 Eating outside doesn't always mean having to balance on a rickety bench or sprawl across a blanket. It can be an elegant affair, complete with all the comforts you'd enjoy indoors. With its well-proportioned farm table, ample storage, and vintage-inspired seating, this patio looks as good—and works as well—as any formal dining room. "The distressed finishes and painted ceiling border recall the south of France," says California designer Lizzie McGraw. "But beyond being pretty, this space is a fully functional entertaining area."
Want to put together your own space that's as beautiful as it is practical? Learn how to do it in Create an Open-Air Dining Room.
Building Blocks for a Perfect Patio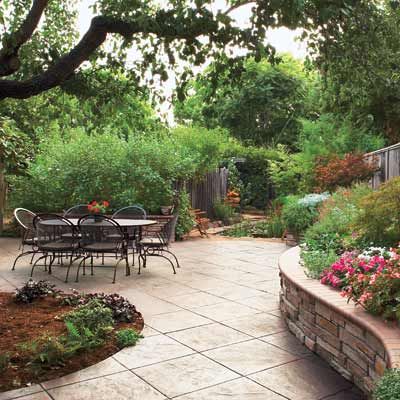 Creating a new living area outdoors is a whole lot easier than adding one indoors. Sure, you've got to furnish both. But in the backyard, there's no fussing with walls, ceilings, doors, or windows. All you really need is a floor.
That's why one of the first steps in planning a new patio is deciding which material to put underfoot, typically brick, concrete, stone, or gravel. The surface you choose plays a huge role in establishing not only the style of your patio but also its cost, whether you can build it yourself, and how you'll care for it over the long term.
Follow along to learn which patio material is right for you, get guidance on coming up with a design, and find installation tips for cost-conscious DIYers in Building Blocks for a Perfect Patio.
Build an Outdoor Kitchen (and More!) From Scratch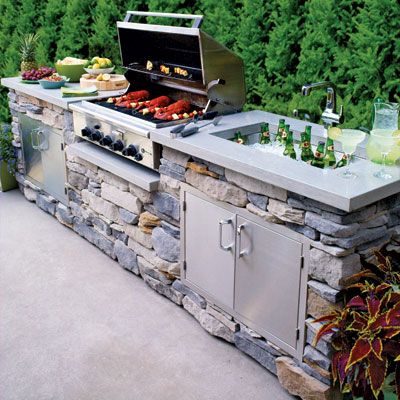 To draw a crowd—and keep them entertained—requires a bit more than plopping down a table and a few plastic chairs. With an outdoor kitchen you can prepare meals and be around your guests with minimal time spent running back inside for plates, beverages, or tongs.
Although you could spend tens of thousands of dollars for a custom outdoor kitchen, a basic island is an efficient design that leaves out the complexity of curves and angles while packing everything into one compact and handsome unit.
See the 12 steps to building the beauty shown here in How to Build an Outdoor Kitchen. Keep reading for more projects for your outdoor cooking space.
Make a Grilling Station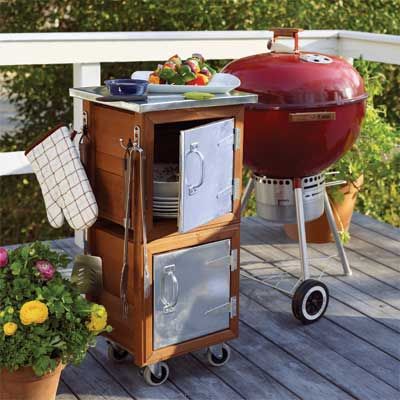 Carrying things from your (indoor) kitchen to the backyard can be a real drag. Stock this handsome cart—made of two planters and a few easy-to-find parts—and you'll have everything you need to cook up your barbecue feast.
You're three hours away from a caddy all your own! See How to Build a Grilling Station for step-by-step instructions.
Build a Picnic Table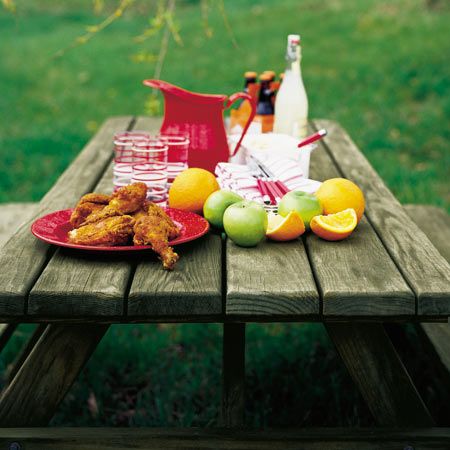 If you wanted to set up a folding table and chairs for your barbecue guests, party planners say you'd need to allot 10 square feet per person to create enough access. Do that on the average deck or patio and things could get a bit chaotic. A classic picnic table with attached benches is the perfect solution. This staple of backyards and parks—with its elbow-to-elbow dining and climb-over seating—works in all terrains, so you can move off the deck and onto the grass.
Create this classic outdoor seating with step-by-step help from How to Build a Picnic Table.
How to Build an Outdoor Bar Cart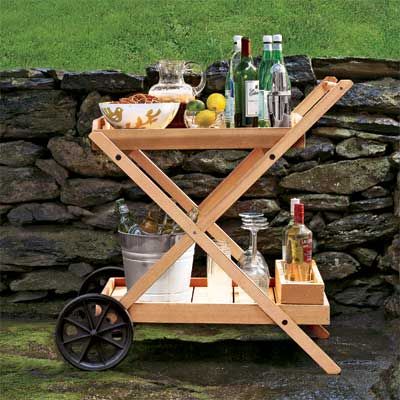 If your usual method of serving beverages at a barbecue involves a Styrofoam cooler and a bag of ice, it's time to think about an upgrade. This mobile cart is tough enough to withstand sun, rain, and spills. Two-wheeled construction lets you navigate stone patios or lumpy lawns with ease, and the top tray is removable for serving drinks or munchies. Best of all, the entire thing can be easily taken apart and stored flat—or, better yet, stashed in your trunk for tailgate parties later in the year. What better project to celebrate the beginning of grilling season?
This Old House senior technical editor Mark Powers shows how to put it together using cedar and outdoor-grade materials in How to Build an Outdoor Bar Cart.
Turn a Salvaged Sink into an Outdoor Bar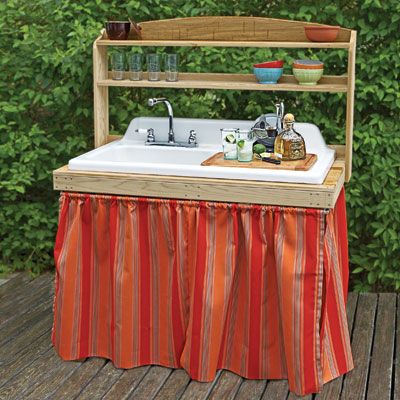 The core of the project is a 1950s cast-iron sink from a salvage yard for $200. It's supported by a $279 cedar potting bench that we assembled in about an hour from a kit. Stoppered and filled with ice, the basin is great for chilling beers. Drain waste water into a bucket placed below the sink or, if you hook the faucet to a garden hose, divert it through PVC pipe. To hide the bottom storage shelf, we added a colorful skirt made from four yards of Sunbrella fabric.
Want to make one just like it? We'll show you how in How to Turn a Salvaged Sink Into an Outdoor Bar.