Landscaping Results Worth The Effort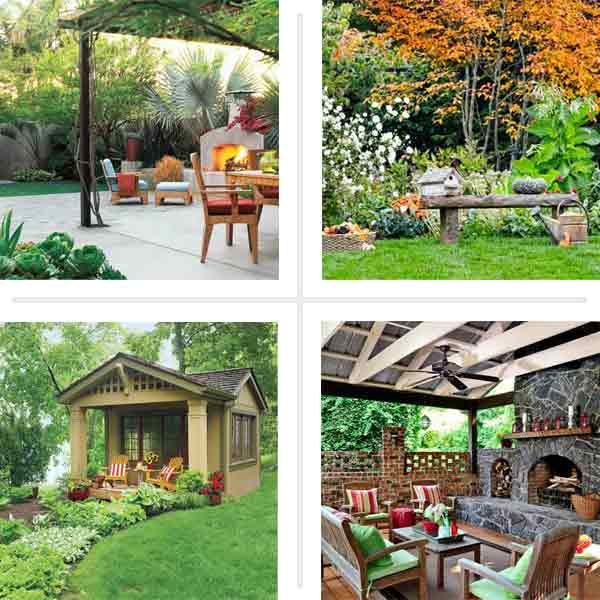 Creating and maintaining a dream landscape isn't the quickest or easiest job on the to-do list, but the homeowners we've featured over the years prove again and again that the results are well worth the effort. We have searched our archives for the most stunning yard and garden makeovers ever to help inspire you to turn your lot into an oasis you'll love.
Stretching a Small Yard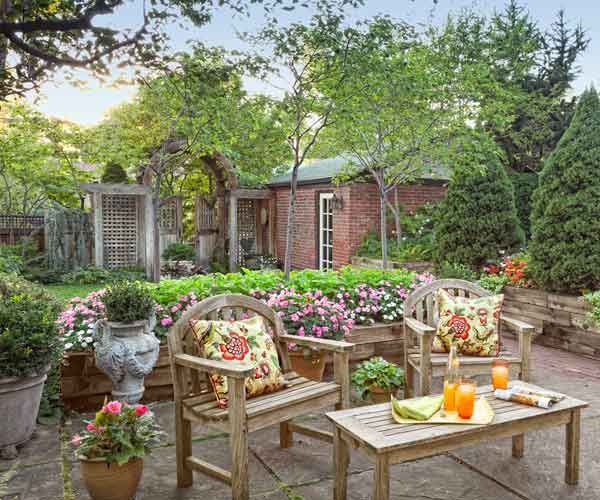 Mike Eagleton is often asked to conjure miracles from small, cheek-to-jowl city lots. The Denver landscape designer's own yard, around a 1929 brick cottage south of downtown, is a prime example of his professional sleight of hand. Within its 50 by 120 feet, he has incorporated sunny, street-side perennial beds, a private entry court in the rear, an elevated outdoor dining room, a secluded lounging terrace, a carpet of lawn, woodland views, a potting shed, and several destination strolls that lead to musical, spilling fountains.
See the whole yard and his strategies for maximizing the beauty and utility of a modest-size lot.
Front Yard Community Garden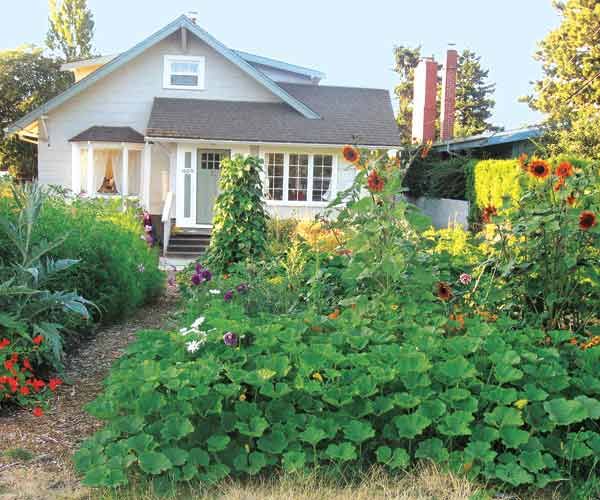 When a Portland, Oregon community garden, Birch Community Services (BCS), lost one of its two plots, Angela Baker covered her family's entire lot into 31 fruit and vegetable beds to contribute produce to BCS families.
See more details of the garden's transformation.
Perennial Paradise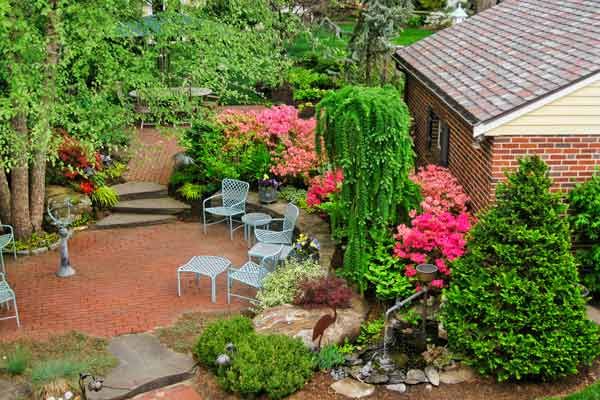 "Maintaining the garden takes about 60 hours a week—but I love it!" —Joyce Hannaford, Natick, Massachusetts
After clearing a yard that had been ignored for years, homeowner Joyce Hannaford created two brick gathering spots surrounded by curved stone walls, conifers, and azaleas.
She has subdivided her third-of-an-acre yard into a dozen irrigation zones fed by an automated system hooked up to a 150-foot-deep well. She still hauls 100 feet of hose around the garden, though. "I like to really soak certain plants. I do it late in the day. I find it soothing. It forces me to take a harder look at a spot."
See more of this passionate gardener's Perennial Paradise.
Living Large in a Small Yard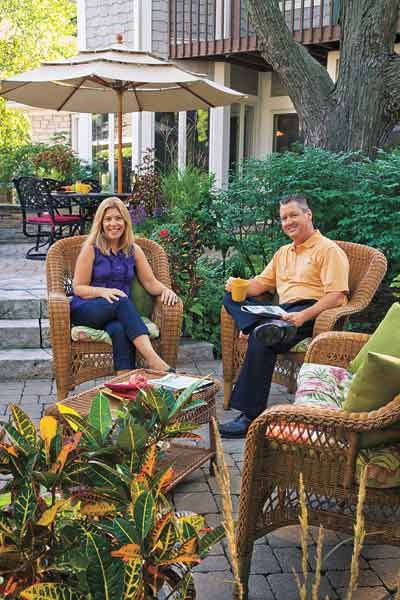 It took five years for George Kinsella and his wife, Susan, to remodel their 1940s Chicago-area home. Once the house was finally finished, they could concentrate on the landscape, which presented a few challenges. A worn wood deck claimed half the backyard, a 3-foot incline tilted down from the back door to the end of the lot, and George had a long list of what he wanted in the tight 33-by-57-foot space: a koi pond; a dining area with room for a grill; places for lounging and entertaining his family and friends; a putting green; and an outdoor spa. Out front, he wanted a spot to sit and watch his four teenage sons toss a ball around.
See their seven strategies for turning a not-so-big yard into a series of beautiful, useful outdoor rooms.
From Bare Yard to Flowery Garden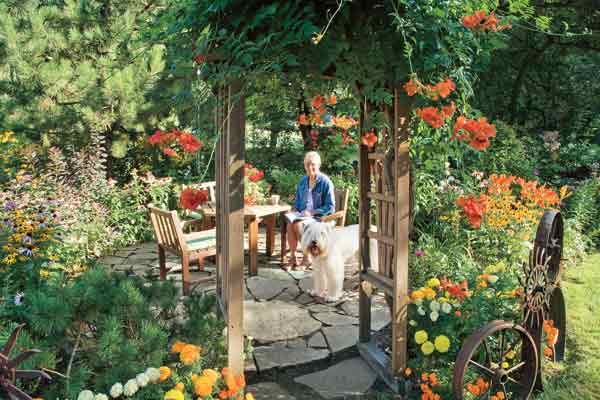 You've probably read that a well-designed garden starts with an overall plan. And that having one can save you a lot of grief. However, Susan Martin transformed her own acre of scrubby trees and lawn into a colorful garden without ever putting pencil to paper. Instead of following a paint-by-numbers planting scheme, Susan simply experimented and watched to see what worked and what didn't.
In the process, she discovered tricks that can help gardeners who don't think in terms of grid lines and circles on paper.
See the whole garden and get tips from the trial-and-error lessons she learned in creating her stunning landscape.
Late-Season Garden Sensation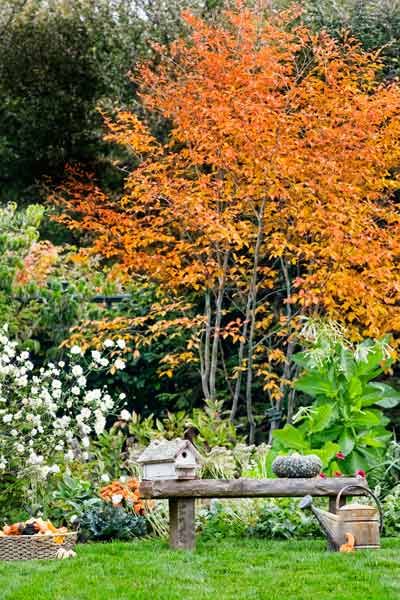 When the time came for Robin Coleburn to design her garden rooms, the apple trees that surround them set the pace. The orchard not only gave the connected outdoor spaces their grid but also influenced their bloom schedule: While most gardens hit their stride in spring and early summer, then limp along into fall, Robin's follows a different rhythm. Autumn has always been a big moment in her landscape. And over the years she has found additional creative ways to make the growing season go out with a bang rather than a whimper.
See more of these colorful garden rooms and that showcase fall-blooming perennials, long-flowering annuals, and a fruitful harvest.
A Small Yard With Big Impact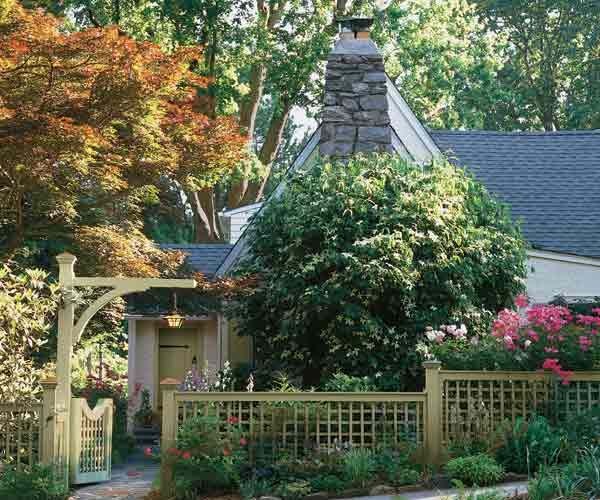 To create a feeling of expansiveness in a small yard, Christopher J. Cohen carved out distinct garden areas and outdoor rooms. Here, an ornamental border along the street adds curb appeal, an entry garden welcomes visitors, there's a private patio for dining, and a woodsy backyard for lounge-chair relaxing—all on a 60-by-100-foot lot. Not only do the "rooms" make the yard more functional, they keep from revealing the whole place at once, so there's a sense of discovery as you move through them.
See 7 ways he turned a little lot into a series of useful, beautiful outdoor rooms.
The Easy-Care Yard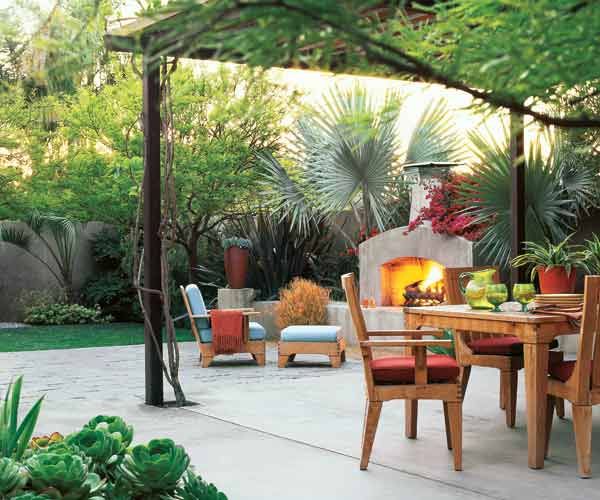 One reward of overhauling other people's properties for a living is experience that you can put to use on your own place—eventually. For eight years, Vincent Ocampo worked as the contractor half of a design-build team in Southern California with garden designer Nicole Lopez. He loved how their work blurred the boundaries between indoors and out.
Using no-fuss materials and water-thrifty plantings, he gave his own small urban lot plenty of visual punch and practical outdoor living space while minimizing upkeep.
See the five key ideas he put to work—and you can too.
A Pro's Home Garden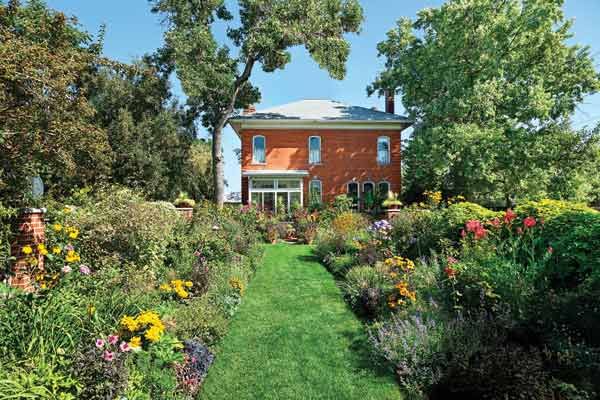 Some gardeners do everything by the books. Others wing it and watch. Rob Proctor is in the latter group, which may explain why his gardening segment on Denver's NBC local morning news has been running for 10 years now. Twice a week, the former horticulture director of the Denver Botanic Gardens delivers tips that viewers trust because the proof is right there to see: Proctor's half-acre garden, a true paradise.
Besides using his garden and its needs as a backdrop, Proctor frequently devotes time to answering viewers' questions. He favors questions for which he can offer useful, time-tested advice. It sometimes runs counter to conventional wisdom. But his philosophy is that truth is in results, not instructions on a package.
Find for his real-world, learned-by-doing insights for 18 commonly asked questions.
A Well-Decorated Garden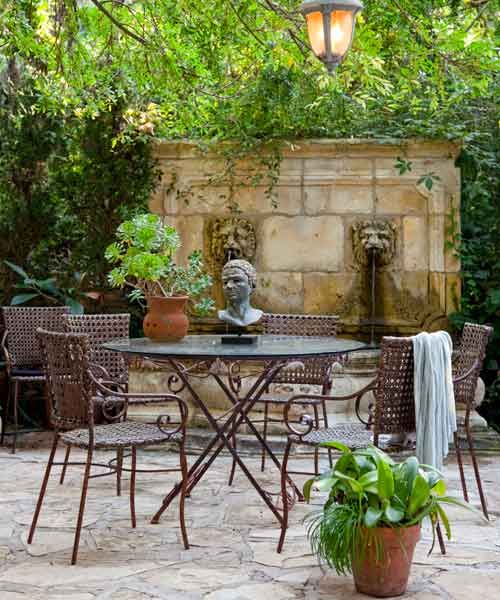 Much more than an afterthought, garden ornaments can guide how you shape and use your outdoor space, and affect how it feels when you're in it. A wrought-iron gate can mark the entrance to a world of green, a tree-hung lantern raise your perspective, a curved bench inspire a nap. Carefully placed, pretty yet practical, these elements offer subtle but effective clues: Turn here. Look up. Slow down. They also give a garden space a finished look in all four seasons. The trick is to not overdo it.
See 18 ways ornaments will add dimension and year-round appeal to your landscape.
The Sustainable Garden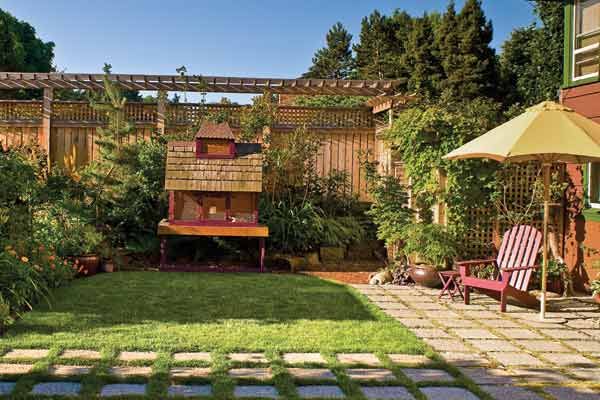 A sustainable garden, one that supports the local ecosystem and spurns chemical intervention, can be as beautiful as it is virtuous. Jennifer Carlson thought about how each part of her Seattle backyard garden could be engineered so that it would add up to one self-supporting loop. From rain barrels that harvest water for irrigation, to permeable paving that allows runoff to percolate into the soil, to a fence that composts garden clippings, every backyard element contributes to the landscape's sustainability as well as its beauty and productivity.
See how she did it and how it all works together.
A Relaxing Garden Retreat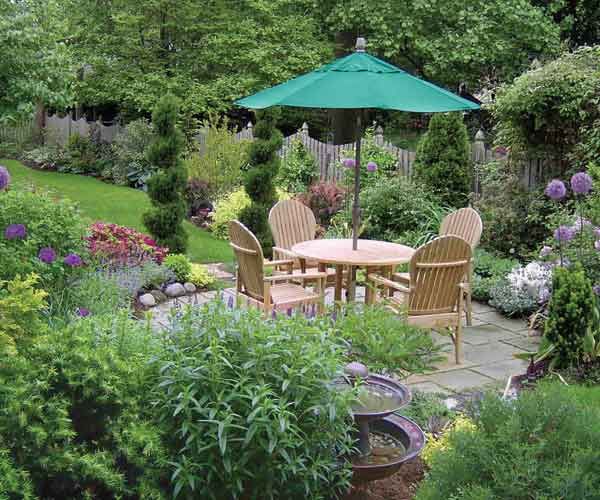 After a winter stuck inside renovating her 1890 farmhouse in Wyndmoor, Pennsylvania, TOH reader Maria Hasenecz was eager to head outdoors.
Maria needed a place to sit and dine outside, so she installed a circular flagstone patio near the back kitchen door. To size it right, she planned for a 42-inch table and four seats, with room to pull out the chairs and walk comfortably around them. Today it is surrounded by lush perennial gardens that extend all the way to the boundary fence.
Find out how her garden grew—and provides tips that you can use to create your own backyard retreat.
A Charming Garden With Planter's Punch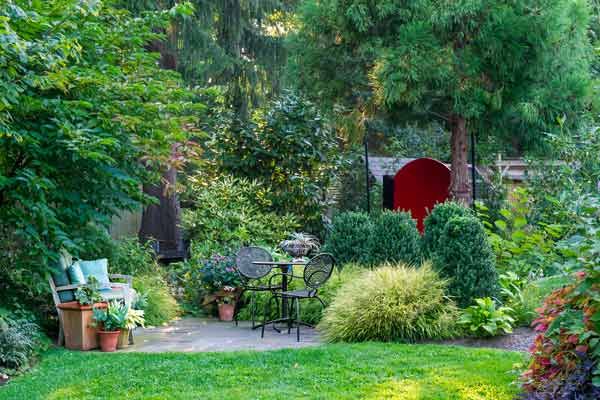 Familiar plants such as daffodils, hostas, and ornamental grasses bring texture and movement to stark winter scenes. Such plants are loved because they're beautiful, reliable, and mostly carefree. But take a stroll through the garden of Andrew Bunting, and you'll likely come away inspired to try something new.
As curator of The Scott Arboretum of Swarthmore College, a 300-acre campus outside of Philadelphia that doubles as a public garden, Andrew is charged with showcasing thousands of unusual plants. And as you might expect, a career spent tending to rare collections has influenced his choices at home, too.
See how he artfully mixes familiar favorites with more unusual plants in this charming garden.
Backyard Rose Garden Paradise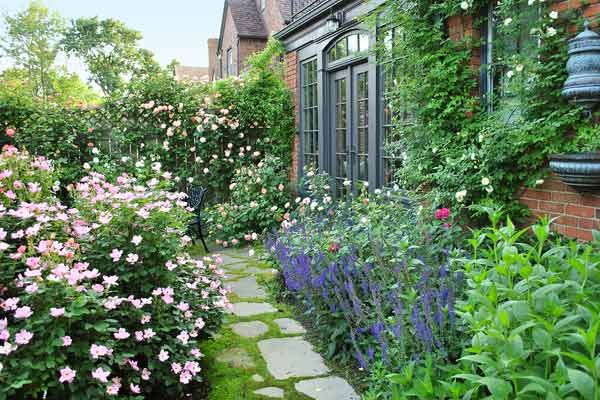 On the way to swapping turf for cottage-style plantings, this self-taught gardener discovered a passion for her new pastime
Seven years ago, Corky Thacker was a gardening novice, though you'd never know it from the looks of her yard today. Back then, she and her boyfriend, Michael O'Brien, were too consumed with renovating their 1930s Tudor Revival house to worry much about their green space. It wasn't until the next-door neighbors piped up about unkempt shrubs scratching their cars that the couple turned their attention outdoors. The privet hedge along the side yard would have to go, which got Corky thinking about what could take its place.
See how Corky swapped turf for cottage-style plantings and discovered a new passion.
Garden Beauty on a Budget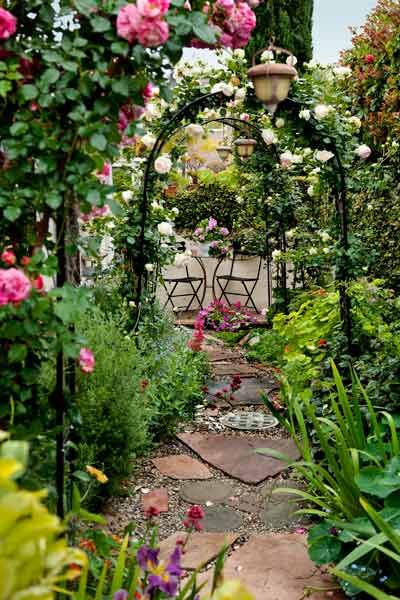 When Brigitte and Charles Christensen moved to their Southern California home 17 years ago, it was tough to even make a dent in the rock-hard adobe soil. Today the soil is soft and fluffy, and the Christensens' quarter acre is lush with 75 kinds of roses and nearly as many types of perennials, plus trellises, fountains, a terraced vegetable garden, an estate-worthy rabbit hutch, a rock-lined fishpond, a winding brick path, and several outdoor dining areas. And it was all done on a shoestring, thanks to help from family and friends, contributions from other gardeners, and a few clever work-arounds to save money.
See how this resourceful couple turned their lot into a series of exuberantly romantic gardens.
A Secret Garden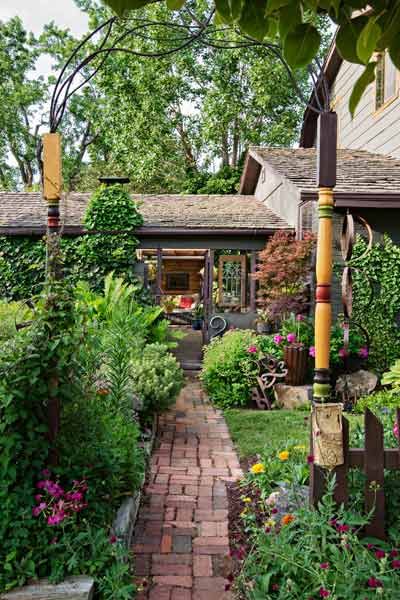 Holly Fliniau didn't really have a plan when she started landscaping her corner property in Denver, but what evolved could be a textbook example of good garden design. She created a series of "rooms" that flow into one another and yet each have a distinct sense of place. Vine-covered fences and arbors shield various seating areas from the streets but don't come across as unfriendly walls. And generous plantings on both sides of the sidewalks give neighbors plenty to enjoy as they walk by on their way to the neighborhood park.
See how Holly carved out her own private oasis on an urban lot.
DIY Glassed-In Sitting Room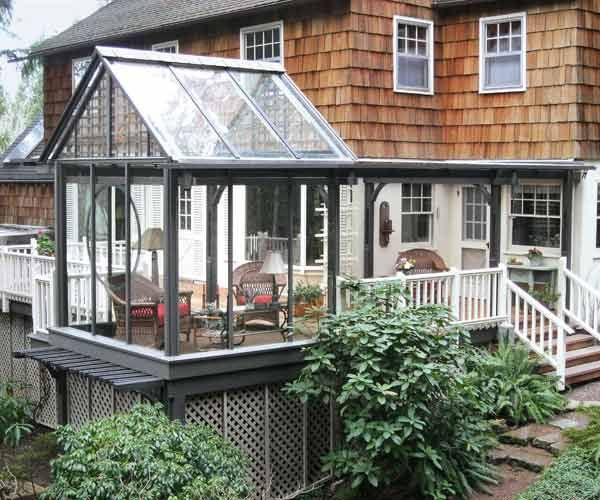 Mike Sala of Damascus, Oregon crafted a new cedar deck, complete with a stunning glassed-in sitting room, using almost exclusively recycled materials. He has salvaged and upcycled for his whole life, so he already had most of the materials needed to build a new deck when his wife, Kathleen, put her leg through the rotted boards of the old one. He knew how he would make it up to her.
See the transformation of this DIY backyard deck space.
Timber-Frame Playhouse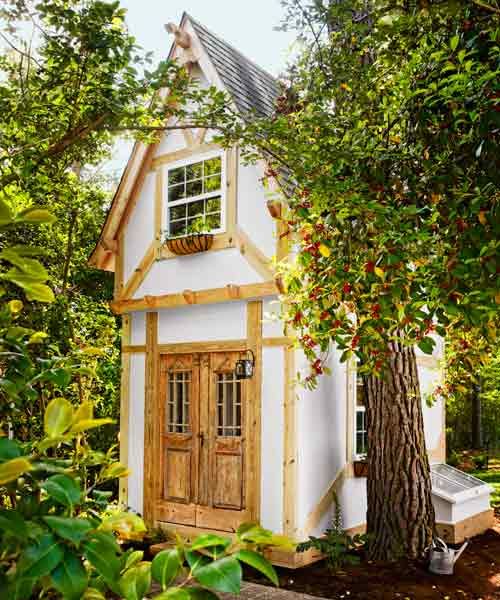 David Trepp of Newport News, Virginia crafted a detailed replica of the timber-frame buildings he had admired abroad to give his daughters a magical place to play. The carved entry doors were purchased by David and his wife, Elizabeth, over 21 years ago, complete with their iron lockset, from an antiques dealer in Germany. After moving from Germany to the U.S., the doors sat in the garage until David realized he could build a playhouse around them.
See more of how this unique outdoor project came to life.
Screen-In Garden Room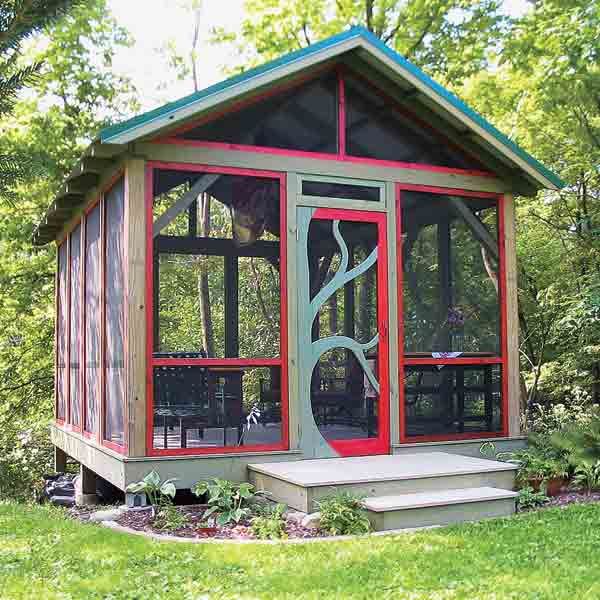 Karl and Carmen Jungbluth of Boone, Iowa love the outdoors. They garden, watch birds, and entertain on the deck. But the past few rainy summers have caused mosquitoes to be a problem. They would try to eat dinner outside, only to retreat into the house. They decided a screened-in room was the best way to solve the problem and would also provide a focal point in the garden. Karl felt confident they could tackle this project, as he grew up on a farm and they often volunteer for Habitat for Humanity together.
See how they created their screened-in garden room.
Cottage-Style Shed Redo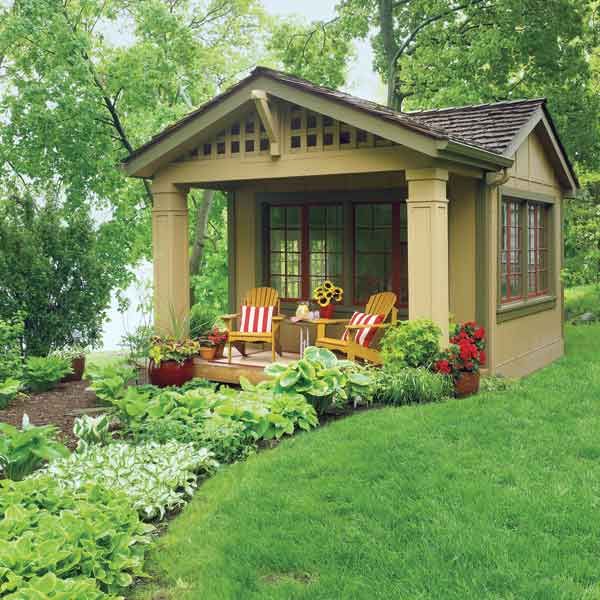 Lynn Boughton and her husband moved into their Brooklyn, MI home in 2001. They also inherited its sad, lonely shed. She saw that the outbuilding had potential as a focal point in the center of a leafy green host garden. She then mapped out a renovation plan, including lots of windows and salvaged materials; reusing old things is a passion of hers.
See how she incorporated salvaged windows and added gabled porch and hanging daybed.
Entertaining Paradise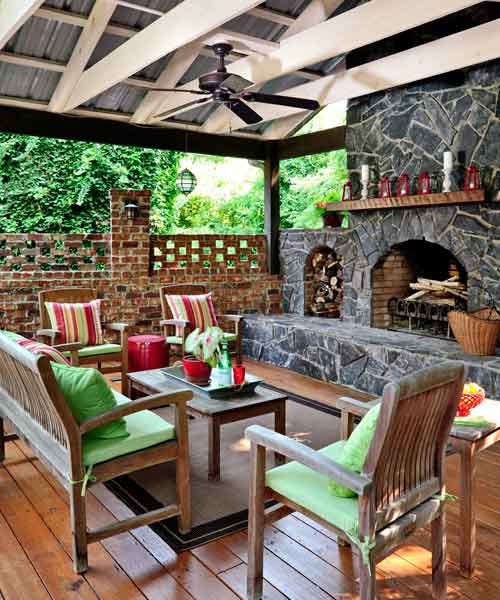 The quarter-acre lot behind John and Linda Marshall's 1946 home, in Statesville, NC had plenty of lawn but only a little patio with next to no seating. It also had plenty of eyesores, like sprawling shrubbery and a chain-link fence. The space was uninviting enough to keep the couple from enjoying it themselves, much less with friends.
The Marshalls wanted an outdoor area to cook, eat, and relax in, as a family and with guests, so they met with a garden designer and a plan took shape. The outcome is a gorgeous deck and an open-air structure that is a three-season entertaining space.
See the transformation of their backyard.
Ultimate Shed Bonus Room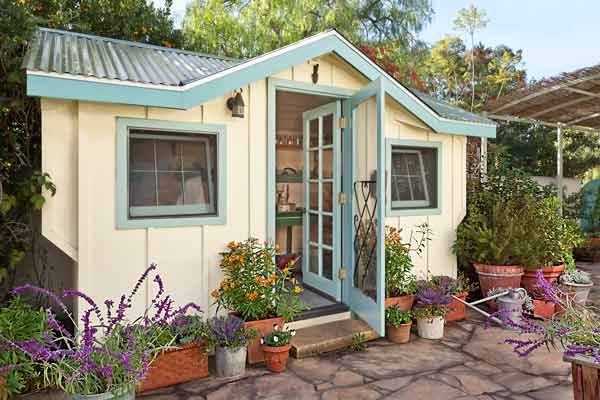 Sharon Lovejoy and Jeff Prostovich succeeded in creating the just-right shed to support her passion for plants and the career she's built as a garden writer, author, and illustrator. Christened "Sprig," the shed holds some of the garden collectibles that inspire Sharon's illustrations, gives her a place to dry herbs, and serves as a backup studio to her main workspace, an outbuilding in the backyard of the couple's San Luis Obispo, California, home.
See how the couple built the sheltered workspace for Sharon with a traditional look that enhances their home's vintage charm.