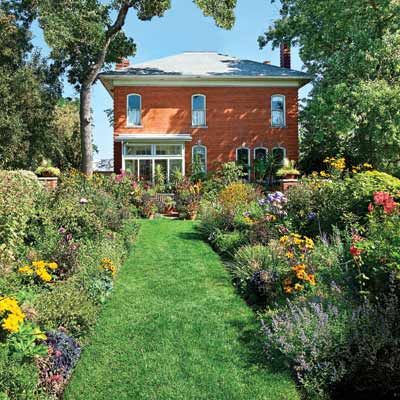 Some gardeners do everything by the books. Others wing it and watch. Rob Proctor is in the latter group, which may explain why his gardening segment on Denver's NBC local morning news has been running for 10 years now. Twice a week, the former horticulture director of the Denver Botanic Gardens delivers tips that viewers trust because the proof is right there to see: Proctor's half-acre garden, a true paradise.
Besides using his garden and its needs as a backdrop, Proctor frequently devotes time to answering viewers' questions. He avoids queries like "How do I keep deer out of my garden?" because saying "Don't move into deer country" doesn't really help anyone.
Instead, he favors questions for which he can offer useful, time-tested advice. It sometimes runs counter to conventional wisdom. But his philosophy is that truth is in results, not instructions on a package. Read on for his real-world, learned-by-doing insights.
How to Design a Garden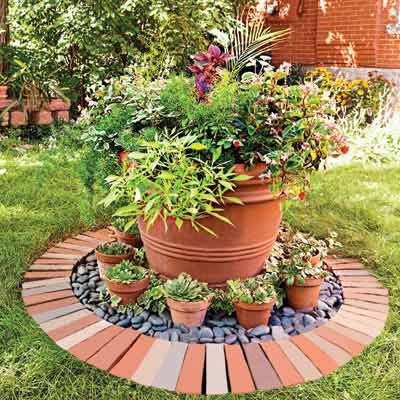 Q: How do I come up with a good design?
A: Go on garden tours and study the gardens you gravitate toward, whether formal or more relaxed. In general, I think a garden with wide, curving borders works best. Just don't try to cram too much drama into a 2-foot-wide strip. Get bold and make borders or beds 6, 8, or 10 feet deep.
If you're torn between wanting order and not having time to stay on top of every garden chore, I suggest framing beds with tidy features and then letting the rest of the garden be more freewheeling.
Surrounding each part of the garden with a low hedge makes a neat frame. For my own house, which is rather formal, I wanted a garden with structure. So l use narrow strips of lawn and brick columns to frame perennial beds that are pure chaos. I also laid out the garden so that people would turn corners and be surprised; I didn't want them to see it all at one time. But everybody's style of house and garden is different.
Groupings Are Essential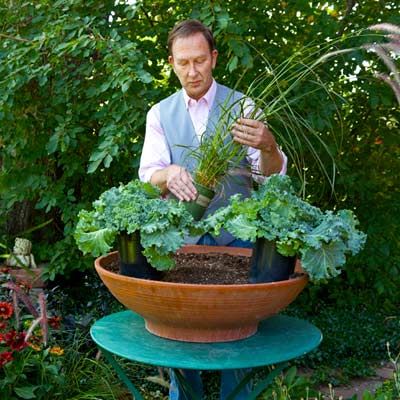 One thing that doesn't work: planting one of this and one of that. You need groupings and drifts of plants. But don't make the drifts too massive or you'll have a mass of nothing when the plants are out of bloom or without their leaves. Another thing to avoid: taking inspiration from landscaping in parking lots and office parks that's just about filling blank spaces.
Using Your Patio Space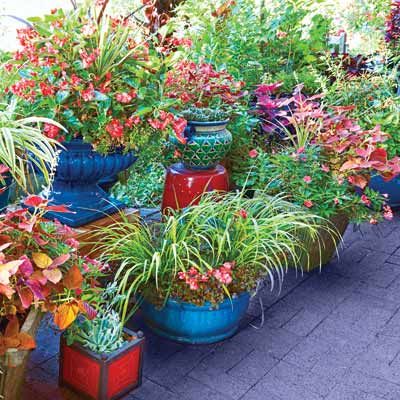 Q: How can I ensure a patio will really be used?
A: To work as an outdoor room, a patio needs some sense of enclosure. My main patio wraps around the back of my house, so it's L-shaped, about 30 feet long and 15 feet wide. I also have a dining patio in the shade that's 15 by 15. In both places, I put out lots of containers to create that sense of enclosure. It's important to provide comfortable seats and plenty of places to set down a cup.
On Choosing the Best Trees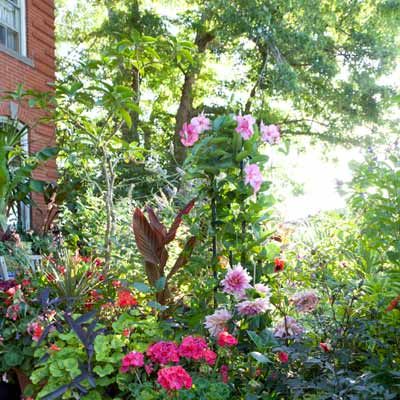 Q: What's the best tree to plant?
A: This, of course, depends on your climate and the size of your yard. But, in general, you're likely to get the most enjoyment from trees that naturally stay rather small. Because we're a mobile society, most people don't get a chance to watch a tree grow to maturity. But if you plant a small tree, maybe you can watch it grow up. Semidwarf fruit trees are really rewarding. So are small flowering trees, like redbud and golden chain tree. These trees give you more than just shade.
When to Water Plants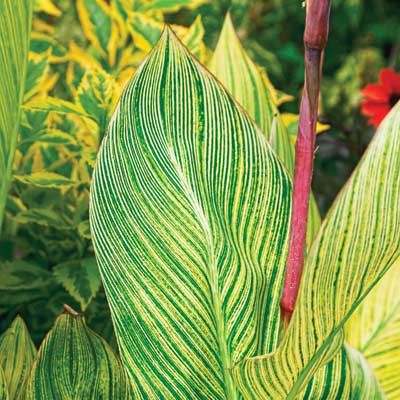 Q: How often do I need to water?
A: This is the most frequent question ever. The answer: when your garden needs it. Stick a finger in the soil and see if it's dry. People want a schedule, but nature doesn't work on a schedule. It either rained or it was hot. Plan your garden so that a lot of it can survive on rainfall once it is established. You will need to water new plants and container plants, though. Use a wand on a hose. That way you can rearrange pots as plants go out of bloom and you don't have to fuss with technology. I think people with watering systems spend most of their summer repairing them. And most systems turn on whether it rains or not, so they waste water.
If you have a lot of containers, group them so that you can water efficiently. I have 250 to 300 containers, but they are in three main areas. Even in the hottest part of the summer, watering by hand takes at most an hour and a half every three days—and this is in Denver, where the air is very dry.
Fertilizing Container Plants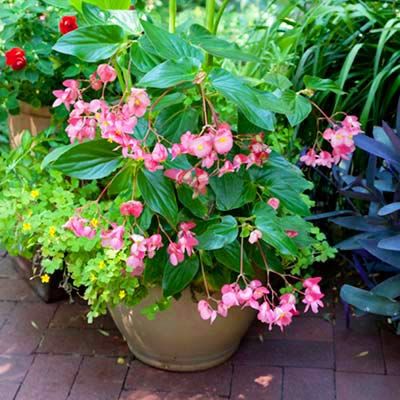 Q: How often do you recommend fertilizing?
A: I don't fertilize my perennial beds because I don't want them to get tall and floppy. For container plants, though, I feed constantly because I want plants worthy of a magazine cover. Label directions say to feed every seven to 10 days. That's not enough. I found this out when I was working on a book and needed to photograph my containers. A hailstorm smashed everything, but by feeding more often than suggested, the plants miraculously came back within three weeks.
So I recommend feeding container plants every four or five days. Early in the season, switch back and forth between a nitrogen fertilizer and one that's lower in nitrogen but higher in phosphorus and potassium to boost blooms—except for plants you're growing for their foliage. Once the plants are in flower-production mode, by mid-July, use just the flower booster, assuming the plants are the size you want. Never fertilize when the soil is dry; it can burn some plants.
Why Is My Plant Dying?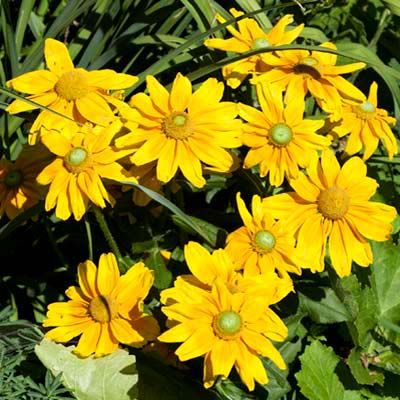 Q: Why does my (fill in the blank) keep dying?
A: If a plant dies, it's telling you something. You might want to replace it once, just to make sure the first plant wasn't damaged in some way. But if the replacement also dies, that plant clearly isn't suited to that location. Move on, and plant something else.
On Lawn Size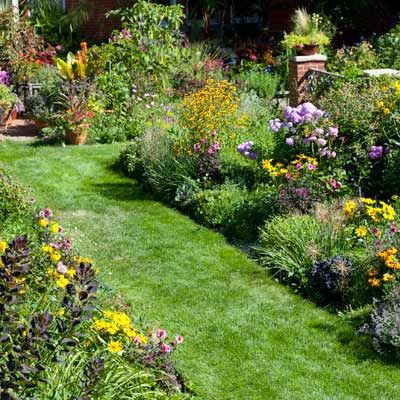 Q: How big should a lawn be?
A: Less is better. There is a place for lawn—for walking on, for pets. But it seems that all we do is maintain lawns to make them look exactly the same. That's boring. A good strategy for gradually shifting away from too much lawn is to re-edge your beds, making them 6 inches wider each year. My lawns are strictly utilitarian, as paths and frames for the garden beds. One way to make a lawn more interesting is to plant crocus in some areas. Besides making your lawn more beautiful in spring, it will discourage you from using weed killer.
Mow When Needed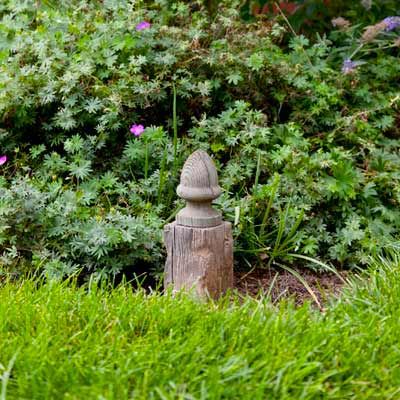 Q: How should I care for my lawn?
A: Mow when the grass needs it, at the highest setting on the mower. Grass that's tall shades itself and the soil, so you don't need as much water. Don't fertilize; just use a mulching mower and leave the clippings on the grass. Dig up dandelions by hand.
On Edging Your Lawn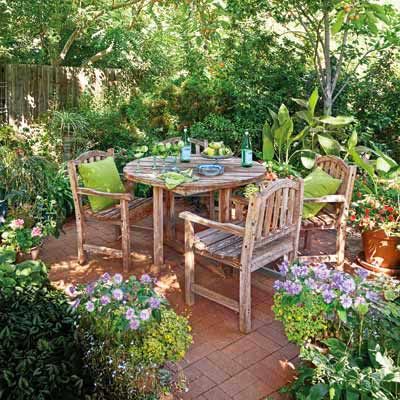 Q: What do you suggest for edging?
A: Grass is so sneaky. It can get over or under any barrier. But it can't grow in air. So edge perennial beds the British way, with an 8-inch-deep trench. Every year, set up a string line on stakes along each bed. On the lawn side of the string, chop straight down with a sharp spade and make a little cliff, then slope the soil gradually back up toward the perennial bed. If grass grows over the cliff, you can spot it immediately and deal with it.
On Annuals and Perennials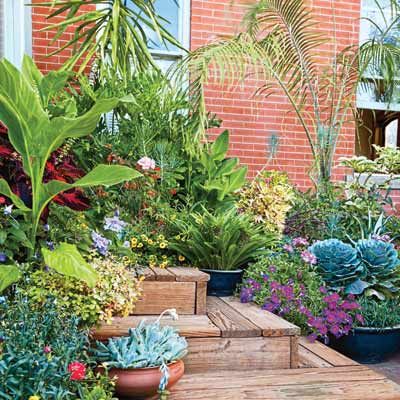 Q: How should I work annuals into my garden?
A: Mix the self-sowing kind, like larkspur, California poppies, and bachelor buttons, into your perennial beds. These annuals pair well with perennials because both need little care. Put the fussy annuals, like impatiens, begonias, and pansies, in pots. That makes it easier to give them the fertilizer and frequent watering they need.
Small or Large Perennials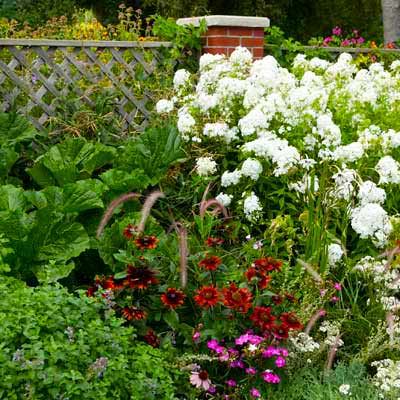 Q: Is it better to buy small perennials or larger ones that have blossoms?
A: That depends on your budget. The smaller size saves money. The bigger size gives instant gratification. But remember, if you plant a big perennial, the soil around the roots will be lighter than the garden soil, so the plant will dry out more quickly. Give it extra water until the roots grow into the surrounding soil. I usually pile up soil in a berm, creating a moat that I can fill with water.
How to Garden on a Budget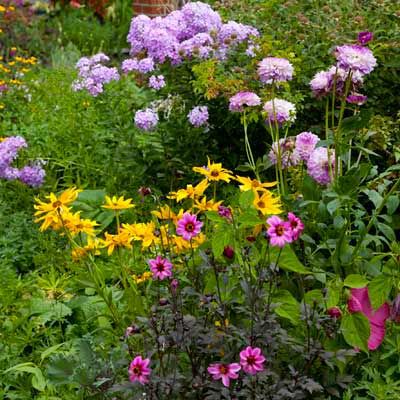 Q: Any ideas for spending less money on plants?
A: Besides saving seeds and dividing perennials in late spring, take cuttings of annuals and tender perennials in the fall and root them in water over the winter. I take cuttings of geraniums, high-quality impatiens, dragon-wing begonias, sweet potato vine, coleus, bloodleaf (Iresine), and a new kind of oxalis called Molten Lava, with chartreuse leaves.
The Full Cycle of Plant Life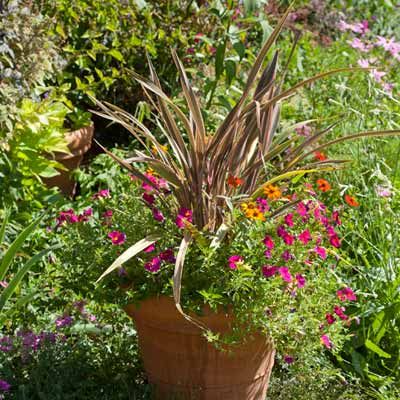 Q: Should I cut back perennials in spring or fall?
A: Fall is old-school. We need to appreciate plants at every stage of their life cycle, whether they are looking wonderful or freeze-dried. If you leave the tops on through the winter, they help protect the crowns from freezing, and they provide habitat for birds. The more we follow nature, the better. Nature doesn't cut everything back in the fall. So I do it in late winter or early spring. It gives you something useful to do when you are eager to garden but the soil is still too damp to dig.
Mulching Plants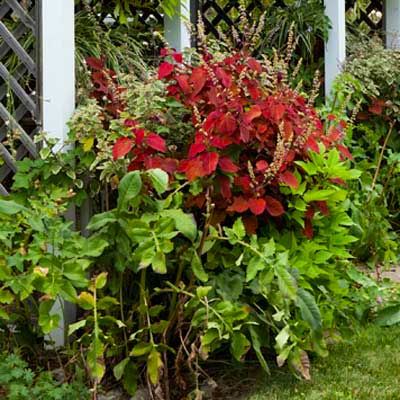 Q: What's the best way to mulch a perennial bed?
A: Don't use bark nuggets. They look ugly, and plants in a heavily bark-mulched garden don't grow well; they just sit there because the microorganisms that are breaking down the bark are using all the available nitrogen.
The point of mulch is to shade the soil, which preserves moisture and keeps weed seeds from sprouting. So I just mulch plants with plants, placing them close enough together that they cover the ground. I cut down the recommended spacing by 25 percent. But this probably depends on your region. In a very moist climate, you might need to follow the recommended spacing. In my drier climate, with its short growing season, plants don't attain the sizes that the labels say. So to keep the soil covered, I need tighter spacing.
Plant Pots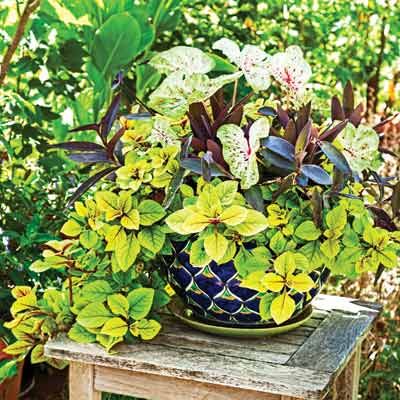 Q: What plants work in pots?
A: Everything. People tell me they wish they could grow things like bananas or palms or lily of the Nile. I say, "Sure you can." Anything you ever wanted to try, just grow it in a pot. Put the pots outside in the summer and, if the plants aren't hardy enough for your climate, bring them inside for the winter. You don't need a greenhouse—I don't have one—because the plants don't have to look good all winter. They are basically in a period of stasis—just on hold.
My solution is to put them in front of every window in the house. I also have a little back porch and a big, glassed-in front porch. I move potted plants that go dormant, such as cannas and dahlias and pineapple lilies, to a dark room in the basement. Around March, I start paying attention to my container plants. I tidy them up, water, and fertilize. Then when the weather warms, I put them outside. By summer, they are in their glory again.
Buy Potting Mix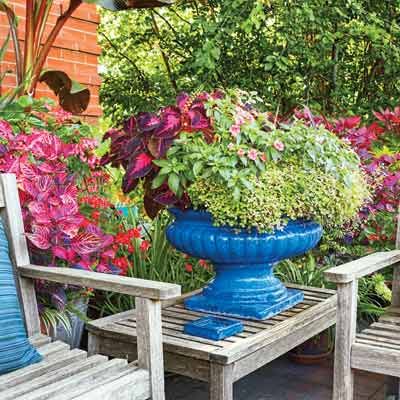 Q: What kind of soil should I use in containers?
A: Don't just dig up some soil; it probably has too much clay. Use store-bought potting mix. To cut down on how much soil you need, some people suggest filling the bottom of big containers with rocks. There's a better solution: Fill the bottom third of the pot with crumpled leaves, the stuff you clean out of gutters, or other garden debris. Add potting soil on top. Over the summer, the stuff at the bottom decomposes and enriches the soil.
Soil For Container Gardening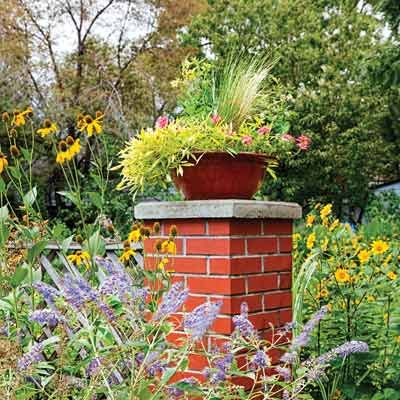 Q: Do I need to replace container soil every year?
A: Soil in your garden is thousands of years old, but it still grows things because it gets enriched. Treat container soil the same way. Some of mine is 30 years old, but every year I add compost. And every year, my container plants grow and thrive, creating a little tropical paradise around my house.