To create a feeling of expansiveness in a small yard, carve out distinct garden areas and outdoor rooms. Consider my own property, which is shown in these slides: An ornamental border along the street adds curb appeal, an entry garden welcomes visitors, there's a private patio for dining, and a woodsy backyard for lounge-chair relaxing—all on a 60-by-100-foot lot. Not only do the "rooms" make the yard more functional, they keep from revealing the whole place at once, so there's a sense of discovery as you move through them.
Colorful perennials layered on both sides of the fence greet visitors, while a bracketed lamppost and garden gate lead them to the front walk. A flowering 'Kousa' dogwood tree is scaled to the house and provides a front-yard focal point.
Design Tips for Small Yards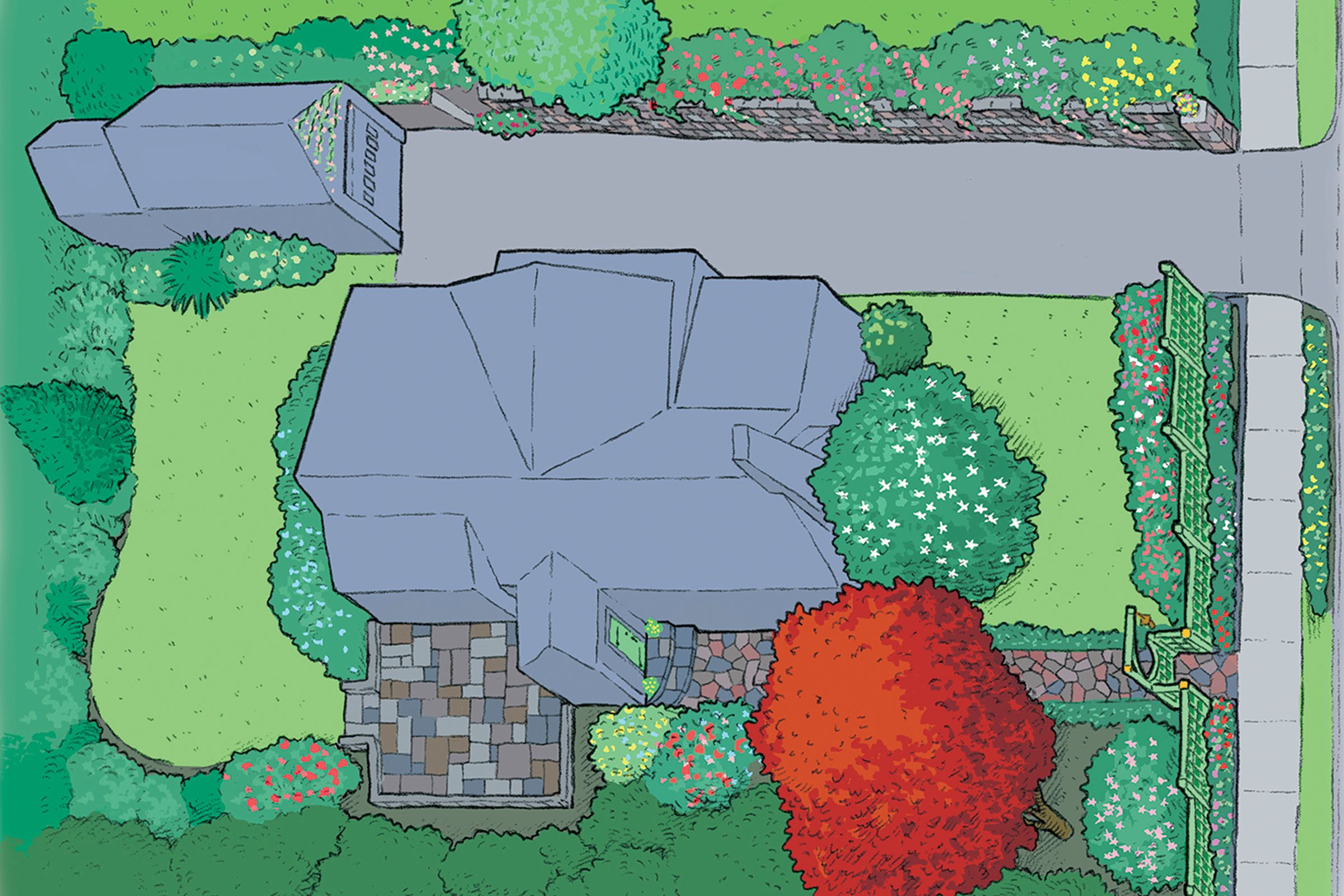 When designing for a small yard, make every inch count. Pay special attention to hardscape features such as fences, walls, and paved areas; make sure they have the right scale and proportion. Along with established trees and shrubs, they lend structure year-round. Put the front yard to work to establish a mood—here, an English cottage-style garden to suit the cozy 1924 Tudor Revival house.
Layer plants of various heights, colors, and textures to add depth, and choose varieties with successive flowering times, so something is always in bloom. Personalize your home's exterior with hardware, lighting, containers, and trellises that tie it into the landscape. Last, plan and plant with views from inside the house in mind—and illuminate the garden at night. After all, what better way to gain ground than to blur the lines between outdoors and in?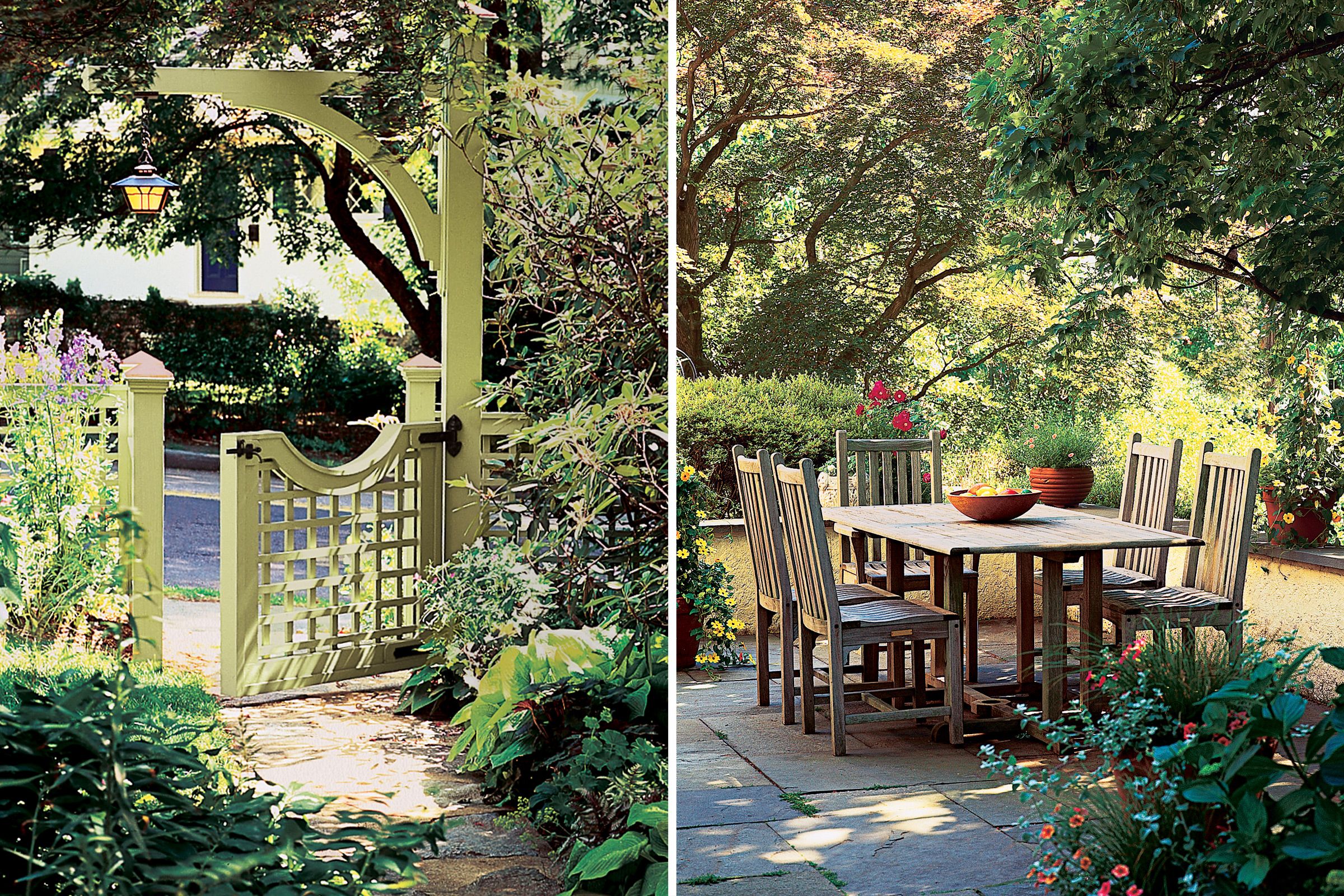 Create an intimate entry garden
A garden arch makes a visual connection between the landscape and the house, and signals where to enter. Here, an exaggerated lamppost with a curved support bracket serves the same purpose. A Japanese red maple brushes the top of the arm and a rhododendron reaches around the post to soften the structure and blend it into its surroundings. A bronze light hangs over the latch-side post; in the evening, the wooden arm almost disappears, and the lamp appears to float.
The paving should signal the style of a home and garden, too. This one consists of irregular, multicolored pieces of slate—probably original to the 1920s house. Now, lined with hosta and Japanese painted fern where it's shady, and white 'Annabelle' hydrangeas, 'Nikko Blue' hydrangeas, and ever-blooming pink roses where there's filtered light, it serves as a casual pathway for the informal cottage.
Types of garden gates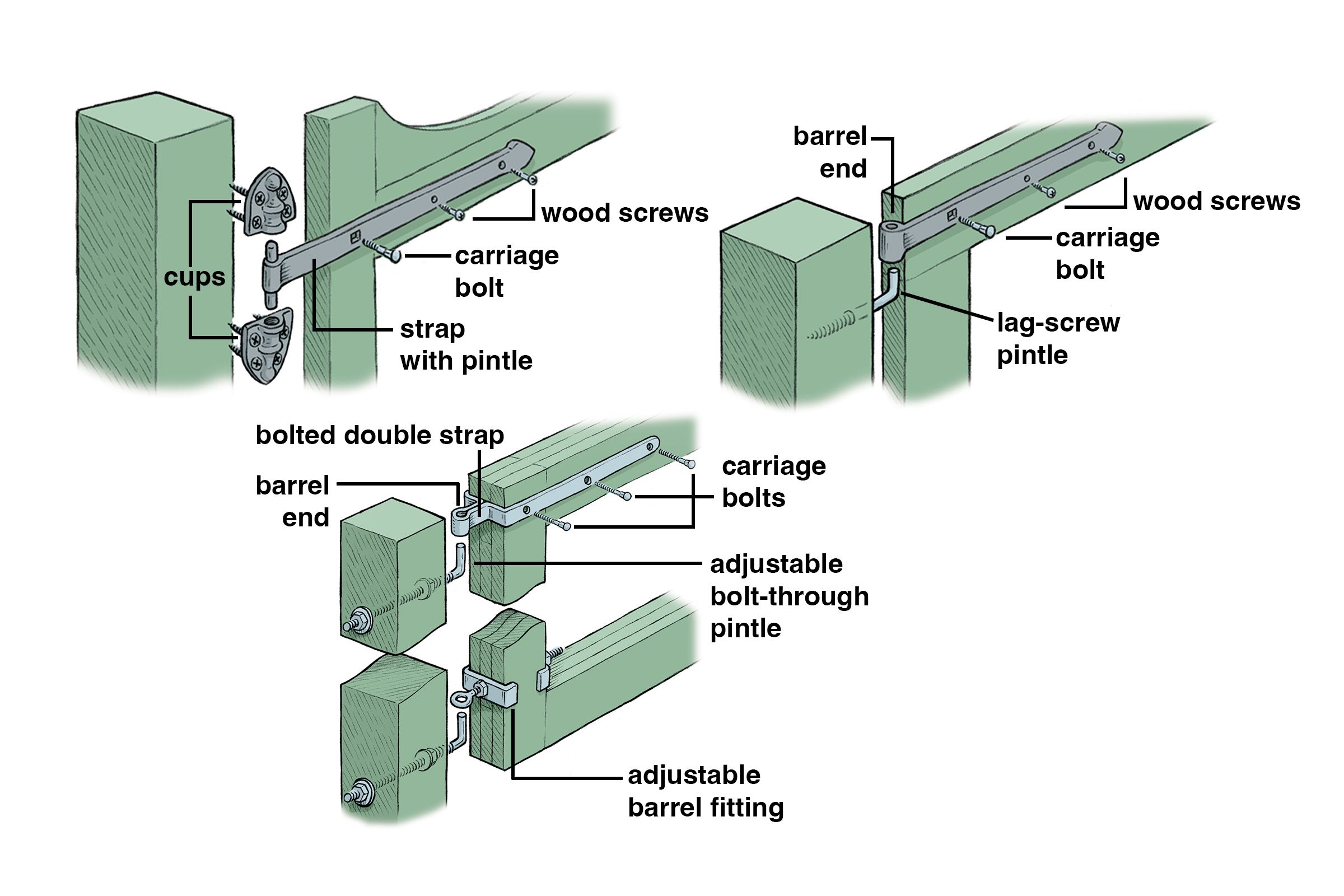 Sturdy construction is key to preventing a sagging gate. And so is the right hanging hardware, usually a pair of sturdy strap hinges sized to cover one-fourth to one-third of the gate's width. Here's how three styles from Snug Cottage Hardware ably do the job.
1. Surface mounted, with a cupped pintle: On the decorative galvanized-steel hinges used in this project, the pin (or pintle) is part of the strap, which is attached with a carriage bolt and wood screws. The bottom "cup" is screwed to the face of the post, and the pintle set into it. Another cup covers the pintle top and is screwed in, making for a very rigid hinge that can carry up to 150 pounds.
2. Open-topped, lag-screw pintle: A J-shaped pintle is lagged into the side of the post ready to receive the barrel end of the strap. This most-basic style allows for more swing and makes the gate easy to remove.
3. Bolted double strap: For the heaviest-duty field or driveway gates, a double strap wraps both sides of the stile and rail; the pintle is bolted through the side of the post. The bottom fitting adjusts easily if the gate gets out of kilter.
Build a walled stone patio
When planning an outdoor dining room, consider the paving material and how it will be laid. A larger space may be paved with several materials, which would be too busy for a small space. Here, cut bluestone pavers of different sizes are laid in a random pattern; they are dry set in keeping with the informal garden, and volunteer flowers and moss creep up through the joints. A low perimeter wall made from concrete block and finished with stucco and a bluestone cap further defines the 14-by-18-foot paved area.
To create a sense of privacy, this woodland edge of trees, shrubs, ferns, and shade-loving ground covers creates a buffer, while letting light and air filter through. To maintain views into the front and back yards, those edges of the patio are planted with medium-height flowering shrubs, including hydrangea, summersweet, and azalea. Terra-cotta pots planted with herbs (which can be clipped for cooking), gray-leaved licorice plant, million bells, and black-eyed Susan vine provide even more color and textural interest.
Add an ornamental border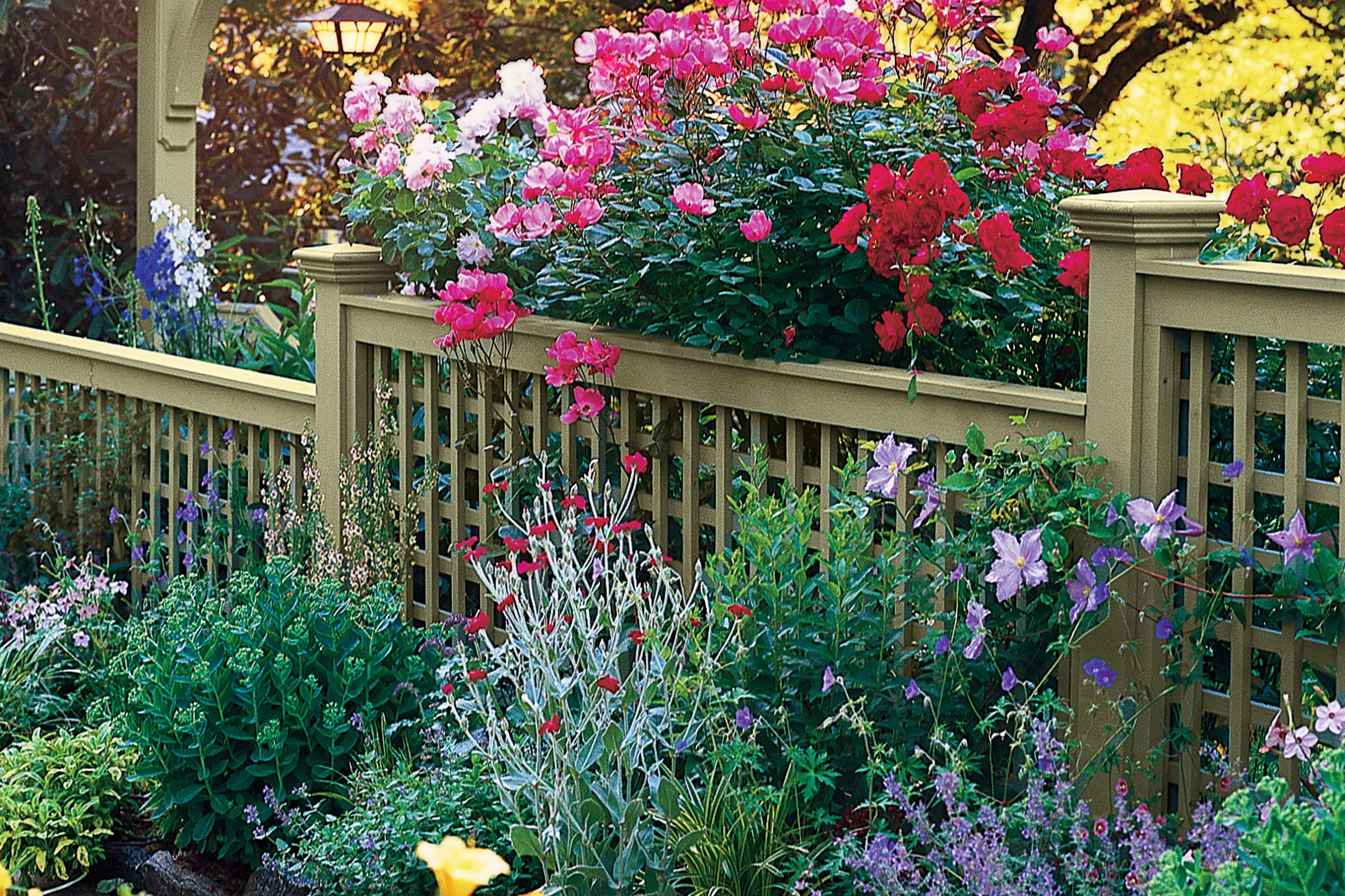 A fence along the front of a property creates a frame in which to garden, provides year-round interest, and offers privacy. This one was designed with an English lattice pattern for a charming cottage look.
The airy squares of the fence provide a handsome backdrop to a long-blooming perennial border that looks good from every angle. Low-growing plants were placed on the street side, including snow-in-summer, creeping phlox, heuchera, salvia, cranesbill, red valerian, catmint, rose campion, penstemon, spiky-leaved iris, 'Autumn Joy' sedum, low-growing 'Knockout' roses, Japanese painted ferns, 'Stella d'Oro' daylilies, and clematis. Taller ones were planted on the house side, including foxglove, allium, velvety red peonies, false indigo, highly perfumed 'Casa Blanca' lilies, butterfly bush, delphinium, hollyhocks, the fragrant damask rose 'Celsiana', never-say-die 'Betty Prior' roses, and showy 'Charles de Mills' roses. The fence also hides the unattractive lower limbs of some of the tall flowering shrubs and supports perennials that get top-heavy.
Fence panels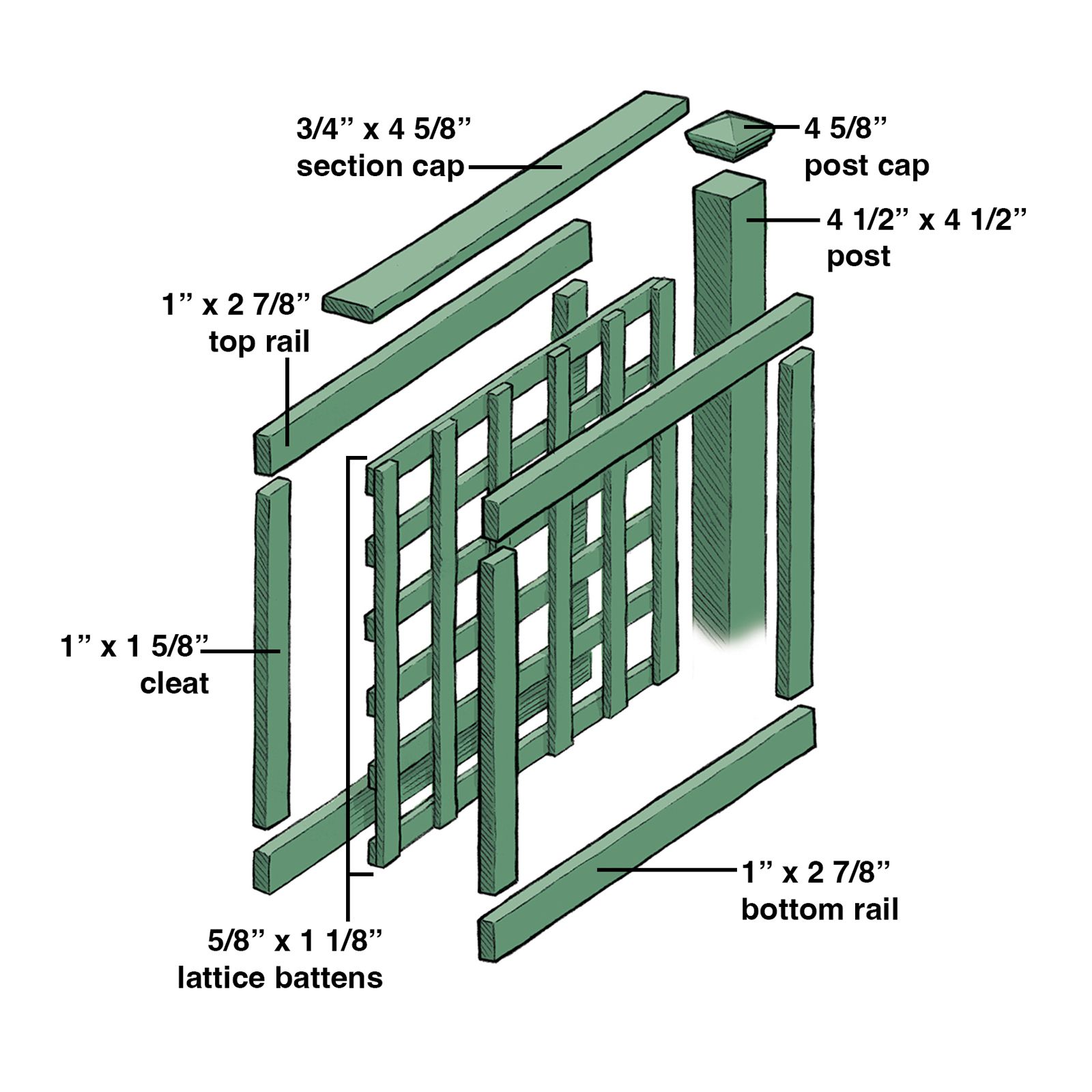 Whether you choose a picket, board, spindle, or lattice style, premade wooden fence panels can be had at many lumberyards and home centers for a reasonable price. But building your own panels from scratch allows you to customize their design and use longer-lasting, premium lumber stock.
Walpole Woodworkers built the 3½-foot-high northern white cedar fence sections shown here off-site, then trucked them to the job for installation.
Here's how they're made: For each one, a frame is laid down on the worktable consisting of a top and bottom rail and two side cleats. Horizontal lattice battens are spaced 3½ inches apart and attached to the side cleats with galvanized nails. Vertical battens are stapled to the horizontal ones with the same spacing; then they're nailed to the top and bottom rails.
A second frame is placed on top, sandwiching the lattice, then screwed through the rails and cleats. On-site, each section is screwed into fence posts through the cleats. The rail cap is attached flush to the top rails, nailed at either end and in the middle with two offset nails. Caps are nailed onto posts through each side. Holes are filled (and touched up, if needed) once the fence is complete.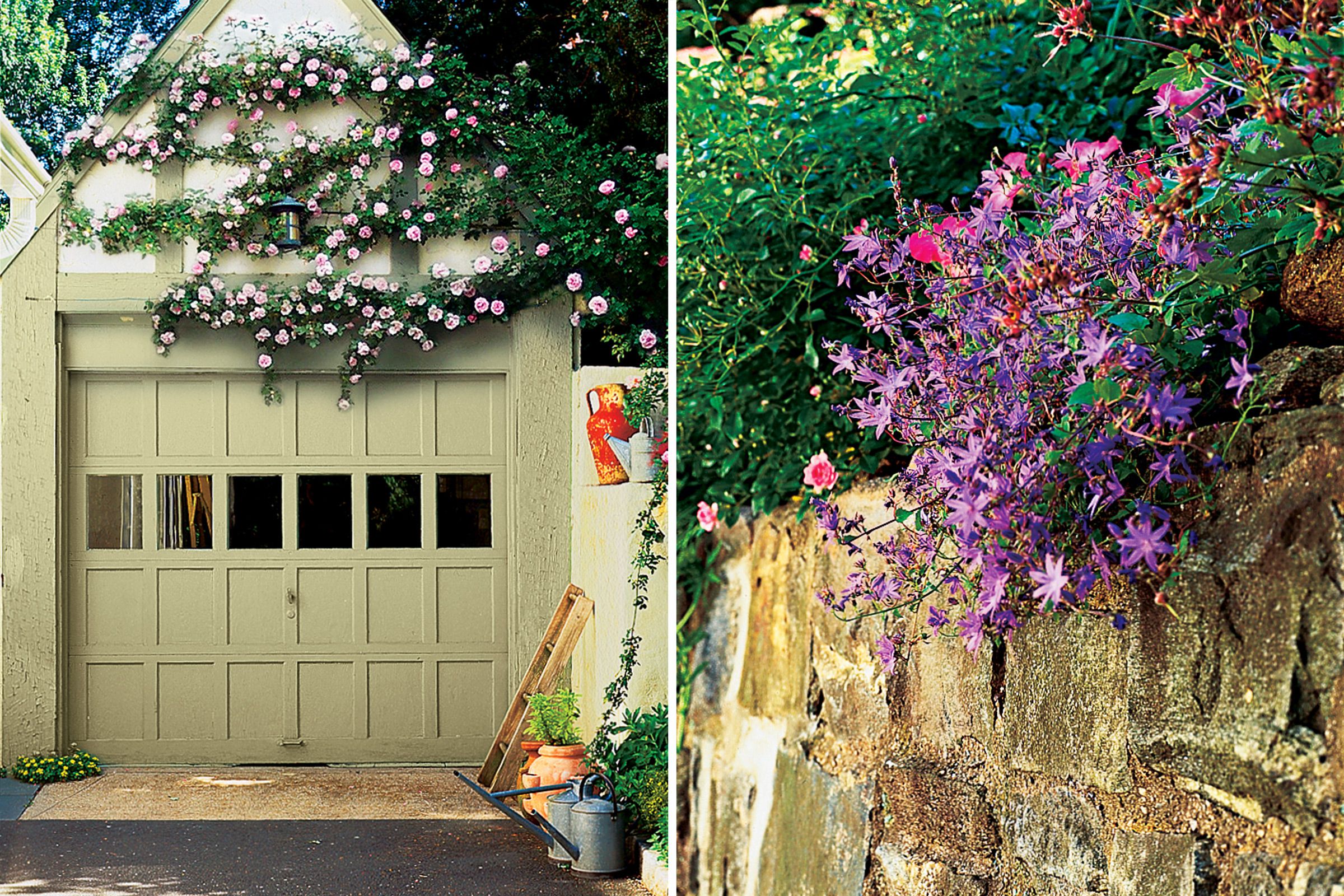 Train climbers up a wall
The walls of your house or an outbuilding present a perfect opportunity to grow a vertical garden of vines or climbers. Here, a 'May Queen' rose is trained across the facade of the garage, whose half-timbered details and door get the same green stain as the garden structures. Since roses don't cling by suckers or twining tendrils, as most vines do, they need to be tied to a supporting structure.
In this case, heavy-gauge copper wire was strung through masonry eye screws attached to the building's stucco surface. Elsewhere on the property, ready-made cedar trellises are attached to the house to support more climbing roses, as well as clematis vines.
Virtually no space is overlooked as a gardening opportunity. A yellow flowering sedum mounds up at the base of the garage. Volunteer flowers grow along the driveway, and small violets and columbine bloom along the base of the retaining wall that borders it.
Grow trailers down a wall
Retaining walls are a fact of suburban life. Use plants to soften the hard edges of a long run of masonry.
A wall planting puts flowers at eye level. And some, like bleeding heart, helleborus, and spiderwort, have pendulous blossoms that are best appreciated when viewed from below. Of course, the area along the top of a wall can be hard to get to.
And in this case, it receives unrelenting late afternoon sun. So it called for plants that thrive on limited care: sedums, catmint, poppy mallow, santolina, Montauk daisy, lavender, pink fairy roses, purple campanula, evergreen juniper, and willowleaf cotoneaster, which has small green leaves and brilliant red berries that persist all winter long.
Create tiers
Larger plants form a backdrop to the drifts of small flowers in front; these include spring-blooming yellow broom, June-flowering pink rugosa roses, and late-summer large-petaled hibiscus, with mounding ornamental grasses planted in between.
Put in a stone planter
Low pillars often punctuate a driveway entrance or the ends of a wall. Turning the top into a planter is another chance to brighten a site with flowers and foliage. This stone-and-concrete column has a cast-concrete cap with an integral planting bowl about the size of a 14-inch clay pot. And like a clay pot, it needs regular watering to ensure that the plants do not dry out.
Each year we plant the pillar with annuals for lots of color. Cool-weather-hardy pansies are put in first in early spring, as soon as they're available. When the weather warms up, they get replaced with whatever looks great on the day we go to the nursery. Last year that meant lime-green sweet potato vine that grows like crazy and drapes down the sides of the planter, with large yellow and orange French marigolds planted in the center to add height. For a lower-maintenance planting in full sun, consider drought-tolerant sedums, succulents, or ornamental grasses.
How to build a pillar planter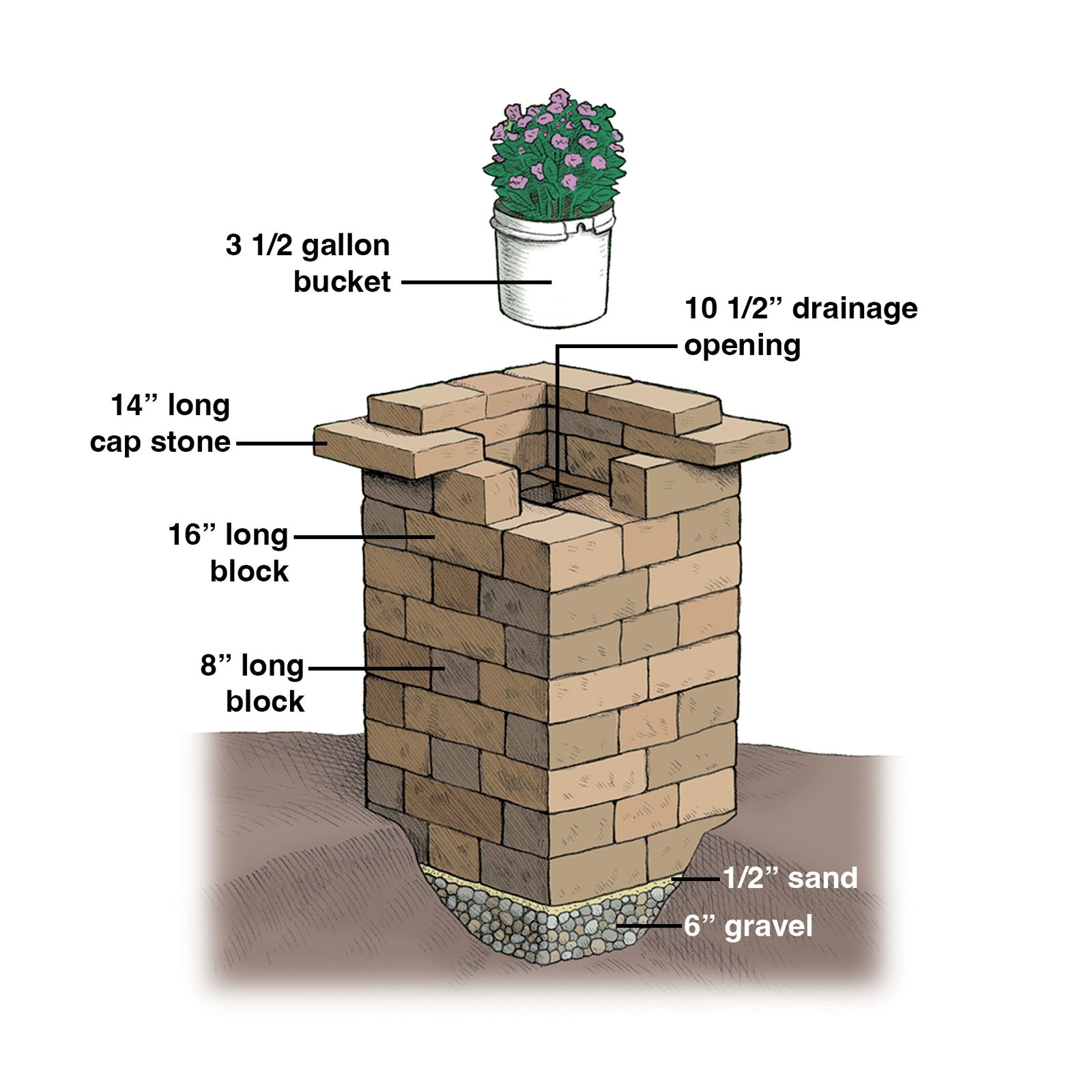 Building a pillar planter using precast concrete retaining-wall blocks, which get glued together, is a simple project for almost any homeowner. To show how it can be done, we designed a 32-inch square one with tumbled blocks from Versa-Lok. It's just 4 feet high, so no footing or additional reinforcement is necessary, and blocks can be cut as needed with an inexpensive brick hammer. To build it:
Excavate a foot of soil, then add 6 inches of tamped crushed stone; top with 1/2 inch of sand.
Lay your first course, alternating 16- and 8-inch-long blocks to create the pattern shown here; level it.
Apply concrete adhesive along the tops of the blocks, then start the second course, offsetting joints with large and small blocks as needed. Top with adhesive — and so on, for a total of eight courses.
On the ninth row, knock 3 inches off the inside of each 12-inch-deep block to make room for a 3 1/2-gallon plastic bucket to sit on the rim of the void in the column's center.
Lay and glue two courses of thinner, 14-inch-long cap stones, cutting 3 inches off the depth of the last course; line up the inside edges of all three top rows for a stepped cap. Drill drainage holes in the bucket; drop it in. Fill with soil and flowers.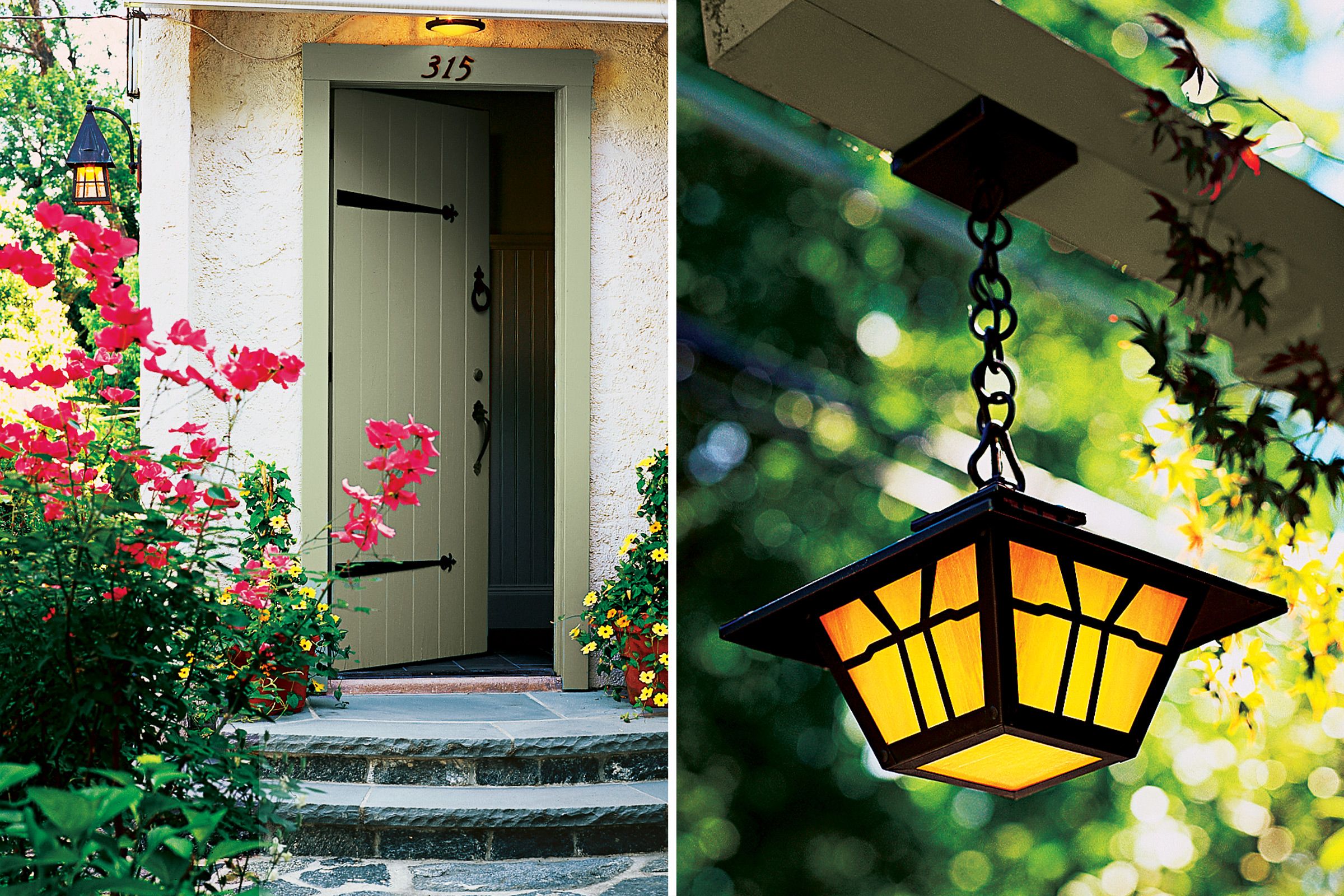 Tie the house into the garden
Repeating details from the garden on your home's exterior and vice versa, makes the house an integral part of the landscape. For instance, the black iron hardware used on the entry gate gets repeated on the front door with nonfunctioning strap hinges, a thumb latch, and a ring door knocker. The door itself is painted the same Benjamin Moore Kennebunkport Green as the garden structures.
What had been two small steps as wide as the door became a larger bluestone entrance pad with a graceful curved edge. It provides space enough for a pair of tall pots planted with black-eyed Susan vine. To the left, the bright pink petals of a 'Betty Prior' shrub rose literally reach out to greet guests.
Illuminate the evening
Taking their cue from the house's Tudor Revival cottage style, bronze light fixtures with amber glass shades and warm colored bulbs add a honeyed glow in the evening. One with an Arts and Crafts feeling hangs over the garden gate, illuminating the deeply serrated leaves of the nearby Japanese red maple.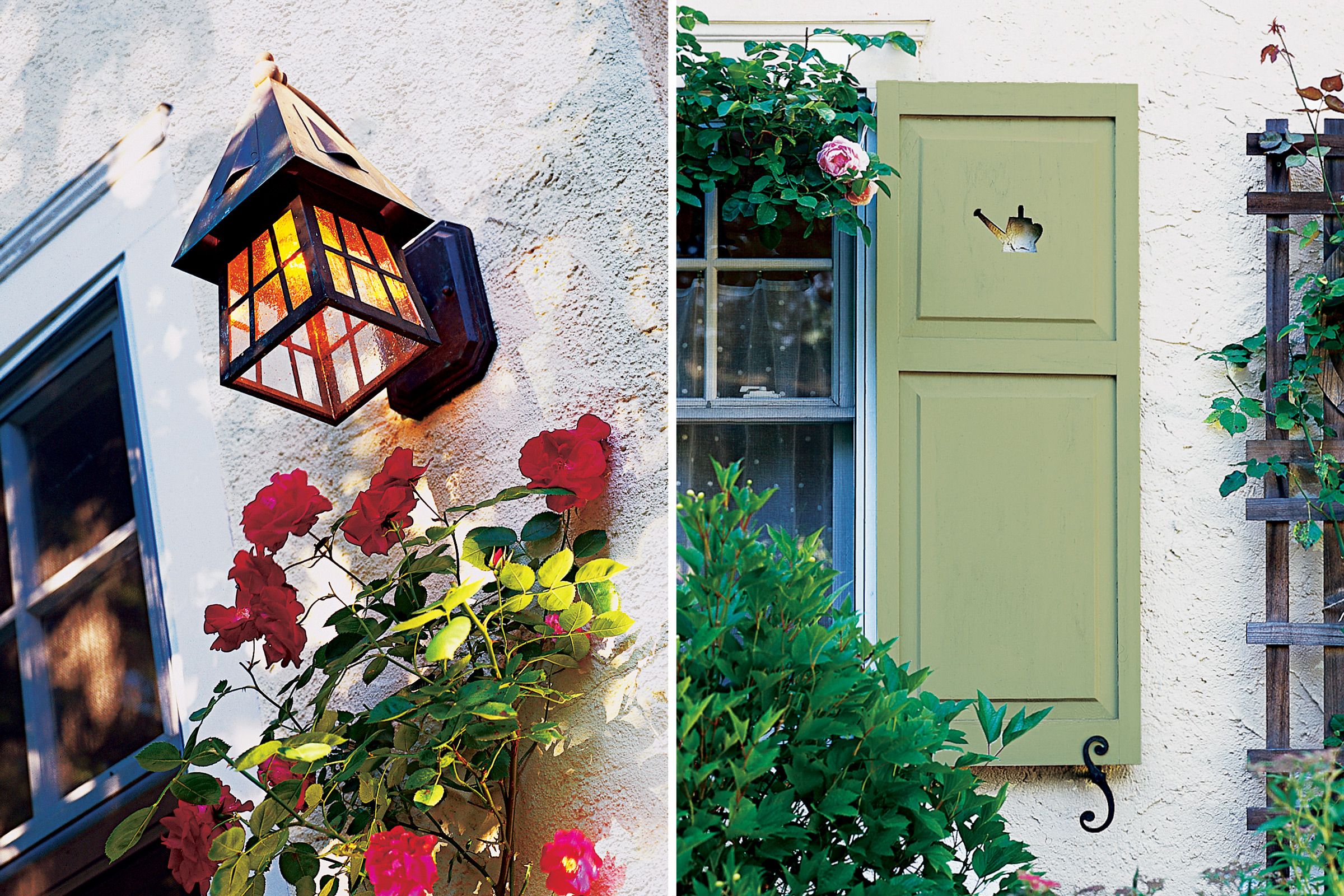 Create ambience
Another, on the side of the house near the patio, is framed by a deep pink climbing 'Etoile de Hollande' hybrid tea rose.
Customize the details
Even the shutters connect with the landscape via a custom cutout of a watering can and the same shade of green as the fence and arbor. Like any wood feature meant to withstand the elements, these should be made of rot resistant stock such as cedar and stained, rather than painted, to fade over time rather than peel. Ours are finished with S-shaped shutter dogs in black iron, echoing the hardware details on the house and garden gate. This one is set off by climbing roses, including a pink-flowering 'Constance Spry' that arches over the window and can be seen from the dining room table.
The nearby trellis, a ready-made design from a local nursery, is made of cedar and has been left to go gray, eliminating any maintenance. Tall shrubs sit below the roses, including dwarf cranberry viburnum, which has white flowers in spring, a deeply edged leaf, and red berries in winter.