A Garden to Share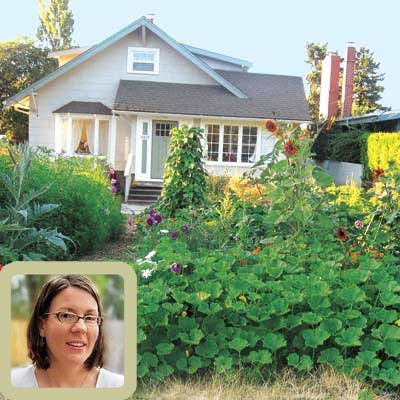 Who> Angela Baker
Where> Portland, Oreg.
What> Grows produce for a non-profit serving struggling families.
I'd always been around gardens but never had a place to grow one of my own—till now. When I was a kid, I visited my grandparents in Indiana, where their entire yard was a vegetable garden. Looking back, it seems like my grandfather was the original urban homesteader.
After my husband, Casey, and I got married, I grew tomatoes, lettuce, and herbs on our apartment's balcony. By the time we'd had three children, we were renting a 725-square-foot house. As anyone with a large family can attest, making ends meet can be tough.
Shown: A mulch path leads to the front door; squash and beans are on the right and artichokes, tomatoes, and beets on the left. White daisies and purple dahlias enhance the home's curb appeal.
Before: The Perfect Palette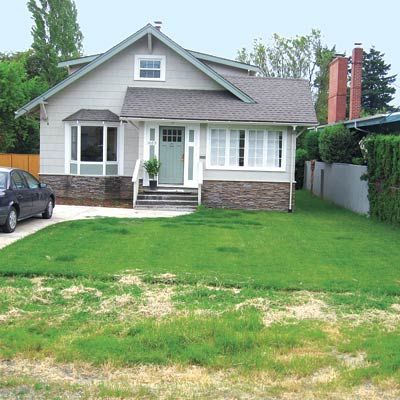 That's when we enrolled in Birch Community Services (BCS), a local nonprofit that provides food and services to more than 700 families in exchange for a small fee and at least two hours of volunteer work a month. The group oversees two community gardens, where members plant, weed, mulch, and harvest the produce, which is shared between them.
Thanks to the group's help in feeding our family, along with financial assistance from a nonprofit land trust that owns our property, we were able to buy this 1922 Craftsman cottage in 2009. I could finally have a garden of my own.
Shown: Though some of the sod was dying, the front yard received sunlight for most of the day—perfect for growing a vegetable garden.
Bare Bones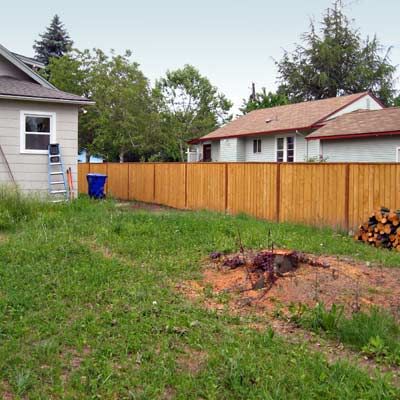 The quarter-acre lot is larger than most in Portland, but the yard was in rough shape. The sod covering the front yard was dying, and the backyard was mostly weeds, invasive bamboo from a neighbor's yard, and a damaged ornamental plum tree. I planned to grow vegetables in the backyard and a traditional lawn out front.
Planting a New Plan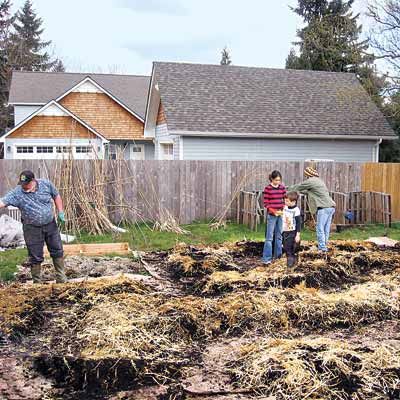 But shortly after moving in, BCS lost one of its gardens, which would have meant less produce for the families. Because the group helped us, and since our property gets plenty of sun, we decided to turn over the entire lot to growing produce for BCS families. We drew up a plan with as many beds as possible and, with a $500 budget and help from volunteers, transformed our weedy yard by "lasagna gardening." Instead of turning over the soil, you enrich it by layering manure, mulch, and straw on top; then you plant, which we did the very next day.
Fruits of Labor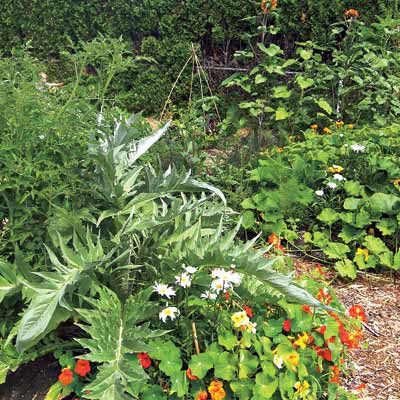 We have 31 beds filled with things like raspberries, kale, strawberries, and squash in the front, back, and side yards. Thanks to Portland's temperate climate, we have a long growing season, from mid-May through mid-October.
Team Work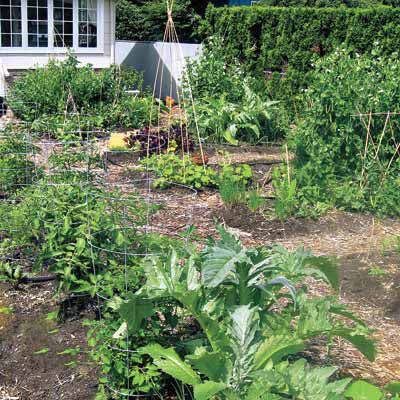 Each week, volunteers stop by to harvest, weed, and prune, bringing picked food to the BCS warehouse. To keep costs down, we rely on donations of seeds, instead of buying established plants, and compost.
Growing a Community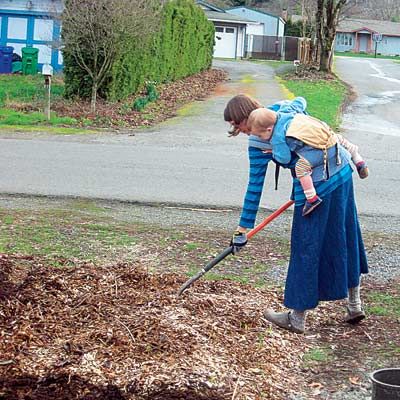 During the gardening season, our house is always buzzing with activity. Children love to pick and eat berries while their parents are working in the garden. When I'm not planting, weeding, or harvesting, I teach gardening classes there to show other BCS families how inexpensive it can be to grow their own food at home.
Built to Last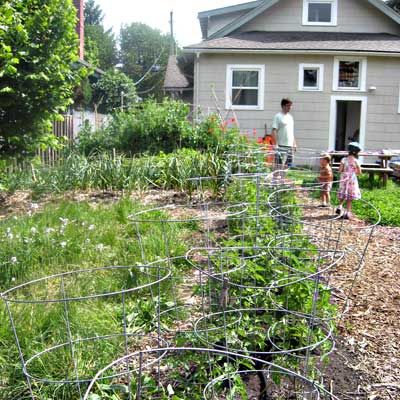 I've met so many wonderful people doing this, and we grew more than 1,500 pounds of food last year! I guess we're a lot like my grandfather: modern-day urban homesteaders. I finally have a garden, although on a much bigger scale than most. And I wouldn't have it any other way.