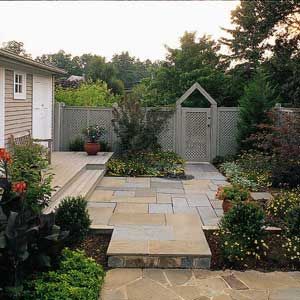 It's easy to achieve total privacy—simply surround your property with an 8-ft.-high stone wall. If that sounds a little too much like a fortress for your taste, there are less drastic options ranging from vine-covered fencing to an informal fragrant rose hedge. The goal is to create a buffer that provides privacy and is beautiful and neighborly as well.
Here we describe the basic privacy solutions—plants and fencing—and show smart ways to combine them.
Fencing
A fence goes up fast, providing instant privacy. And, if you choose materials well and build it carefully, a fence is relatively easy to maintain and will last for decades. It will also do a good job of keeping strangers out and kids and pets in.
A 6-ft.-high fences takes up only 10 to 12 in. of ground space. Plus, with so many styles and materials to choose from, you can easily match your fence to your home and other landscape features.
Disadvantages
Surrounding yourself with a solid fence creates a "boxed-in" feeling, especially in a small yard. What's more, local ordinances often limit the height for perimeter fences, and also stipulate a minimum setback from the street for a front fence. And a fence constructed at an allowable height of 5 or 6 ft. might not be sufficient to screen views from the neighbors' second-story windows.
Cost can also be an issue: A high-quality, 6-ft.-tall cedar fence starts at about $11 per linear foot, installed. You can save 40 to 50 percent if you buy the materials and put up the fence yourself.
Making Fences Work
Before you build, check with local officials for setbacks and height restrictions. The maximum allowable front yard height is often just 42 in. A backyard fence usually can't be over 6 ft. And, you might need a building permit.
As a courtesy to your neighbors, choose a fence design that looks good from the front and back. (In some communities, this is mandated.) Better still, discuss your plans to build a property line fence with neighbors. Make certain of property line location in any case, and don't stray onto neighbors' property.
Select the fence style carefully. A solid-board fence blocks the view completely but it cuts out light and breezes. Who wants to feel trapped in their own yard? Open fences, such as those with louvers and lattice panels, are friendlier and more comfortable and will also make the yard feel larger. They combine beautifully with plants, serving double duty as privacy screen and vine support.
You might not need to surround your entire yard to gain privacy. Fence sections placed in the yard may be all that's needed to screen a sitting area, patio or deck. This cuts the expense and work, and creates separate outdoor "rooms" and often a more livable yard overall.
Do keep interior fencing as low as possible. Otherwise it will feel intrusive and cast too much shade on adjacent plants.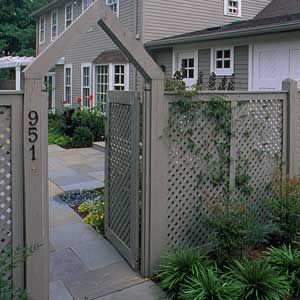 Trees and Shrubs
There's no substitute for the natural beauty plants provide. And they are usually less expensive than fences and are rarely limited by local codes. What's more, trees and shrubs do a better job of reducing dust and noise than a fence.
Disadvantages
Trees and shrubs take time to mature, so they usually don't provide immediate privacy. And they require more ground space than a fence. A narrow hedge will need a minimum of 3 ft., while some hedge plants spread horizontally 8 ft. or more. Even low-maintenance plants require routine watering, weeding and mulching.
Making Trees and Shrubs Work
Think of planting for privacy, and hedges probably come to mind. A hedge is a single line of plants, usually all the same variety. A formal hedge is clipped or sheared—often several times during a growing season—to maintain a definite size and shape. But with a lot less work you can have an informal hedge by choosing plants that will naturally stay the height and width you want without the demands of clipping.
The following basics will help you get started with a hedge. First, decide between deciduous and evergreen plants. Deciduous plants block views only in spring and summer while they're leafed out. A seasonal screen of this nature might be all that's required if you spend most of your time indoors in winter. Deciduous plants tend to grow faster than evergreens, which is an advantage when planting for privacy. And, as a general rule, you can space them farther apart, so fewer plants are required. What's more, a deciduous tree or shrub typically costs less than a similarly sized evergreen.
Evergreens, on the other hand, grow more densely and provide year-round privacy. They make the perfect backdrop for colorful flowers or a mixed shrub border.
When choosing plants for hedges, remember, an ideal shrub has dense foliage from top to bottom. Also consider the ultimate height, spread and growth rate of the plants. Especially in places where ground space is limited, select varieties of trees and shrubs that naturally grow tall and narrow. The word "fastigiate" or "columnar" in the plant name indicates just such a growth form. For example, the fastigiate English oak grows 60 ft. high but only 10 to 15 ft. wide, compared with the typical English oak that grows to 40 ft. or more wide.
Planting for privacy doesn't have to mean growing a hedge. A casual grouping of different types of shrubs and trees can make an effective and often more interesting screen. For example, a handsome shrub trio that provides flowers and ornamental fruits includes beautybush, bayberry and American highbush cranberry. If space allows, plant these shrubs in a zigzag pattern instead of in straight rows for a denser screen.
You can always fill in between slow-growing shrubs with large, temporary perennials and ornamental grasses. Or choose annual flowers, such as castor bean, ornamental amaranth and angel's trumpet. Consider these additional ways to use shrubs and trees for privacy:
•Plant a row of waist-high shrubs, such as dwarf cranberry bush or dwarf Korean lilac, within a larger yard to enclose a swimming pool, patio or deck.
•Alternate groups of plants with fence sections to create an open feeling and reduce the cost of fencing the yard.
•Plant a single tree with horizontally spreading branches, such as mimosa, pagoda dogwood or Chinese pistache, to block overhead views.
•Position a single tree or group of shrubs to break the line of sight in key locations, for example, from the street directly into the house through the front door.
•Create a movable or temporary screen with shrubs or small trees planted in large containers. Container plants are especially useful on a deck or patio where there's no ground for gardening. Place containers on wheeled plant caddies for easy maneuvering and to protect deck boards from rot.
•Plant a row of tall, narrow shrubs or trees along an existing fence to add greater height to the privacy screen.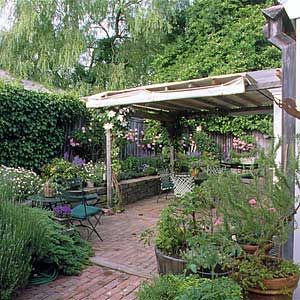 Vines
Vines provide a living screen and occupy very little ground space. They are especially useful when you need to divide a narrow space or create a barrier that won't get in the way of foot traffic.
Vines represent a good value for your money. A vigorous vine, such as golden hops or silver lace vine, costs about $20 in a 1-gal. container, and it can cover 20 ft. in just a year or two. These and other fast-growing vines make a young landscape appear full and mature.
Vines turn even the most ordinary fence into a graceful backdrop of flowers and greenery. And when grown over an arbor, woody vines like wisteria and grape are an attractive way to block views from above into your yard, and at the same time they provide cooling shade.
Disadvantages
All vines need some sort of structure—a fence, trellis or arbor—on which to climb. Clinging vines, such as climbing hydrangea and Boston ivy, hold tight with suction cups or little rootlets, making these plants very difficult to remove from their supports. Clingers also have a deserved reputation for damaging the surface they rely upon for support, especially if it's made of wood. And, any dense vine grown directly on a fence interferes with painting and repairs.
Once established, vines can be aggressive. You'll need to keep your pruners sharp and use them freely.
Making Vines Work
Carefully select a vine for your purpose and be sure the support is strong enough to bear the weight of the vine. It's no fun to watch a front porch trellis collapse under a big old wisteria in its prime.
Just as with trees and shrubs, some vines are evergreen and others are deciduous. A deciduous vine planted over an arbor gives a bit of shade during the summer, but in winter when it loses its leaves, warming sunlight can penetrate.
If you wish to break up the monotony of a standard 6-ft. fence without completely smothering it, choose a vine that is both vigorous and easily controlled, such as 'Jackmanii' clematis. This rapid grower reaches 10 to 12 ft. with a profusion of
velvety purple summer flowers.
Clematis are among vines that climb by coiling their leafstalks around their support. They will scramble up a trellis or open-design fence with just a little prompting.
In contrast, a dense-growing vine, such as Boston ivy or silver lace vine, will smother a chain-link fence and create a complete visual barrier in the process. Remember, though, aggressive vines don't slow down with age, so they require plenty of space as well as serious pruning to keep them inbounds.
A little privacy in your backyard is one of the rewards of owning a home, and it's not that difficult or expensive to create. A few trees and shrubs, a vine or perhaps a fence can help you make that personal oasis to share with family and friends.