In this video, Nathan Gilbert helps a homeowner install a custom fence gate. The house is home to two young children, and the parents are worried they might run into the street. While the homeowners could buy a gate from a home center, the backyard has a wood fence with horizontal paneling, so Nathan creates a custom wood gate with horizontal paneling to match the rest of the fence.
To secure the post he uses a special two-component, expanding foam, and Nathan joins Kevin in the workshop to talk more about the special post mix.
Steps for Building a Custom Fence Gate: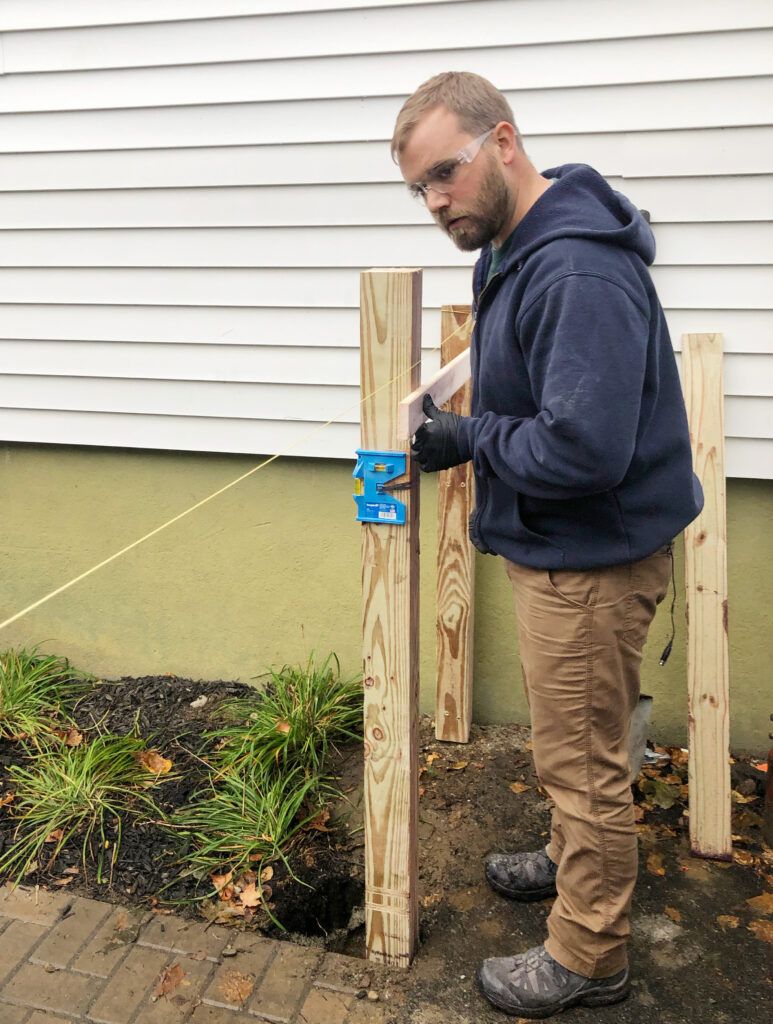 Mount two 2×4″ boards on either side of where the gate is going.
Dig about two feet down for each of the two posts. About a third of the post will fit in the hole.
Use a string line going from one 2×4″ to the other. This will be used to cut the posts to the same height.
Attach a piece of strapping to each 2×4″ so the posts won't tilt.
Screw the posts to the strapping.
Roll the bag of expanding foam fence post mix. Burst the seal and mix the two components together for 15 seconds.
Pour into the post holes. It cures in three minutes so there's no need to hold work.
Mount the hinge to a post. Use a ¾" spacer to keep it even with the post.
Attach the gate door frames. Nathan made the frames with 2×4″ boards and butt joints.
Add 1×4″ boards to cap the top.
Nathan used 1×4″ and 1×8″ boards to create the horizontal panels on the gate.
Note: You could do a sporadic layout, every other, or all the same. Make sure the pieces stay consistent across both sides of the gate to give it a more polished look.
Install a lock.
Paint it or leave it plain to let the pressure-treated wood age.
---
Resources
Nathan custom-built the gate using all stock pressure treated lumber, including 4×4″ posts, 1×4″ boards for the panels, and 2×4″ boards for the frames of the gates. All of this material can be found at home centers and lumberyards.
For the hardware, Nathan used a Black Slide Bolt for the lock and Black Heavy Duty Tee Hinges, which are both manufactured by Everbilt.
To cut the boards, Nathan used a sliding compound miter saw, which is manufactured by Dewalt. To secure the boards to the fence, Nathan used a siding nailer, which is manufactured by Bostitch.
---
Materials
---
Tools