Treat Yourself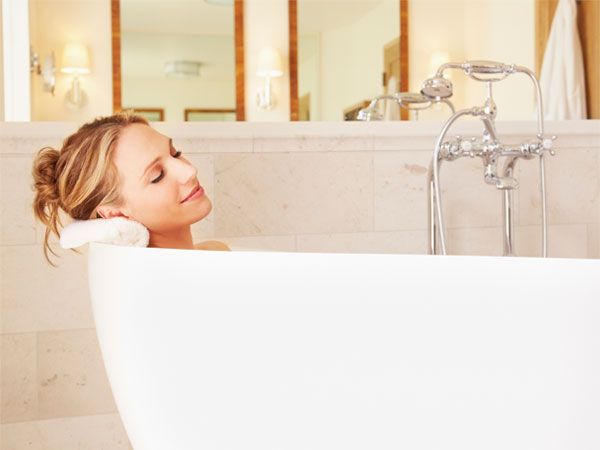 Sure, budget constraints may have caused you to pass on that rainfall shower during your last reno, but it isn't too late to turn your master bath into the spa you've always dreamed of. Read on for our picks of simple accessories that will make your soak time even more soothing.
Do-it-All Bath Caddy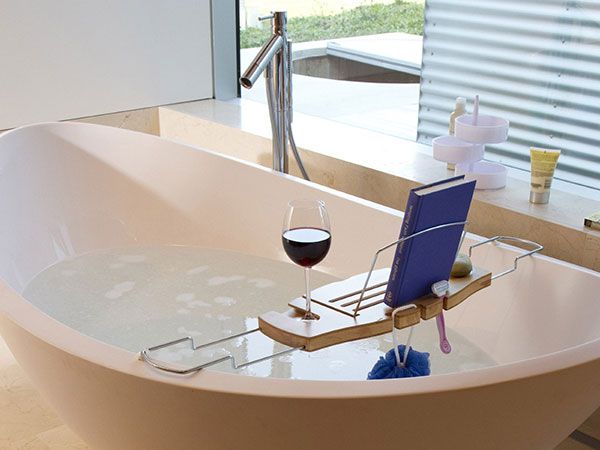 Sit and soak for a spell with everything you could possibly need nestled into this chic little bath caddy. It will comfortably hold all of your relaxing essentials, including your favorite vintage wine, guilty read, and artisanal aromatherapy soap. The handsome materials will also fit in with your well-designed bath.
Umbra Aquala Bamboo and Chrome Bathtub Caddy, about $50; Amazon
Make a few extra easy bathroom upgrades to max out on comfort.
Multilevel Stashing Space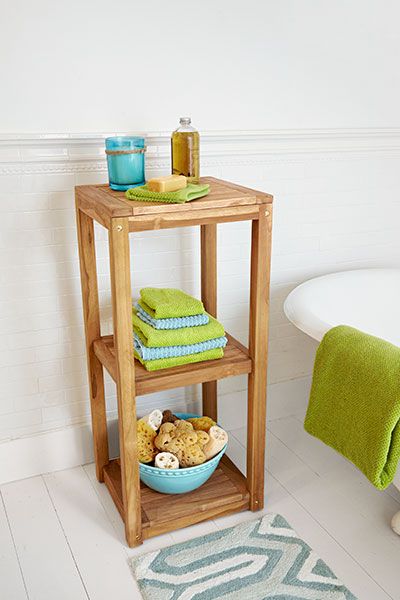 Built-in storage can feel like a luxury, but an airy shelf—often called an étagère because of its French origins—can corral towels, bath oils, and other soothing essentials in a cinch. Follow our step-by-step guide for how to build a three-tiered bath stand like the one shown.
Three-Tier Towel Shelf in solid plantation-grown teak, about $200; Signature Hardware
Weigh your built-in options and other bath design ideas in our guide, read this before you redo a bath.
Sleek Magazine Rack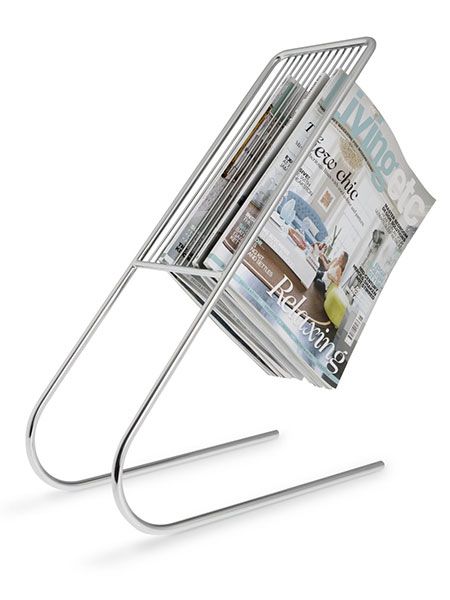 Keep This Old House and your other monthly favorites within reach. This rack's modern design lets you read the spines for easy issue selection and gives pages room to air out after steamy soaks and showers.
J-Me Float Magazine Rack, about $85; Amazon
Cut down on bathroom moisture by upgrading to a bigger bath fan.
Fire-Crackling Candle
Couldn't squeeze a fireplace into your master bathroom? Now you can settle for the crackling flame of something much smaller: a candle with a wood wick. You'll enjoy its sound along with the soothing linen scent while you soak.
Woodwick Candle Linen Large Jar, about $27; Amazon
Keep the relaxation going with design ideas for relaxing spa-like baths.
Soft Bath-Sheet Embrace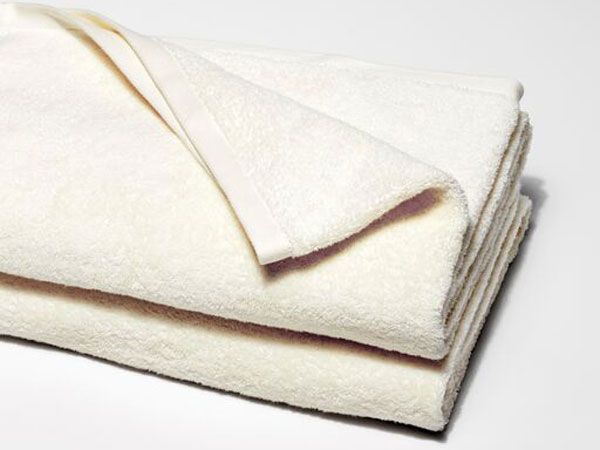 Dry off in comfort by wrapping yourself in a one-size-fits-all bath sheet made from oh-so-soft air-woven cotton. Wondering just how big it is? Imagine a generously-sized beach towel—without the cheesy tropical print.
The Bath Sheet, about $110 for a set of two; Snowe
Pay extra attention to towel storage with beautiful hooks, rings, and bars for your bath.