Renovating a bathroom is no small undertaking. So before you start tearing up the tiles and picking out the tub, get a little advice from the people who make bathroom makeovers their bread and butter.
We polled contractors, designers, and other pros for their top tips and insider tricks for getting every detail right. Whether you're on a budget or ready to pay a pretty penny, follow these DIY bathroom remodeling ideas and you're sure to create the bathroom you always wanted.
Radiant Floor Heating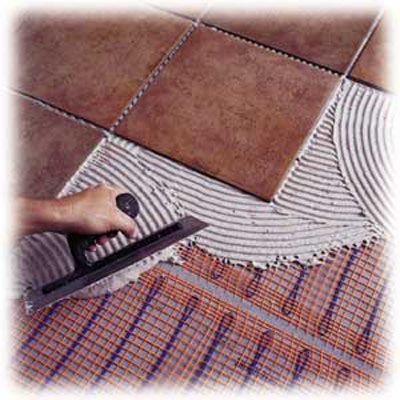 Radiant heat beneath tiles makes them toasty underfoot. But you don't need to have it throughout your house; you can simply add an electric mat to boost a bath's existing heating system. It can take as long as 45 minutes to warm up, so put it on a programmable thermostat to chase away the chill by the time your alarm clock goes off.
Tile Flooring Ideas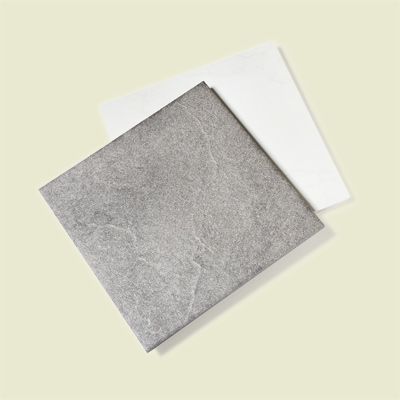 If you want an easy-care floor: Go for porcelain or glazed tiles, and avoid porous natural stone tiles like limestone. Unless sealed vigilantly, they'll absorb drips and spills and become stained over time.
If you want a nonslip floor: Choose tiles with textured surfaces, matte finishes, or sand-containing glazes. Another option: small tiles with lots of grout lines, which offer better "grip" than large tiles.
How Much Room Do You Need for a Half Bath?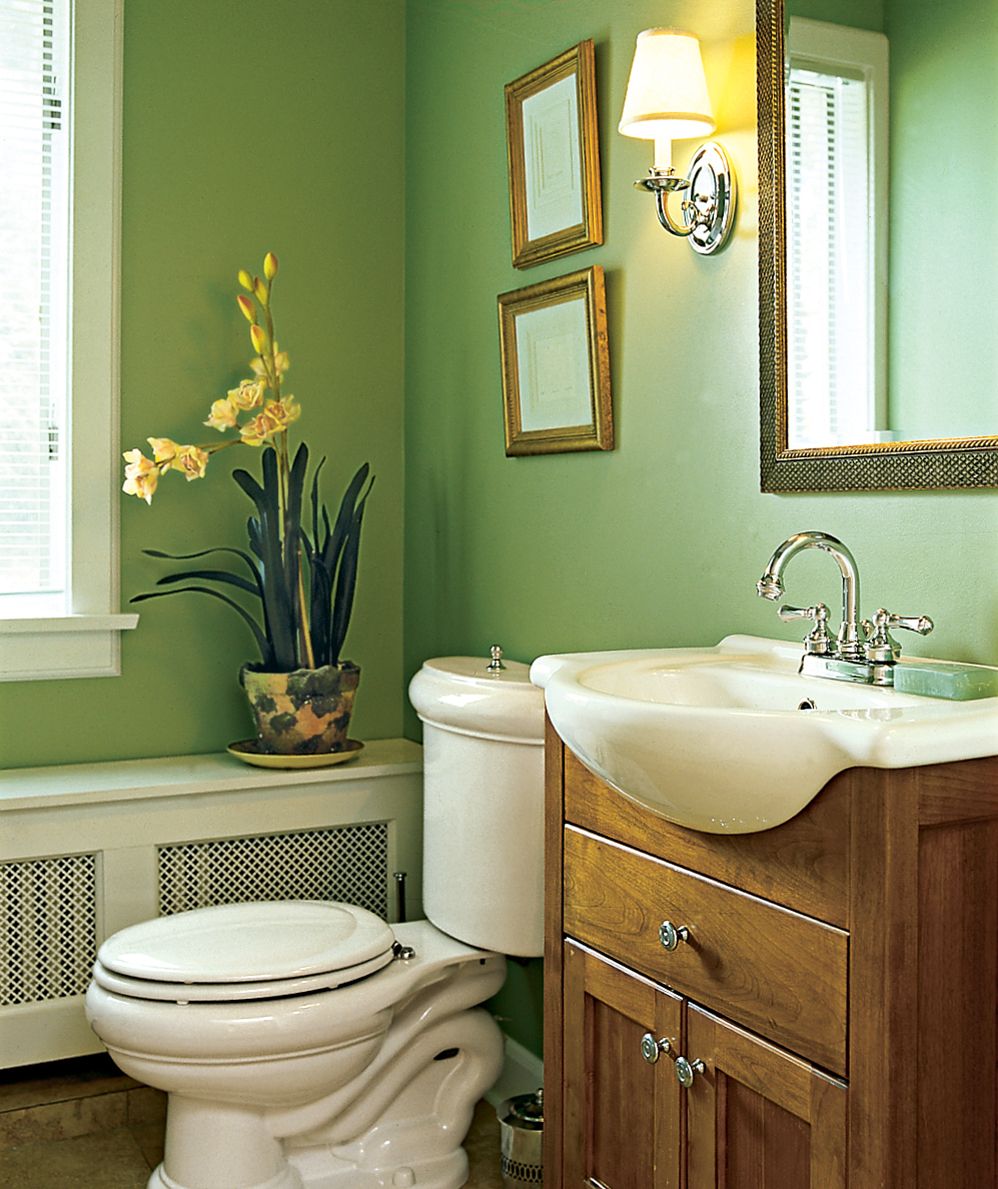 Theoretically, you can fit a sink and toilet into an 11-square-foot spot and still meet national building codes. But for comfort's sake, look for an area that's 3 to 4 feet wide and 6 to 8 feet long. Check local codes for additional requirements, and be sure to check out TOH's details on dimensions and clearances.
Master Bath Ideas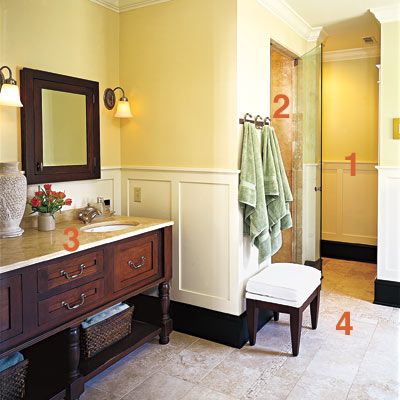 Sharing with your sweetie is simpler when you've made space for these features.
Toilet room: Gives this area privacy; best if it's got a door.
Separate shower stall: Lets bathers and shower-takers clean up simultaneously.
Double vanity: Place both sinks 36 inches apart or more, measured drain to drain, so that you'll have elbow room. Give each sink enough outlets and lighting, as well as mirror, countertop, and storage space.
Wide pathways: Traffic lanes 36 to 42 inches wide allow two people to pass each other without having to squeeze by.
Shower Niches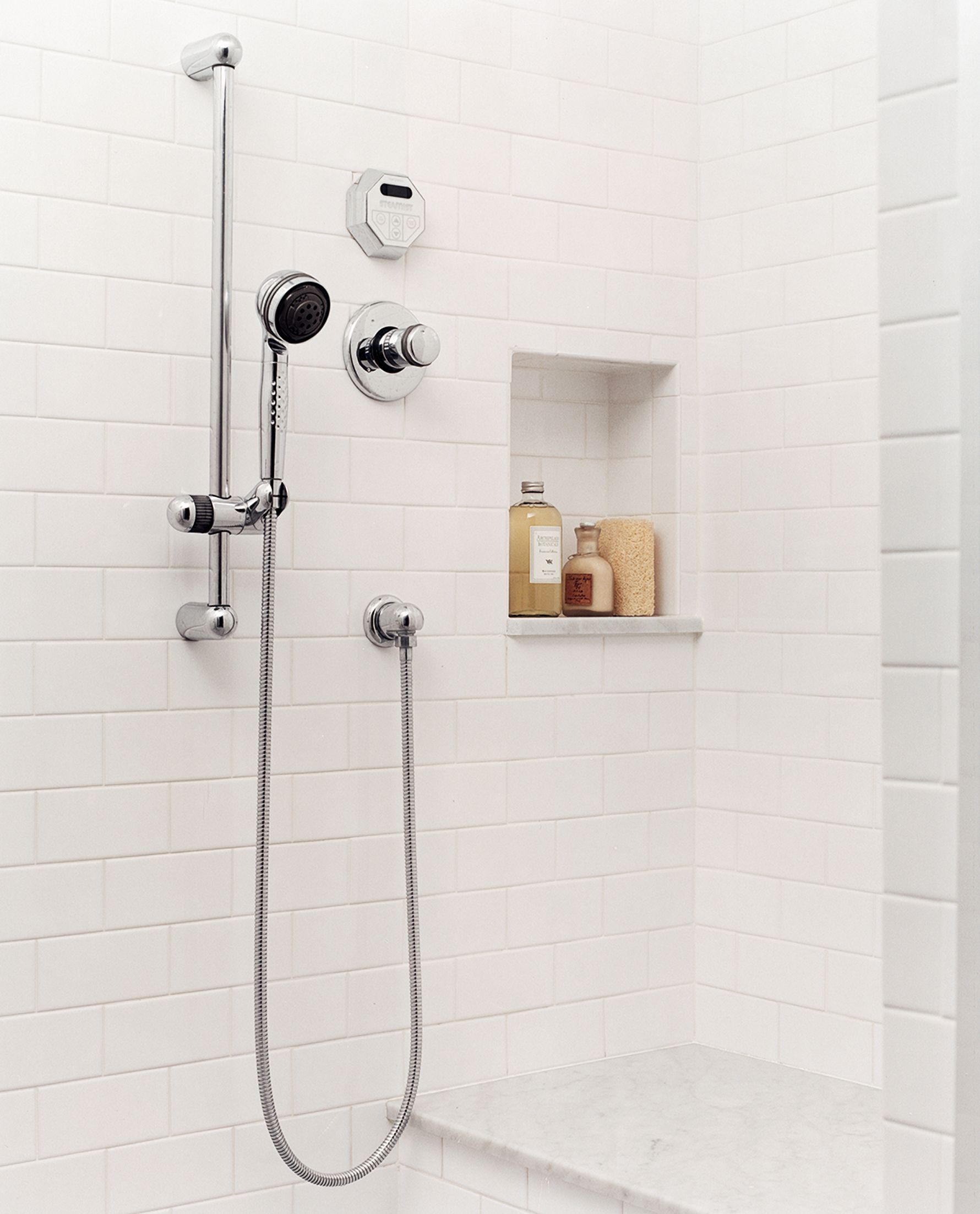 Unlike clunky over-the-showerhead organizers, a recessed cubby in a tub or shower surround gives shampoo and soap a permanent home and doesn't take up stall space. Size it to minimize tile cuts and line the bottom with a leftover piece of stone or solid-surface countertop—not tile—so that you won't have to scrape away scum from grout lines. If you have kids, add an extra cubby around knee height so that they can suds up on their own.
Sinks, Storage, and Workspace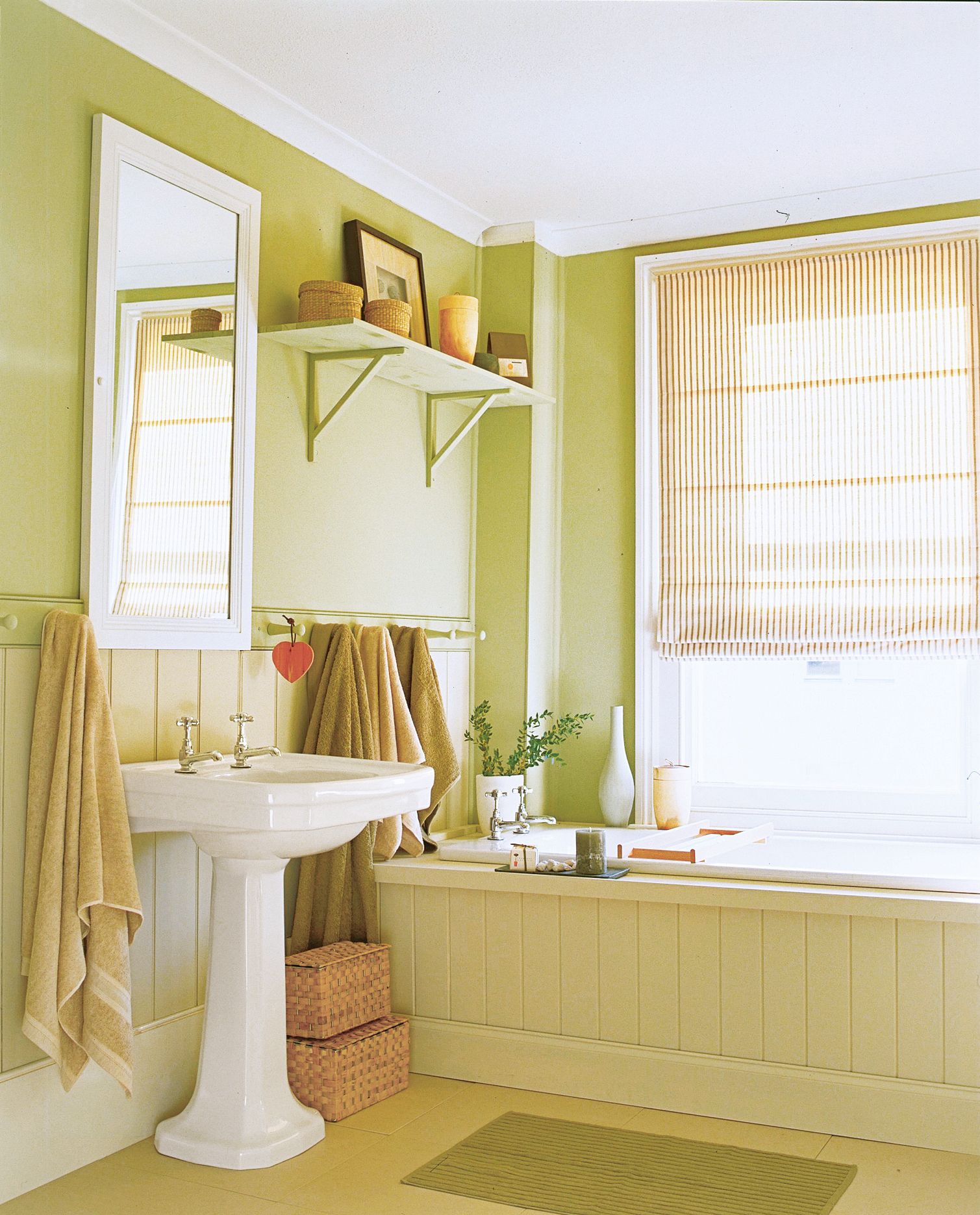 Every sink style has its trade-offs. Go for the one that best suits your needs.
Pedestal Sink
This slim silhouette is a favorite in diminutive powder rooms and small-scale baths, but offers zero hidden storage and negligible deck space.
Vessel Sink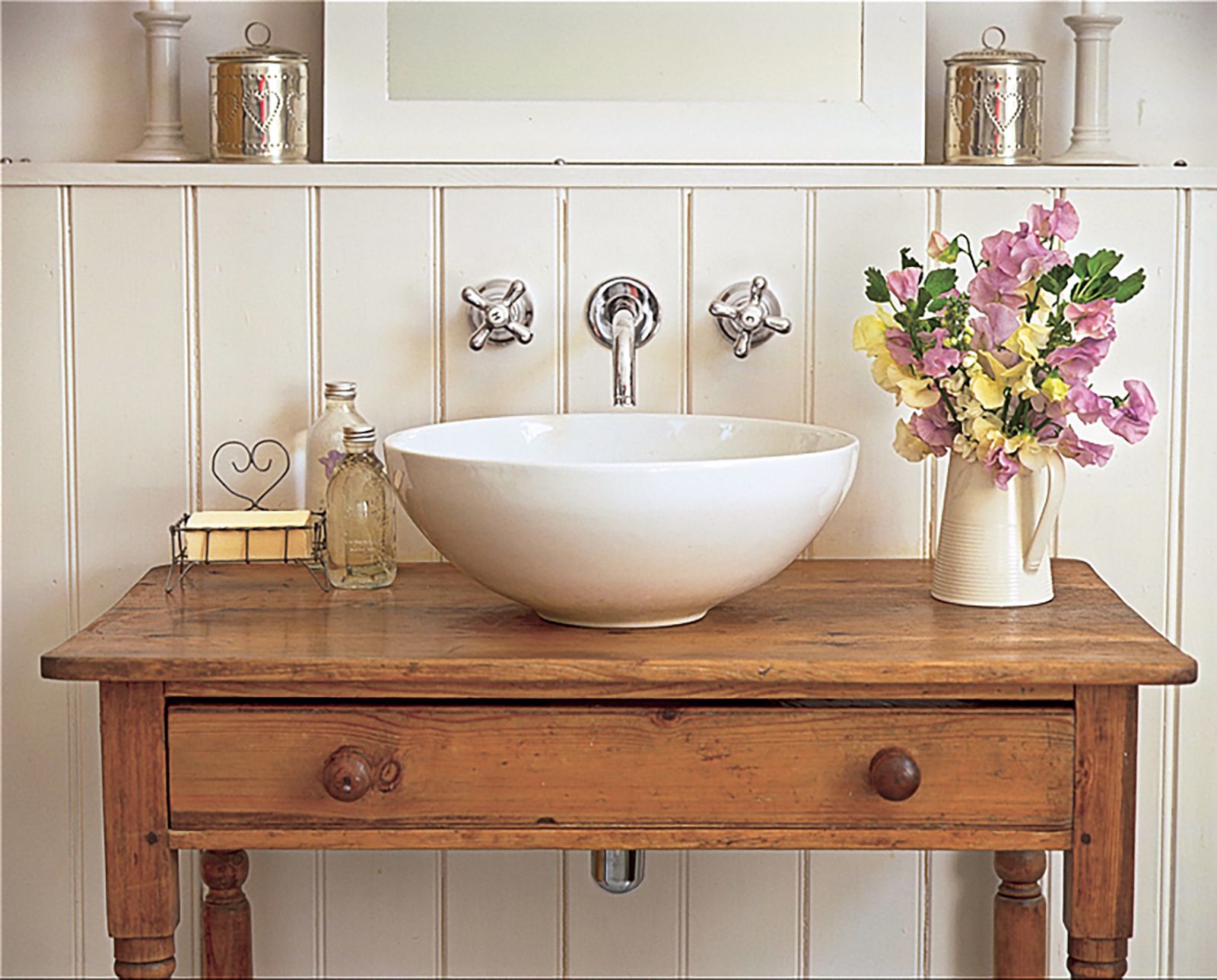 The bowl sits above the counter, so you'll have more room for drawers and storage space below it. But the work surface has less usable space and is tougher to keep clean.
Vanity with Sink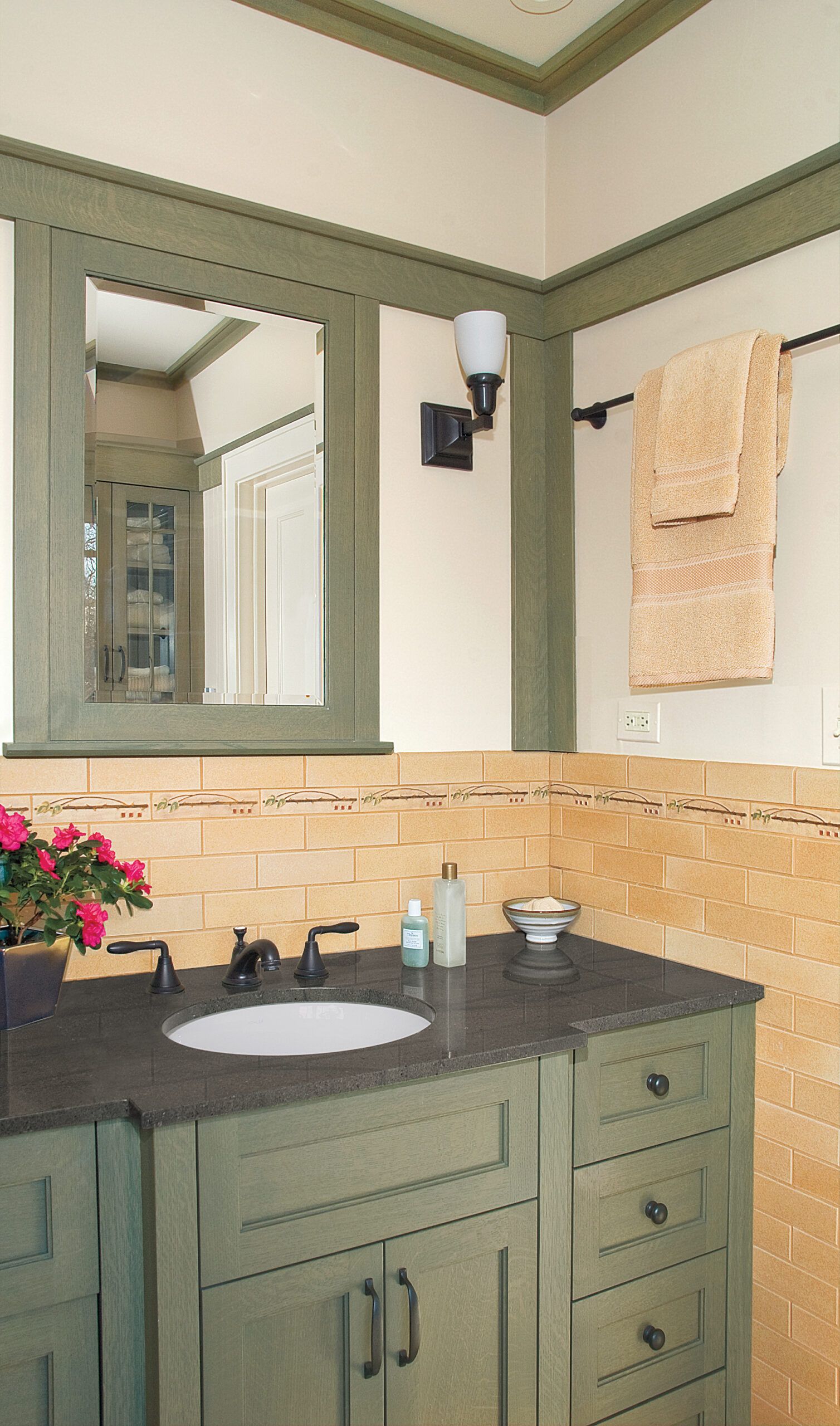 While it takes up the most room, it offers the most utility. An average 30-inch vanity has nearly 15 cubic feet of storage (minus the sink bowl and pipes) and about 10 inches of countertop on each side. You'll need sufficient clearance to open cabinet doors or pull out drawers.
Bathroom Countertops: A Cheat Sheet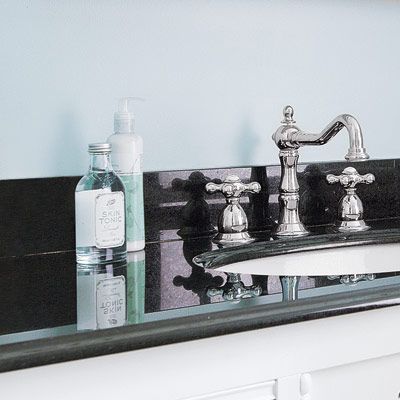 Natural Stone
Best for: High-end baths cared for by vigilant homeowners.
Pros: Natural beauty in every slab; allows for undermount sink; polished granite is highly stain and scratch resistant.
Cons: Must be sealed regularly; porous types, such as marble and limestone, will stain and etch if spilled toiletries and cleaners aren't wiped up fast; honed surfaces can show water and oil marks.
Price: $$-$$$
Resin-Based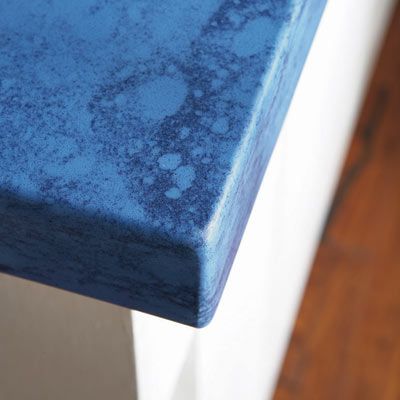 Best for: Countertops with unusual shapes or dimensions.
Pros: Whether a straight resin (solid surface) or one made with marble dust (cultured marble), these can be formed as a single, seamless piece, often including the sink; comes in a wide variety of colors; needs no sealing.
Cons: Can lack the upscale feel and beauty of natural stone.
Price: $-$$
Laminate
Best for: Baths on a tight budget or short project timetable.
Pros: Affordable; available in prefab slabs at home centers; stain and scratch resistant; huge variety of colors, finishes, and textures.
Cons: Can delaminate over time; the look can be downscale; can't accommodate undermount sinks.
Price: $
Wiring Your Bathroom
The 15-amp wiring in your prewar house's bathroom has likely been abused by years of high-power hair drying. So don't just swap in GFCI outlets. Replace the wiring, too, with a dedicated 20-amp circuit and plenty of outlets for all the appliances you use, from electric razors and toothbrushes to hair-straightening irons.
What's the Standard Height for Bathroom Accessories?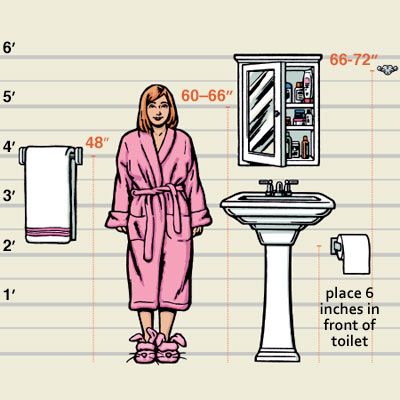 There are no hard-and-fast rules about how high to hang towel bars and robe hooks. Designers use the dimensions above as a starting point. Decide where to put things early on so that you can add extra blocking where needed before finishing the walls. If you can, mark potential spots with painter's tape first, then adjust for comfort.
Bathroom Vanity Lights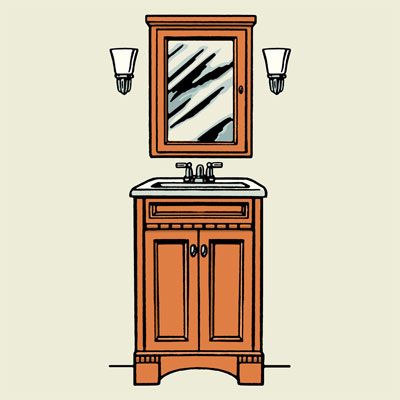 Flank the mirror with light fixtures placed at eye level (around 66 inches), ideally spaced 36 to 40 inches apart. Try to see fixtures in action before you buy to make sure the amount and quality of light is sufficient. If there's no room for side sconces, install a long fixture on the wall above the mirror. Don't rely on a recessed ceiling fixture (think Dracula face).
The Best Caulk to Use for Your Bathroom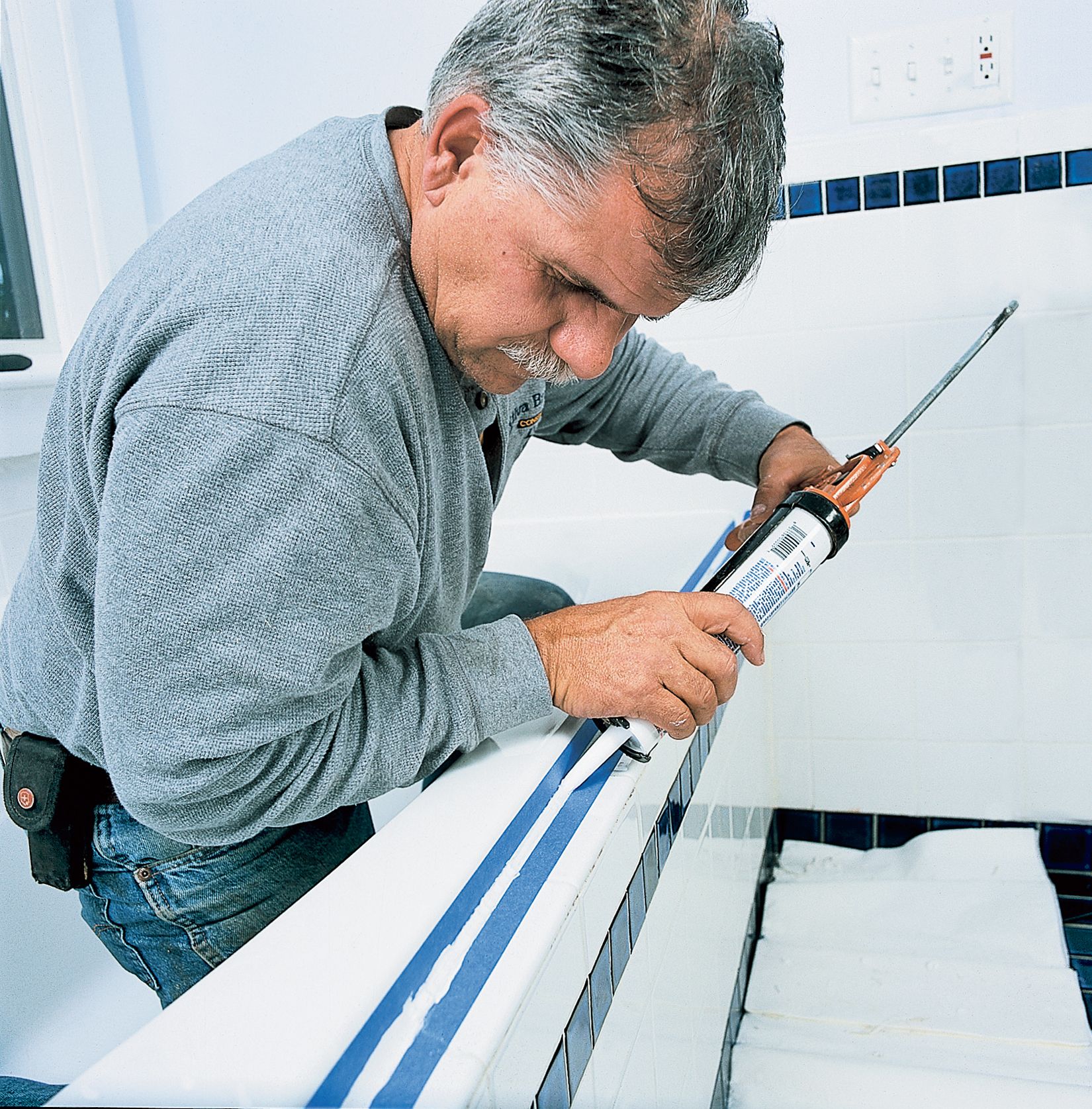 Go for an acrylic or hybrid formula you can remove without the use of harsh chemicals so that replacement is easier. And make sure it contains a mildewcide that offers protection for five years or longer.
The Best Grout to Use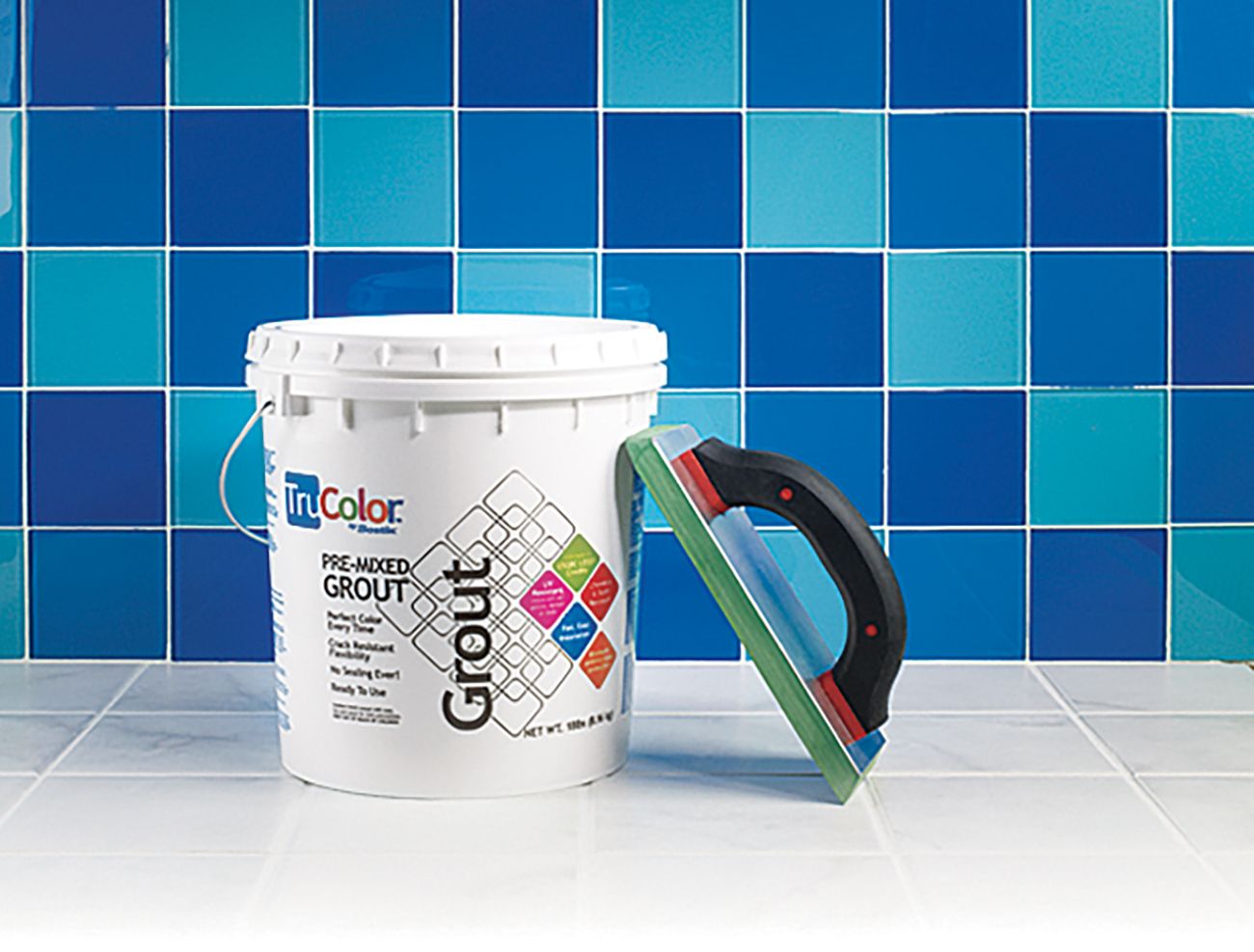 Bostik's TruColor premixed grout is pricey and sets quickly, but the nonporous urethane formula resists cracks, won't stain, and needs no sealing.
About $85 for a 9-pound bucket; csnstores.com
How to Find the Best Toilet
Don't settle for a wimpy flusher. Maximum Performance testing (MaP) gauges a toilet's ability to get the job done with just one push of the handle. Look for a loo with a MaP score of 500 or higher; this group includes many WaterSense-rated toilets, high-efficiency models that use as little as half of the 1.6-gallon-per-flush legal limit. Go to map-testing.com for more info.
Water Heaters
Adding a soaker tub or multi-head shower? You may need a bigger water heater. Tank-style heaters are labeled with a first hour rating (FHR), a measure of how much hot water it produces in an hour. To help determine your FHR, use the list below to calculate your family's hot-water consumption in the bath each morning. Visit the U.S. Department of Energy for more info on FHR.
Showering: 12 gallons per person
Bathing: 9 gallons a person
Shampooing hair: 4 gallons a person
Washing hands and face: 4 gallons a person
Shaving: 2 gallons a person
Accessible Bathroom Layout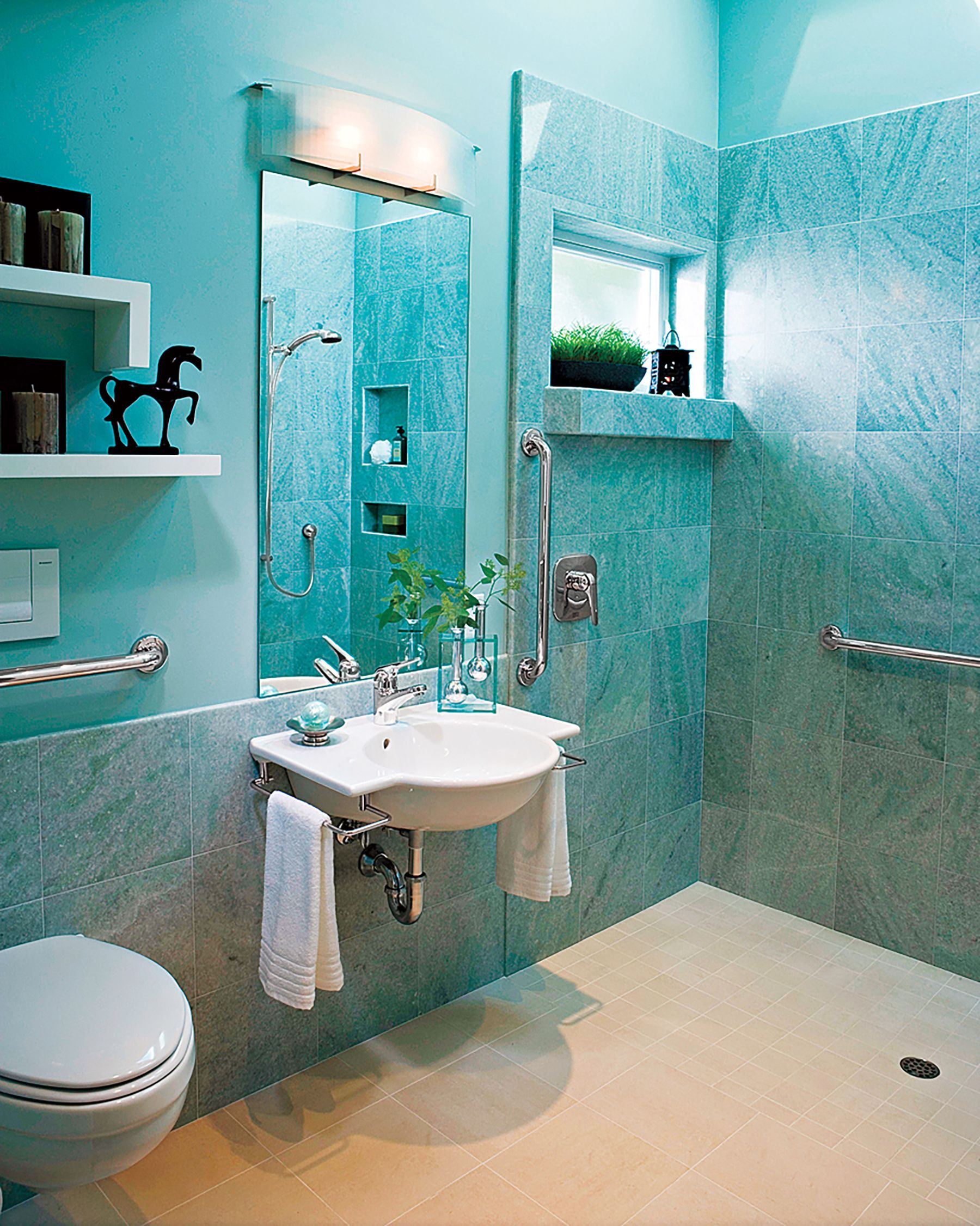 Handheld showers and easy-to-grip lever faucets suit people of all abilities and can be put in any time. But plan permanent features early on. Grab bars should be secured to blocking between wall studs and placed 33 to 36 inches off the floor. Other things to consider: a barrier-free shower, a wider doorway, and a lower sink height. Visit the National Kitchen and Bath Association's website for more guidelines.
Can I Use Wallpaper in a Bathroom?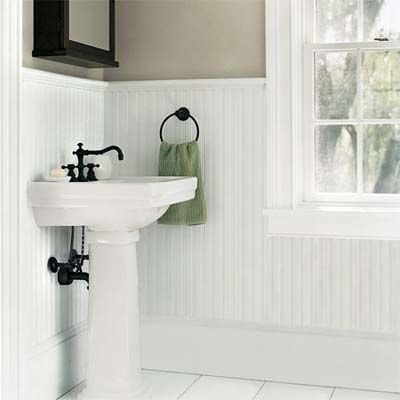 Preferably not. It just won't stand up to humidity. Consider wainscoting as a nontile wall covering instead.
How to Get Replacement Parts for Free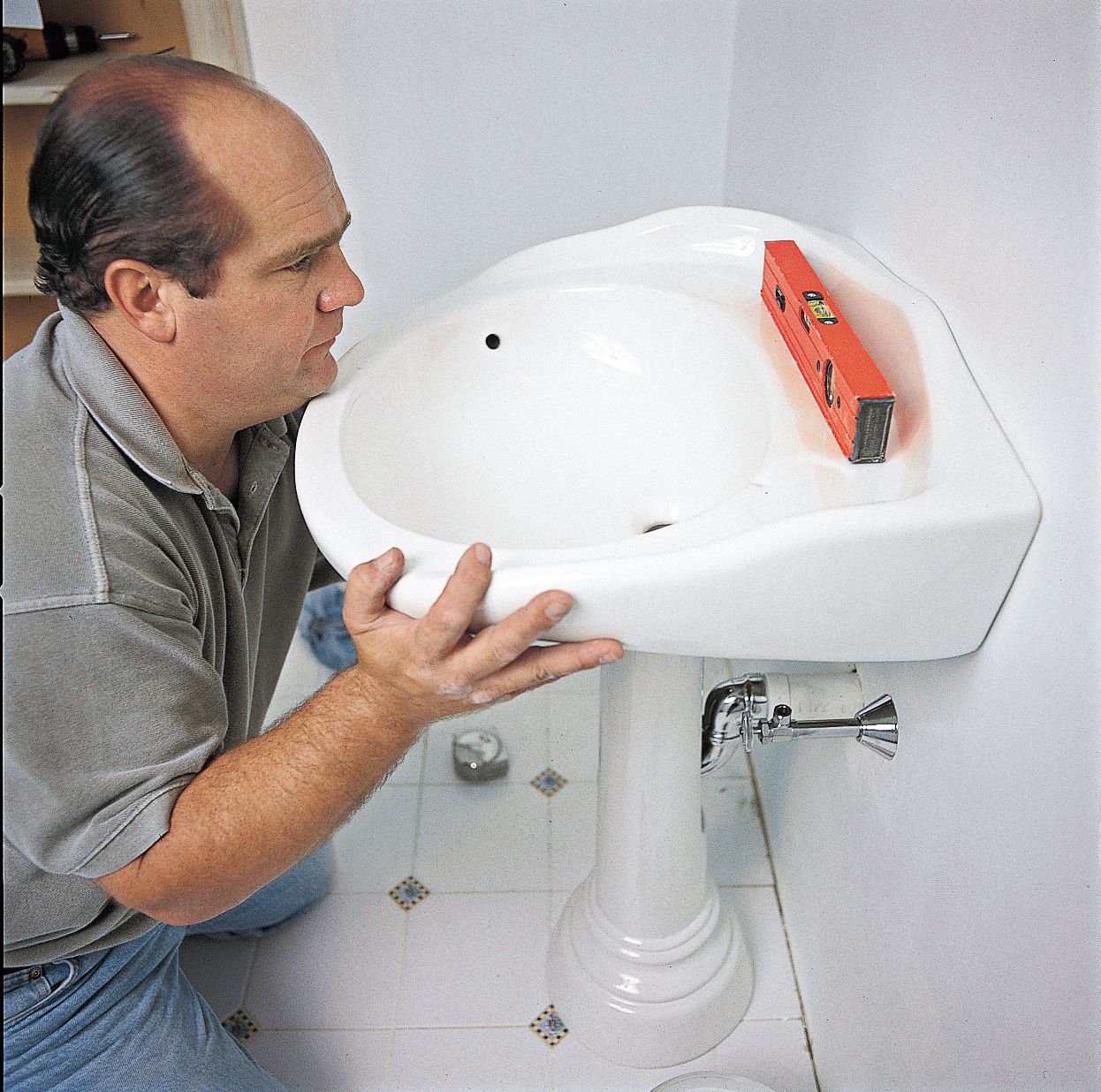 If you have trouble with any part of a brand-name plumbing fixture—no matter what may have caused it—call the manufacturer's toll-free number and explain the problem. Most will rush you replacement parts at no charge.
What to Put Under a Tile Floor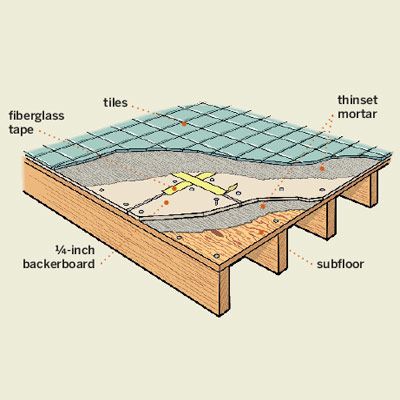 Don't lay floor tile over plywood, which can swell with moisture and break the tile bond. If you're not pouring a new floor, mortar and screw ¼-inch backerboard over a level subfloor, then lay tile on top. Another option: Put in a DITRA flexible underlayment, which helps prevent cracks in ceramic and stone tile by evenly distributing the weight they carry.
Bathroom Vent Fan: Pick the Proper One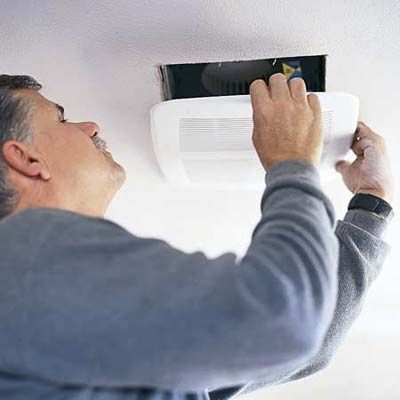 A fan is a must, but don't let it be an afterthought.
For a master bath: Splurge on an ultra quiet unit that won't wake up your mate during night trips. Make sure it has enough power for back-to-back showers, and put it on a timer so that you can let it run for 20 minutes to banish steam after you're done.
For a family or guest bath: A model with mid-range noise level and power will save you a few bucks. Or, spend a bit more for one with a humidity sensor so that you don't have to rely on kids or guests to turn it on.
For a powder room: Install a loud fan for maximum sound privacy near public areas. Opt for one with a built-in light, or wire it to a light switch so that it will turn on automatically.
How to Prevent Your Pipes from Freezing
Arrange your bathroom so that there are no fixtures, and therefore no plumbing, on exterior walls.
Bring pipes up through the floor instead of the wall if it's a first-floor bathroom.
Run pipes in the wall on the interior side of the insulation. If codes allow, use flexible PEX tubing, which doesn't crack at low temps.
Bathroom Checklist
Measure your space thoroughly so that you know what size fixtures will fit.
Locate all water shutoff valves so that there are no floods when taking out fixtures.
Make arrangements for a backup bathroom if necessary.
Determine whether to donate or dispose of old fixtures, and make plans accordingly.
Buy plenty of plastic sheeting to contain dust if you're knocking out tile and drywall yourself.
Check recent references for plumbers and other pros you hire.