Timeless-Look Bath: After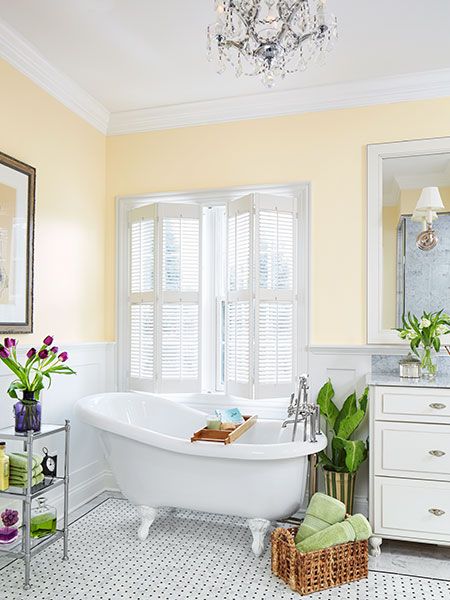 A crowded bath can be downright scary. When Jim and Jane Breihan moved into their 1996 ranch, in Geneva, Illinois, the master bath felt so cramped, dark, and dated that Jane refused to use it. "I just closed the doors and went to the guest bathroom," she says. No wonder: Between a giant corner tub, two hulking vanities, a massive walk-in closet, and a separate toilet enclosure, there was little room to maneuver. So the couple enlisted the help of local design firm The Kitchen Studio of Glen Ellyn to bring the master bath some much-needed airiness.
To maximize the space, everything had to go—especially the extra walls that broke up the room. The new layout allows or an expansive shower, complemented by a charming claw-foot tub. Two vanities were replaced with one that boasts six drawers and a marble counter with plenty of deck space. And with vintage-style paneled wainscoting, a basketweave tile floor, and polished-nickel finishes, the new bath has a timeless look. "Now," Jane says, "the guest bath is just for guests."
Shown: Removing the walk-in closet and moving the toilet made space for a claw-foot slipper tub, an large single vanity, and a roomy walk-in shower.
Kitchen designer: The Kitchen Studio of Glen Ellyn, Glen Ellyn, IL;
Contractor: Ken Nunkovich, KJN Renovations, Wheaton, IL;
Paint: 2154-60 Filtered Sunlight; Benjamin Moore
Tub: Elizabethan Classics
Tub faucet: Barclay
Cramped and Dated: Before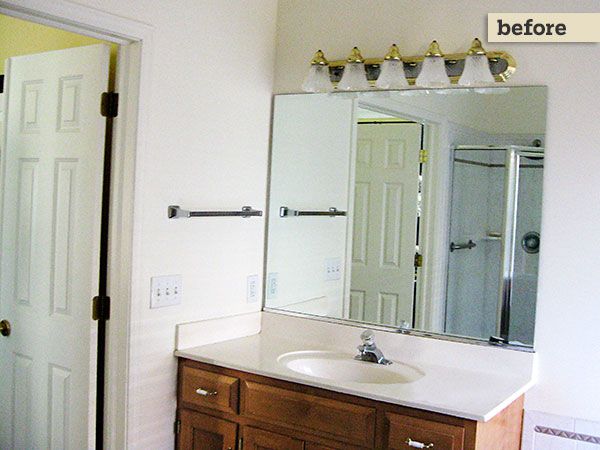 Dated fixtures, two vanities, and a built-in corner tub overwhelmed the bath, while a giant walk-in closet and a separate room for the toilet made it feel claustrophobic.
Hidden Water Closet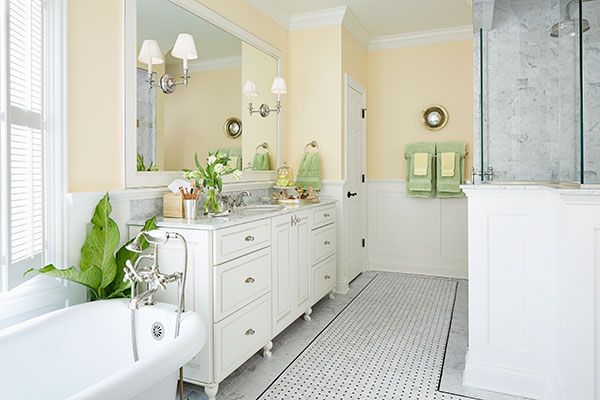 Tucking the toilet behind the shower hides it from view, without the need for another door. Sconces installed directly on the vanity's large mirror help reflect light.
Pro Advice: "Think about what you want to see when you first walk in—a footed tub makes a sculptural focal point."—Susan Klimala, Glen Ellyn, IL
Cabinetry and mirrors: Woodharbor
Custom vanity: Woodharbor
Sinks: Kohler
Faucet: Rohl
Dresser-Style Vanity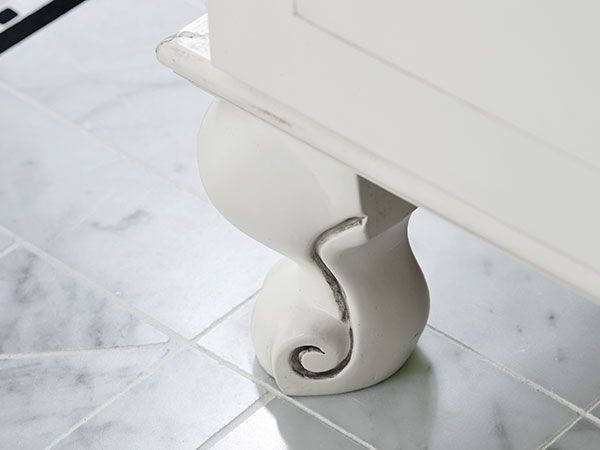 Curvy feet give the vanity the look of a vintage furniture piece.
Period-Style Elements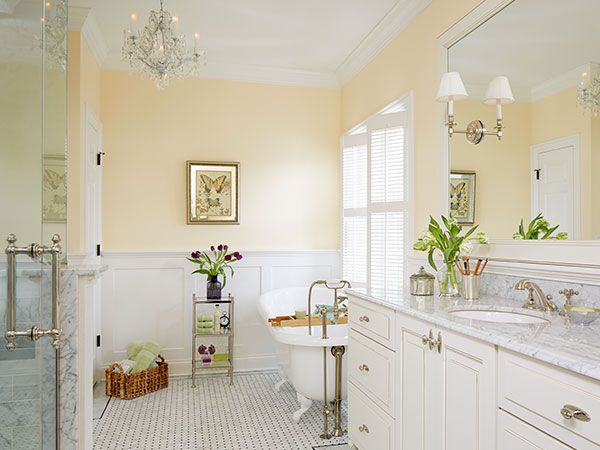 Paneled wainscoting and chunky crown molding add period style, complemented by a delicate crystal chandelier overhead.
Chandelier: Crystorama
Cozy Trimwork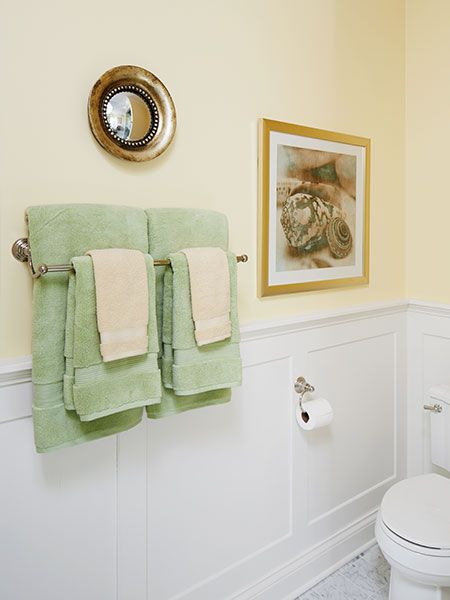 Wainscoting and beefy baseboards help warm up a bath that has lots of tile and create a period feel.
Heated Tile Floors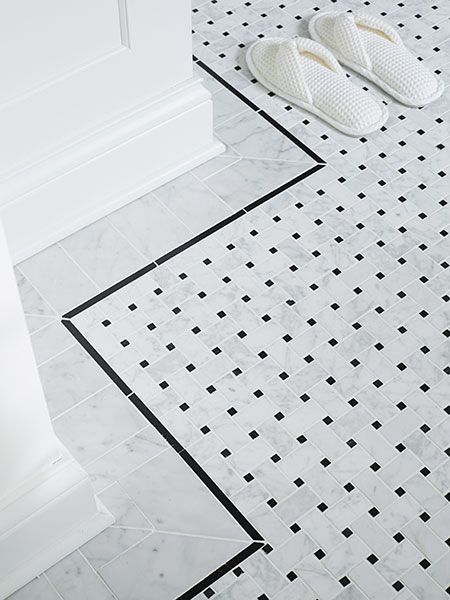 Basketweave marble floor tile, framed by a pencil-thin ceramic border, is warmed by an electric heat mat.
Marble tile: AlysEdwards
Glass-Enclosed Shower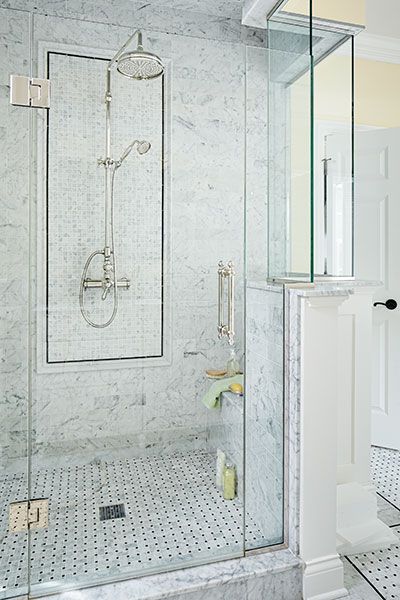 A clear glass enclosure keeps sight lines open. The shower is lined with marble tile and a matching basketweave floor. A built-in bench offers a resting spot for toiletries.
Shower-wall accent: Walker Zanger
Shower fittings: Rohl
Shower-door pull: Portals
Marble Shower Ledge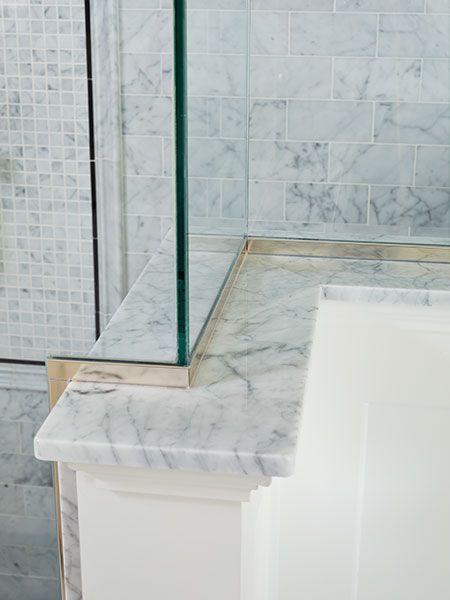 A marble ledge provides a handy place to rest toiletries and protects the wood paneling from splashes.
Vintage-Style Shower Details
An inset of marble mosaic tile framed with black pencil tile and a marble border highlight the vintage-style exposed-riser shower fittings.
Carrara marble mosaic and subway tile: Stone Tile Inc.
Ceramic pencil tile: Walker Zanger
Floor Plan Before: Three Parts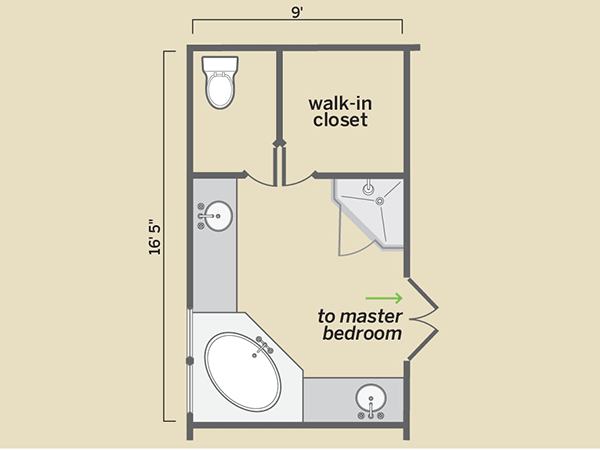 A three-part bath gave lots of space to the toilet, tub, and closet, but left only a tiny shower.
Floor Plan After: Spacious Bath
Annexing the walk-in and water closets opened up the space, making room for a spacious shower and lots of storage.
1. Replaced the longer vanity with an even bigger one with nearly 5 feet of deck space.
2. Swapped the bulky corner tub for a new claw-foot soaker.
3. Tore out the water closet and relocated the toilet behind the shower.
4. Got rid of the old walk-in closet, using some of the newly freed space to expand the footprint of the shower.
5. Eliminated the second vanity in favor of a second linen closet to store towels and other essentials.