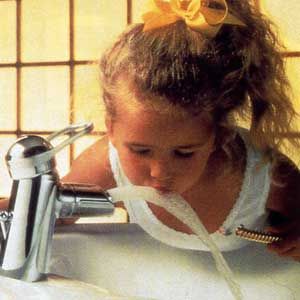 Three signs that your old bath faucets are treading water: Their finish is dull or pitted. They still drip even after you repair them. Or, their style looks dated with the bath remodel you're planning. If that describes your faucets, get ready for a sea of replacement options. Stores are filled with quality $100 lav faucets with five-year warranties and others that take care of the needs of older users, tub faucets tough enough for a house full of teens and multihead shower walls that make you feel like you just stepped under a tropical waterfall. Making things tougher is that you'll also find poor-quality pretenders that glitter as brightly as top-of-the-line models. Picking a style you like is the easy part of buying a new faucet. The harder questions are: What material and finish were used in the faucet you like? Will they last and still be easy to clean? If there is a problem, how difficult and expensive are repairs? In other words, which faucet will give you the style and service for what you want to spend? TESTING THEIR METALS
Aside from style and features, what separates good lav, tub or shower faucets from the not-so-good is the material they're made of. Start by checking out the body, which encompasses the spout and controls. Solid-brass bodies last longest and require the least care, especially with hard water, which corrodes lesser metals. At $150 or so to start, these faucets also cost the most. If you aren't sure whether a fitting is solid brass, pick it up. It should feel heavier than other units. Often, the box will read "all-brass body" versus "ZMACK" for brass- or chrome-plated fittings. Faucets with die-cast zinc-alloy bodies cost less (typically starting at about $70) and deliver good durability. Zinc is the metal beneath most brass- and chrome-plated fittings. Because zinc corrodes when it contacts water, these faucets must be replaced when the plating wears off. Stay away from low-end faucets with plastic bodies. Though their $50 entry price might be appealing, plastic simply doesn't hold up. Finish is another crucial choice that determines not only how a faucet looks but also how easy it is to maintain. An electroplated chrome finish on a brass or zinc faucet looks good and lasts. If you opt for the warmth of natural brass, you'll avoid frequent cleanings with one of the proprietary lifetime finishes that block out oxidation. Examples of these finishes include Delta Brilliance, Moen LifeShine and Jado Diamond. Pewter, nickel and satin finishes are also easy to maintain. Their muted tones hide water spots, scratches and fingerprints. They also match door and cabinet handles more easily than brass. Chrome and combination chrome-and-brass finishes are popular for baths but require frequent cleaning to maintain their shine. With a spectrum of colors available, going with painted or enamel finishes is the easiest way to individualize a faucet and coordinate it with the rest of the bath. But because most of these finishes aren't bonded to the metal like plating, they chip and scratch relatively easily. Save them for less-used powder rooms and guest baths.
PICKING A LAV FAUCET
If you're replacing only the faucets and not the sink, you have to know which size unit to buy. Start by removing the existing faucet and measuring the distance, or spread, between the holes in the lavatory. Small lavs often have three holes that span 4 in.; they accommodate faucets that consist of a spout and separate handles connected by an escutcheon plate. Your new faucet must be configured the same way. The same holds for single-handle faucets and some two-handle units mounted in a single hole. Lavs with holes 6-, 8- or 12-in. spreads have separate handles and offer more replacement options. Next, consider who will use the faucet; this factor determines the style you choose as well as the inner workings you opt for. How many handles. Look for a single-handle faucet or one with lever handles for older users or anyone who has trouble turning round knobs. Also look for an "ADA Approved" (Americans With Disabilities Act) label. If you opt for round knobs, look for ones with rotational limit stops, which take just a quarter turn to open and close the valve inside. Small children have different needs. "When children step up to the sink, they usually reach for one handle or the other. You hope it's the cold one," says Dale Archer, technical service manager for Hansgrohe, a Cumming, Georgia-based faucet manufacturer. The company suggests single-handle faucets for kids; these aren't likely to be in the full-hot position. You can also find single-handle models that let you adjust the flow mechanism to limit the amount of hot water available. What kind of valve. Control valves open and close water flow inside the faucet body when you move a handle or twist a knob. There are four kinds, each with its own strengths and weaknesses. Traditional two-handle faucets use compression valves, which control water flow with a rubber washer. Hard water and overtightening wear the washer, eventually causing leaks. However, the valve is easy to access, while washers cost only pennies to replace. Sleeve-cartridge valves are used in one- and two-handle faucets. Because all the working parts are contained in a single unit that lifts out quickly, sleeve-cartridge valves are easiest to repair. Each company has a different sleeve design, so be sure the replacement parts match your faucet. Replacements cost $10 to $20. Choose brass cartridges over plastic, if possible. Ball valves are exclusive to single-handle faucets. Introduced by Delta in 1954, they use a slotted-metal or plastic ball and spring-loaded seals to control flow. These systems are very durable and inexpensive to repair. But their many small parts make assembly difficult. Stick with metal ball valves and replacement kits (about $10), which hold up better than plastic ball valves. Ceramic-disk valves are considered the best by many experts. A two-part revolving disk turns water on and off depending on the alignment of its ports. Replacing the self-contained disk is fast and easy (about $15 to $20). And because the disk is impervious to sand and sediment, this is the system to choose if your water has lots of either. If impurities aren't a problem, other systems should be fine. Whichever control valve you consider, check the warranty. It's a good indication of how long the manufacturer expects the valve to last.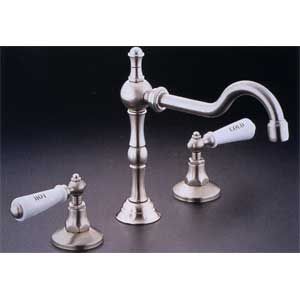 TUB AND SHOWER UNITS
To avoid extensive work on your shower wall, choose a new shower faucet with the same basic layout. Stick with a single- or double-handle faucet if that's what you have. The same goes for tubs, including antique or antique-style claw-foot units. Some have faucet holes drilled into the porcelain 3 5/8 in. apart, an unusual spread. Kohler and American Standard make faucets to fit this oddball size. Styles. The type of tub you have will determine which style faucet to select. If the tub is surrounded by a ceramic-tile platform, the spout and handles can be mounted on the platform. Rim-mounted faucets are installed through holes predrilled in the tub. Both configurations work when the tub and shower are separate. Wall-mounted faucets are the most common when the tub and shower are combined. They also offer the option of single-handle controls. Most showerheads provide a variety of spray options. If you don't like the height of your present showerhead, consider a handheld model. They're perfect for rinsing hair and cleaning the shower or tub. When not held, the head can be mounted on a bracket or on the shower arm like a conventional head. Many manufacturers also offer heads that slide on a pole to adjust for tall and short users. Using multiple showerheads in the bath is a growing trend. Separate jets molded into a shower wall wash your entire body at once. Each showerhead typically costs between $10 and $20. But because each head requires valves and piping to deliver the water, installing these systems requires extra in-the-wall plumbing – at a steep price. You'll also need to check water restrictions in your area before replumbing your shower. Temperature control. Most of us have experienced a hot or cold "shock" when someone flushes a toilet while we shower. Shower faucets with pressure-balance valves prevent this shock; the valve senses a sudden drop in hot or cold pressure and reduces pressure on the other side to keep water temperature from varying more than 2° or 3°F. Thermostatic valves accomplish the same thing by sensing changes in temperature. Until recently, scald protection was available only in single-handle faucets. The new Monitor II from Delta is the first two-handle faucet that offers it. Many communities have "scald codes" that require scald protection in all new construction. Even if your town doesn't have this requirement, antiscald protection is vital for children and older adults. Shower faucets with scald protection usually start at around $150. Heat memory is another shower option worth considering. Some are electronic, but most keep the handle in position when you turn off the water, allowing you to maintain the heat setting you had when you last shut them off.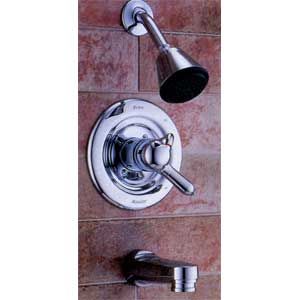 WHERE TO SHOP
Bath faucets are sold at hardware stores, lumberyards, home centers and bath-remodeling showrooms. Plumbing wholesalers are another source to consider. "A reputable plumbing wholesaler can give you accurate information about the product you won't find on the packaging," says Jean Butler, showroom manager for APEX Supply Co., a wholesaler in Richardson, Texas. For example, wholesalers can tell you whether a fitting is brass or brass-plated. They know the manufacturers and how well they stand behind their products. They also know what local contractors are buying – a good indication of what works for local codes and water conditions. Best of all, a wholesaler can often give you the best price. A safe course no matter where you buy is to stick with name-brand products known for quality and reliability. Off-brand faucets often are poorly made, and it's difficult to get parts for them. Along with wholesalers, talk with plumbers, contractors and other pros who install bathroom fittings every day.
Lav Faucets: The Inside Story
By Fran J. Donegan Faucet manufacturers have their own proprietary designs. But the valves that control the water inside are based on one of these four types: Compression valves are the traditional systems on two-handle faucets. Rotating the knob or handle raises a stem and opens water flow. Washers beneath the stem wear out with time but are easily replaced. Ball valves contain a slotted metal or plastic ball that aligns with the hot- and cold-water inlets when rotated by the faucet handle. Developed by Delta and exclusive to single-handle faucets, ball valves are reliable but tedious to fix. Choose a metal valve over plastic. Sleeve-cartridge valves contain a cylinder that controls the flow of water as it's lifted and turned. These systems wear well and are easy to repair because most of the parts are contained in the sleeve itself. In most cases, you simply lift out the old cartridge and drop in a new one. Ceramic-disk valves are the latest in faucet technology. Available in both single- and double-handle models, they consist of two disks in a sealed cylinder that allow water flow when aligned. This system is extremely durable – rare leaks are usually linked to the neoprene seals at the water inlets. Repairs are easy.
Where to Find It:
Absolute
6615 W. Boston St., Dept. TH398, Chandler, AZ 85226
800/359-3261 American Standard Inc
1 Centennial Ave. Dept. TH398 Piscataway, NJ 08855-6820
908/980-3000
www.americanstandard.com Delta Faucet Co.
55 E. 111th St., Dept. TH398 Indianapolis, IN 46280
800/345-DELTA
www.deltafaucet.com Eljer Plumbingware
17120 Dallas Pkwy. Dept. TH398 Dallas, TX, 75248
800/435-5372 Gerber Plumbing Fixtures Corp.
4600 W. Touhy Ave. Dept. TH398 Chicago, IL 60646
847/675-6570 Hansa-America
931 W. 19th St., Dept. TH398 Chicago, IL, 60608
800/343-4431 Hansgrohe, Inc.
1465 Ventura Dr., Dept. TH398 Cumming, GA 30130
800/719-1000 Interbath, Inc.
665 N. Baldwin Park Blvd. Dept. TH398, City of Industry, CA 91746
800/800-2132 Kallista
2701 Merced St. Dept. TH398, San Leandro, CA 94577
888/4-KALLISTA
www.kallistainc.com Kohler Co
444 Highland Dr., Dept. TH398 Kohler, WI 53044
800/4-KOHLER Moen Inc.
25300 Al Moen Dr., Dept. TH398, N. Olmsted, OH 44070-8022
800/553-6636
www.moen.com Sterling Plumbing Group
2900 Golf Rd., Dept. TH398, Rolling Meadows, IL 60008
800-STERLING