Practical, Pretty Glass Surfaces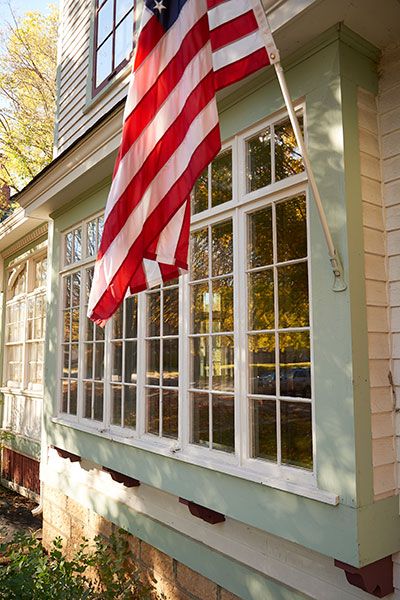 When drapes feel like a drag, nosy neighbors move in next door, or your kitchen cabinets are a mess, window film may be the answer to your problems. Take note of The Snug's video tutorial on how to put on window film and apply it for a solution that clearly—or, at the least, translucently—works.
Add a Frosted View for Bathroom Privacy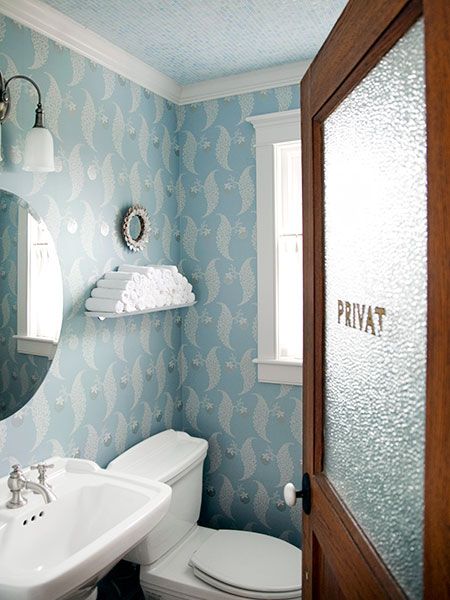 That salvage yard find will do just fine for your powder room with the addition of window film. Make doors with gracious glass panels work for a half bath by applying frosted film that offers a mere glimpse of the charming wallpaper within.
Similar to shown: Translucent Crackled Glass Privacy/Decorative Static Cling Window Film by Gila, 36-by-78-inch roll; About $32 Lowe's
Mimic the Look of Etched Glass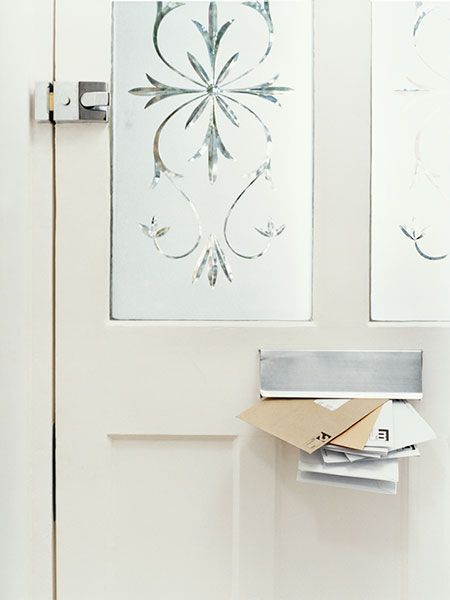 Acid-etched glass—which became popular in the mid-1800s as a way to shield bar patrons from view—elevates a plain front door.
Get more ideas for adding old-house charm on a budget
Prevent Strangers From Seeing Through Front-Door Sidelights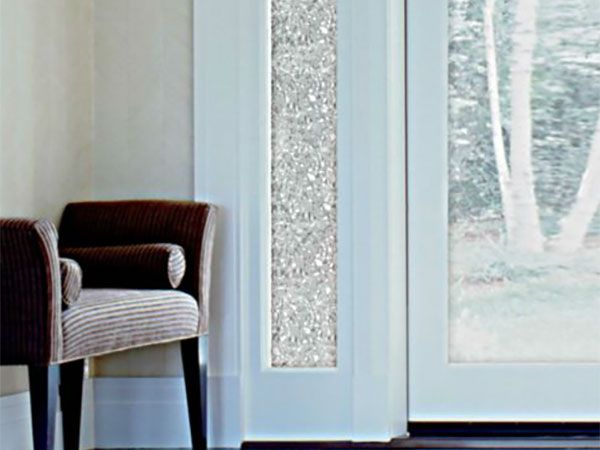 The handsome sidelights on your Craftsman-style door are a great accent that also happens to give passersby an unwelcome peek inside your home. Put yourself at ease by installing decorative window film that won't detract from your entryway's scheme.
Shown: Sidelight Decorative Window Film in Splinter, 12-by-78-inch roll; About $17 Improvements
Ornate Faux Stained Glass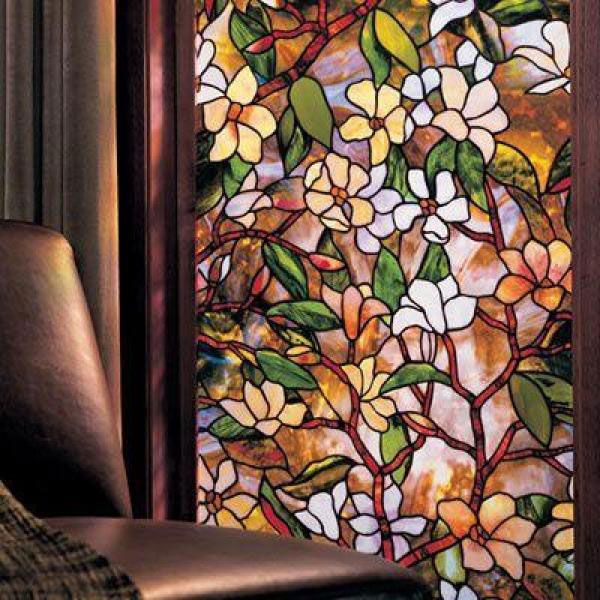 Stained-glass windows are salvage gold, with many reuse possibilities, like serving as doors for a stylish bar cabinet. Add some of the beauty of stained glass—without the soldered lead rods and colorful pieces of glass found in the real deal—by sticking on film that copies the look. Perhaps you'll love it enough to invest in actual salvaged stained glass.
Shown: Magnolia Decorative Window Film by Artscape, 24-by-36-inch roll; About $24 The Home Depot
Obscure Kitchen Cabinet Contents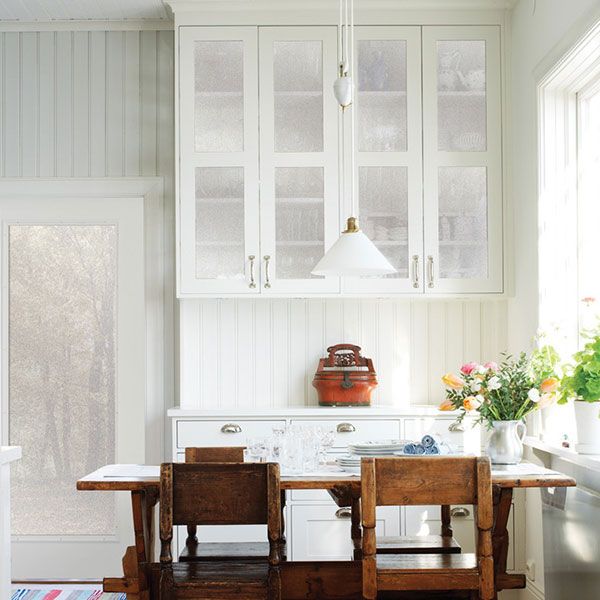 Glass-front cabinets may make some people feel self-conscious. Hide mismatched dinnerware and chipped mugs by applying this fuzzy-looking appliqué.
Shown: Sand Privacy Window Film by Brewster Home Fashions, 35.25-inch-by-78.74-inch roll; About $33 Wayfair.com
Provide Shade for Charming Windows and Doors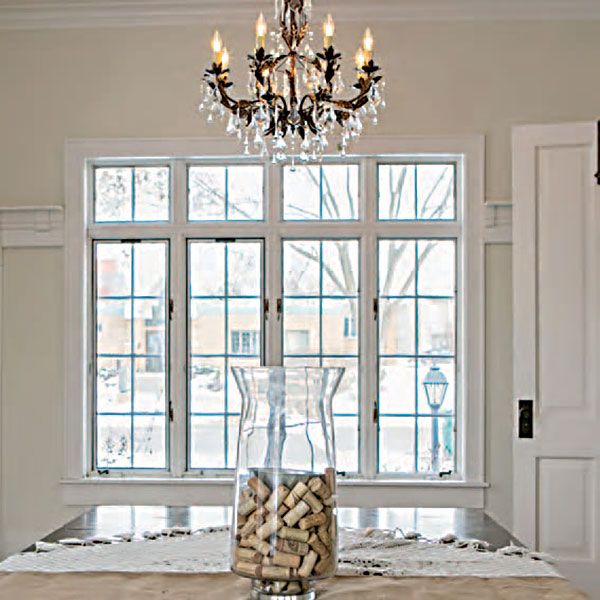 As seen in our Save This Old House column, ornate trim is a major selling point of fixer-uppers. When photographer Melissa and her husband purchased a 130-year-old Italianate, in Hudson, Wisconsin, they wanted to keep the focus on the gracious antique windows while preventing sunlight from damaging the refinished floors. So they opted for sun-control film to let the windows and the landscape they frame take center stage.
Shown: 3M Sun Control Window Film Prestige 50, 3M.com for dealers
Turn a Surface Into a One-Way Mirror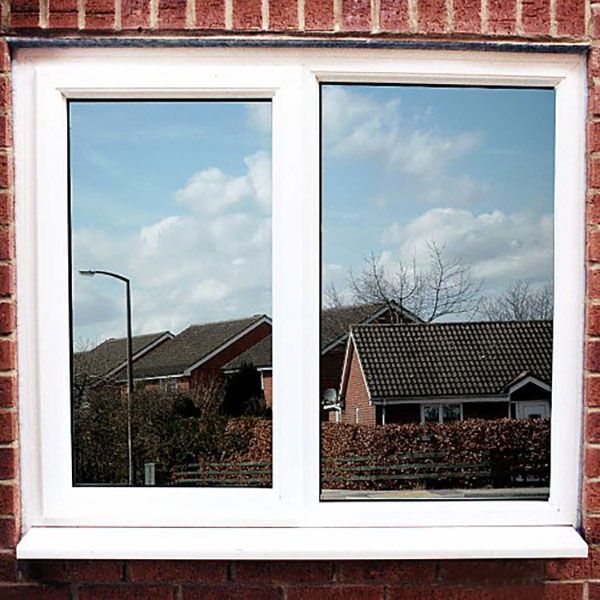 A kitchen sink window overlooking the yard gives a chance to watch over playing kids, but also gives nosy neighbors a peek inside. Get a covert view with a reflective film on an exterior window for an eagle-eye view with privacy.
Shown: Privacy Mirror Window Film by Fancy-fix, 20-inch-by-60-inch roll; About $16; Amazon
Create a Feathered Rice-Paper Look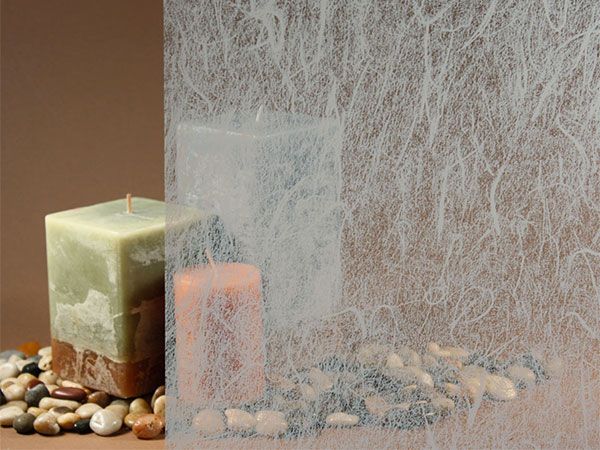 Create a relaxing vibe with a soft look. This film imitates atmospheric rice-paper panels.
Shown: Gossamer Window Film, 36-by-46-inch roll; About $19 WindowFilmandMore.com
Cover Half a Window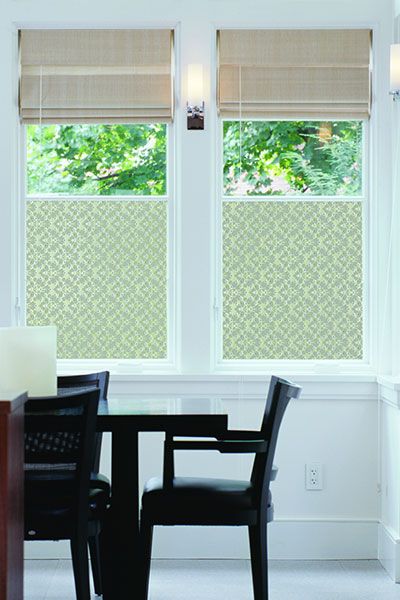 Get the best of both worlds—a little solitude and unfiltered natural light—by covering only the bottom half of a window with decorative film.
Shown: Damask Fan Window Film, 17.7- by-157.4-inch roll; About $26 Overstock.com
Deck Out Interior Windows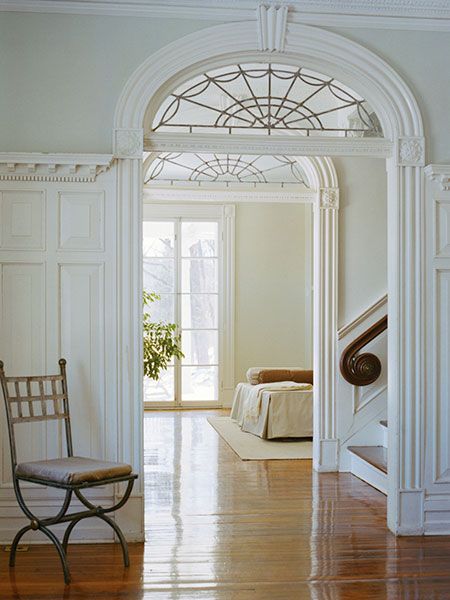 Add covetable architectural elements to plain interior windows with appliques that create a leaded-glass look.
Similar to shown: Essex Clear Stained Glass Appliques by Brewster Home Fashions; About $10 Wall Pops!
Give a Shower Door Some Privacy
An expansive glass shower may have been a great design statement for a couple to make but now that it's become a shared family bath—not so much. Make morning prep more private.
Similar to shown: Frosted White Privacy Film, 36-inch-by-25-foot roll; About $160 ULINE
Highlight a Window With Colorful Corners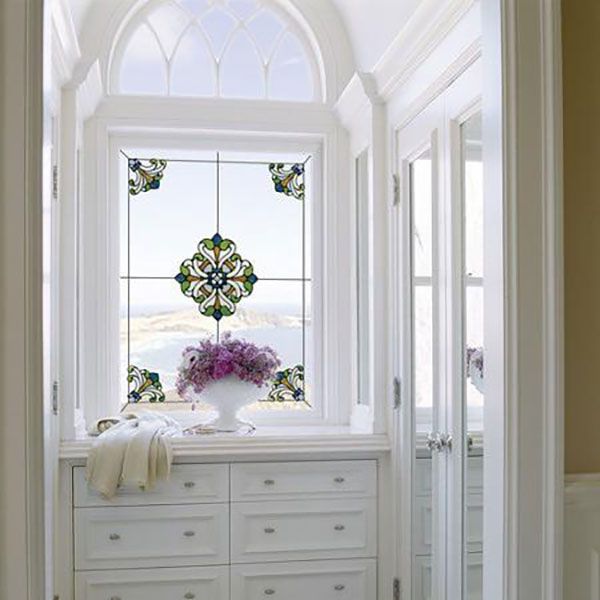 A wall full of windows can provide a view, or they can provide a view. Fake a pricey focal point by sticking colorful, attention-grabbing appliques in the corners.
Shown: Medici Corners Stained Glass Applique Window Sticker by Brewster Home Fashions, set of four; About $29 Walmart