1. Distress Wood Wall Paneling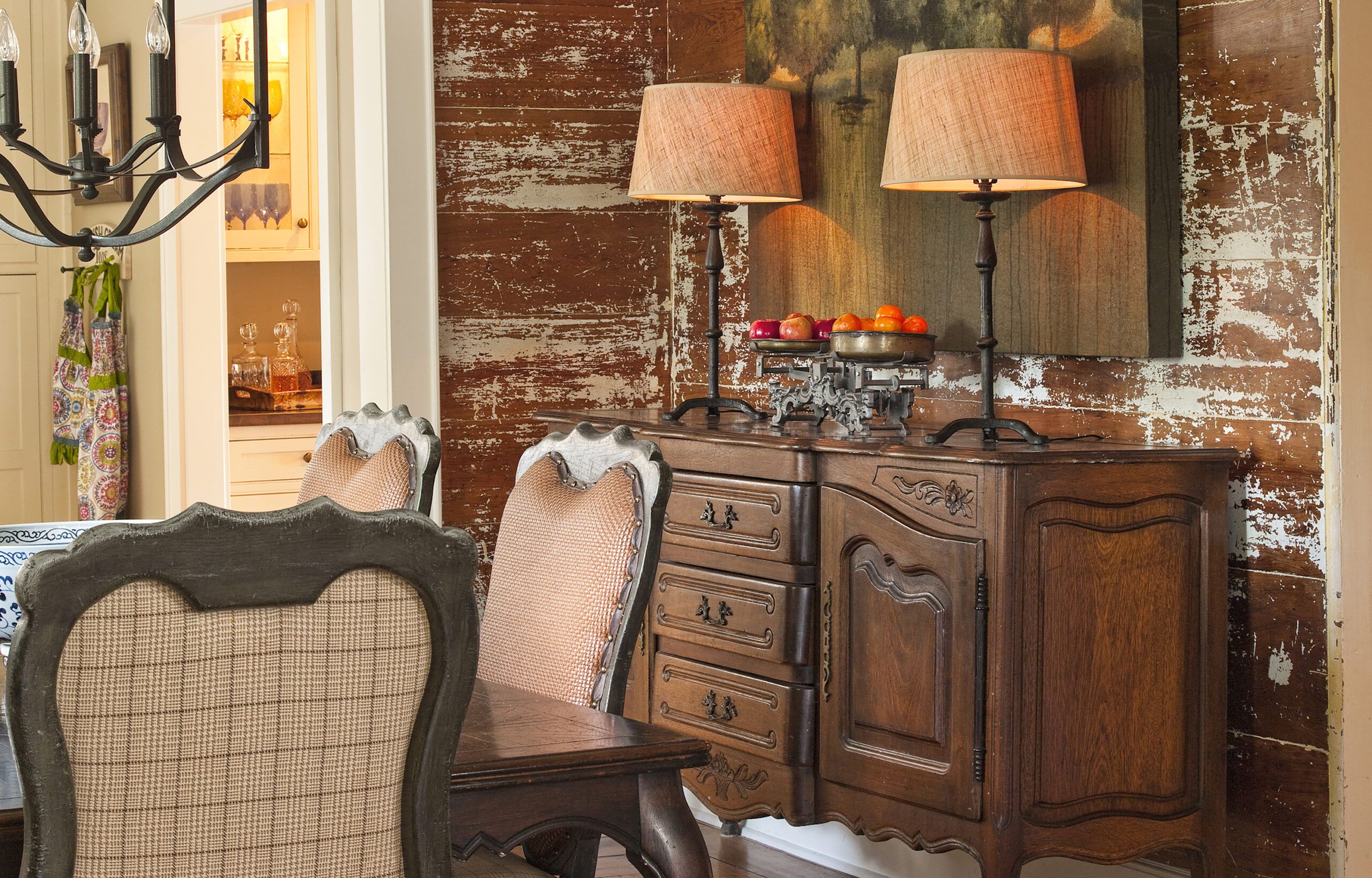 To give new wood-paneled walls a rustic farmhouse feel, like the ones at right, simply add and then subtract color. Start by painting the panels in a color, preferably one from a historic palette so that the hue appears authentic; if the wood paneling is dark to begin with, add paint in a lighter hue, or vice versa. Once dry, use a putty knife to scrape the finish in a random pattern, giving the illusion of paint that's peeled away over time. You can call it quits there, or take your faux-finishing project a step further by brushing on a clear glaze to give a little extra depth to the effect.
Cost: $66 for an average-size room. Ben Premium Eggshell Interior Latex, $36 per gallon, and Studio Finishes Latex Glaze in clear, $30 per gallon; benjaminmoore.com for stores
2. Hang a Handsome Screen Door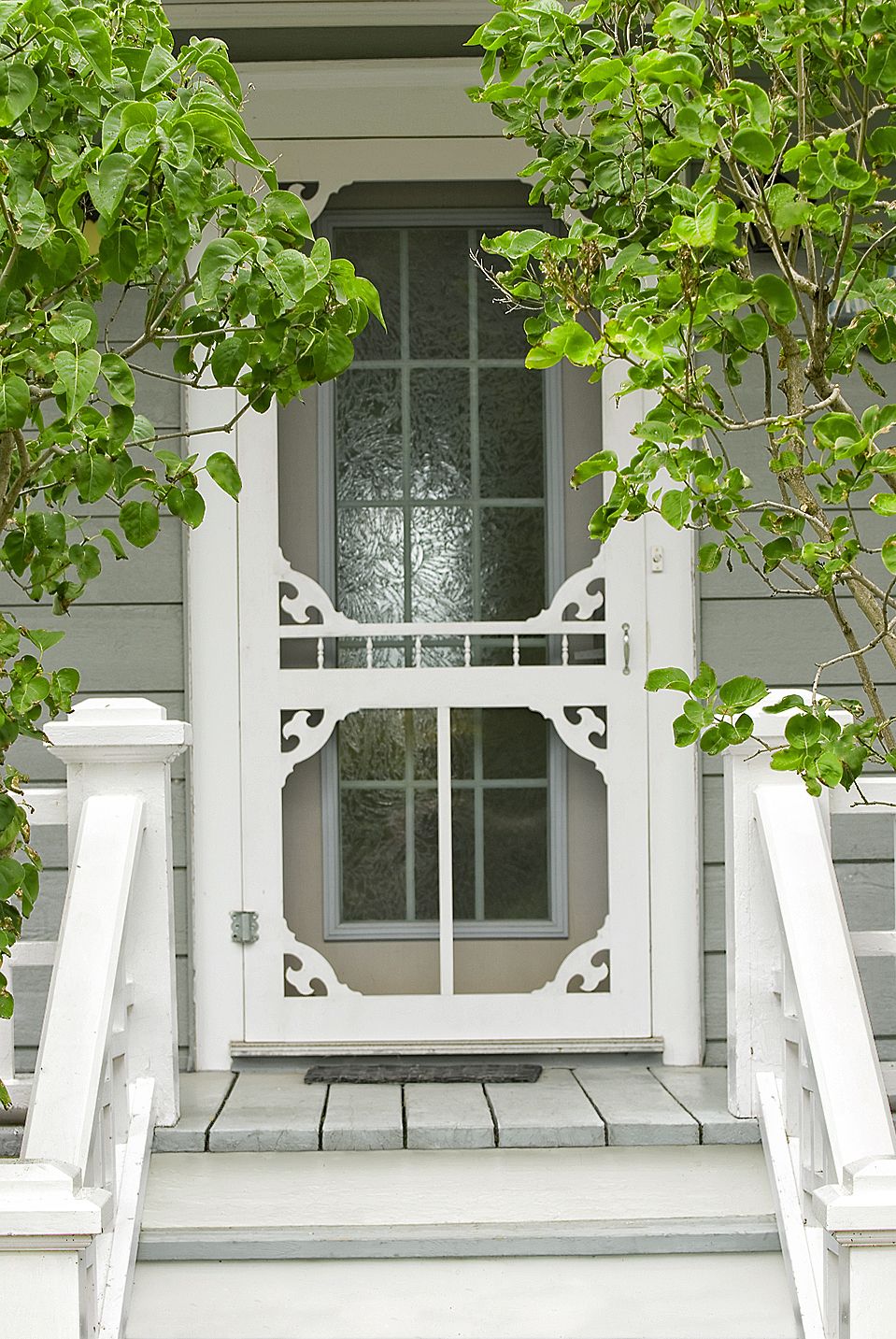 A simple screen can be a focal point when dressed up with ornamental trim. Instead of buying a custom decorative door, which can easily top $600, opt for a home-center version with an unadorned wood frame, and trim it out yourself with stock pieces from a woodworking-supply shop. To approximate the look of the screen door shown, add a gallery rail with a row of tiny spindles in the center. Position the rail on the face of the screen door, and use wood glue and finishing nails to fasten it to the inner ledge of the wood frame. Next, glue and nail eight carved corner brackets: four in the top section and four below. To unite the pieces, prime and paint with a couple of coats of exterior latex.
Cost: $195. Screen Tight T-Bar 36-inch Natural Wood Screen Door, $22; lowes.com. Screen Door Corner Brackets in poplar, $16 each, and 2¾-inch Spindle Gallery Rail in poplar, $45 for 4 feet; vintagewoodworks.com
3. Put Beadboard Overhead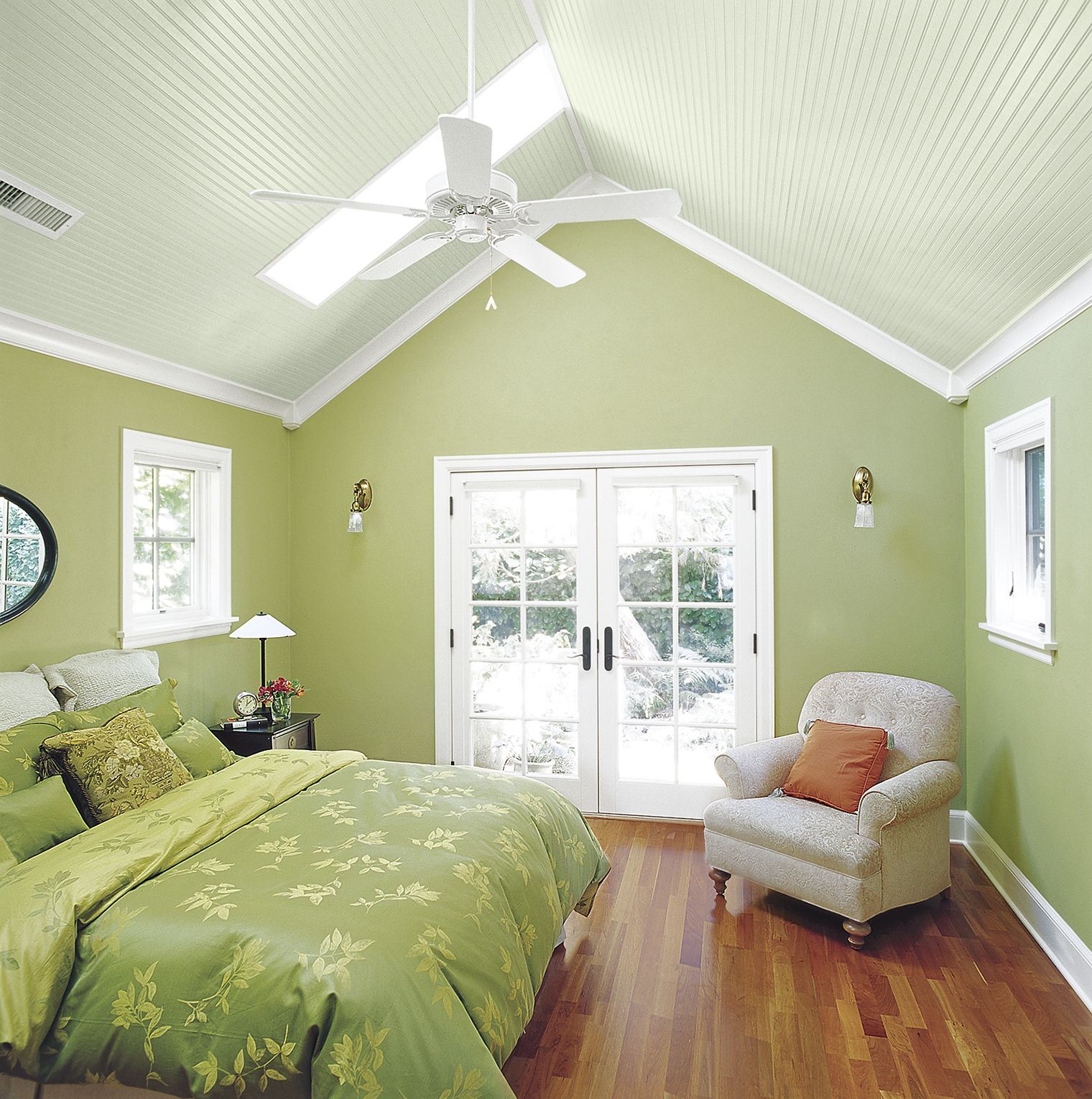 Not just for porch ceilings, old-fashioned beadboard adds cozy cottage style indoors, too. To ease installation—and reduce your time on a ladder—choose prefab medium-density fiberboard (MDF) planks instead of traditional stick-built beadboard. Embossed with a beaded design, the 7-inch-wide by 8-foot-long tongue-and-groove planks closely resemble the real thing. And once mounted on the ceiling, you'll never know the difference. When working with a flat or peaked ceiling in good condition, like the one shown at right, the simplest approach is to use panel adhesive and nails to attach the beadboard directly to the surface. Ceilings in rough shape require first installing a solid framework of wood furring strips to fasten the panels to. Either way, begin at a corner and put up your first panel; leave a inch gap, which can be covered with trim, at the walls. Because most MDF planks come preprimed, you need only to fill nail holes and apply a top coat of paint to finish your new beadboard ceiling.
Cost: $150 to $350, depending on the room's size. MDF Cape Cod Beadboard Planking, $65 for 42 square feet, and Liquid Nails Paneling and Molding Construction Adhesive, $3.67 for a 10-ounce tube; homedepot.com
4. Paint Kitchen Cabinets in a Two-Tone Scheme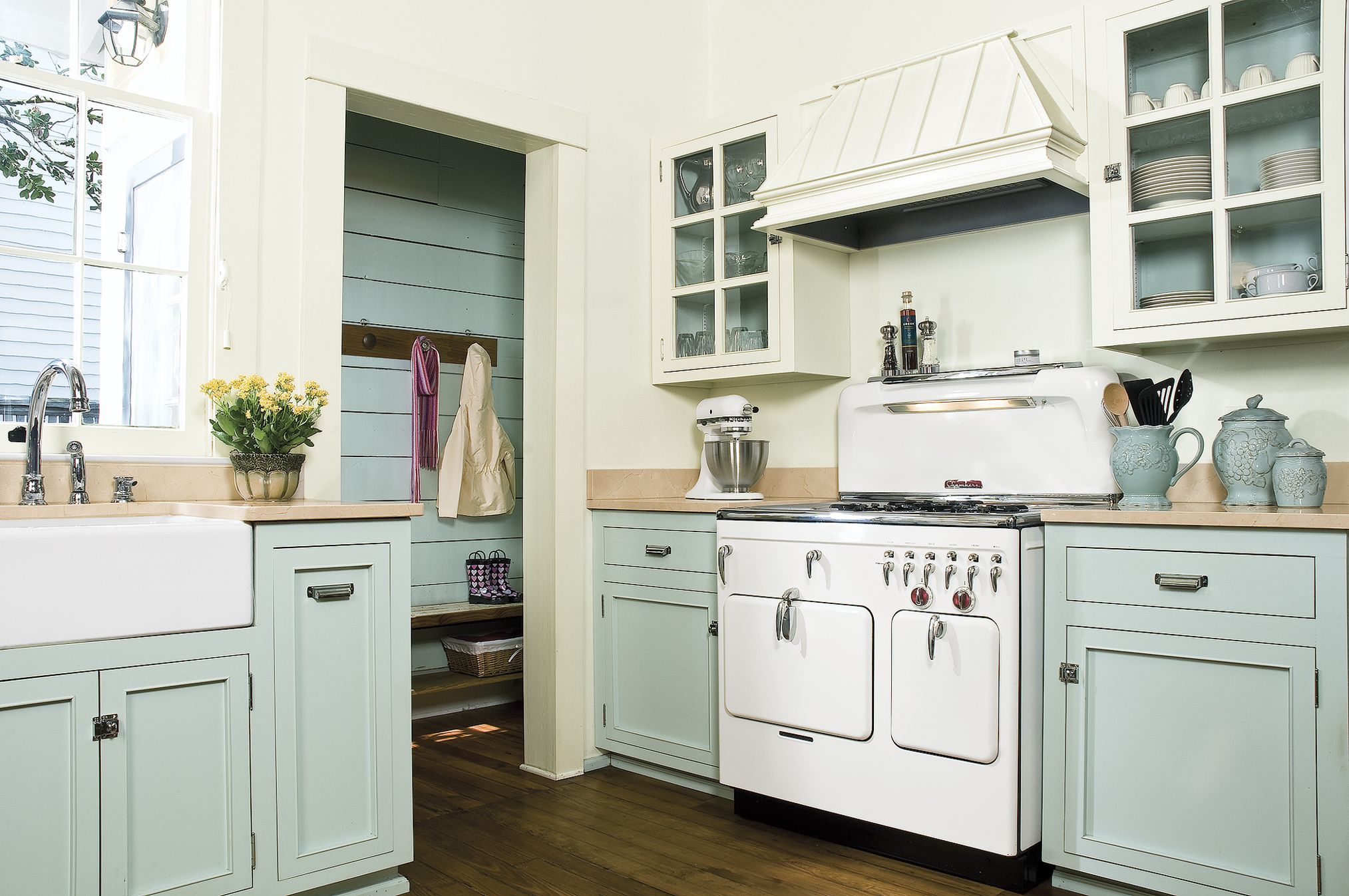 Having two colors on your cabinets suggests an earlier time, when kitchens were assembled from different furniture-like pieces instead of banks of identical built-ins. Consider shades of the same color, or a complementary scheme, with the darker or stronger hue on the base cabinets to anchor the room. A light shade on the uppers creates an open and airy feel, especially when wall paint is also light, as shown in the kitchen at left. For a long-lasting paint job, be sure to properly prep and prime first, and use a top coat specifically formulated for cabinetry.
Cost: $150 to $300, depending on the number of cabinets. Multi-Purpose Latex Primer, $27 per gallon, and All Surface Enamel Acrylic Latex High Gloss Paint, $57 per gallon; sherwin-williams.com for stores
5. Install a Stair Runner and Rods
Carpet runners have been cushioning footsteps while adding color and pattern to bare wood treads for centuries. And when paired with traditional metal rods that help secure the runner in place, they're an instant classic. Installing a runner on a straight staircase is a relatively easy DIY project, if you follow the waterfall method. In this case, the narrow strip of carpeting simply spills from step to step, as shown at right. You need only to secure the runner at the seam where the stair riser meets the tread, as opposed to also tightly wrapping and securing the runner around the tread's nosing. (Watch a how-to video for installing a runner using the waterfall method at thisoldhouse.com/bonus.) As the finishing touch, add the metal runner rods, centering each over the runner and securing the end brackets to the tread and riser with the screws provided.
Cost: $275 to $400, depending on the rug and the number of steps. Stair runners in a variety of colors and patterns, from $7 per foot; Dura Grip Premium precut tread pads, $69 for 13; and Inspiration Collection by Zoroufy metal-alloy runner rods in different length, finish, and finial options, from $11 each; all at paylessrugs.com
6. Add Divided Lights to Single-Pane Windows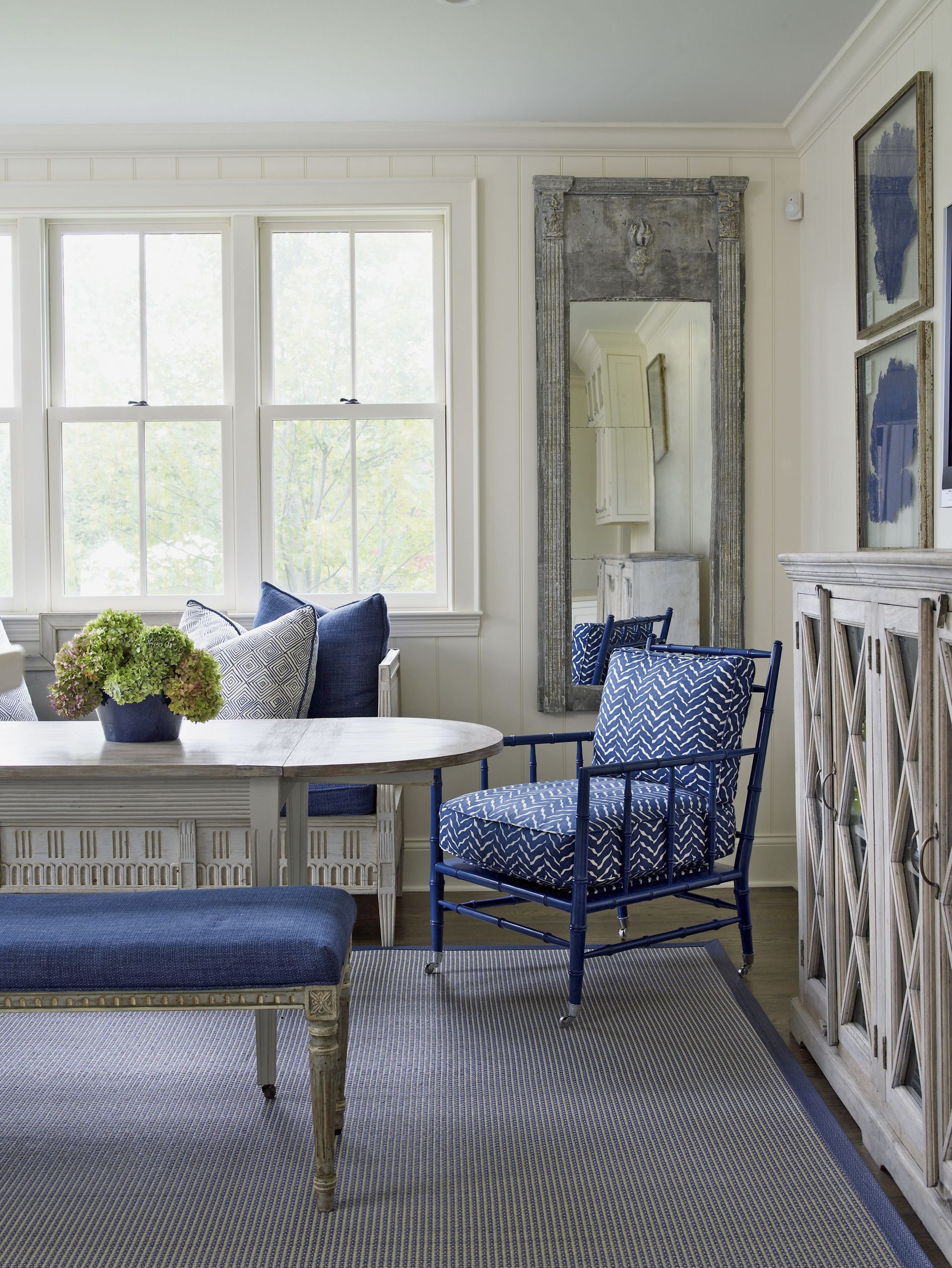 To give new single-pane windows an air of old-house authenticity, make your own wood grilles for the look of traditional divided lights. Fashion the grilles using square or rectangular stock that's the same thickness as the inside edge of the sash frame. This will ensure that the grille is flush with the frame once it's secured to the glass. If creating a two-over-two design, such as the one shown at left, simply cut a length of stock to the height of each sash and apply it to the glass at the midpoint using heavy-duty reclosable fasteners (clear hook-and-loop tape) in just a few spots so that you can easily remove and reinstall the grilles when cleaning the window glass. For a four-over-four or six-over-six divided-light design, cut notches where the grille's horizontal and vertical lengths intersect so that they fit together like puzzle pieces and lie flat against the glass. Use wood glue to secure the joints, and adhere the grille to the window glass with the reclosable fasteners.
Cost: $10 to $25 per window, depending on the size and number of lights. Square or rectangular wood stock, about $2 per linear foot; at lumberyards. 3M Reclosable Fasteners, $3.49 for four; containerstore.com
7. Stain a Wood Floor with a Checked Pattern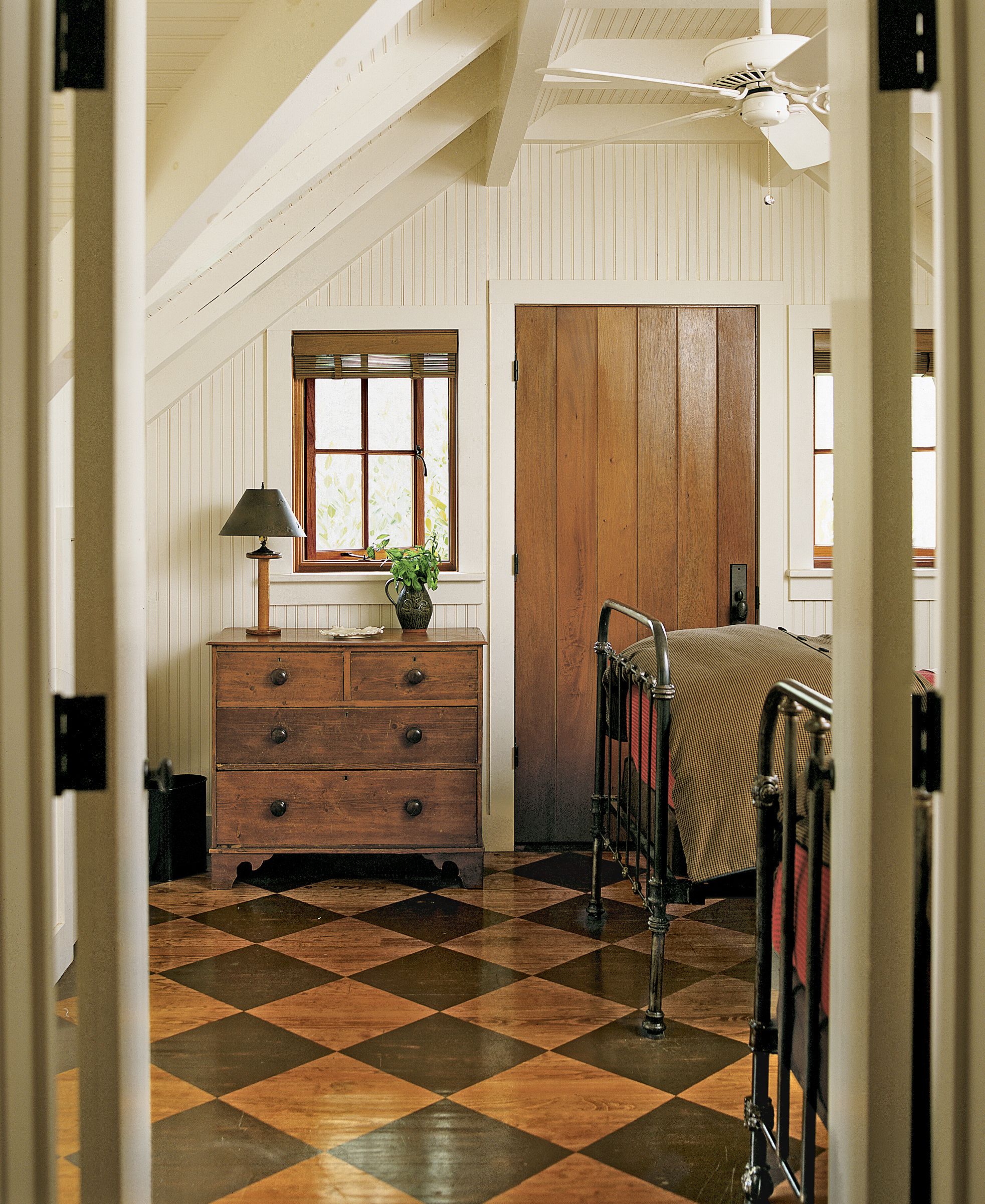 A checkerboard floor is inherently playful. It's also timeless: During the colonial era, a decorative painted floor was a major upgrade over bare wood. For an updated tweak on the tradition, trade painted squares for stained ones in a dark espresso hue, like the one shown at left. Start with a clean, freshly sanded floor. Next, plan the pattern by determining what size squares you want and arranging the squares so that they result in half-diamonds on all four sides of the room; paper cutouts can help with the design experimentation. Use painter's tape to outline each square, marking the ones that won't be stained with a taped X. Stain the appropriate squares using a cloth or a brush. Allow to dry, and remove the painter's tape. To seal and protect your handiwork, apply two to three coats of clear polyurethane.
Cost: $110 for an average-size room. Varathane Premium Oil-Based Wood Stain, $40 per gallon; Clear Premium Polyurethane Floor Finish, $63 per gallon; and Frog Tape Pro Painter's Tape, $6.49 for a 60-yard roll; truevalue.com for stores
8. Top Wainscoting with a Display Rail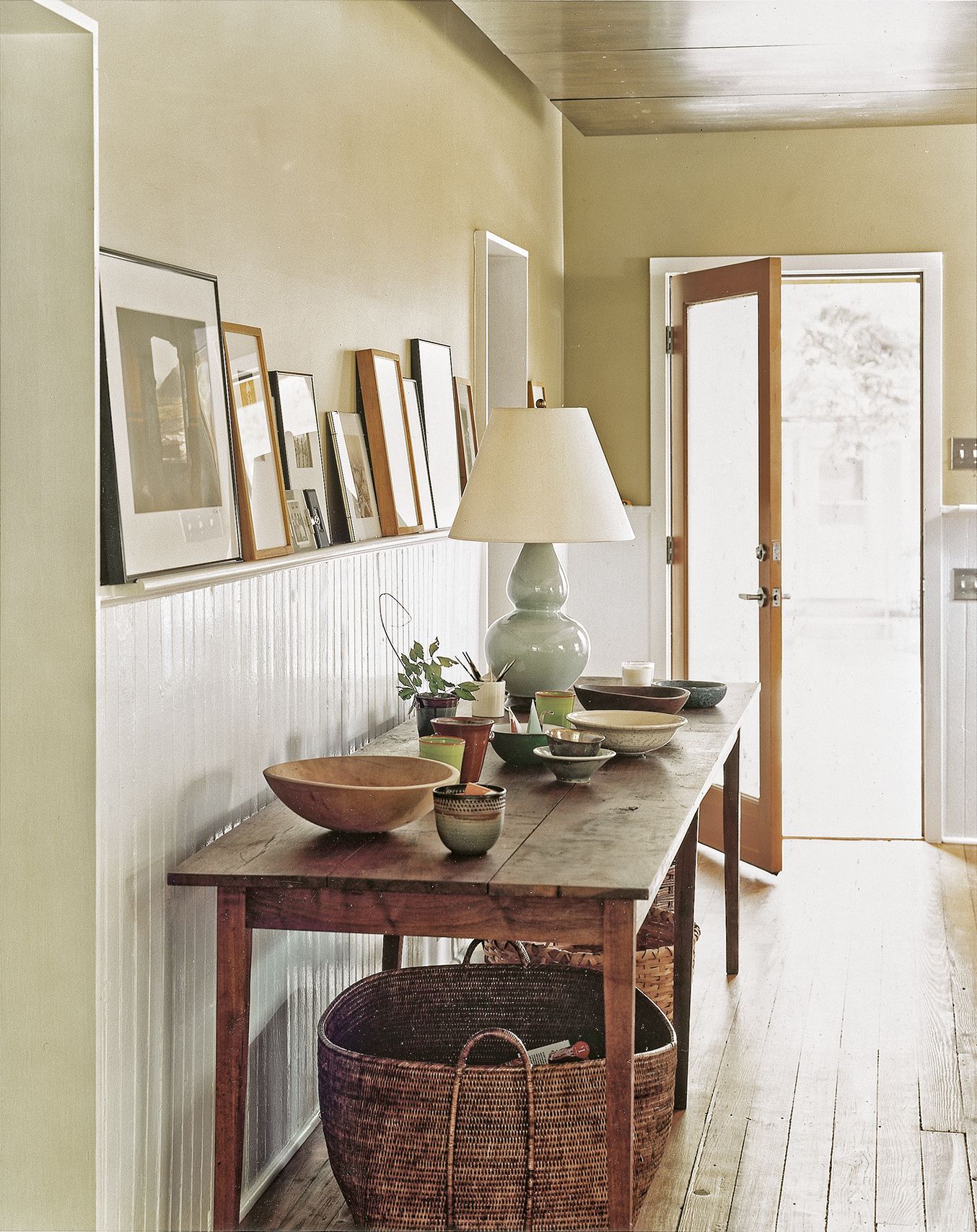 Sometimes adding character to your home is as easy as building onto the architectural details you've already got. By topping existing wainscoting, for instance, with a deep ledge, shown, the wall paneling does double duty as a display shelf for artwork or platters. If your existing cap rail stands an inch or so away from the wall, you can replace it with a 1×3 ledge without any additional support. Just use finishing nails to fasten the ledge to the top of the wainscoting after applying construction adhesive to the back of the molding. If your wainscoting protrudes less than an inch from the wall, first fasten a strip of cove molding to the face of the paneling to serve as a lip to help support the 1×3 ledge. To match the new wood with the existing paneling, paint it all in the same color.
Cost: About $10 for one wall. Poplar 1×3 and cove molding, $7 and $4 for 8-foot lengths; at lumberyards
9. Sheathe Walls with Embossed Metal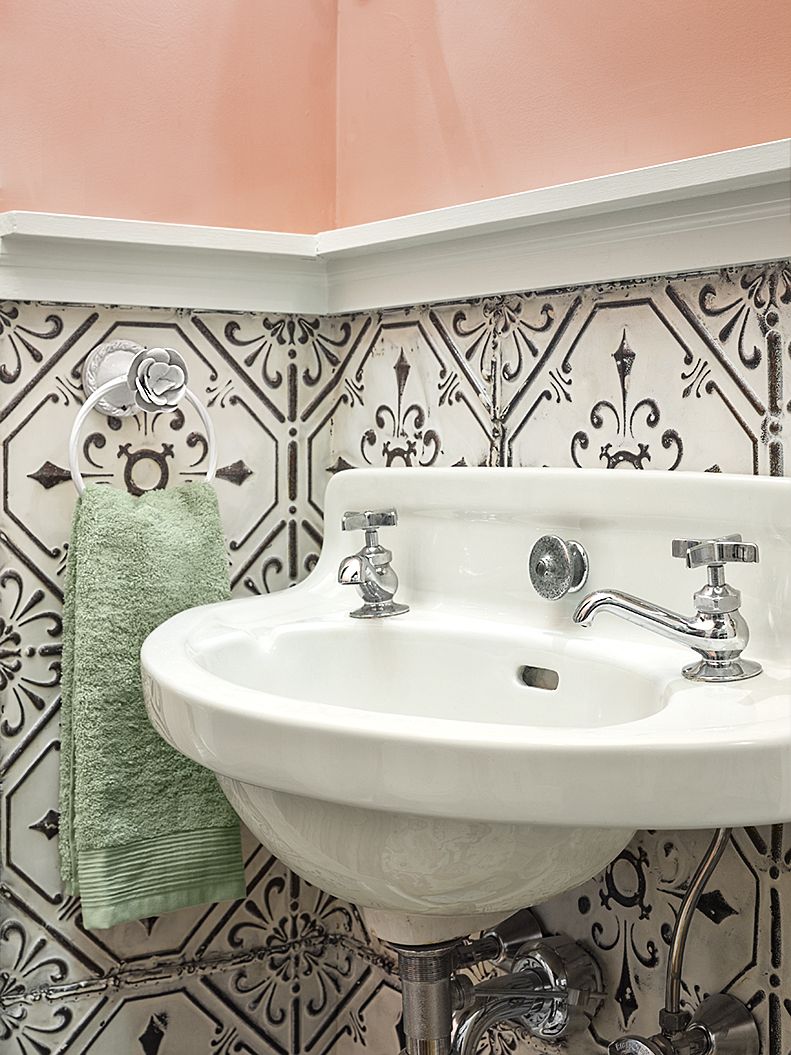 Evoking tin-tile ceilings in Victorian-era houses, patterned metal also looks lovely on walls. Sold in 24-by-24-inch panels, it's perfect for creating 4-foot-high wainscoting.
Cost: About $300 for a 6-by-8-foot room. Powder-coated and moisture-resistant embossed metal panels in an array of colors and patterns, about $12 each; americantinceilings.com
10. Give a New Lantern a Verdigris Patina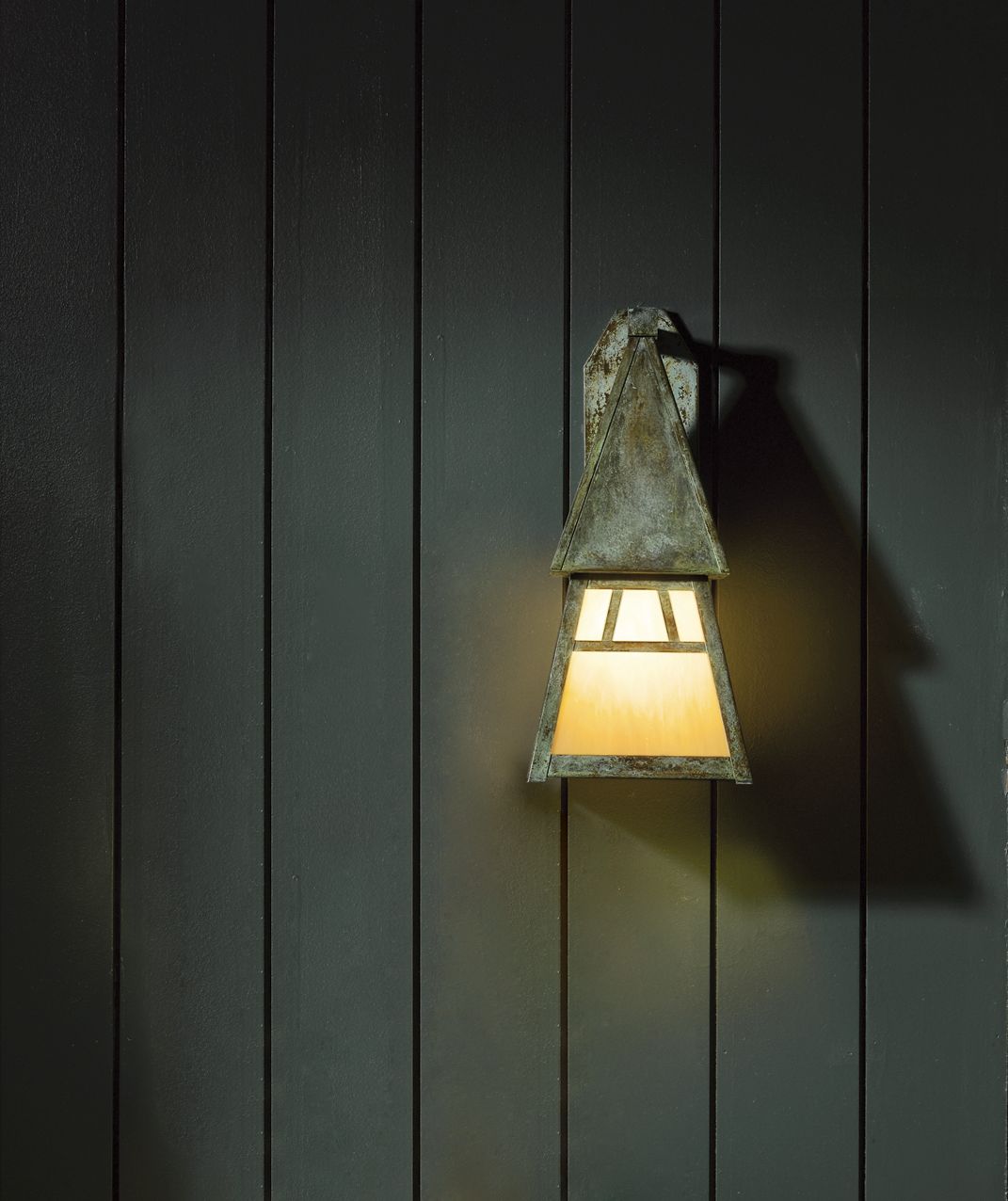 To make an off-the-shelf porch light look like a vintage find, brush the metal housing with a base coat of flat charcoal or black paint. Then apply several coats of an antiquing solution. Wait at least three days for the chemical reaction to turn the finish into a warm and mottled green.
Cost: $27 to $50. Exterior sconces, from $15 each; lowes.com. Sophisticated Finishes Patina Green Set, $12; misterart.com
11. Use Window Film to Fake Etched Glass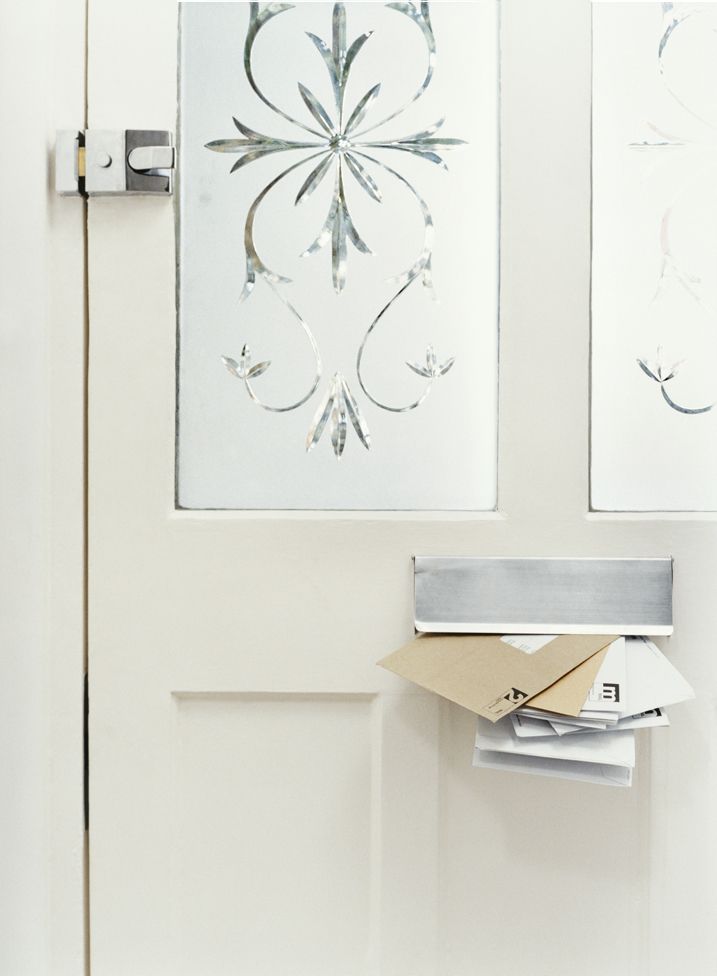 Patterned vinyl film can add a period touch—and privacy—to glass entry doors or sidelights. To apply, clean the glass, cut the film to size, spray the glass with water, and press the film into place. Use a squeegee to smooth out any air bubbles.
Cost: About $20 per window panel. Light Effects Window Film in more than a dozen patterns, from $22 per roll; homedepot.com
12. Dress Up a Mantel with Panel Molding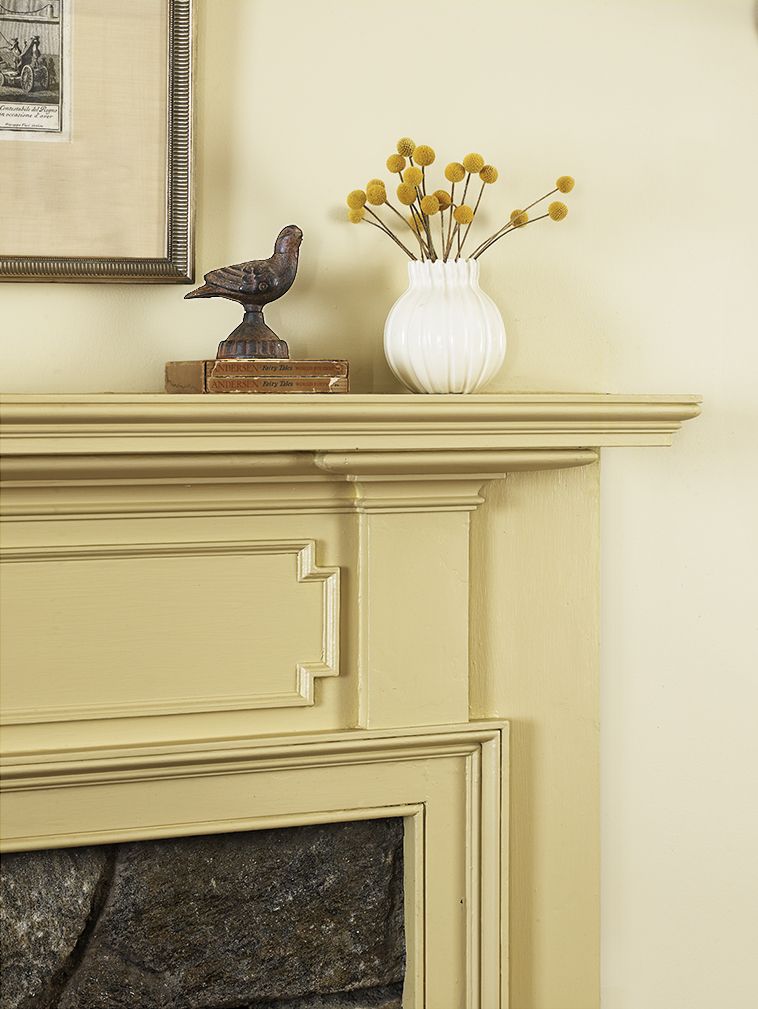 Experiment with different designs by sketching the mantel to scale on graph paper. Once you've settled on a look, use a pencil and a straightedge to draw layout lines where the trim will go. Cut the trim to size, lightly sand it, and secure the strips in place with wood glue and finishing nails. Once completed, paint the entire mantel.
Cost: About $45. Poplar panel molding, $15 for 8 feet; at lumberyards
13. Add Texture to a Prefab Medallion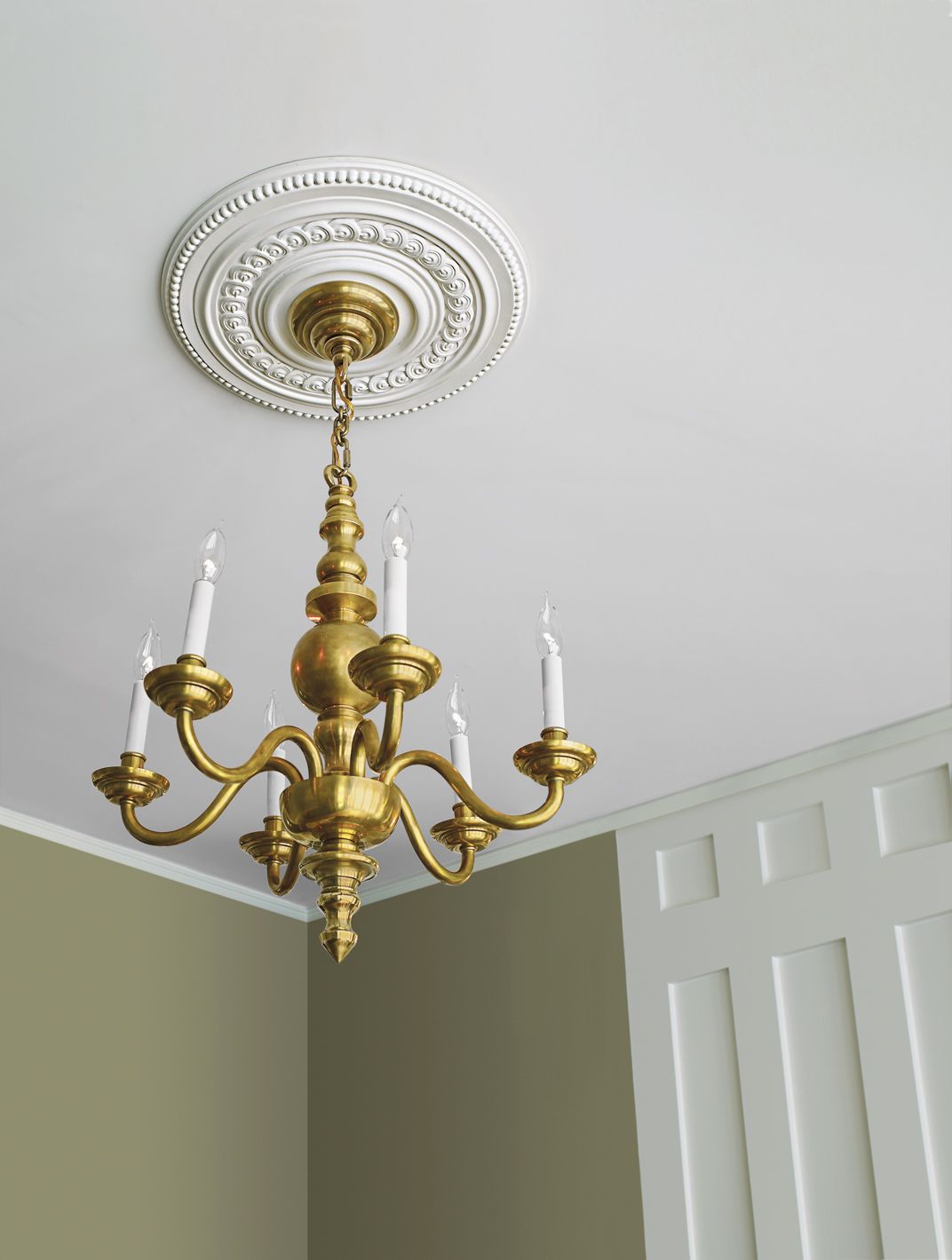 For the look of vintage plaster, coat a urethane ceiling medallion with joint compound that's been thinned with water until it drips. Once dry, the medallion is ready to install.
Cost: $30 to $50. Medallions in various patterns and sizes, from about $15 each; architecturaldepot.com. Dap Fast 'N Final Lightweight Spackling, $7 for a 16-ounce tub; amazon.com