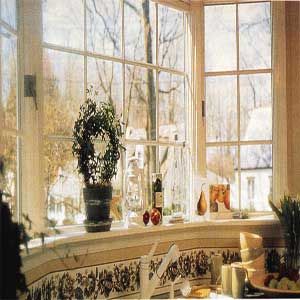 Of the hundreds of parts that make up a house, windows affect our lives the most. Outside, they reflect the architectural style of a home and, when properly sized and placed, give a sense of balance and scale. Inside, they provide natural light and frame our view of the world. They can also transform a room and determine how we see it — the colors, textures, and furnishings we choose for the space and our activities within that room often are based on how much light windows let in. All that from a flat pane of glass. But that's just the beginning. You can give the exterior of your home added dimension, gain more light and dramatically increase your views by replacing that flat pane with an elegant bay window. Unlike a flat window, a bay reaches out to capture light and views from three angles. The deep seat board also provides a cozy perch for reading the paper and watching the world go by. As with most components of a home, bay windows come in several styles and a multitude of sizes. The shopping tips that follow will make choosing the right bay window for your home easier; we've also provided some details that can take the mystery out of installation, whether you do the work or hire a contractor.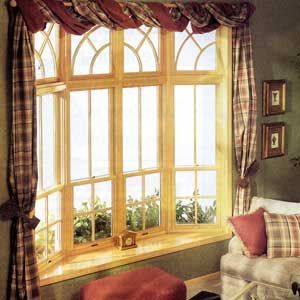 Bay Styles
A bay window actually is composed of three windows joined, or mulled, at the factory to make a single large unit. The wide center window is flanked by narrower casement or double-hung windows. Two vertical uprights, called mullion posts, separate the three. The most common style is the angled bay window, which protrudes from the house and slants back toward the wall at a 30- or 45-degree angle. A box bay is square-the side sash come straight off the house at 90 degrees. A box bay with a glass roof is known as a garden bay or greenhouse window. All major window manufacturers offer angled bay windows in both 30- and 45-degree configurations; a few make 60-degree bays. Most also offer 90-degree box bays. Size. Each bay type comes in hundreds of standard and custom sizes to fit any opening. Standard sizes typically range in width from 3 feet 6 inches to 10 feet 6 inches, and in height from 3 feet to 6 feet 6 in. Materials. Most windows are made of wood or vinyl. Exterior finish options include primed wood, extruded vinyl and wood clad in low-maintenance aluminum or vinyl. Primed-wood windows are economical, but they must be painted and periodically scraped and repainted to prevent rot. Vinyl windows are also affordable and maintenance-free, but their frames include vinyl on interior surfaces — a look not everyone likes. Clad windows usually cost more, but offer a low-maintenance vinyl or aluminum exterior and a handsome all-wood interior. Most bays come with insulated glazing-two panes separated by an air space. If you want higher energy efficiency, order the window with argon gas between the panes, or opt for low-e glazing that admits solar heat in winter and reflects it in summer. Homes in cold-weather climates might benefit from triple glazing (three panes, two air spaces), which provides 15 to 25 percent higher energy efficiency than standard insulated glazing. What you'll pay. Although prices vary widely depending on size and window construction, expect to pay between $800 and $1,100 for a 3-feet-high by 6-feet-wide vinyl-clad 30-degree casement bay window. A custom-made unit will cost at least 15 to 20 percent more and take four to six weeks for delivery, compared with less than a week for most standard-size bays. That's why it's important to shop around for the window that best suits your home, budget, and time schedule.
Deciding Factors
Whichever bay window you're considering, review the following five questions before you buy. What size window? It's easier and cheaper to put in a bay the same size or smaller than the old window. A wider bay requires a larger opening and a new header — and typically adds $300 to $500 to the job. However, a larger window will bring more light into the room and create a greater visual impact inside and out. What type of sash? There's no set rule regarding which style sash — either casement or double-hung — a bay should have. Often, the bay sash match those on the other windows on the home, but they don't have to. Pick the style you like best. Taller, narrower bays usually look better with casement sash. Shorter units are most attractive with double-hung sash. You'll also find that the center window of a bay usually is fixed. But it, too, can be ordered with operable casement or double-hung sash in smaller sizes. How is the window supported? Bay windows must be supported from below with braces or from above with steel cables bolted to the overhead framing. Both systems work well, but support cables are much less obtrusive because they're hidden inside the window frame. Not all manufacturers offer support cables, but they can be bought separately and adapted for use on virtually any bay window. Is there an eave above the window? Bay windows often are tucked beneath an eave, with the space between the window top and underside of the soffit filled with insulation and hidden by trim boards. Before choosing a bay window, measure the depth of the eave horizontally. Then order a unit that's shallow enough to fit beneath it if you can. Most 30-degree bay windows are 12 to 14 inches deep, and 45-degree units range from about 16 to 22 inches deep. Box bays and 60-degree bays usually are about 18 to 24 inches deep. What if there's no eave above it? When a bay window is installed on a gabled end or in the middle of a wall — and there's no roof overhang right above it — a small roof, or skirt, must be built over it. Roof skirts must also be built above any window that sticks out beyond an overhanging eave. Finally, be sure your remodeling contractor has experience installing bay windows, especially if the old opening must be enlarged. Even some window-replacement specialists aren't familiar with the idiosyncrasies of putting in bays.
Where to Find It:
Jeld-Wen
PO Box 1329
Klamath Falls, OR 97601
800-535-3936
www.jeld-wen.com Andersen Windows
100 4th Ave. N, Dept. TH298
Bayport, MN 55003-1096
800-426-4261
www.andersenwindows.com CertainTeed
750 E. Swedesford Rd., Dept. TH298
Valley Forge, PA 19482
800-782-8777
www.certainteed.com Chelsea Building Products, Inc.
565 Cedar Way, Dept. TH298
Oakmont, PA 15139
800-424-3573
www.chelseabuildingproducts.com Craftline
1125 Ford St., Dept. TH298
Maumee, OH 43537
800-283-3311
Crestline Windows
888 Southview Dr., Dept. TH298
Mosinee, WI 54455
800-552-4111
www.crestlineonline.com Eagle Windows and Doors
375 E. 9th St., Box 1072, Dept. TH298
Dubuque, IA 52004
800-324-5354
www.eaglewindow.com Flintwood Products
Manufacturer of prefabricated roof skirts.
1866 English St., Dept. TH298
Maplewood, MN 55109
800-728-4365 Georgia-Pacific Corp.
133 Peachtree St., NE, Dept. TH298
Atlanta, GA 30303
800-284-5347 Great Lakes Window
30499 Tracy Rd., Box 1896, Dept. TH298
Toledo, OH 43603
800-666-0000
www.greatlakeswindow.com Kolbe & Kolbe
1323 S. 11th Ave., Dept. TH298
Wausau, WI 54401
800-955-8177
www.kolbe-kolbe.com Marvin Windows & Doors
Box 100, Dept. TH298
Warroad, MN 56763
800-346-5128 Peachtree Doors and Windows
4350 Peachtree Industrial Blvd., Dept. TH298
Norcross, GA 30071
800-PEACH-99
www.peachtreedoor.com Pella Corp.
102 Main St., Dept. TH298
Pella, IA 50219
800-84-PELLA
www.pella.com Vetter Windows
888 Southview Dr., Dept. TH298
Mosinee, WI 54455
800-838-8372 Weather Shield Windows
1 Weather Shield Pl., Dept. TH298
Medford, WI 54451
800-477-6808