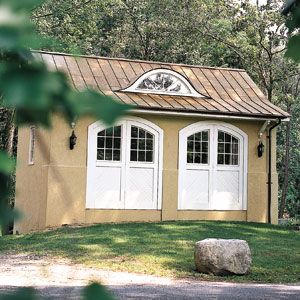 Imagine cutting a horizontal slit in your roof and then, from underneath, pushing on the uphill side, raising a little wave in the plane of the shingles. That's the shape of an eyebrow window—a curvaceous way to get some light and, perhaps, ventilation in a top-floor space while distinguishing a building's facade.
The first eyebrows appeared on medieval thatch-roofed cottages. They were popularized in America in the second half of the 19th century by Boston architect Henry Hobson Richardson, the father of the Shingle style. "Richardson's eyebrows—sometimes called eyebrow or eyelid dormers—were long, narrow slits with short windows," says Stephen Holt, the architect of the Shingle-style This Old House television project in Manchester, Massachusetts. "They added undulating curves to his large, expansive roofs."
Today, eyebrow windows aren't restricted to the roofs of Shingle-style replicas. They're found on buildings as varied as Post-Modern beach homes and the converted-garage guest cottage shown here. Most require a custom-made sash (fixed or hinged), and all involve tricky framing and roofing. They can be designed in shapes and sizes from soft Richardsonian sine curves to tall half-rounds. According to Morristown, New Jersey, architect Nick Bensley, who puts eyebrows on many of his residential projects, "They really break up the monotony of a rectilinear roof or flat interior ceiling. Besides, curves are sexy."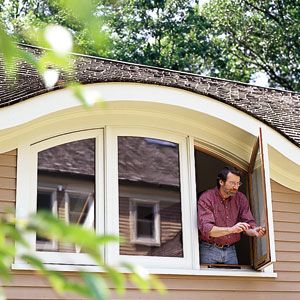 Cost
But not inexpensive. "Anytime you build something that breaks away from a straight line," says This Old House general contractor Tom Silva, "it costs more." Most window companies routinely make true half-round windows, but a more traditional eyebrow — a semi-oval or a small segment of a circle — will have to be custom made. Depending on its size and whether the dormer is being retrofitted or planned as part of a new house, Tom says, an eyebrow can cost upward of $10,000. Bensley agrees. For comparison purposes, he tells his clients that a simple shed dormer will cost twice the price of a roof skylight and an eyebrow window three times as much. Along with the expense of a curve-topped window, the high cost of an eyebrow comes from the complicated carpentry it requires. Finishing the inside of a curved wall, be it drywall or plaster, adds to the cost.
Roofing an eyebrow is also expensive. According to Tom, one common, and quick, method is to cover the curve with malleable copper and to treat it as a separate roof from the other material, whether it's asphalt, wood, or slate. Tom's approach is more traditional, challenging, and time-consuming: He likes to continue courses from the main roof up and over an eyebrow. "Any roofing will work, but you need an experienced contractor," says Tom. "Because of the curve's geometry, courses of roofing shingles get shorter as they go up the eyebrow from each side of the main roof. It's a little tricky to figure out."
There are less expensive ways to bring light and air into a top-floor room, but few are as dramatic as an eyebrow dormer. "They give a whole new meaning to the phrase 'to throw a curve' at something," Bensley says.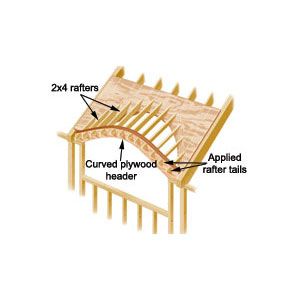 Norm Abram's Innovative Eyebrow
When This Old House master carpenter Norm Abram built his house, he knew he wanted a different look for the window in his office. "Skylights were out because I thought they would let in too much heat," he says. "Also, I wanted to be able to see who was coming up the driveway while sitting at my desk." Norm was thinking about a shed or gable dormer when designer Jock Gifford came up with a twist: a 4-foot-high, curve-topped window that broke the eaves line of the front of the building and ended in an eyebrowlike dormer on the roof.
Norm framed his eyebrow with two separate support structures—one for the roof and one for the ceiling. The rafters are 2x4s, 6 inches on center, that butt into a curved header made from four layers of screwed-and-glued ¾-inch plywood. He sheathed the dormer with two layers of easy-to-bend 3/8-inch plywood (not shown), which creates a solid ¾-inch deck that dies into the main roof. Then he shingled the roof with red cedar. Another set of 2×4 interior rafters supports the wire lath and plaster ceiling below (also not shown).
"Framing was key," says Norm. "We built everything based on the dimensions of the curve ordered from the window manufacturer. When we tipped the window into place, there was a quarter inch to spare." A perfect fit for the framing and for the look of Norm's house.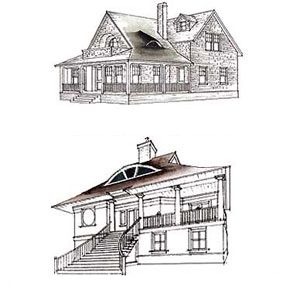 Where to Find It
Contractor:
Tim Lee
Lee Construction
Cold Spring Harbor, NY
631-692-4600
Our thanks to:
Bill Mold, owner
W.F. Mold Inc. (Pozzi Wood Window Distributor)
Baltimore, MD
800-542-5450