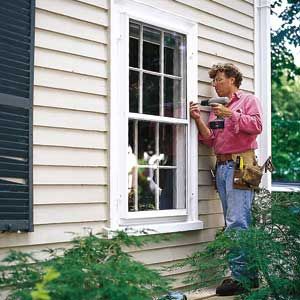 You've seen the ads in the local paper or gotten a flier in your mailbox: "Affordable replacement windows cut drafts and heating bills for a fraction of the cost of new windows!" Designed to fit into existing window openings, "replacement" windows are
double-hung sash units inside thin frames. They're a way for owners of older homes to get the benefit of today's energy-efficient windows without ripping out existing trim and siding. The contractor pulls out the old sash and balance ropes, then fits the new frame into the opening. (The glass area will be somewhat smaller, to accommodate the replacement frame.)
Replacements are a good idea — as long as the new windows are well made and the old ones really need replacing. The first step is having a reputable contractor make that determination. Good contractors don't show up at your door unsolicited, bearing brochures for new windows.
Tom Silva says too many old windows get replaced for the wrong reasons. Broken balance ropes can be fixed, which takes care of one common annoyance — falling sash. And leaky frames can be weatherstripped and protected with storm windows. "For a lot less money than buying replacements, you can get them in good condition," he says.
So when is it time to replace? "When the window itself is failing," says Tom. "If the sash is coming apart and all the glazing is falling out, it's going to cost a lot of money to fix." Lead paint is another reason to consider replacing old windows. Old jambs and sash can shed tiny particles of lead every time the window is operated.
Sometimes it makes sense to go beyond replacing the sash and put in a whole new window frame. If the sill is rotting, or if you suspect water leaks, pulling out the entire frame will allow you to correct any problems.