Dramatic Front Door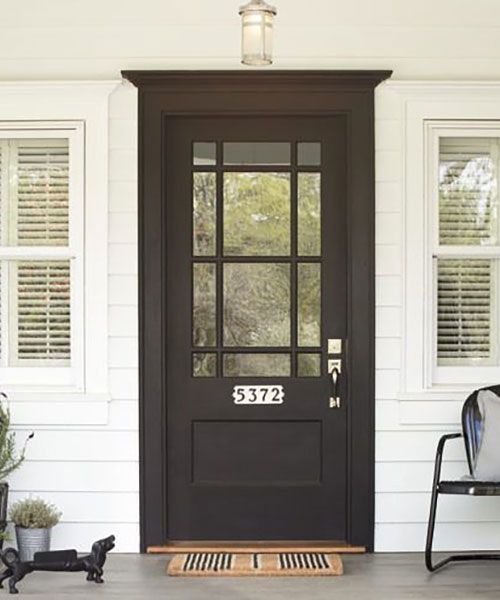 Make bright-white porcelain-tile house numbers, (about $75; Rejuvenation), pop for mail carriers and visitors alike with this stark, sophisticated paint job.
Give your black front door a high-gloss paint job.
Opt for some colorful ceramic house numbers to play against your black-front-door paint job.
Light-and-Dark Cook Space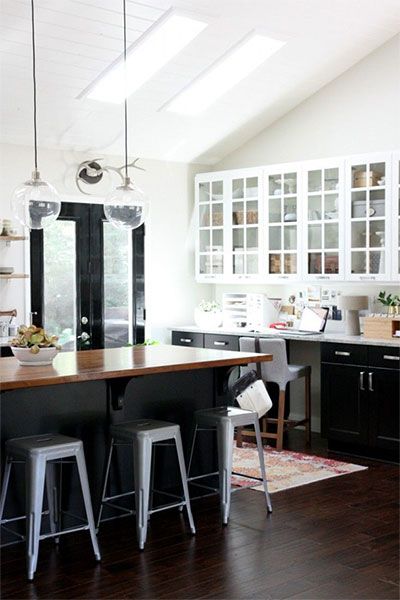 A white kitchen with lofty ceilings is grounded by base cabinets, kitchen-island cabinets, and glossy doors in black. Mother of three and blogger Dana Miller of House Tweaking used IKEA kitchen cabinets and tapped Steve, her engineer and DIY-expert husband, to pull off this cook-space renovation, which involved creating a vaulted ceiling with skylights. See the full room tour on Remodelista.
Look to your kitchen cabinets for other paint-color combos that really cook.
Let more sunlight into your kitchen with our tutorial on how to install a wide-angle skylight.
A View Framed by Black Aluminum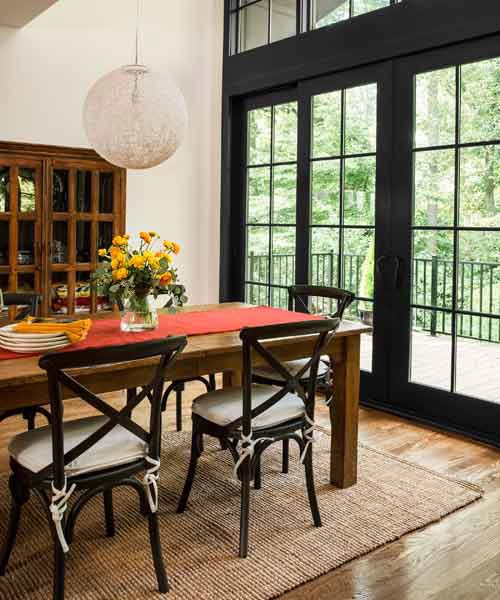 A refreshed 1940s house offers a glimpse of a leafy backyard through aluminum-clad patio doors. Take a peek behind the other doors of this charming family house remodel.
Get more remodel inspiration with soft finishes that update an empty nest.
Blank (Black) Space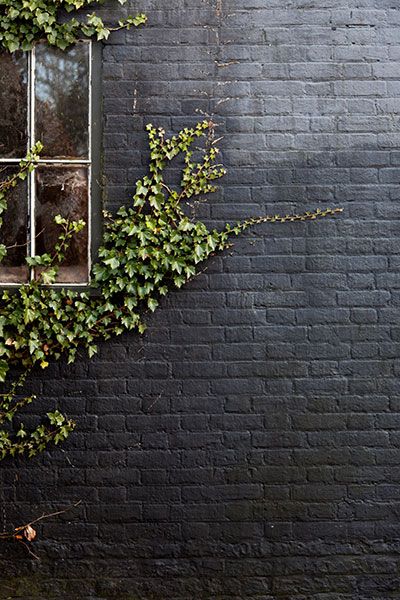 Black paint in a matte finish gives an exterior brick wall a modern update. A creeping vine adds extra character to the irregular wall surface. Mimic the look at home with our pro advice on painting brick.
Then try one of these good climbers to give an exterior wall extra character.
Gleaming Garage Doors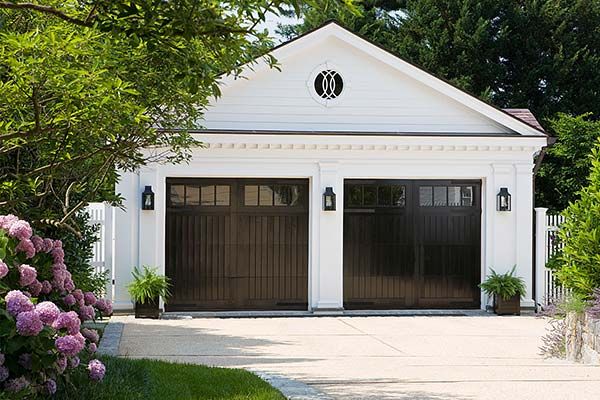 High-gloss black garage doors act like a mirrored surface for a home's driveway and surrounding greenery. Matching sconces reinforce the stark color and draw the eye up to the dentil molding. See other charming black-and-white moments in this house tour from Anne Decker Architects.
Explore stylish options in our guide, all about garage doors.
Get pro secrets for choosing exterior paint schemes.
Standout Bath Grout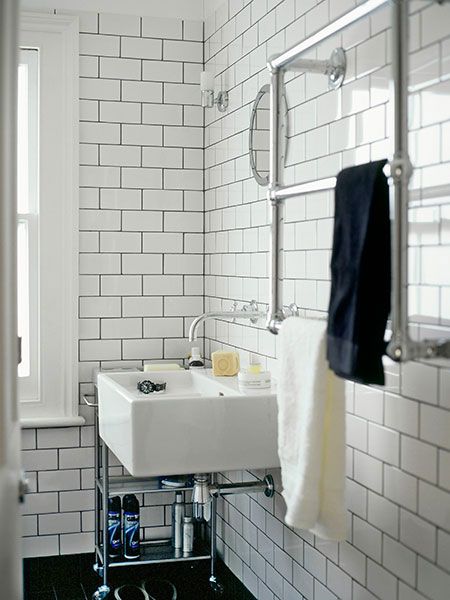 Black tile grout transforms traditional pyramid-stacked white subway tile into an adventurous choice in the bath. And it masks grout stains in this floor-to-ceiling installation. Explore other tile-grout color options.
Consider the old-house favorite basketweave tile for another play on black-and-white in the bath.
Shining Black Subway Tile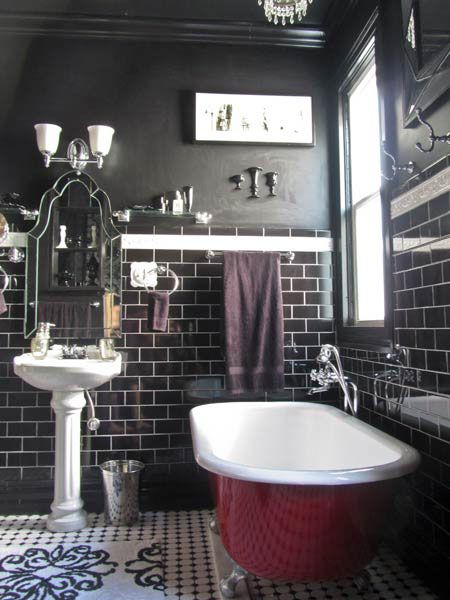 One This Old House reader fully committed to this decadent black design, which comes off as romantic rather than Gothic. See the startling "before" look and get remodeling details on this reader project.
Play up your black tile with a cheery twist by repainting a cast-iron bathtub in a vibrant hue.
Handsome Firebox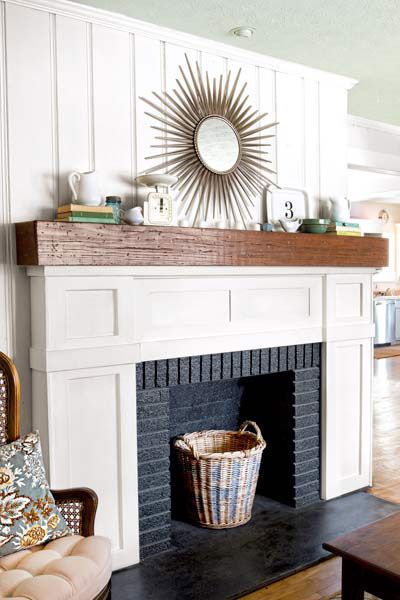 TOH readers brought their old fireplace back to life—and up to code—with a few coats of fire-resistant paint on the firebox and surrounding brick. Read more about this fireplace face-lift for just 87 dollars.
See other Pinterest-worthy fireplace upgrades.
Structured Lines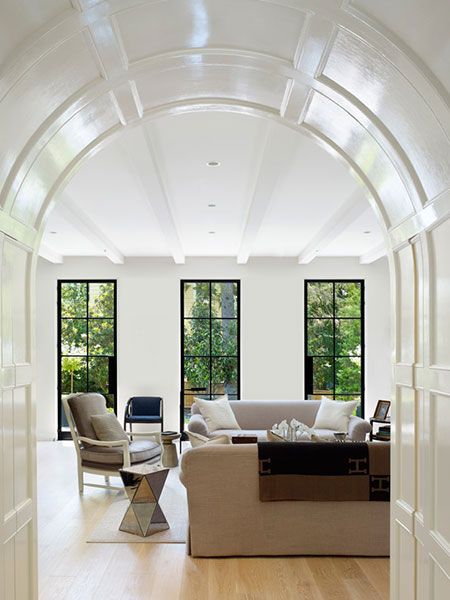 All lines, including paneling and exposed ceiling beams, point toward the view to the outdoors in this neutral space. The leafy view enlivens a room's neutral color scheme. See the other stylish nooks in this house tour.
Add a formal touch to any room with primed boards and molding in our easy project, how to build a coffered ceiling.
Deck out your room with inspiration from these crown-molding design ideas.