Not all cakes need icing, but they're arguably better with the sweet concoction. The same goes for a room decked in trim. Read on to steal these ceiling trim and molding ideas to add more style to your rooms.
Special thanks to the KB Classical Moulding catalogue, available at kuikenbrothers.com, for guidance on molding styles and history.
The Purpose of Crown Molding
It isn't essential, but adding crown molding goes a long way in achieving old-house charm.
Crown Molding Designs
Here, we see what different styles of the trim—Federal, Greek Revival, Early American, Georgian, Colonial Revival, Traditional Revival and Craftsman—can do for your rooms.
Volume for a Low Ceiling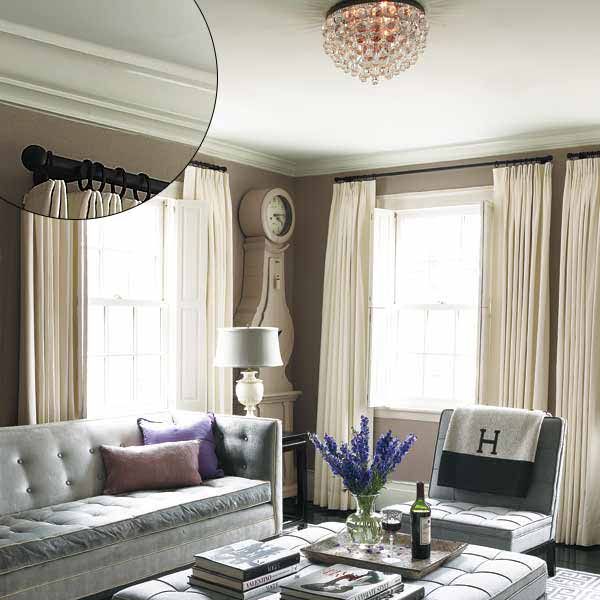 Simple, elegant beading makes this Federal style crown molding help a low-ceilinged room full of feminine neutral accents read as voluminous.
The English-inspired style was popular after the American Revolution and into the early 19th century and characterized by its simple beads (small indented lines) and cavetto (concave) shapes.
Bumped-Up Look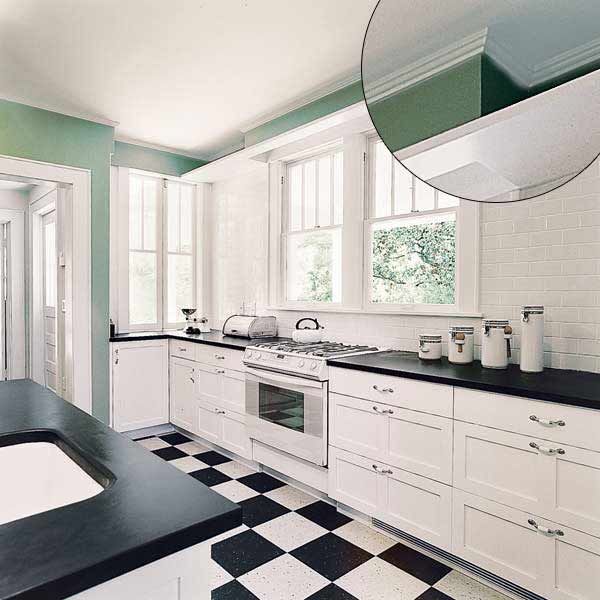 In addition to a four-foot bump out, visual cues like small-scale Early American molding help this reworked kitchen appear larger.
The cyma recta curve (concave at the outer edge and convex at the inner edge) where the crown meets the ceiling and simple beading makes this molding just enough of an accent for this bold-colored kitchen.
Upgraded Trim for Crisp Lines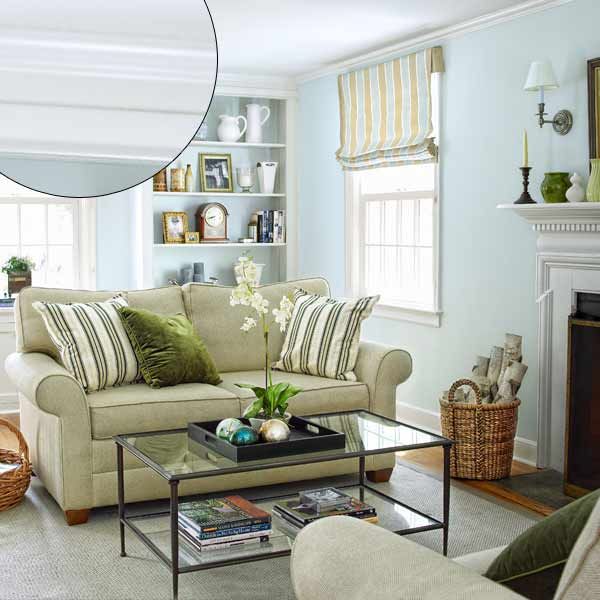 Like the rest of the house, this living room was in great shape but needed help. The homeowner hid the original built-ins' valances with new trim and installed Colonial Revival crown for a crisp, clean look reflected in the dentil mold of the room's mantel.
Typically reserved for nicer rooms of the home, this style harnesses a mix of bold (Greek Revival) and light (Federal) profiles for the best of both worlds. Crown profiles may include the S shape of an ogee and the double curved cyma.
Uncrowded Crown Style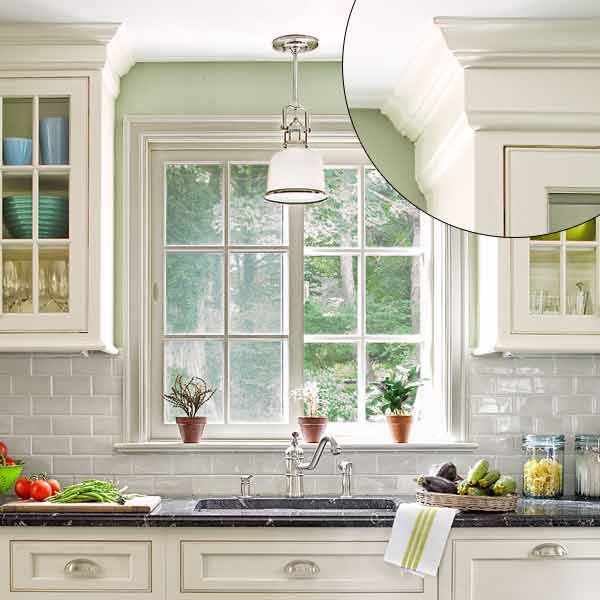 Older homes have smaller canvases for flourishes like generous crown molding, creating a crowding problem. So this sharp homeowner tacked on Classical Revival top trim on her kitchen cabinets only, providing more room for natural light around the sink.
This style, noted for its dignity and monumentality, makes for a significant style contribution. The bold scale is softened in the small space by the cyma recta (concave at the outer edge and convex at the inner edge) top and flat-front boards that tie the crown in with kitchen cabinets below.
Original Built-In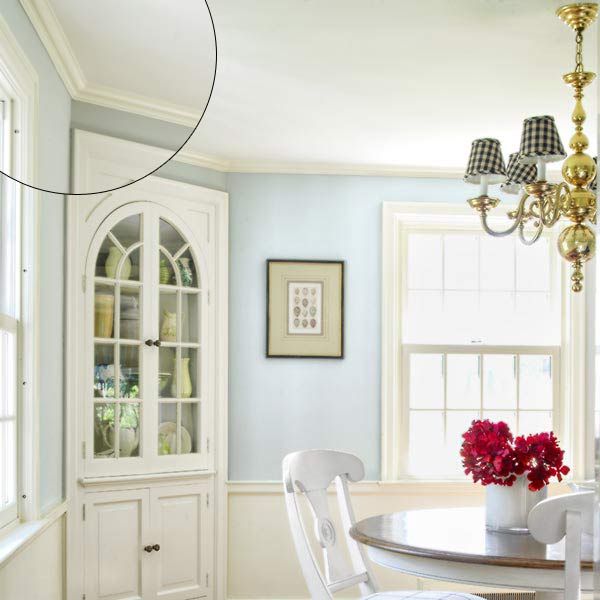 A revived original three-corner cupboard becomes the room's focal point with the help of low-profile crown molding and other trim details.
Barely-There Crown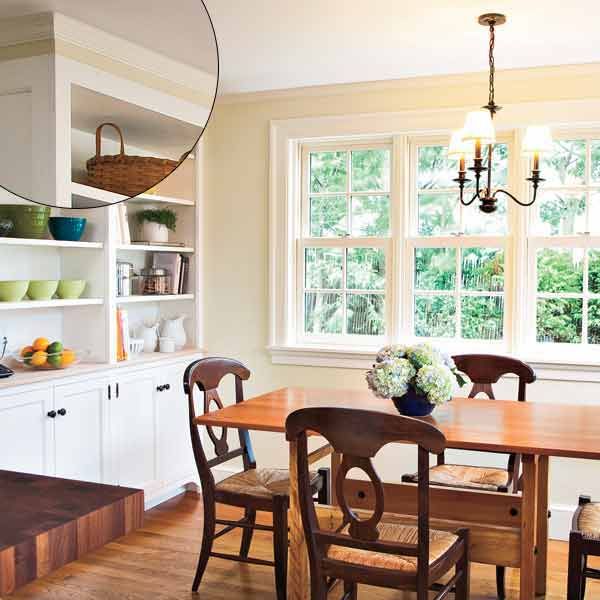 Minimal trim keeps this breakfast area looking cheery and finished without overwhelming it.
S-Shaped Crown for a Finished Look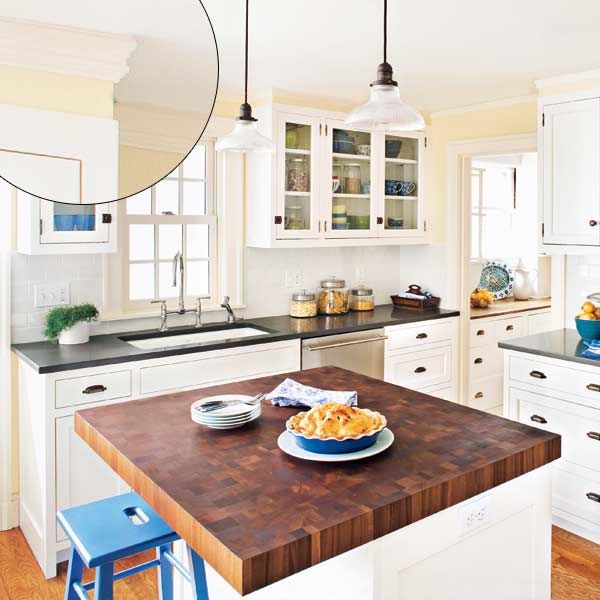 A simple ogee (S-shape) crown molding—albeit a small dose—does wonders for putting the finishing touches on a bright redo.
Crown Hugging Odd Corners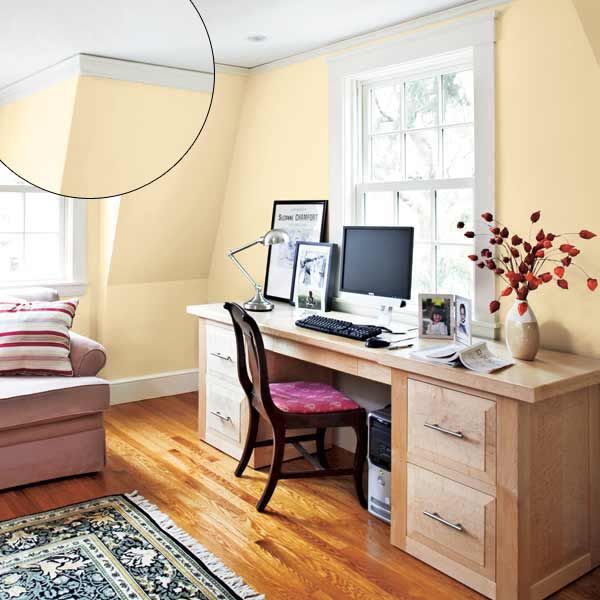 Simple Federal crown molding makes this oddly shaped room feel cohesive.
Cohesive Kitchen Cabinets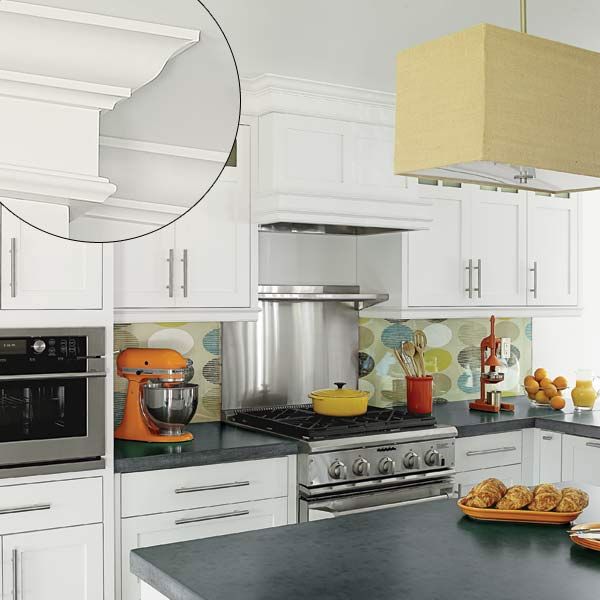 Glossy white cabinets and stainless steel appliances keep the kitchen area un-fussy in the open plan kitchen/dining/family room setup. Simple Early American-style crown molding—plus a little flourish atypical to the style at the bottom to join the cabinet tops—helps the eye roam to other parts of the open area plan.
Recreate the minimalist look by adding an intricate back bend at the bottom of the crown molding's flat casing to blend with the top of kitchen cabinetry.
Less Crown, More Impact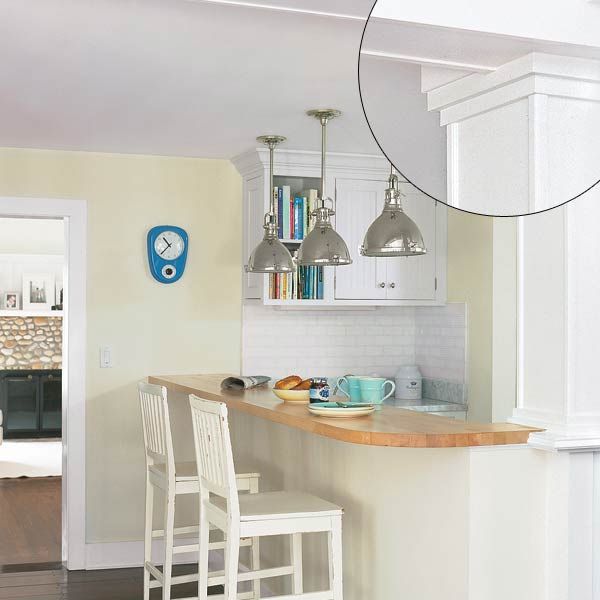 In some cases, using bold trim sparingly makes for a bigger statement. Here, Federal crown molding adorns a square column and cabinetry to highlight those structural elements.
Greek Revival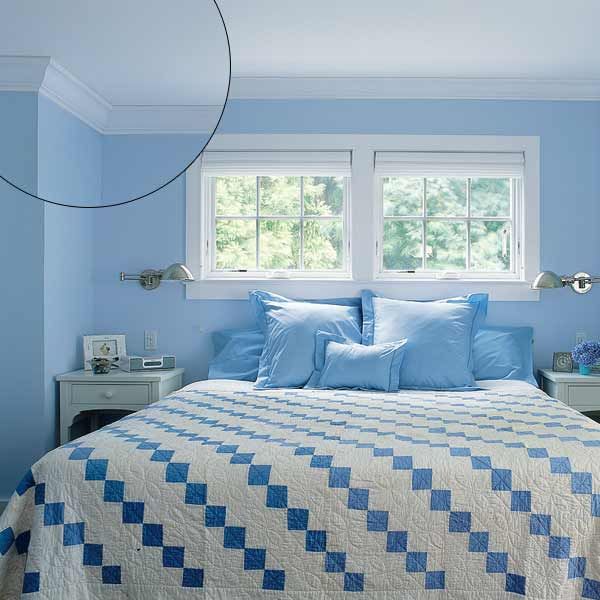 Bright white Greek Revival crown molding gives the eye a place to rest in this blue room absent of wall adornment, save for an awning-style window.
This simple profile is meant to look like the column and entablature decorations found in ancient Greek temples. Supersized ogee (S-shape) and ovolo (convex) curves appear often in this style.
Contrasting Casings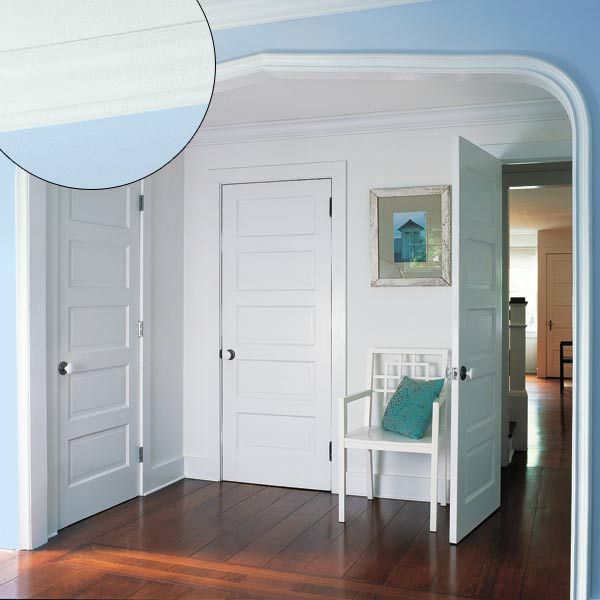 An arch in this master bedroom—modeled after an original built-in bookcase—is grounded by sleek Greek Revival crown molding.
Federal Old-Fashioned Feel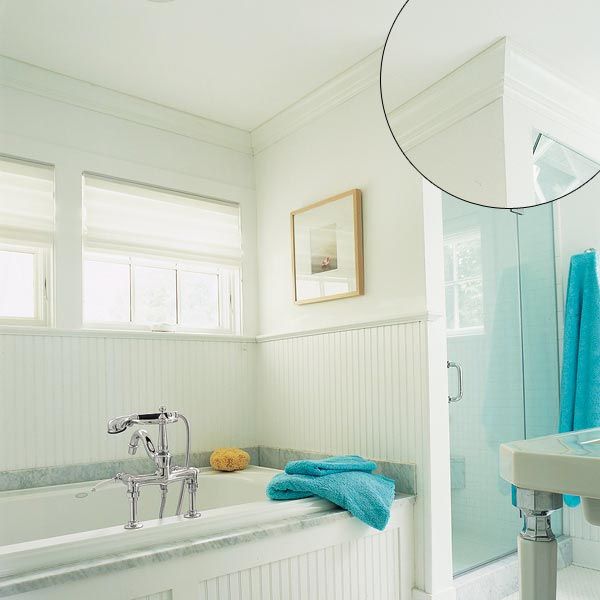 Federal crown molding adds to other old-fashioned details that distract from the bath's modern amenities, like an air-jet tub.
Nautical Color Combo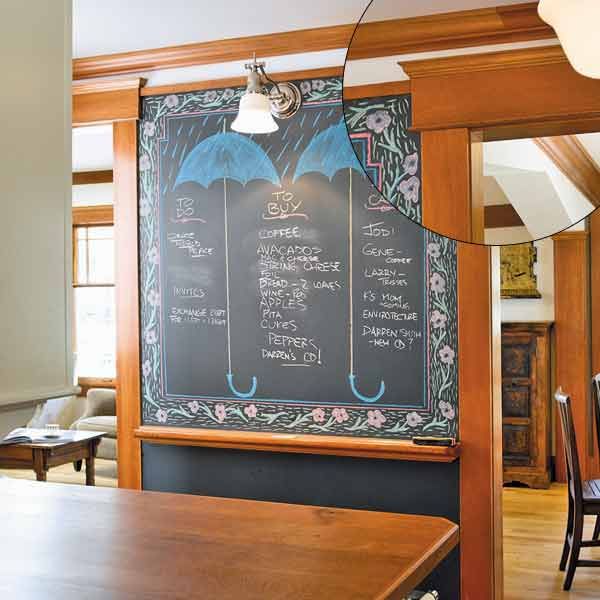 A houseboat gets the ultimate nautical treatment with gleaming stained trim against clean white walls.
Minimalist Matching Trim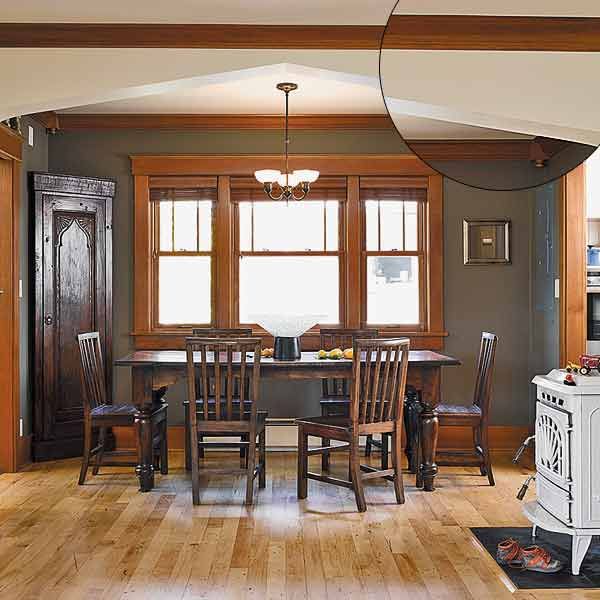 Minimal Traditional Revival molding was the basis for this dining room's new sustainable fir window casings. Corner molding provides a little more ornamentation for the eyes.
This style is an evolution of the classical profiles from earlier in the 19th century, minimizing and simplifying them while enlarging the individual parts. Think Greek Revival with more details.
Brightened-Up Compact Kitchen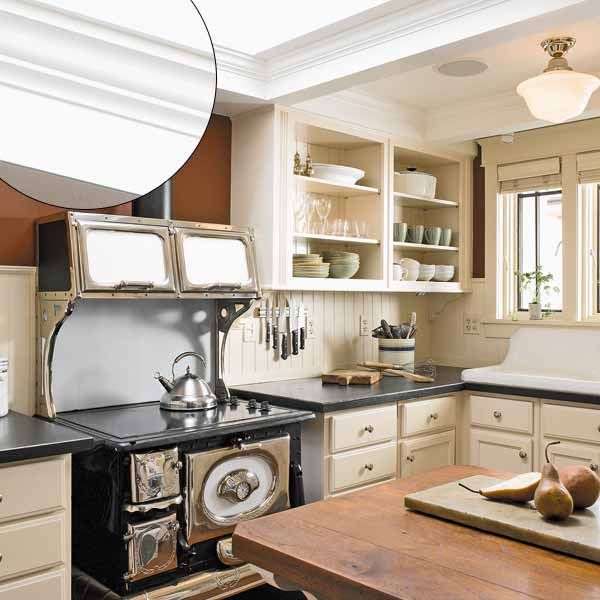 A skylight and coffered ceiling decked in Federal trim lightens and brightens a tiny kitchen full of reclaimed finds.
Heavy on The Wood Trim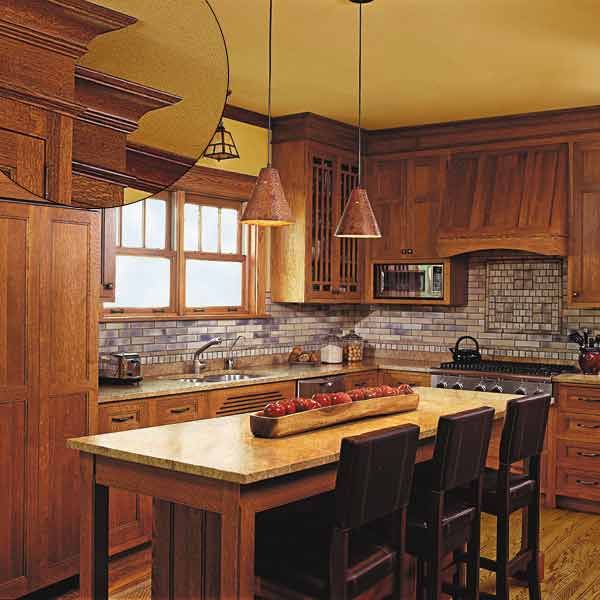 Greek Revival crown molding matches quartersawn white oak cabinets to balance out saturated yellow walls and ceiling, creating warmth in a cabin-reminiscent space.
Pared-Down Crown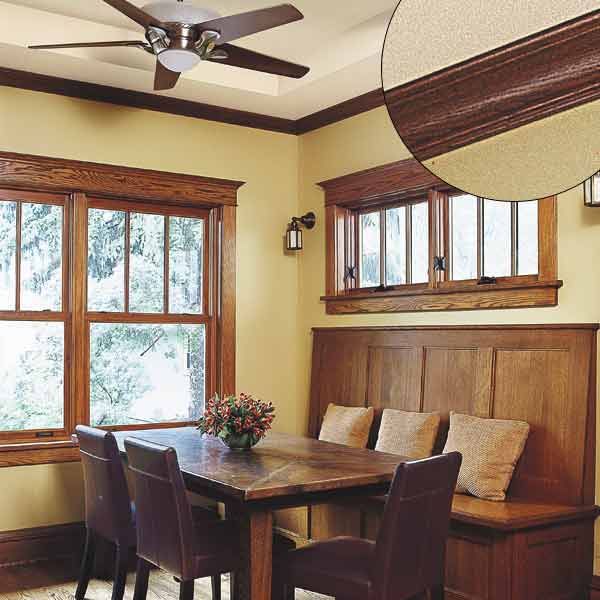 Barely-there beading of Early American trim highlights a handsome Craftsman built-in banquette and dining table.
Standout Crown and Feet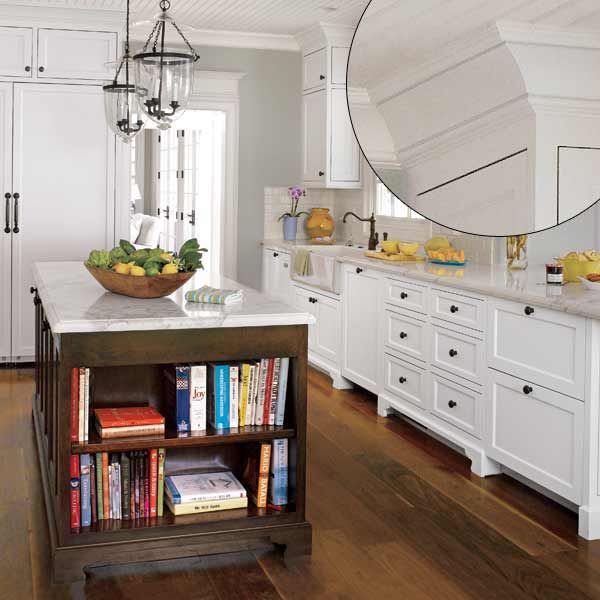 Large-scale Early American moldings were made to match substantial kitchen cabinetry feet mimicked from a vintage dresser.
Highlighted Beadboard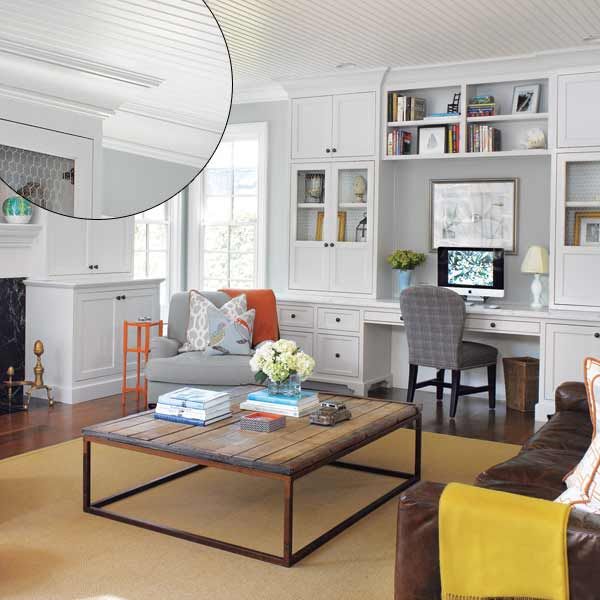 The Traditional Revival crown molding in this former sunken living room isn't the only element that's seen beading. The weighty topper highlights a beadboard ceiling chosen for its vintage cues.
Crown Curtain Rods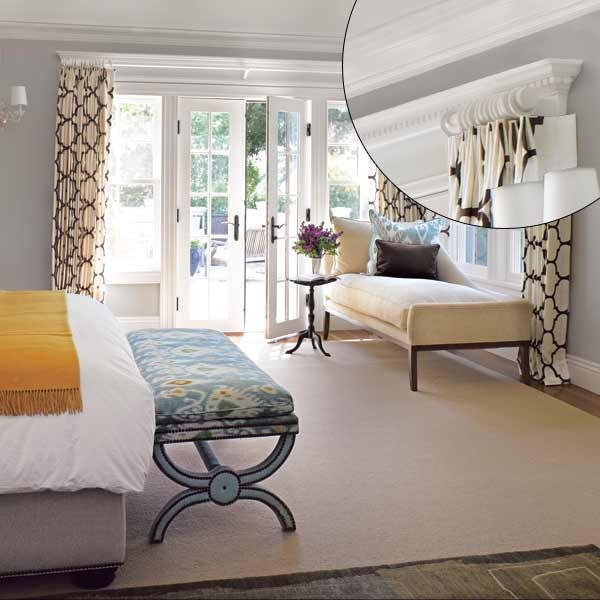 Expand your crown molding horizons by using it to top off other room elements. Georgian trim with dentil details along the French doors and window tops significantly up the space's design, all while echoing the complementing trim just inches above.
This gracious 17th-century style is design-heavy down to the small square blocks of the dentil trim and other details.
Blended In Built-Ins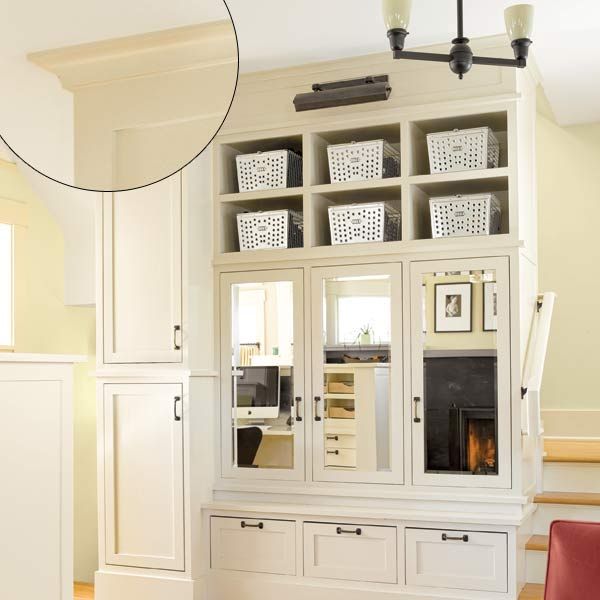 Subtle Early American trim tops off the casing of a built-in, making the addition looks like it's always been there—even though crown molding is absent in the rest of the area.
Early American Trim Gives New Ceiling Height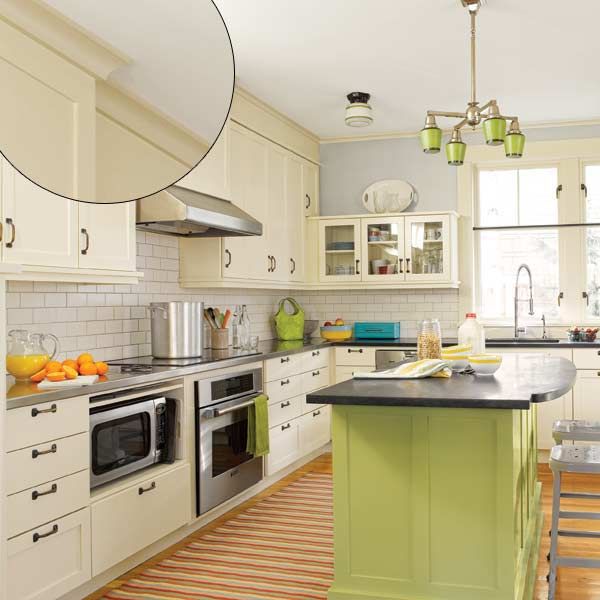 Lose a drop ceiling and there's no sense in skimping on the crown molding! Small-scale Early American trim draws the eye upward and makes up for all that new ceiling room.
Coffered Ceiling: Crown For Preservation's Sake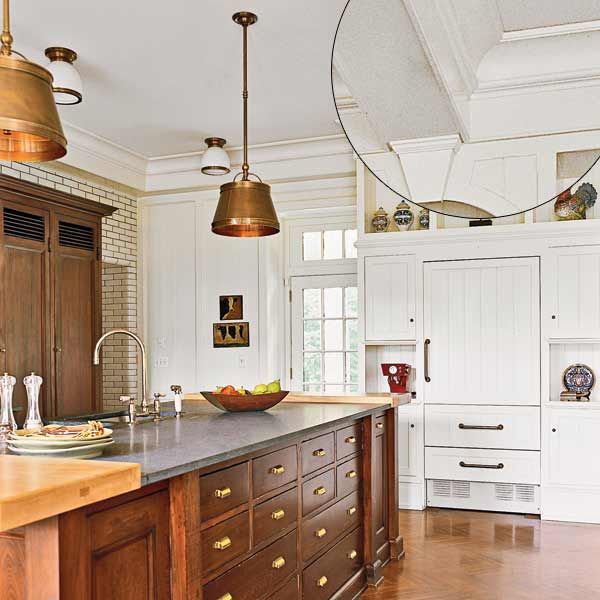 Gorgeous coffering serves as more than adornment. Designers added the feature to help preserve the pristine plaster ceiling from future water damage and cracks. Plus, the additional surface next to the beams allows for an ornate profile.
Greek Revival Kitchen Trim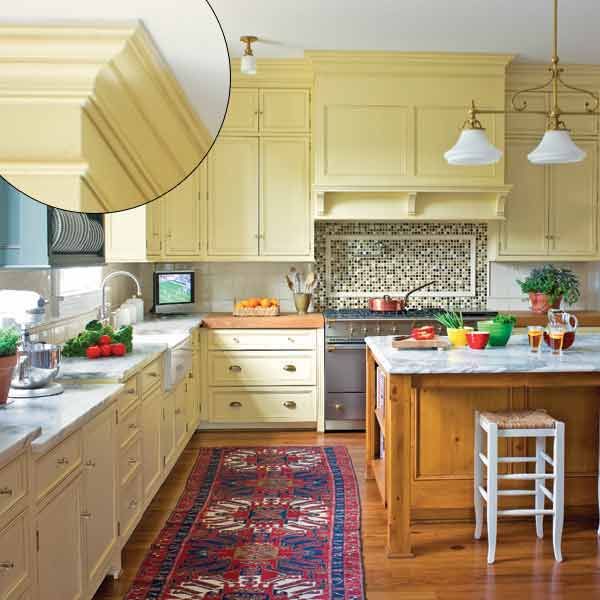 Bold Greek Revival trim tops off creamy yellow cabinets in this cheerful kitchen. Kitchen cabinet-topping crown molding lends cohesion to a room full of disparate features like the ceramic-tile backsplash and heart pine floors.
Flat-front Molding with a Shapely Mantel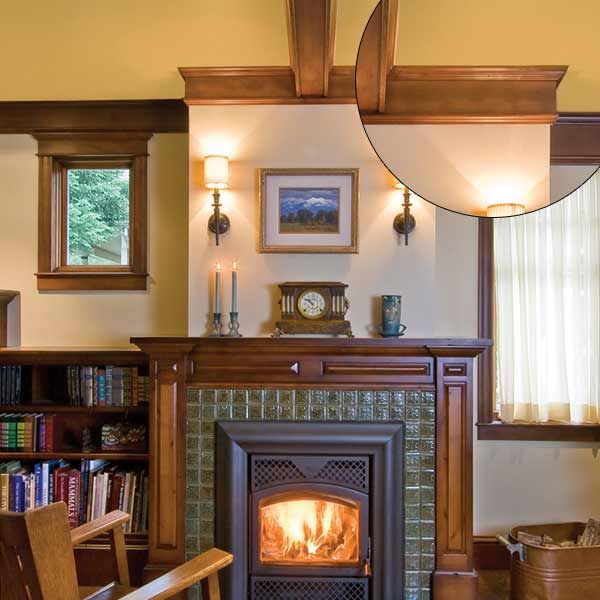 Flat-front molding with few flourishes—typical of simple Craftsman trim—lets the handsome mahogany mantel and its geometric features command attention.
This relatively understated style is tied to the Arts and Crafts movement, which emphasized skill and craftsmanship, rather than the ornate details of previous styles.
Elegant Corner Block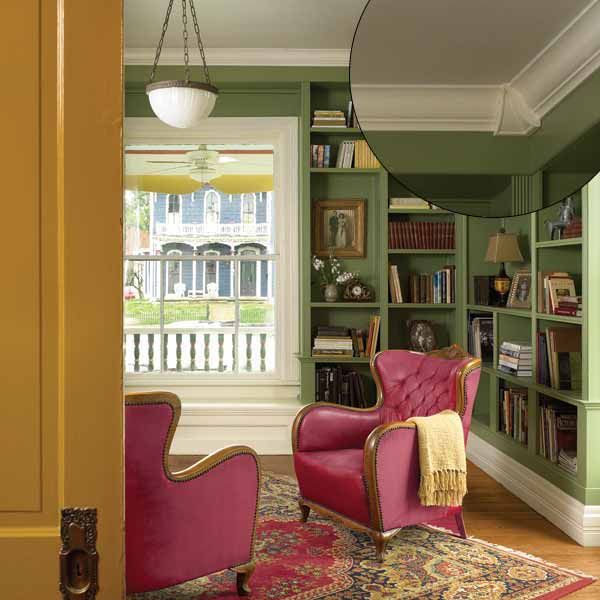 Curvaceous corner blocks in the front parlor create additional visual interest to the Colonial Revival crown and green built-in bookshelves.
Federal-Style, Simple and Masculine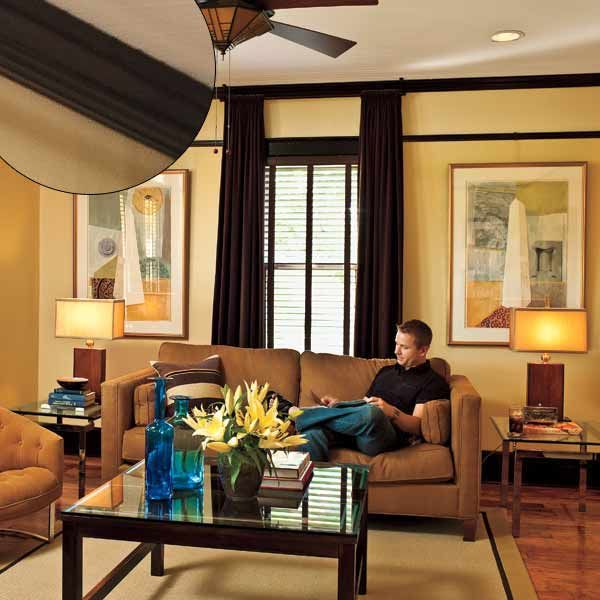 Homeowners added low-key Federal-style crown in a formerly dilapidated bungalow's living room for a masculine finish with few flourishes.
Layers of Molding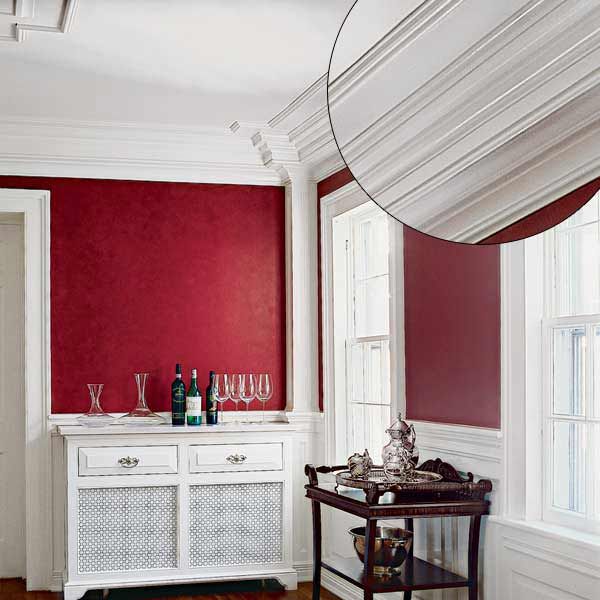 Substantial crown molding defines the ceiling and wall, and adds some much-needed ornamentation.
Custom Designs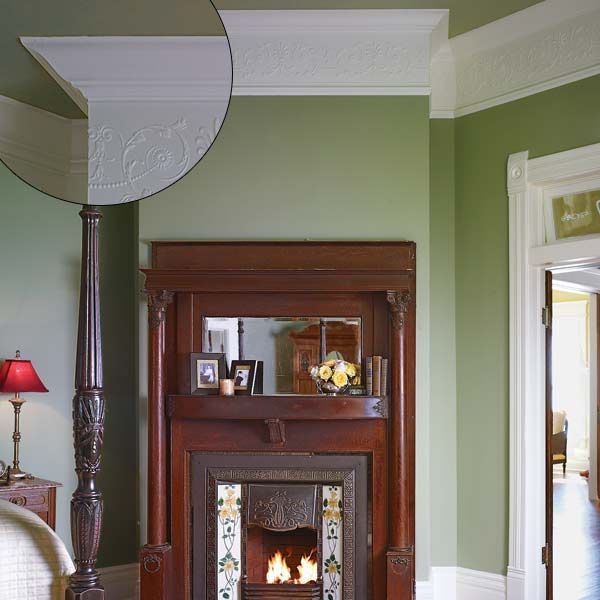 Stepped-up Traditional Revival crown molding complements the faux-old floral tile on the fireplace's cast-iron propane insert. Molding built with flat fronts leaves room for custom-look flourishes, like the one pictured.
Framed Up Pocket Doors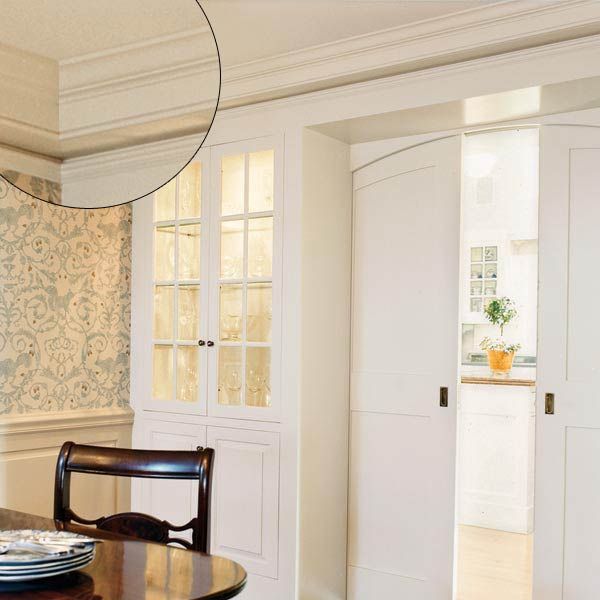 Lots of beading at play in the Federal crown molding frames up this dining room's entertaining features, the built-in China cabinets and arched pocket doors.
Georgian Style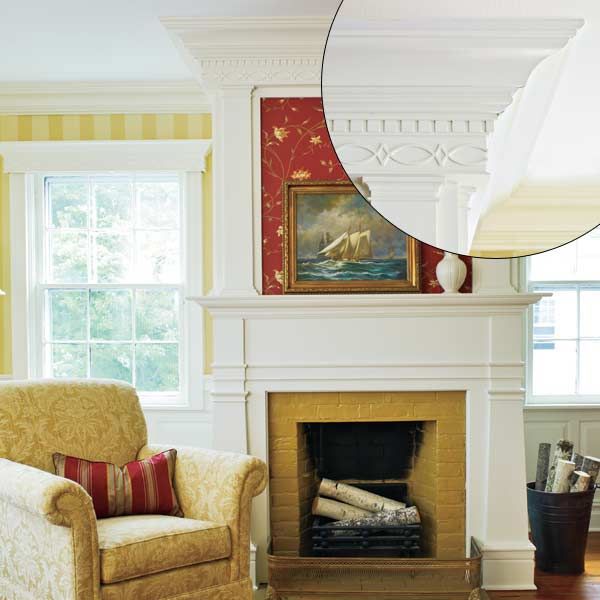 Georgian-style dentil molding—plus extra details—gives this fireplace the ultimate historical treatment. Coordinating crown and window cases dripping in detail and generous beading keep the eye roaming.
Make like a circa 1770's wealthy landowner and replicate the elegance of the Georgian style with buildable blocks, bed molds, dentil and hefty crown molding.
Chic Corner Blocks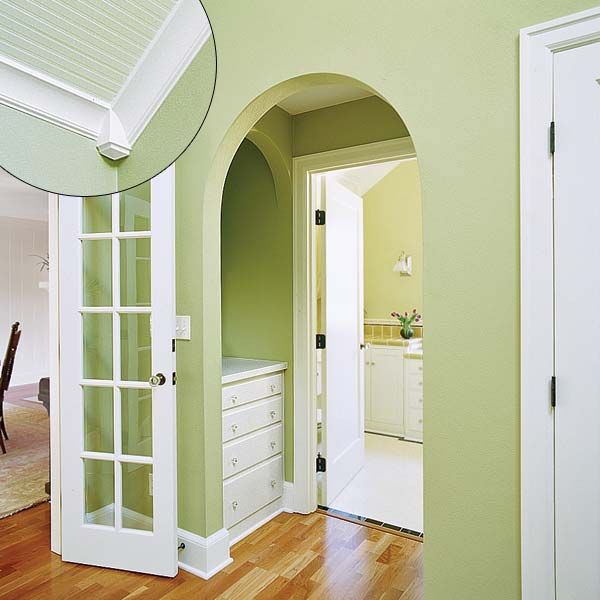 Corner blocks of Colonial Revival crown molding draw the eye upward to the vaulted, beadboard ceiling.
Rosettes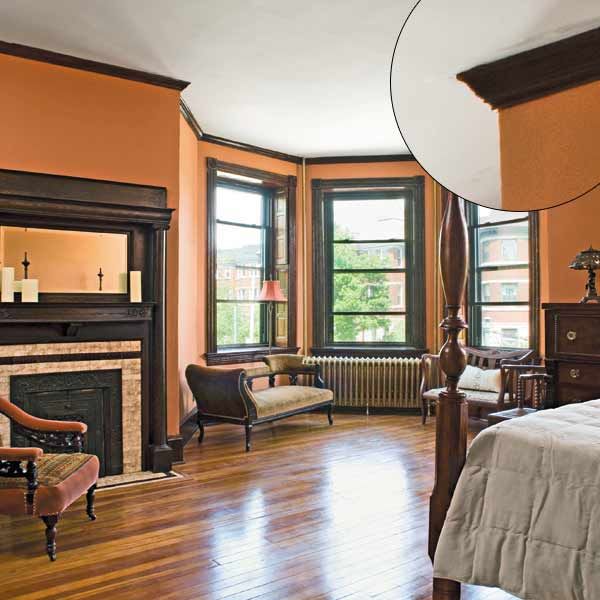 The lighter side of Colonial Revival crown molding and period-appropriate wall color let rosettes on window casings and a classical mantel take center stage in this former frat house's master bedroom.
Crib with a Coffered View
Inspired by intricate Victorian plaster designs, a homeowner transformed a blank room into a nursery with a whimsical coffered ceiling. Federal molding with stepped details and corners provide lots for developing eyes to gaze upon.
The homeowner used a computerized router to cut patterns from MDF to use as bending forms. Then, he formed the coffering with a vacuum press, and seven pieces of poplar trim laminated, spending a total of 130 hours on the project.
Steel Beam-Disguising Crown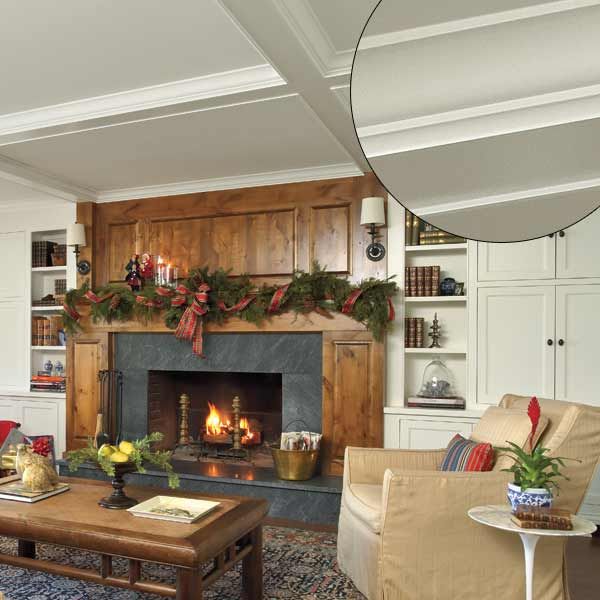 Two essential steel beams—along with a grid of false beams—create a coffered ceiling. Pared-down Greek Revival crown molding complements, rather than competes, with the room's built-ins.
Obscure Garage Tell-Tale Signs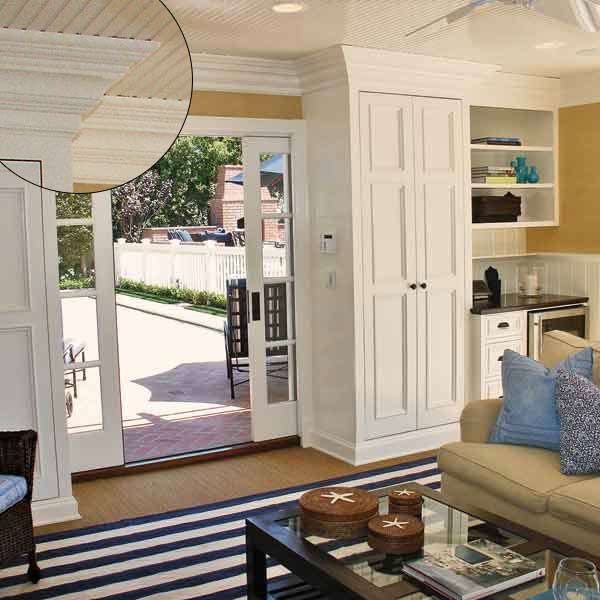 Federal crown molding masks any remnants of this media room's former identity—a freestanding garage. Built-in storage and plenty of beadboard throughout make the room feel like it's been there for years.
Refined Curve With Victorian Ambience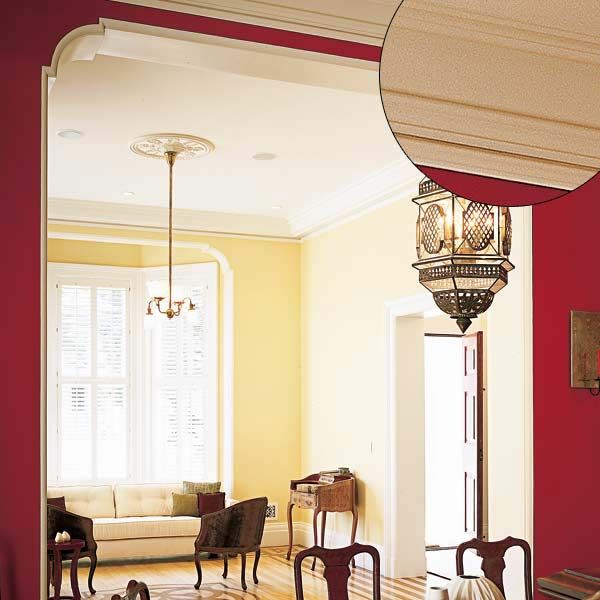 Wide openings with casings were created in an Italianate San Francisco townhouse formerly split up into apartments for a brothel. Federal-style moldings bring a refined and cohesive look to the former place of ill repute.
Fine beading and intricately shaped openings will do the trick for a formal, Victorian feel, even in places of already good repute.
Early American Molding Offers Widened View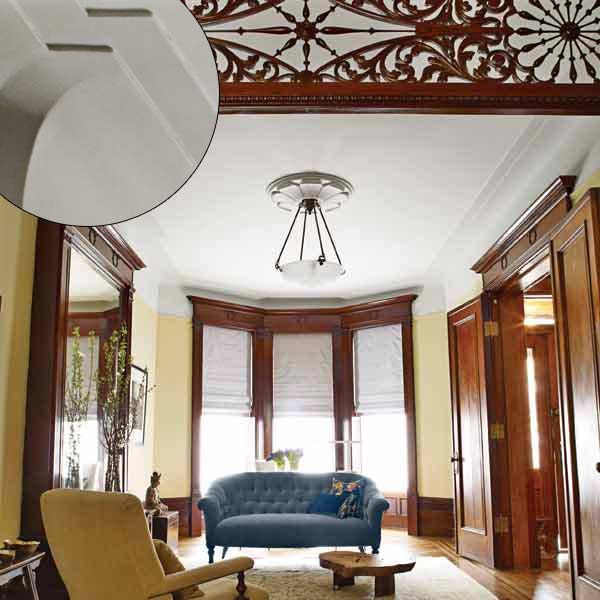 Here, crown molding painted to match the ceiling makes the narrow room of the TOH TV Brooklyn brownstone open up visually.
Want to recreate the look? Opt for large-scale, simple Early American molding to get the optimal widening effect.