Inevitably, the popularity of subway tile has expanded its working definition. Manufacturers often use the term now to describe any rectangular tile with a length twice its height, from 4×8-inch planks to 1×2 mosaics, and even some tiles (such as contemporary 2×8 strips) that don't share the original's proportions at all. Here, we'll stick with the old-school 3×6 format as we explore this material's charms and versatility.
Shown: Warm-white subway tile adds timeless appeal to a traditional kitchen.
Similar to shown: Cottage field tile in Devonshire Cream, $15 per square foot; waterworks.com
History of Subway Tiles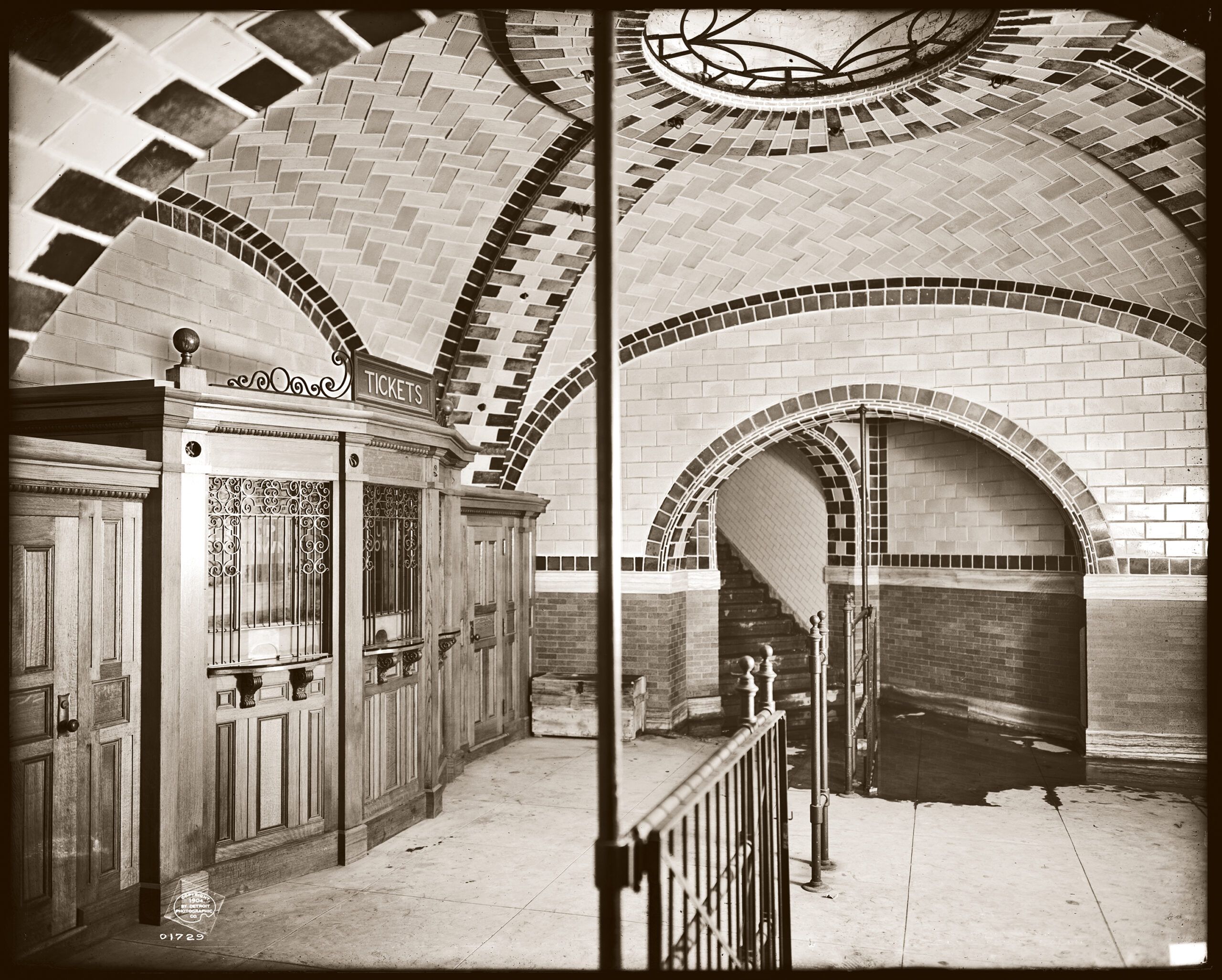 Opened in 1904 but no longer in use today, the ticket office at the former City Hall subway station in New York City featured ceramic subway tiles, hailed as durable and easy to maintain, on its walls. The arches and vaulted ceilings were covered with fanciful Guastavino tilework.
Subway Tile Colors
Warm Orange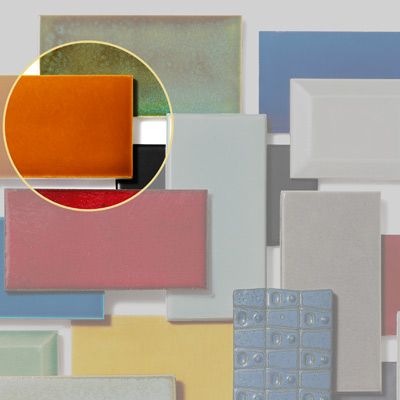 The pumpkin color adds spice to any room.
Hand Painted tile in Tangerine Gloss, $14.40 per square foot; solistone.com
Deep Blue Sea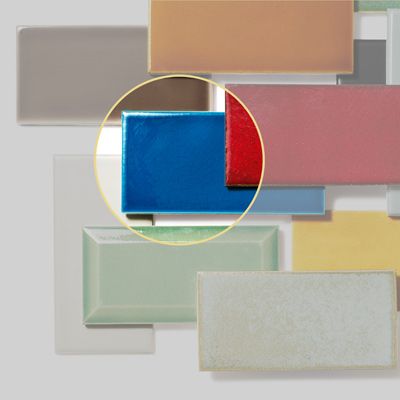 This marine-blue pick would make a lively shower surround.
Subway Ceramics tile in Lagoon Blue Crackle Gloss, $19.30 per square foot; heritagetile.com
Not Your Average Neutral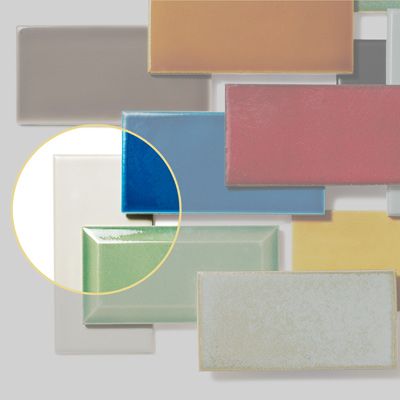 For a neutral space, gray is a fresh alternative to white.
Northeastern tile in Yukon Silver Grey Matte, $2.62 per square foot
Nature's Influence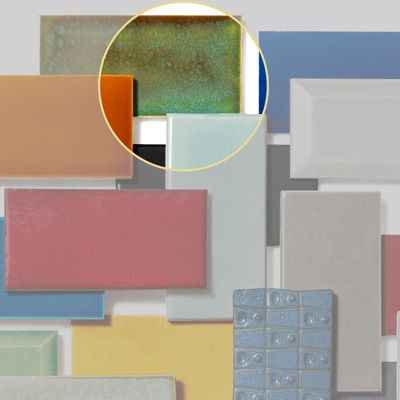 A green-and-bronze finish feels both organic and opulent.
Basics tile in Sheiling Forest, $31.50 per square foot; trikeenan.com
Ice Blue, Baby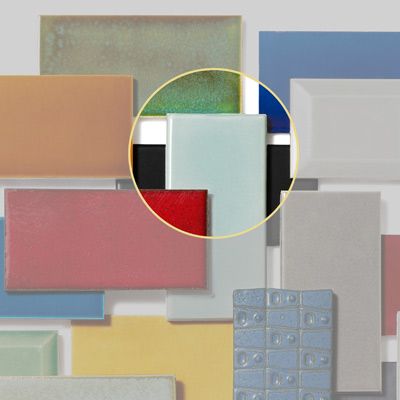 Ice-blue tile can give a master bath a soothing, spa-like vibe.
Capriccio tile in Sky Blue Gloss, $12 per square foot; annsacks.com
Tropical Yellow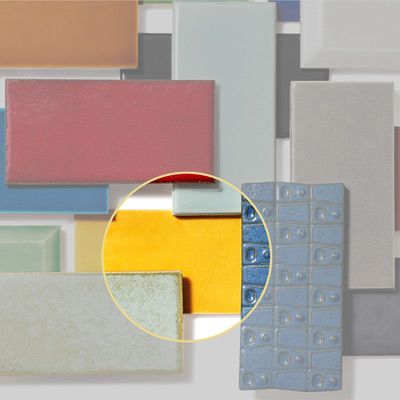 Banana-yellow tile can perk up a powder room.
Hand Painted tile in Sol Gloss, $14.40 per square foot; solistone.com
Multitasking Blue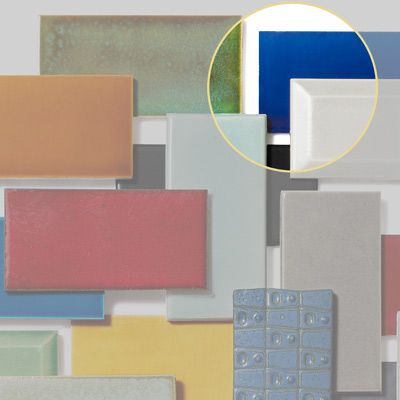 Consider deep blue for a backsplash—the color disguises spills and grime till you've got time to scrub them away.
Hand Painted tile in Azul Gloss, $14.40 per square foot; solistone.com
Bold, Classic Teal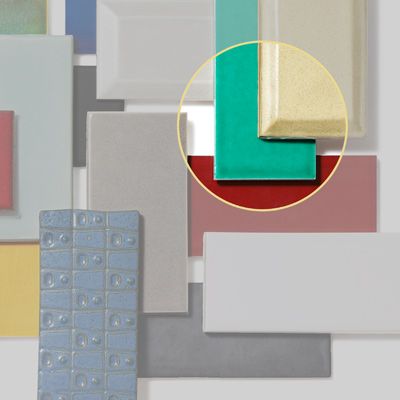 Inspired by Art Deco tile, this teal option feels timeless.
Classic tile in Nancy Greene Gloss, $18.50 per square foot; missiontilewest.com
Deep Red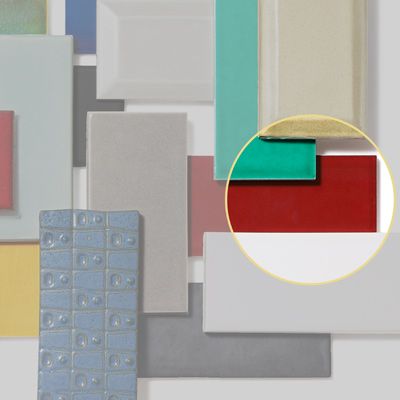 This rich red pairs well with glass and other sleek finishes.
Subway Ceramics tile in Garnet Crackle Gloss, $19.30 per square foot; heritagetile.com
Go-To White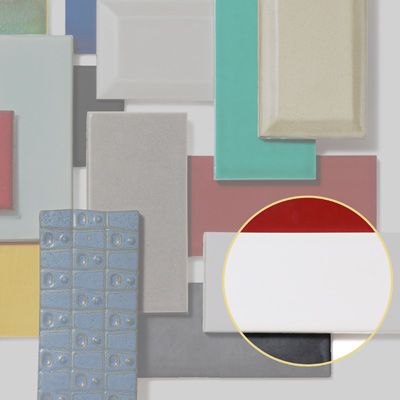 White tile remains a can't-fail classic.
Savoy tile in White Gloss, $10.80 per square foot; crossvilleinc.com
Finish
Subtle Variety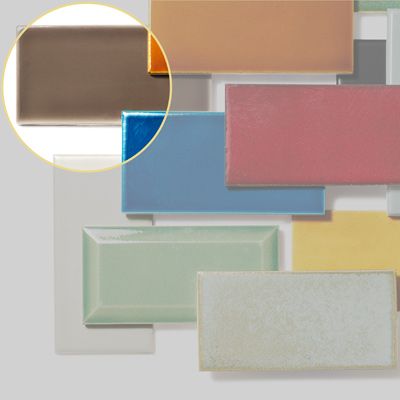 Hand-applied glaze offers subtle tonal variation that animates a finished wall.
Artisan tile in Sable Gloss, from $13.50 per square foot; sonomatilemakers.com
Seeing Spots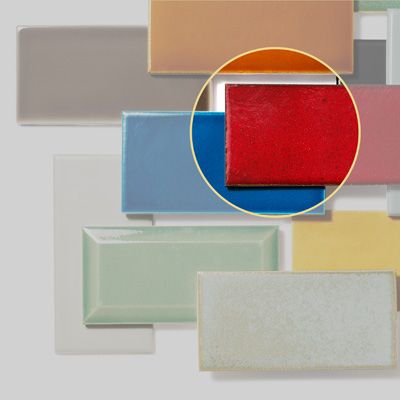 A speckled finish results from the firing process.
Subway tile in Matador Red Gloss, $65 per square foot; mercurymosaics.com
To The Edge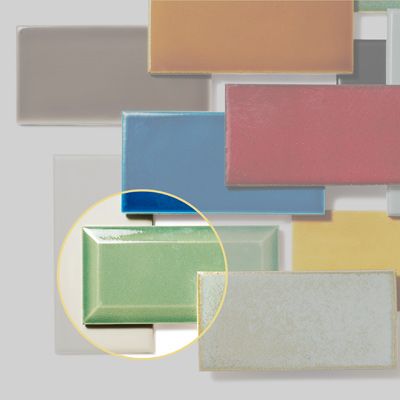 The glazing is applied to highlight the handsome beveled edges.
V15 Metro beveled field tile in Teal Crackle, $19.57 per square foot; urbanarchaeology.com
Faux Stone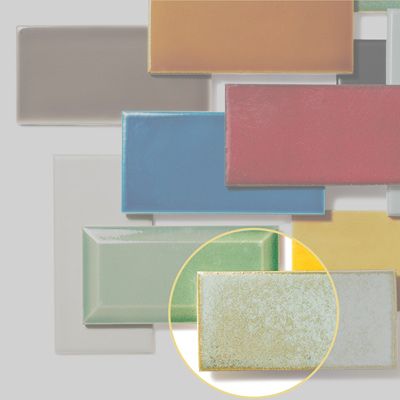 Varying the kiln's temperature creates this stone-like finish.
Stoneware Elements tile in Blue Mist Matte, $29.92 per square foot; annsacks.com
Modern Matte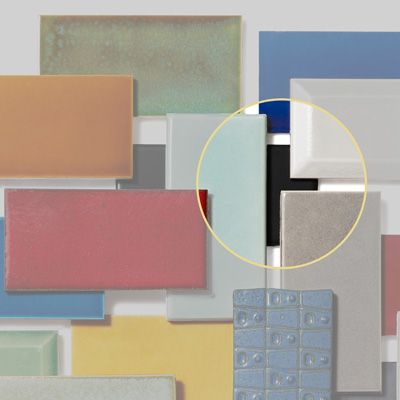 An unexpected luster-free glaze makes black tile feel up-to-date.
Profiles tile in Black Matte, $4.15 per square foot; americanolean.com
Not Your Basic Bevel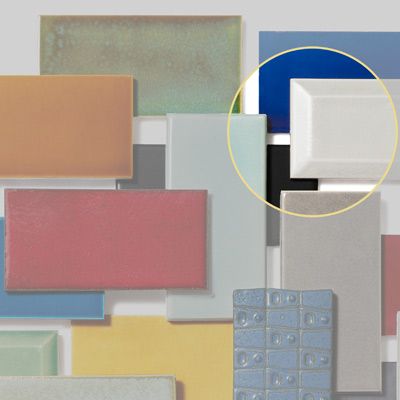 An eased bevel and a crackle finish give a basic white tile distinction at a good price.
Adex Hampton beveled tile in White Crackle, $5.50 per square foot; fastfloors.com
Recycled Texture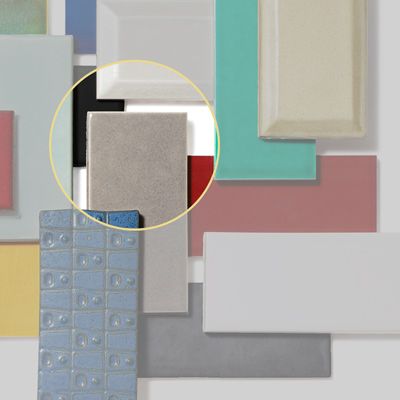 The glaze is mixed from recycled factory leftovers.
Reclamation tile in Pollywog, $22 per square foot; trikeenan.com
Under the Sea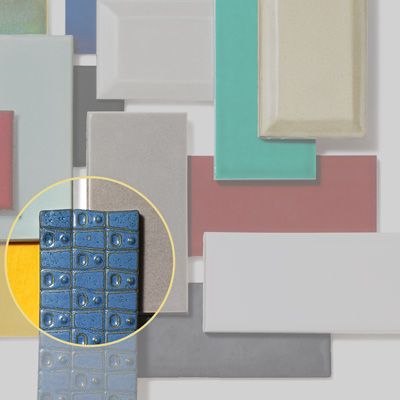 This tile's ends are subtly contoured to create a unique grout line.
Dom tile in Sea, $64.80 per square foot; mod-craft.com
Industrial, Metal Look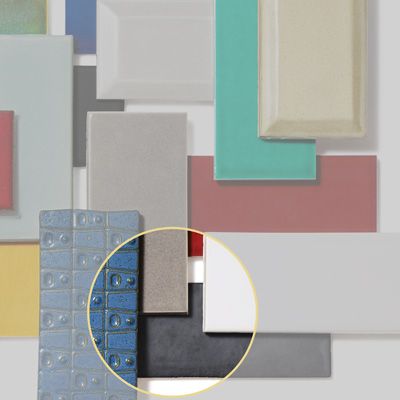 A distressed finish that mimics metal looks at home next to concrete and textured surfaces.
Subway tile in Antique Pewter Gloss, $65 per square foot; mercurymosaics.com
Aged Look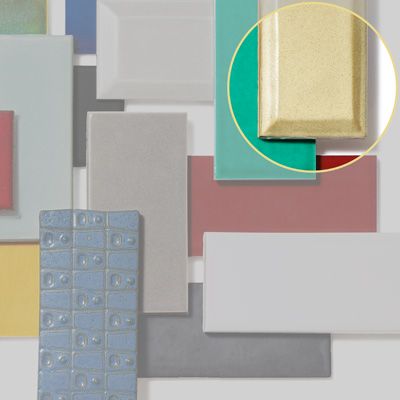 Beveled edges and a matte finish add dimension to the neutral color.
Ceramic Alhambra tile in Adobe Matte, $7.52 per square foot; walkerzanger.com
Other Tile Materials
Glass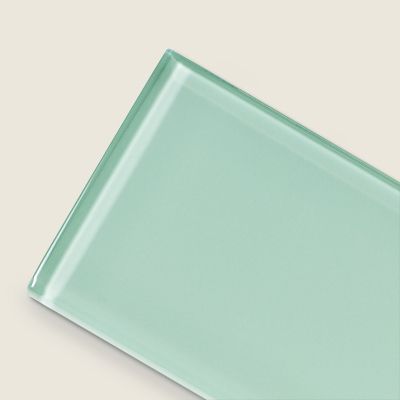 A popular alternative to ceramic, it's a cinch to clean and comes in an ever-widening array of colors, from soft greens and blues to neon brights.
Lucian glass tile in Rain, $13.91 per square foot; annsacks.com
Stone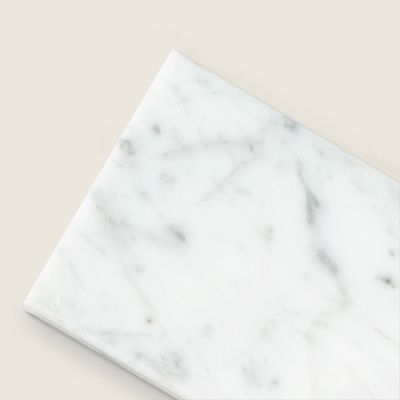 It needs regular sealing to stay stain-free, but natural stone tile boasts one-of-a-kind beauty and can be surprisingly cost-competitive with mid-priced ceramic.
White Carrara marble tile, $9 per square foot; stonecenteronline.com
Bamboo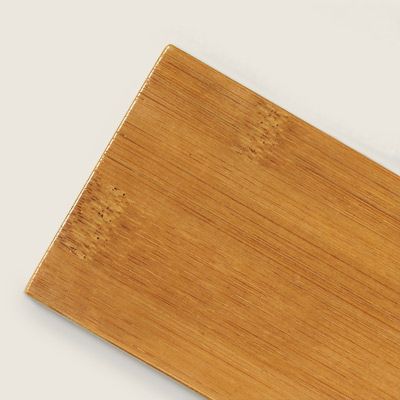 This wood look-alike could make a lovely wainscot in, say, a dining room. It's rated for dry areas only, so keep it away from sinks and showers.
Bamboo subway tile in Chestnut, $25 per square foot; kitchens.com
Metal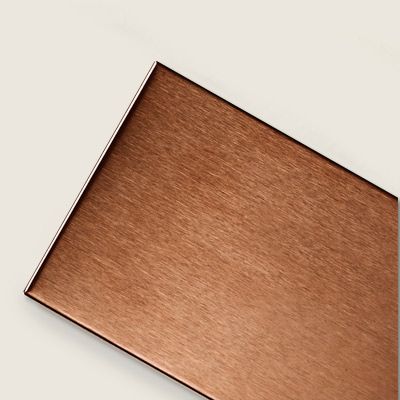 The gleaming finish would add polish to a backsplash. Wipe it down often to keep water and grease spatters from spotting it.
Metal-over-porcelain tile in Alloy Copper, $21.95 per square foot; homedepot.com
Edge Treatments
Rectified or Square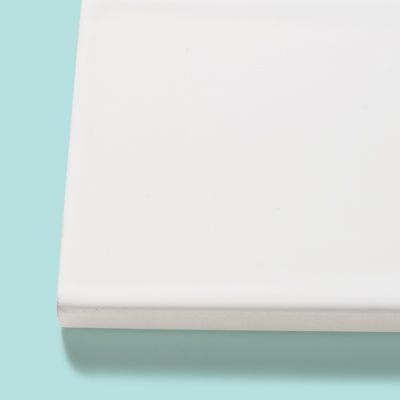 Tiles with traditional edges can be butted together tightly with the pencil-thin joints that were typical of original installations.
Bright White Gloss tile, $24 per square foot; restorationtile.com
Rounded Shoulders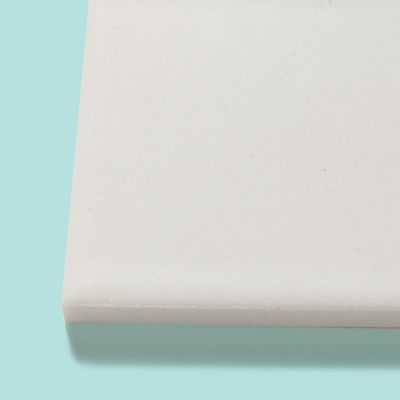 Also called eased edges, a slight radius softens and updates the look of these tiles.
Modulus tile in Lily White Satin Crackle, $16.50 per square foot; trikeenan.com
Beveled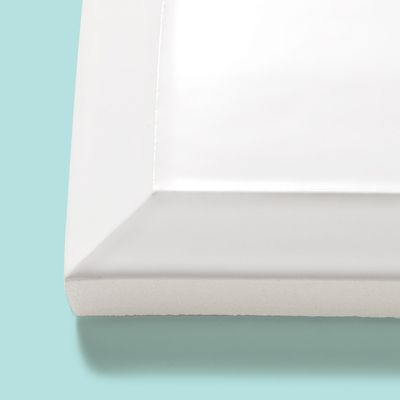 The edges slope away from the face, giving each tile a sculptural quality.
Elements beveled tile in Bright White Gloss, $34.96 per square foot; annsacks.com
Shopping Tips
Visit manufacturer websites to search for tile you like, but always order samples before buying, as colors and finishes look different in person. Some stores let you borrow samples overnight for free, or you can buy them online for a nominal fee. Prop samples against the wall you plan to cover to see how the tile looks with your decor and lighting.
Some tile makers sell directly to consumers via their websites or dedicated showrooms. Others will refer you to kitchen and bath showrooms or third-party online sites, such as southcypress.com. Home centers sell some tile at stores but put many more of their offerings online.
Made-to-order tile, especially pricey lines, can take weeks to arrive. So make your selections well in advance if the tile's installation is time-sensitive.
What Makes Subway Tile Last?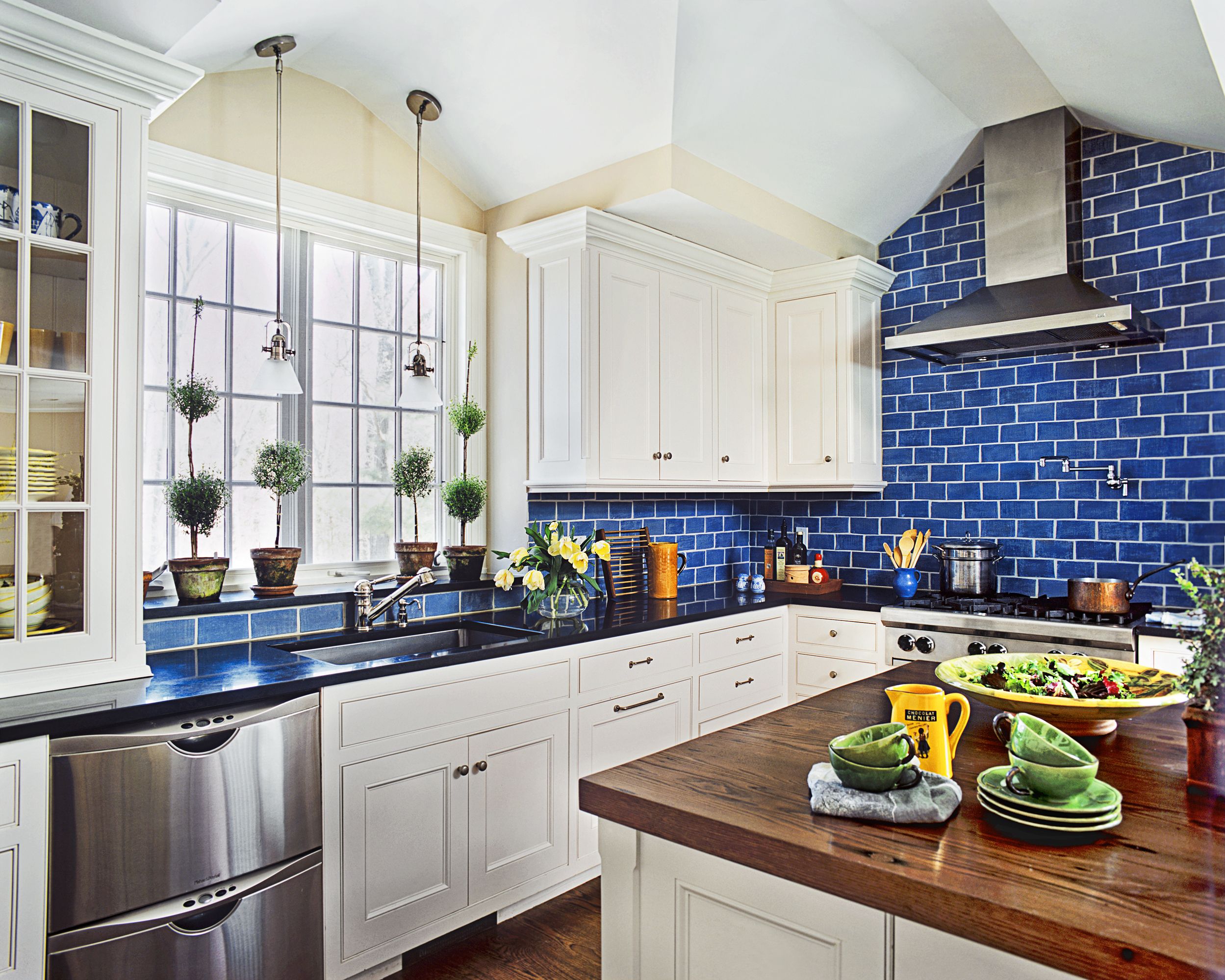 The backing is stable, rigid, and clean
The backing, or substrate, might be concrete, plywood, drywall, or cementitious backer board. No matter the material, it must be flat and solid; any warps, bumps, or springiness can cause tiles to crack. The surface must be free of oil, grease, dirt, paint, and old grout or adhesives.
The pattern avoids awkward cuts
Measure the number of tiles needed, horizontally and vertically, to reach the ends of the walls, keeping joints uniform. Shift the pattern left, right, up, or down so that there are no thin slivers or small pieces of tile in highly visible areas. Use corner trim or tile with bullnose edges to avoid exposed edges at the ends of runs.
The tiles sit straight and flat
Lay tiles using a horizontal level line and a vertical plumb line as guides. No individual tiles or corners should protrude from the surface. The field should be finished with mold-inhibiting caulk wherever tile meets adjacent surfaces, such as walls, tubs, counters, or cabinets.
The finished walls get regular upkeep
Most glazed ceramic tile needs little more than cleaning with a mild, nonabrasive soap. But some crackle finishes and most unglazed ceramic tile, such as terra-cotta, need sealing to keep out water and dirt, as do cement-based grouts. Follow the manufacturer's directions for recommended sealers and frequency of application. Replace caulk when it starts looking moldy or grubby.
Subway Tile Patterns
Vertical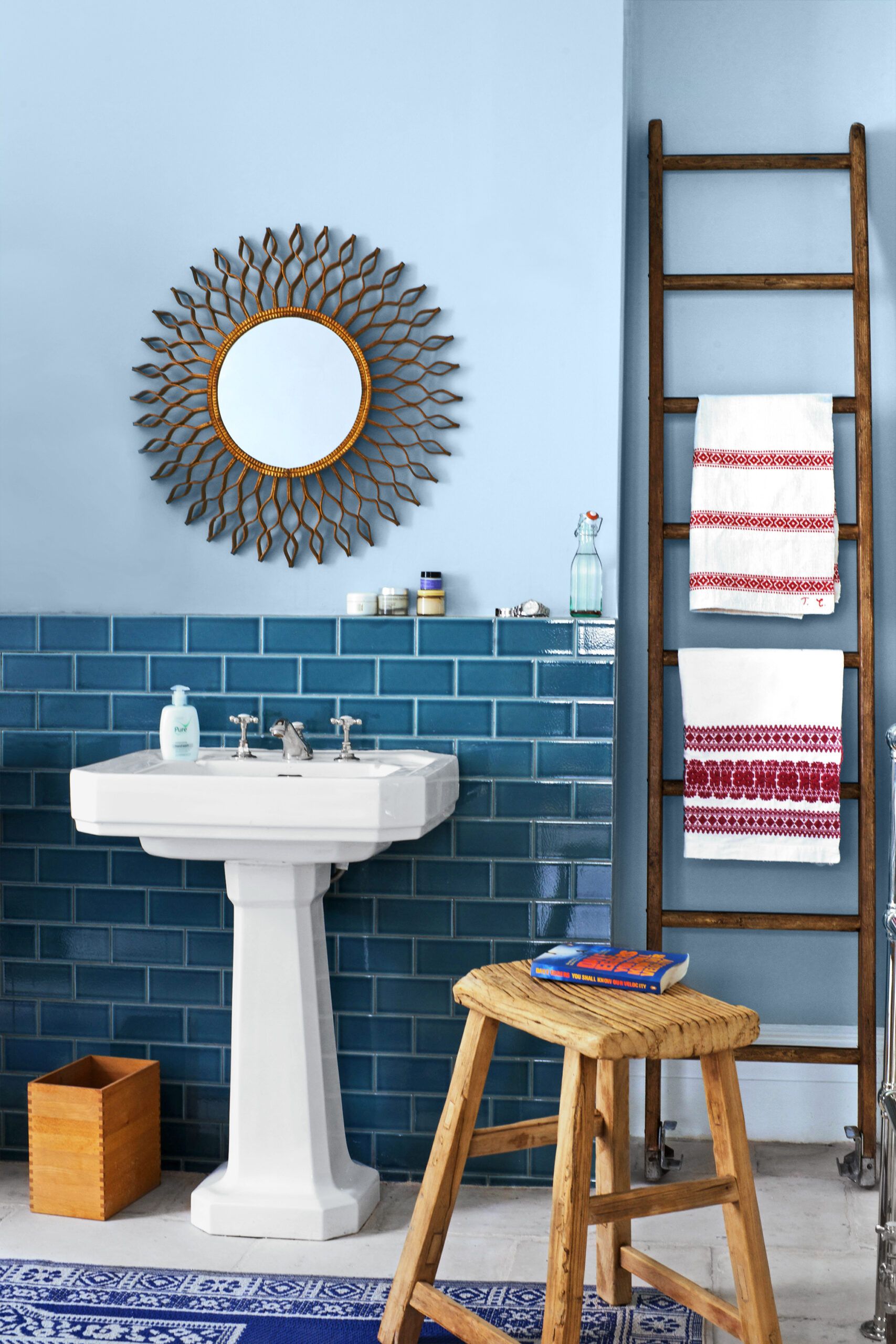 In small spaces, such as a powder room, tiles installed on end draw the eye upward and make the ceiling appear higher.
Ann Sacks Collection tile in Tropic Gloss and Ice Cube, $24.96 per square foot; annsacks.com
Herringbone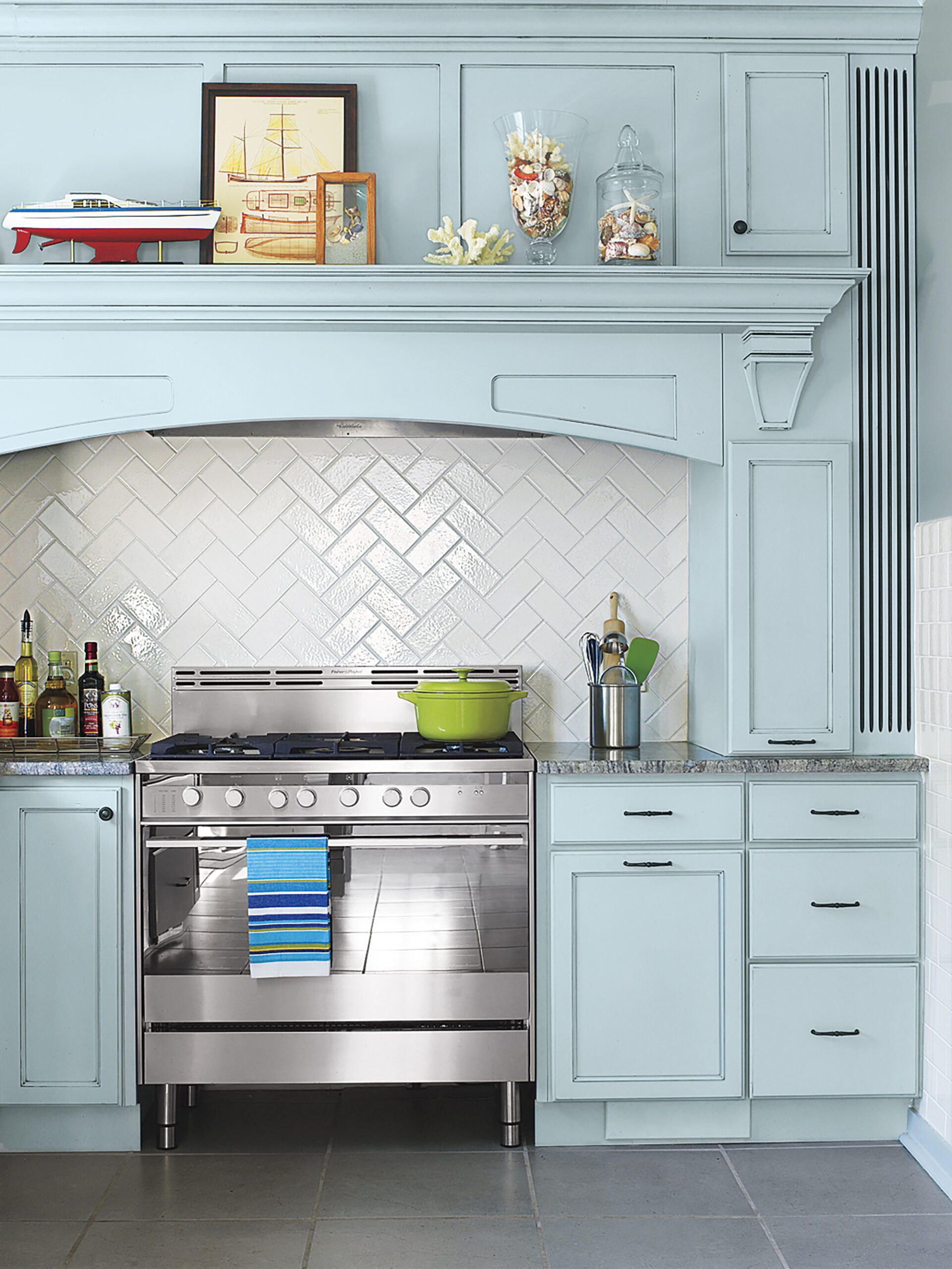 Zigzag angles accentuate the material, turning a simple white-tile backsplash into a handsome focal point.
U.S. Ceramic tile in Bright Snow White, $1.76 per square foot; homedepot.com
Running Bond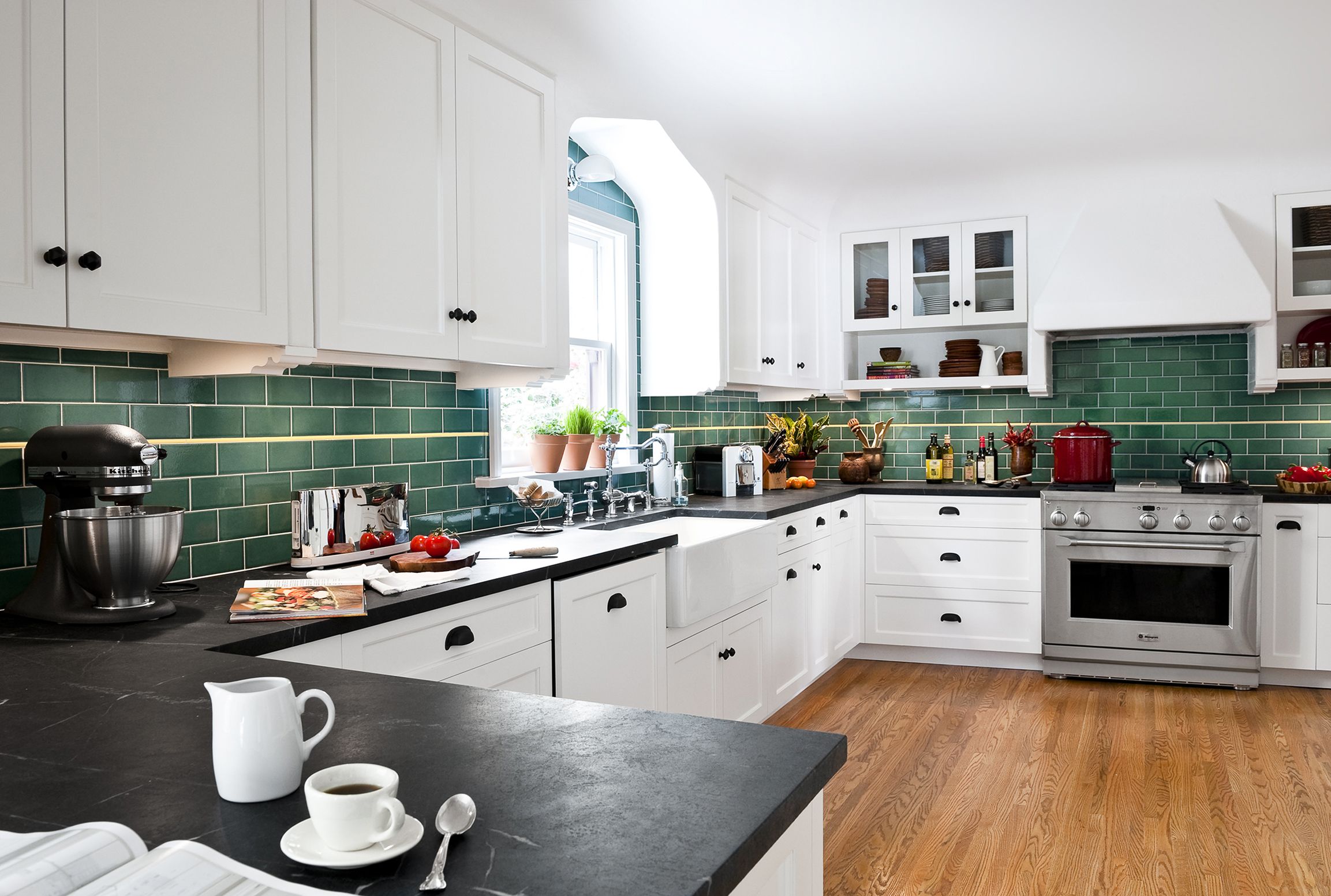 Tiles are laid end to end, with joints that land in the middle of the tiles in adjacent rows. This popular pattern can feel either traditional or contemporary, depending on the surroundings. Added bonus: Staggered joints are forgiving of slightly out-of-square walls.
Classic tile in Mess Hall Gloss, $18.50 per square foot; missiontilewest.com
Stacked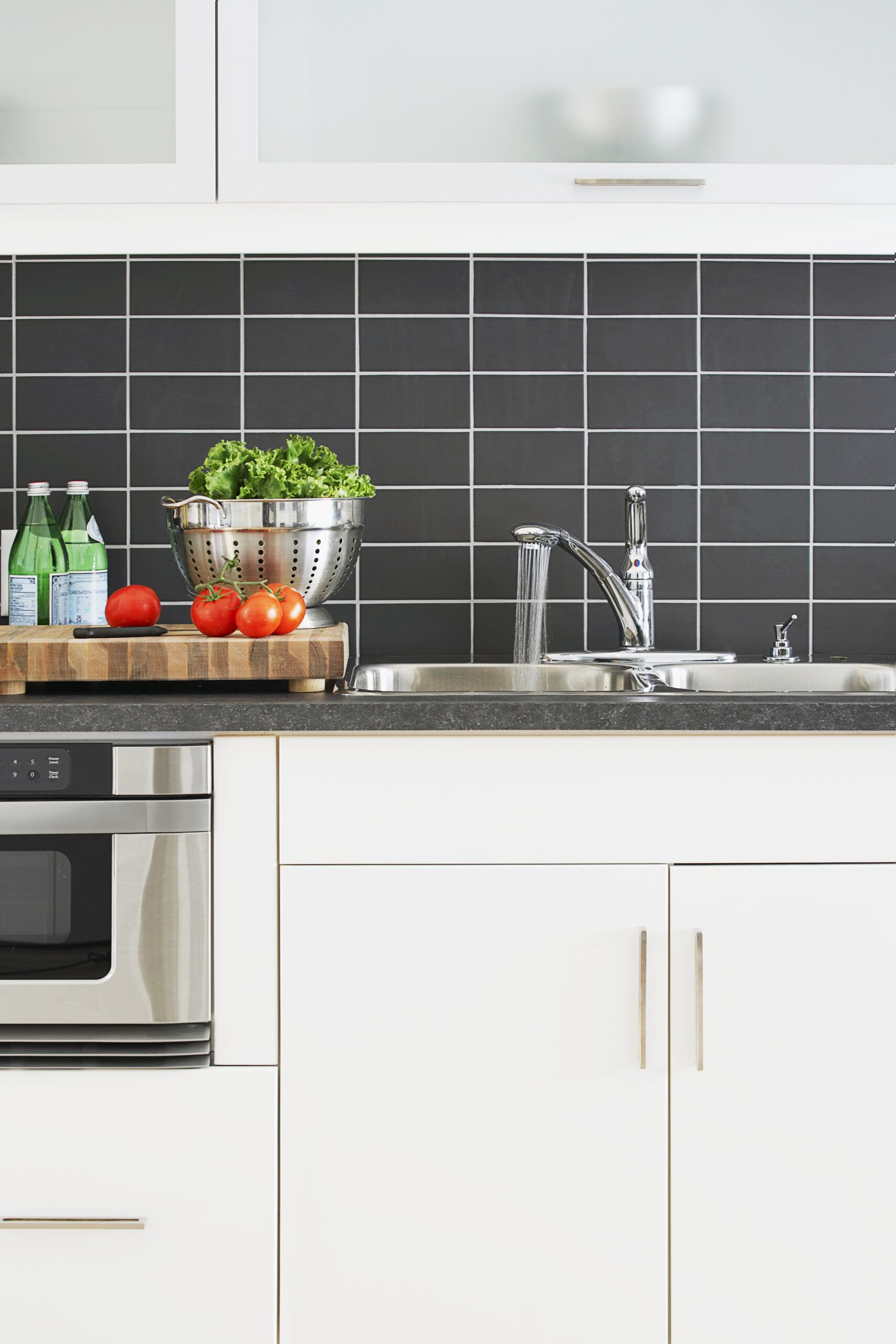 Lining up tiles horizontally in parallel columns creates a polished, contemporary look.
Similar to shown: Rittenhouse Square tile in Matte Black, $1.70 per square foot; daltile.com
Select a Grout
Off White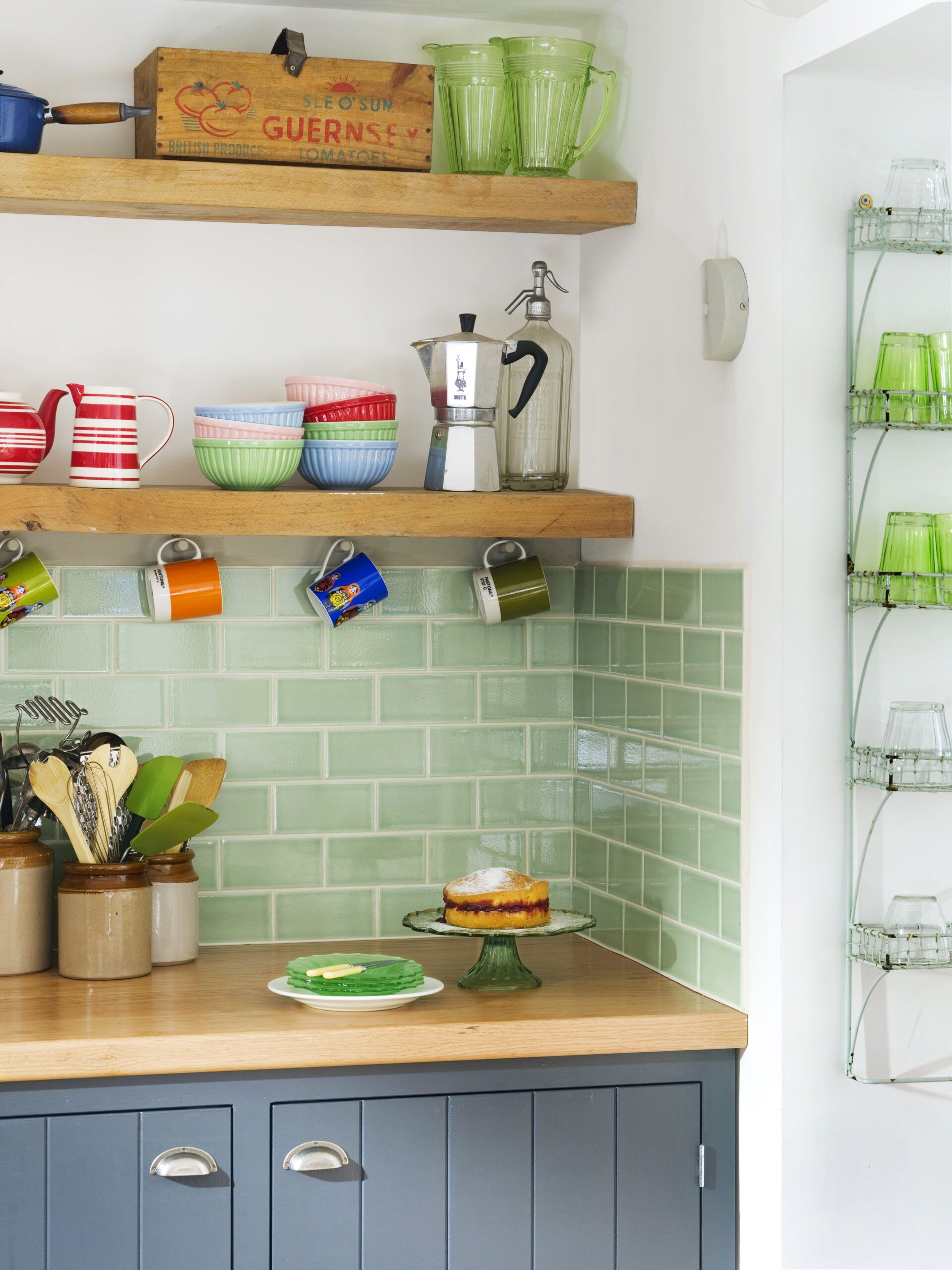 Neutral lines of off-white grout harmonize with wood counters and shelves.
Similar to shown: Horus Art tile in Broadway Pistachio, $10.32 per square foot
Black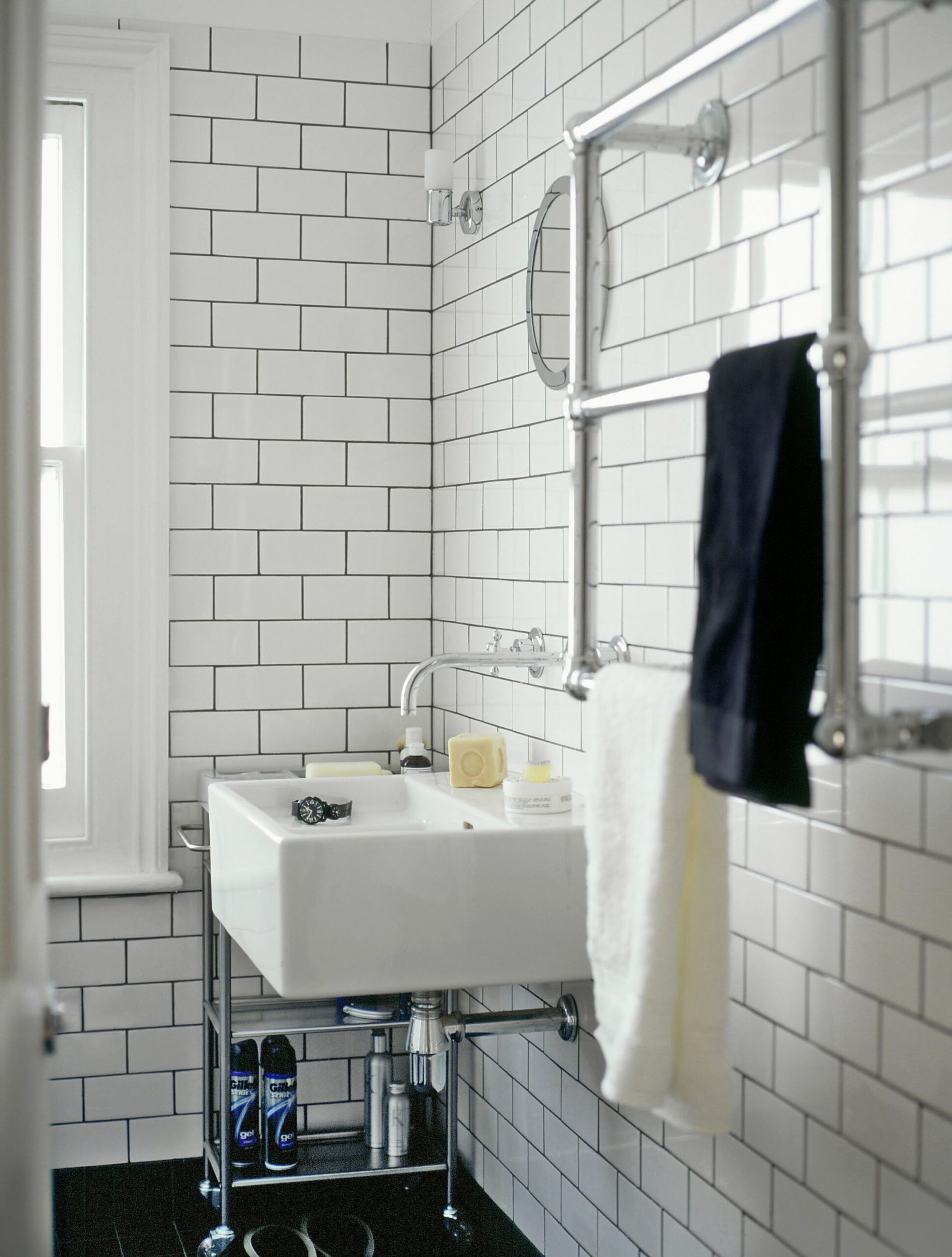 Black grout with white tile adds drama to a floor-to-ceiling installation.
Similar to shown: Classica tile in White Gloss, $5.40 per square foot; emser.com
Gray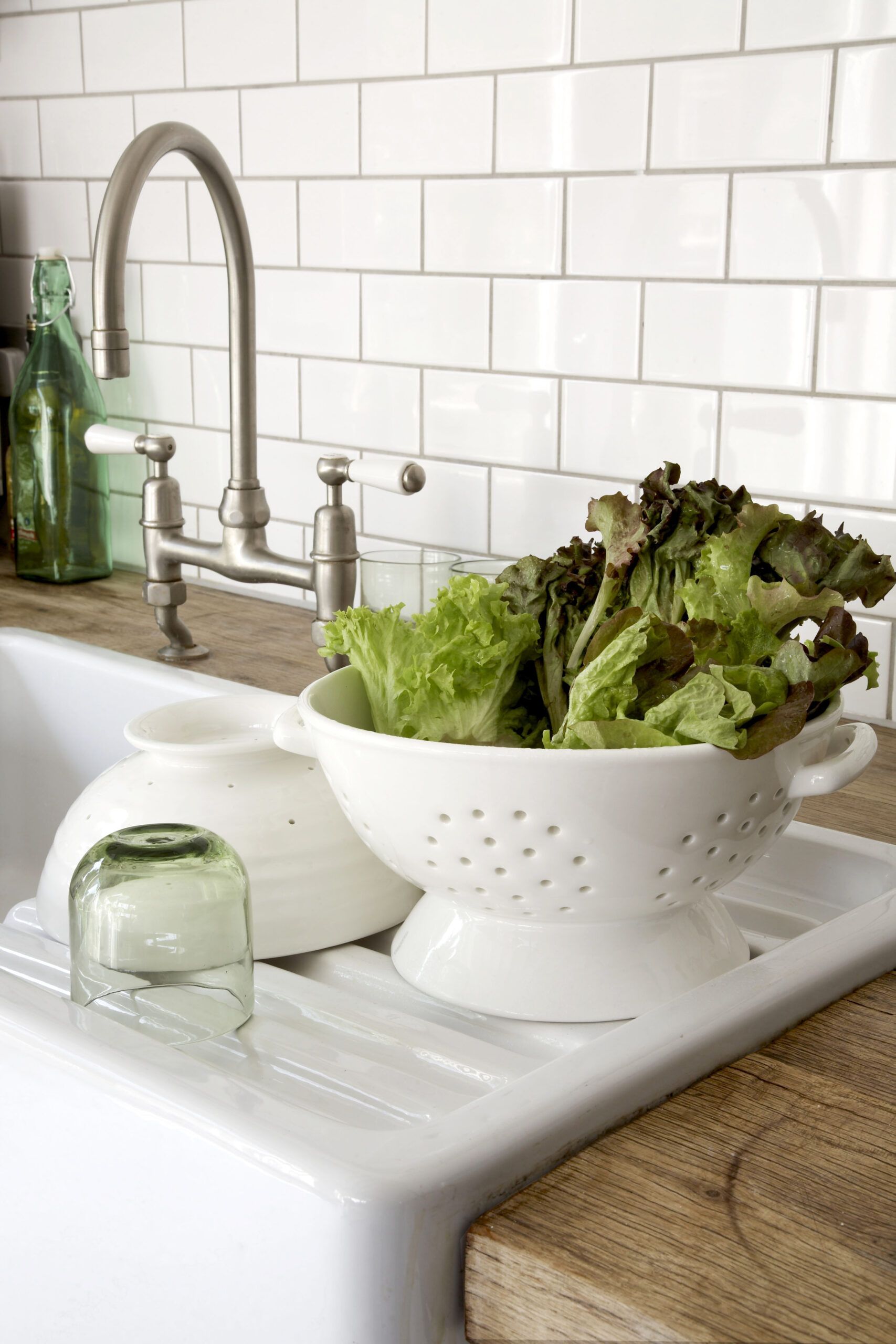 Gray grout masks grime and splash marks in a high-use area.
Similar to shown: Metro wall tile in Bone, $3.50 per square foot; nemotile.com
Light Blue
Light-blue grout matches the wall color for a monochromatic look.
Similar to shown: Festiva tile in Aquarius, $2.14 per square foot; daltile.com
Finishing Touches
Framed Focal Point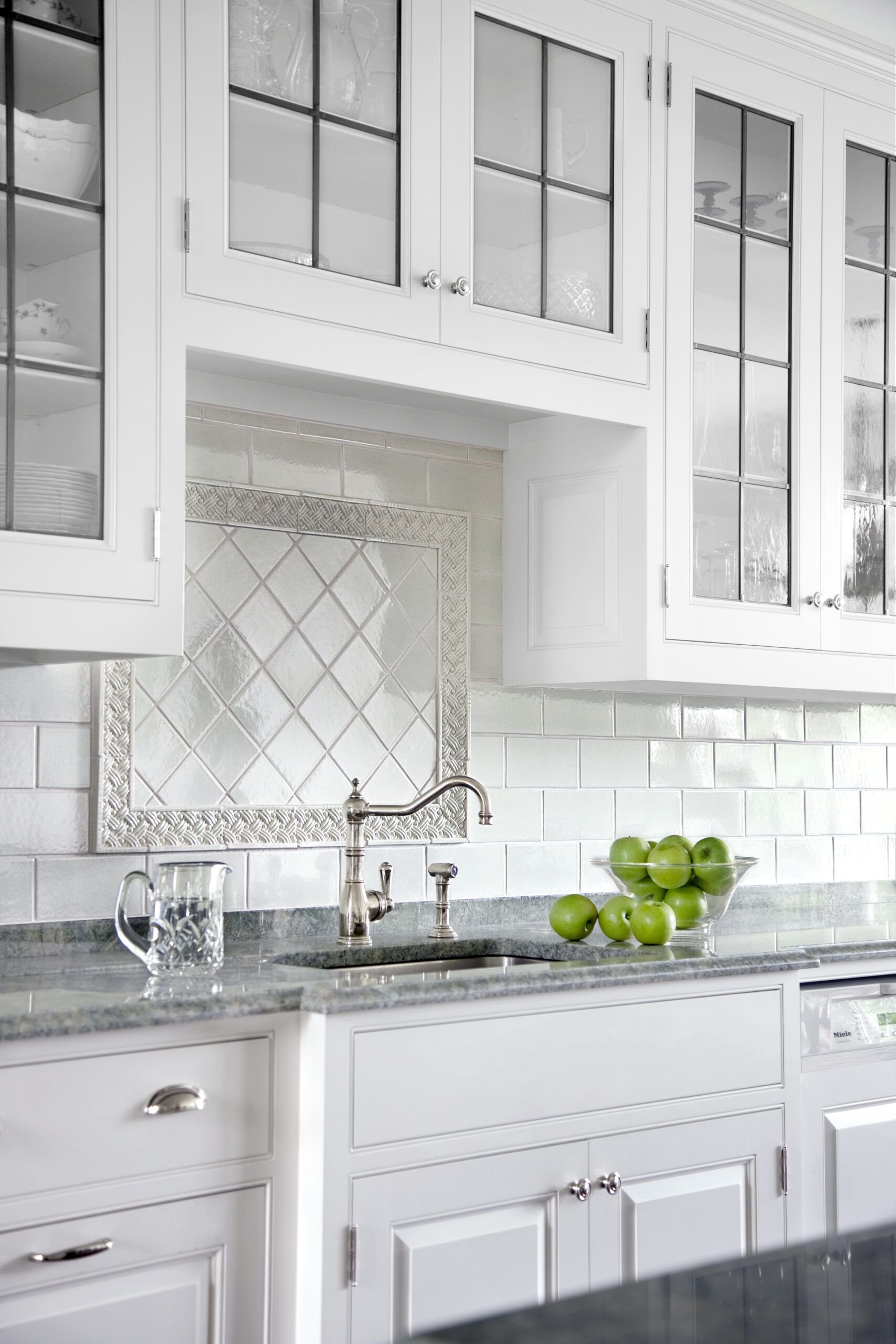 Above a sink or a cooktop, use border pieces to set off a smaller field of different tile. For this all-white subway-tile backsplash, a floral border surrounds square tile laid in a diamond pattern, helping draw the eye to the sink's period-style fixtures.
Contrasting Base and Cap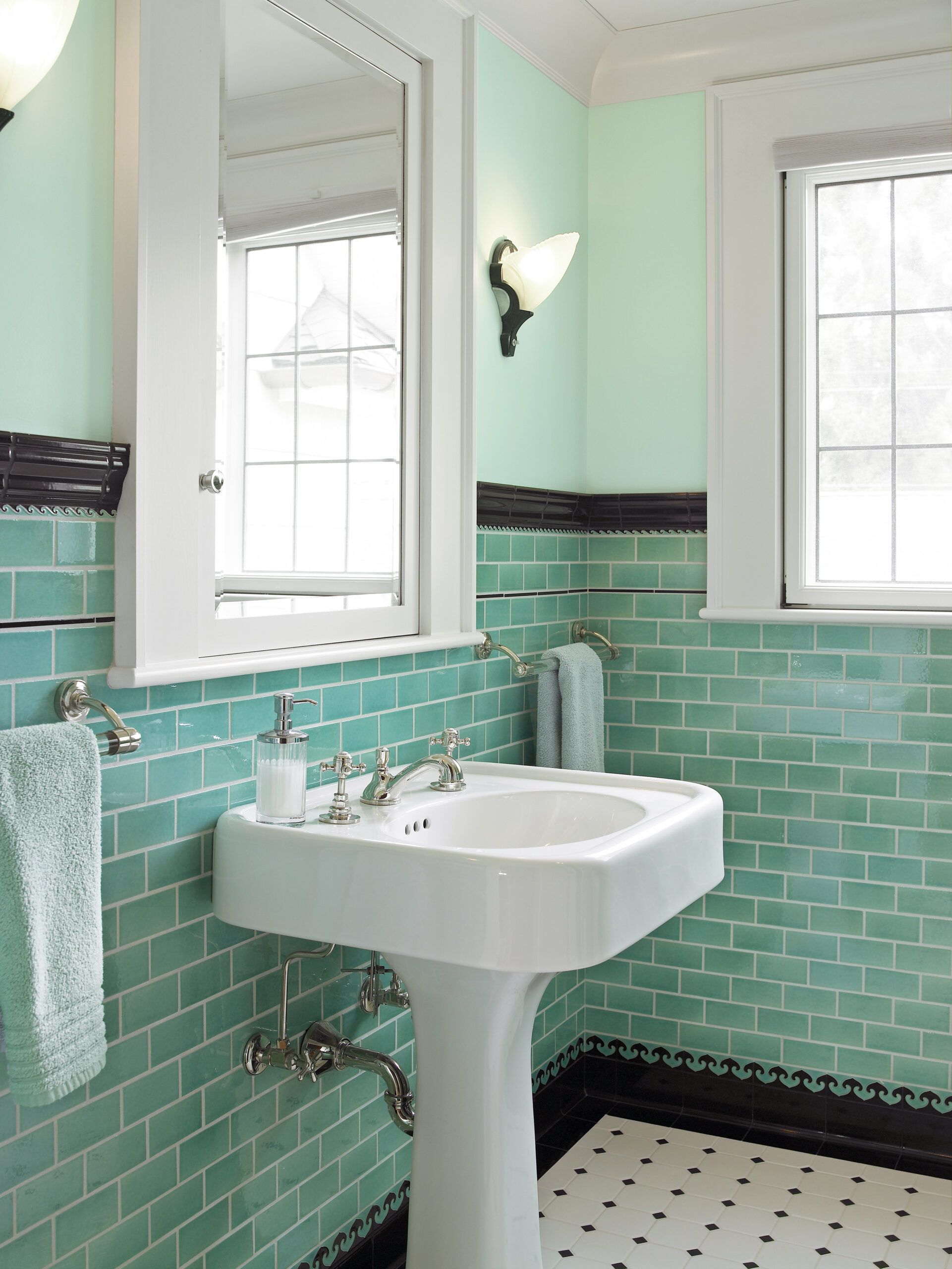 In bathrooms, a field of brightly colored or glossy white subway tile, finished with a black base and a chair-rail or bullnose cap, was a popular prewar wall finish—and one that's still widely replicated today. Cove base tile provides an easy-to-clean transition between a tiled wall and floor.
Scattered Accents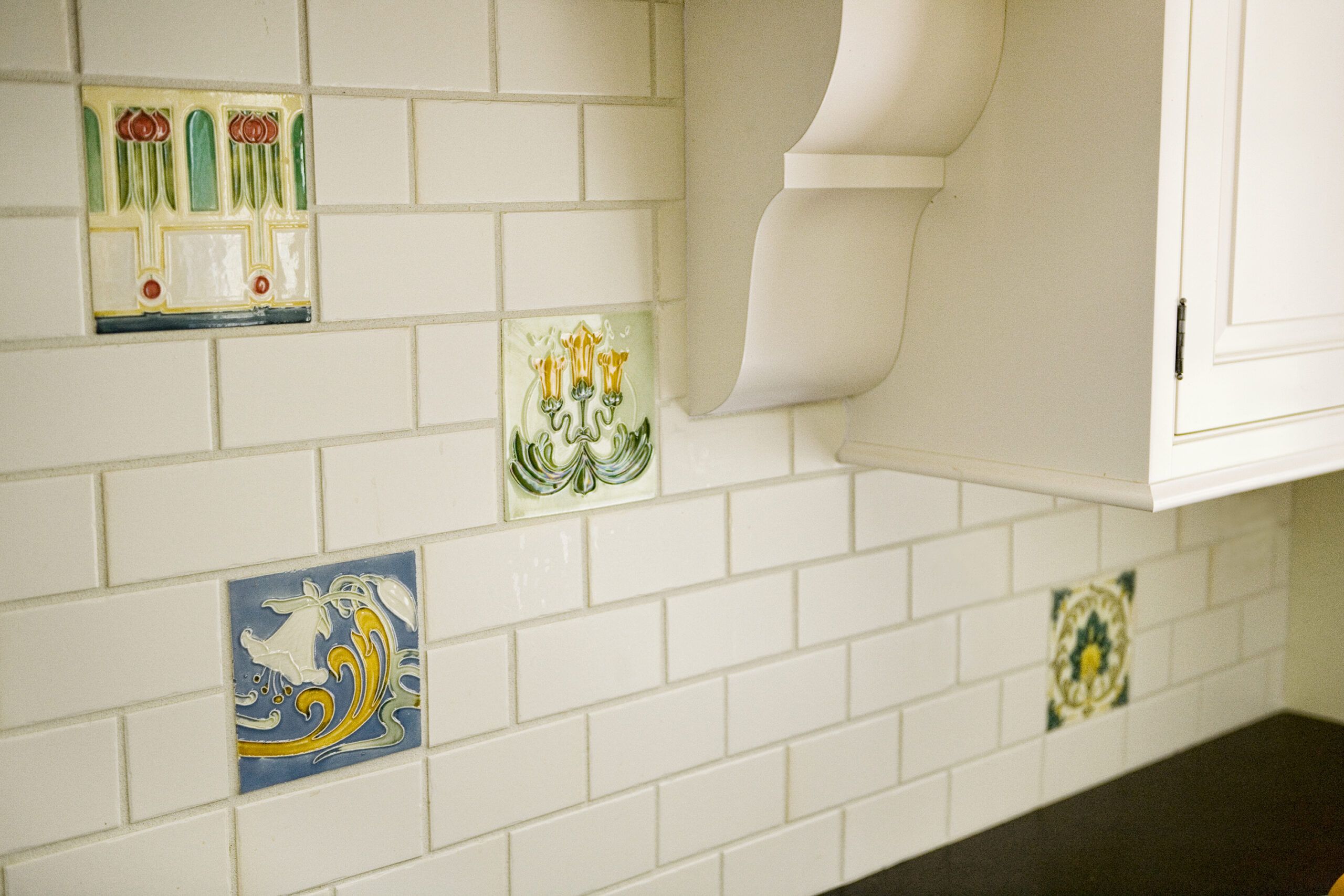 Ornamental tile can be pricey, and with so many styles to choose from, who can pick just one? Place a few favorites within a wall of neutral subways to give it texture and color without breaking the bank.
Mixed Borders and Cap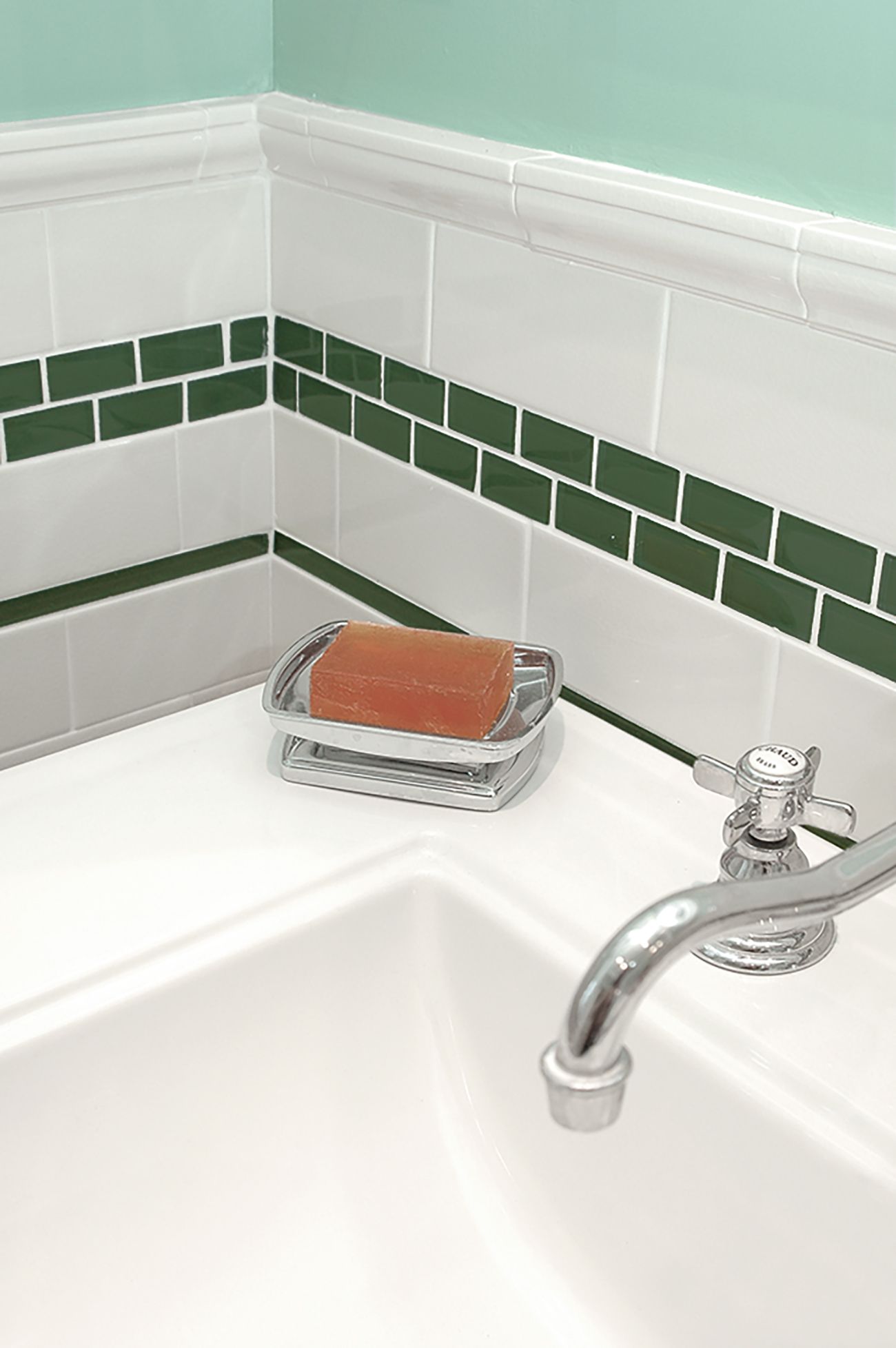 Add multiple accent strips to make an installation distinctive. Here, a liner—a thin border piece traditionally used with subways—sits level with the sink top to continue this visual reference point around the room. Above it, a double band of 1-by-2-inch mosaics echoes the field's pattern on a smaller scale, and white cap molding finishes it off.
Built-Up Base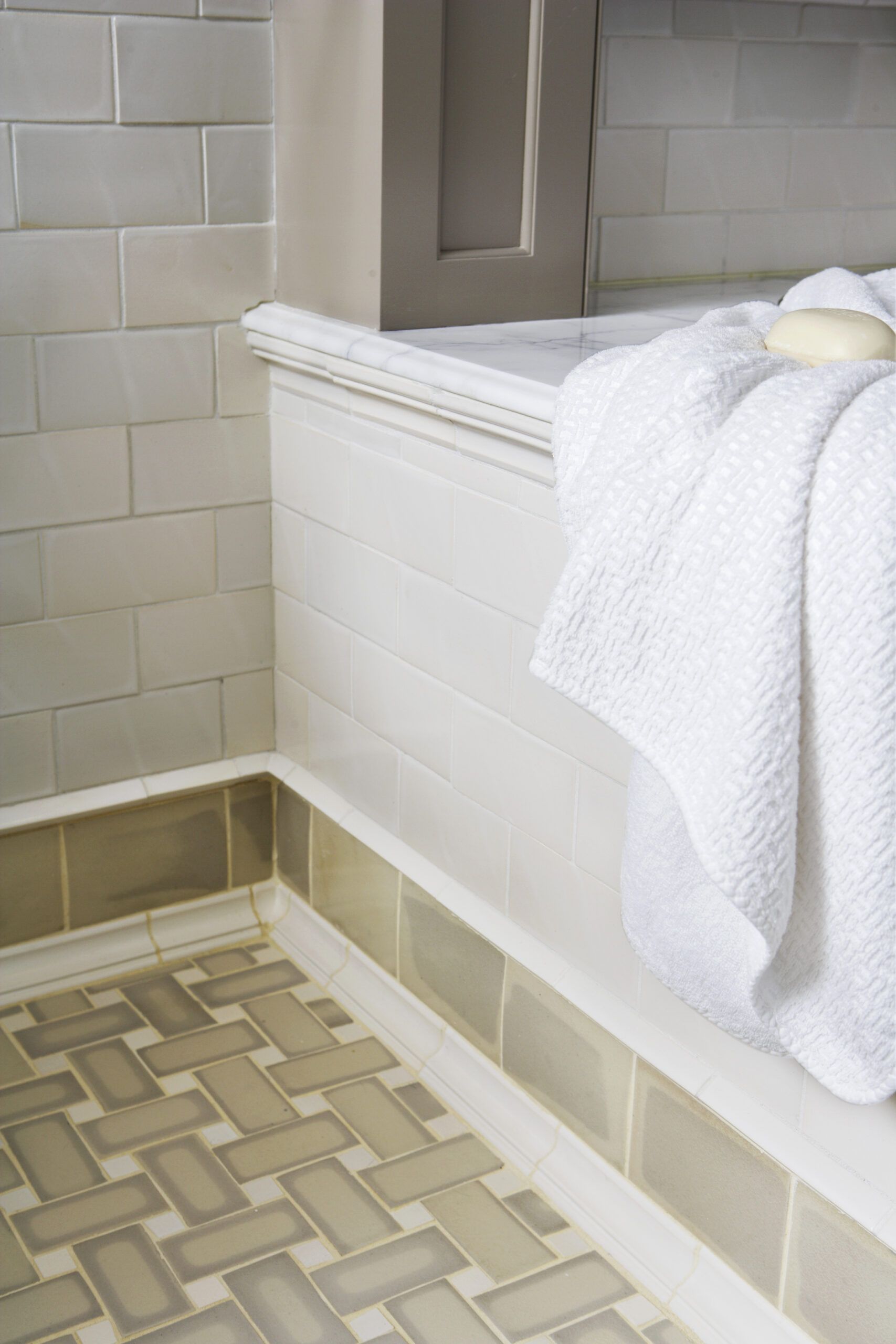 Instead of choosing a single type of base tile, use a few. Here, a row of subways is sandwiched between shoe-molding trim below and a knife-edge liner above. The wraparound installation ties the tub to the rest of the bath and matches the floor tile.
Wall Panels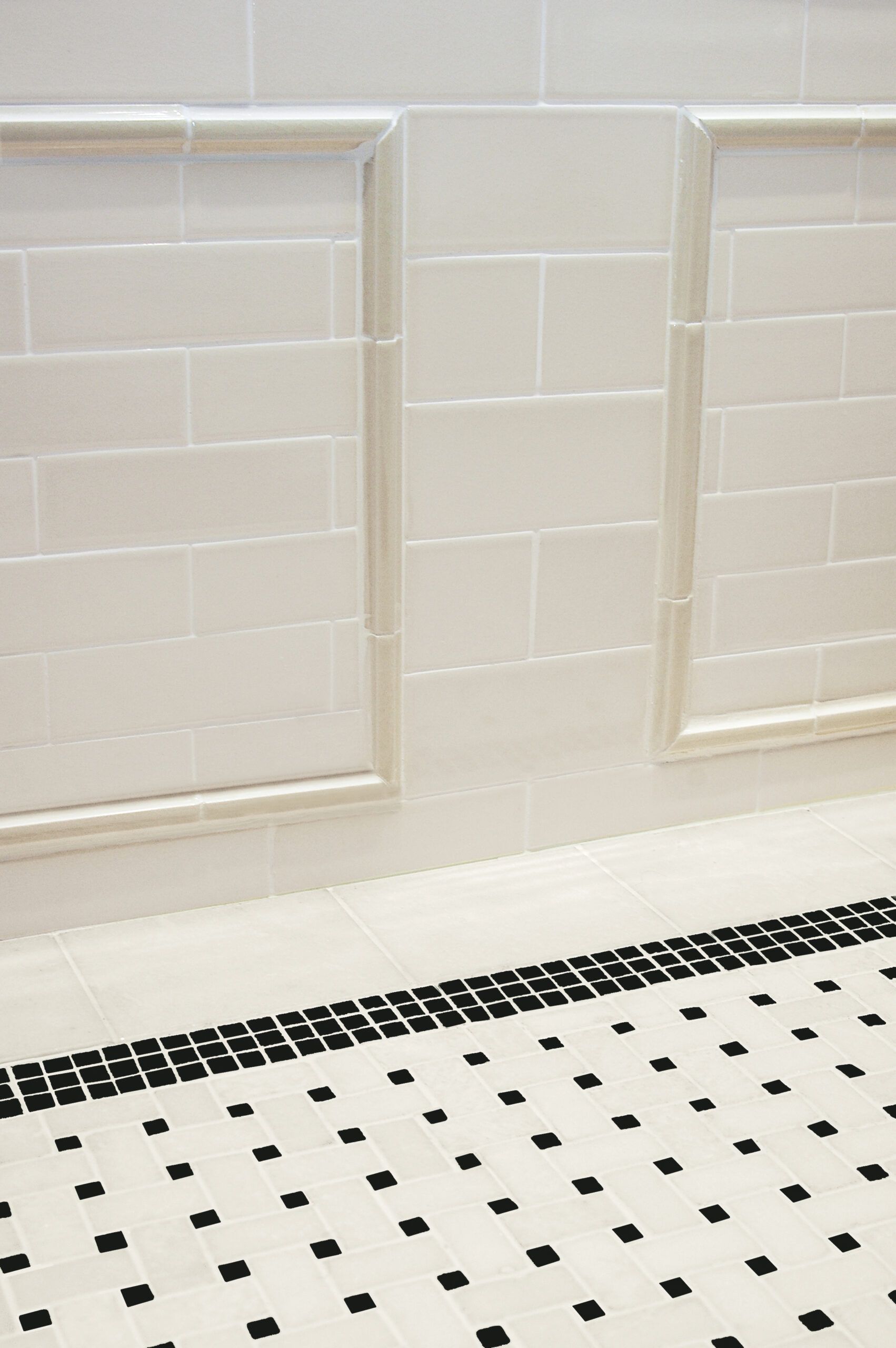 Half-round trim pieces form wainscot-like wall frames for a subtle decorative effect; tiles within the frames are laid in a slightly different pattern to help them stand out. Using colored trim and tile here would have a bolder impact.