America loves a white kitchen. We get it. White's clean, simple, orderly—and, even devotees have to agree, a bit of a no-brainer. But we're here to tell you that color can be a kitchen's best friend, cleverly highlighting architectural details or transforming dated cabinetry.
Use Two-Tone Kitchen Cabinet Colors To Brighten Up Your Room
It can change the whole feeling of the room. Even brightening up just one area—an island, say—with a refreshing hue can be a real mood-booster. Combine two colors on your cabinets, and you're on your way to a truly personal look. So break out of the white-and-wood zone and let color work the room. We've pulled together a dozen kitchen color combos to get you going.
1. Sea and Sky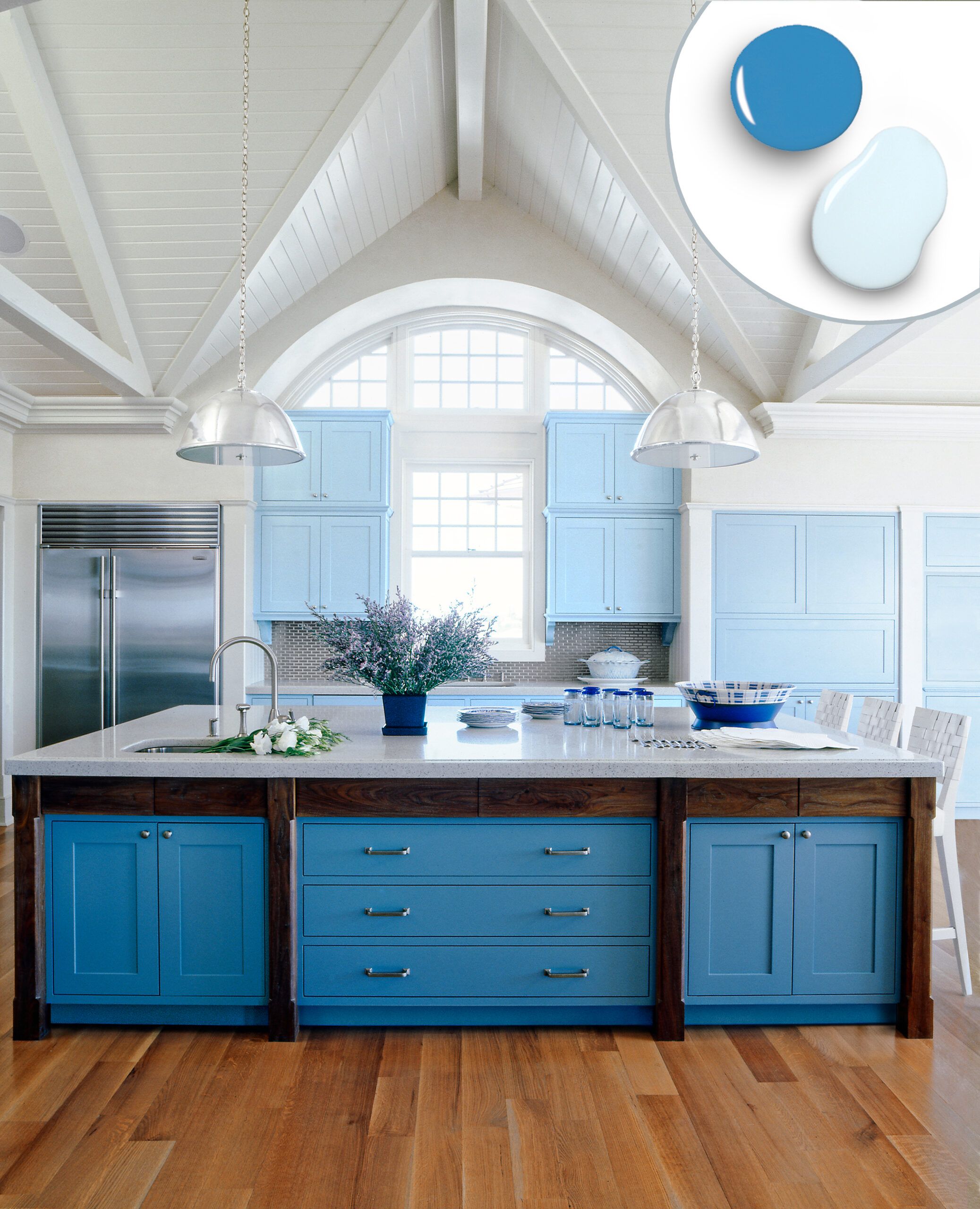 One no-fail approach: using two shades of the same color. In this large open kitchen, designed by architect Stuart Disston, the deep-blue island takes center stage, while sky-hued cabinets define the perimeter. Interior designer Sherrill Canet chose the custom shades to ground the high-ceilinged space and harmonize with the stainless-steel appliances and the island's bands of dark wood.
For a similar look, try: Sea Ridge (deep blue) and Tropical Pool (sky blue), Behr
2. Barn Red and Sage Green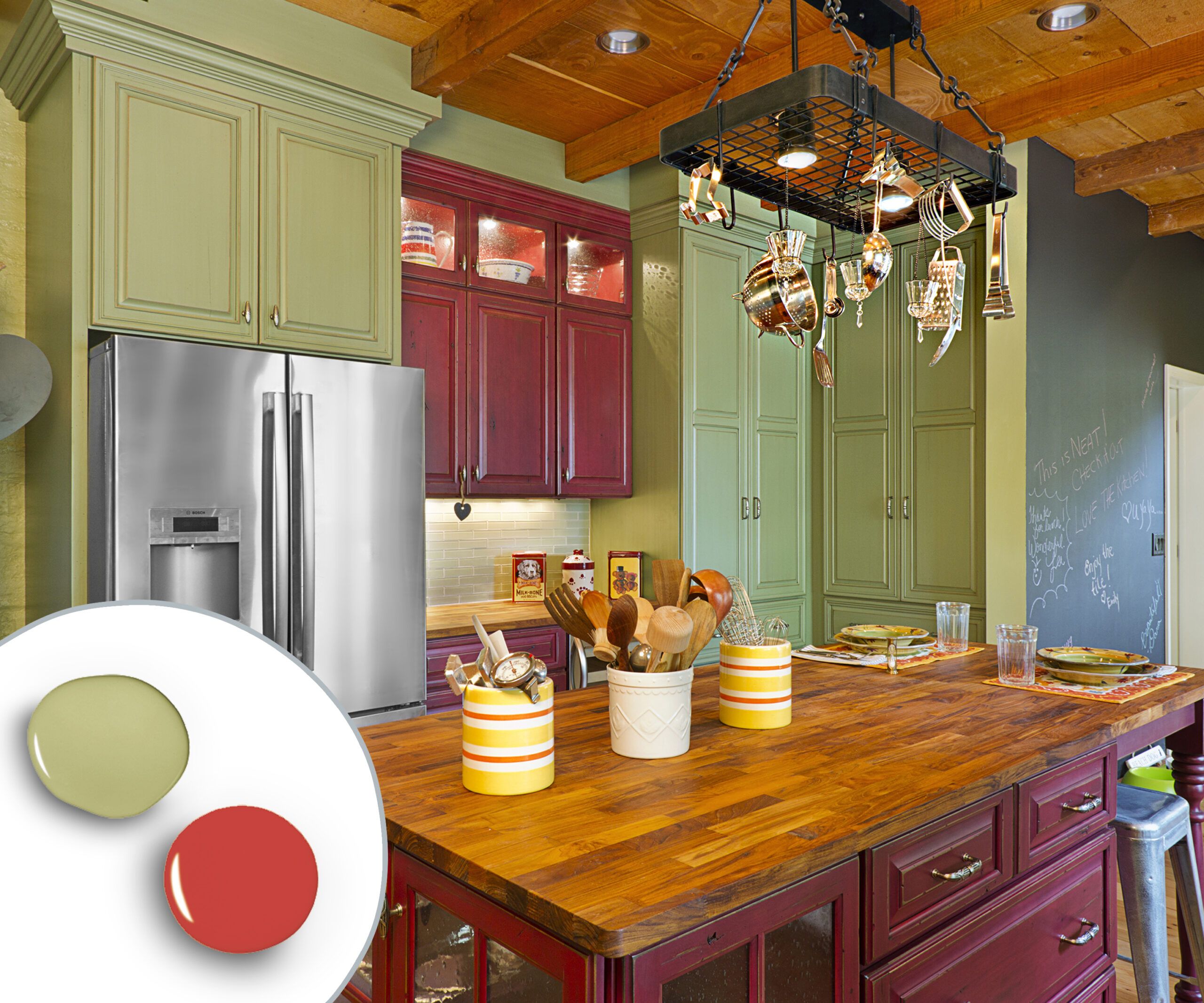 To keep this complementary color scheme from skewing too Christmasy, kitchen designer Carlie Korinek chose soft, muted tones. Wood finishes on the island, ceiling, and floor warm up the overall palette even more.
For a similar look, try: Lady Bug Red (red) and Grasslands (green), Benjamin Moore
Design: Carlie Korinek; arizonadesigns.net
3. Leaf Green and White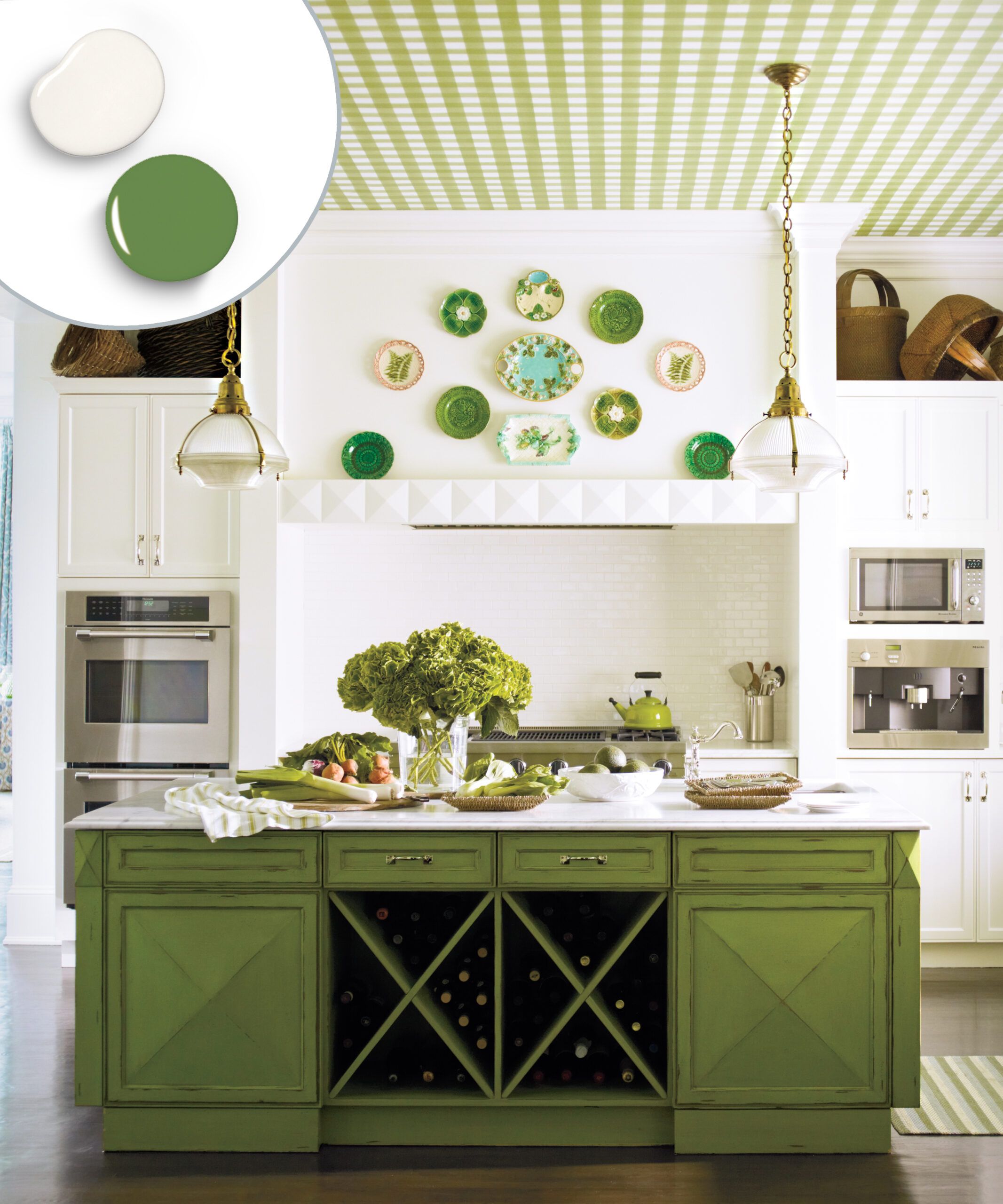 The vibrant island holds court in this crisp white kitchen, but interior designer Gideon Mendelson didn't want it to be a solo act. So he covered the ceiling with custom-painted canvas (wallpaper could work too) in a matching green-and-white scheme. Along with plates hung over the cooktop, it invites the eye to travel around the room.
For a similar look, try: Alabaster (white) and Paradise (green), Sherwin-Williams
Design: Gideon Mendelson; mendelsongroupinc.com
4. Bold Blue and Soft Blue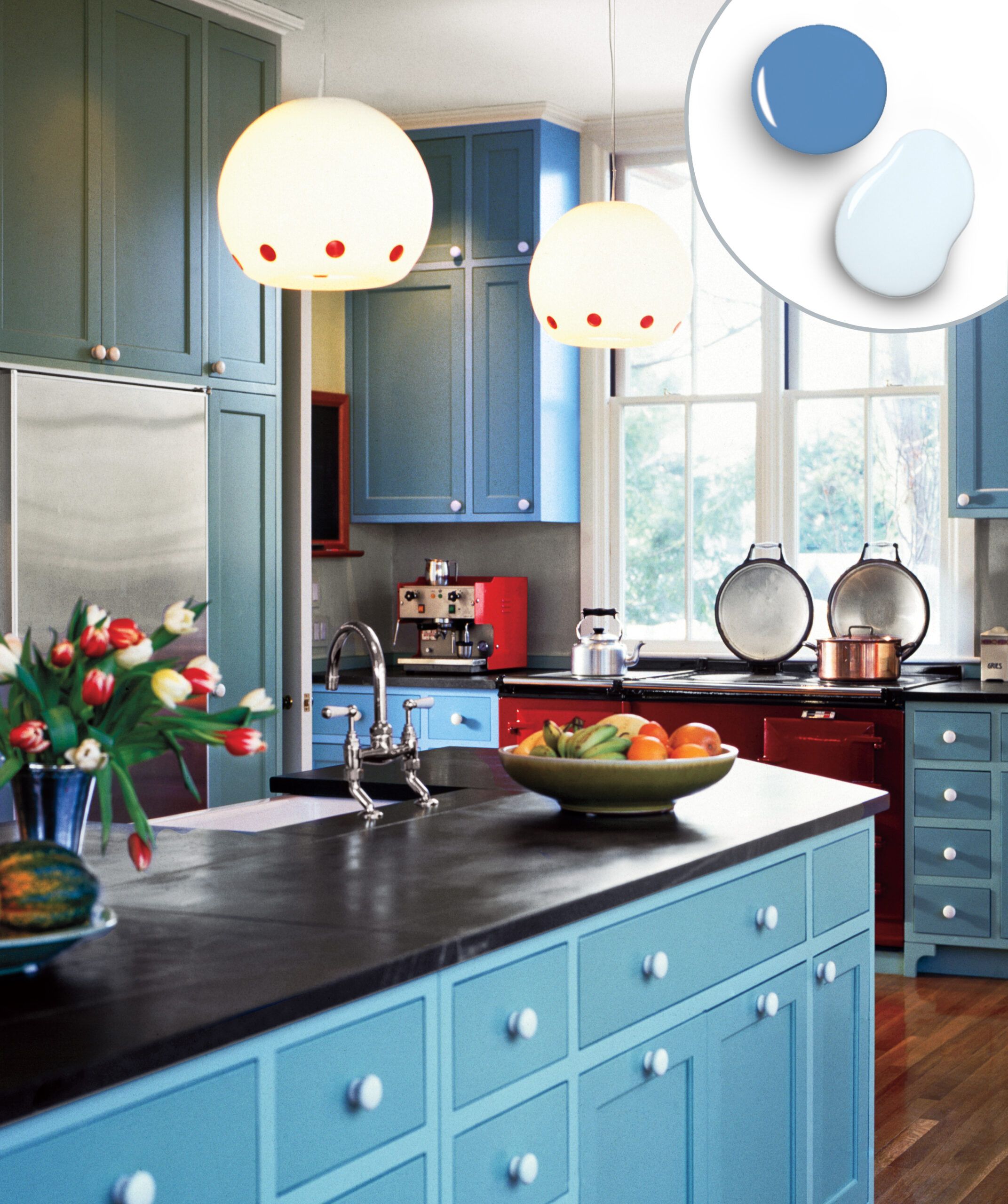 To add some oomph to the simple Shaker-style cabinets in this kitchen, architect Adolfo Perez used pale blue on the cabinet boxes and a deeper shade on doors and drawer fronts. The result: pure cottage charm.
For a similar look, try: Romantic Blue (deep blue) and Smooth Blue (pale blue)
Design: Adolfo Perez; adolfoperez.com
5. Bright Red and Midnight Black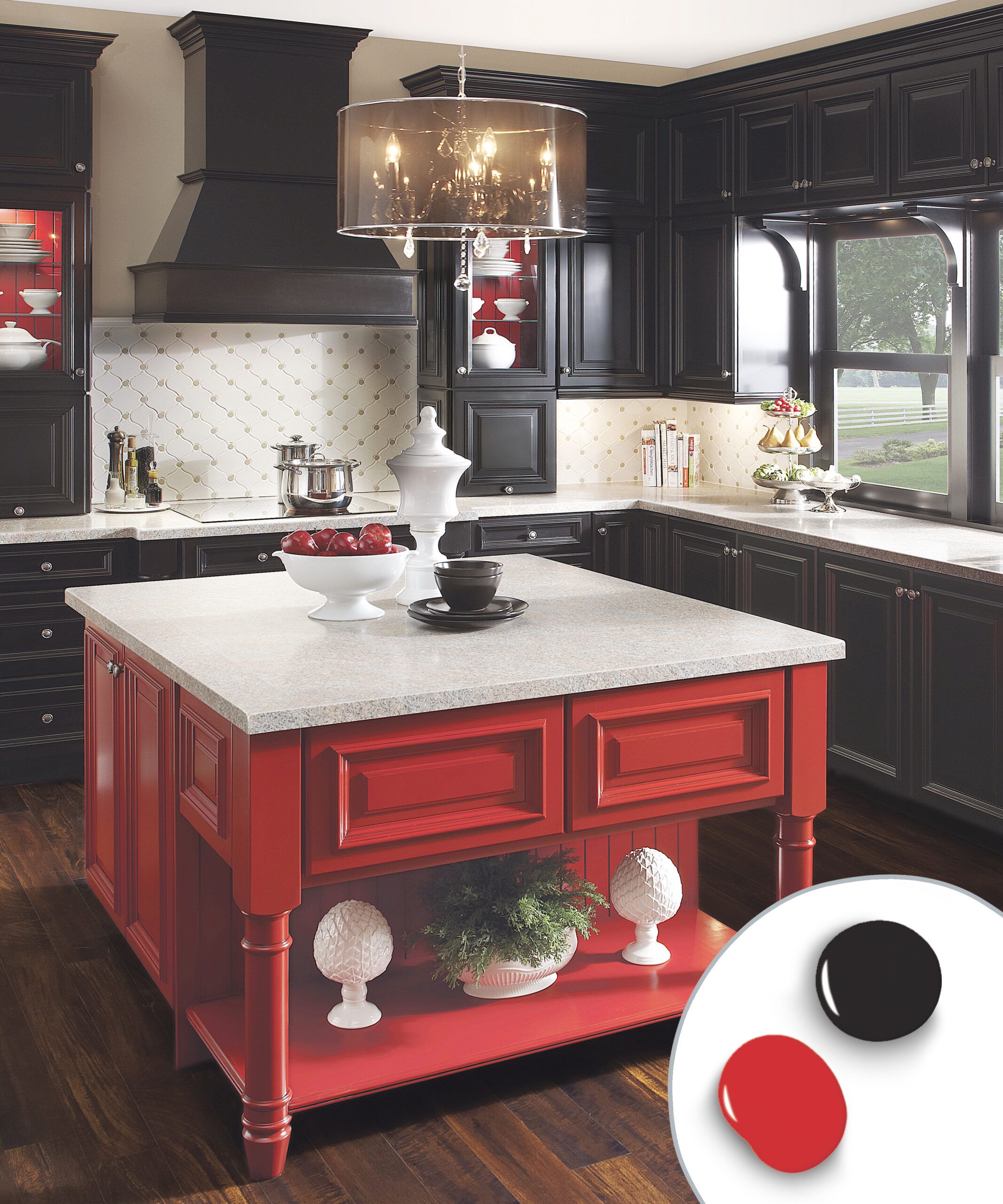 This dramatic kitchen by KraftMaid feels balanced thanks to a pairing of equal-intensity colors. Black cabinets effectively fade into the background to show off the red island at center, while a light backsplash and countertops keep the painted pieces from feeling heavy.
For a similar look, try: Red Gumball (red) and Phantom Mist (black), Olympic
6. Cool Gray and Hot Orange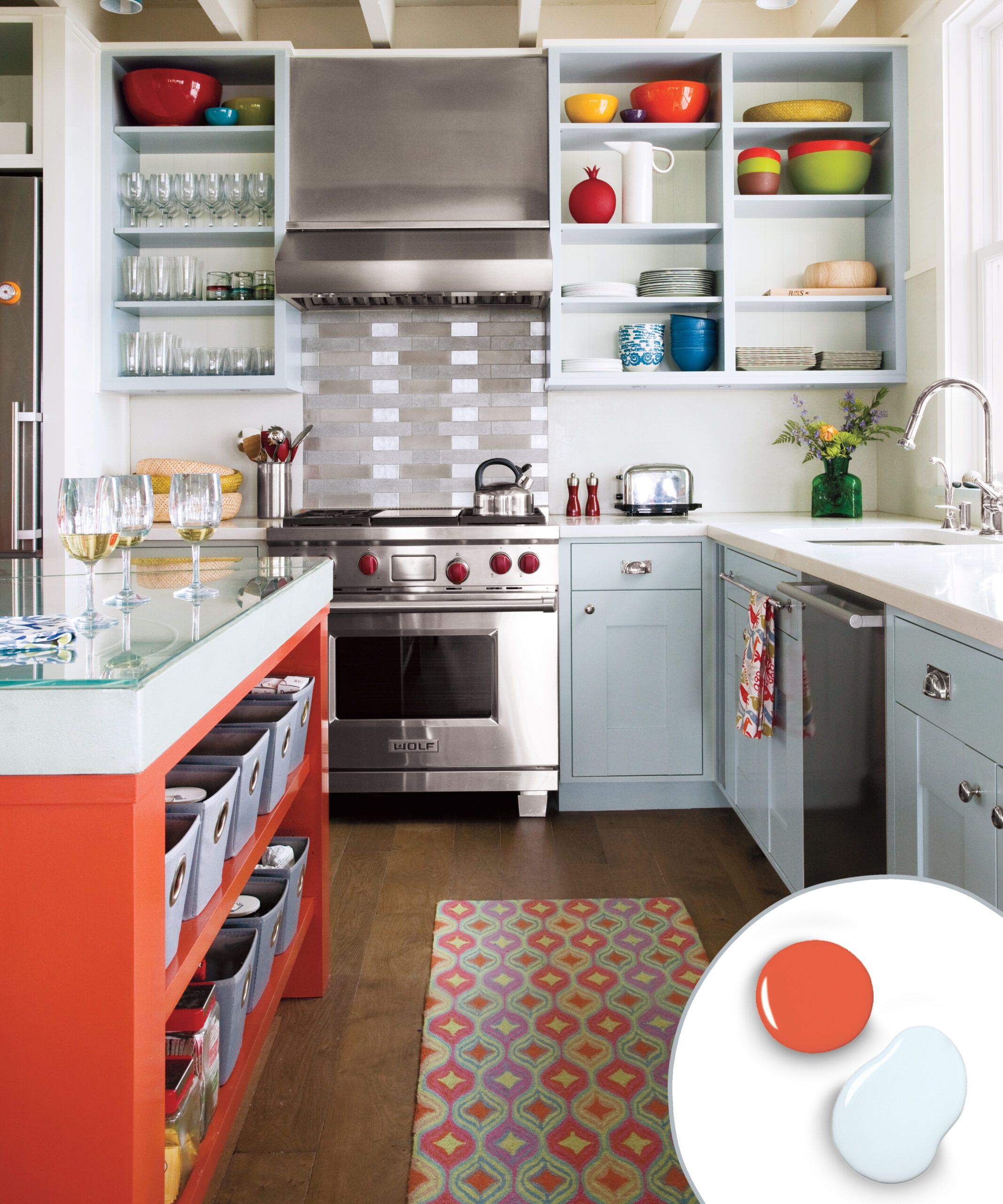 A changeable color—is it blue? is it gray?—this neutral has enough interest to stand on its own. But it really comes alive paired with the fiery orange that interior designer Andra Birkerts added on the island. Painting the backs of the open shelves a lighter tint of the same gray adds depth and showcases the bright accessories.
For a similar look, try: Ultra Orange (orange) and Ice Rink Blue (gray blue), Valspar
Design: Andra Birkerts; andrabdesign.com
7. Lemon and Lime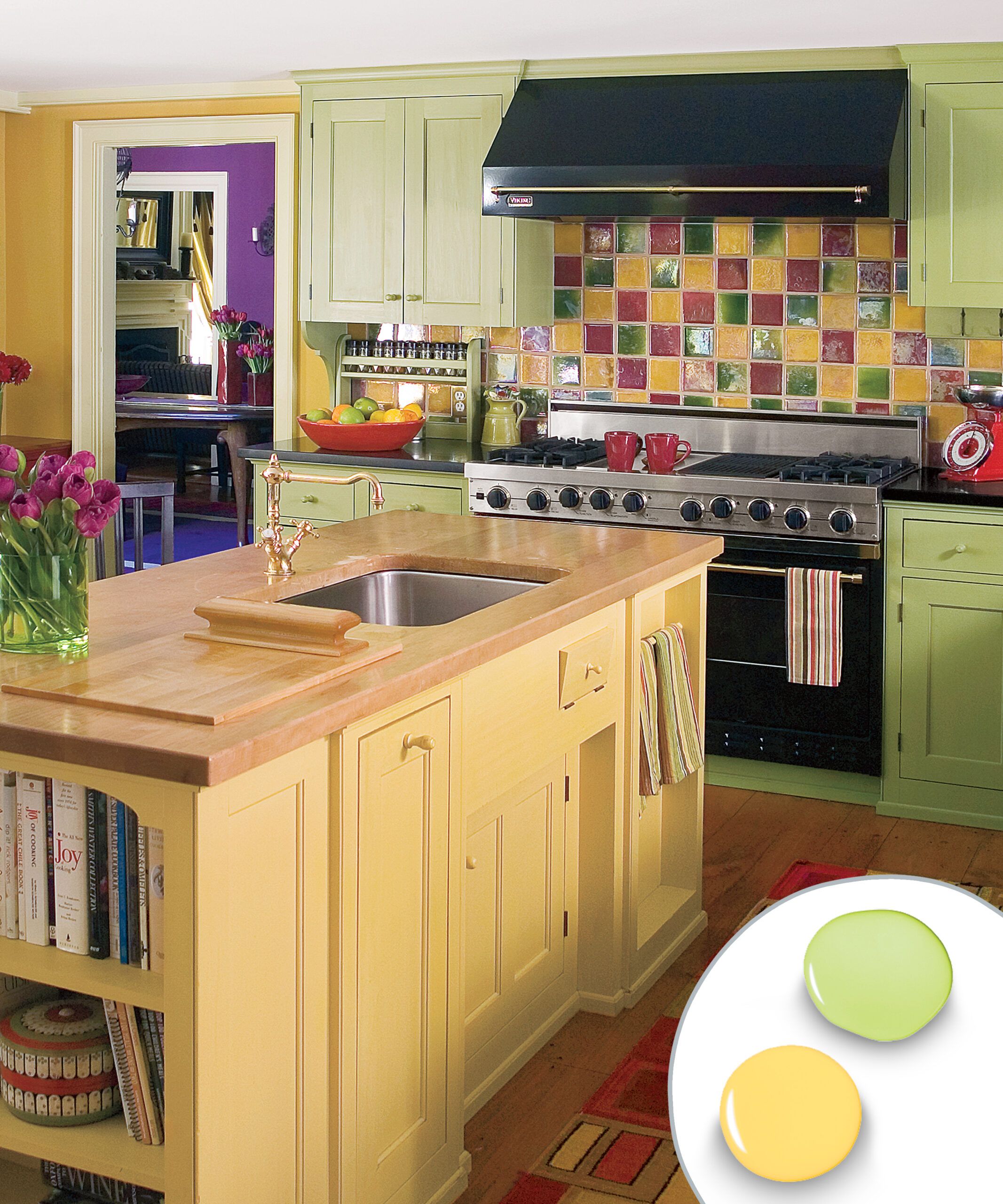 Vibrant colors reign in homeowner Nancy Traversy's kitchen, where bold green perimeter cabinets and a sunny yellow island are united by the kitchen's multicolor tile backsplash. Dark granite and light wood counters focus all the attention on the cheery palette.
For a similar look, try: Cornmeal (yellow) and Carolina Parakeet (green), Behr
8. Deep Aqua and White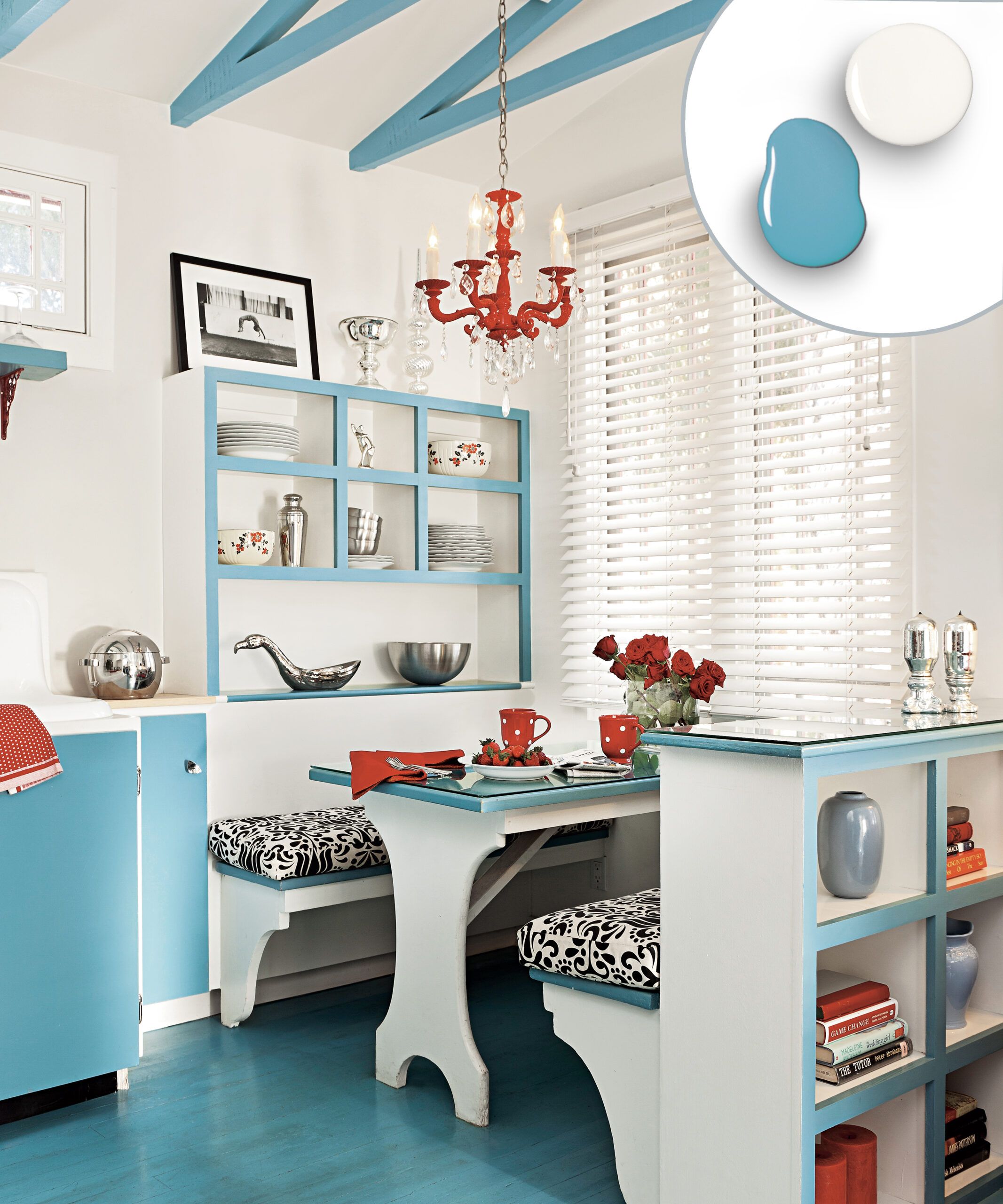 Too much white can blur a room's details. To highlight the architecture of this space, interior designer Kelly LaPlante used a mid-tone blue to ground the floor and define the ceiling trusswork. The same color on cabinet doors and the built-ins' exposed edges brings these charming features to the fore.
For a similar look, try: Ultra White (white) and Bayville Blue (blue), Benjamin Moore
Design: Kelly LaPlante; kellylaplante.com
9. Pale Gray and Greenish Blue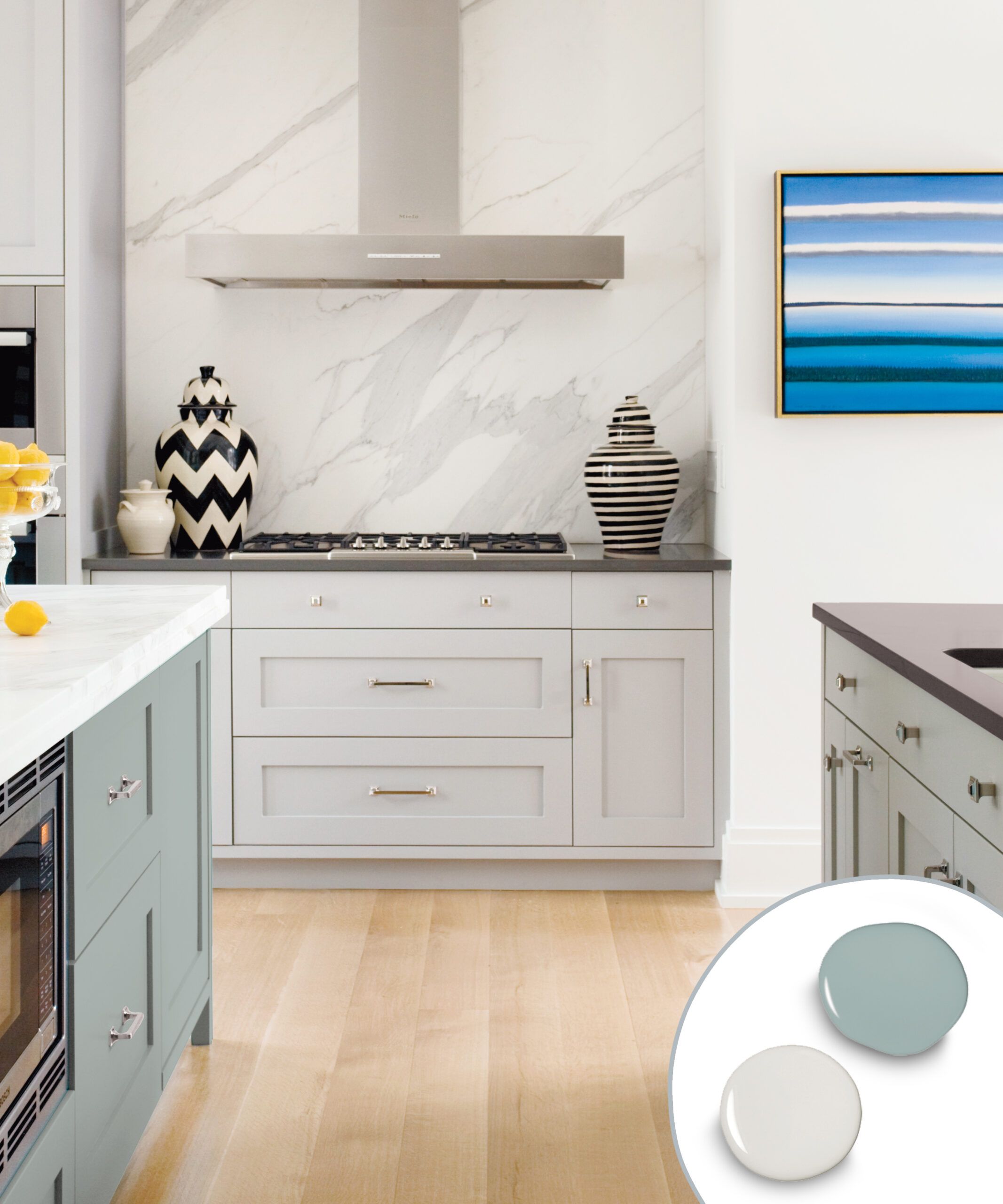 To give this kitchen some zing without overwhelming the color-shy homeowner, interior designer Liz Caan ringed the room with neutral gray cabinets before painting the island a dusty green-tinged blue. Gray-veined marble on the island countertop and range backsplash helps tie the two areas together.
For a similar look, try: Lamp Room Gray (gray) and Dix Blue (blue), Farrow & Ball
Design: Liz Caan; lizcaan.com
10. Flame Red and Soft Yellow
Interior designer Liz Mitchell chose a punchy scheme to brighten this corner bar, just off the kitchen. Using a light yellow paint-glaze mix on the panels adds dimension to bright orange-red cabinets. Green wallpaper makes the colors pop even more, while a rich mahogany countertop keeps the look from being too whimsical.
For a similar look, try: Butter Up (yellow) and Fireworks (red), Sherwin-Williams
Design: Liz Mitchell; 781-631-2280
11. Cornflower and Yellow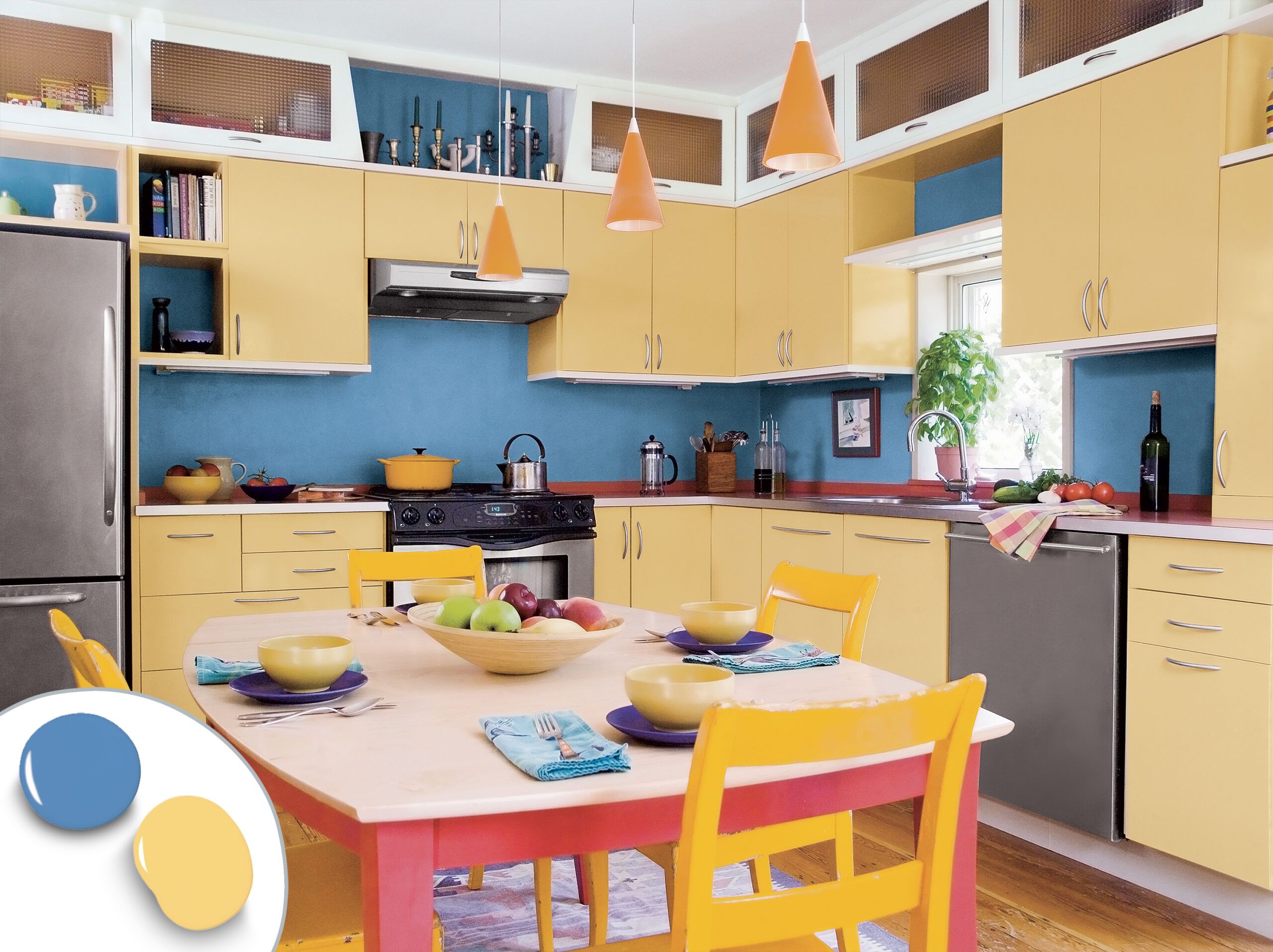 Golden cabinets get a brightness boost set against a soothing deep-blue backdrop in this kitchen by Morse Constructions. Using the blue on the backs of the open shelves adds depth, while a sliver of white trim above and below the yellow cabinets and a row of glass-front cabinets up top lend a sense of airiness.
For a similar look, try: Bellflower Blue (blue) and Goldfinch (yellow)
Design: morseconstructions.com
12. Jadeite and Buttermilk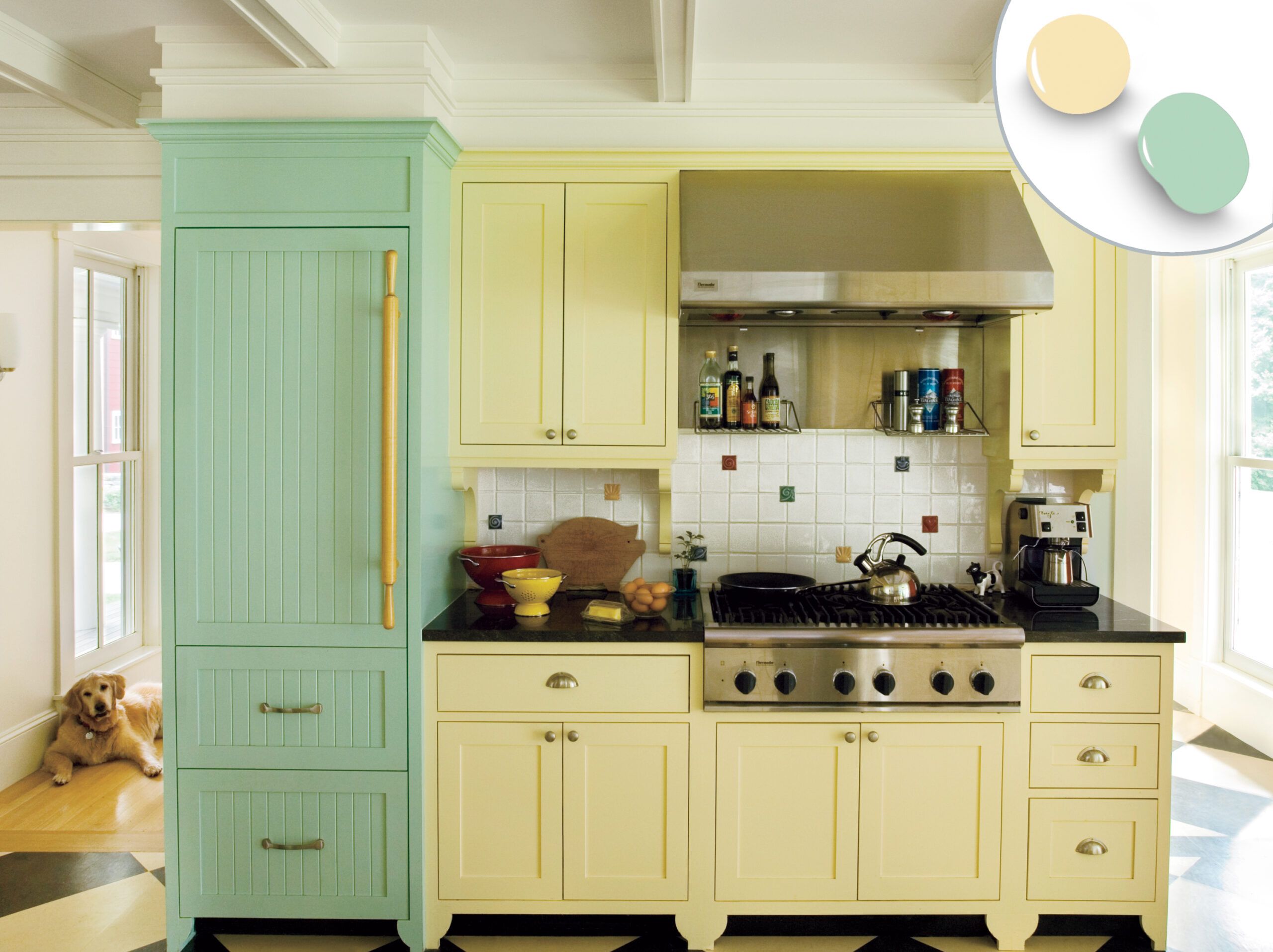 To achieve the look of a farmhouse kitchen stocked with furniture pieces, architect John Tittmann used soft colors to highlight distinct cabinet sections. The cooktop area is defined with pale yellow; beadboard panels and a vintage green distinguish the fridge unit. Accent tiles help marry the colors used in the room.
For a similar look, try: Banana Pudding (yellow) and Sprite Twist (green), Pittsburgh Paints
Design: John Tittmann, Albert, Righter & Tittmann Architects Inc.; alriti.com