Walk-Ins Welcome
Move over, front door, the garage door has become America's favorite entryway. For better or worse, we're more likely to go in and out of our homes with the click of a remote than the turn of a key.
Unlike the detached one-car structures found at the end of driveways 50 years ago, today's two- and three-bay garages are wholly integrated into the home's footprint. They occupy a prominent chunk of prime visual real estate as well: about 33 percent of an average street-side facade. Yet, for many years garage doors remained stuck in the Dodge Dart era, just blank slabs of stamped steel or painted plywood.
That began to change about 10 years ago as custom manufacturers began adding carriage-house door details, such as X-shaped braces and decorative hardware, to rival the hinges and handles used on entry doors. It was a design revolution that has since filtered down to home centers, where you can now get distinctive garage doors in wood, steel, fiberglass, vinyl—even glass—to match almost any architectural style, including ones that predate the auto.
So if your garage is due for a face-lift, read on for tips on getting the right door type, material, and look for your home and budget. It's an upgrade you'll appreciate with every click of that remote.
Similar to shown: Carriage House Door Co. model 305i in insulated steel with composite overlay trim. $2,000; carriagedoor.com
Anatomy of a Garage Door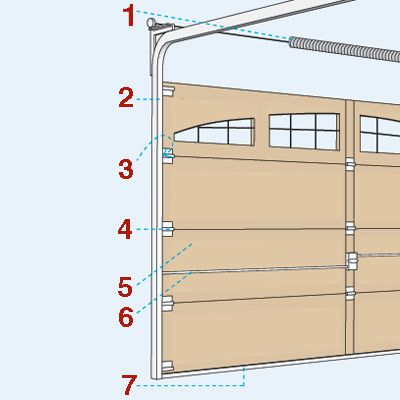 A sectional door, the most common variety, rolls up and down on steel tracks.
1. Torsion Spring
Counterbalances door's weight so that it can be lifted easily.
2. Track
Guides door up to ceiling and back.
3. Roller
Rides inside track. Steel ones are noisy; nylon is quieter.
4. Hinge
Connects horizontal sections.
5. Section
6. Lock Bar
Engages with track to prevent door from opening.
7. Weatherstripping
Seals door edges against air infiltration.
Vitals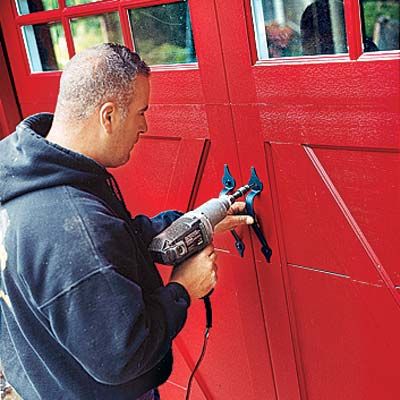 What's it cost?
For steel and wood, the two most popular materials, expect to pay $250 to $2,500 and $1,000 to $10,000, respectively. Prices do not include installation.
DIY or hire a pro?
While some makers sell directly to homeowners, installation can be dangerous and should be left to a pro.
How long will they last?
Warranties on craftsmanship and materials (not finishes) range from one year for some wood doors to lifetime for some steel ones.
How much care?
It depends on the material and its exposure to the elements. Wood requires regular recoating to prevent decay. Steel only needs repainting if it rusts. Fiberglass and vinyl can be painted if they fade; glass needs only an occasional washing. Hire a pro to inspect the mechanical parts annually.
Type: Sectional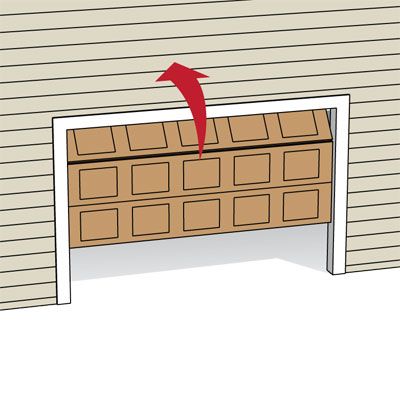 The most popular type, these doors have horizontal hinged sections that are rolled straight up and then back along the garage ceiling, often assisted by a spring-balanced motorized door opener. One ¾-horsepower opener can raise a door weighing as much as 1,000 pounds and spanning 20 feet. Built-in weather-stripping seals out the elements.
Type: Swing Out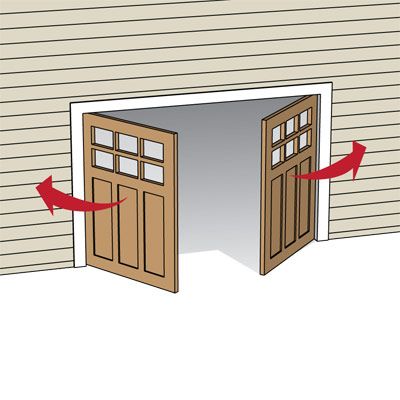 Two doors hang from hinges on either side of the opening. To resist sagging, each door must be well built and should be at least 1 foot taller than it is wide. Best for mild climates because snow drifts will prevent them from opening. Can be operated manually or with a special remote control. Good at sealing out the weather.
Type: Sliding
Like barn doors, these hang from rollers that ride along a track at the top of the opening. Doors hung this way can be quite massive and yet are easy to operate in all kinds of weather, manually or with a remote. Track length is about twice the door width. This is the least weathertight garage door.
Type: Bifold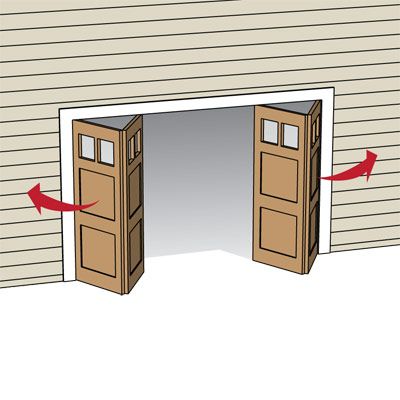 Like closet doors, pairs of hinged vertical sections fold back against the sides of the opening. Bifolds aren't as heavy as swing-out doors and don't open out as far, but snow buildup could still prevent them from opening. Must be manually operated; no remote opener available. Can't be sealed as tightly as swing-out or sectional doors.
Material: Metal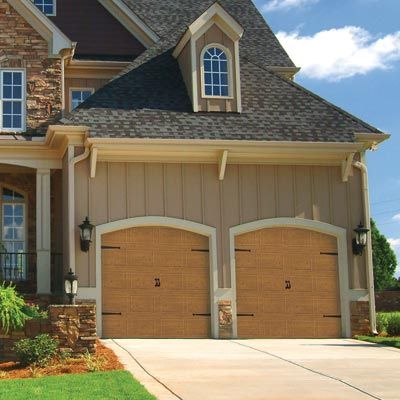 Strong, long lasting, and virtually maintenance-free, steel is the most popular option and comes in a wide variety of designs. More likely to rust in seaside locations. Look for dent-resistant 24-gauge sections. Aluminum is light and doesn't rust but costs more. Foam-insulated doors can have R-values as high as 17. Prices range from $250 to $2,500.
Material: Wood
Offers the widest selection of styles, shapes, and decorative add-ons. Paint-grade doors often use engineered woods and wood-fiber boards. Stain-grade doors are built of solid stock. Requires the most maintenance. Can be insulated to R-10. With prices up to $10,000, wood is usually the most costly option.
Material: Fiberglass or Vinyl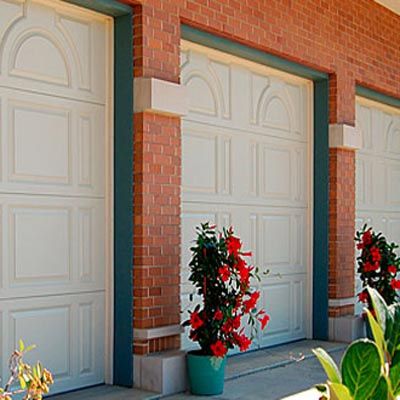 Fiberglass can look like painted or stained wood, but it isn't as heavy, won't decay, and doesn't dent or rust like steel. Vinyl doors have a stiff foam core that provides good insulation. Design options for either material are limited. Colors are subject to fading, but these doors can be repainted or stained. Good near the seashore, but they may crack in cold weather. Both can be insulated to R-12. Fiberglass starts at $1,500, vinyl at $600.
Material: Composite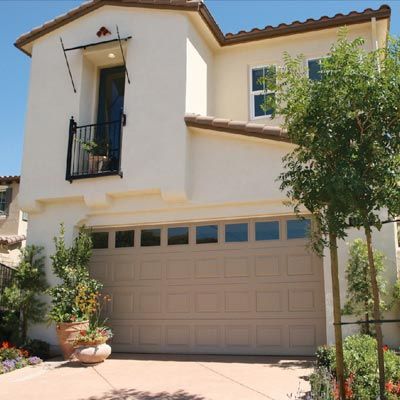 Cellulose fibers fused with resins create a material that won't crack, warp, or rot like wood, or rust or dent like metal. Each section has a foam core for stiffness and insulation. This low-maintenance material is also used as trim over wood and steel doors. Can be insulated to R-8. Prices start around $1,500.
Material: Glass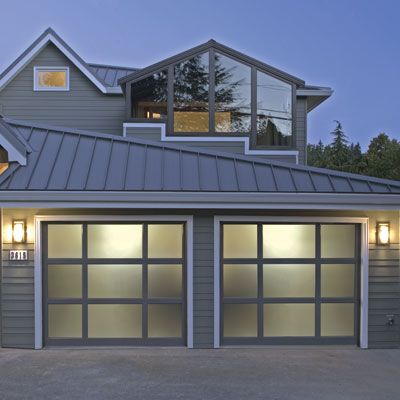 Panels of tempered glass (or a tough plastic) mounted on a rustproof aluminum frame fill garages with light. Choose clear, frosted, or opaque single-pane or double-pane panels. Wood-clad frames are also available. Because of their weight, glass doors require heavy-duty springs. The R-value for single-pane glass is a minimal 1.5; double-pane glazing is R-4. Pricing is similar to composite doors.
Getting the Door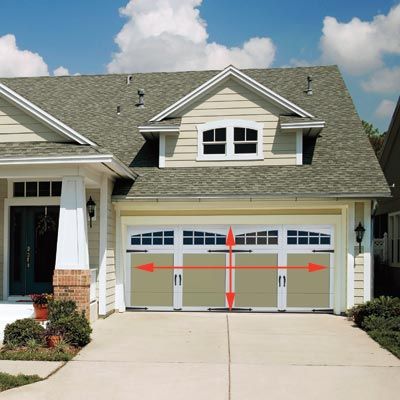 No matter what size or shape your opening, there's a door to fit your budget and taste.
What to measure. Before you shop for a sectional door, the only type that comes in stock sizes, measure the height and width of the opening to see if you need an off-the-shelf or a custom size. Most stock sectional doors cover openings 7 to 8 feet high and 9 to 16 feet wide. Doors for much bigger openings and nonsectional doors are custom built, so have a pro do the measuring.
Where to buy. Find stock and semicustom doors for standard openings at home centers, window-and-door retailers, and garage-door distributors. The salesperson can recommend an installer, who should double-check everything before you place the order. Order custom doors directly from a manufacturer or through its distributors.
How long it takes. Stock steel doors can be delivered as soon as the following day or up to two weeks after the order is placed. Semicustom steel takes three to six weeks; a custom wood door, eight to nine weeks. Professional installation takes about half a day, regardless of type.
What's included. New tracks, rollers, spring, and hinges are typically part of the door's purchase price. Installation and removal of old doors are not. Expect to pay $100 to $500 to have the new door put in and $75 to $200 for the old door to be taken away.
Paint or Clear Coat?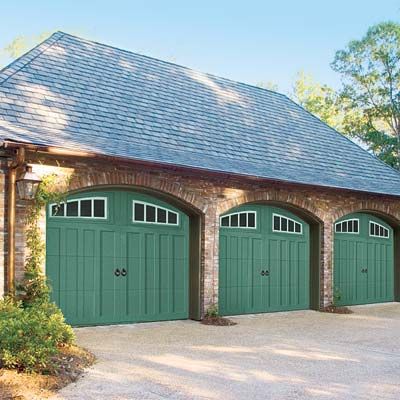 No matter which you choose, keep in mind that a factory-applied finish ensures that your door arrives ready to install and will hold up better than a DIY- or pro-applied finish. For an exact color match, or to save a few bucks, order a primed or unfinished door.
Paint. It's the most durable finish and the most colorful. Use it to visually tie the doors to the rest of the house. If you want a custom color or want to freshen a faded factory finish, you can apply two coats of acrylic latex over any door material, even fiberglass and vinyl. Sand and reapply the same type of paint every five to six years.
Clear coat. This is the way to celebrate the beauty of high-quality wood doors. It once took eight to 12 coats of spar varnish to get this look. These days, makers use high-build translucent alkyds, like Cetol Door & Window, which need only three coats. To maintain, apply a new top coat each year.
Style: Neo-Colonial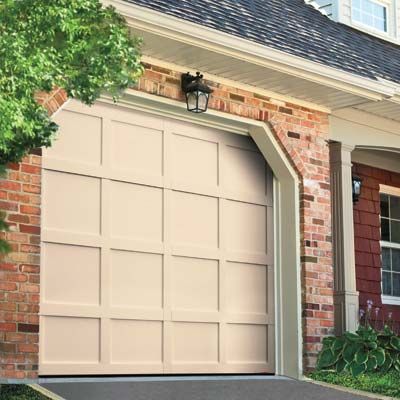 Looking like formal wall paneling, this door is in tune with the fluted columns, divided-light windows, and other colonial elements on this newer house.
Shown: Cambridge sectional insulated steel with composite overlay trim, $1,400; garaga.com
Style: Traditional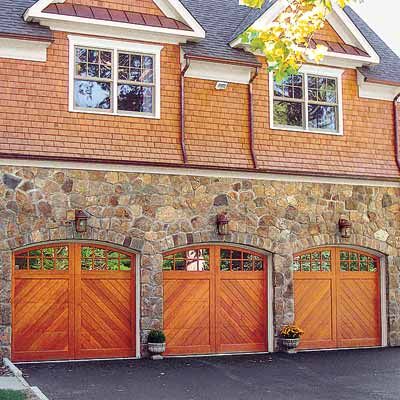 Wood arch-top doors with divided-light windows and herringbone panels have the look of a Victorian-era stable.
Shown: Northwest Door Heritage Classic model C008C sectional insulated western red cedar, starting at $3,000; nwdusa.com
Style: Craftsman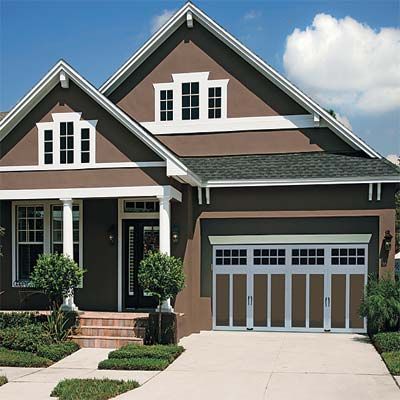 A two-tone color scheme highlights the rectilinear shapes popular in the Arts and Crafts–style architecture.
Shown: Coachman Collection model CD12 sectional insulated steel with composite overlay trim, $2,400; clopaydoor.com
Style: Mission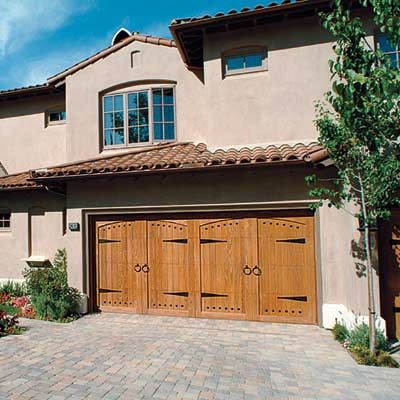 Iron strap hinges, handles, and decorative nailheads, known as clavos, evoke Spanish-Colonial style entry doors.
Shown: Mediterranean Collection model 6000A sectional in alder, $4,500; summitdoorinc.com
Style: Modern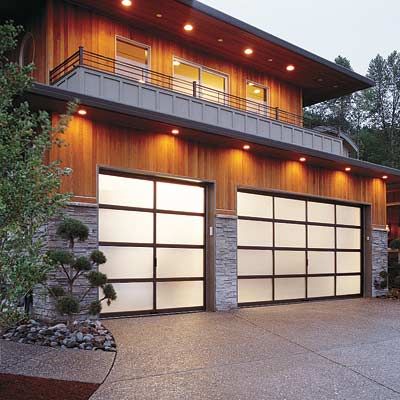 Stripped to the essentials, this translucent glass door is reminiscent of a Japanese shoji screen.
Shown: Avante Collection sectional with frosted glass in a bronze, anodized-aluminum frame, starting at $1,500; clopaydoor.com
Style: Rustic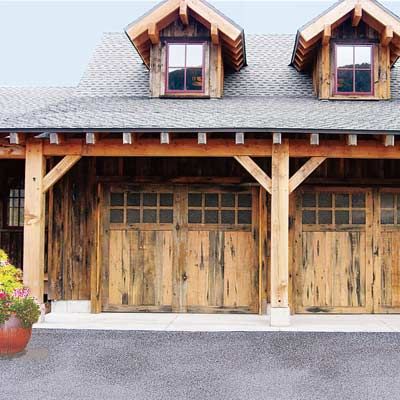 This informal style, with lots of knotty, rough-sawn wood, calls for an equally relaxed wood garage door.
Shown: Carriage House Door Co. model 3020K insulated wood sectional with reclaimed barnboard, $5,000; carriagedoor.com
Accessories: Pergola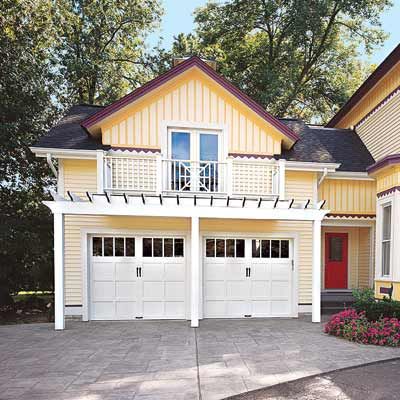 This classic structure shades the doors while providing support for a handsome garland of clambering vines, like clematis and honeysuckle.
Similar to shown: Attached pergola in cellular PVC, starting at $8,000; walpolewoodworkers.com
Accessories: Lights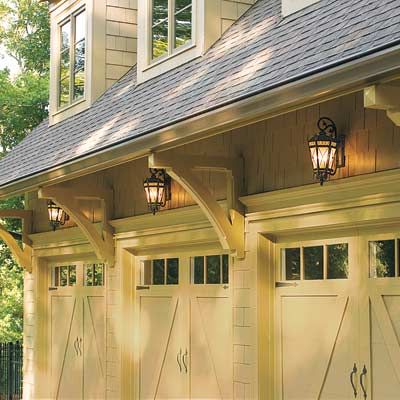 Sconces mounted above or to the side of an opening add a welcoming glow while making it easier to locate a handle or a keypad opener in the dark. For convenience, equip the lights with a motion detector so that they'll switch on when you approach.
Similar to shown: Camelot model 1705BK cast-aluminum sconce, $440 each; hinkleylighting.com
Accessories: Hardware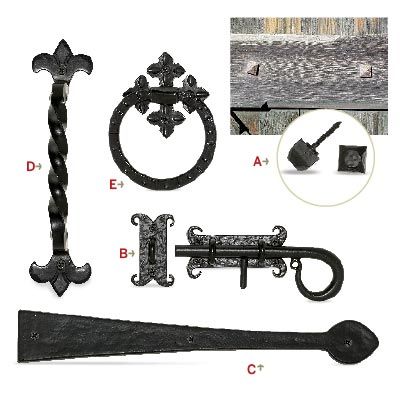 Decorative handles, latches, and hinges help give modern sectional doors a swing-out door look. They resemble wrought iron, but they're actually made of no-rust cast aluminum with a black powder-coat finish.
Find them online at garagedoorhardwaredirect.com or through garage-door dealers.
A. R.H. Hunt Clavos by Amarr, $10 per pair
B. Canyon Ridge Sliding Bolt by Clopay, $27
C. Spade Strap Hinge by Clopay, $66 for four
D. Santiago 12-inch Fleur-de-Lis Twisted Pull Handle by Amarr, $150 per pair
E. Santiago 5-inch Ring Handle by Amarr, $150 per pair
Safety Check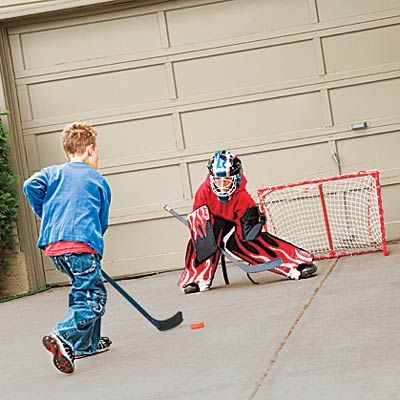 If, like most folks, you have a sectional door perched above your home's busiest entry, make sure it's secure.
Kid-Proof
Periodically test the opener's photo eye by waving a stick across its beam as the door comes down. The door should automatically go back up. Also, check the pressure-sensitive function by lowering the door onto a roll of paper towel. The door should reverse itself when it touches the roll. In either case, if the door doesn't back up, call a pro.
Burglar-Proof
If your opener and remote are more than 15 years old, it's time for a replacement. Ones made before 1995 have fixed security codes that can easily be accessed by would-be intruders. New ones have rolling codes that change with every click of the remote. As a further precaution, shut off the opener's power switch whenever you leave on vacation.
Stormproof
A staved-in garage door puts an entire house at risk. Extra bracing and beefier hardware can earn a door a wind-load rating between 90 and 150 mph. If you live in a high-wind zone, check on the rating required by your local building codes before you buy a new door.