Even if it's currently cold concrete and crammed with boxes of off-season duds, the lowest floor of your home probably has loads of potential. Treat it just as you would any of the rooms aboveground, and it might just become the most popular spot in the house—for a lot less cash than adding on.
Where Do You Start When Finishing a Basement?
Here's our bottom-line advice for turning this underutilized space into a place you'll be eager to spend time in.
Remember to Plan Your Layout First
Put the main socializing area in a spot that gets the best natural light, to draw people in.
Bedrooms need a window for egress, so they'll need to be located at the perimeter.
The TV-viewing zone can be in a darker spot, to reduce glare and create a home-theater feel.
Store snacks and beverages in an area you can access without crossing in front of the TV.
What to Inspect and Fix Before You Start
Test for moisture by taping 2-foot squares of plastic sheeting to the floor and walls. Wait a couple of weeks. If condensation forms underneath, your foundation's not sealed. If droplets form on top, your basement needs dehumidifying.
Use an awl to probe for rot and insect damage in floor joists, rim and header joists, the sill plate, and wood-framed windows.
Check floor joists for sagging by climbing a ladder until you're nearly eye level with the underside of the joists. Look across them (perpendicular to their direction) to see if any are out of line.
Have a pro check fuel-burning equipment and your house's ventilation system to ensure that you won't have carbon monoxide buildup below grade.
Key Elements to Factor Into Your Plans
Will You Need More Headroom?
Many codes call for 7 to 7½ feet of clearance. If you don't have that height, you may be able to dig out and lower the concrete floor, but it's a complex, pricey job. Ask your contractor if moving ducts and pipes might solve the problem.
It's best to have both a battery backup for your main pump, in case of a power outage, and a second pump, in case the first one gives out. If your house is hooked up to a municipal water supply, invest in a water-powered backup pump that's juiced by pressure in the supply line.
Minor leaks may not need the attention of a pro. "Often a few simple fixes will solve a moisture problem," says This Old House general contractor Tom Silva. His tips:
Install diverters to send gutter water at least 10 feet from the foundation.
Slope soil away from the foundation.
Seal small cracks or gaps around pipes with concrete-patching compound.
Fill larger cracks inside and out with hydraulic cement, which expands as it cures. A structural engineer should inspect any cracks that are wider than a pencil.
Insulate Pipes Before Boxing Them In
While they're exposed, slip foam insulation sleeves over hot-water pipes to prevent heat loss and over cold-water ones to prevent condensation from dripping on the inside of the drywall or ceiling.
Leave Space Around Mechanicals
Whether you're moving equipment or boxing it in, heed the advice of TOH plumbing and heating expert Richard Trethewey: "Make sure a real human being can fit around mechanicals for upkeep." Plan on 2 to 3 feet of clearance.
Banish mold—ban standard drywall
Fix moisture problems first, then follow our pro tips on finishing basement walls.
It just doesn't belong below grade; mold can grow on the paper coating, and the gypsum core can crumble. Try USG's Sheetrock Brand Mold Tough Gypsum Panels or Georgia-Pacific's nonpaper-faced DensArmor Plus High-Performance Interior Panels. Both got the highest scores on a standard lab test for mold resistance.
3 Options for Finishing Basement Walls
1. Insulated Stud Walls
Best for: Avid DIYers on tight budgets
How it's done: It's the tried-and-true traditional method: A vapor barrier and rigid-foam insulation are laid over foundation walls, followed by a stud frame and drywall. Watch a video of Tom Silva using this method to finish foundation walls.
2. Interlocking Panel Systems
Best for: DIYers who want to save labor and floor space
How it's done: Notched insulation panels are fitted together and glued, clipped, or screwed to foundation walls. Then drywall is attached to integrated strips, resulting in a thinner wall. InSoFast panels have labor-saving chases for wiring and back-side channels for drainage.
3. Professional Basement Refinishers
Best for: Non-DIYers
How it's done: Licensed pros install a proprietary modular system that combines insulation, finished wall panels, and sometimes ceilings, floors, and finishes. Some types are attached to a level track, so they go up quickly. Owens Corning makes the best known of these systems.
Bonus: If You Want to Add Partition Walls
Put them in sparingly. Too many below-grade rooms will feel like a rabbit warren.
Place them between columns to turn support posts into design elements.
Build half-wall dividers or walls with window cutouts so that light can penetrate the interior.
Make them mobile. Sliding doors and movable screens can be closed for privacy as needed.
Finished Basement Ideas You Can Work into Your Space
Best Basement Flooring to Use If You're Worried About Moisture
A high-tech printing process gives scratch-resistant floating vinyl planks a wood-like appearance that's so realistic you might do a double take. And the 20-year warranty will give you peace of mind.
Adura Plank with LockSolid Technology in Timber Ridge; Mannington Flooring
A Wall Hung Ceiling for Plumbing Access
Ceiling tiles have gotten a huge face-lift in recent years, so your basement need not look like a bland boardroom. You'll need a few extra inches of headroom to hang the grid; ask the manufacturer:
Soundproof your Basement Ceiling
To soundproof your basement ceiling, add fiberglass batts without a vapor barrier between the joists. Then fasten one or two layers of drywall to them, using resilient clips and metal furring channels (called hat channels, for their shape). This isolates the drywall from the joists, eliminating vibration and thus minimizing sound travel.
Place mechanical equipment on top of sound-dampening antivibration mats or pads.
Minimize connections between ducts in the basement and upper floors to reduce noise transmission.
Don't Skimp on Lighting
A dim basement is a real turnoff, so you'll need more fixtures than you've got elsewhere. Recessed cans broadcast light in a cone shape that's wider at the base; if you're using them, space them closer together to avoid dark spots.
A good rule of thumb: Divide the ceiling height by 2 to get the maximum distance between cans.
Better-Looking, Safer Window Wells
Skip the corrugated metal and go for prefab wells made from fiberglass or another faux-stone material. Top them with grates or plastic covers so that people can't fall in, but make sure the toppers can be removed easily by a young child to ensure emergency egress.
Fix a Staircase That's Out of Code
Sometimes a finished basement floor makes the bottom stair a little too shallow, throwing off the whole run. Tom Silva's fix: Measure the rise of each step.
If any are shorter than 7 inches, you can remove the treads and add spacers to pad them out as you go up. Just keep heights below code maximum, and make sure they don't differ in height by more than ⅜ inch.
Make Room for Food
You don't need a full kitchen. But you'll get plenty of mileage from a mini fridge for beverages, a cabinet to hold snacks, and a microwave for heating leftovers or making popcorn for movie nights. Keep a tray handy for stacking and transporting dirty dishes upstairs.
Save Space for Play
Game tables eat up a lot of square footage. For a small pool table (3½ feet by 7 feet), you need a clear space at least 11½ feet wide by 14½ feet long to play comfortably—if you buy the shortest cues, that is. A tournament-size pool table (4½ feet by 9 feet) or a 5-by-9 Ping-Pong table needs even more room. Unless you're positive you'll use it a lot, consider skipping a single-activity table.
An all-purpose worktable can seat several people for crafts, puzzles, board games, and much more—and designers say it's often a better draw for crowds than a game table.
Today's video games involve actual physical activity, not just fiddling with a joystick. Check your gaming platform for recommended clearances around and above the console. (No one should break a bone playing a virtual version of any sport.)
Wall-to-wall carpet is a good choice to deaden sound in a play area. Opt for synthetic fibers that resist mold and mildew.
Up the Cozy Factor
You don't need an oversized sectional to create a comfy place to curl up.
Put a fireplace front and center. A direct-vent gas unit lets you avoid lugging firewood downstairs.
Make hopper windows less basement-like. Built-in cabinets beneath them act as a visual anchor, making their high placement seem just right. And they gain substance and polish from crisp trim, deep sills, and bronze latch closures.
Use furnishings to set the tone. A leather chair and colorful textured accessories warm up a light, airy space.
Make Double Duty Rooms Work Hard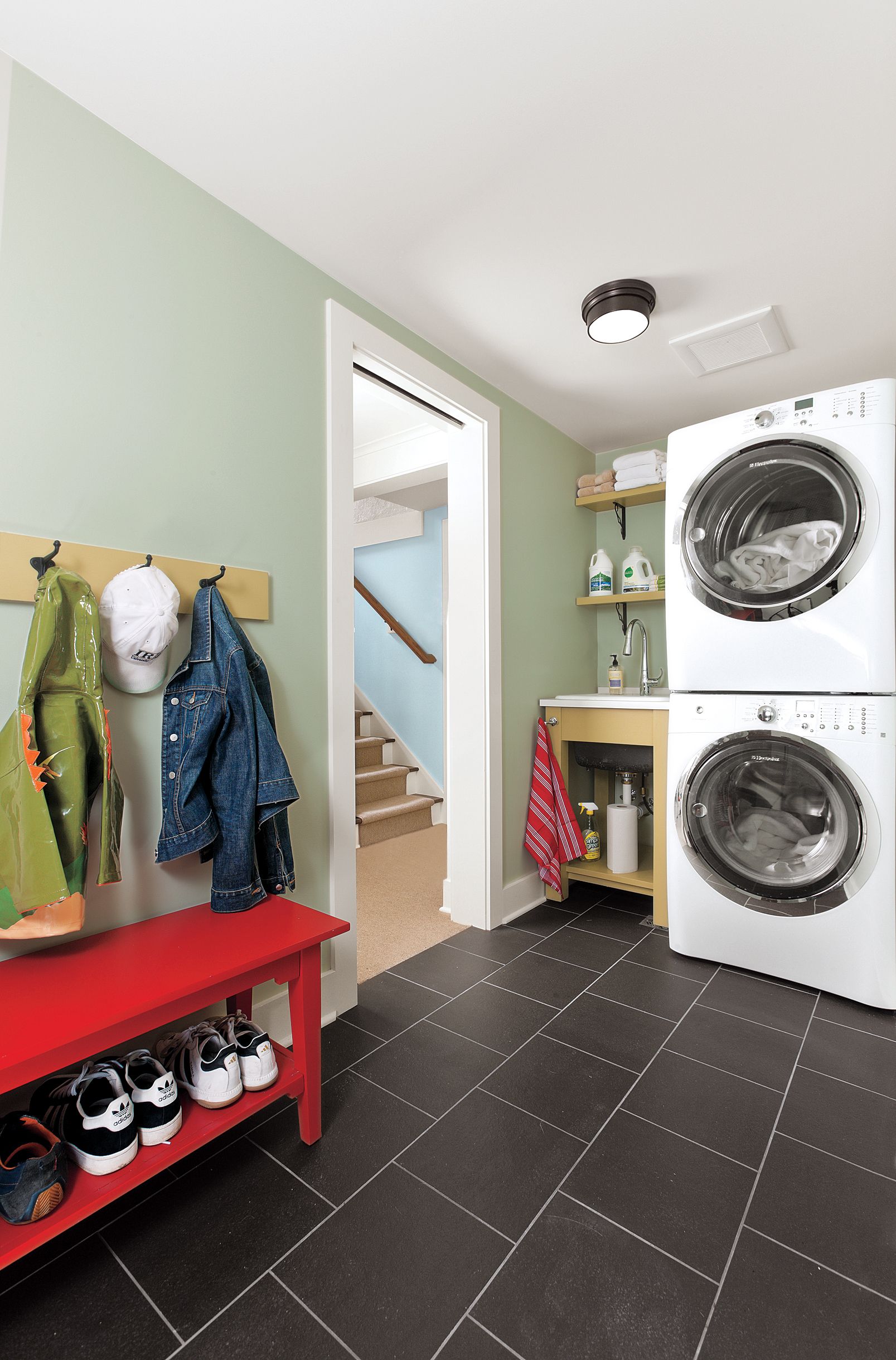 Functional spaces need not be fancy, but they shouldn't be an afterthought.
For a small entry area, skip the coat closet. Wall hooks and a bench get the job done without eating up much floor space.
Opt for easy-care, durable flooring. Large-format tile has fewer grout lines, and a dark color disguises dirt.
Use stackables for a compact laundry.Double-decker machines have a small footprint, leaving room for a sink area with open shelving, where you can treat stains and store cleaning supplies.
Need Inspiration? 5 Smart Ideas to Steal from this Basement
It's so cheery and welcoming, you hardly know you're on the bottom floor.
Dress up the walls. Tall wainscot gives the space a homey vibe while saving the drywall from dings and dents.
Be smart about storage. Built-ins near a walk-out entry have room for coats and boots. Positioned to hug the stairway, they save space.
Layer on lighting. Traditional wall sconces add charm in a basement, where can lights usually prevail. Here, a warm bronze finish and white shade complement the surrounding woodwork.
Build a better stair. The first-floor door was removed to let sunlight spill downstairs. A handsome handrail and newel post were finished to match the built-ins.
Channel natural light. Take every opportunity to brighten up closed-off rooms. A reeded-glass light on the bathroom door fosters an airy feeling inside but still permits privacy.
5 Tips for a Beyond-the-Basic Basement Bedroom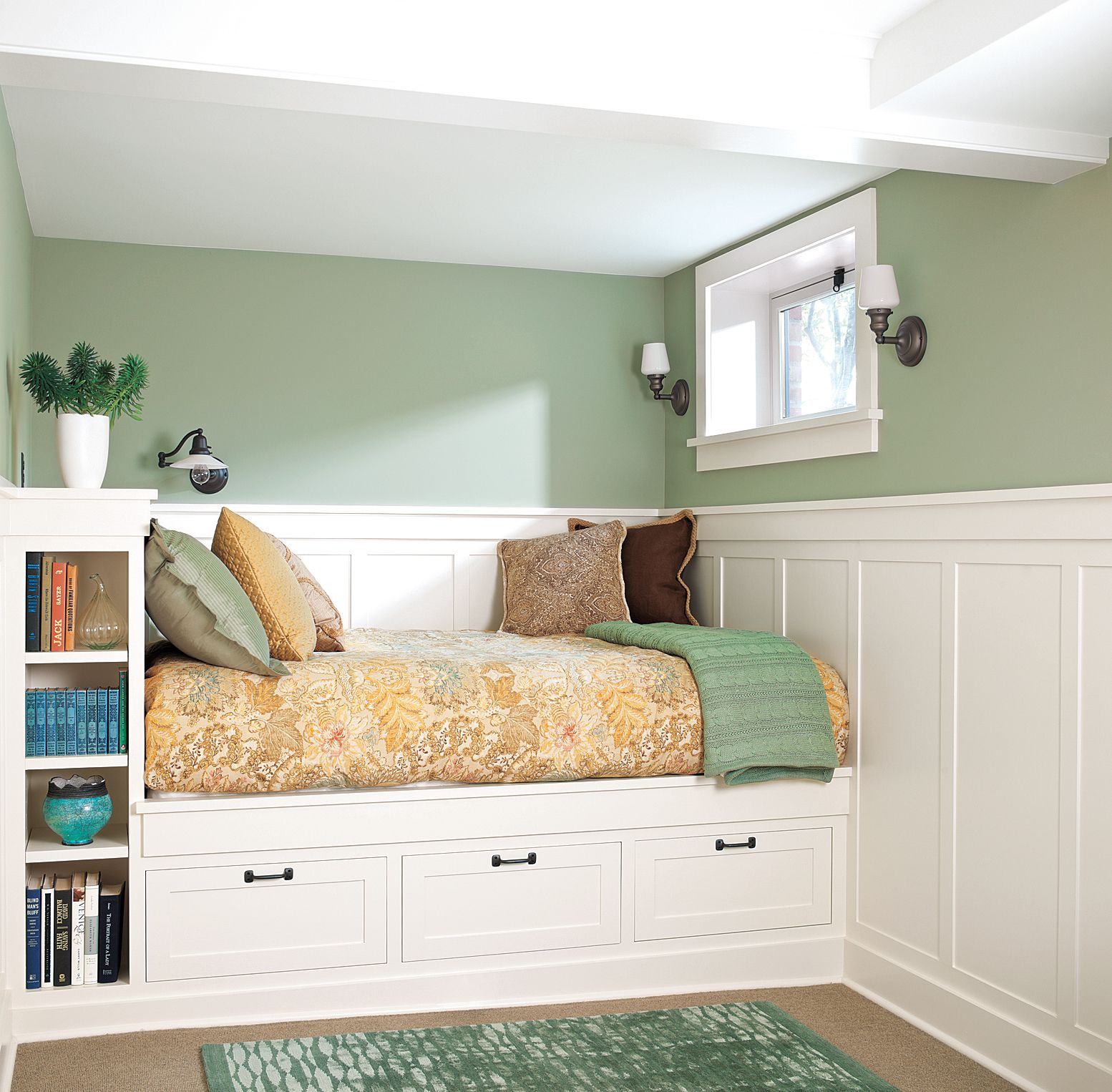 Make a narrow room (like this one, only 7½ feet wide) feel snug, not suffocating.
Build a spot for the bed. Instead of aligning the full-size bed with the room's long axis, it was turned 90 degrees and tucked below the window for a perfect fit.
Keep storage compact. The bookshelf doubles as a headboard and nightstand; deep drawers hold clean linens and give guests room to unpack.
Continue details from adjacent spaces. Here, the wainscot ties the sleeping nook in with the rest of the rooms.
Layer rugs for warmth. An area rug laid on top of rugged wall-to-wall carpet adds welcome texture and softness underfoot.
Add wall fixtures. A swing-arm reading lamp saves space and directs light right where it's needed; sconces flanking the high window draw the eye upward.
Plus, If You're Adding a Bath to the Basement
A few simple guidelines will make it functional and eye-catching.
Go for light-reflecting finishes
We love this can't-fail combo of traditional white fixtures, a painted medicine cabinet, and shiny chrome hardware with porcelain accents.
Don't risk an overflow
Have a plumber install a backflow-prevention valve on your main drain line to prevent backups into below-grade sinks or tubs.
Get rid of humid air
Extra moisture is the last thing a basement needs. Add a humidistat to your bath's exhaust fan that will automatically turn it on when the air's too damp.
Minimize pipe runs
Here, the sink, tub, and toilet share the same wall, which simplifies plumbing installation and keeps costs down.
Handle wastewater properly
A full, below-grade bath needs a sewage ejector system with a tank and pump. For a half bath, consider a macerating toilet, whose compact tank can handle the sink and john.
4 Handy Things to Have Around When You Finish Your Basement
A rechargeable portable light, stored in an easy-to-find spot, in case of a power outage. Oxo Candela Glow rechargeable lights, set of two.
A cell-phone signal booster so that you can take and make calls below grade. Wi-Ex zBoost SOHO, $395; Amazon
A wireless-network extender so that you can tote your laptop downstairs. Netgear Universal Wi-Fi Range Extender, $33; Amazon
A wet/dry hand vacuum in case of small spills or washing-machine snafus. Hoover Wet/Dry Cordless Hand Vacuum, $37; Amazon
Looking for help with repairs around your home? A home warranty may help. Check out these in-depth guides from the This Old House Reviews Team: