As you hang your lights (safely) and pick your Christmas tree (thoughtfully), you'll want to put equal care and deliberation into your home furnishings during the holidays. Fortunately, Black Friday, or the Friday after Thanksgiving Thursday, is a prime day for amazing furniture sales. Whether you're gifting others or feathering your own nest, we're here to help ensure you find the best Black Friday furniture sales out there. From sofa beds to nightstands, here are the This Old House Reviews Team's top picks for the best early Black Friday furniture deals.
Best of all, many of these deals are easily ordered and delivered via Amazon, meaning Prime members may get an even sweeter deal in the form of free two-day delivery.
Each product we feature has been independently selected and reviewed by our editorial team. If you make a purchase using the links included, we may earn a commission.
Black Friday Furniture Sales – Our Top Picks
By clicking on the product links in this article, Mattress Advisor may receive a commission fee at no cost to you, the reader.
Affiliate Disclosure:This Old House's Reviews Team is committed to delivering honest, objective, and independent reviews on home products and services. To support this business model, This Old House may be compensated if you purchase through links on our website.
Pros and Cons of the Walker Edison Alexander Classic Solid Wood Stackable Jr Bunk Bed
| Pros | Cons |
| --- | --- |
| Assembly tools included with purchase | Adding white glove assembly comes at a sizeable cost |
| Wood is sourced using sustainable method | Limited warranty |
| Colors options available to match decor | |
| Pros | Cons |
Material/Type: Solid wood
Customer Rating: 4.4/5
Sizes: Twin over twin, trundle, low-loft trundle
Trial: 30 days
Warranty: 89-day limited manufacturer warranty
The retailer Walker Edison has a broad line of stylish modern furniture, and yet, we must have a soft spot for their affordable and durable take on a classic: the bunk bed. The Walker Edison Alexander Classic boasts a sturdy, solid wood build to soothe your and your child's nerves as they climb into the top bunk. The build also includes a ladder and guardrail for added safety. The solid pine wood frame is available in espresso, gray, white, and walnut finishes — plenty of options to meld with your existing home decor.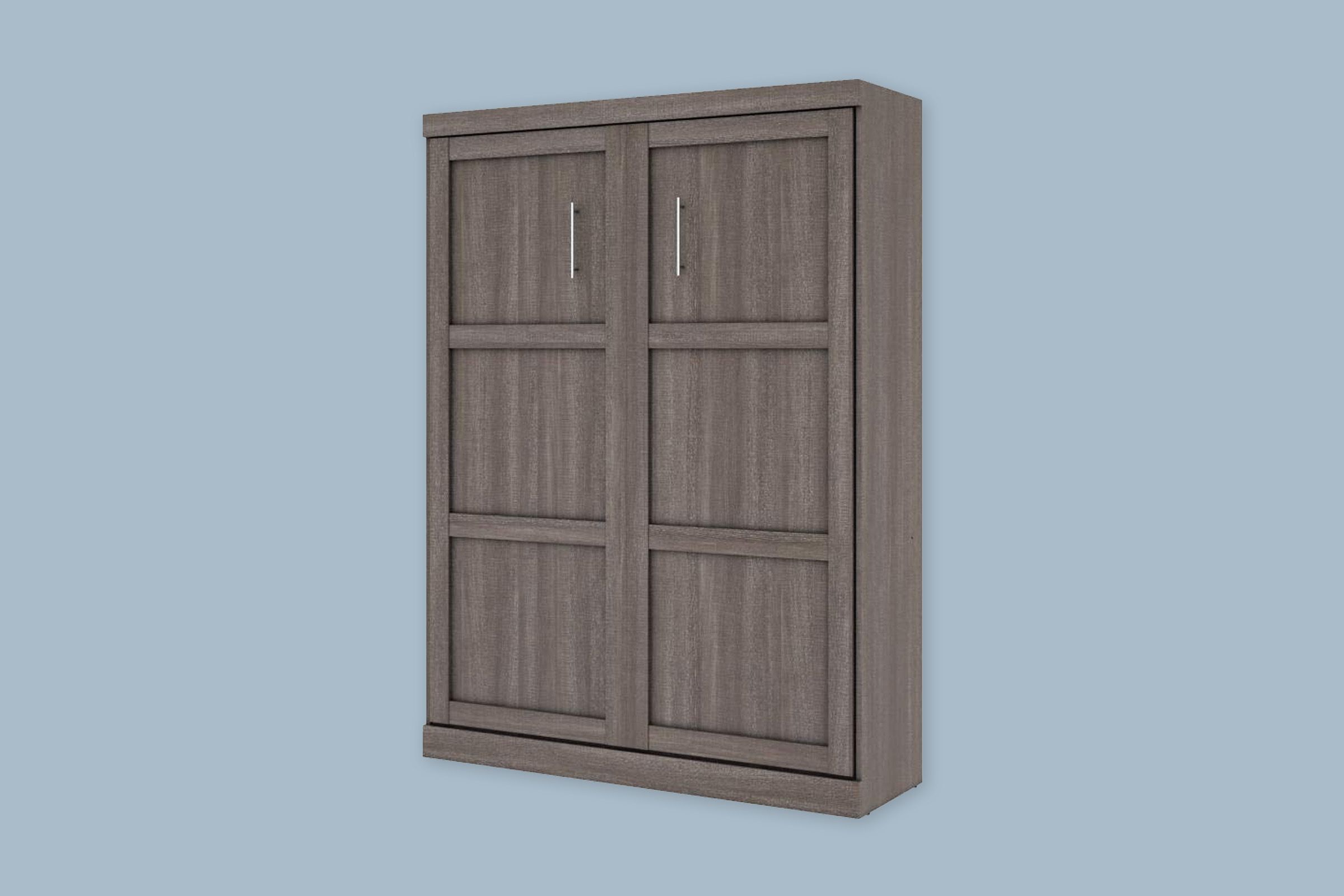 Pros and Cons of the Bestar Pur 65W Queen Murphy Bed
| Pros | Cons |
| --- | --- |
| Excellent space saving solution for rooms tight on square footage | Need knowledge of the wall structure to install oneself, since installation requires attaching into wall studs |
| Frame has slatted support, so no need for box spring | One of the priciest types of bed frames |
| Attractive trim, and finishes available in white, chocolate, and rustic brown | |
| Pros | Cons |
Material: Engineered wood, steel
Customer Rating: 4.3/5
Size: 64.6″ length x 20.3″ width x 89.1″ height (fits a queen mattress)
Trial: 30 days, or through Jan. 31, 2023
Warranty: 10-year manufacturer warranty
If you're handy enough to safely install a Murphy bed, a Black Friday sale is an excellent time to invest in this pricier piece of bedroom furniture. The fold-down bed option is a fun and unique space saver, and we love the Bestar Pur for its use of a timeless shaker-inspired trim. That way, you won't be staring at a plain, smooth surface when the bed is folded up, but instead, an attractive armoire (but in appearance only).
The bed uses a dual piston system to safely lower up and down, and you get a solid bed frame with Euroslat support. Be sure to pair the frame with one of the best mattresses for a Murphy bed frame. The frame can house any mattress model up to 10 inches thick.
Pros and Cons of the Novogratz Her Majesty Upholstered Linen Bed
| Pros | Cons |
| --- | --- |
| Mattress has breathable slat support | May be too difficult to assemble on your own |
| Several upholstery color options are available | |
| Excellent price for value | |
| Pros | Cons |
Material: Wood slats, linen upholstery
Customer Rating: 4.4/5
Sizes: Twin, full, queen, king
Trial: 30 days, or through Jan. 31, 2023
Warranty: 1-year limited
For a regal bedroom renovation on a budget, try the Novogratz Her Majesty Upholstered Linen Bed. The headboard has the elegant touch of tufted linen and bumpers on the side for a cozy, enveloping feel, and the bed's upholstery extends the full perimeter of the wooden-slat frame. Her Majesty boasts attractive gray linen that goes with almost any decor, but for a fun pop of color, you can also opt to go with a light blue, green, or pink. Pair the upholstered frame with a luxury mattress for the ultimate royal touch, and an accent chair with an exposed frame, to mix-and-match styles.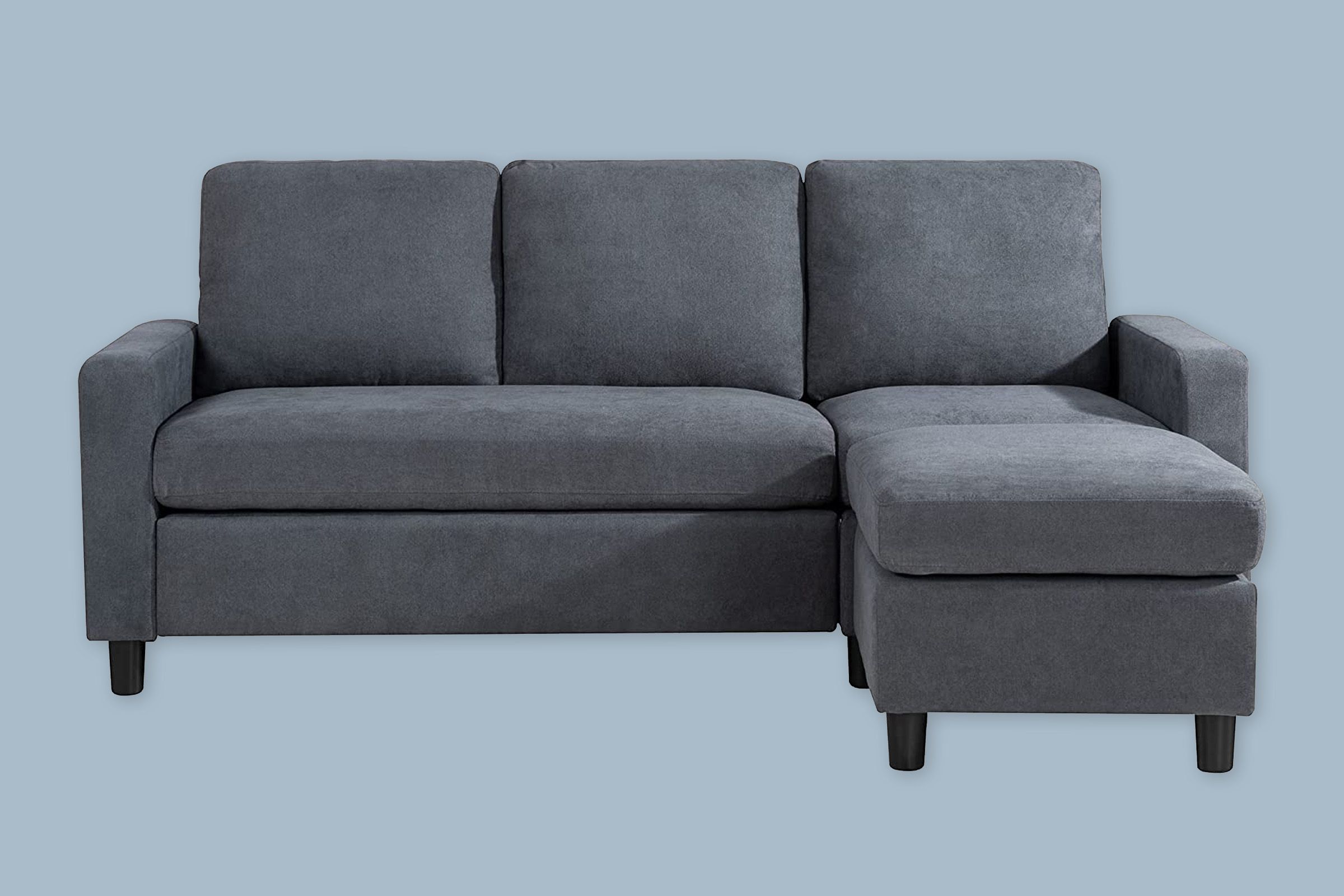 Pros and Cons of the Shintenchi Convertible Sectional Sofa Couch
| Pros | Cons |
| --- | --- |
| Versatile sectional that can fit tricky room layouts | On the smaller side |
| Four color options available | Some reviewers bemoaned the couch is more style over substance |
| Excellent price point for a sectional sofa | |
| Pros | Cons |
Material: Linen
Customer Rating: 3.6/5
Sizes: 78.7″ length x 50″ width x 33″ height (3-seat capacity)
Trial: 30 days, or through Jan. 31, 2023
Warranty: N/A
Among the Shintenchi Convertible Sectional Sofa Couch's more than 1,500 5-star reviews, you'll see customers touting its excellent starter-couch stature. That is to say, this is another piece of easily-orderable Amazon furniture that may not be with you for life, but earns its keep as a bang-for-the-buck statement piece in the short term. The versatile couch has a modular ottoman so that you can extend either end of the couch into a cozy chaise. Plus, four color options, each an attractive neutral (dark gray, light gray, chocolate, black), make it easy to match the Shintenchi to your existing room styling, be that a bold accent wallpaper or a statement modern coffee table.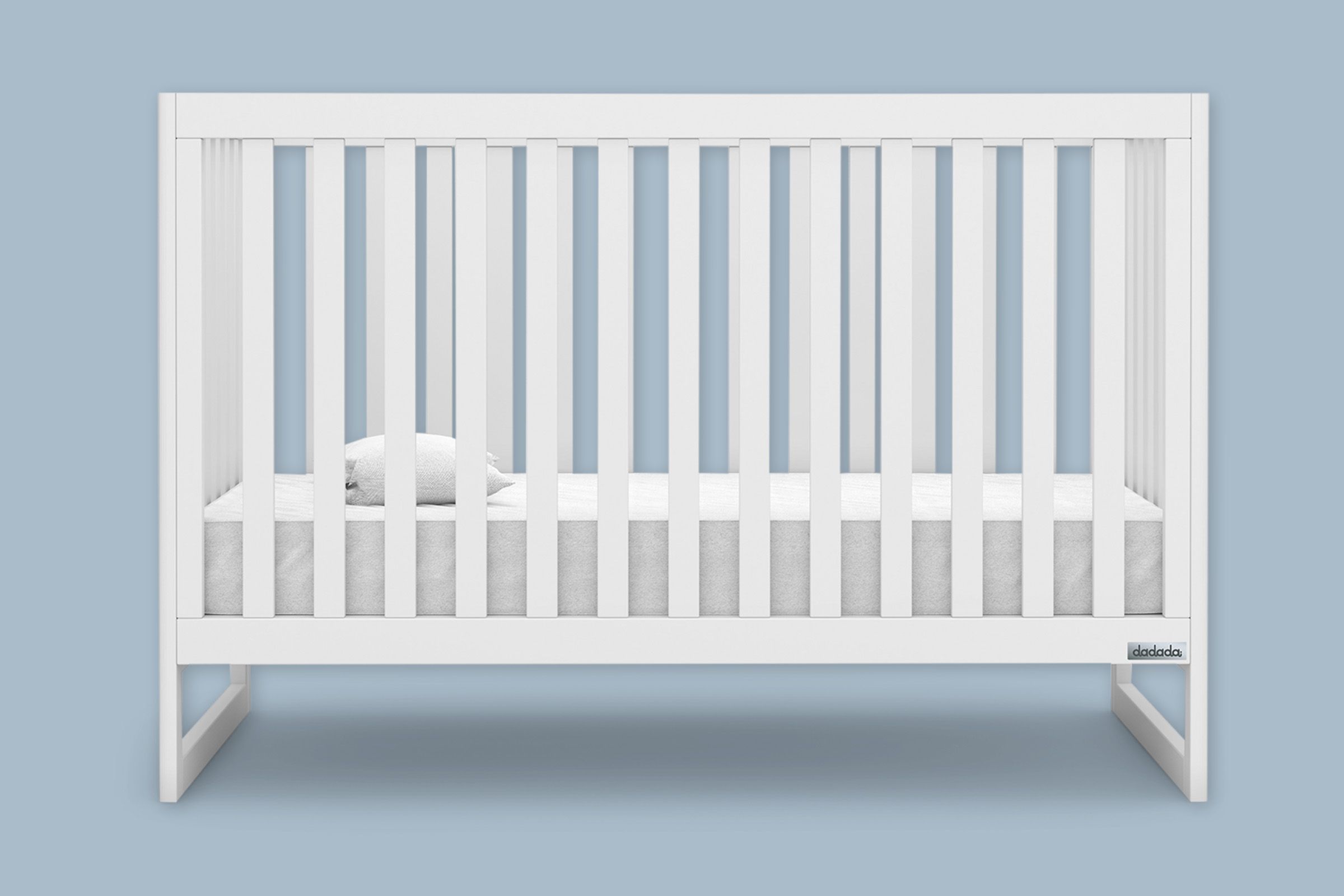 Pros and Cons of the Newton Baby Austin Convertible Crib
| Pros | Cons |
| --- | --- |
| Solid beechwood construction | Not the most budget-friendly option available |
| Convertible to a toddler bed | |
| GREENGUARD Gold certified, a stricter step above a GREENGUARD certification | |
| Pros | Cons |
Material: Solid beechwood
Customer Rating: 5/5
Sizes: Crib size, toddler bed convertible
Trial: 30 days
Warranty: Limited 2-year manufacturer's warranty
A white Italian marble countertop is a classic touch to any kitchen, and a classic touch to any nursery is a solid beechwood crib, crafted in Italy. Furnished by Dadada Baby, you can buy this crib from Newton Baby online and receive 30% off one of their expert-recommended cribs. The Austin crib is considered a "convertible" because you can easily add a toddler rail for added longevity. The crib's finishes are non-toxic, and GREENGUARD Gold certified for added parental peace of mind.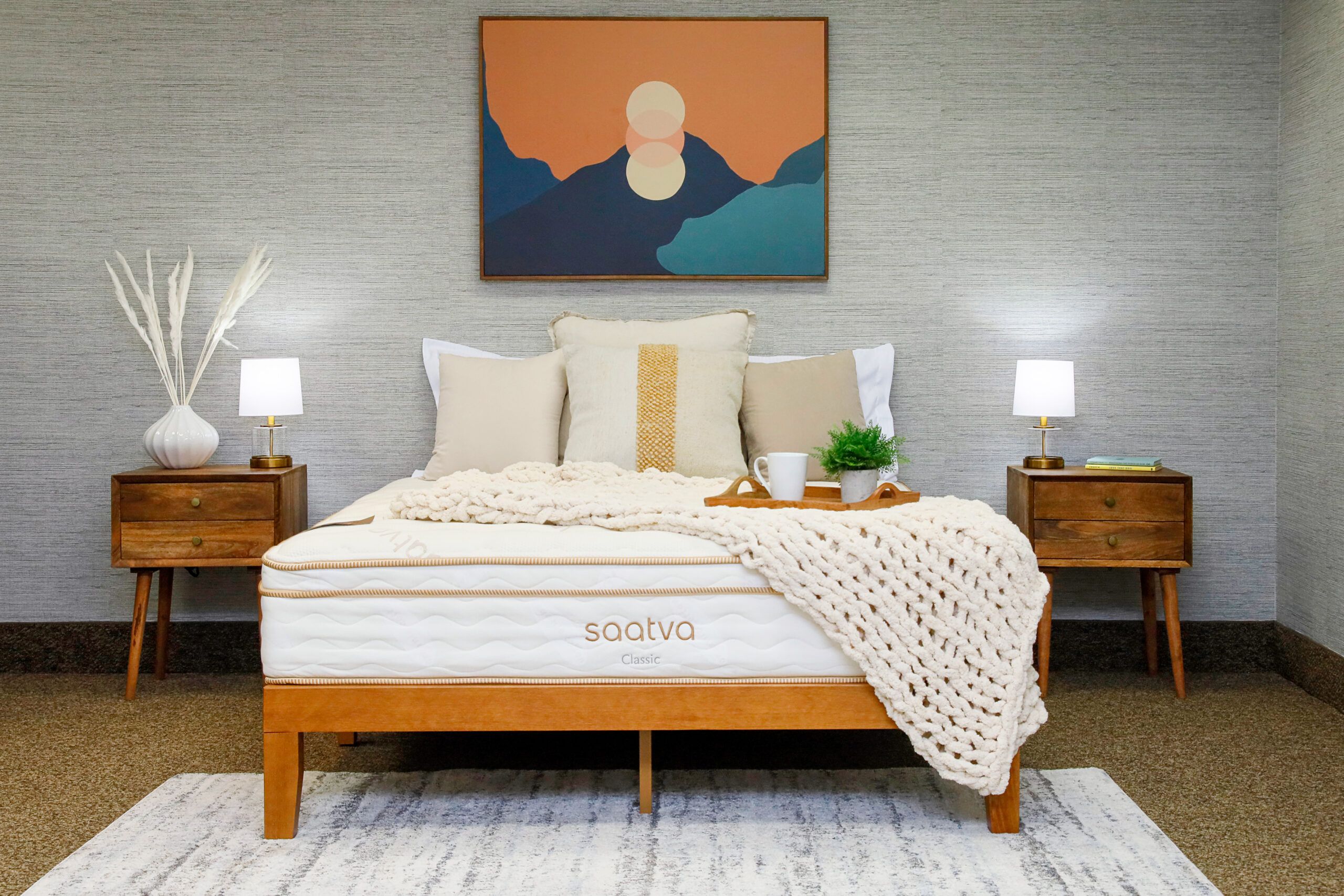 Pros and Cons of the Saatva Classic
| Pros | Cons |
| --- | --- |
| Perfect spine alignment score stemming from hybrid construction of foam and coils | Middling motion transfer score (7.5/10) could disturb light sleepers |
| Top-notch pressure Relief (9/10), responsiveness (8.5/10) and cooling (9/10) | Luxury mattress materials up the price |
| Fits all bodies and sleep positions | |
| Free white glove delivery | |
| Pros | Cons |
Material: Hybrid (foam and coils)
Firmness: Soft (3/10), luxury-firm (6/10) and firm (8/10)
Customer Rating: 4.9/5
Sizes: Twin, twin XL, full, queen, king, California king
Trial: 365 nights
Warranty: Lifetime
Holidays are the time to spend hours at home by a fireplace hearth with a stomach full of comfort food or return home feeling warm and fuzzy after one too many office party cocktails. Whichever the case, you'll feel ready to hit the sack. And why not do it in style with a Saatva Classic mattress, which is running its annual Black Friday deal. The quilted 3-inch foam euro pillow top oozes utter luxury, so it's perfect for collapsing onto after a long day. And you'll be supported in the process: Saatva's edge support and spine alignment both got perfect 10 out of 10 ratings from Mattress Advisor, our partner for expertise in everything sleep-related. Plus, if you're particular about your preferred mattress firmness, you can choose from soft, luxury-firm (medium-firm), or firm.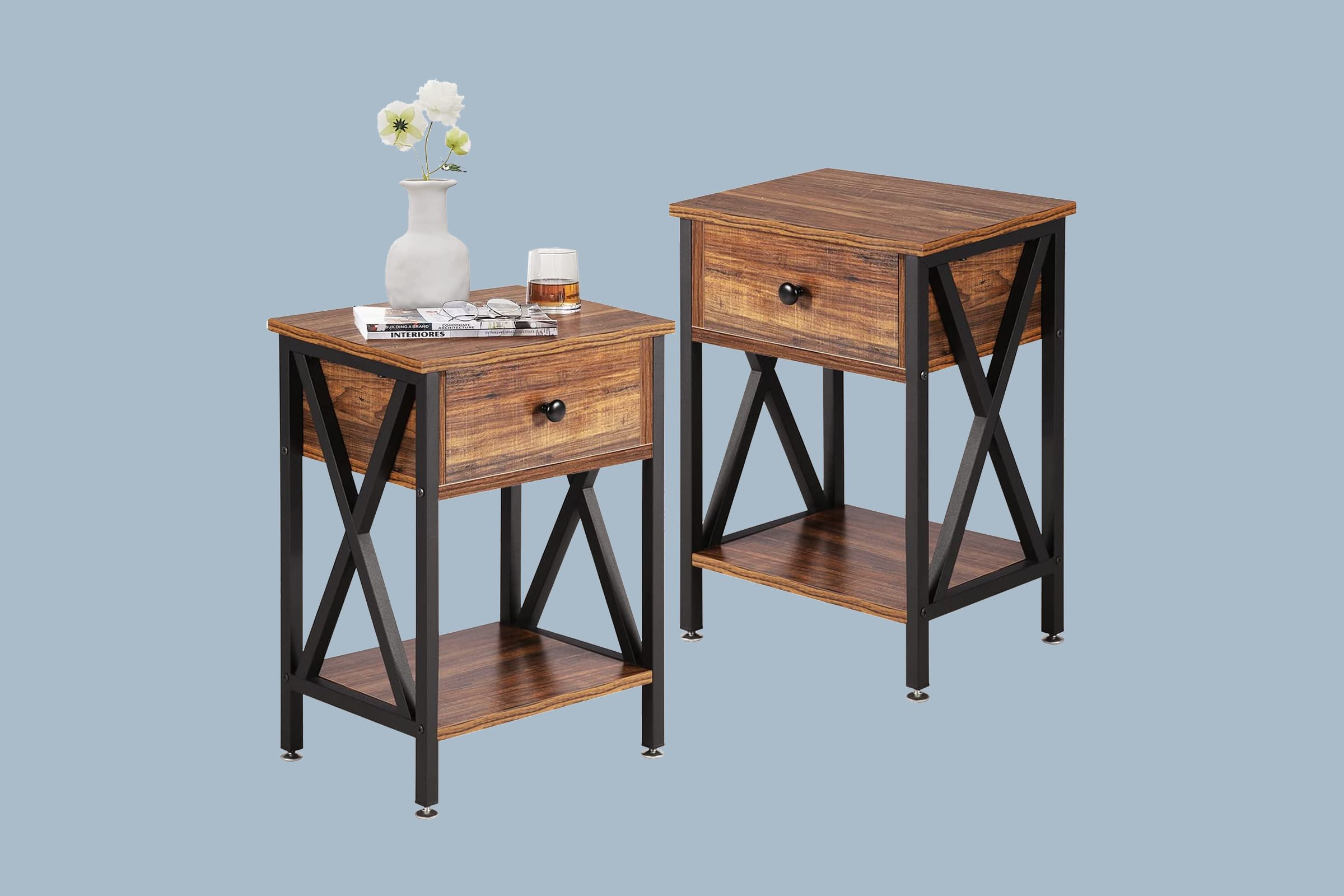 Pros and Cons of the VECELO Night Stand
| Pros | Cons |
| --- | --- |
| Nimble but durable construction | White glove assembly can be added, but at a cost |
| Excellent end table for price and timeless design | |
| Pros | Cons |
Material: Metal, engineered wood
Customer Rating: 4.3/5
Sizes: 15. 8″ length x 21. 7″ height x 11. 8″ width
Trial: 30 days, or through Jan. 31, 2023
Warranty: 1-year limited
Matching nightstands are considered a must-have feature within almost every design practice, from the school of Feng Shui to the gospel of Martha Stewart. However, a limited budget might tempt you to work with the mismatched hand-me-downs and thrifted pieces you can find. Vecelo offers a practical solution, since you can score two well-made, attractive bedroom side tables for less than $150. Reviewers were impressed with the quality for the price, and the nightstand's mix of metal and wood in neutral colors allows you to match them with a minimalist aesthetic or let your bold accents pop even brighter. We also love that a drawer is included, which you can cheaply and easily customize it to your boho or posh style by swapping out its included hardware with a geometric or metallic pull.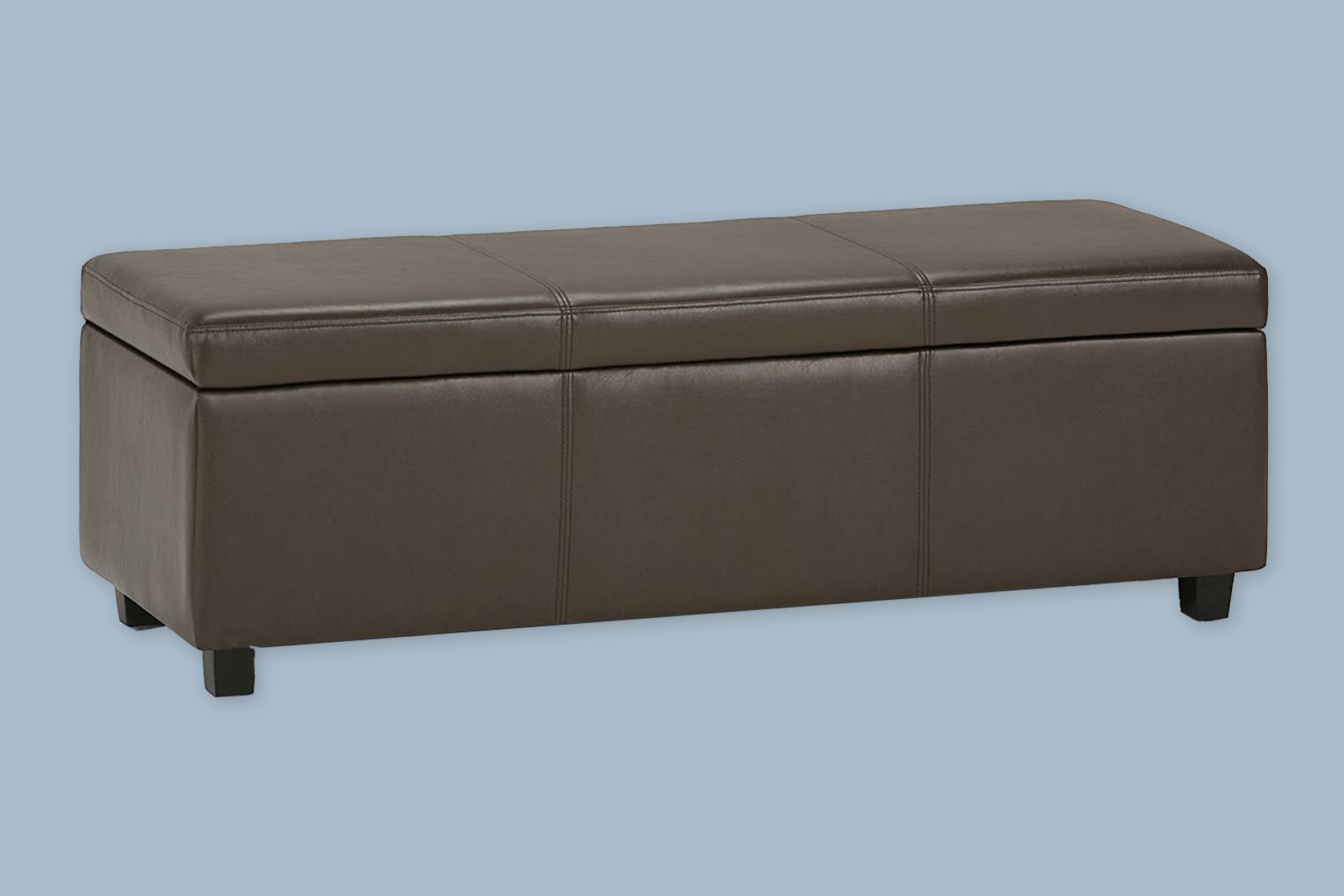 Pros and Cons of the SIMPLIHOME Avalon 48 inch Wide Rectangle Lift Top Storage Ottoman Bench
| Pros | Cons |
| --- | --- |
| Excellent statement piece that includes storage | Some reviewers felt the hinge was too fragile |
| Attractive faux leather finish | Chemical off-gassing odor upon unboxing was reported |
| Pros | Cons |
Material: Faux leather
Customer Rating: 4.6/5
Sizes: 48″ length x 18.11″ depth x 16.14″ height
Trial: 30 days, or through Jan. 31, 2023
Warranty: 1 year
We've highlighted a lot of versatile pieces of furniture, or pieces that serve more than one purpose and decor. After all, multi-tasking furnishings are some of the best to fetch from Amazon when decorating on a budget. Another stylish and dynamic piece we've selected comes in the form of a storage ottoman from SIMPLIHOME. The Avalon is a broad ottoman that boasts plenty of space for storing bulky linens or heavy books, with a lift top lid for easy access. The faux leather finish also makes an excellent point of visual interest for blank spaces where you also need to squeeze in extra storage.
How Do You Take Advantage of Black Friday Shopping?
With the internet, Black Friday is truly a shopper's fine smorgasbord, and it's best to take advantage of markdowns before they're all picked over. But be sure to carefully parse reviews to discern which pieces are worth even the smaller investment. Nothing kills holiday cheer like having to deal with the hassle of returning a large item or kicking a dud product to the curb that went bad quicker than left-out milk.
FAQ About the Best Black Friday Furniture Sales
Do all prices drop on black Friday?
Typically, yes. Almost every large online furniture retailer, like Amazon, Wayfair, and Overstock, do sitewide sales. Mileage may vary from product to product, but you can certainly expect most products to see a price cut.
Does Amazon do Black Friday deals?
Yes, Amazon does partake in the traditional seasonal sale event, and the retailer is also running some early Black Friday deals. But expect the sales floodgates to really open on Thanksgiving Day.
How long will Black Friday deals last?
The best Black Friday discounts are typically reserved for those quick enough to pull the trigger on that Friday, or the Saturday after. But if you aren't terribly prompt, don't worry. Cyber Monday is the latest deal-heavy day, or the Monday after, and is so-named for its participation among online retailers.
Is it better to buy on Black Friday or Cyber Monday?
Some experts say the deals tend to be better on Cyber Monday, but by a very slim margin. For furniture sales, Black Friday seems on par with Cyber Monday, which tends to focus on techier furnishings, like kitchen gadgets, versus the Black Friday emphasis on traditional items like bar stools and leather sofas.
Summary of Our Top Picks for the Best Black Friday Furniture Sales