Home Solutions for Every Season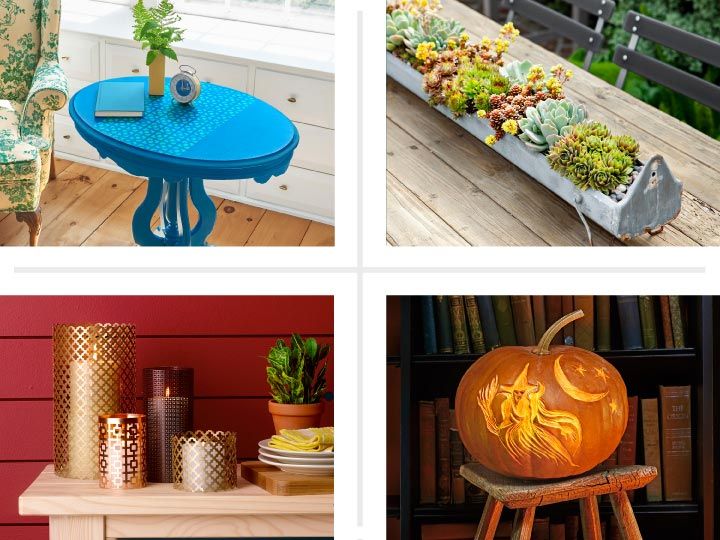 The "Home Solutions" section of This Old House magazine is a reader favorite! Here, we gather up a year's worth of beautiful upgrades for you to consider. If you decide to DIY any of these projects, make sure you share photos with us on Facebook!
January: Stepped-Up Shelving
You might think Carrara marble open shelves are a luxury that's out of reach.
Not so fast: Opting for precut marble door saddles from the home center makes this project as down-to-earth as it gets. At $13 for a 36-inch length, these 3⁄8-inch-thick thresholds are a bargain. For the shelves shown here, we cut ours down to 24 inches with a tile saw and paired them with simple, high-gloss brass brackets (Starting at $13 each; Signature Hardware). Of course, you could easily switch up the look by using ornate iron supports or ones cut from salvaged wood. Whatever way you go, you've got perfectly polished shelves in very little time—no stone yard visit required.
SHOWN: To keep shelves in place on the brackets, we used silicone bumpers (Starting at $2 per pack; Home Depot).
February: Over-the-Door Display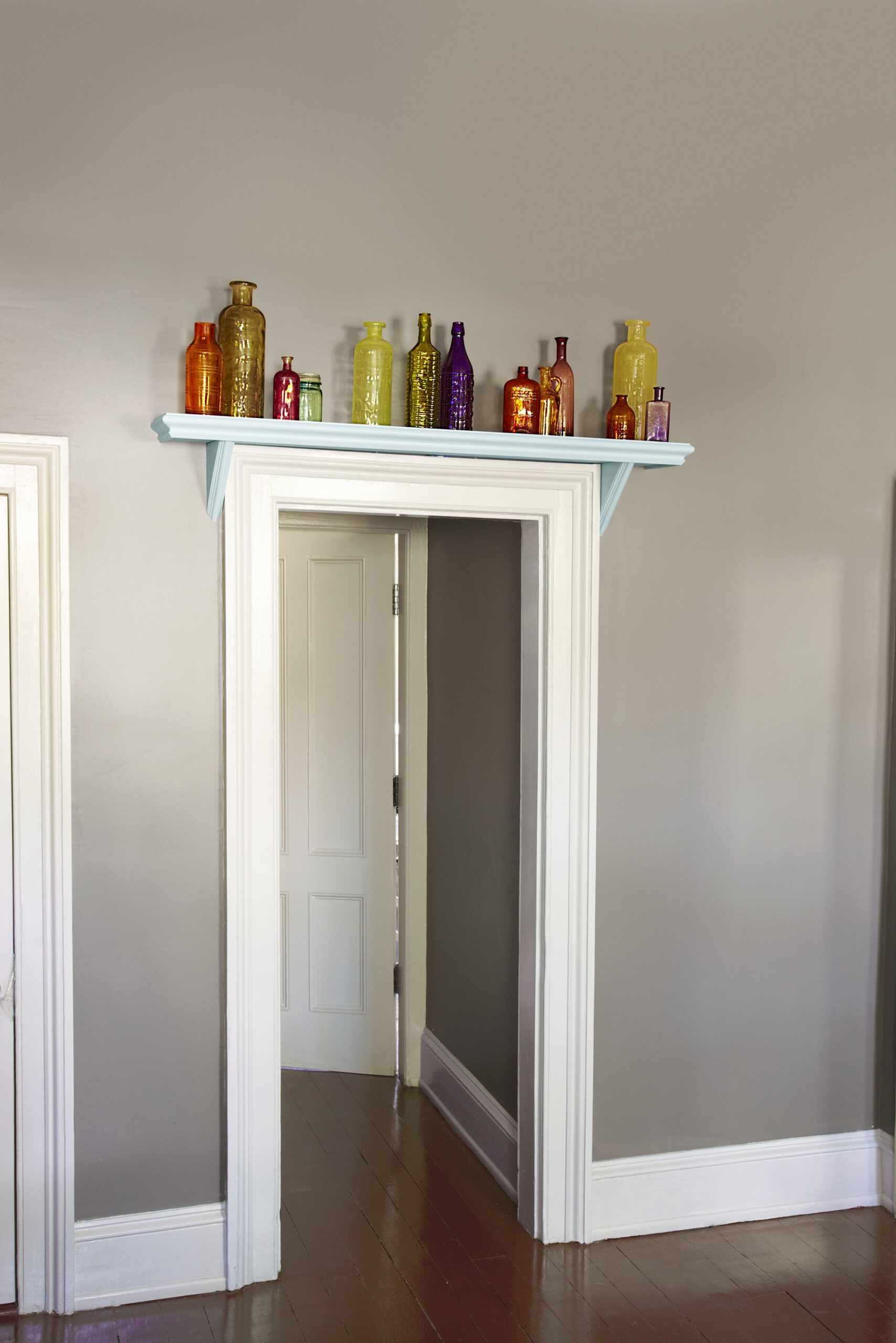 Sometimes a genius solution is right in front of you—all you have to do is look up. Taking inspiration from shelves spied above thresholds in colonial-era homes, we topped this doorway with a decorative ledge—perfect for showcasing a collection, like these colorful bottles. We simply cut a 2×8 to length and wrapped it with upside-down base cap for a beefed-up profile that complements the door casing. Then we cut triangular brackets from a 2×6, faced them with astragal molding, and attached them with screws. Screwing the shelf into the door casing from above discreetly secures it. Voilà—you've got display space that's worthy of admiration all on its own.
Painting the shelf a subtle blue (Behr's Shimmering Pool) helps it stand out.
March: Scrap Stencils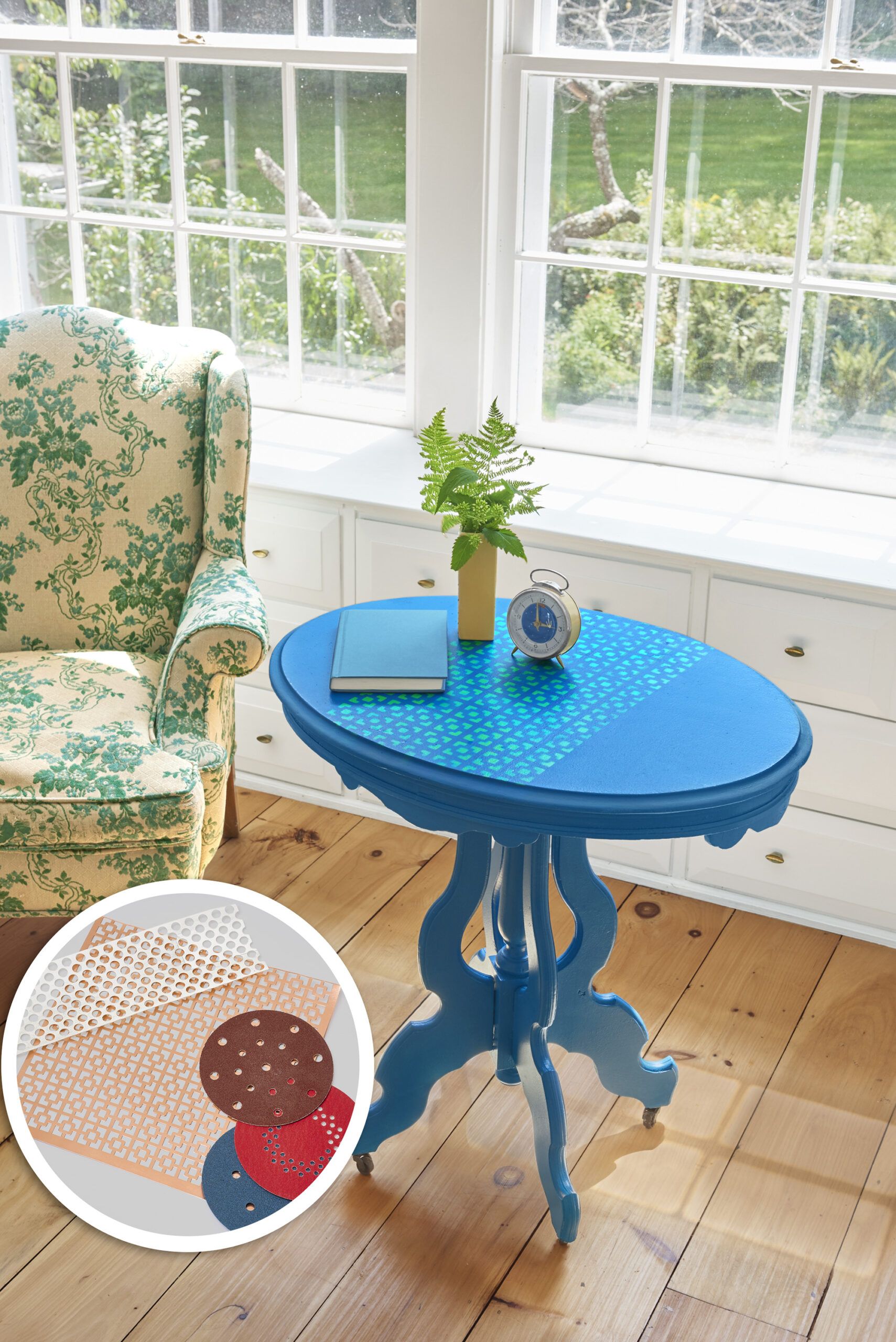 If you're searching for a unique pattern to bring to your next project, look no further than the extras from your last. Leftover materials can offer up playful graphics perfect for painted furniture—like this whimsical piece we stenciled using radiator screening. To get the look, we primed and painted a vintage table in a punchy teal. Once dry, we set the screening in place and lightly pounced paint in the openings using a small artist's brush. Any material with a repeat will work for the task, including gutter guards and even orbital sanding pads. Forget casseroles—we can't think of a smarter way to use up leftovers.
April: Stair-Riser Plant Stand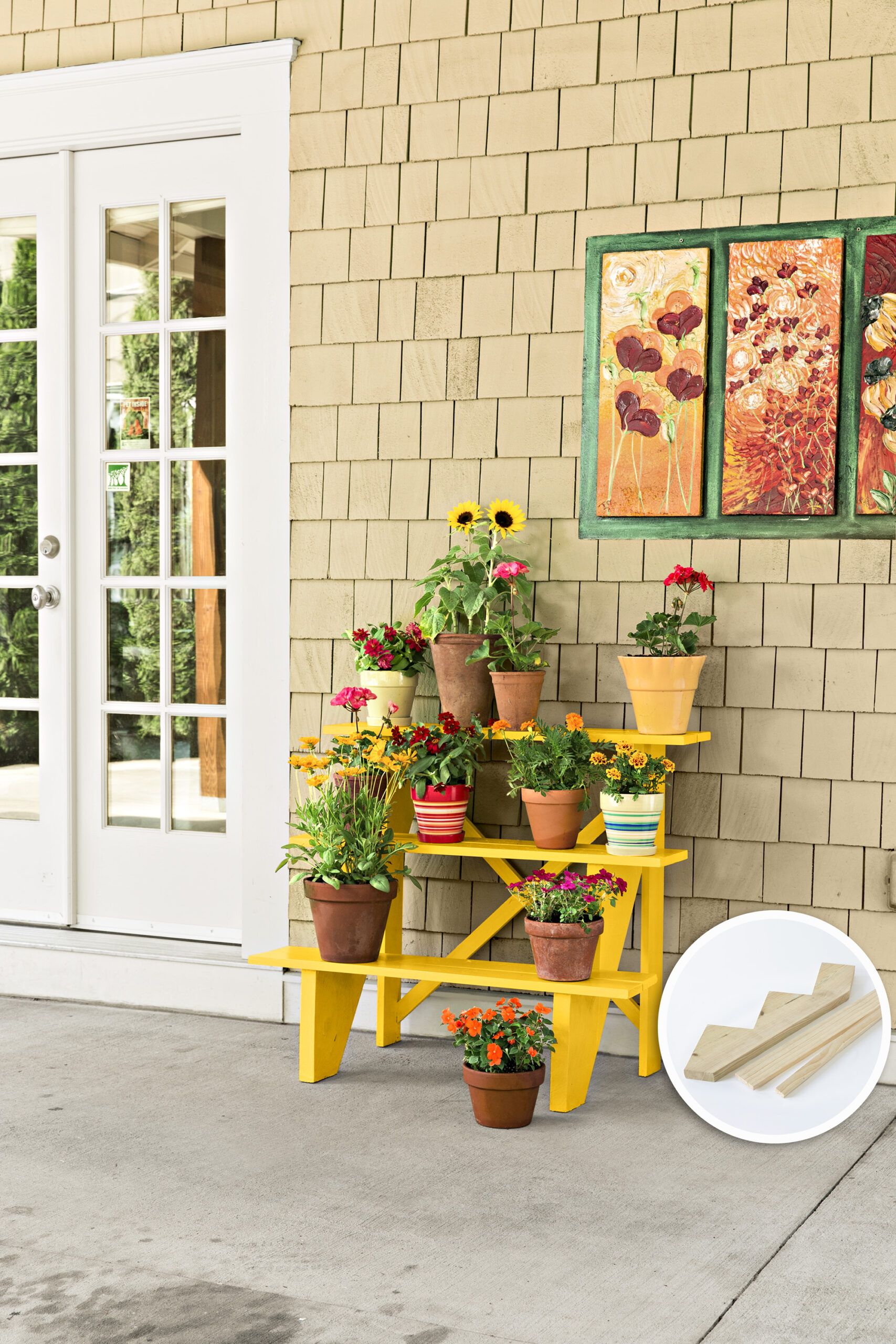 How to create a container garden that's a step above the rest? Build a plant riser using stair parts. To create this cheery display, we started with two three-step stringers, using 1x4s to create back legs. For each tread, we used two more 1x4s, making sure to leave a bit of drainage space between them. Two mitered 1x2s nailed in place form a charming crisscross back, and a coat of punchy yellow exterior paint (Behr's Citrus Splash) makes the whole piece sing. The final step: filling it with pots large and small so you can watch your garden grow to new heights.
May: A Real Mix-'Em-Up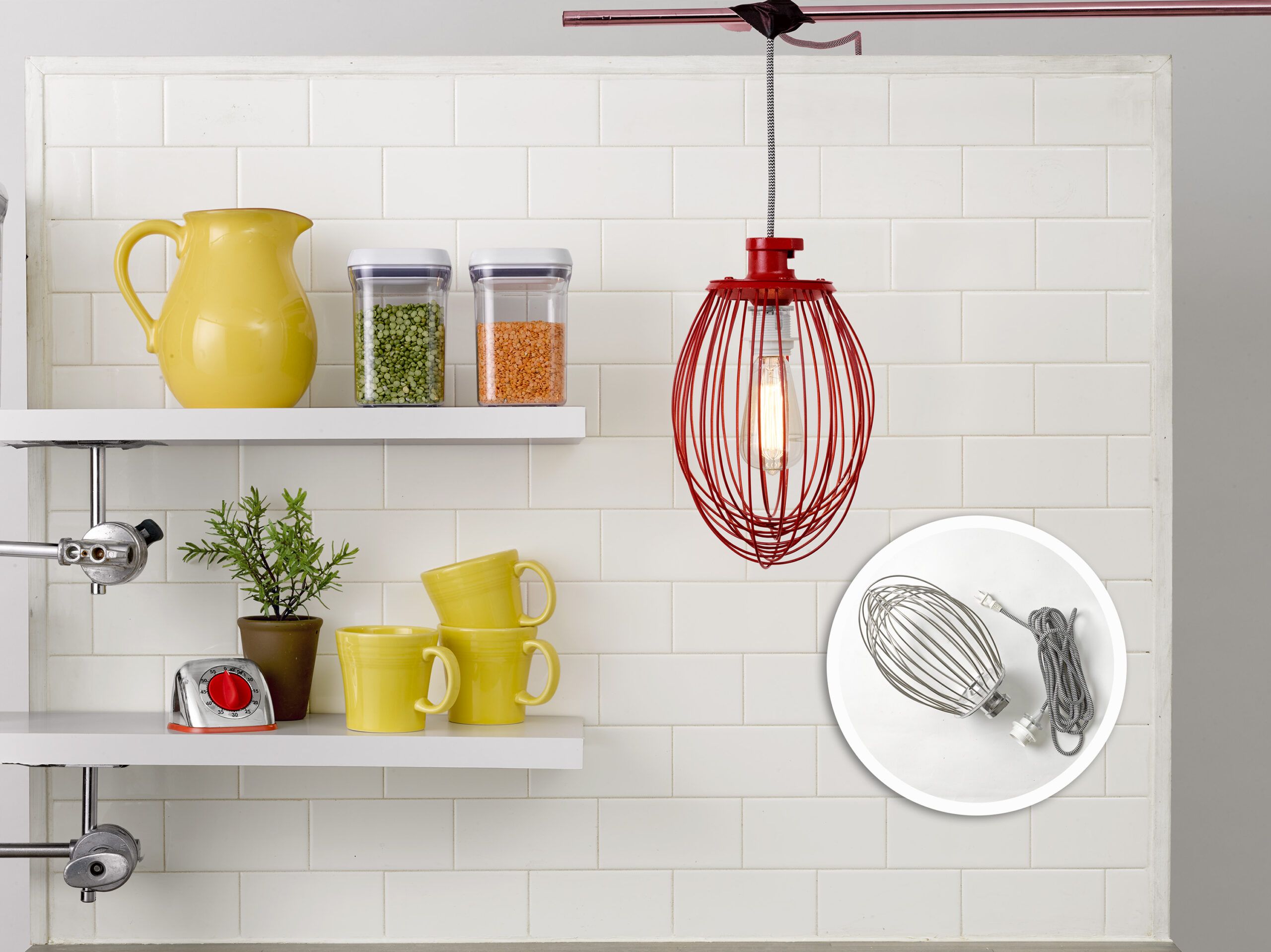 What better way to light a kitchen than by dipping into a cook's own tool kit? This whimsical pendant light is a simple two-part project, created with a stainless-steel industrial wire whip ($37; Webstaurant Store) and a pendant cord kit ($11; IKEA). Before assembling, we gave our mixer a few coats of bright-red metal spray paint. Then we converted our plug-in cord to a hardwired version—you can have a full-service lighting shop help you do the same—and threaded it through the wire sides and open top of the whip. Fitted with an Edison-style bulb, the caged pendant is equal parts cheeky and charming—as ideas go, we think this one's pretty bright.
June: Pallet with Purpose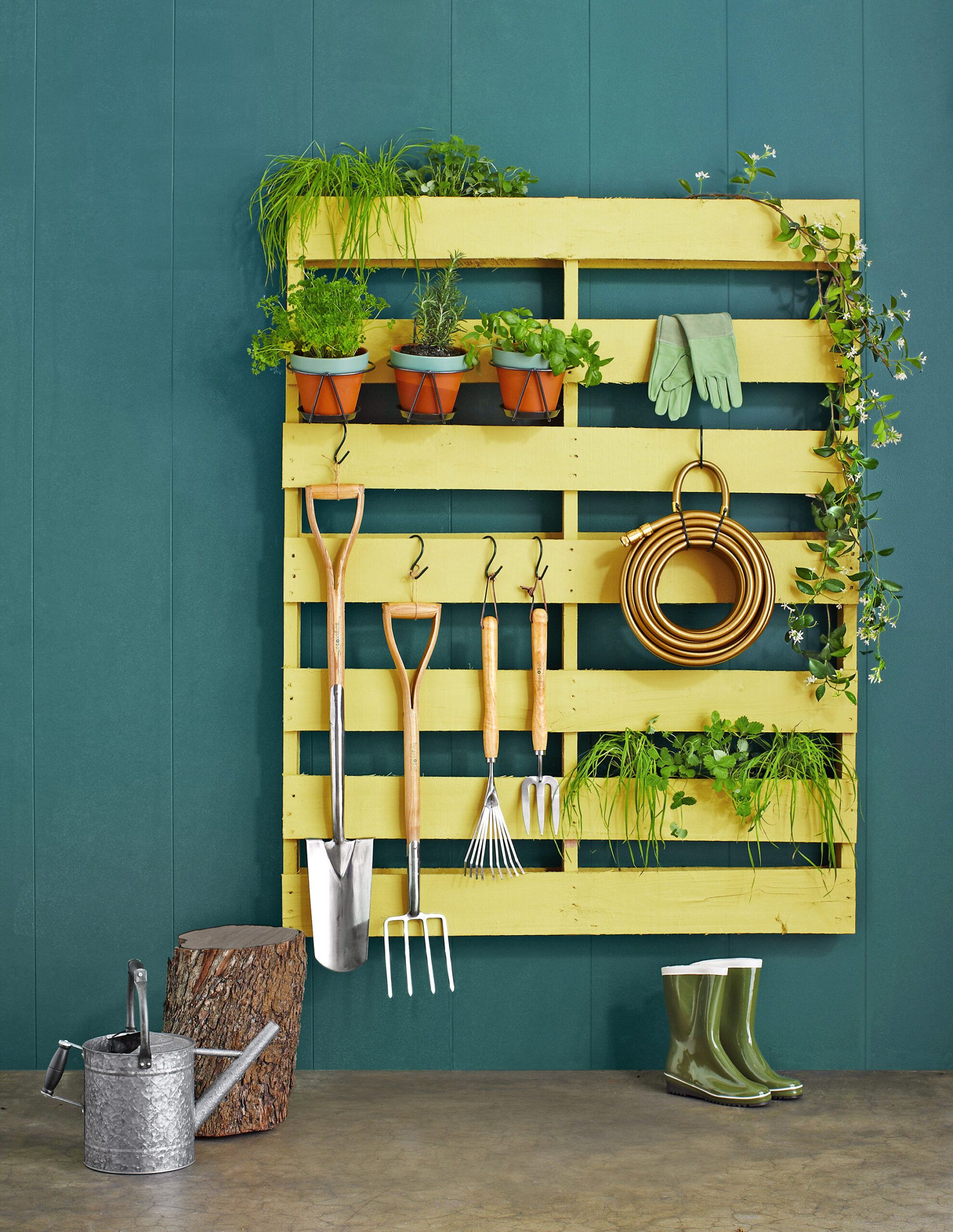 No need to spend a fortune to bring some order to your garden tools—a salvaged wood shipping pallet does the trick. Ask around at local retailers for pieces that are in good shape and free for the taking, or keep your eyes peeled for curbside finds. Once you get your pallet home, sand the wood before cleaning it with equal parts bleach and water. Then prime and paint in a high-impact hue—we like this summery citrus color—and affix it to the wall using a heavy-duty French cleat. Use S-hooks to hang tools, gear, and even potted plants for easy access and a handsome effect. The result: an organized display that really racks up the charm.
July: Americana Paint Project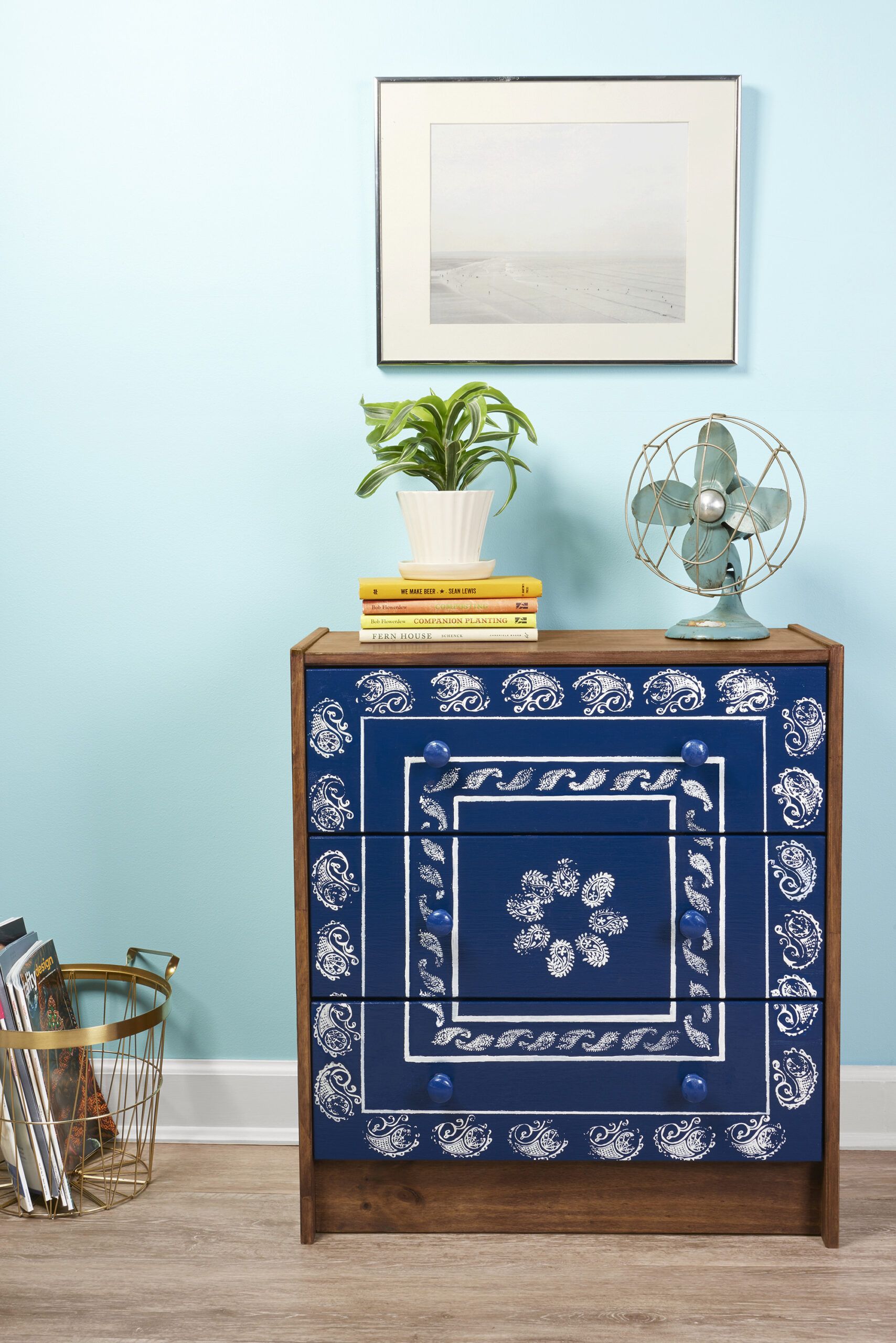 Sure, stars and stripes are a classic, but other motifs tap into our nation's history, too. Take the bandanna print. While the cotton squares had roots in India—and their paisleys were named for a manufacturing town in Scotland—after the kerchiefs traveled to the Colonies they became a staple for cowboys and other outdoor laborers, who used them to mask their faces from dust. Here, we put a new spin on the bandanna print as a way to dress up a dresser front. All it takes is some paint and a few stamps to reinvent this Old West icon.
RELATED: Learn how to bandanna-stamp a dresser, step by step
August: Summer Centerpiece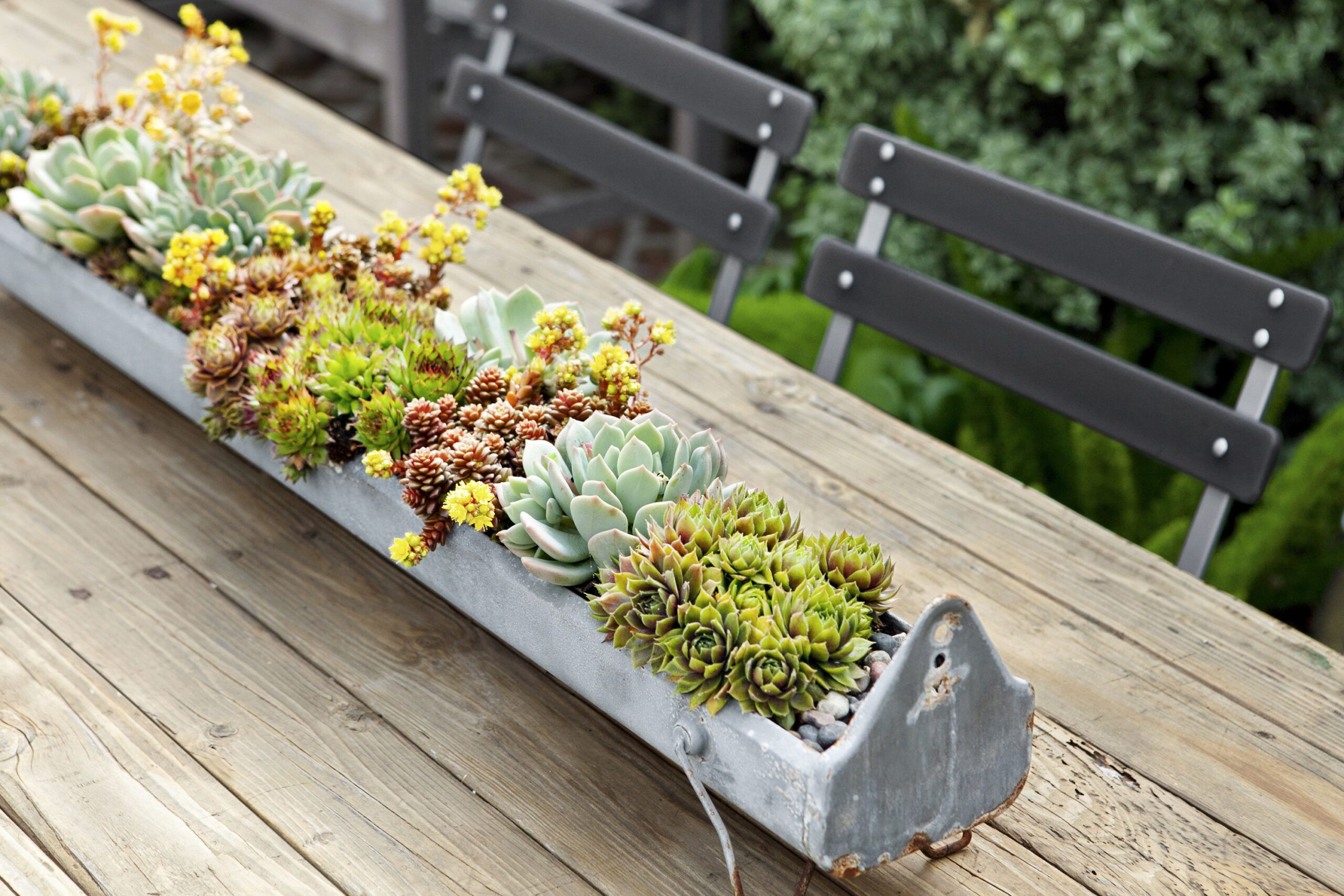 Succulents thrive on bright sun and benign neglect, two things on offer during the hot, lazy days of summer. This arrangement of stonecrop, Mexican snowball, and hens and chicks, by garden designer Molly Wood, works well on a rustic outdoor table. A vintage chicken feeder plucked from eBay requires only drainage holes to keep roots from getting soggy, a bag of cactus soil, and a topping of pebbles. Along with contributing color and texture, this living tabletop accessory is practically self-sustaining—unlike most potted plants, it soaks up this month's dry heat.
September: Lacy DIY Lanterns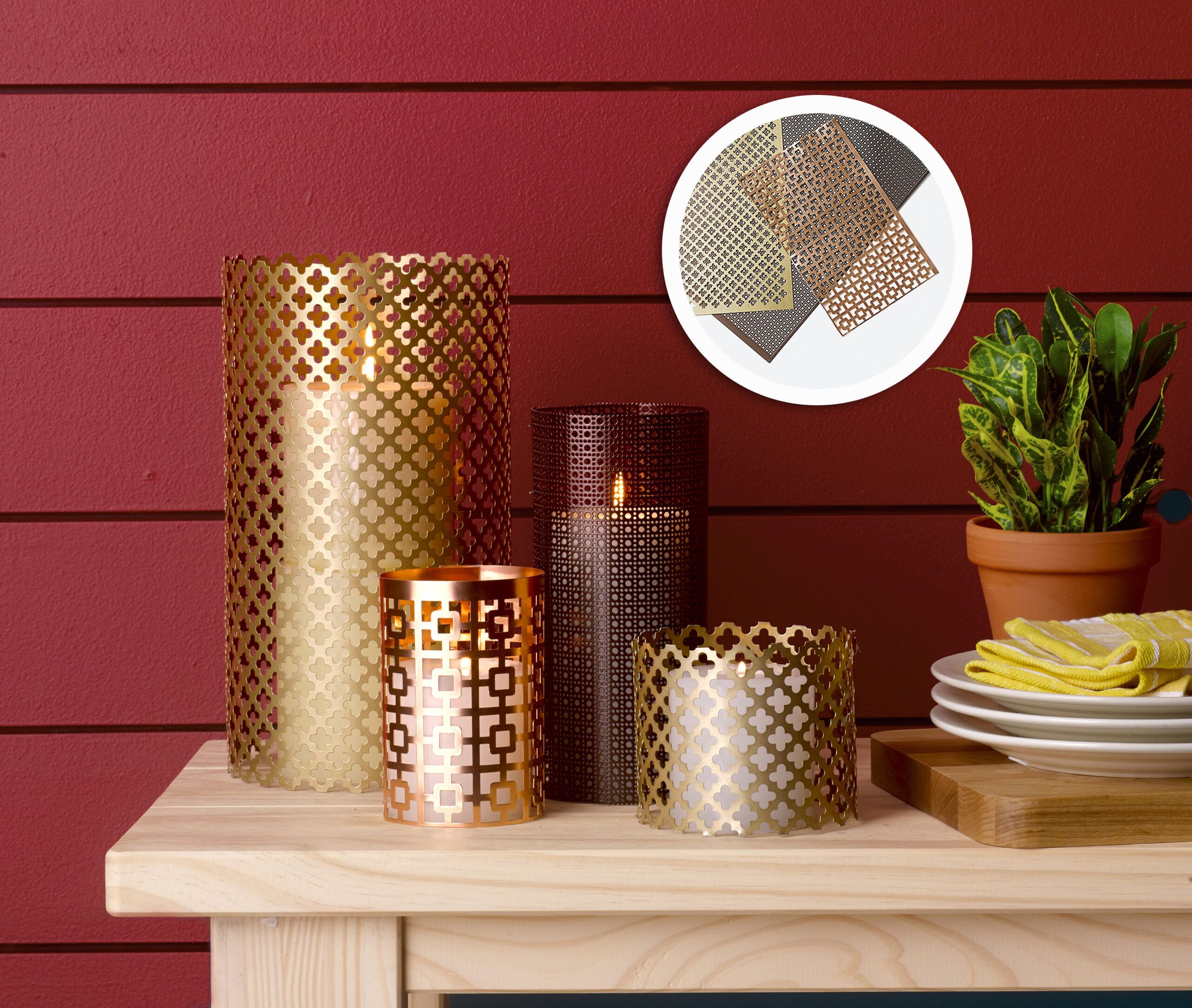 Nothing's lovelier on a late-summer evening than dining by candlelight—as long as a nice breeze doesn't snuff out the flame. We protected ours by wrapping pillars with scraps of radiator screening. The sheets come in a wide variety of patterns and finishes, starting at about $11 per sheet at the home center. We cut pieces to size using tin snips, then used needle-nose pliers to bend a few loops of wire to close up seams. Later on, when a chill hits the air, you can arrange your glow-makers on a mantel.
October: Etch a Demon—With a Drill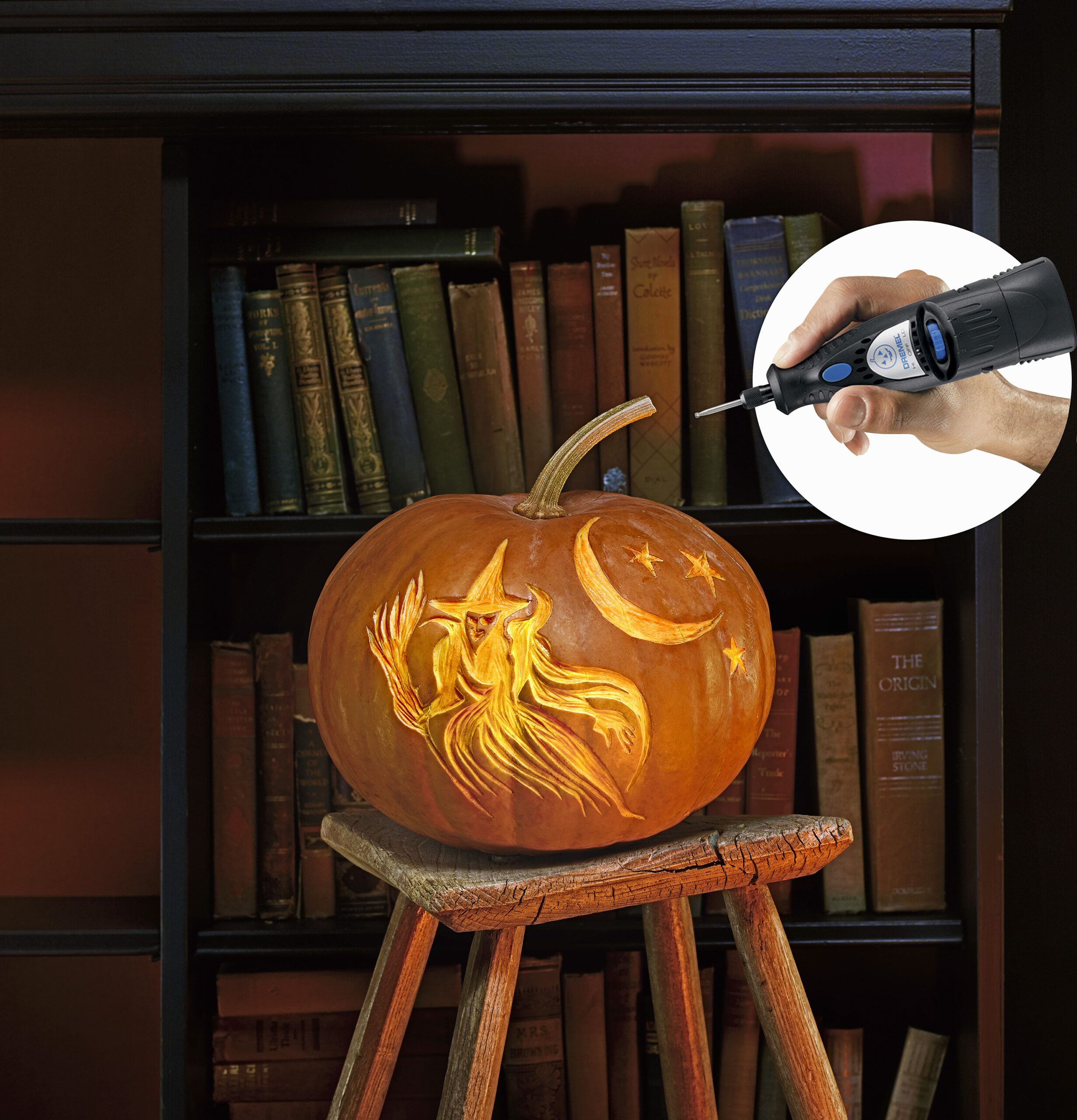 Carving a pumpkin used to mean wielding a knife like Jack the Ripper. Today, many pumpkin artists favor a tool that gently shaves away the tough outer layer, leaving intact a translucent orange "shade." The cordless Dremel shown here (Pumpkin Carving Kit, about $19; Home Depot) comes with templates, making it apt for novices as well as pros. You provide the batteries—and if you've got a marker and the knack, your own scary backlit scene.
TIP: Use a practice pumpkin to master the art of etching to a uniform depth.
November: Build a Safer Fire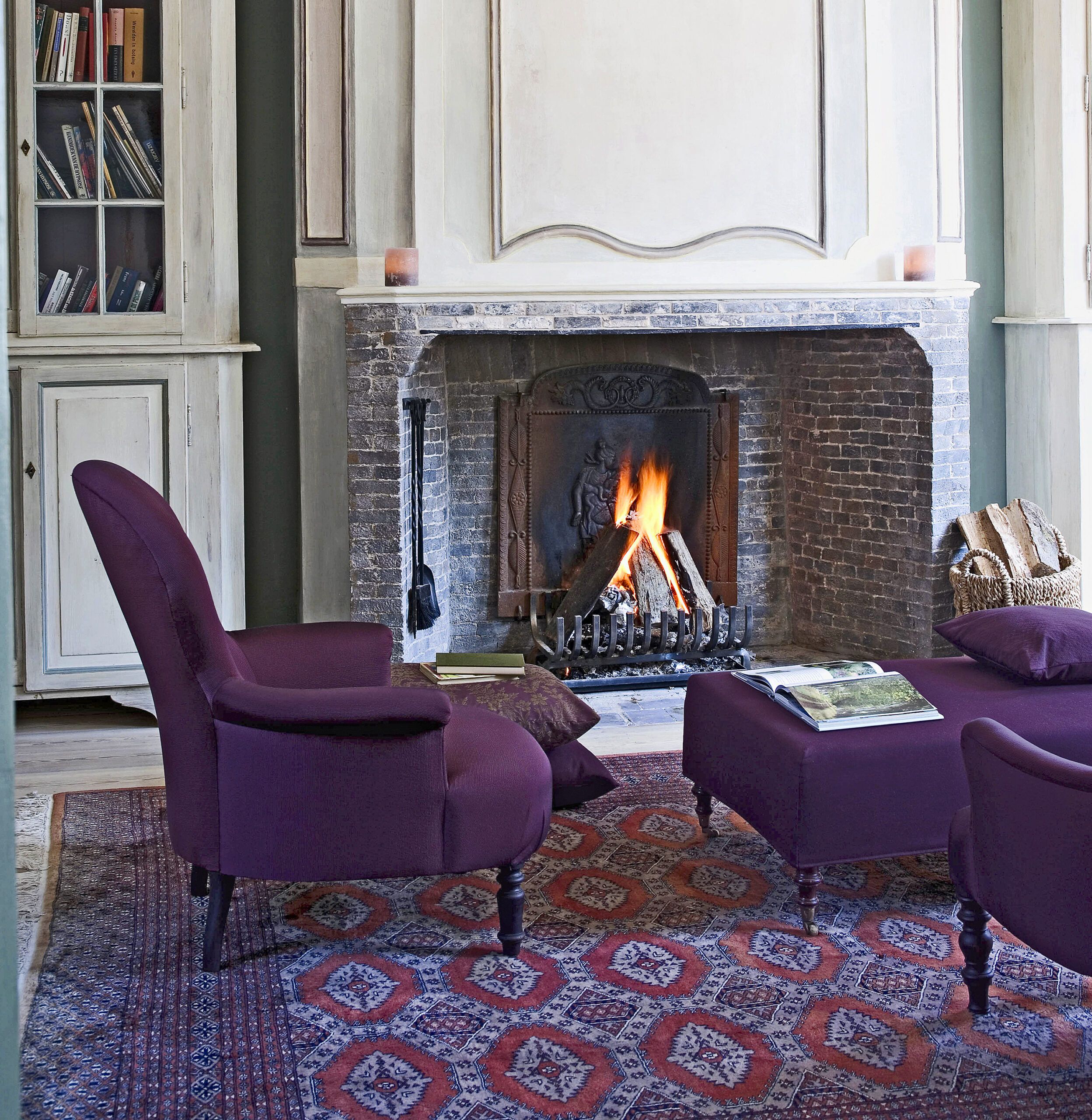 Begin with andirons or a grate, seasoned firewood, kindling no thicker than your thumb, and a starter like crumpled or twisted newspaper. Pop on a screen, and keep the fire going by adding logs gradually, maintaining air channels. Keep in mind that an inch or so of ash is fine and can help jump-start your next fire.
RELATED: Learn more safe fireplace tips
December: Corral Footwear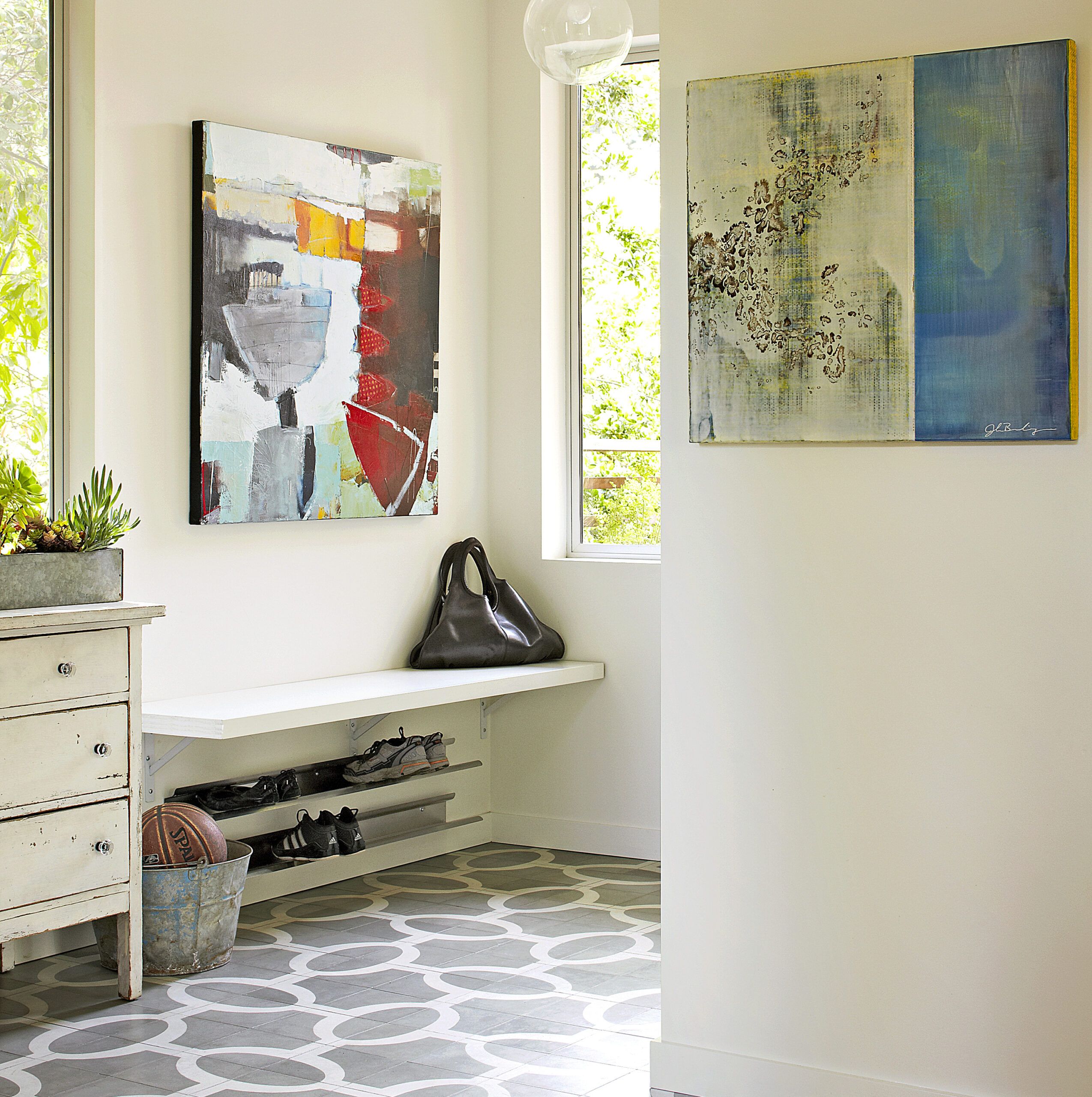 Allison Bloom, an interior designer in San Francisco, believes you can outfit the entry with a boot-and-shoe drop-off zone and still provide a warm welcome. These floating shoe racks keep gunk off of the floor and are space savers, to boot! Learn how to do it.