Choose Patio Pavers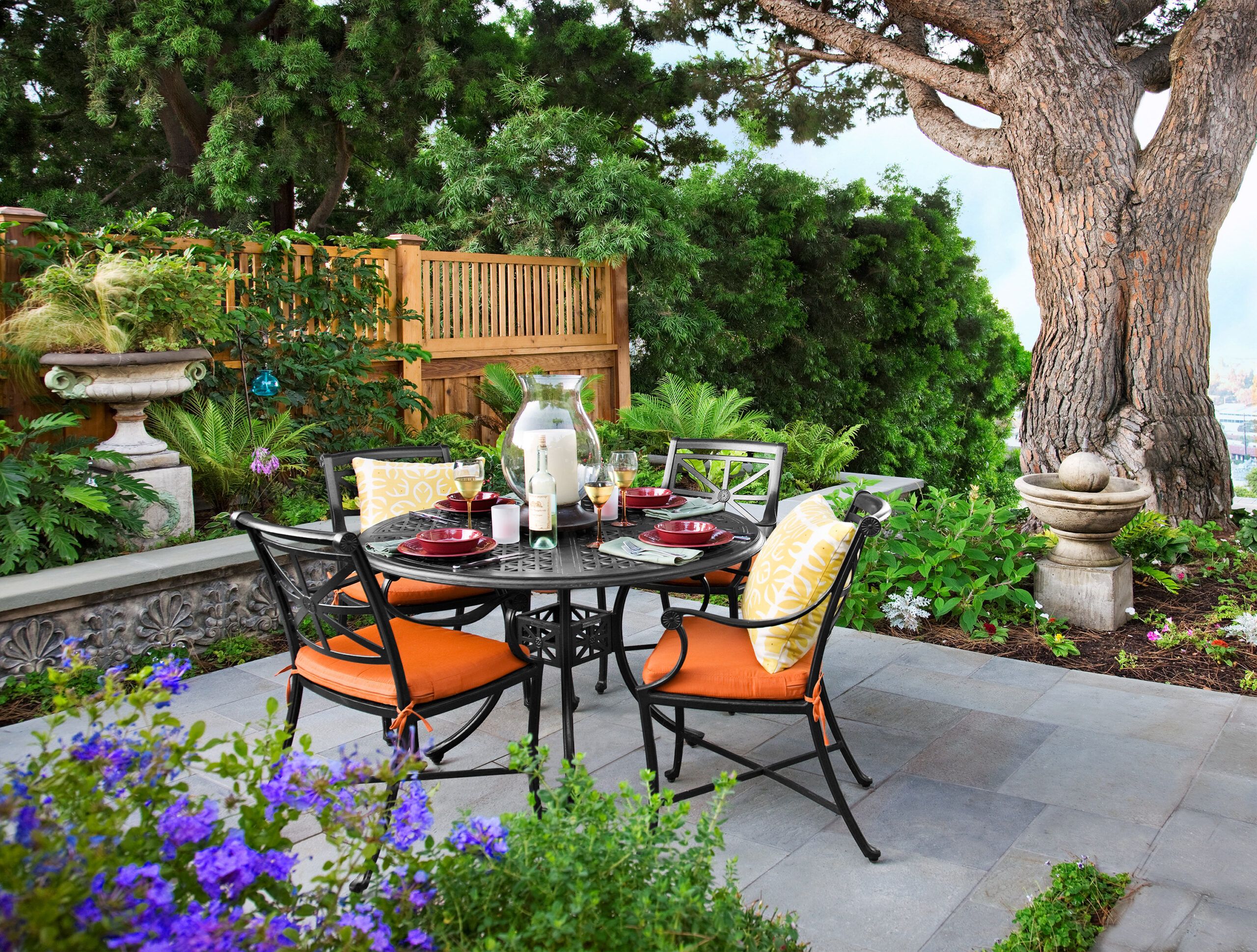 Paver, pebble, concrete—the patio material matters. Here, landscape designer Kate Wiseman of Sage Outdoor Designs, in San Diego, California, chose formal square-cut bluestone to set off the patio from its woody environs.
Get bluestone pavers at stone yards for about $8 per square foot, uninstalled.
RELATED: Build a Slate Patio
Dress Up Sitting Walls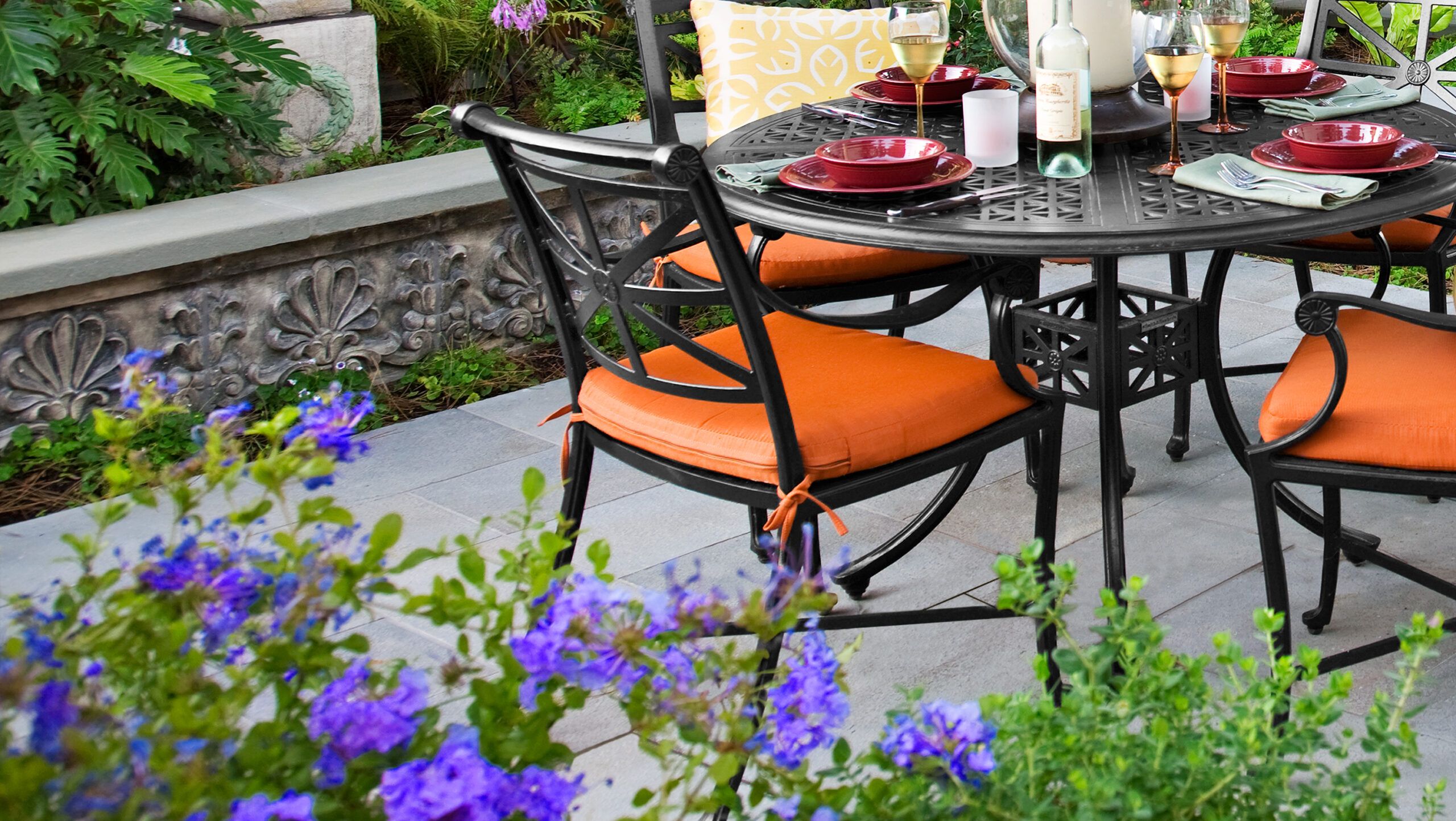 Patterned blocks transform boring borders. Here, a sitting wall topped with bluestone was made with cast-concrete blocks styled after architectural cornice sections.
Find real facade fragments at salvage yards, starting at about $25 per piece.
RELATED: How to Build a Sitting Wall; All About Retaining Walls
Choose Easy-Care Furnishings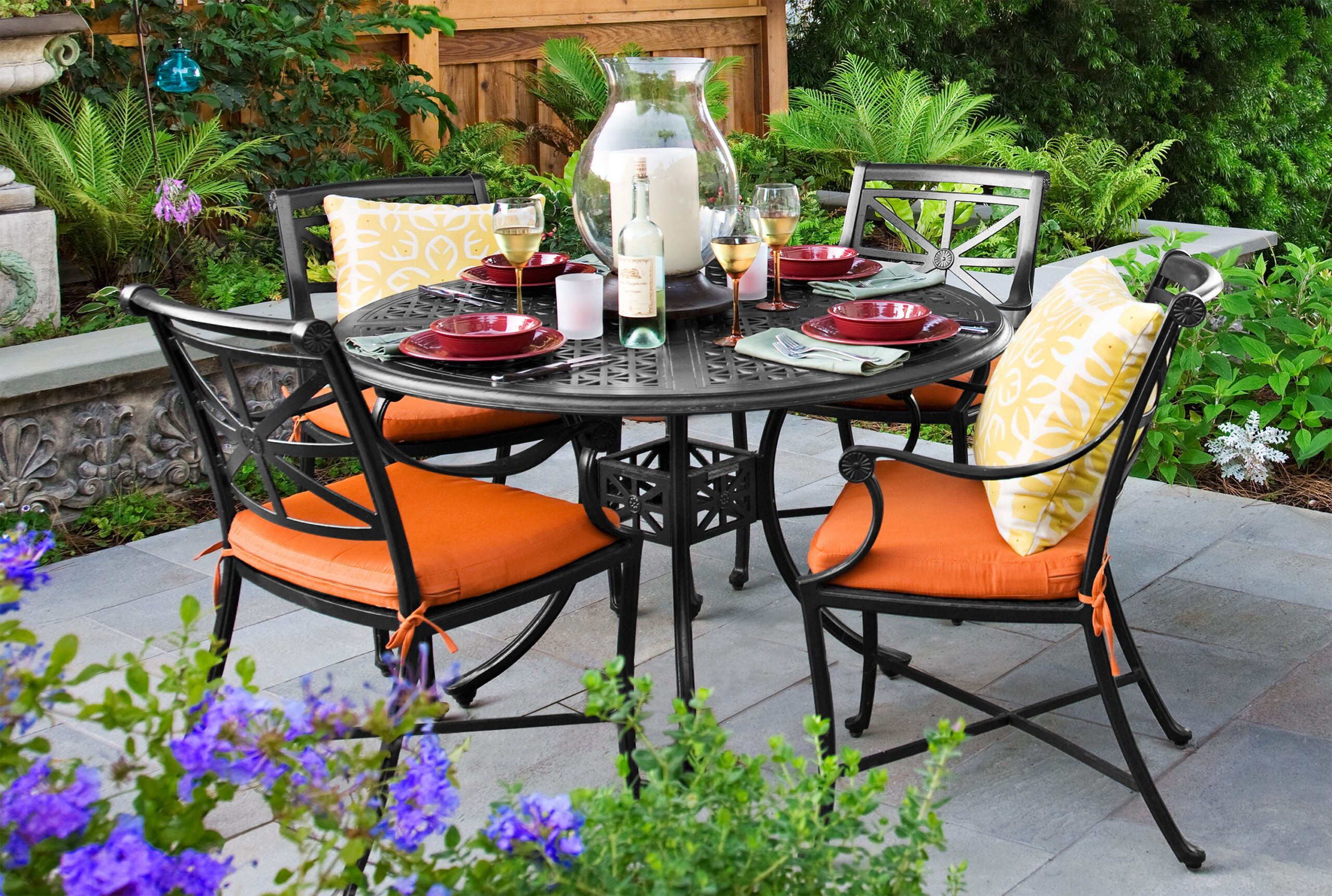 All-weather metal, wood, and wicker are the go-tos. A cast-aluminum set won't rust and so requires less upkeep than look-alike painted cast iron.
We like Princeton Collection's four chairs plus 43-inch round table, about $1,280; Signature Hardware.
RELATED: Fight Metal Patio Furniture Fatigue; Prep Patio Furniture
Add Fences for Privacy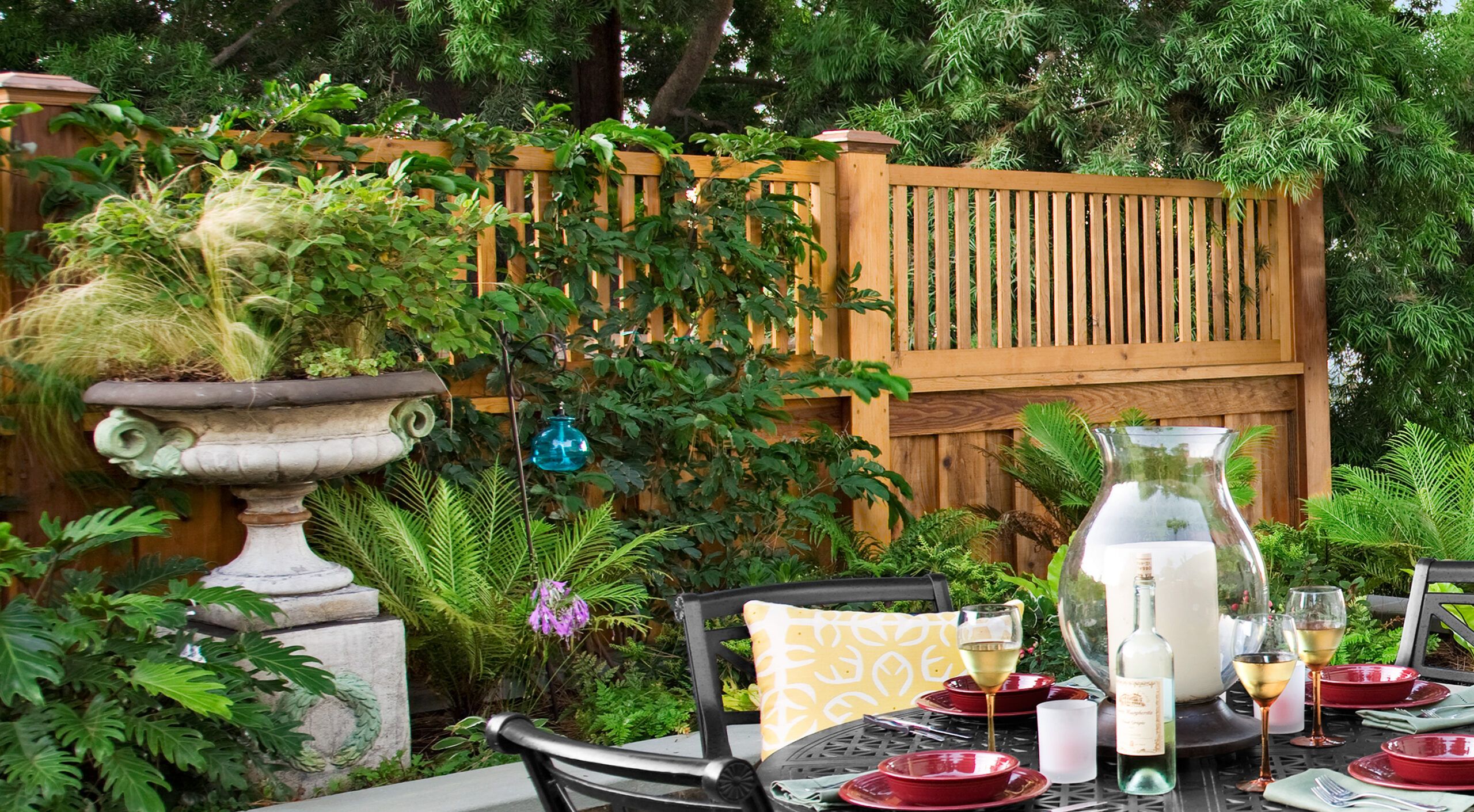 This panel fence by Prowell Woodworks Inc. has slats on top to secure seclusion but preserve the view.
A prefab version, such as the Western Red Cedar Checker Lattice Top fence kit, does the job for about $99 per 6-by- 6-foot panel; The Home Depot.
RELATED: 10 Ways to Add Privacy to Your Yard; How to Build a Privacy Planter
Add Decorative Accents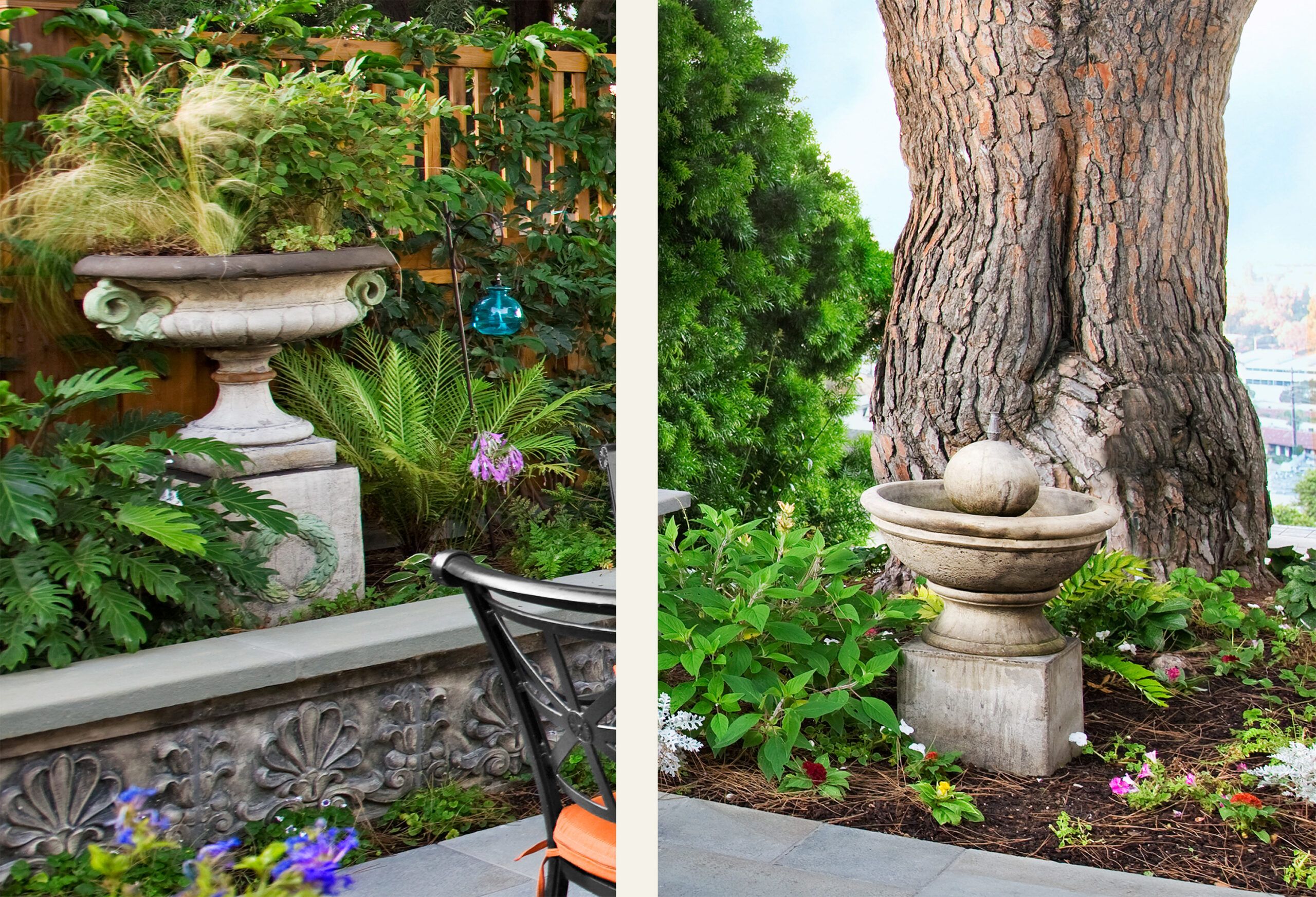 Station decorative accents, such as planters and fountains, in garden beds beyond the perimeter of a patio floor to make a small area feel larger.
Similar to shown: Low Grecian Urn, about $89; Ballard Designs; M-Series Sphere Fountain, about $225; Specialty Fountains
RELATED: How to Make a Garden Fountain
Include a Hearth Outside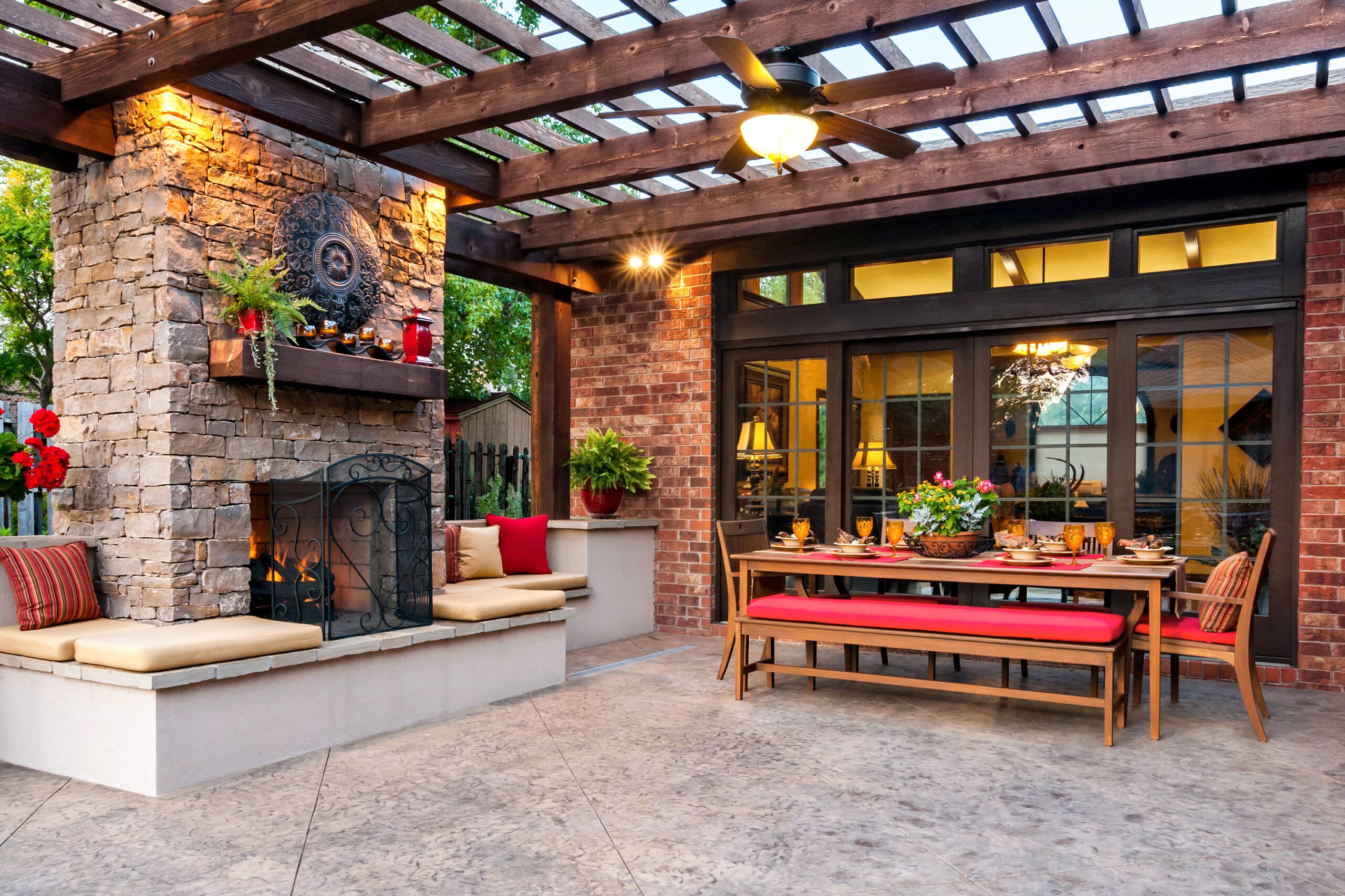 A cozy fireplace extends the outdoor-living season. No budget for a custom hearth?
Try one you can assemble in a day, like the Rockwood Colonial Outdoor Fireplace kit, about $3,000 for a 40-inch-wide-by-32-inch-deep-by-70-inch-tall unit; Woodland Direct.
Pour a Concrete Floor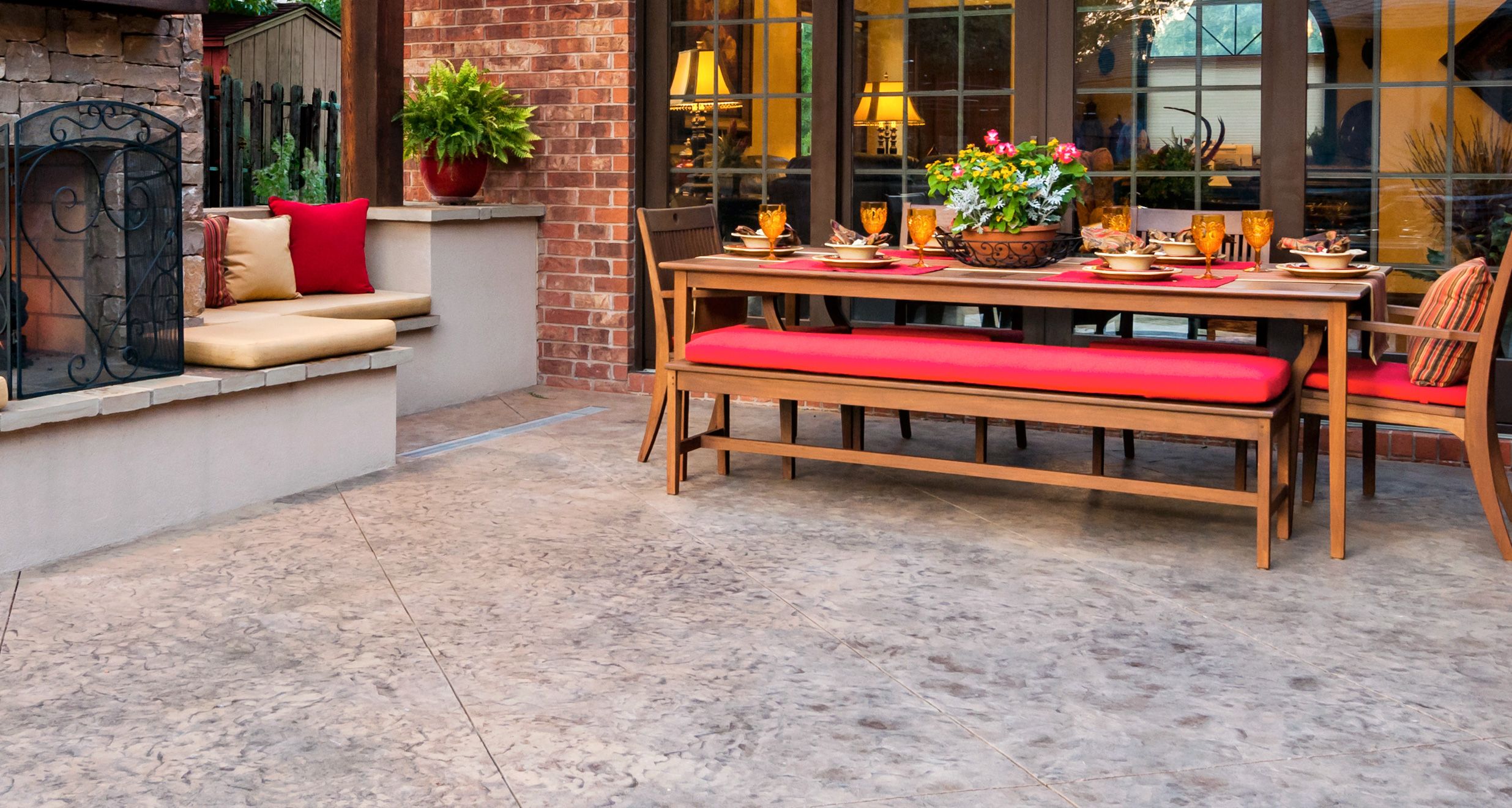 Stamped and tinted to resemble slate tiles, this poured-concrete patio is seamless and so simple to maintain. It's also easy on the wallet at about $8 to $12 per square foot, installed; visit ConcreteNetwork.com to find a pro near you.
RELATED: How to Resurface Worn Concrete
Outdoor Ceiling Fan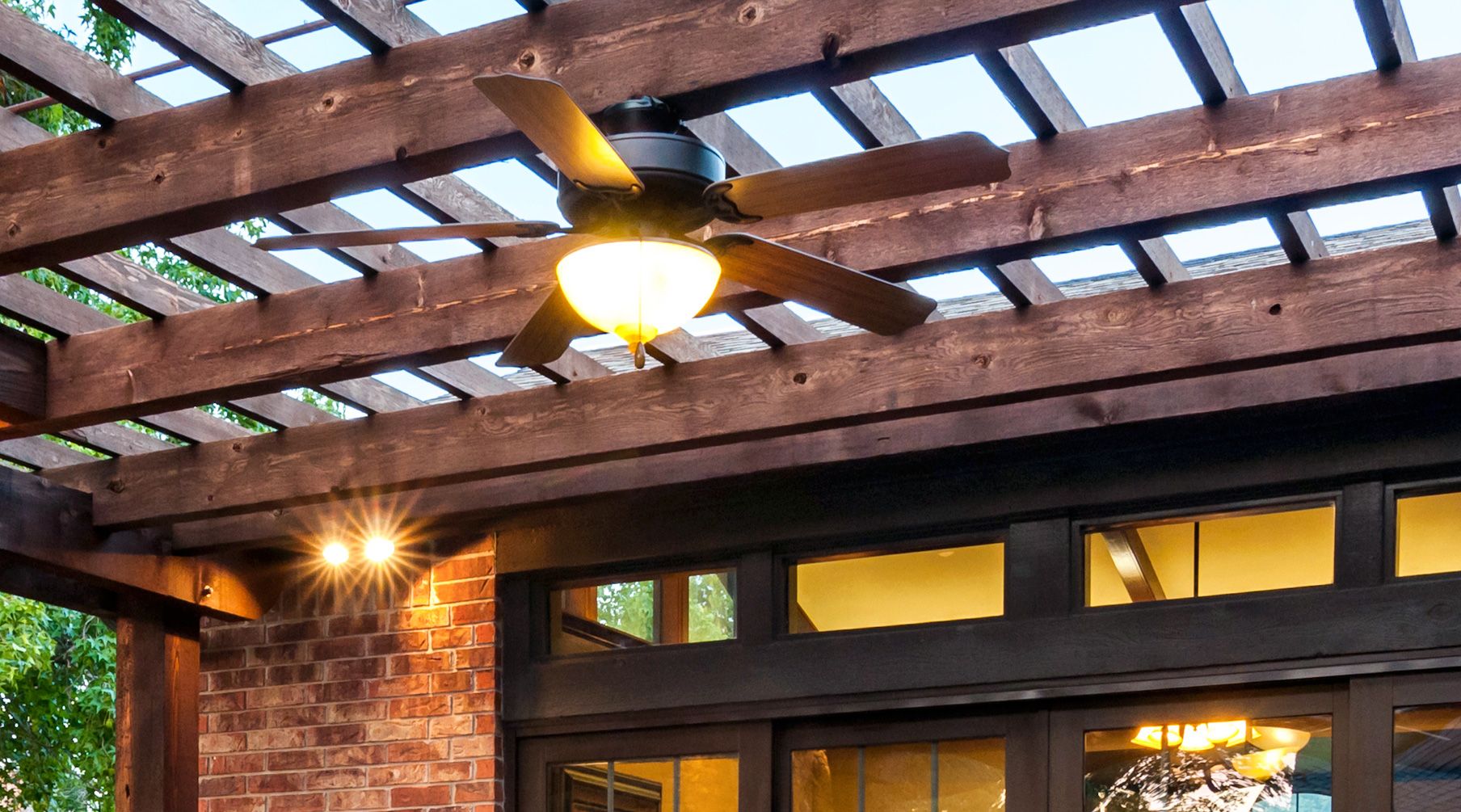 A ceiling fan gets air moving on even the hottest days. Consider a version with a light kit to continue the party after the sun goes down.
Similar to shown: 52-inch Hunter Matheston Outdoor Ceiling Fan, about $229; Lamps Plus
Create a Living Canopy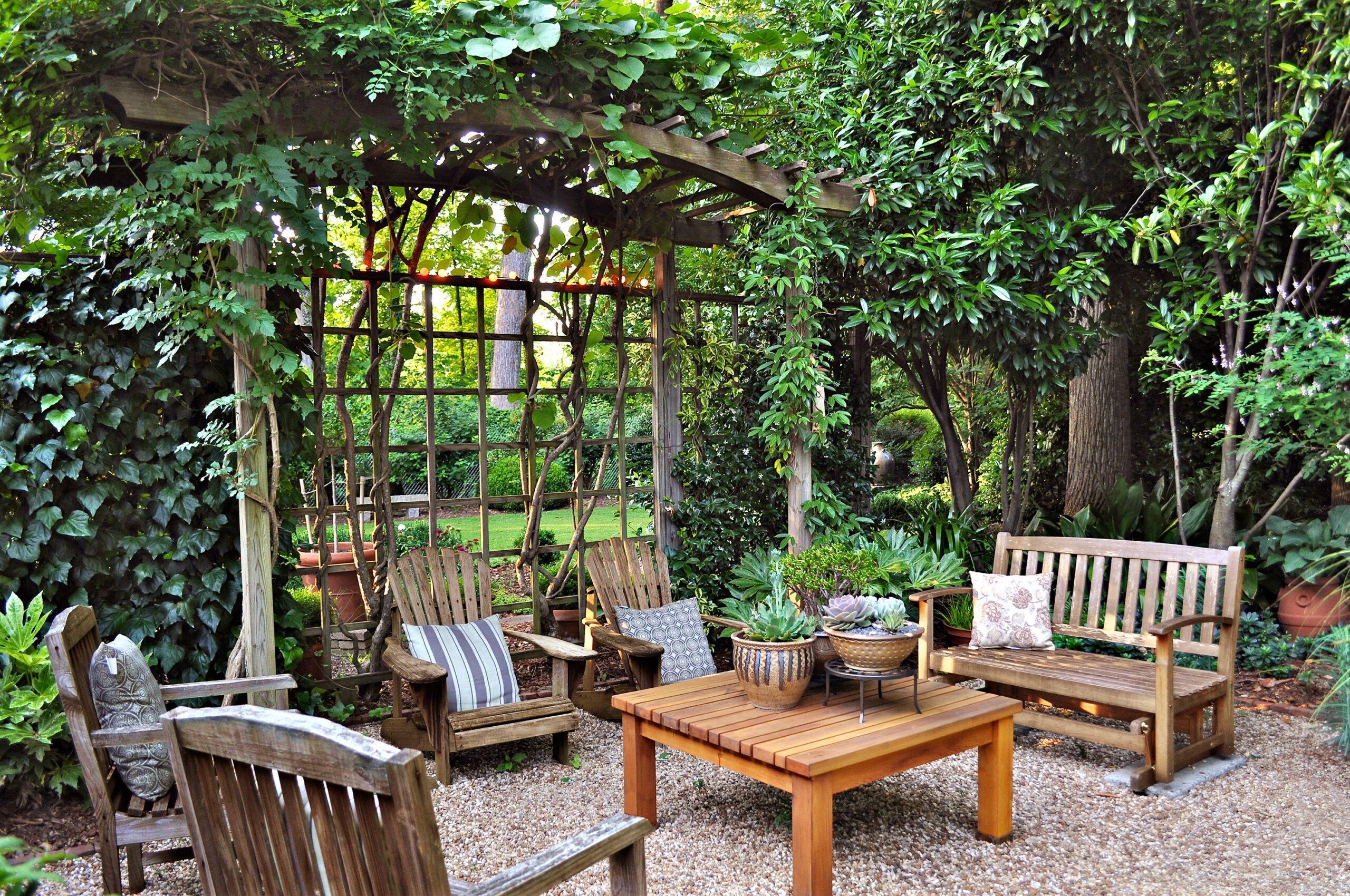 A wood arbor draped with leafy vines offers dappled shade and some protection from a sudden summer rain shower. Create your own verdant backyard retreat, starting with a Coral Coast Halstead Wood Garden Arbor, about $280; Hayneedle.
Then complete it with a few fast-growing golden hops vines, which we like for their chartreuse foliage; about $8.75 per bare-root plant; Hallson Gardens.
Plant a Tabletop Garden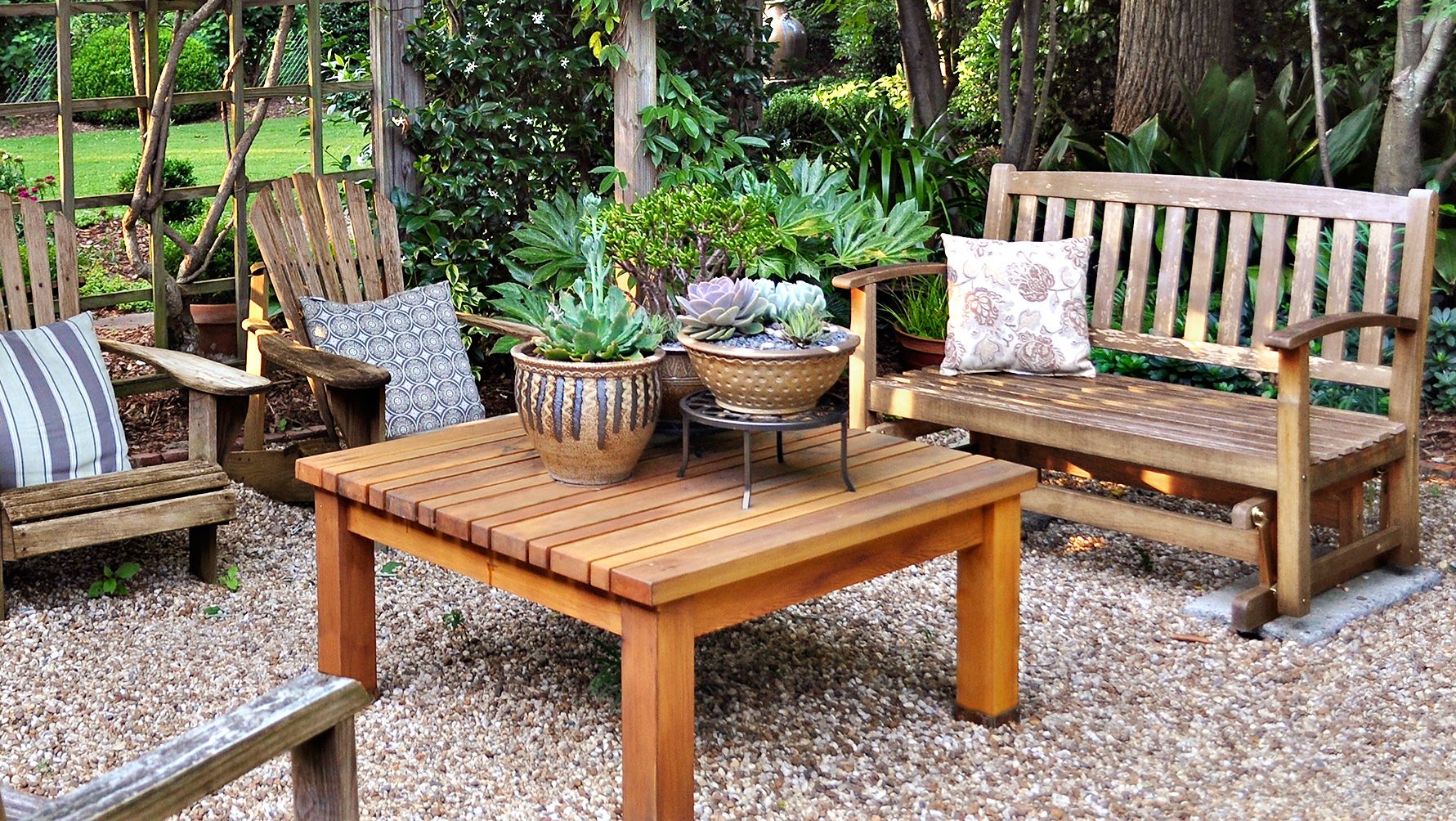 Cluster bowls of hardy succulents for a stylish, no-fuss centerpiece to enjoy year-round.
Get a head start on your container display with the DIY Dish Garden, $26 for a colorful assortment of 10 bare-root plants to arrange in your own pots; Etsy.
RELATED: Give Tables a Built-in Centerpiece; How to Make a Hypertufa Planter Table
Add an Easy Gravel Floor

Pour pea gravel into a frame made from steel edging sunk into the soil. Support seat legs on concrete pavers, as shown here, to prevent sinking into the gravel. Multicolor pea gravel, about $4 for a 50-pound bag; at stone yards. Concrete pavers, from $2 per piece; The Home Depot.
RELATED: How to Lay a Gravel Path
Accentuate of Existing Features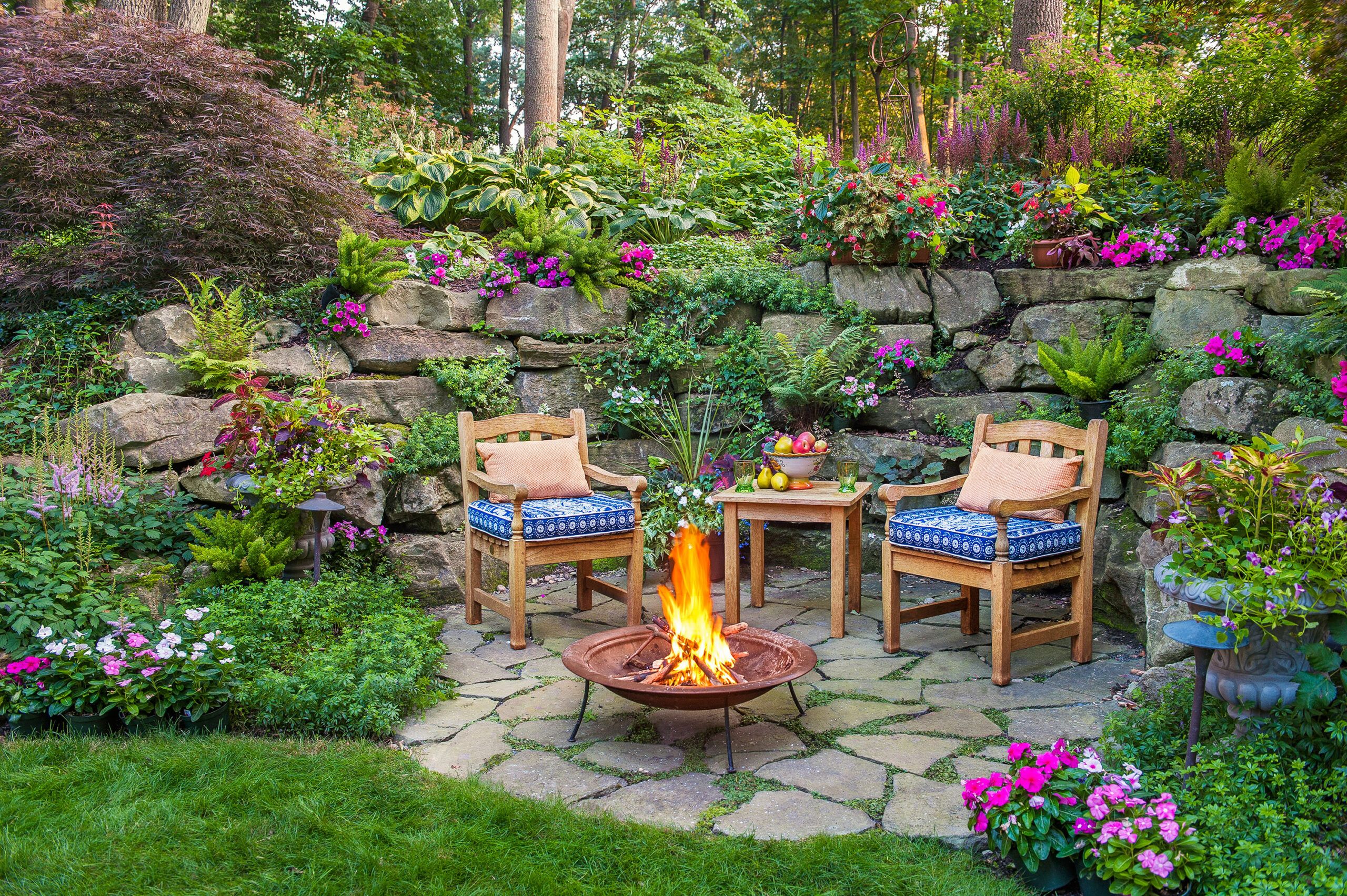 An old stone wall creates a grotto-like feel for this flagstone patio, plus welcome shelter from the wind. The side of your garage or a shed can also offer a protective, ready-made wall.
Plant a Rock Garden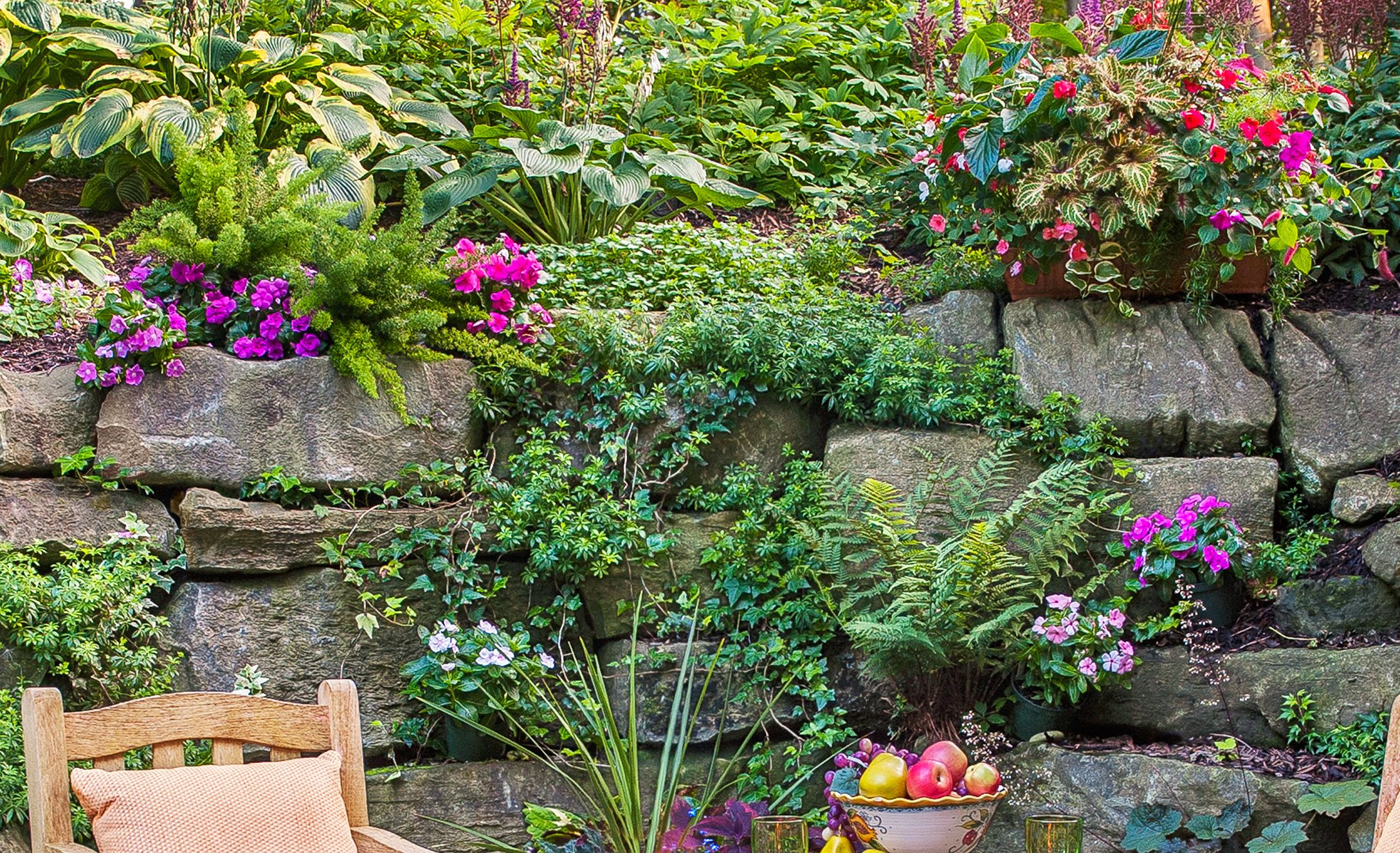 A walled enclosure needn't mean a plain backdrop. Try adding foliage to soften the surroundings. With a stone wall, plant in the crevices; small root systems work best in shallow pockets. Include colorful blooms that help brighten an otherwise dark area.
RELATED: How to Install a Living Wall
Fire Pit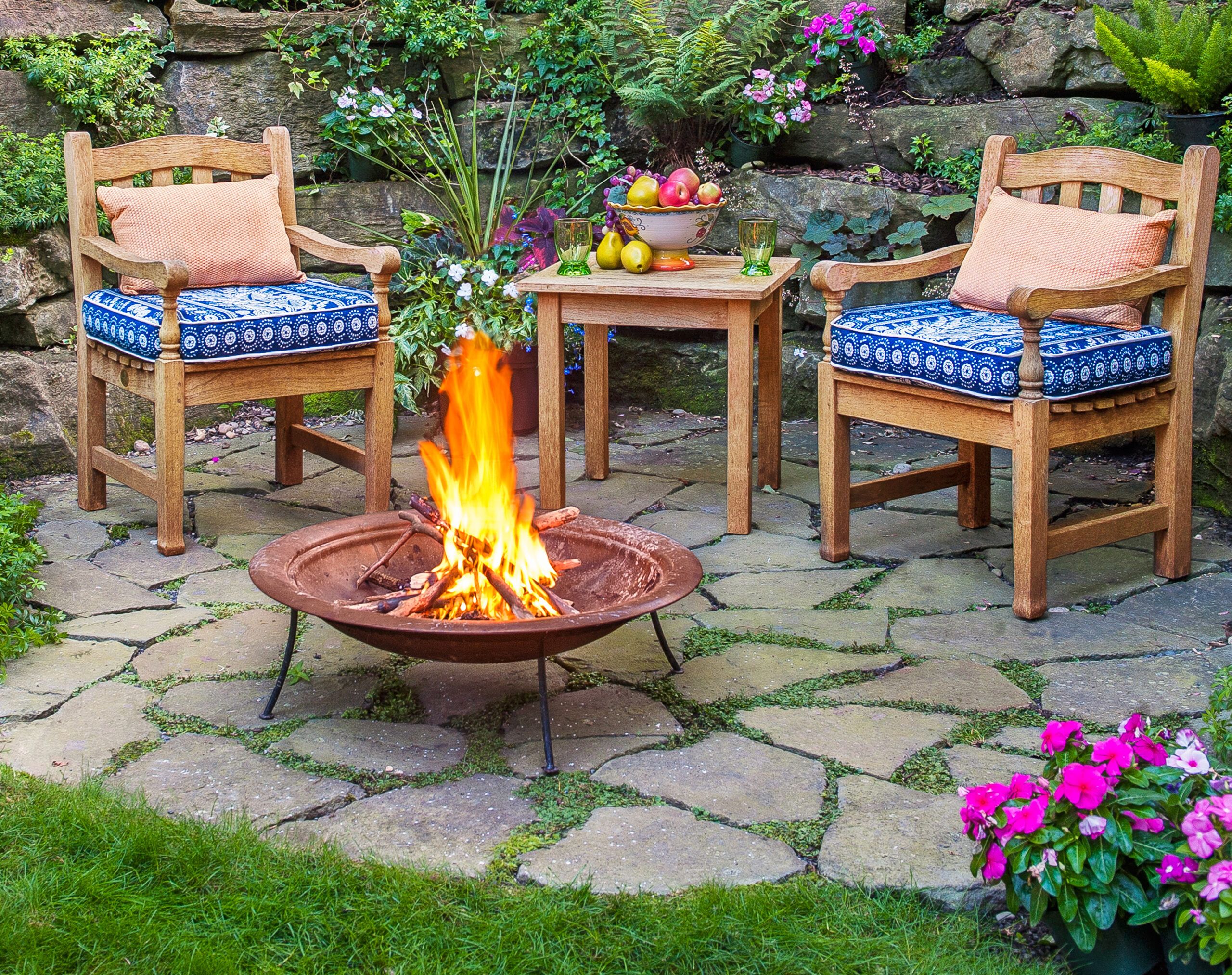 A prefab fire bowl casts off the chill of a summer evening for far less coin than a built-in fireplace. You can also move it where and when you want.
We like the warm glow (even when it's not lit) of the Copper Fire Pit by Good Directions, about $658; Wayfair.
Flagstone Patio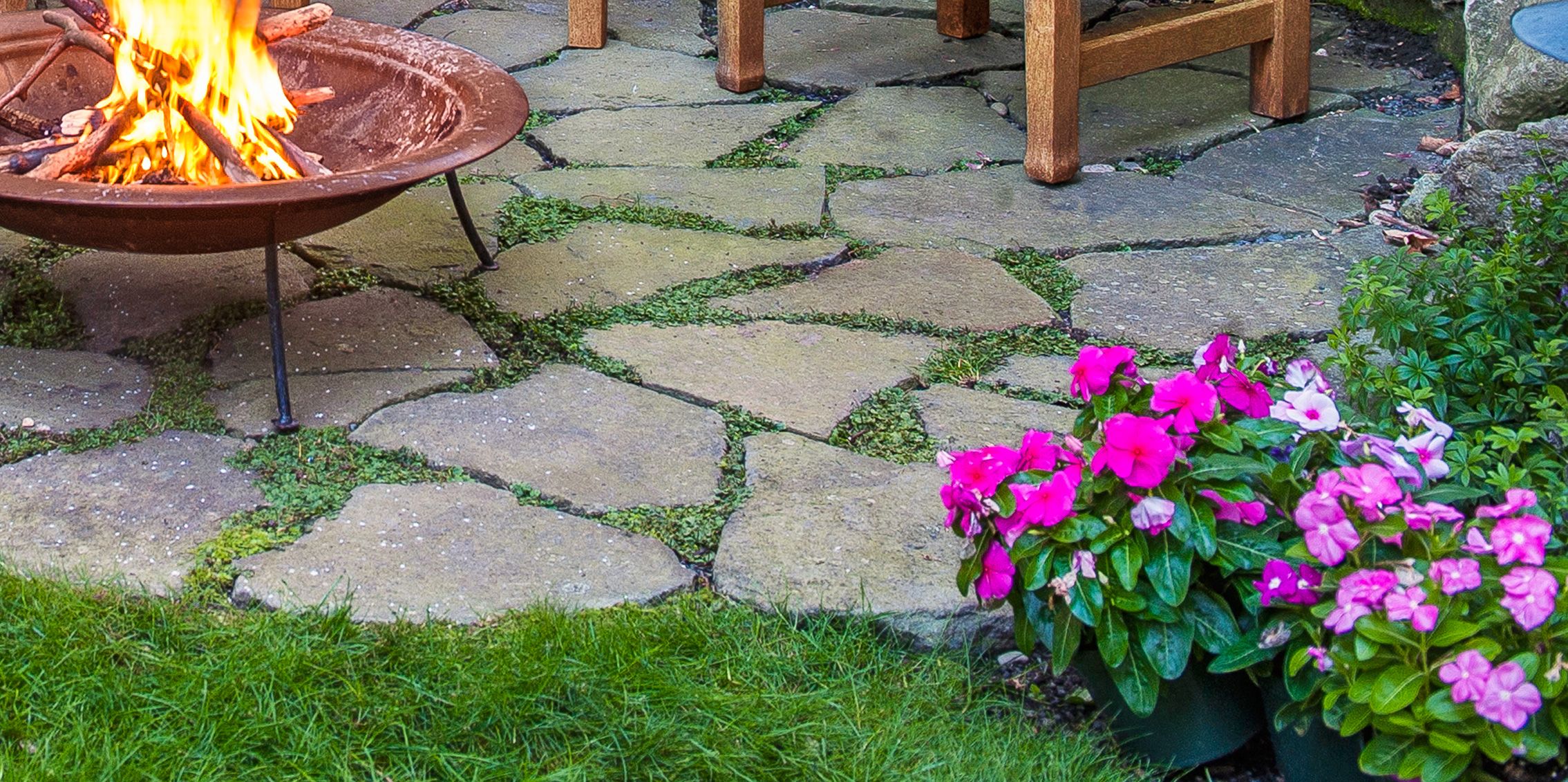 Flagstones in random shapes and sizes fit together like puzzle pieces for an organic look that complements the natural surroundings.
Flagstones, about $4 to $9 per square foot; at stone yards
RELATED: How to Lay a Bluestone Patio
Add Screening to Prevent Pests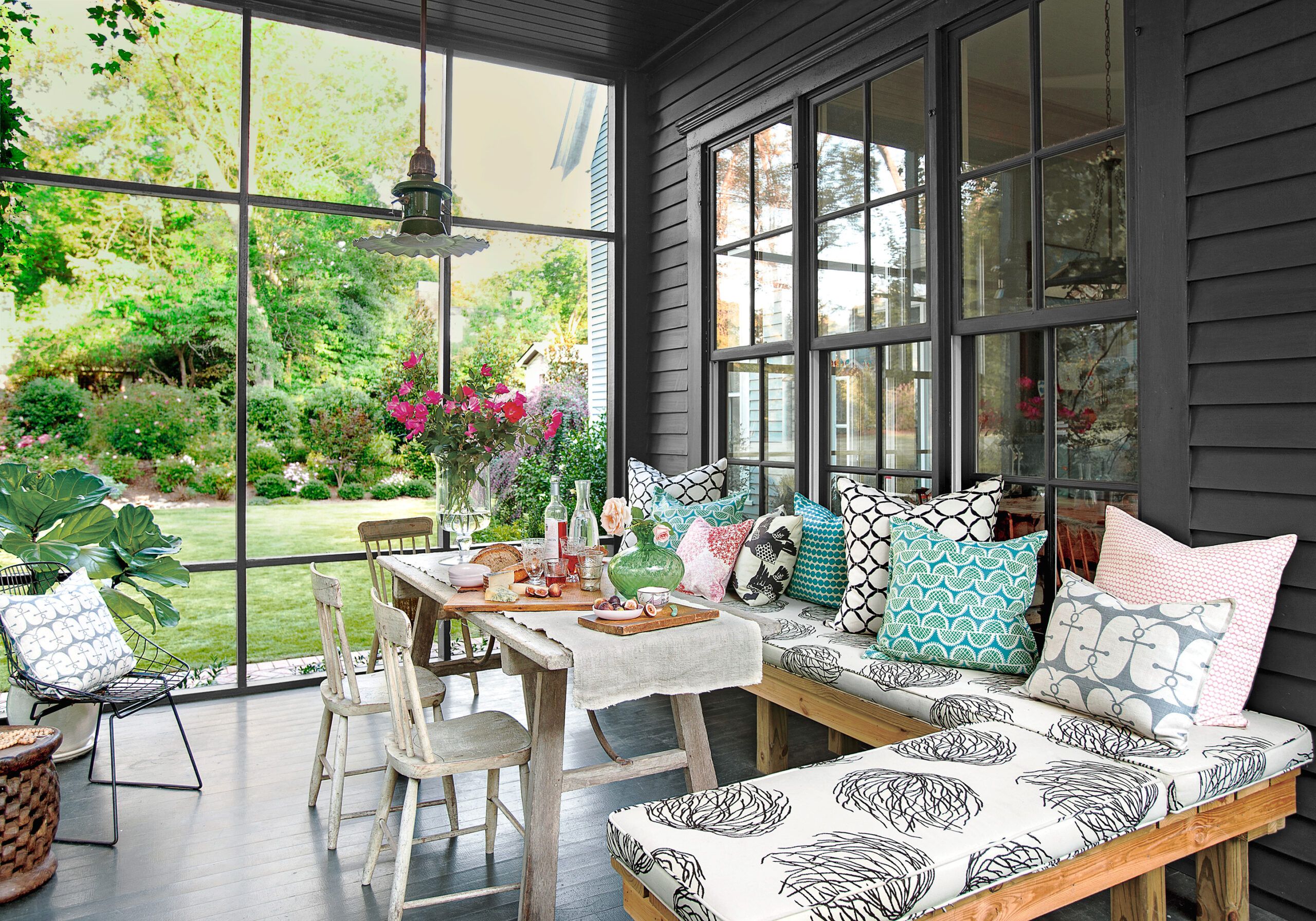 Porch screen panels prevent buzzing bees and biting mosquitoes from ruining your outdoor retreat. Hire a pro or install your own, using made-to-order screens, starting at about $104 for a 36-by-96-inch aluminum-framed porch panel with BetterVue fiberglass screen material; Metro Screenworks.
Sew Cushion Covers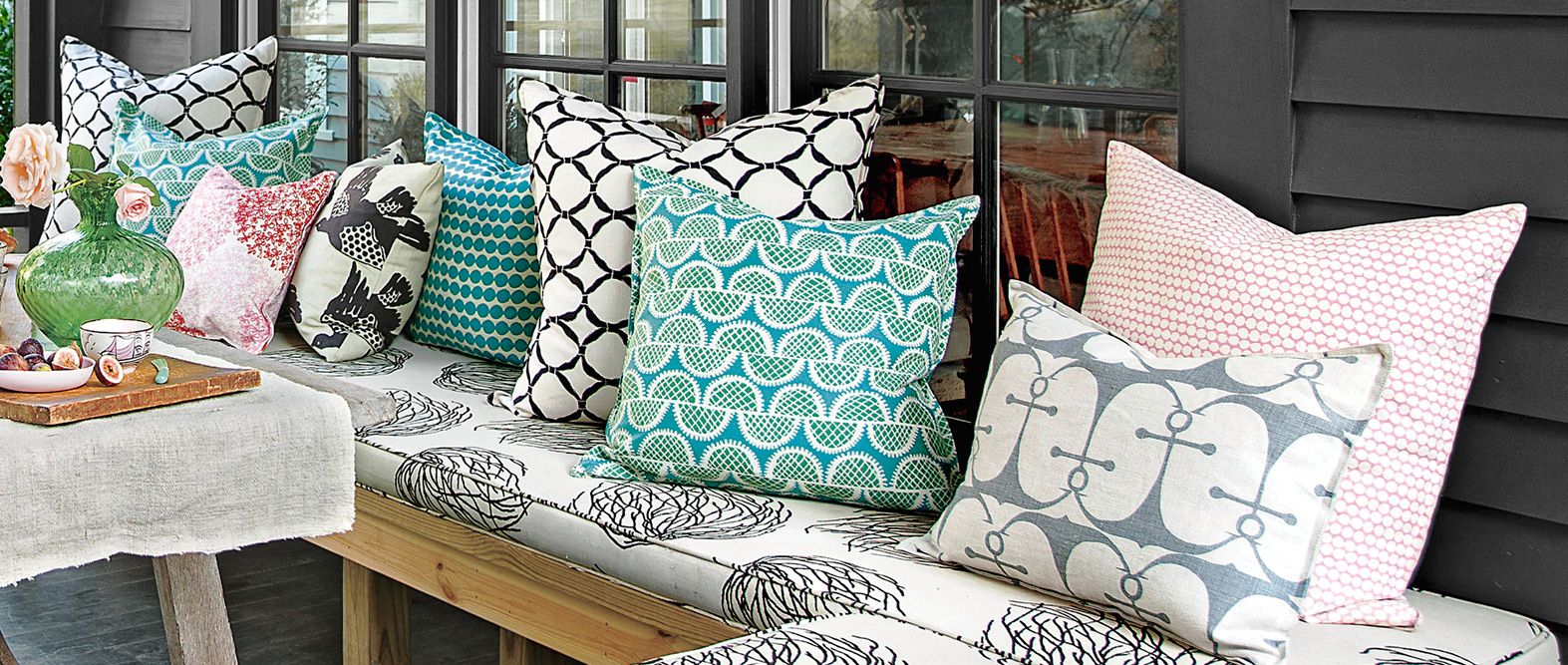 DIY seat pads and pillows in colorful prints offer more personality than store-bought sets. For summer-themed patterns like these, we like the indoor/outdoor polyester fabrics by Premier Prints, about $9 per yard; Fabric.com.
Space-Saving Seats
You can squeeze more diners at a table with benches in place of chairs. Here, backless banquettes topped with cushions provide room for a crowd—or an impromptu nap. Assemble your own from a kit like the Dyer Brook cedar picnic bench by Loon Peak, about $115; Wayfair.
Install Shutters Outside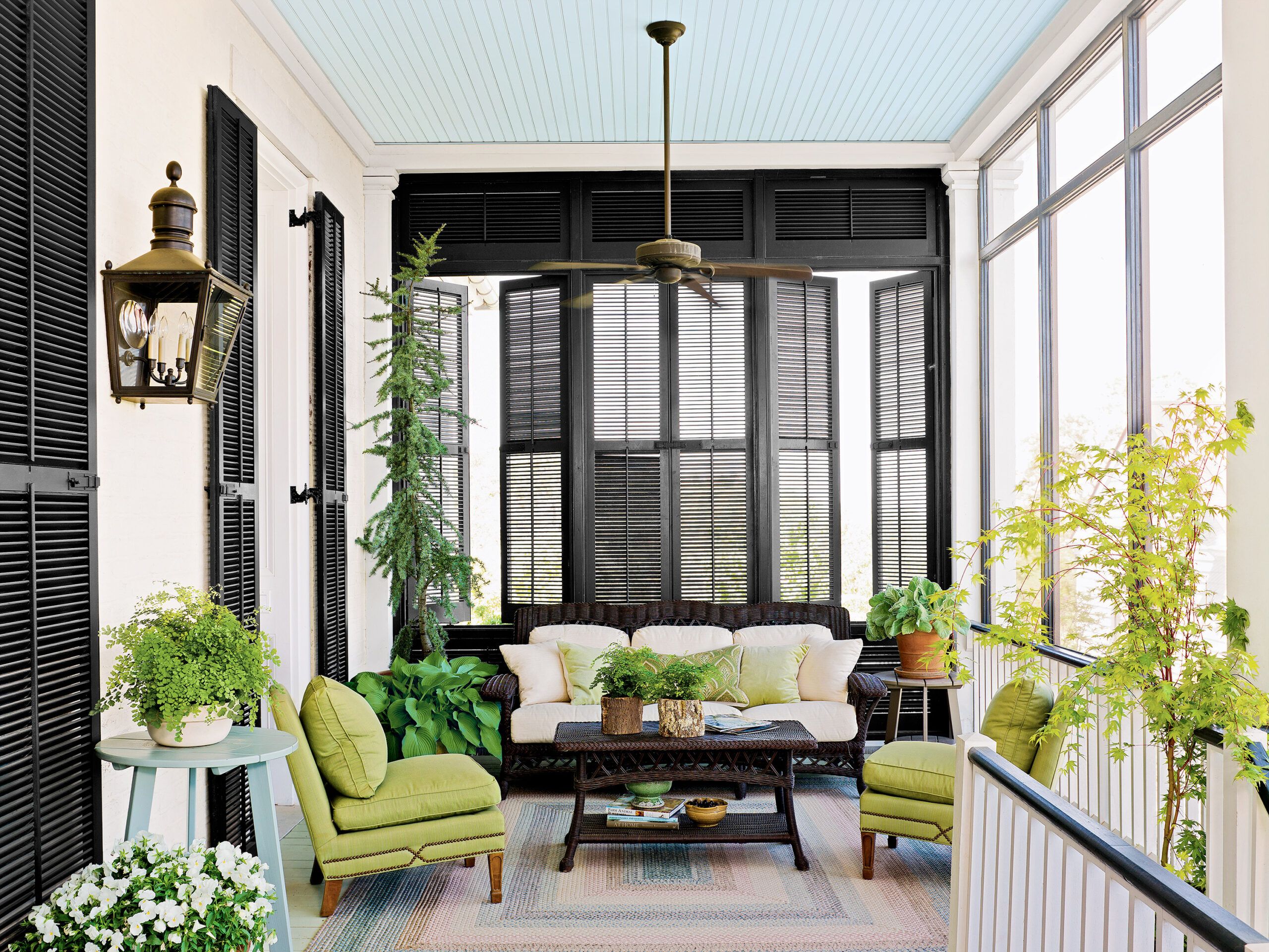 When the sun's intense or the wind whips, louvers let you control the amount of light and air you allow in. Traditional, exterior wood shutters like these start at about $194 per pair; ArchitecturalDepot.com.
RELATED: How to Install Interior Shutters, How to Install Exterior Shutters
Potted Plants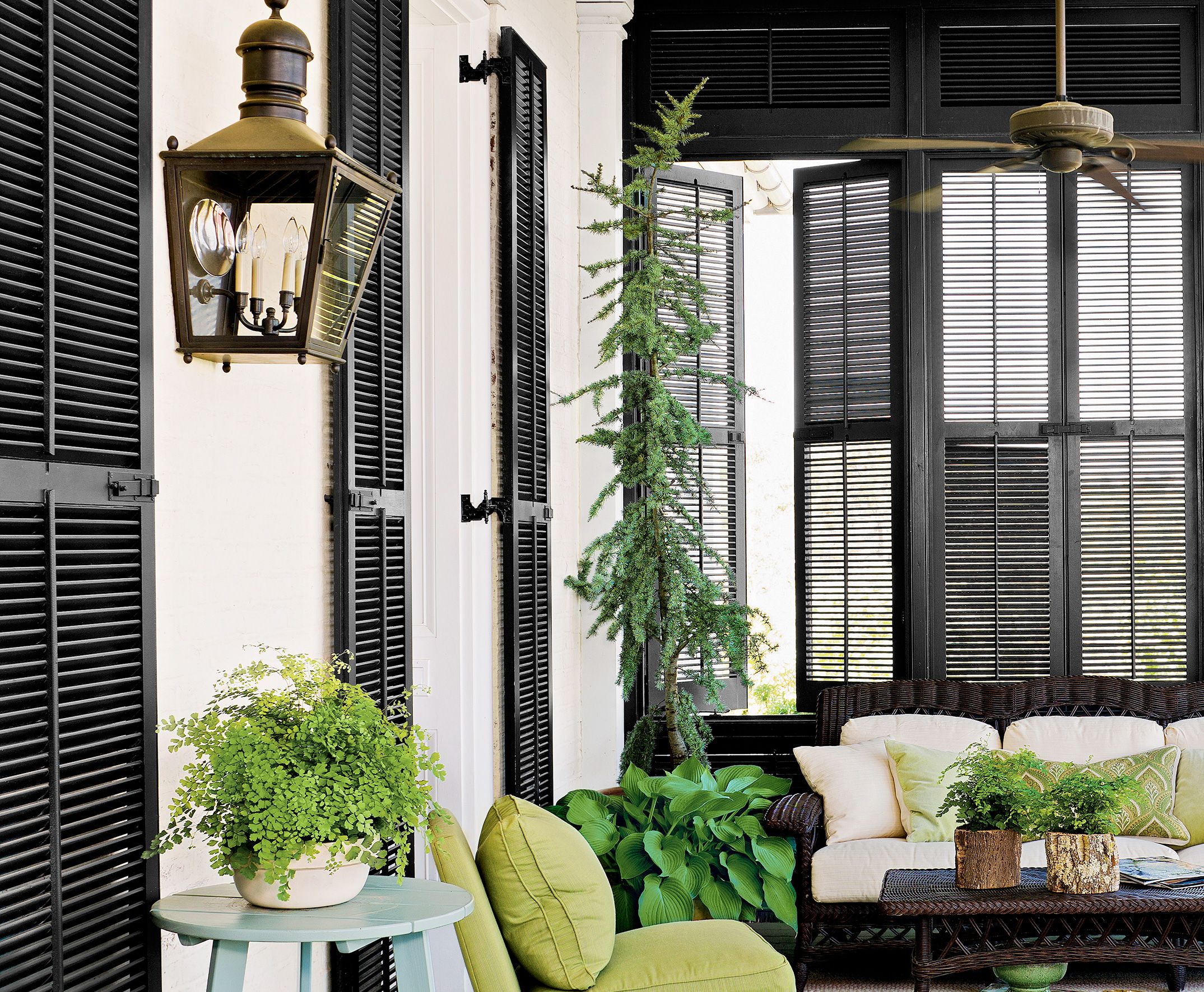 Potted plants ease the transition between a porch and its surroundings. Here, plants by the sofa and on tables lend verdant ambience, and a columnar evergreen adds height. For areas with indirect sunlight, we like the hosta Shadowland, about $20; White Flower Farm, and slender Hinoki false cypress, about $43; Monrovia.
Use Outdoor Rugs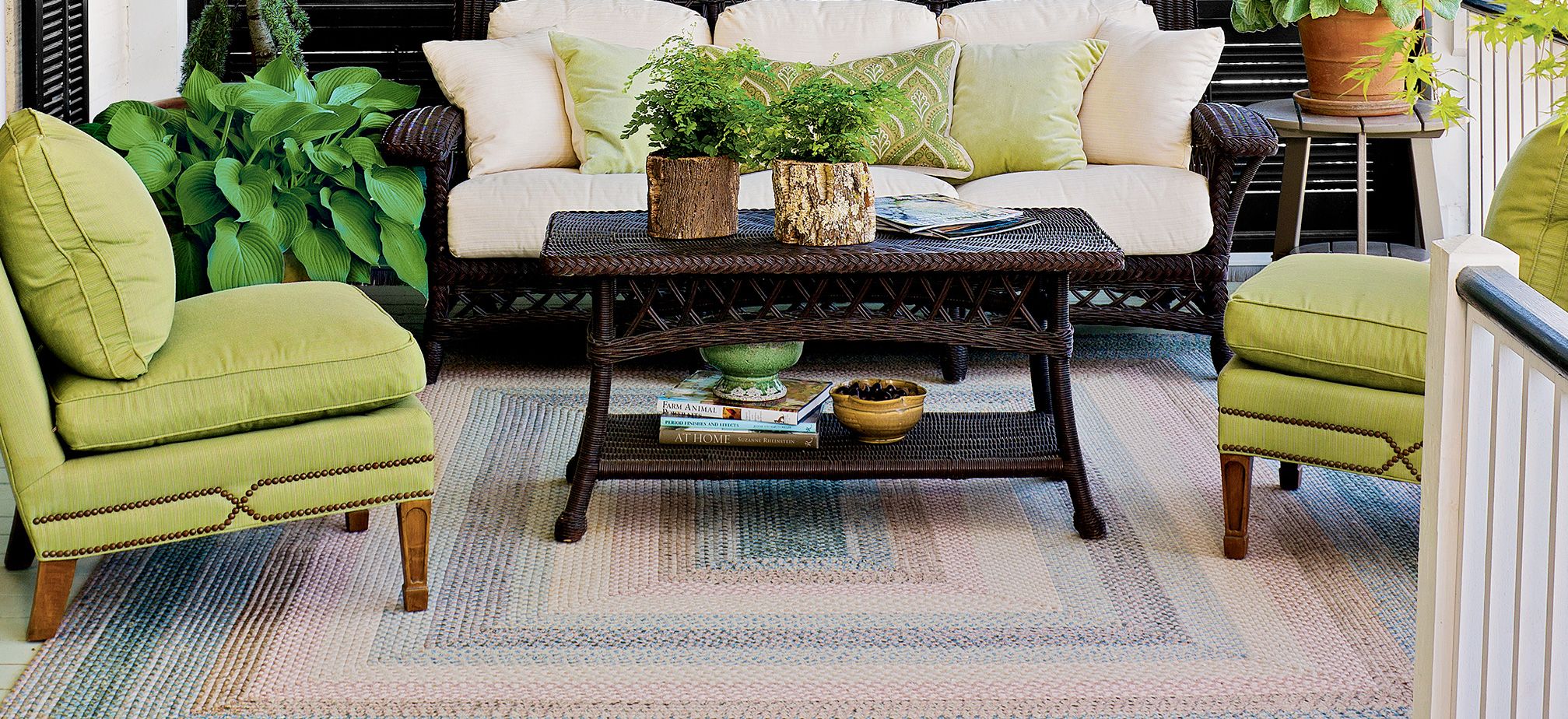 An easy-clean outdoor carpet softens the floor and defines the seating area.
Similar to shown: Safavieh Hand-Woven Indoor/Outdoor Reversible Multicolor 6-by-6-foot Braided Rug, about $95; Overstock. Thanks to P. Allen Smith Garden Associates, Little Rock, AK.
RELATED: Our Favorite Outdoor Rugs
Plant Some Trees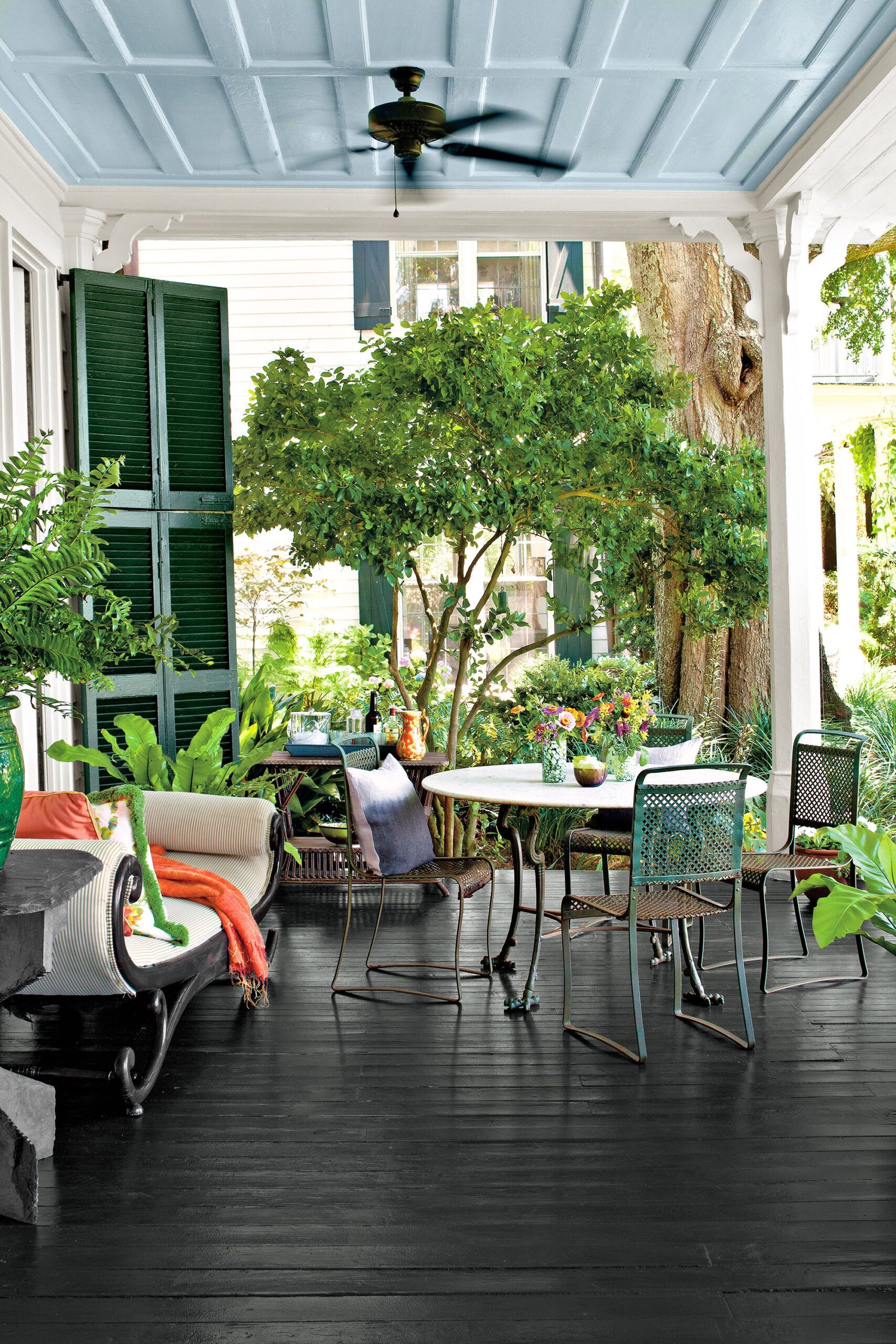 Trees form natural walls around this porch, for privacy and shade. Go for compact ornamentals that won't threaten your foundation with unruly roots or your roof with overhanging limbs.
Similar to shown: 'Natchez' crape myrtle, which tops out at about 30 feet, about $25; Fast-Growing-Trees
Repurpose Indoor Furnishings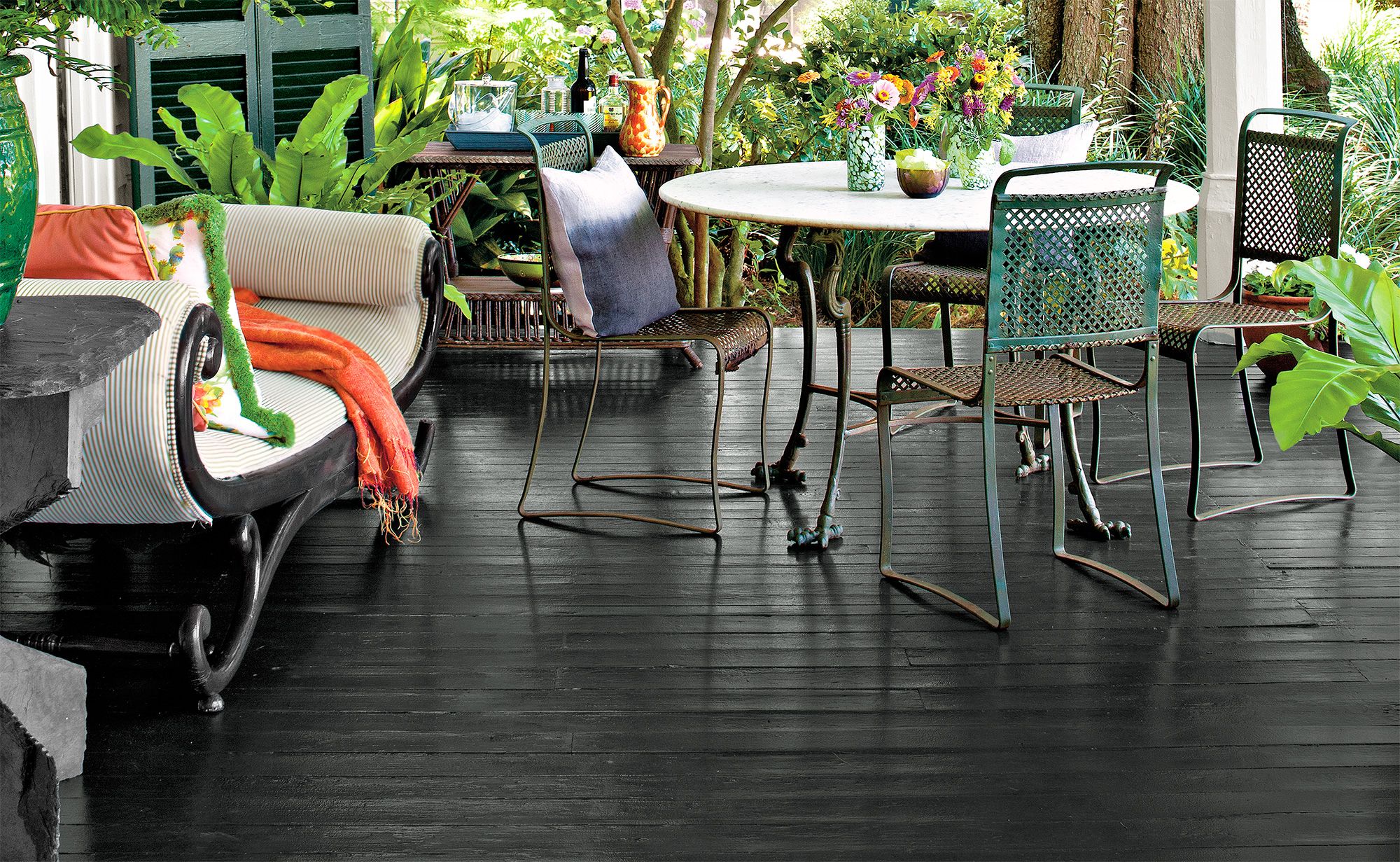 Upholstered pieces can be revived with foam fill and moisture- and fade-resistant fabric to safely live on a covered porch. Expect to pay about $350, not including fabric, to re-cover a chaise like this.
Paint the Floor and Ceiling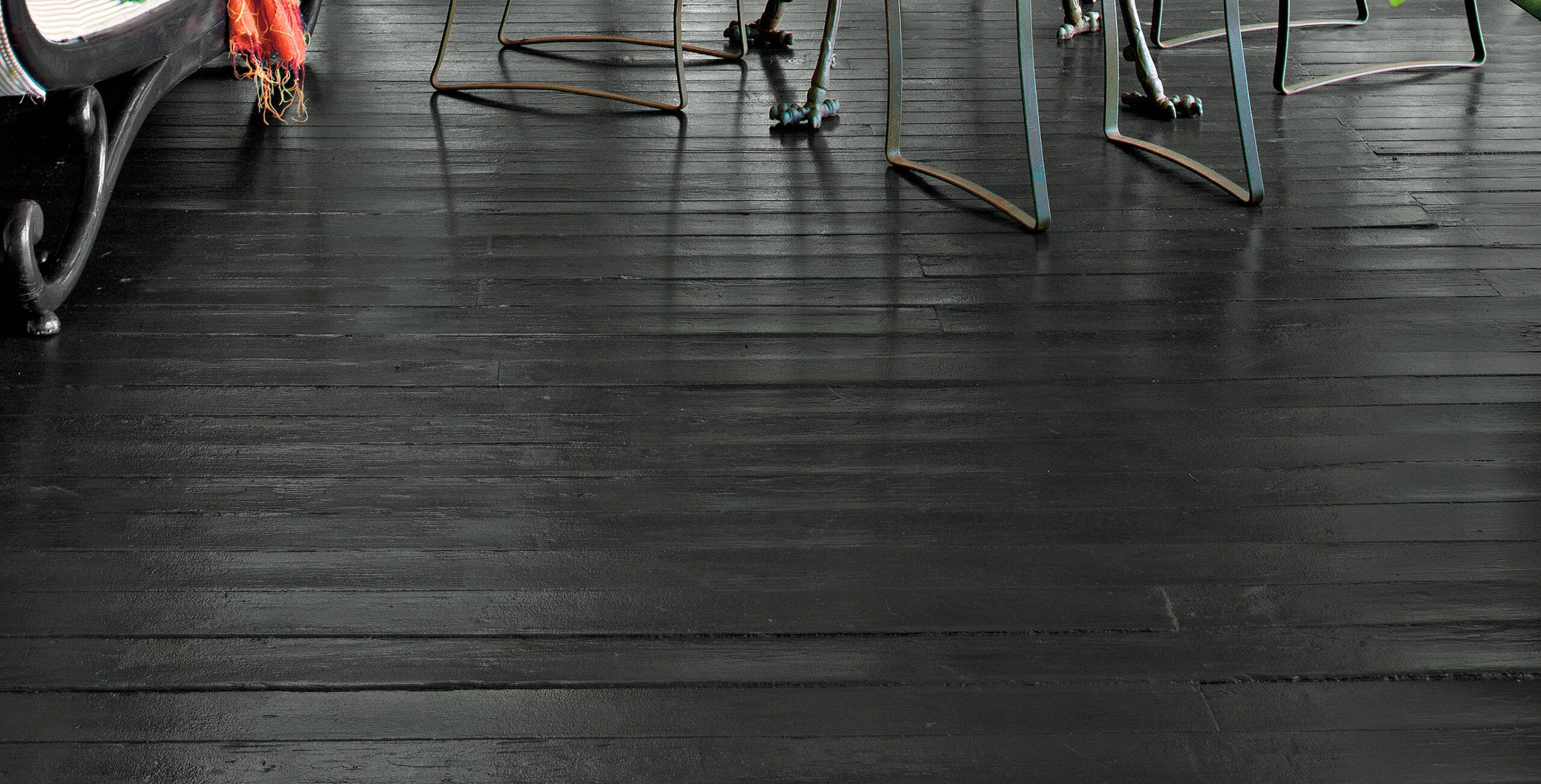 A dark color underfoot has a grounding effect, and a lighter hue overhead feels airy. Legend has it that a sky-blue ceiling, like this one, also wards off bugs!
To match up top, try Emerald Exterior Acrylic Latex Paint in Atmospheric, about $77 per gallon, then finish the floor with Porch & Floor Enamel in Jasper, about $61 per gallon; both, Sherwin-Williams.
RELATED: 5 Ways to Paint a Porch Floor
Install a Porch-Style Deck Perimeter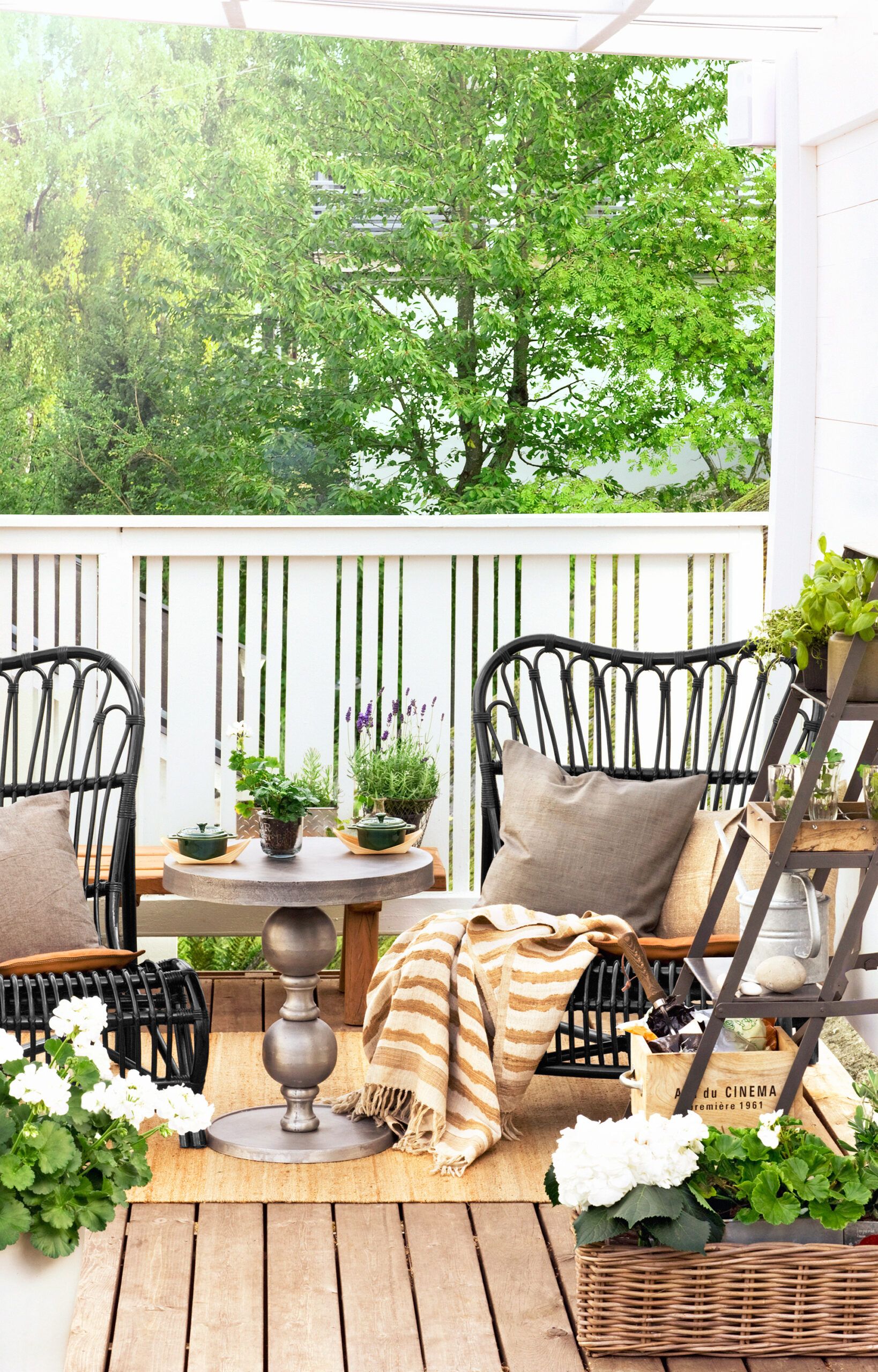 Just in time for outdoor summer gatherings: Build your own custom-look deck railing with a kit from Western Spindle that includes two sizes of square balusters, a rail system, and installation hardware, about $469 for an 8-foot section; Western Spindle.
Weatherize Furniture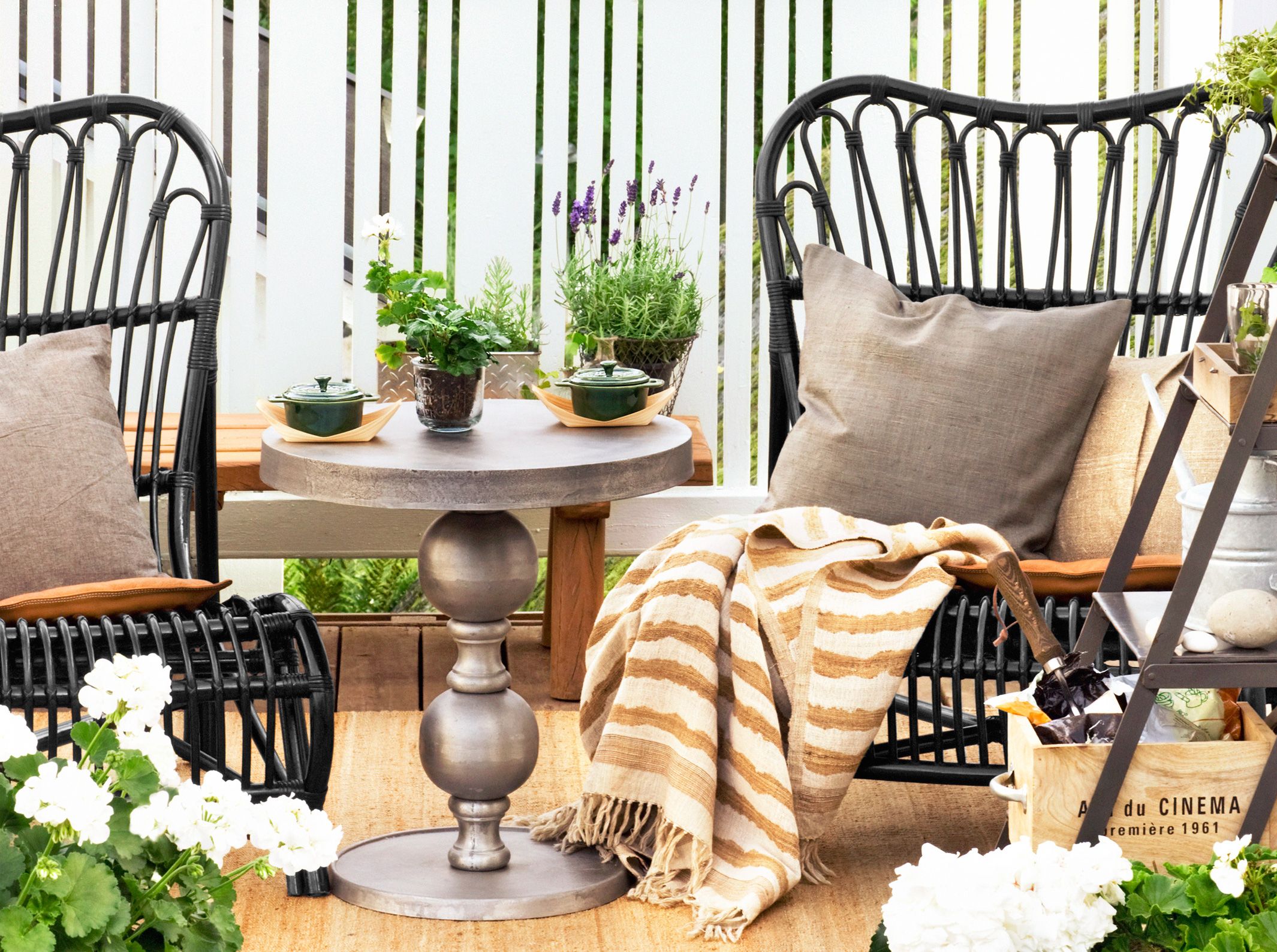 Most wood or rattan pieces made for indoor use can safely survive outside as well when sprayed with a protective top coat.
Similar to shown: Storsele rattan armchairs, about $119 each; IKEA; with Valspar Clear Indoor/Outdoor Spray Paint, about $3.98; Lowe's.
Powell Company End Table, about $295; Target; with Rust-Oleum's Metallic Silver Indoor/Outdoor Spray Paint, about $4.15; Lowe's
Plant a Vertical Herb Garden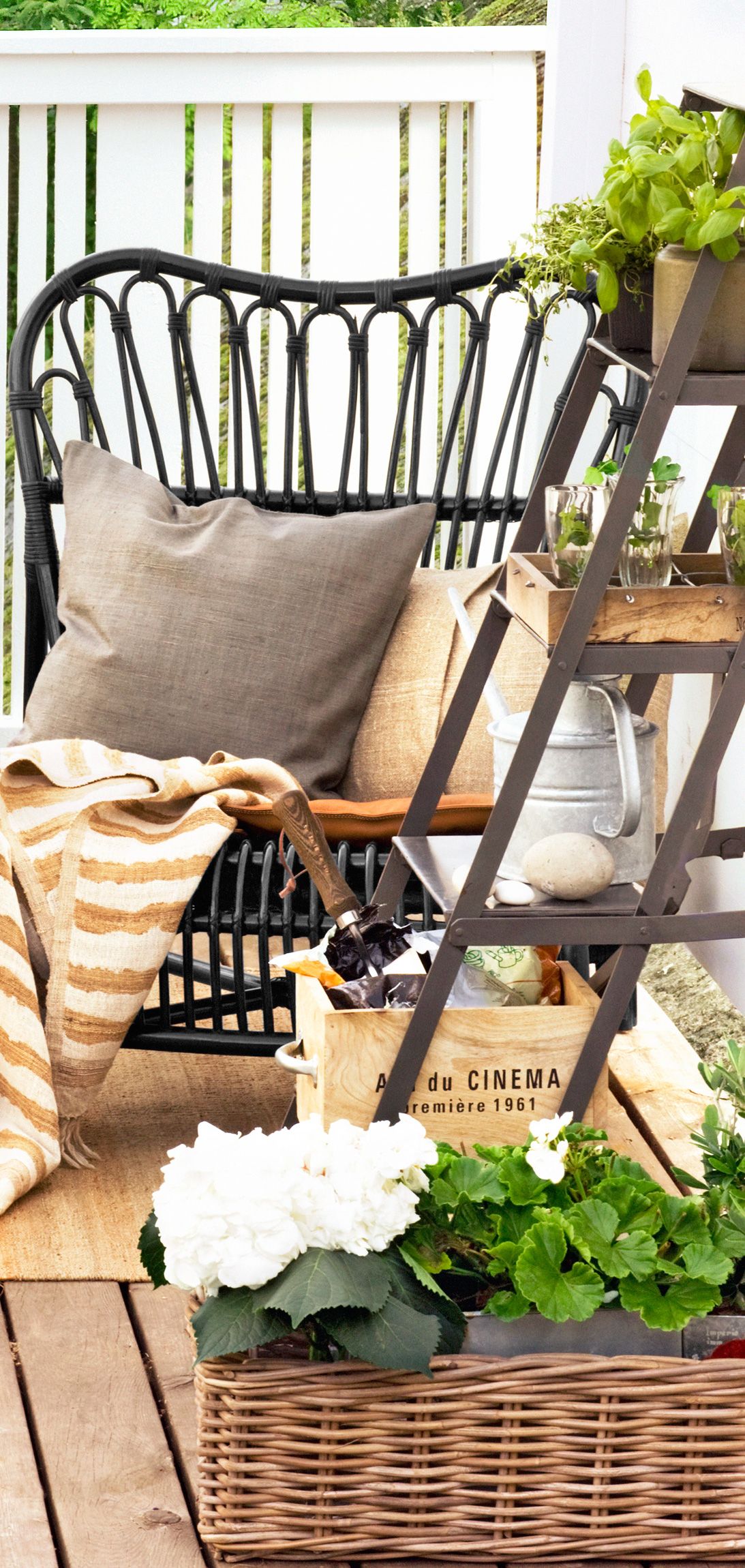 When space is at a premium, a multitiered plant stand lets you pack in more pots per square foot. Start with a Salladskål outdoor plant stand, about $50; IKEA. Then add the Fragrant Herb Collection 6-pack of 4-inch potted plants, about $30; Williams Sonoma.
Border with a Bench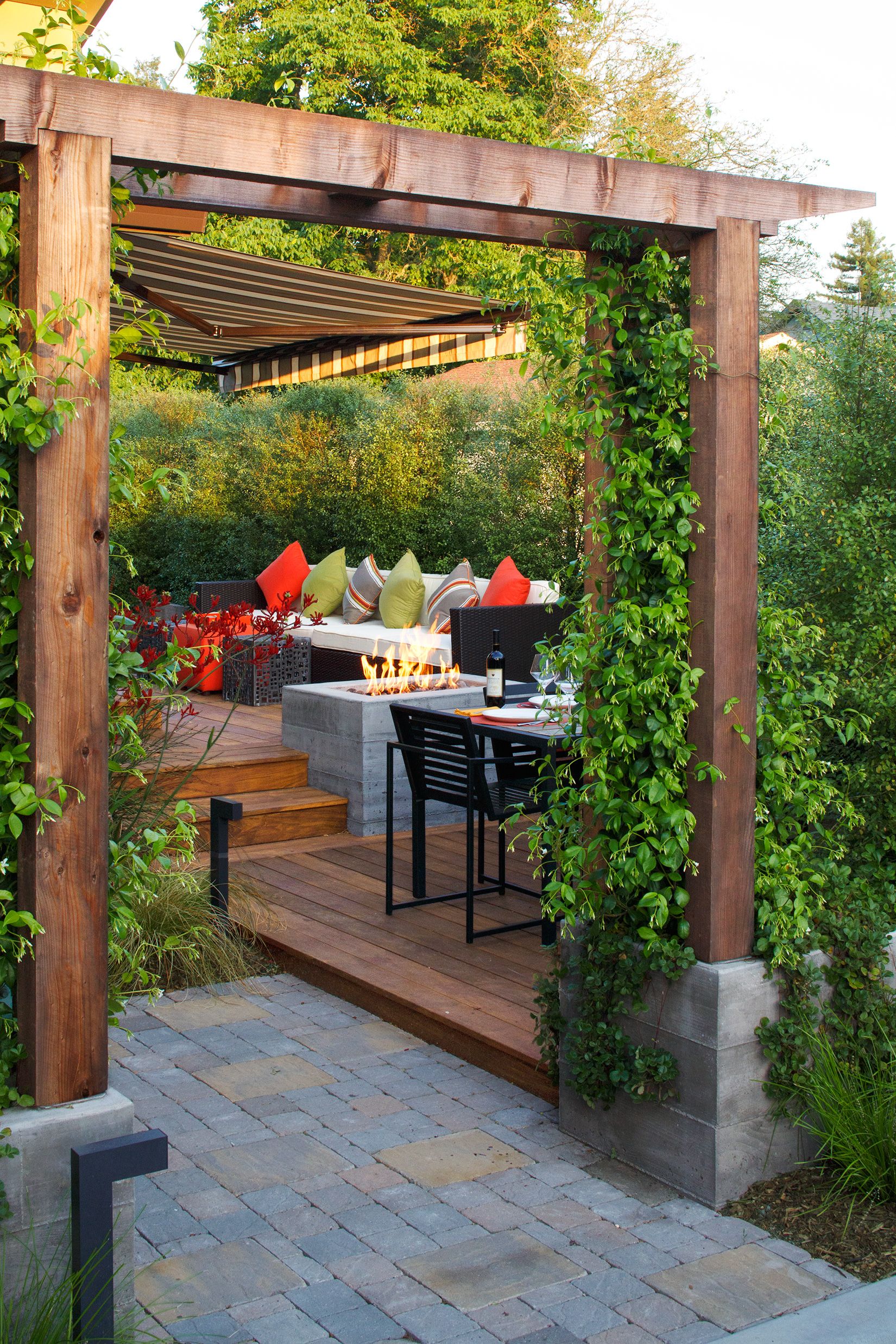 For low-to-the-ground decks, like this one, position a high-back bench or sofa along the edge to create a sense of enclosure. Consider the Eden 70-Gallon Bench Deck Box with a slat back and flip-top storage seat to stow cushions when they're not in use, about $116; The Home Depot.
RELATED: How to Build a Planter Bench
Spark up a Gas Fire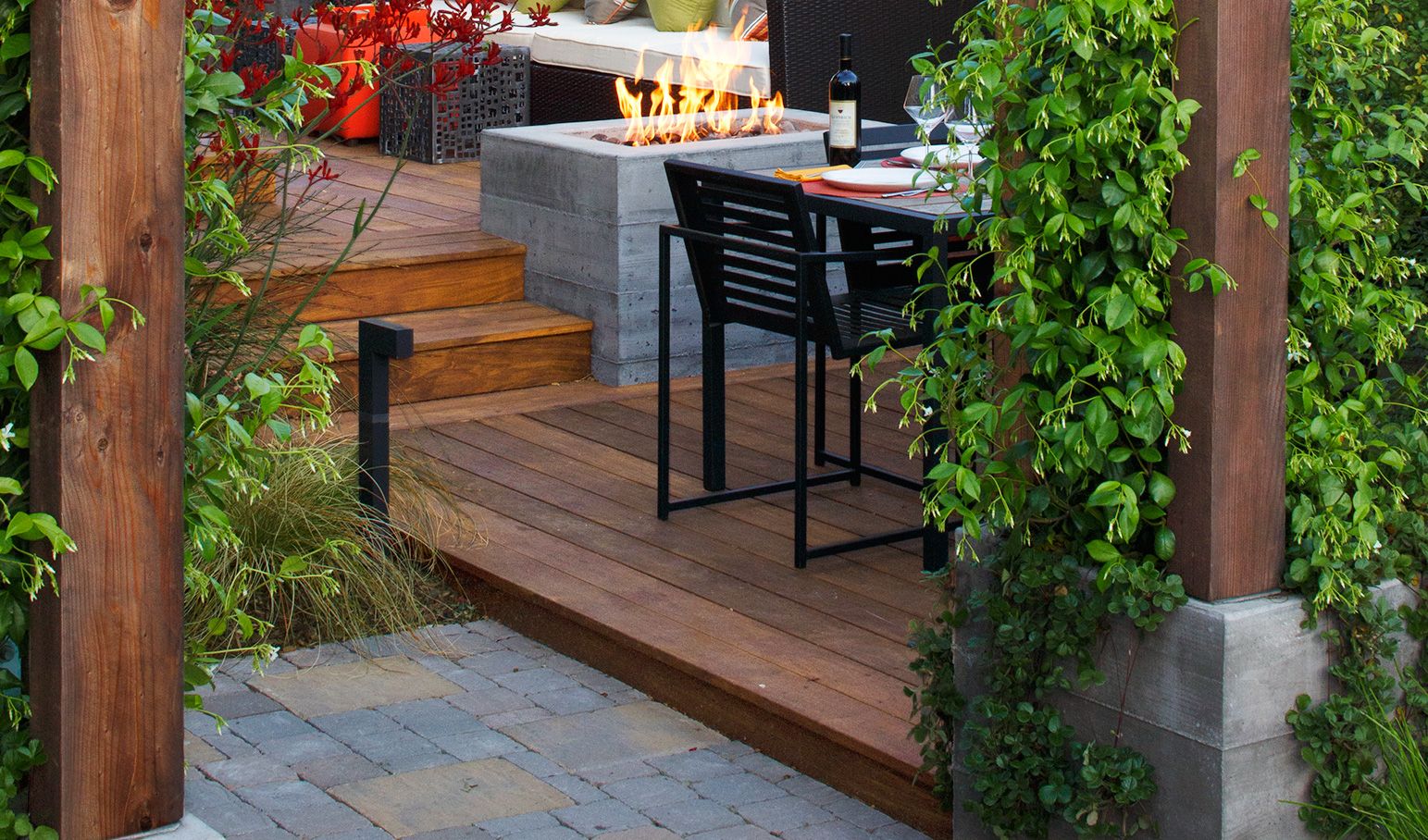 Outdoor pits hooked up to a natural gas line are simple to light for instant ambience.
This modern concrete version is custom, but the prefab Linear Fire Pit offers the same look, starting at $1,100; Woodland Direct.
Deck awning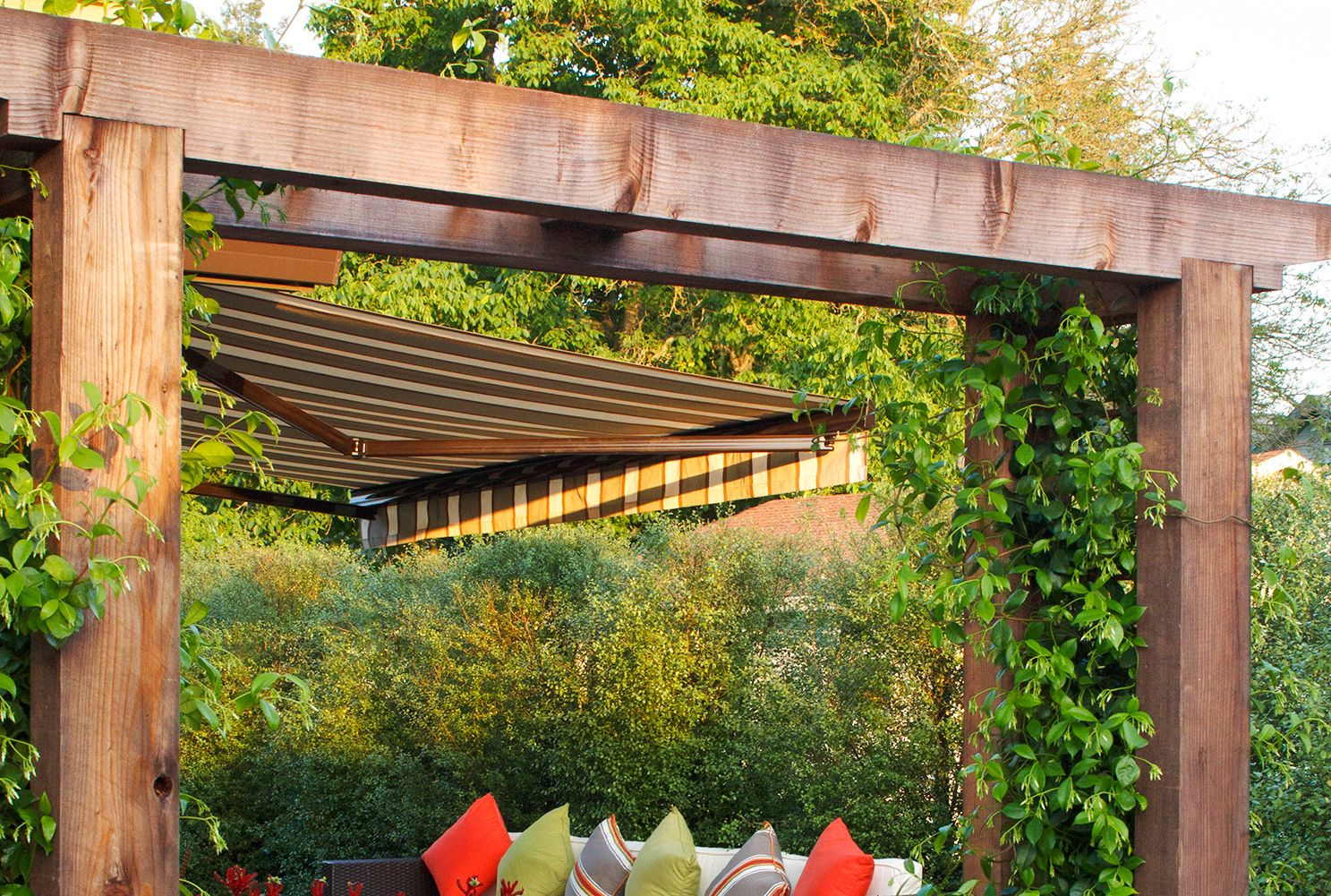 A fabric awning provides shade and classic yet jaunty style.
It's also an easy-to-retrofit option, starting at $2,250 for a custom 10-foot-wide, manually operated model; Solair for local dealers.
RELATED: How to Install a Sail Shade
Build Lattice Walls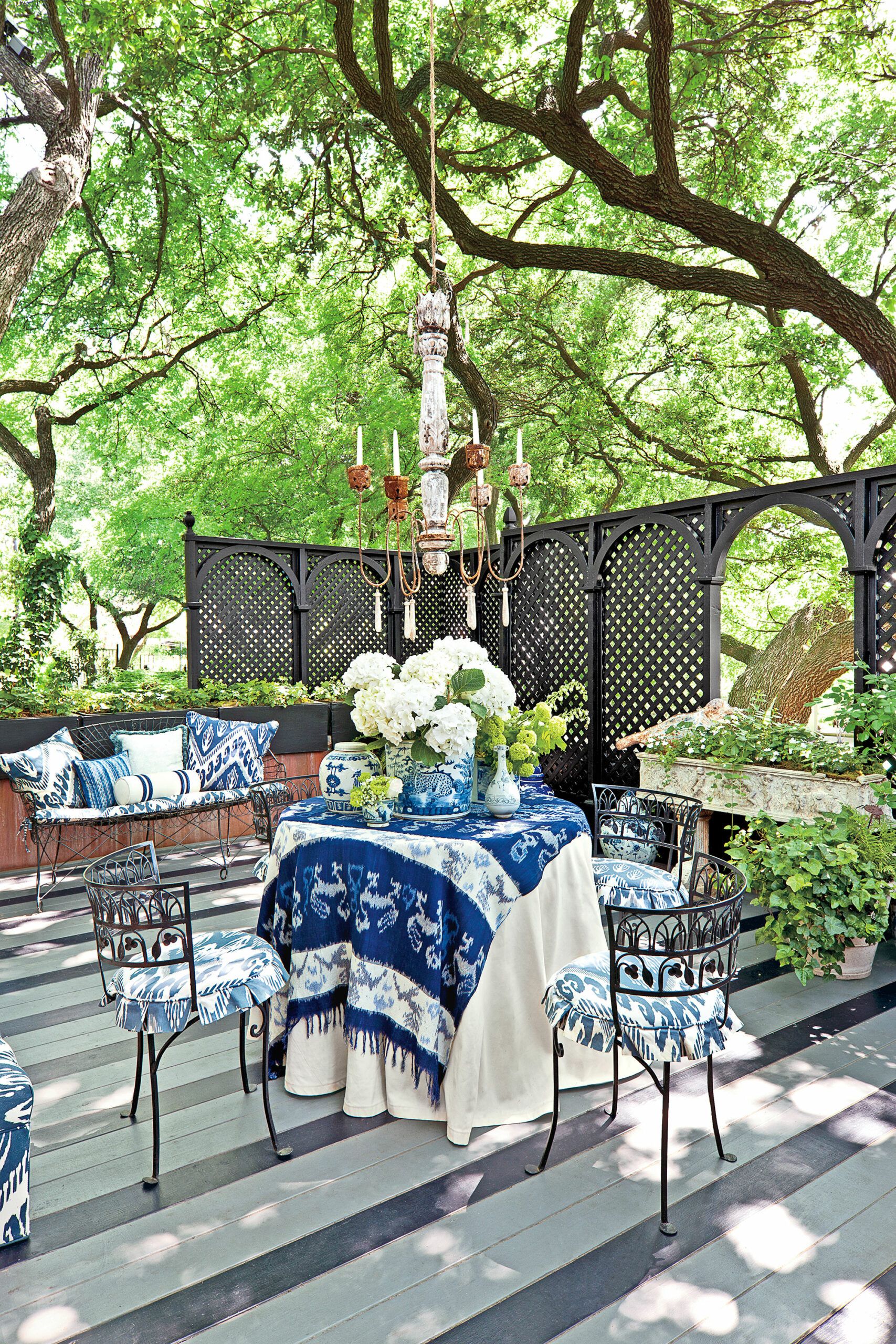 Slatted walls allow for both views and light. Frame out precut panels, adding plywood arches and ready-made finials, and it's a doable DIY.
RELATED: How to Build a Lattice Trellis
Use Rope Lights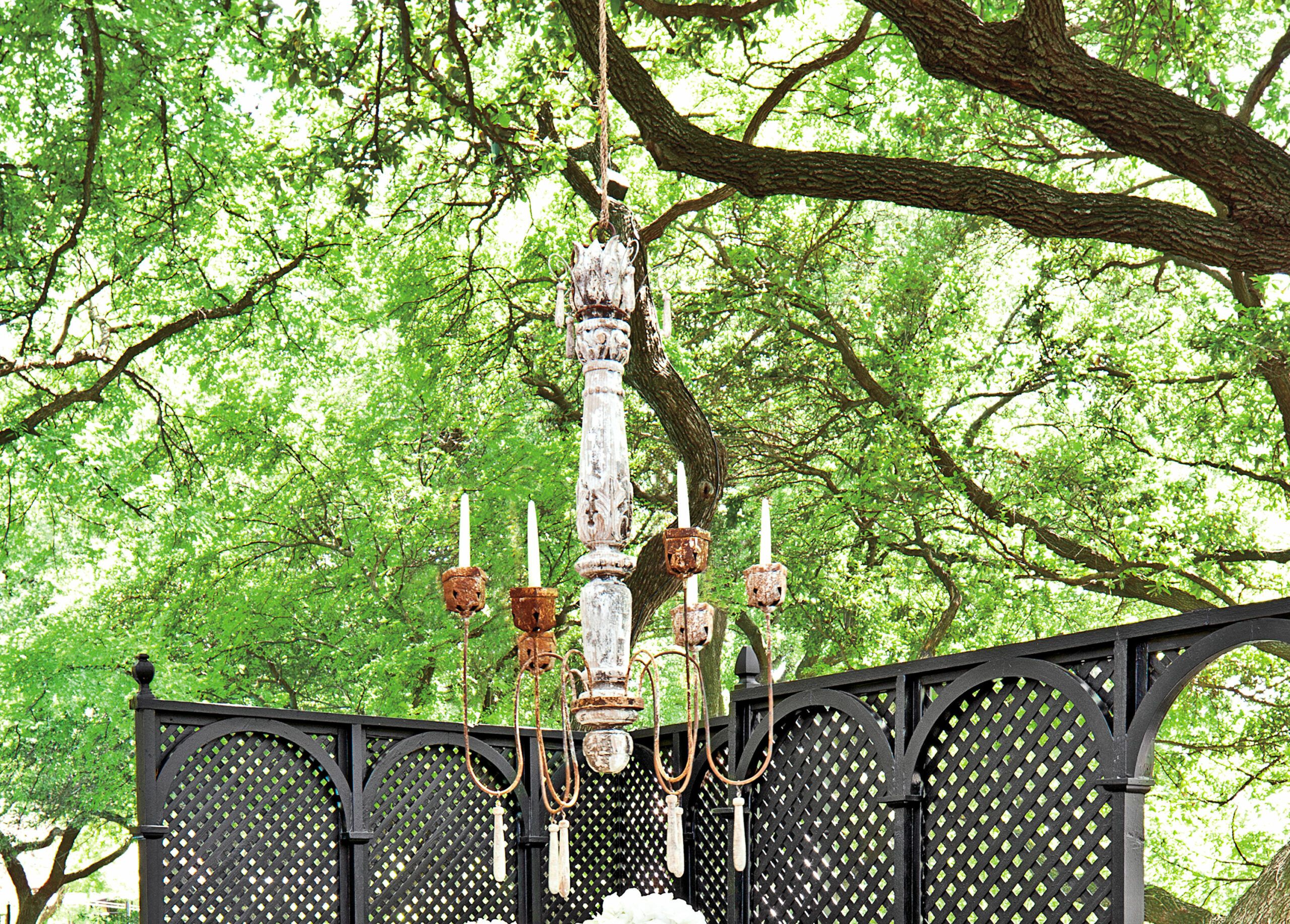 What's more romantic than a candle chandelier?
Set up your own with the Wrought Iron Ava Chandelier, about $75; A Rustic Garden; and T. W. Evans Cordage 3⁄8-inch Twisted Sisal Rope, about $13; Amazon.
RELATED: How to Add Mood Lighting to Your Deck
Paint the Floor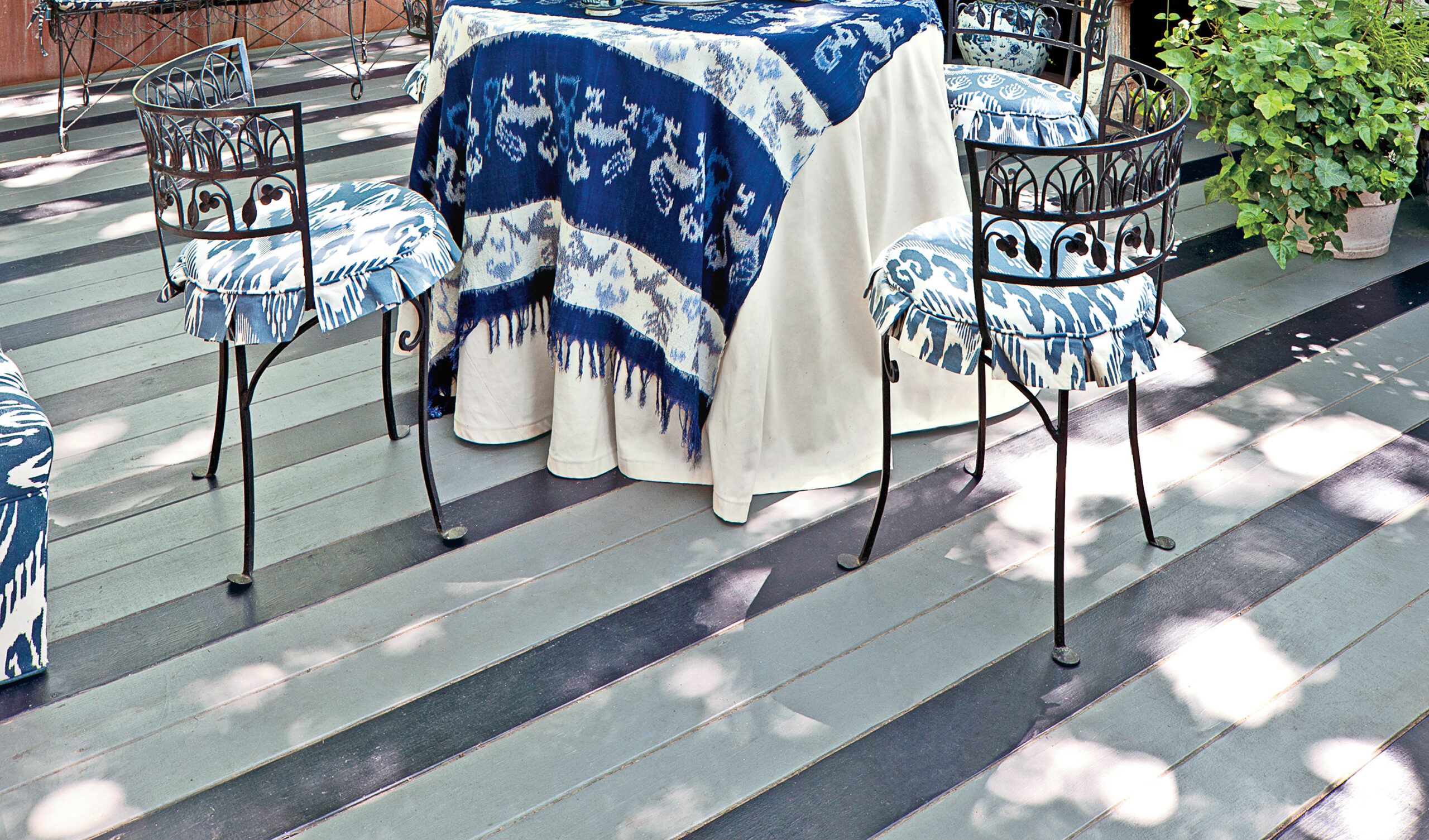 Give tired wood decking a second life by brushing boards with stain in a stripe pattern.
We like Olympic Deck, Fence & Siding Stain Solid in Gray Marble and Deep Charcoal, about $36 per gallon; Olympic for stores.
RELATED: How to Paint a Wood Floor; TLC for Painted Wood Floors
Put in a Pass-Through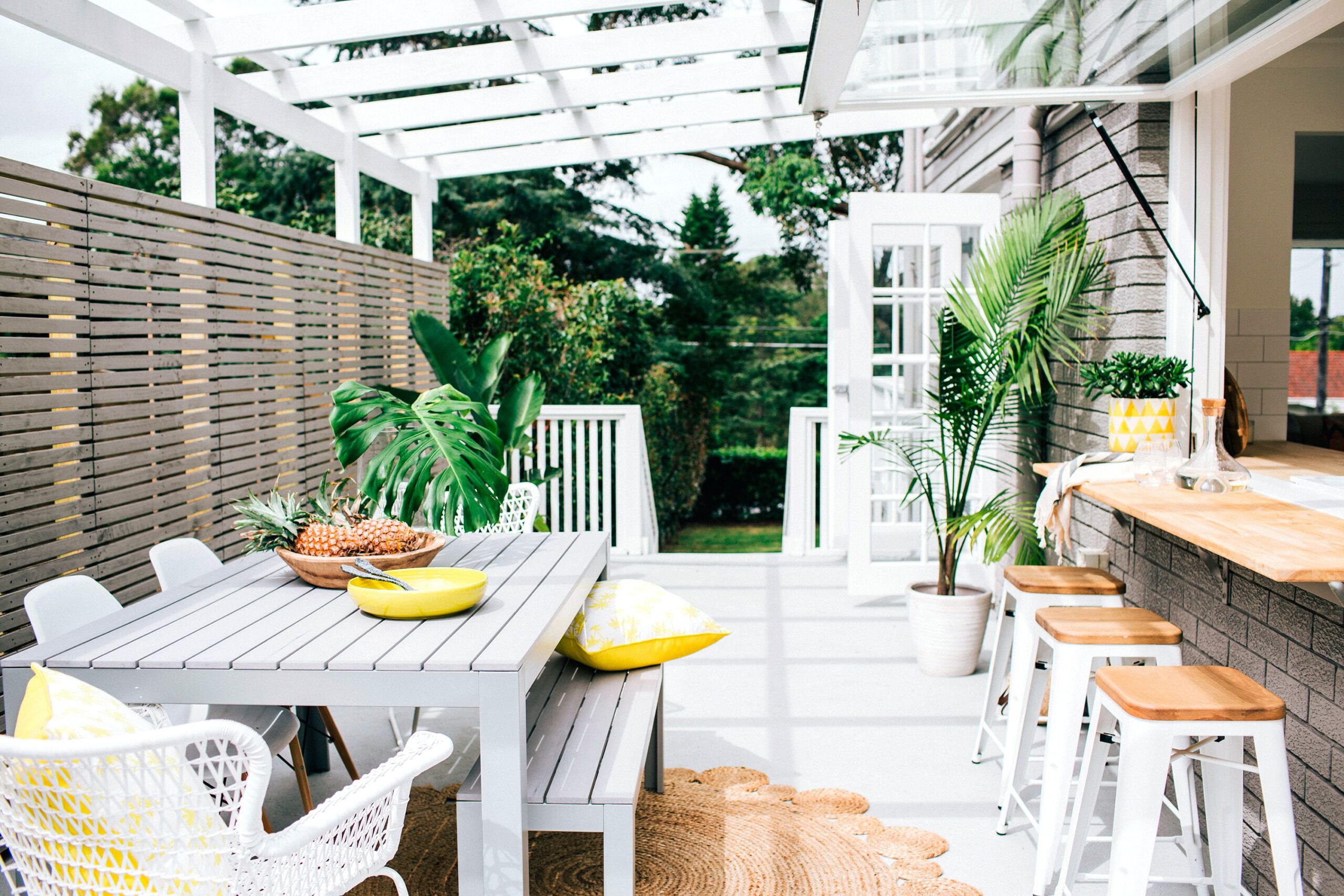 A window between the house and this raised patio makes it easy to shuttle food and drinks.
For smooth operation and energy-efficiency, we like Jeld-Wen's new custom, wood accordion-style windows, which fold neatly to the side; Jeld-Wen for dealers.
RELATED: Outdoor Rooms Fit for Entertaining
Build in a Bar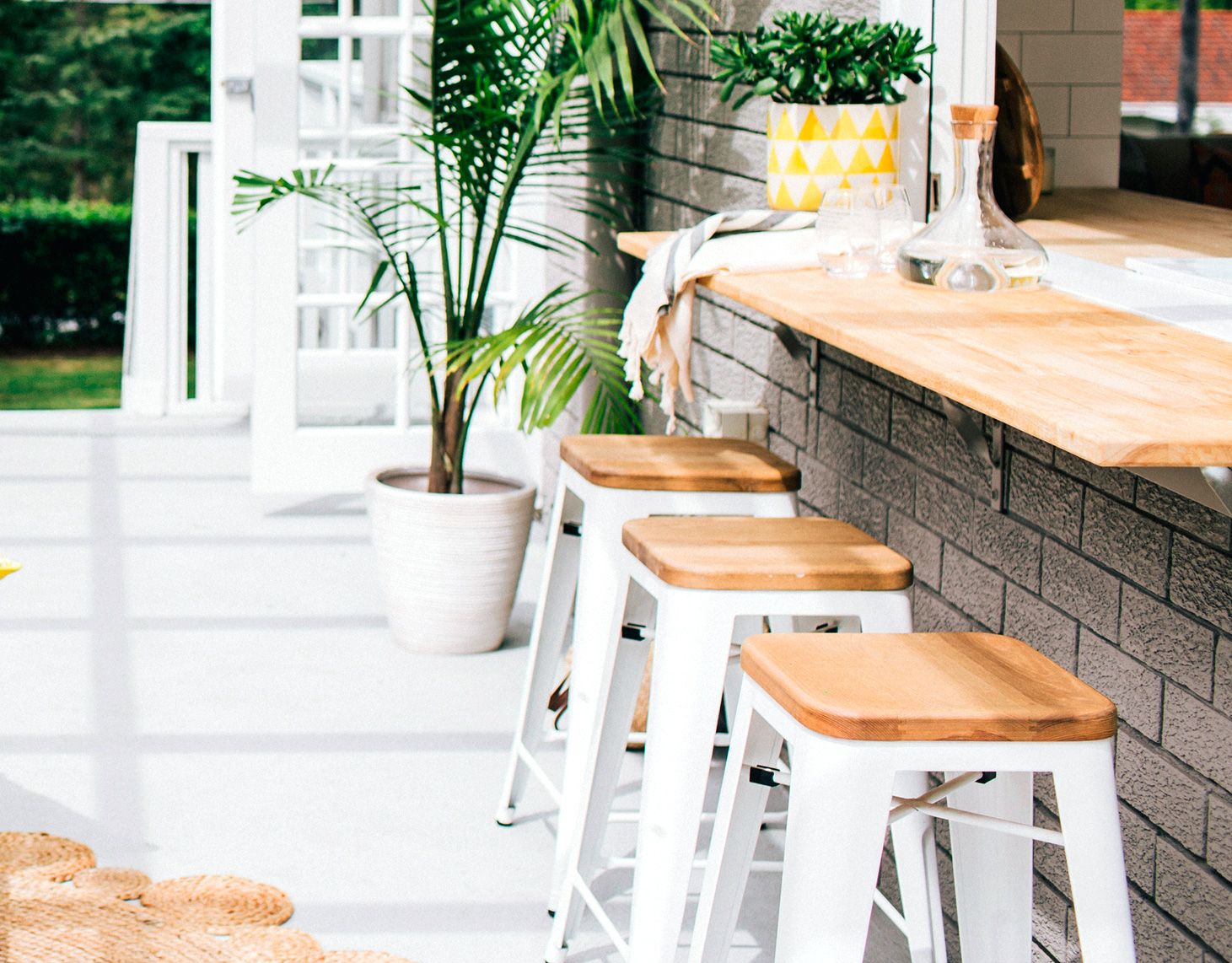 All it takes is a swath of countertop anchored to the exterior of the house with beefy L-shaped brackets. This thrifty butcher-block top is protected with oil-based spar varnish.
Shown: Hammarp 74-by-25-inch oak top, about $149; IKEA.
Old Masters Spar-Marine Varnish in Satin, $22 per quart The Paint Store.com
Freshen up the Floor
You can revitalize old poured concrete with a polymer-based resurfacing slurry for a like-new floor such as the one shown here.
Try Sakrete's Flo-Coat Concrete Resurfacer, about $28 for a 40-pound bag; True Value.
And follow our easy step-by-step to do the job yourself.
Create a Canopy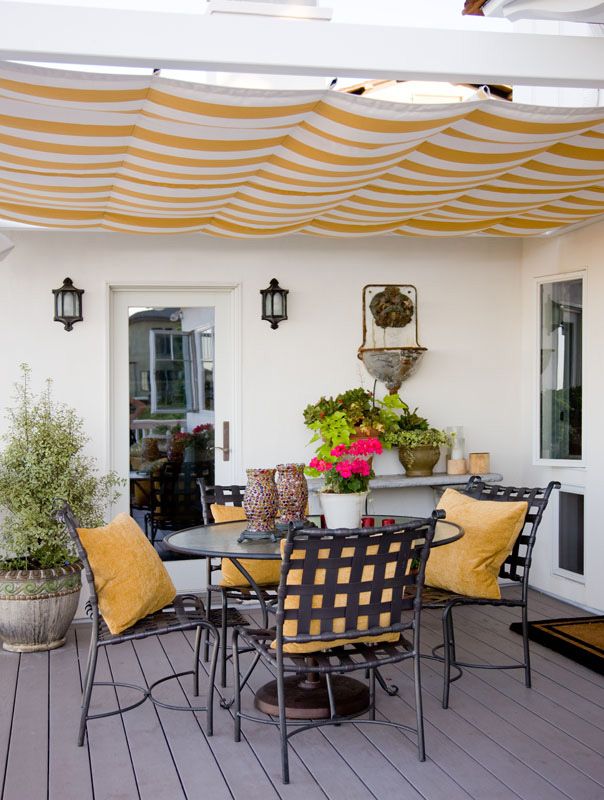 Outdoor fabric draped over a slatted ceiling or pergola, like the jaunty version here by landscape designer Kate Wiseman of Sage Outdoor Designs, protects your deck from sun and rain.
Show your stripes with the Suntex Sun Duck Yellow Stripe Fabric, about $17 per yard; Online Fabric Store.
RELATED: How to Install a Shade Sail
Add Sconce Lights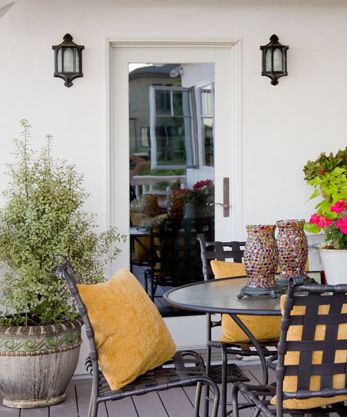 Outdoor wall lamps mounted on the house offer illumination for nighttime meals and lounging without taking up precious floor space.
For its compact, classic good looks, we like the Venetian Rain Collection Outdoor Wall Light in black and gold finish by Kichler, about $110; Lighting Direct.
Hang a Wall Fountain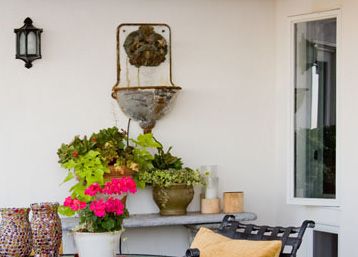 Calming and rejuvenating, the sound of trickling water also helps mask the noise of lawn mowers and passing cars.
Hook up the Lion Head Iron and Bronze Indoor Outdoor Fountain, about $150; Lamps Plus, and enjoy the positive effect of those negative ions.
Arrange Furniture Accordingly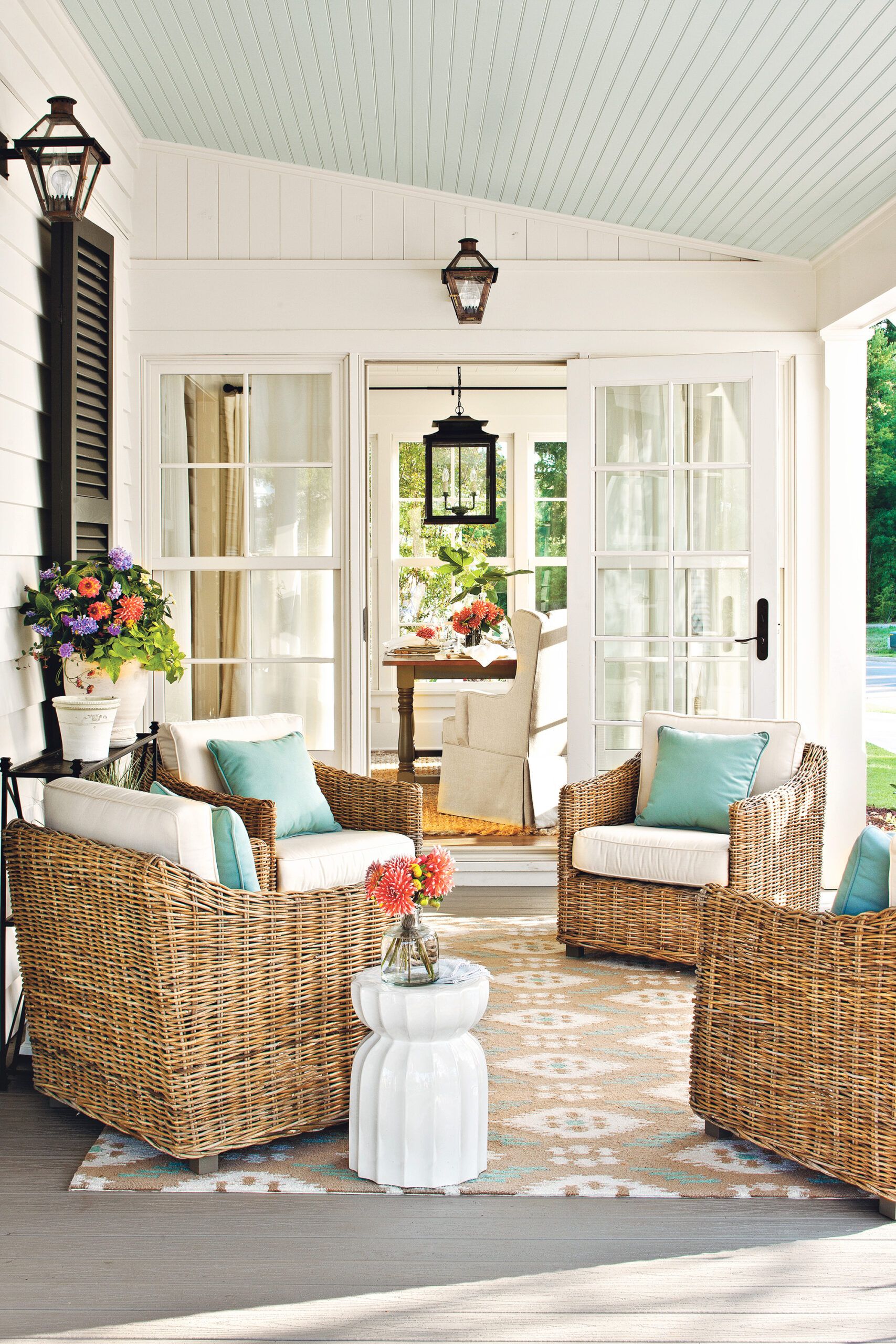 A line of chairs positioned against the house lets you take in the view, but discourages conversation. Instead, place seats so they "talk" to each other and invite guests to linger, too.
For worry-free, waterproof lounging, we like the Mayhew All Weather Wicker Patio Club Chair with tan cushions, about $232; Target.
Get a Multi-Use Stool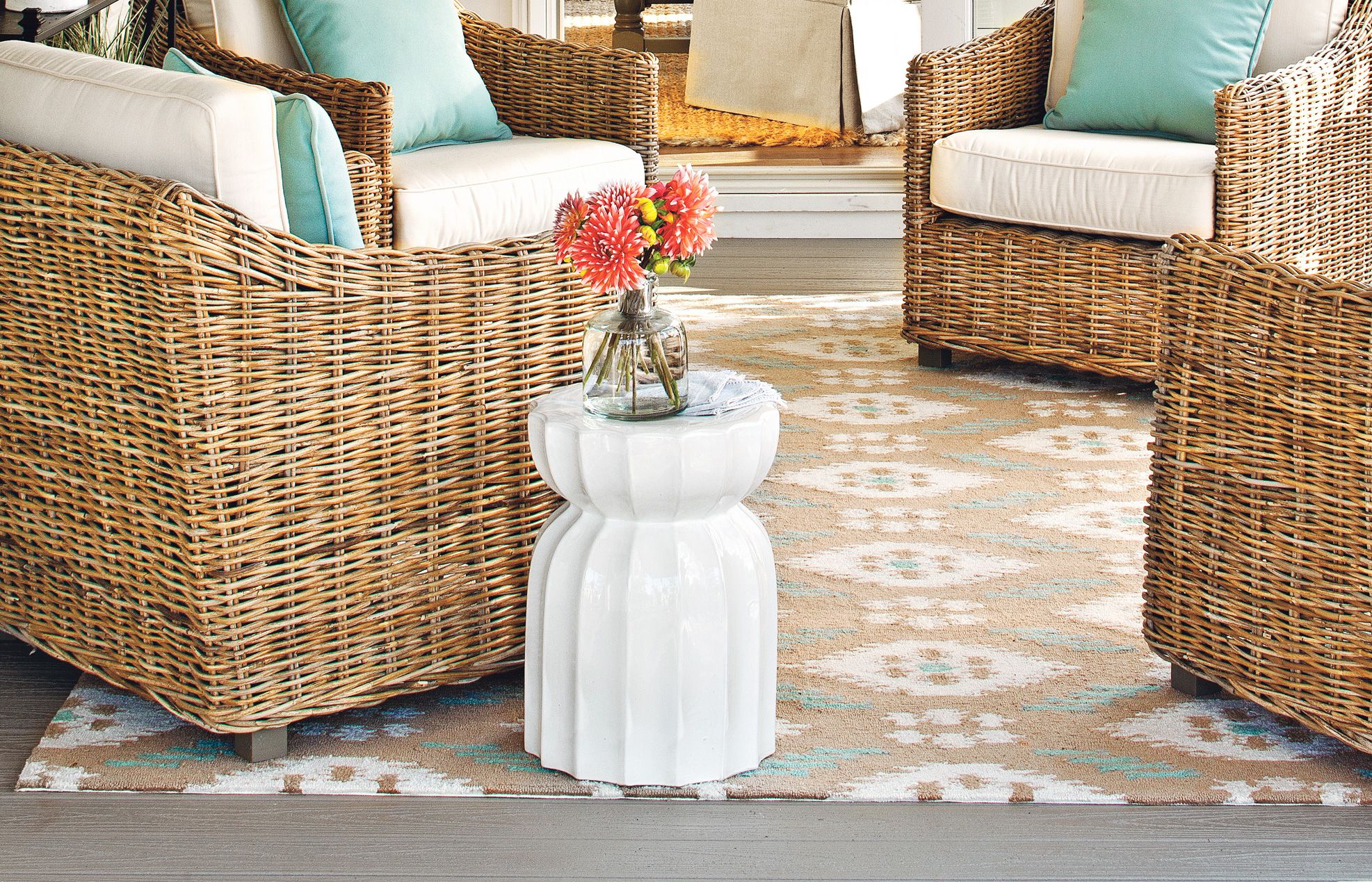 A ceramic garden stool stylishly stands up to the elements, and can be used as a side table or an extra seat as needed.
Similar to shown: Round Scalloped Ceramic Garden Stool in gray, about $114; Amazon
Sociable Setup: Put Pattern Underfoot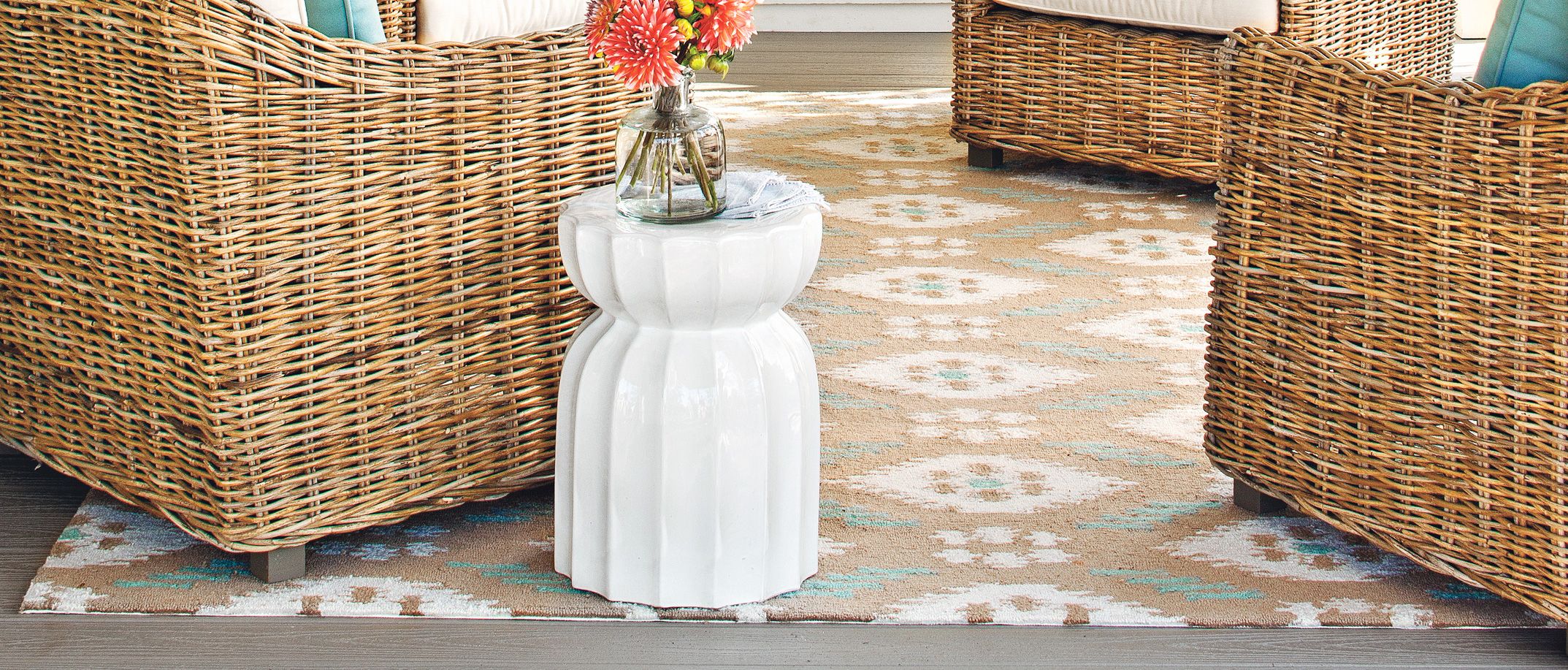 You can liven up the look of your porch floor with an outdoor rug, as shown, or make it permanent with a painted design.
Follow our simple step-by-step to learn how to brush on a colorful porch carpet.
RELATED: Our Favorite Outdoor Rugs