Exposure to natural light rather than artificial light has been linked to a wide array of health benefits, including elevated mood, increased creativity, lowered blood pressure, and reduced anxiety.
VELUX has revolutionized skylights with a product line that not only brightens and lightens any home but also can—quite literally—bring in a breath of fresh air, another essential benefit to good health and well-being.
How Energy-Efficient Are Skylights?
Skylights save homeowners money, too; Augmenting existing lighting systems with natural light from skylights can reduce overall energy costs, and solar-operated skylights are eligible for a 26% federal tax credit for both product and installation.
Read on to learn more, and you just might visualize your home in a whole new light.
Airing things out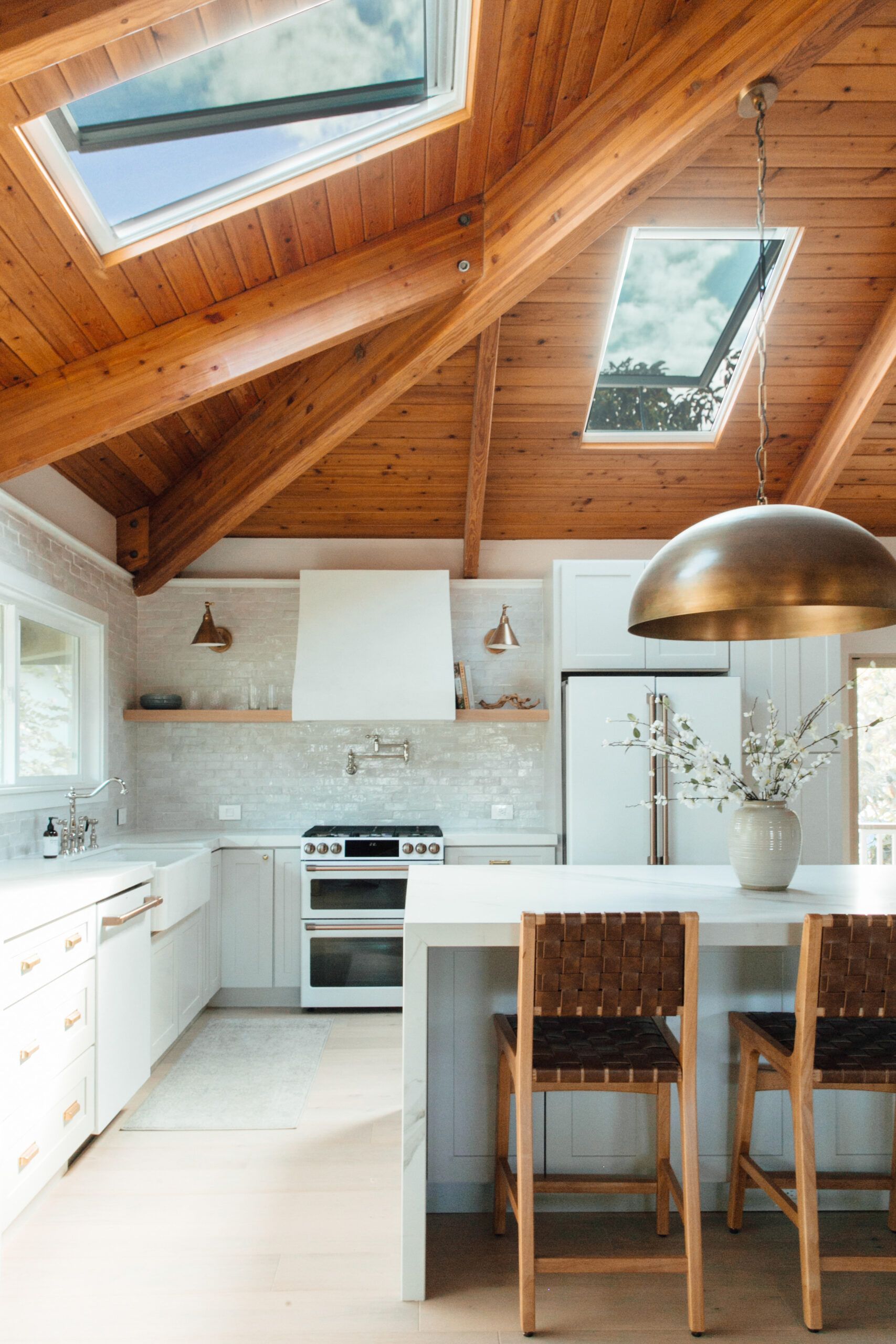 The skylights in this kitchen serve as an architectural feature for sure. But they also contribute to a healthier indoor-air environment. VELUX No Leak Solar Powered "Fresh Air" Skylights generate airflow, which is ideal for venting cooking odors and smoke and for releasing excess moisture in the air.
Because they're solar-powered, these skylights require no wiring, which makes for easy and cost-effective installation, and no-cost operation. Three patented layers of weather protection ensure no rain will leak through into your home—a promise that's backed by a 10-year product and installation warranty.
And an integrated rain sensor will automatically close the skylight at the first sign of inclement weather, so you don't need to worry about literally letting the outdoors in.
Smart sensors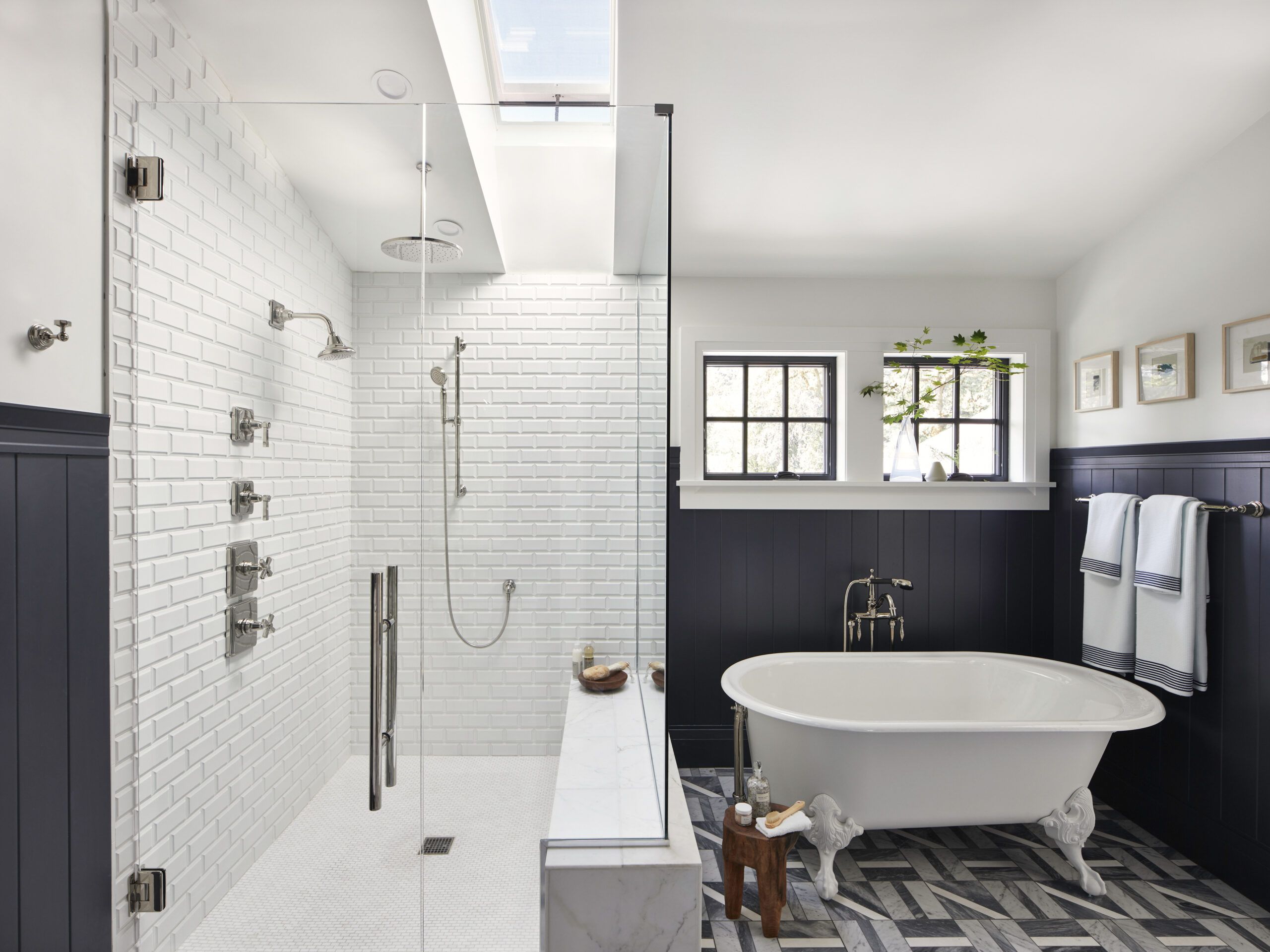 VELUX ACTIVE with NETAMO is an ingenious sensor-based system that connects your skylights and blinds to an online weather station and has indoor climate sensors that measure temperature, humidity, and CO2 levels.
The system will proactively open the skylight if doing so will improve the air quality inside, and close the skylight in anticipation of adverse weather. It will also proactively open or close the blinds to block sunlight and regulate the temperature in the room.
The skylight can also be controlled remotely or with the VELUX ACTIVE smartphone app.
Better sleep, brighter mornings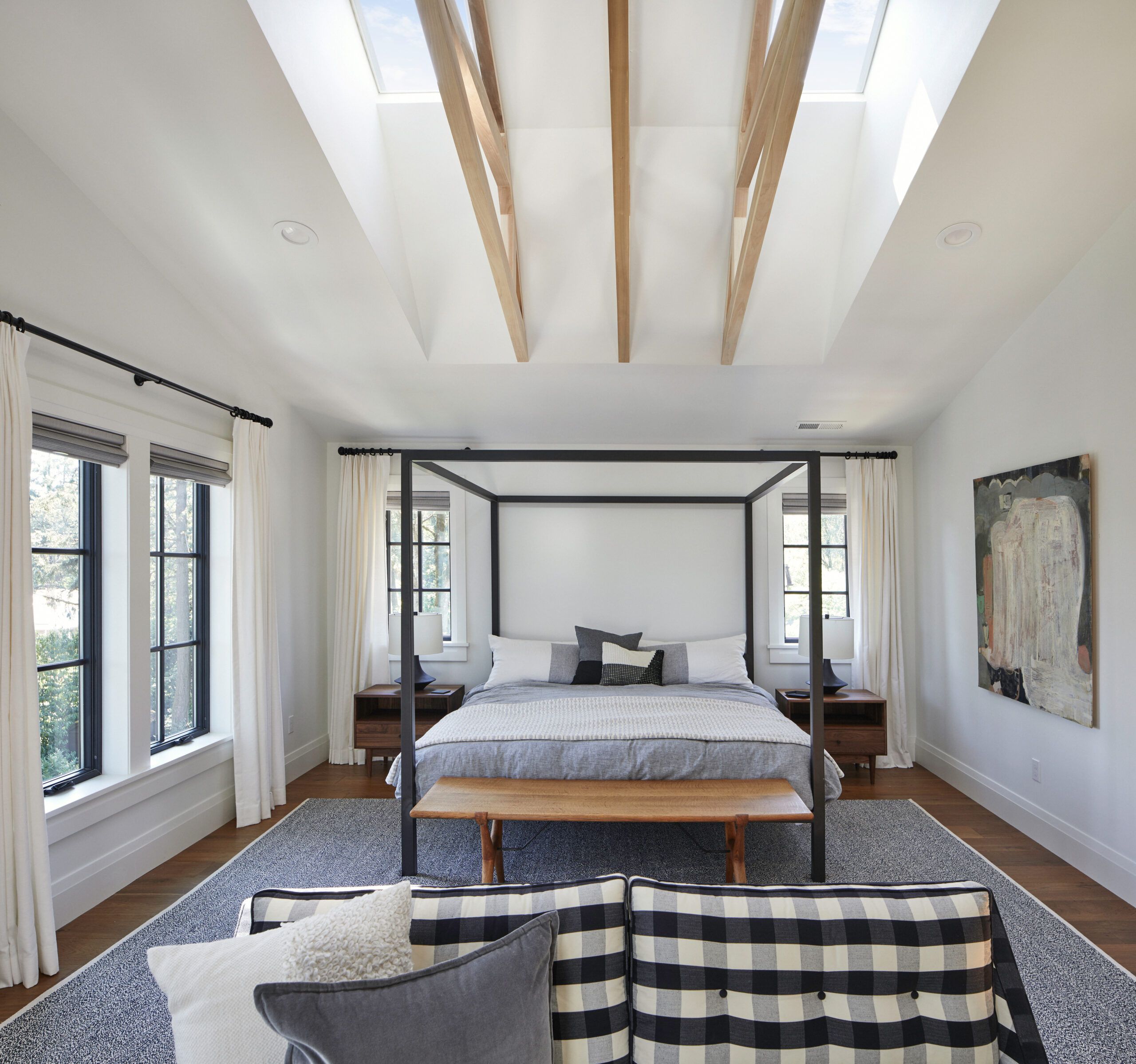 Sleep peacefully under the stars, with fixed skylights in the bedroom. This placement also allows the sun to act as "nature's alarm clock," which can help regulate your circadian rhythm and increase your overall sense of well-being.
Feel like sleeping in a bit longer? Integrated blinds can completely block or gently dim those rays. Available in over 100 colors and patterns, VELUX blinds are designed to suit any room style and individual preference:
Choose room-darkening blinds for rooms that require total darkness, like bedrooms. This double-pleated or flat skylight blind can convert day into night, blocking even the brightest sunlight, and can improve your energy performance by as much as 45%
Choose light-filtering blinds to gently soften and diffuse the light that will enter your room; ideal for kitchens and living rooms
Venetian-style blinds are both stylish and efficient, perfect for any room where light control and aesthetics are equally important
Breath of fresh air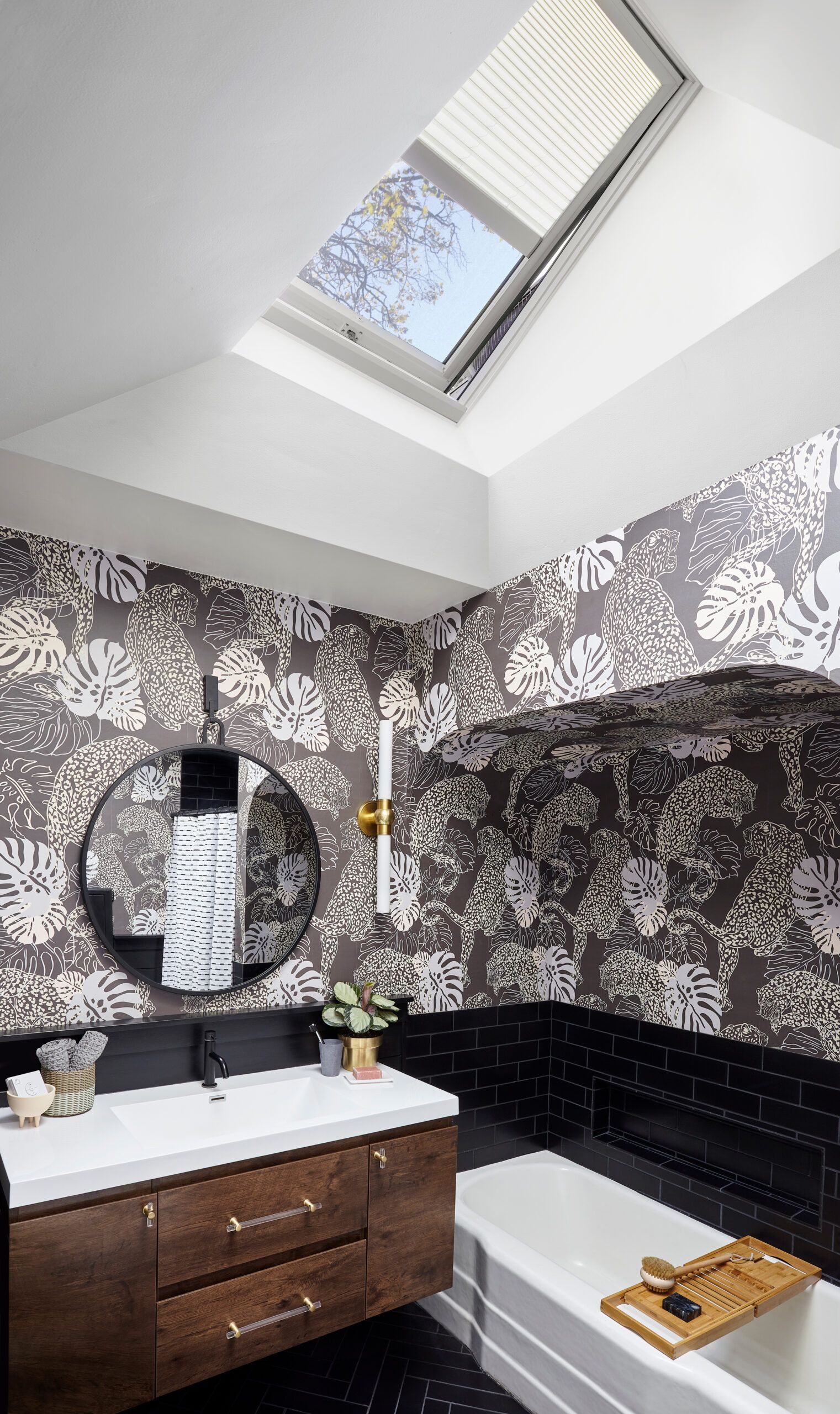 Interior bathrooms can benefit from the addition of a VELUX Solar Powered Fresh Air Skylight in more ways than one. First, you'll get a much-needed source of natural daylight without sacrificing privacy. But equally important, an operable skylight enables you to release steam and condensation that can lead to destructive mold and mildew.
Smarter solar-powered system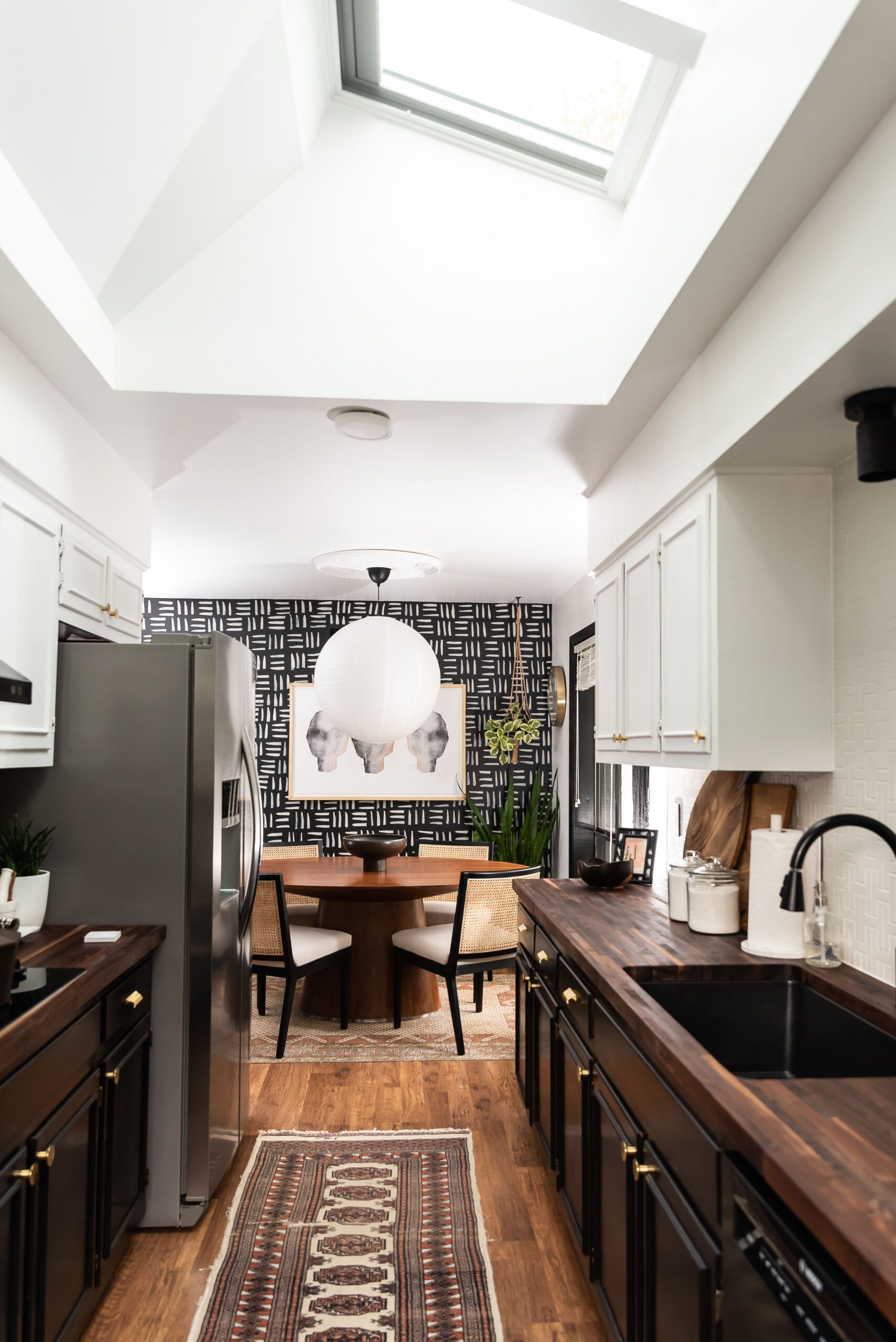 For the ultimate in light and comfort control, add factory-installed, solar-powered blinds automated with the VELUX ACTIVE system. The ACTIVE system coordinates an online weather forecast with the temperature inside the home to proactively extend the blinds to block sunlight and heat on hot summer days, and insulate against the cold on winter nights. The blinds can also be controlled by a remote, or the VELUX Active smartphone app.
Want to visualize your room in a whole new light? Effortlessly add, customize, and explore VELUX skylight products in real-time using your device's built-in camera, with the VELUX Visualizer app.
Lightening up interior spaces
VELUX Sun Tunnel® skylights are exactly what they sound like: highly reflective aluminum tunnels that connect a roof-mounted lens to a diffuser in the ceiling below, transporting daylight down into interior spaces.
They can be used in any room, but are especially ideal for hallways, closets, powder rooms, laundry rooms, and pantries, where you crave natural light but can't accommodate a standard window or skylight.
And VELUX Sun Tunnels can be equipped with a solar-powered night-light that will illuminate shadowy hallways and interior rooms with a soft moon-like glow—and the addition of the night-light makes the product eligible for a 26% federal tax credit.
Quick and easy options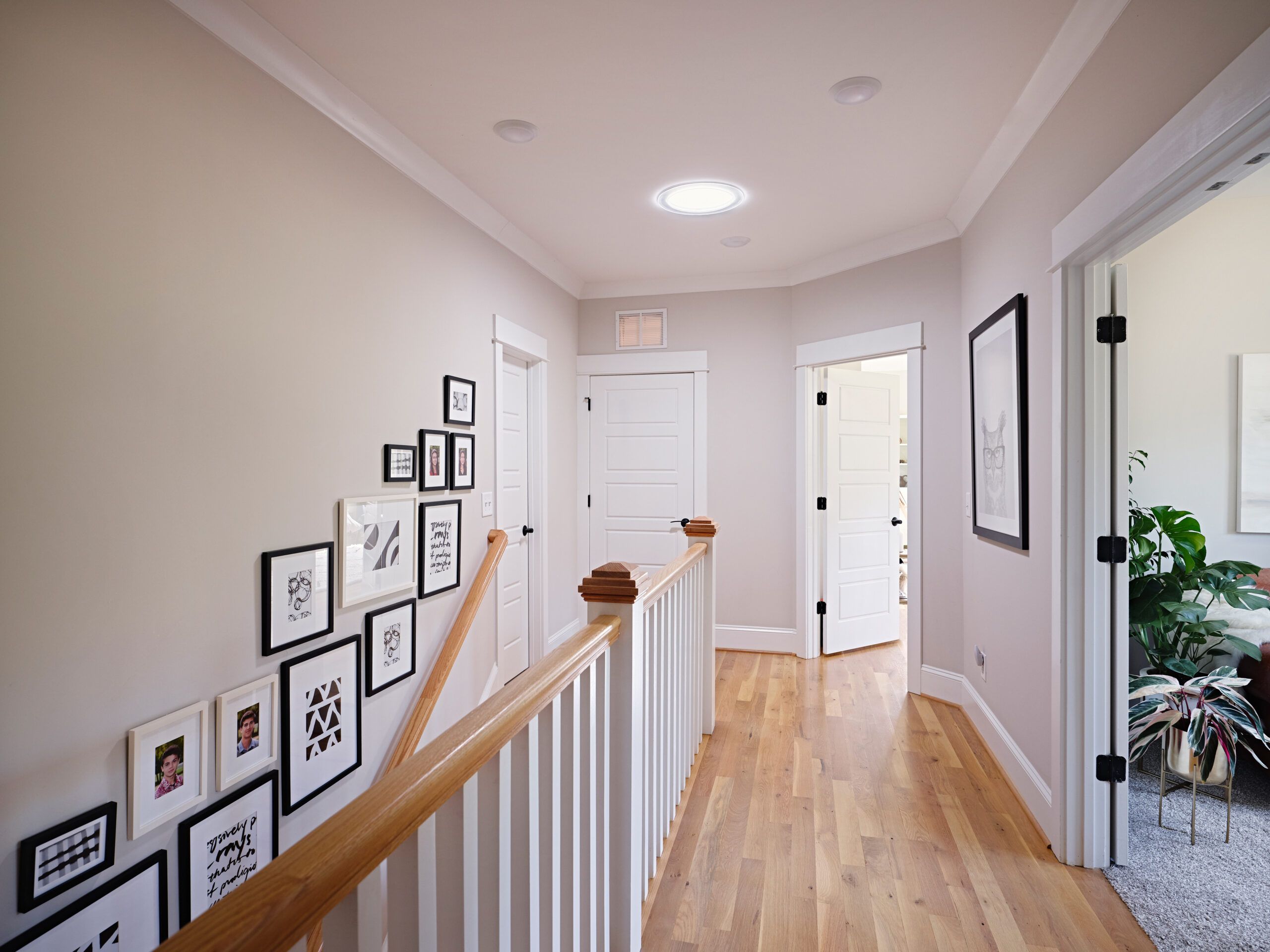 Sun Tunnels can bring light into any interior space. Cost-effective and easy to work with, installation typically takes only about two hours.
VELUX has created a skylight for every space with solutions for every design dilemma. With a VELUX-certified installer, the process of bringing natural daylight and fresh air into your home may be easier than you think. Learn more here.