Does your house need another bedroom? Converting an unfinished attic or basement into living space is a great way to gain that extra room. Both of these expansion options are less expensive than building a home addition.
Any and every bedroom in the house must have an egress window for safety reasons. In the event of a fire or other home emergency, an egress window provides a safe means of escape for home occupants, as well as an entry point for a firefighter or other first responder. Of course, egress windows provide other benefits, too. They let light into the room—a valuable commodity in any basement remodeling project. An egress window also provides ventilation and a view outside.
Egress Windows and Building Codes
It's important to check with your building department about egress window requirements in your locality. While egress windows are a standard feature in new construction, they are also required in many remodeling applications. Whenever you are converting an existing space into a bedroom, your building will require an egress window in the new bedroom.
Egress Window Specifications
The most important details about egress windows have to do with size and accessibility. The window must provide an open area at least 20 inches wide and 24 inches tall, totaling at least 5.7 square feet. To be accessible, the bottom of the window opening can be no higher than 44 inches off the floor.
If you are installing an egress window in a basement to comply with your building code, there are specific requirements you'll need to meet. The egress window must open into a window well outside the foundation that must be at least 36 inches wide and provide at least 9 square feet of space when the window is open. There should be at least 6 inches between the windowsill and the bottom of the window well, and the well needs to be equipped with a ladder if it's more than 44 inches deep.
How to Install an Egress Window
Window manufacturers typically indicate which windows in their product selection meet size requirements for egress windows. So, when ordering, be mindful of the requirements and make sure you select a window that's egress-compliant.
If you need to install an egress window in a wood-frame wall, there are no special structural requirements. You can use the same framing specs required for any window. Just make sure that the bottom of the window opening is no more than 44 inches above floor level.
Only Professionals Should Cut Through Masonry Walls
It's much more difficult and more expensive to install an egress window in a masonry wall, especially if it's a basement wall. For starters, you'll need to excavate outside the basement wall in the window location and create a deep window well that will provide full access to the window. Then you'll need to cut through the foundation wall to create a rough opening that's the correct size to install the window.
Cutting through a masonry wall (which will likely be made from concrete block or solid concrete) requires special equipment, and the work is difficult and messy. It's also tricky to determine the size of the opening in the foundation wall, because it needs to accommodate wood framing members (pressure-treated studs, sill and header) that reinforce the foundation and provide nailing surfaces for installing the window.
Because of these factors, most homeowners choose to hire a contractor for this type of job.
It's usually smarter and safer for DIYers to achieve savings by doing some or all of the interior renovation work in the basement. However, if you're experienced and want to handle this part of the job yourself, it's possible to rent a concrete saw and (in some cases) a small excavating machine from a rental center. The size of the opening in the foundation needs to accommodate the wood framing that creates the rough opening specified by the window manufacturer.
One of the most important decisions you'll need to make when installing a basement egress window is the type of window well enclosure you want on the exterior of your foundation. Some type of enclosure is necessary, for appearance and to hold back the soil around the window.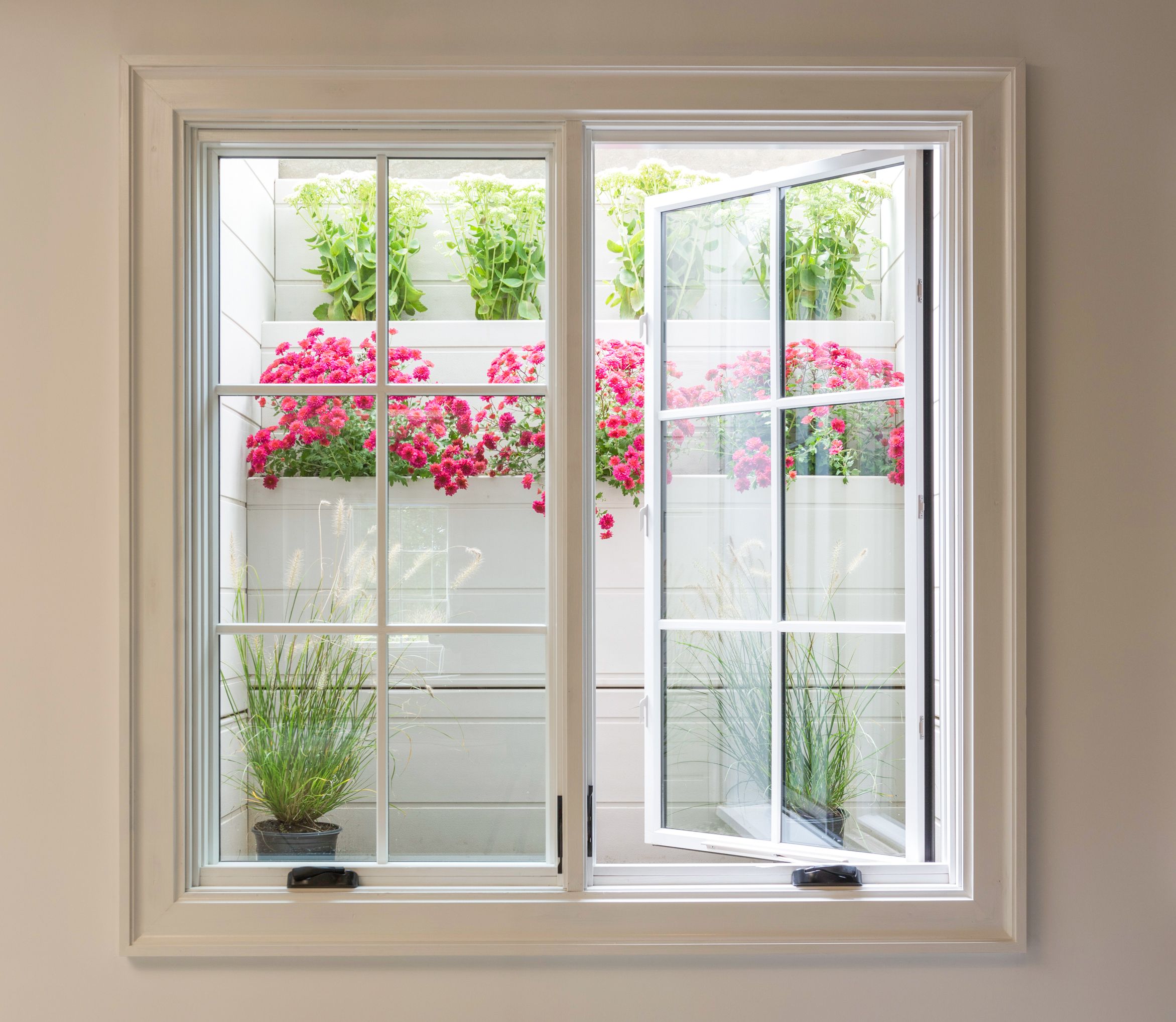 Easiest Method: Buy a Factory-Made Window Well
You can build a window well enclosure using concrete blocks or pressure-treated landscape ties. But it's easiest to buy and install a prefabricated window well that's compatible with your egress window.
There are a number of different factory-made window wells available. Some of these incorporate code-required steps or ladders and clear plastic caps that prevent snow and rain from filling the well. Prefabricated units are easy to install because they are made with wide flanges that are secured to the foundation wall with masonry fasteners.
Once the opening in the foundation has been made, the next step is to prep the new opening for the rough framing required to install the window. Make sure to smooth and fill any voids or uneven surfaces around the opening that's been cut in the foundation. You want the masonry opening to be as smooth and square as possible before you fasten the window framing lumber to the masonry with construction adhesive and masonry fasteners.
Use some extra mortar to slope the bottom of the masonry opening toward the exterior, so that water can drain to the outside. The sides of the framed opening should be plumb; the sill and header should be level.
If necessary, insert plastic shims between framing and masonry to get your rough opening done right. Take care to prevent water intrusion by thoroughly caulking the joint between wood and masonry.
Then you can install your window by fastening the window's nailing flanges to the outside of your framed opening. Make sure to use hot-dipped galvanized nails or corrosion-resistant screws. After your window is fastened in place, you can install the exterior trim using synthetic trim boards.
To finish the exterior part of the job, spread some clean gravel on the floor of the window well and backfill around the outside of the well enclosure. If you didn't buy a cover for your window well, it's wise to make one and put it in place. A cover will prevent children from falling into the well, and also keep the interior dry during wet weather.