Basil "Joe" Jagger was a physical-education teacher. His son Mick became one of the most athletic showmen in the world, running and strutting 8 to 12 miles during a typical Rolling Stones show. He works out five or six days a week. Louis "Louie" Abram was a builder. His son, Norm, became one of the most skilled carpenters in the world, cutting and joining wood for millions of TV viewers for more than 40 years. He measures twice and cuts once. Mick and Norm are both exquisite craftsmen, dedicated to doing things right, and in their seventh decade. But that's about where the comparisons end between these two rock stars (Norm is, for example, much calmer than Mick). But it sure proves how influential a dad can be.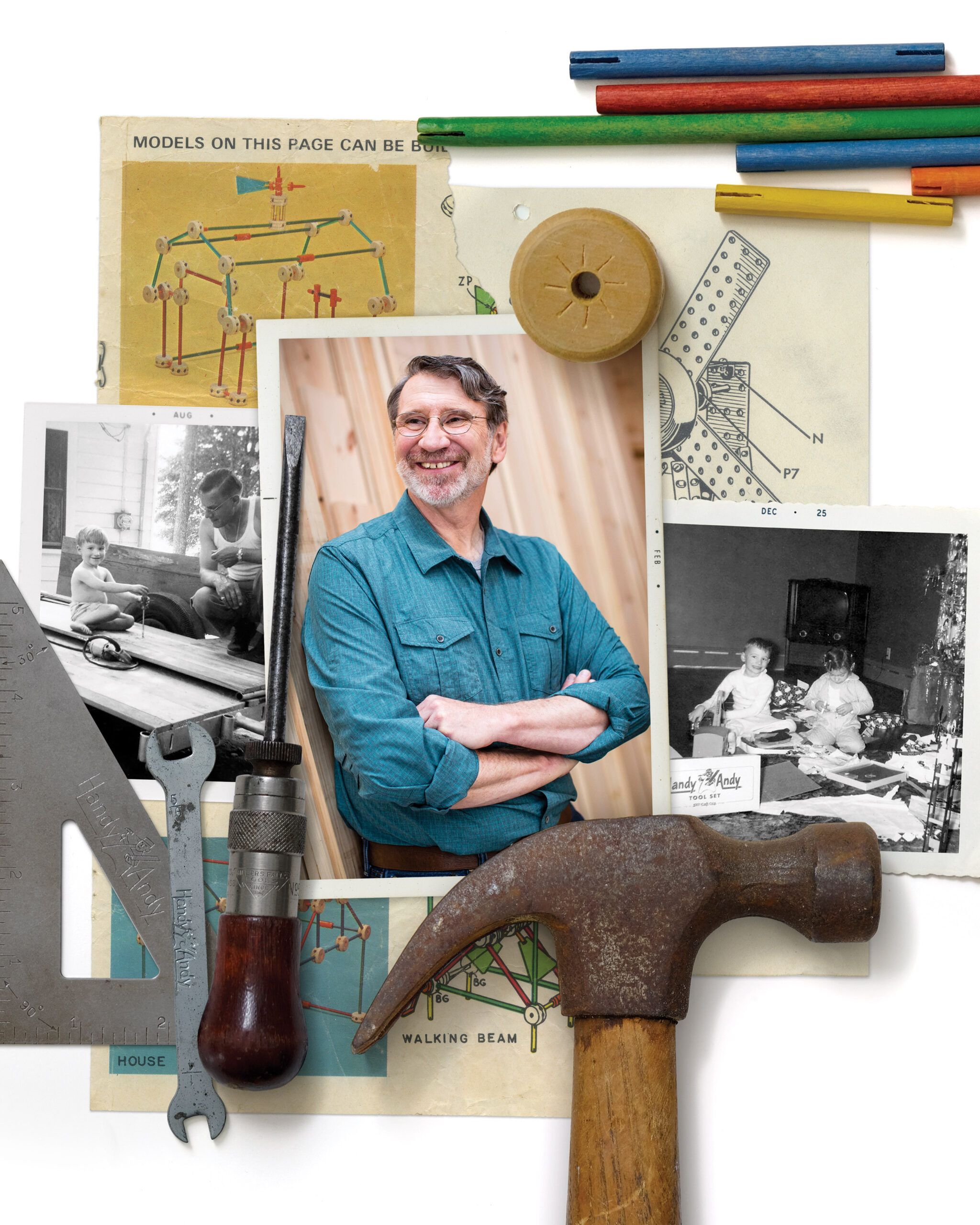 Working quietly alongside his father in their Milford, Massachusetts, basement workshop in the late 1950s, Norm did not dream of fame. "Working alongside" initially meant simply watching his dad work and cleaning up—leaving him dreaming of handling real tools, a wish that came true when he received a toolbox for Christmas. "These were not tools that you would give a child today or would be allowed to give a child today," Norm says. "These were the real deal. All of it was real." He got his own little workbench as well, and he learned. "I was always by his side. He didn't say much, but my father taught me by showing me what he did."
Still, the family goal was not for son to follow his father into the trades—it was education. Norm applied himself, enrolling at the University of Massachusetts Amherst in 1967, in the school's well-regarded engineering program. He loved the practical work ("I remember we built a metal clamp from scratch") but struggled with the theoretical courses and hated the giant lecture classes.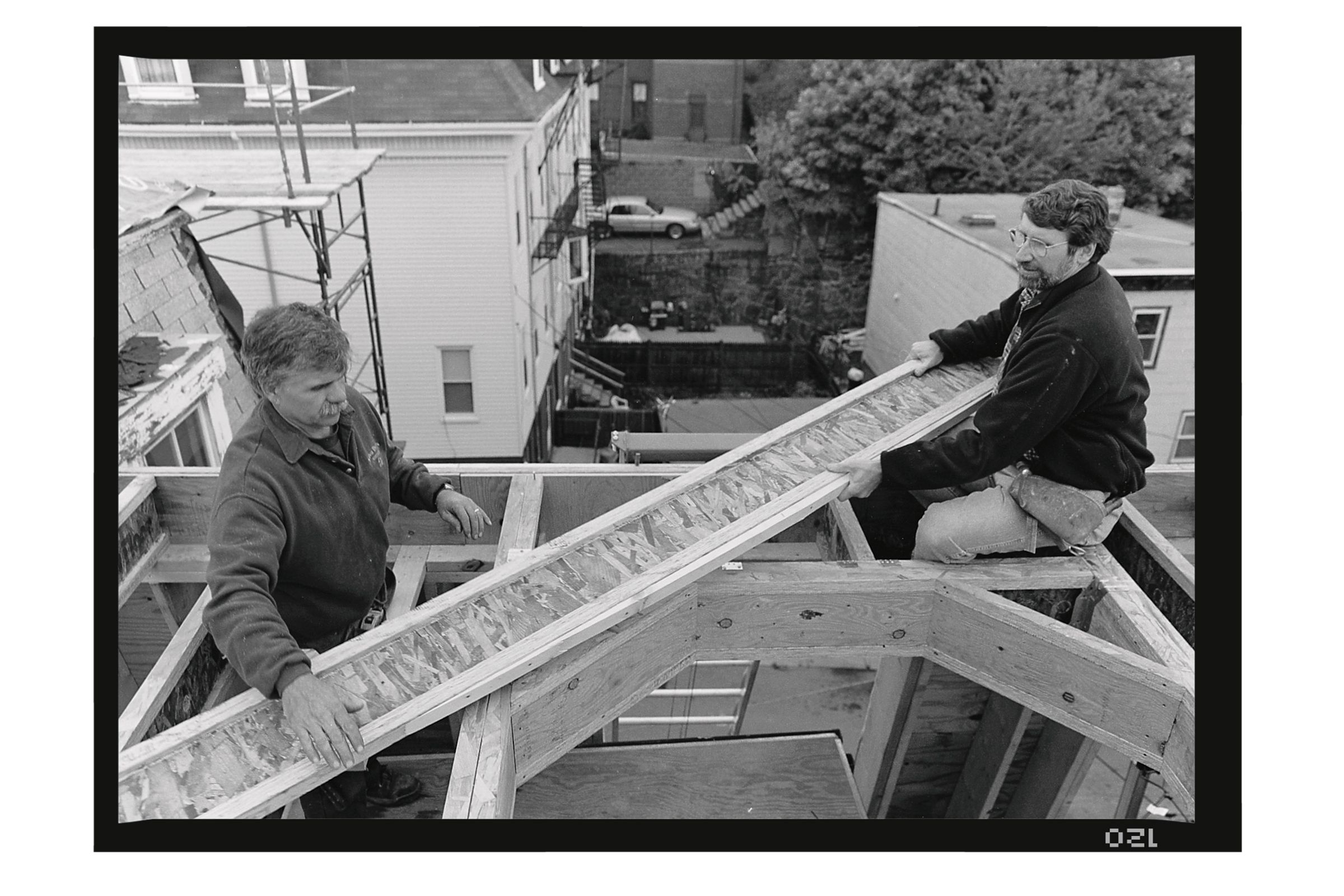 By junior year, surrounded by the tumult and uncertainty of the Vietnam War, he considered dropping out. "I thought, 'What am I going to do if I don't want to be an engineer? Oh! Maybe I'll become a contractor, so let's go to the business side of the campus.' " There he learned how to run a business. "It seemed simple. It seemed easy! And even though I had another year to go, I felt like I had learned as much as I could, and that staying on for the degree would be a waste of my time."
Instead Norm followed up on a help-wanted sign on a campus bulletin board—four guys starting a contracting company. He moved to Vermont and built condos with them until his boss left to go back to college. "I got his job. Being a carpenter and a manager, I was convinced: This is what I'm going to do."
And with most skilled, intelligent people, one could likely say, "And the rest is history."
But just as the Rolling Stones have their origin story of Mick and Keith Richards meeting on the train platform, bonding over R & B records, so too does This Old House—a meeting that led to the history Norm didn't see coming.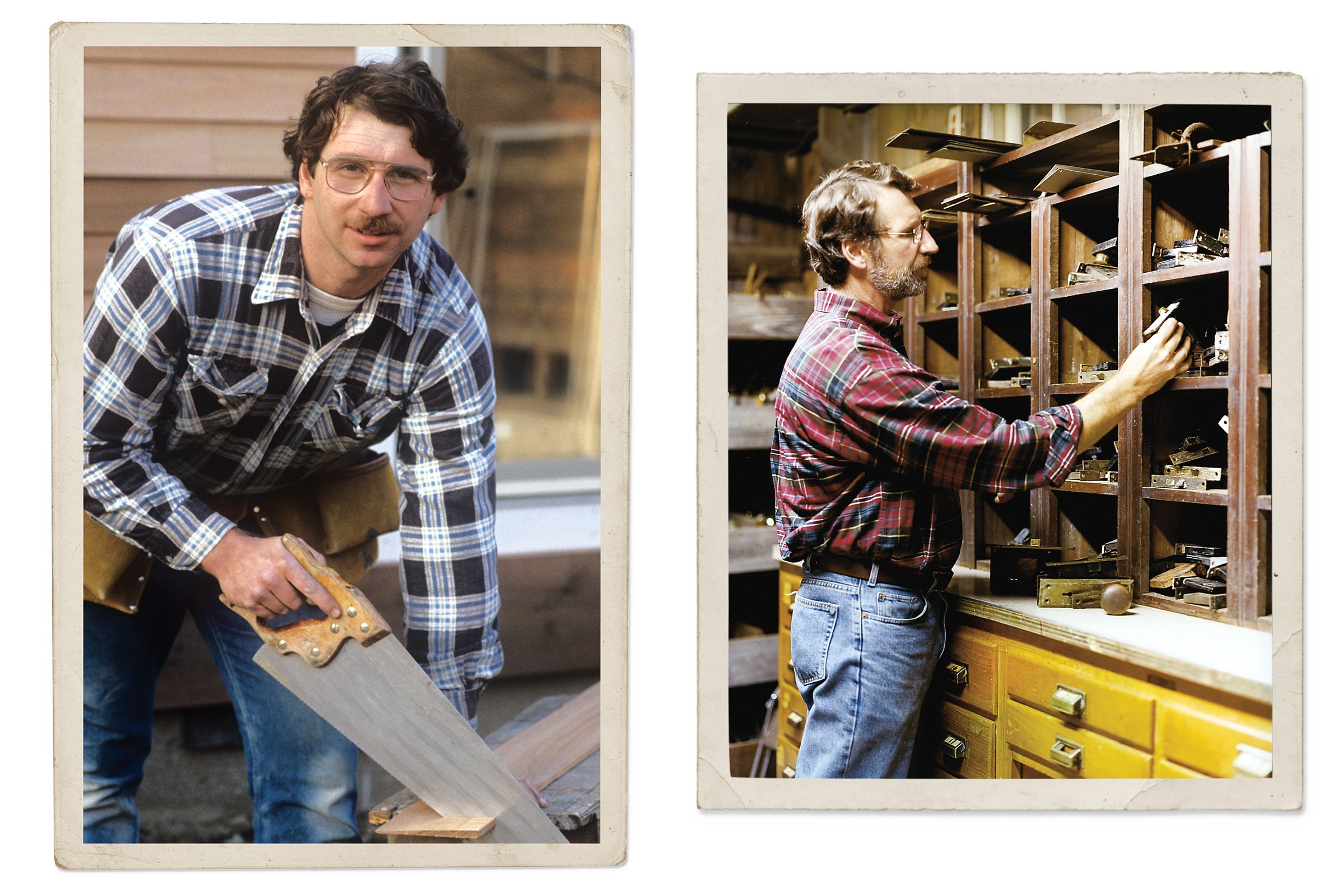 In 1977, TV producer Russ Morash was working at Boston's public station, WGBH, where he'd birthed a genre that would someday be known as "how-to television." He already had Julia Child's The French Chef and James Crockett's The Victory Garden under his belt on the Nantucket summer morning his architect friend called him over to meet the carpenter who was single-handedly building his house."You've gotta see this guy," said the friend. "He's got the smallest scrap pile I've ever seen."
"I knew every piece of lumber I wanted to get, and I could get everything out of it, and I think Russ was blown away," says Norm. "If you're not doing your job correctly, you're wasting a lot of material and you're costing the customer money."
Russ hired Norm to rebuild a backyard shop at his home outside Boston. "He didn't really bother me too much," Norm says with a laugh. "I was doing the job solo. Then one day he came out and saw me getting a steel beam ready to put in place between the first and second floors, and he goes, 'What are you doing lifting that thing by yourself?' And I said, 'It's not that difficult,' and he's like, 'Okay, tell me what you're doing.' So I told him—'I lift it up on this side, then the other side, and I go back and forth until I get it where it's supposed to be.' " That was 45 years ago. "I saw Russ the other day, and he made a comment about my skill, which is to be able to look at something, figure it out in my head, and then, you know, do it."
Yeah, Norm, we know.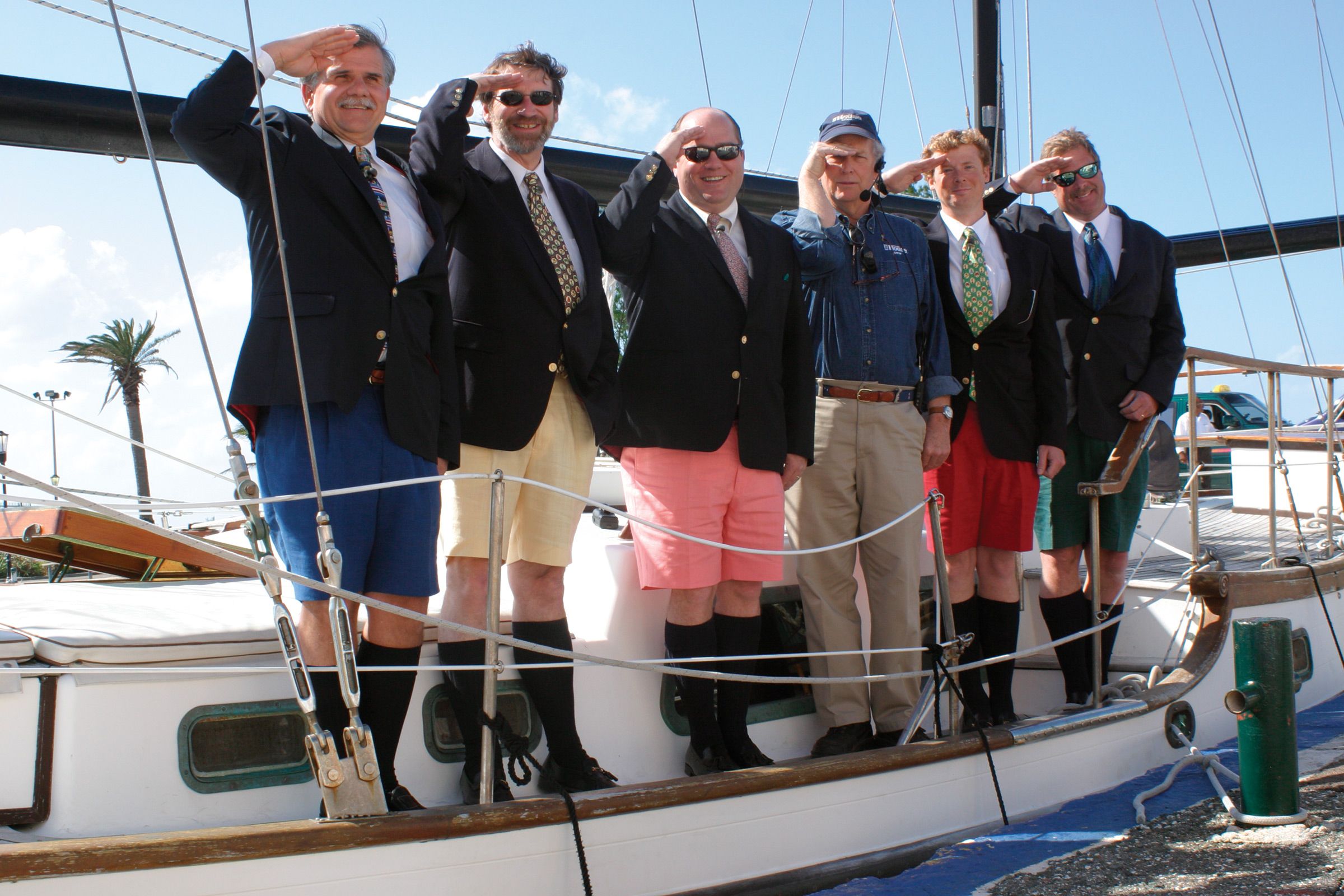 Russ had been thinking of a show that would unpack the mysteries of home renovation. He found Bob Vila, who had a business renovating old houses, and put him to work as host at the first This Old House project in Dorchester, Massachusetts, moving around the job site and saying to tradespeople, "Okay, tell me what you're doing." Russ asked Norm to come help out on the job and give him his opinion of how things were going. "The crew had done some work on the roof, stripping off things and replacing the trim," Norm remembers. "I went up on the scaffolding and looked down the line of the new fascia board. The joints were terrible; it wasn't even a straight line. A sloppy job. I came down and told Russ, 'If this is the quality of work you want me to do, I'm not your guy.' "
It was the life-giving jolt the show needed. A few days later, Norm, who'd been hired to work on the house—"The economy was real slow right then, so I was happy just to make some money and not starve"—found himself getting pinned with a microphone. "When I got the job, I had told my wife, 'I'm going to be on TV! I'm going to walk through, and you'll be able to see me!' " Now Russ was directing him to go up that same scaffolding and join Bob and explain what was going on. "And I said, 'Um, okay.' I was a little nervous about it, but the one thing I think a lot of people do in that situation, that I didn't do—and maybe it's just because I had no idea how you make TV—is that the camera wasn't even a factor for me. I'm just talking to this guy, and I'm telling him what's going on. And that was it."
Indeed. What was going on was the gelling of a style: Naturalism and an insistence on quality combined to form an internal ethos and an external hallmark of TOH, embodied by Norm and captured and curated by Russ and his producers. The understanding and celebration of the right way to do things became the show's calling card, true to this day.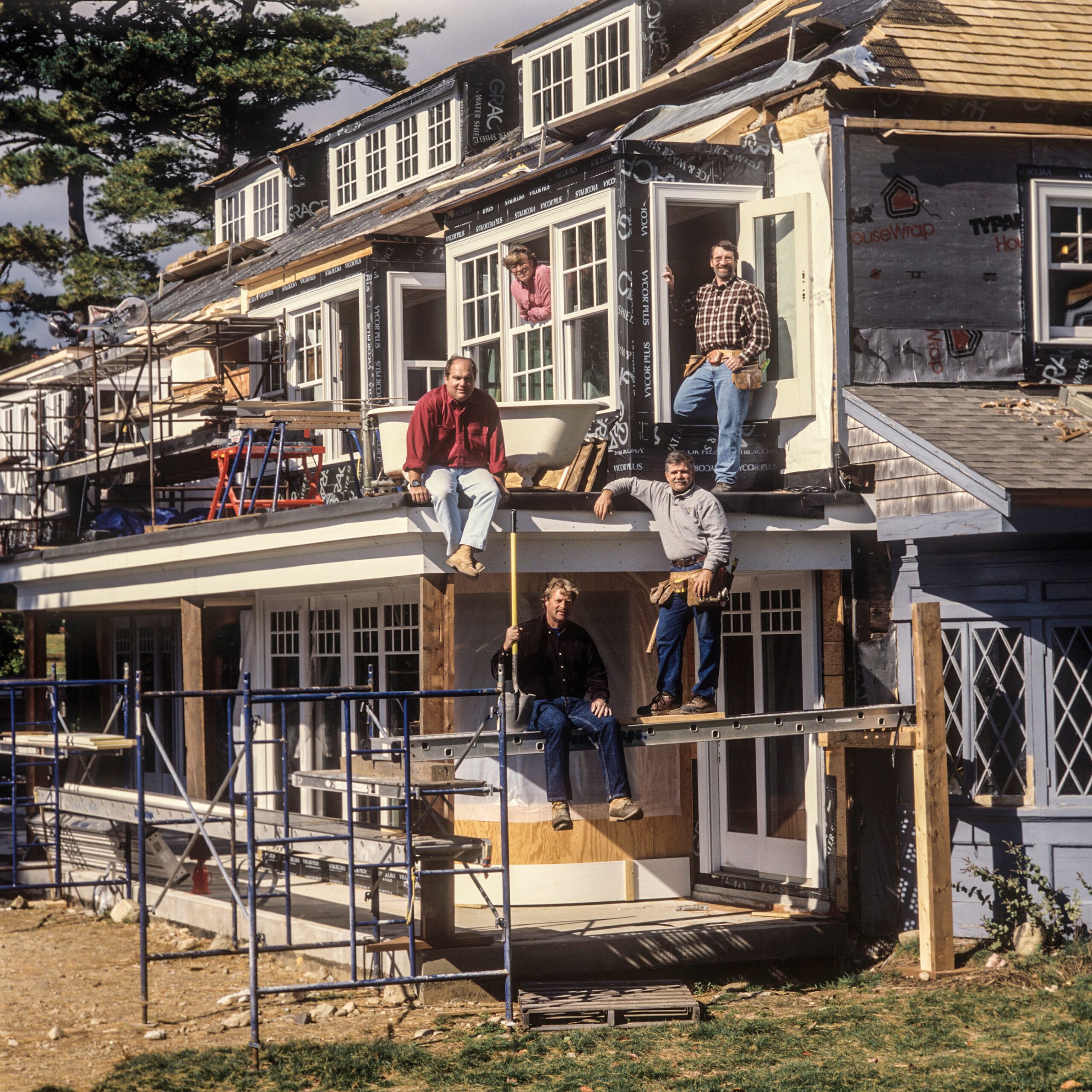 The show was a hit, and the cast began to grow. First came plumbing and heating contractor Richard Trethewey, who appeared a few episodes into the Dorchester project, becoming a fixture in Season 2. "Everything was so new. We didn't know what we were doing, and the stimulus was crazy; there was so much going on. I would watch Norm explain to Russ before the scene what was happening from his point of view, and Russ would say, 'Okay, gimme that and gimme that—okay, let's go.' And no matter how many takes he had to do, Norm would deliver in that steady, patient way he does, consistently."
Tom Silva joined later, during the ninth season at the Westwood project, doing a brief scene about the kitchen cabinets, and became the show's go-to general contractor the next year. He was a fan already. "I'd watched the show from the start. I wanted to see how they tackled building challenges, because that's what I do. And seeing the stuff Norm did, I was impressed—everything that I do, he did!" Tom didn't mind overcoming any camera shyness, because he believed in the mission. "You know, they zoom in with the camera, and Norm's pointing to some little thing that you might not think about, and it basically makes you a better person."
Just before Kevin O'Connor came on board as host, he visited the job site to be introduced to the guys, nervous about meeting his heroes. "I grew up watching Norm, so I felt like I'd known him forever. He looked like Norm, and he acted like Norm, but he was a little bit bigger in person than the Norm I knew. I will never forget: He put his arm around my shoulder and said, 'Say hello to my new best friend.' And I am so grateful for that."
"We—me, the crew, the audience— love him for his determination," says Russ. "He was never above any task. He was in the task, and that's what endeared him to us." And one of the tasks was doing the work in concert with the camera rolling—not behind the scenes, but as the scene itself. "He's got good balance, as in, nothing throws him off, and he can do complicated things because he's thought them through beforehand," Russ adds. "He'll be building a piece of furniture, with many glued surfaces that have to be assembled at the same time. The glue is drying, he holds this piece first, inserts that piece next. It's like the juggler with the sticks and the plates in the air. Then he takes his mallet and goes tap, tap, tap, and it all comes together.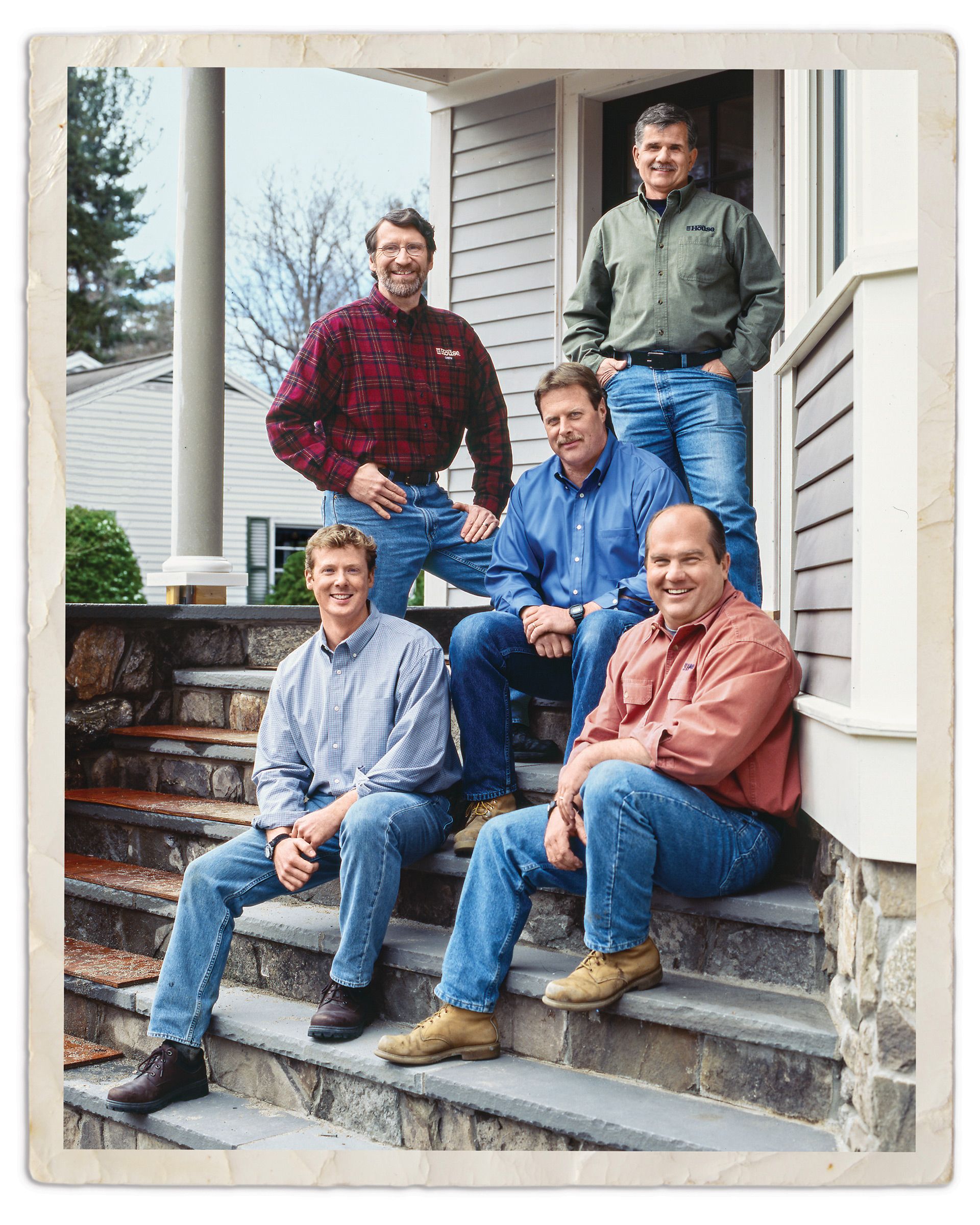 "And we had to capture that. Now a craftsman knows where he wants his hands and where his eyeball needs to be. So when a cameraman comes in and looks over his shoulder, it has to be done with coordination and cooperation to work. And Norm would do that willingly, gracefully, all the while patiently explaining what he's doing in terms you can understand," Russ says. "That's a gift."
Off camera, Norm didn't take up a lot of airtime. So when he spoke, people listened. Roger Cook remembers approaching Russ during the Belmont project, saying he thought it would be a good idea to cut down all the foundation plantings, "to give the house some breathing room." Russ demurred, but soon after, Roger saw him conferring with Norm. "Russ came over and said, 'Yep, take it all down.' "
"It's an honor to work beside him," says Tom. "We once had a project where we needed to resize some six-panel doors widthwise. We got together on the workbench, and very few words were said. It was like, you know what I'm going to do and I know what you're going to do, I'll have it ready for you and you'll have it ready for me, and the next thing you know, it's back together. It was magical."
For the rest of us, who needed to hear the words, Norm's teaching ability was bewitching. It built confidence. Tom recalls his son, TJ, about 10 at the time, watching The New Yankee Workshop. "He goes, 'That's a pretty good project, Dad.' I said, 'Well, let's watch Norm, let's pay attention, and when we're done we'll get some stock and build it.' And together we built two Shaker-style nightstands with little drawers. We still have those tables, and whenever anybody sees them, TJ speaks right up: 'Yeah, I learned that from Norm.' "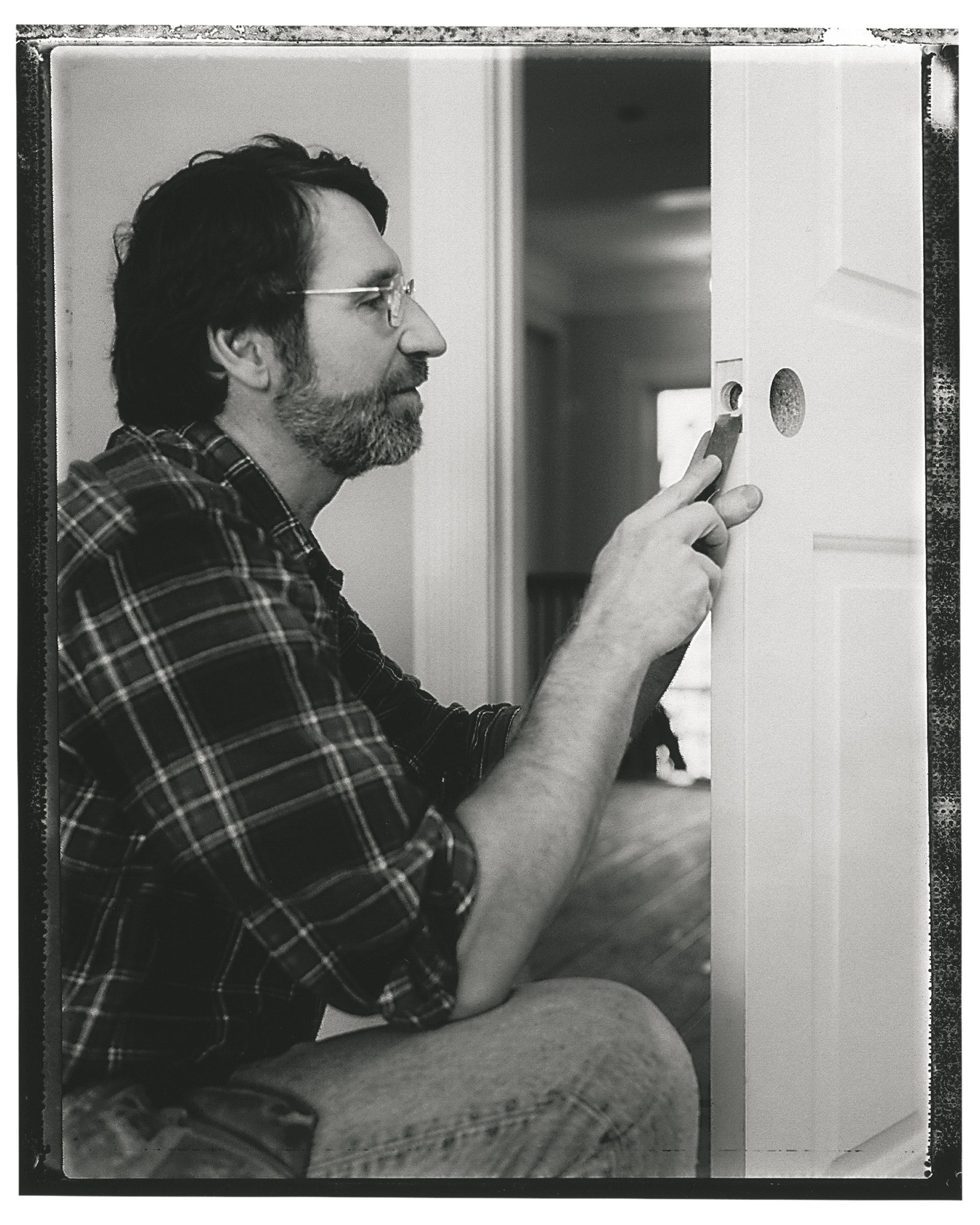 The rest of the country was learning, too, and it wasn't long before Norm became a cultural icon. Oprah, David Letterman (four times), Entertainment Tonight, Today, and Good Morning America—everyone wanted him on (and some became delightfully starstruck in his presence). On the early '90s sitcom Home Improvement, Tim Allen's mild-mannered neighbor, Al, was an unmistakable homage. Norm rocked the plaid shirt long before the grunge stars of Seattle. And when the guys discovered that This Old House's public relations person had submitted his name to People's Sexiest Man Alive competition, they had a field day ribbing him (he didn't make the list).
Like Kevin, the new generation of TOH pros first experienced Norm on their childhood television screens. "He was always the guy after Sesame Street, always teaching someone something," recalls landscape contractor Jenn Nawada. "He taught us all that each step of any build process is just as important as the finished product. Be thoughtful and methodical about each step, and the outcome will be successful." And she's learned what anyone who has spent time around him knows: "His work directly reflects who he is."
Norm has written seven books. He received the American Academy of Ophthalmology's first-ever EyeSmart Distinguished Service Award for "his steadfast commitment to safety and the prevention of eye injuries." He has served on the board of trustees at the living museum Old Sturbridge Village, where he received the Ken Burns Lifetime Achievement Award, given to "an individual who has made a significant impact on the arts" that helped preserve history. The show he helped thrive for the last 43 years has earned 20 Emmy Awards. "He set the bar high when he started, and he never lowered it," says Kevin.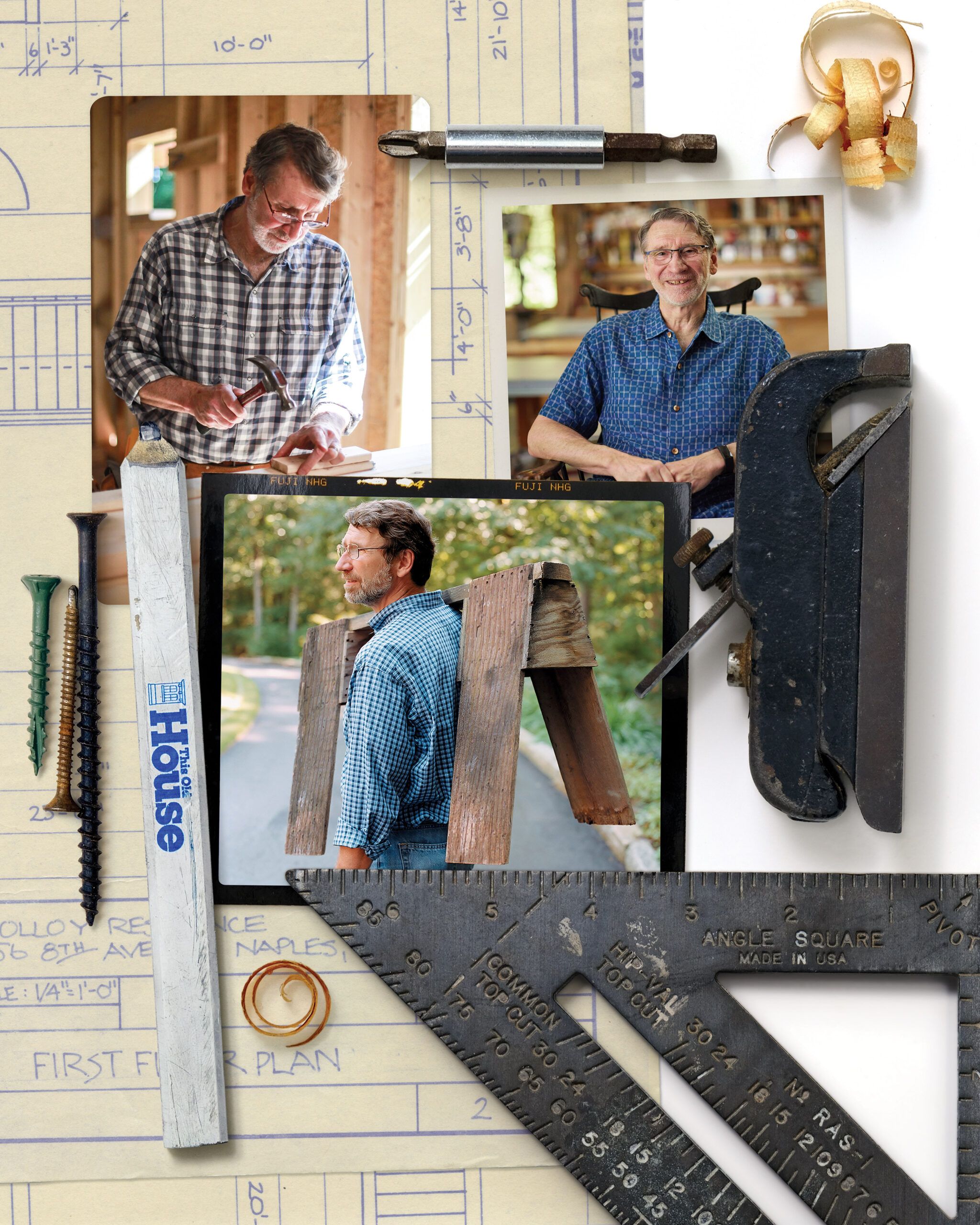 Asked what he's proudest of in his work life, Norm cites the skills he learned doing The New Yankee Workshop. "When we started I was a carpenter, not a woodworker, so I was not only teaching it, but I was learning it at the same time." He'd build a prototype for every project first, working out the bugs and finessing his technique on the latest power tools, which were also new to him. Norm simply says, "When I have people over to our house, I love it when they point at a piece of furniture and ask, 'You built that?' "
Like Mick Jagger, Norm Abram shows no signs of slowing down. His next adventure: boatbuilding. His "mission," as he puts it: to build a replica of the famous Herreshoff 121/2 sailboat, designed in 1914 and still considered one of the finest small boats of all time. "I'm thinking I'll have to go to boatbuilding school for that one," Norm says, "which will be great!"
Rock on, Norm. Rock ON