The color of paint you choose for your bathroom can define the overall feel of the space. With just a few strokes of your brush, you can transform a rather dull atmosphere into something stunning, relaxing, or energizing. Couple the right paint with design elements that reflect your style, and you have a masterpiece.
But the paint color doesn't act independently in creating the room's mood. It partners with other components like the countertop, flooring, and style of fixtures. If your bathroom has a soaking tub under a picture window overlooking the garden, with heated floors and towel bars, you want the paint color to spell r-e-l-a-x. But if you have only a shower, stocked with eye-opening minty body wash and multiple water jets, you need a color that puts a spring in your step before the morning commute. So, before choosing the color for what could be the most diminutive room in your house, consider the following elements.
Before You Begin: Things to Consider
Personality: There's nothing like color to announce your personality to the world. If you prefer a classic, conservative style, stick with shades of white. If you live a little on the wild side, express your passionate spirit with bold colors.
Flooring: The color and type of your bathroom flooring play a significant role in choosing a paint color. Choose a color that complements the warm tones of wood or the cool tones of tile.
Lighting: Whether a crystal chandelier over a soaking tub or a pendant light above the sink, the style of lighting in your bath influences your paint color selection. And the warmth, or color, of the bulb impacts the paint color, too. A bulb's color temperature, whether warm or cool, is measured in Kelvins and is printed on the bulb. Always look at paint color options in your bathroom with the same lighting you'll be using going forward.
Size of the room: Color can change the apparent size of a room. For a small bath, consider a light color to expand the space. Reserve dark colors for larger bathrooms.
Best Bathroom Paint Colors
Keeping these points in mind, here are our suggestions for the 14 best paint colors for bathrooms.
Cool Grey
White walls tend can make marble tile look a bit dingy. Shades of grey, however, allow the white in the marble to pop and add an air of sophistication. Grey can complement both cool and warm colors, like blue or yellow. And, it won't show any dirt. Of course, the perfect shade depends on your lighting, so make sure to try several swatches on site. For the small to medium bath, we like Whirlwind by Glidden.
Deeper grey
For a deeper shade of grey that also enhances the look of marble or granite, choose PPG's In The Shadows. Its intense hue is the perfect choice for a large modern space. Pair with light-colored tile, trim, and floors to brighten the room. Or, paint an accent wall in white.
Powder blue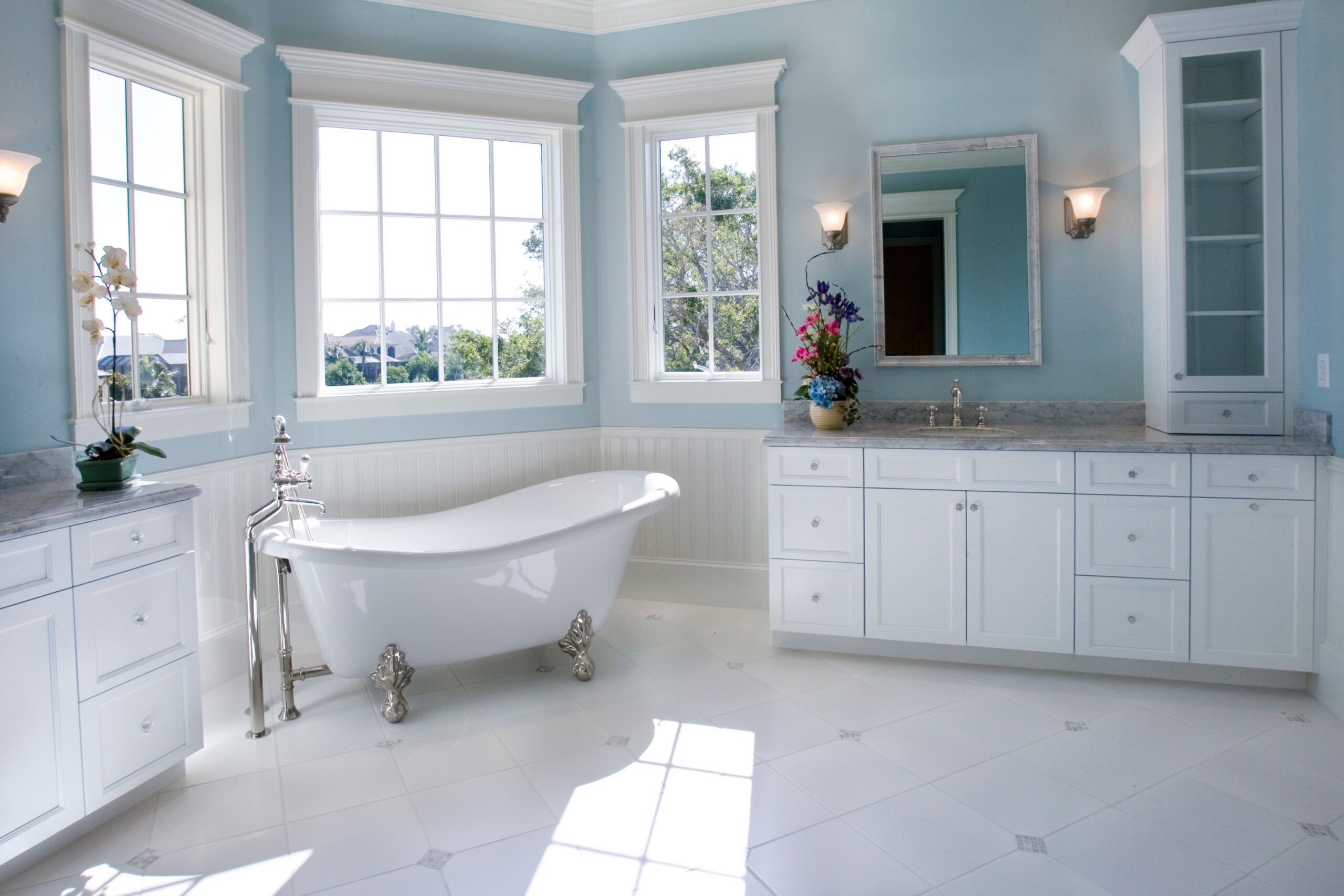 What better shade for your powder room than a nice powder blue? For a great tone, try PPG's Bit Of Heaven. A tad darker than sky blue, pair this shade with light-colored furnishings or flooring to keep the walls from seeming to close in.
Seafoam green
Speaking of blue, you'll think you're at the seaside with just the right shade of bluish-green on your bathroom walls. Choose a pastel shade to keep the relaxing vibe rolling in like the waves on the sand. Like Pale Seafoam by PPG. Decorate with seashells and starfish and you'll almost smell the salt air around you.
Butterscotch
ButerThe perfect neutral to pair with other colors in a small space is BEHR PREMIUM Writers Parchment. The warmth of this butterscotch-y pigment soothes the soul while complementing vintage decor, gold accents, and the pop of virtually any bright color.
White-grey
Another neutral, with a bit less butter, is BEHR MARQUEE Cameo White. Perfect for the bathroom with little to no natural light, this almost-grey shade gives an open and airy feeling while serving as the backdrop for modern decor. Pair it with their popular Upbeat yellow on the vanity for a warm, energetic tone or Artistic License for a cool, tranquil feel.
Delicate beige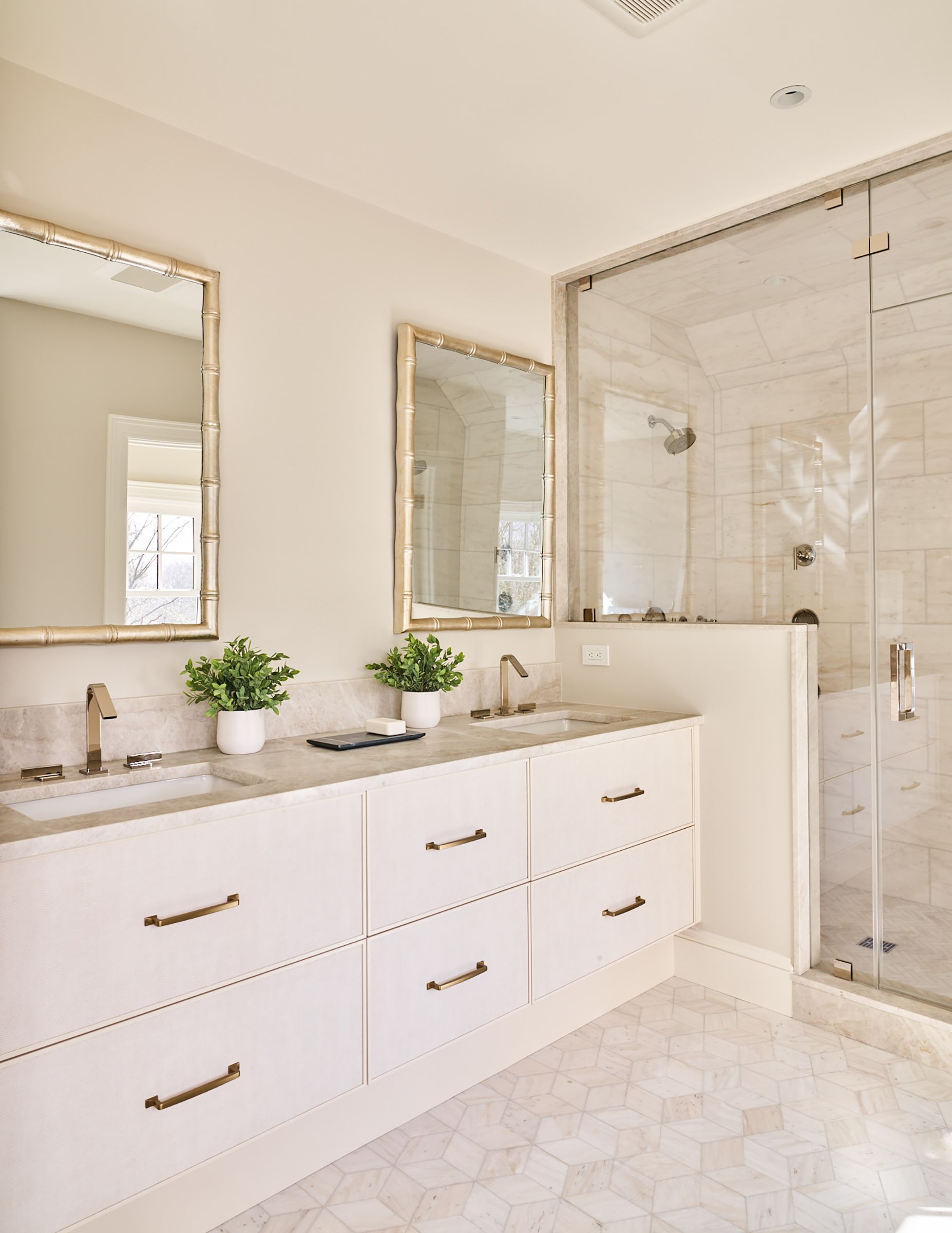 This option in their red family, Glidden's Maybe Mushroom complements many other colors and provides a soothing atmosphere. With a hint of purple, this shade pairs exceptionally well with cool colors, as well as warm. Maybe Mushroom is perfect for enlarging a small bathroom and also imparts an open, airy look to a large one.
Terra cotta
For a warm southwestern feel, consider a terra cotta color in the bath. Mexican Moonlight by Glidden has just enough red in it to accentuate brushed gold fittings and natural stone. Use it to highlight small areas or make a bolder statement with it on the walls. The red undertones are stimulating while the pink undertones are relaxing. With Mexican Moonlight in your bath, you'll feel as though a siesta should be next on your agenda.
Soft pink
If you've just torn out the vintage pink fixtures from the bathroom in your old house, pink's probably not the color on your radar. But BEHR MARQUEE Sweet Roses gives just the slightest hint of rose color for a fresh, young vibe. Pair it with Perfect Penny for a relaxing atmosphere or a deep stately blue for a more modern statement.
Try a dark accent wall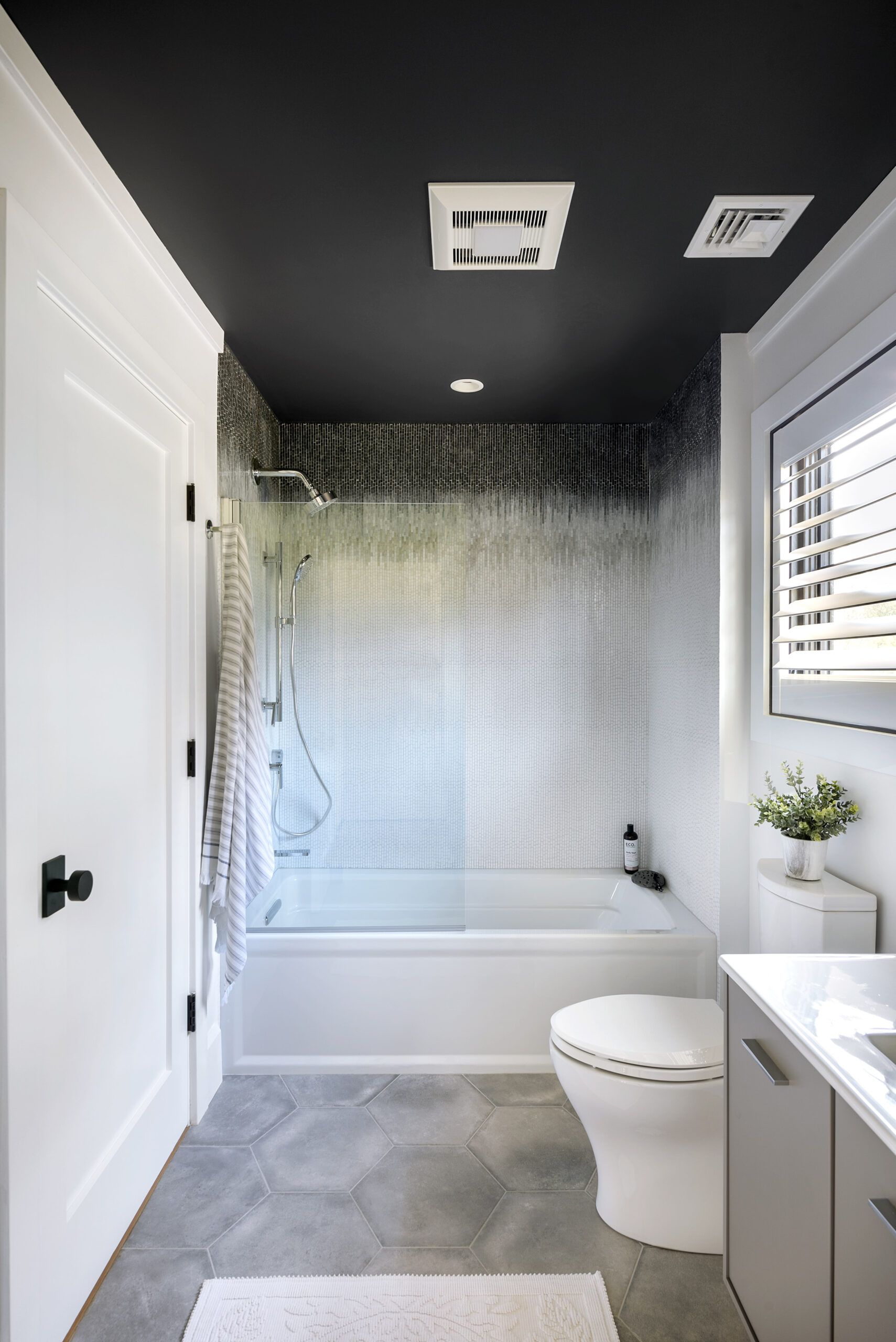 To make a statement in a large bathroom, use a dark color on an accent wall. This DIY project on the Colorfully BEHR blog, uses BEHR MARQUEE Starless Night on one wall, the vanity, and tub cabinet for a dramatic effect. Coupled with Silver Feather on the remaining walls, brass fittings, and other accouterments, this deep shade brings a richness to the space no other color could.
Whether you want a relaxing spa atmosphere or a space in which to recharge and energize, there's a paint color for your bath. Large or small, contemporary or vintage, warm or cool, one of these favorite bathroom paint colors is sure to create the style and effect you're looking for.