Common Areas with Color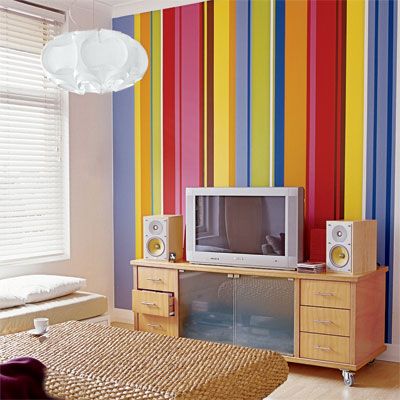 Who said you have to keep things neutral? Your living room isn't Switzerland—there's no need to play if safe. If you like it loud, don't be shy about turning it up. That's right, go ahead and hoist a flag in your favorite hue, no matter how bright. And a coat of paint is the quickest route to a bright space. Pick the color that floats your boat the most, whether it's marigold, pomegranate, cobalt, or emerald. Sound hard to pull off? Take a look at this gallery to see some of our favorite vibrant gathering spaces, which might just inspire you to take your own living room from comatose to colorful.
Lucky Stripes
If you love bright colors but can't narrow it down to one, try painting your wall with stripes of all of your favorite hues.
Color Through Furnishing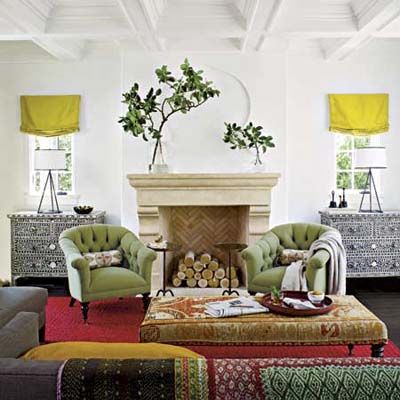 Paint isn't the only way to add colorful. Here, it's the contents of the room that add kaleidoscopic
character.
So Shocking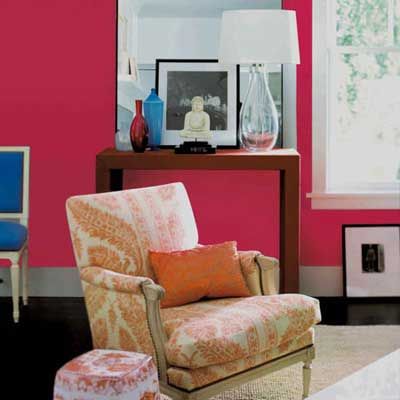 Love pink? Don't be shy about it: paint your gathering space in your best and brightest.
Bloom and Grow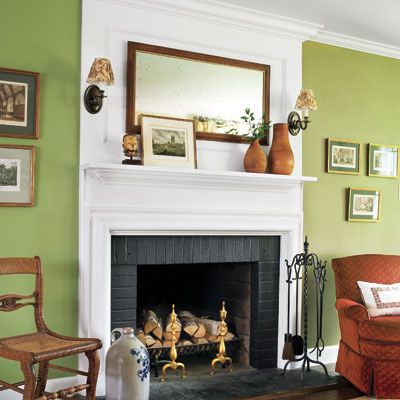 Make it new with a coat of fresh leaf-green paint.
Fresh-Squeezed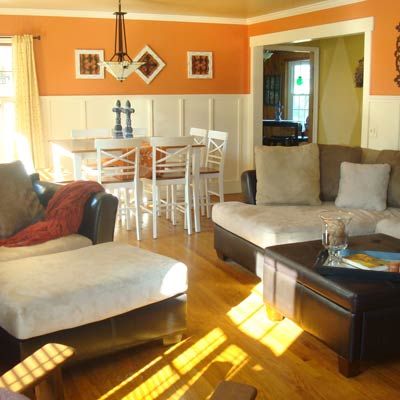 A soft orange hue doesn't overwhelm when it tops white wainscoting.
Auburndale by the River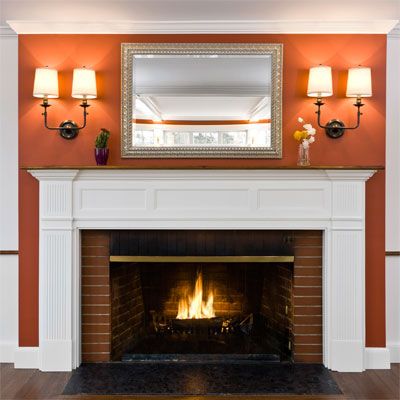 At the Auburndale project, a Colonial Revival on the banks of Boston's Charles River, bright colors and crisp woodwork replaced dark paneling.
Color Within Four White Walls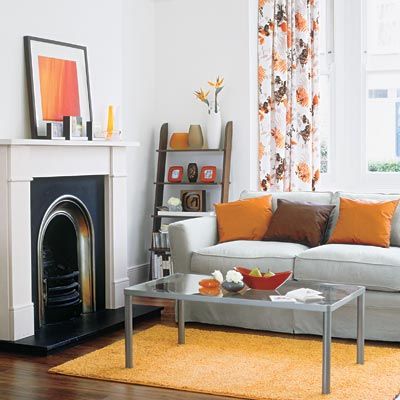 Even renters can brighten up a space with coordinated accessories and artwork.
Feel the Warmth of the Sun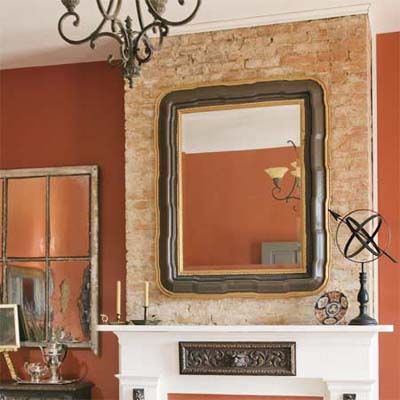 Bring the warmth of terra-cotta into the space you share with family and friends.
Turn to Color Theory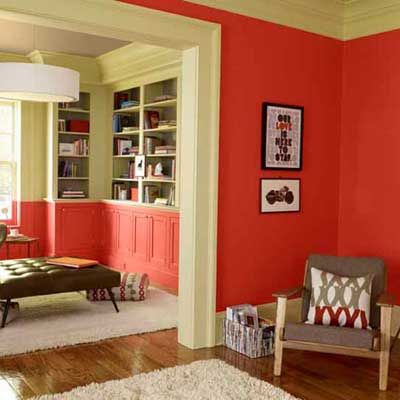 White isn't the only color to paint trim in a red room. Here a pale version of the color opposite red on the color wheel, green, is used.
Part-Time Color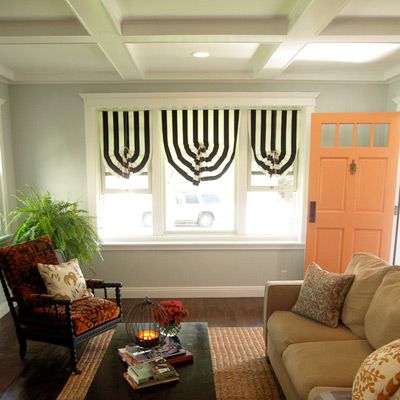 This room gets a shot of color every time the front door is opened. Bold window dressings also add some punch.
Hot and Warm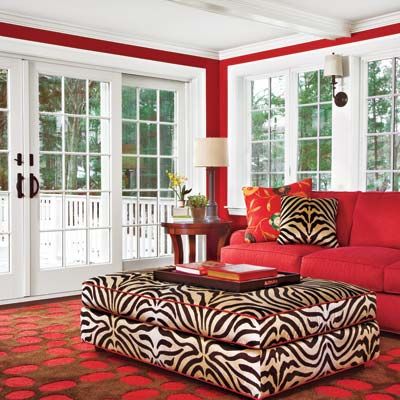 Red paired with a neutral hue such as chocolate brown adds richness and graphic style.
Pink and Green: Not Just for Preppies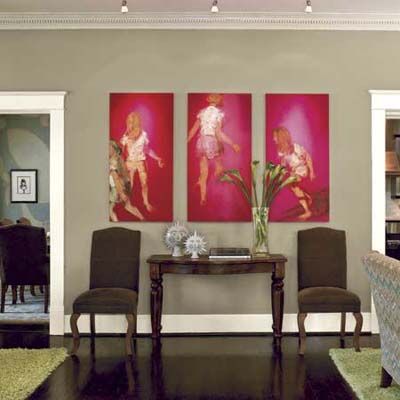 Pops of pink via artwork enlivens an otherwise sedate seating arrangement.
Songs Sung Blue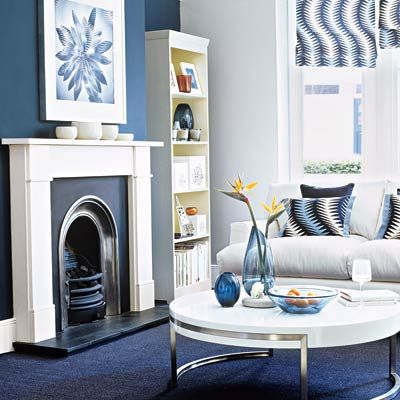 Bold blue hues cocoon this stylish, pulled-together space.
Efficient Heat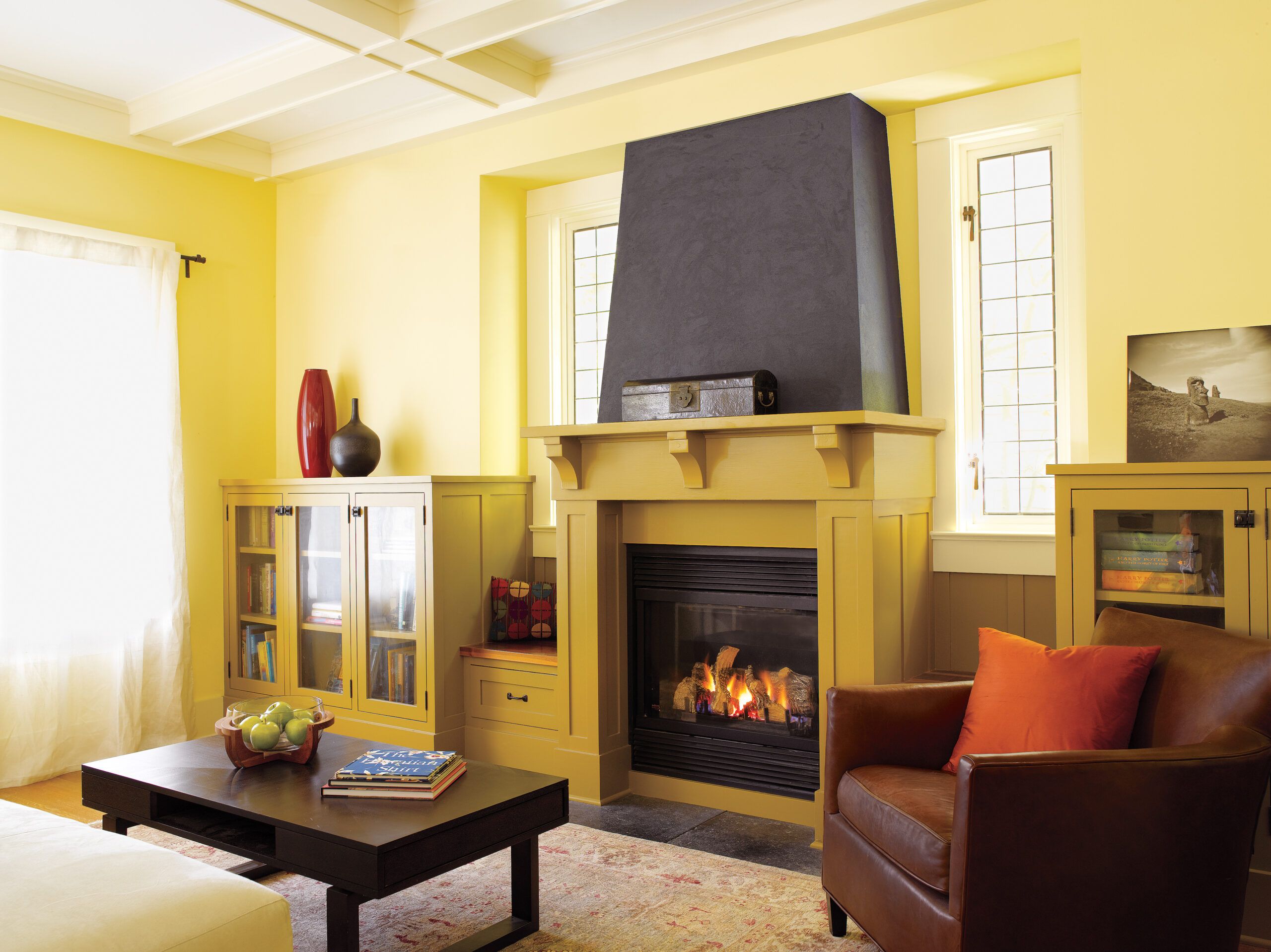 There's only one thing better than a roaring fire on a wintry night: a roaring fire that needs no tending, requires minimal cleanup, and doesn't leave the rest of the house freezing cold. That's what you get with today's gas fireplaces. Long gone are the anemic blue flames and unconvincing "logs." Modern versions burn much more realistically, with glowing red embers and tall orange-yellow flames that dance and flicker around ceramic-fiber logs molded from the real thing.
Gas fireplaces come in three types: inserts, for folks who want to retrofit a wood-burning firebox with something more convenient and efficient; built-ins, for those who want a fireplace where there isn't one now; and log sets, basic burners that sit in existing, open fireplaces. Both inserts and built-in fireplaces are reliable heat producers, filling your room with a mix of warm air and radiant heat. Log sets are usually more for looks than warmth. With each gas fireplace type, you have a choice between models that vent the flames' fumes outside or vent-free versions that discharge all their heat, and exhaust, into the house.
On the following pages, we'll help you pick the type of gas fireplace that's right for you. We'll also walk you through the key features to look for and explain how to get a unit that generates enough heat for your particular space. So when the first icy night of winter arrives, all it will take is a click of a remote control for you to cozy up in front of your blazing hearth.
Shown: A Craftsman-style mantel and tapered chimney chase make a gas fireplace the architectural focal point of this Seattle living room. Similar to shown: Majestic CDV Series 33-inch direct-vent fireplace, 18,000-Btu output (maximum); approximately $900; majesticproducts.com
Rosy Glow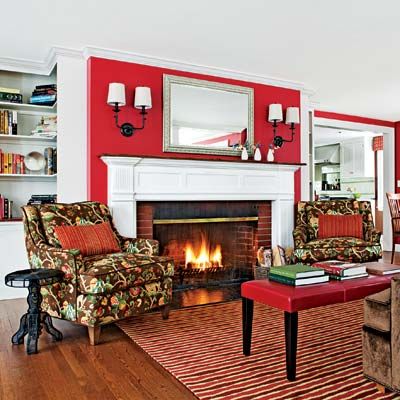 Add cheer with a red backdrop for your fireplace.
Look Up!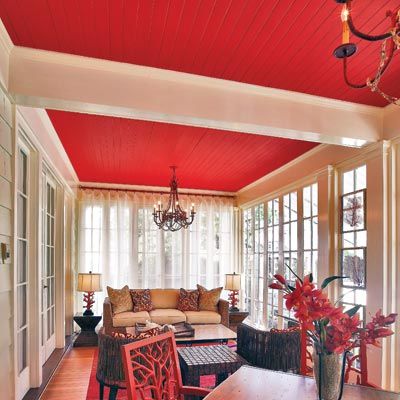 Make your sunroom rosy, social place with an unexpected wash of scarlet on the ceiling.
Inspired by Nature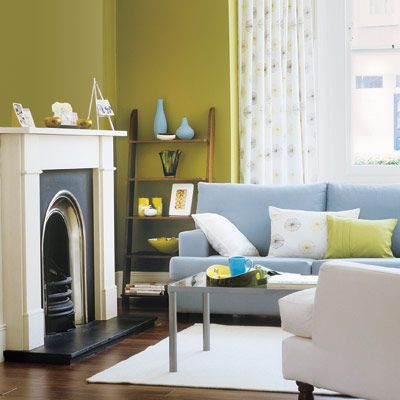 Swaths of blue and green bring this living room home.
Beautiful Backdrop
One red accent wall brings this cozy sitting space into focus.
Go Green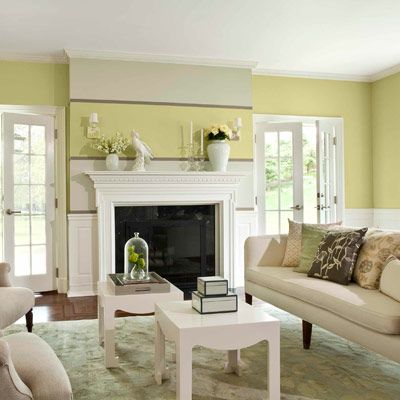 Yellow-green paint adds freshness to this cozy layout. Horizontal accent stripes in shades of green above the mantel make the space feel expansive.
A Soft Wash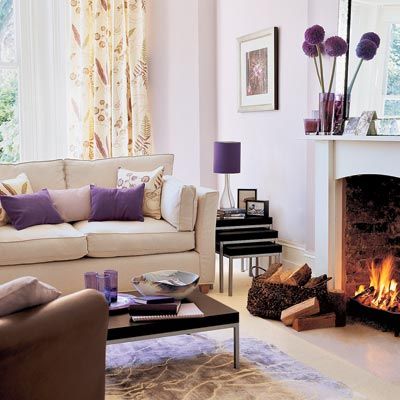 A soft, barely perceptible hue of purple coats the walls of this space.
A More Daring Approach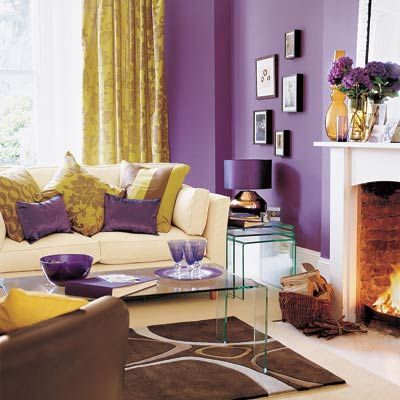 A bolder take on the same room shows heliotrope-colored walls offset with chartreuse pillows and curtains.
Colors of the Sun and Sky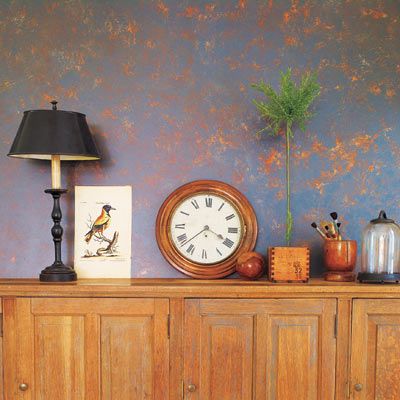 Use the sponge-paint technique to capture the look of a sunset through clouds.
A Jewel-like Boite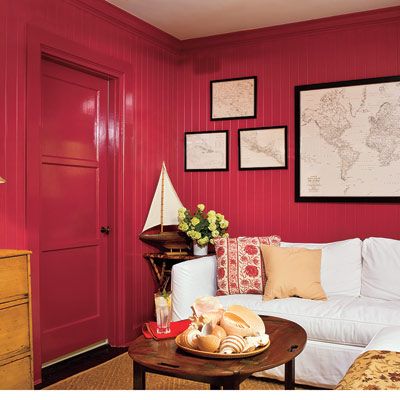 A glossy coat of garnet on both walls and trim makes for a arm, welcoming sitting area.
The Royal Treatment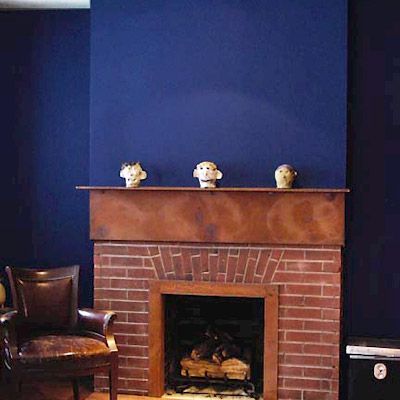 A blast of lapis adds depth to an exposed brick mantel.